I was trying to look at some of the smallest items with a current project I am working on, and I don't know why it didn't dawn on me to use something that would make these items bigger. Not only was I straining my eyes to look at these teeny tiny pieces but it was frustrating, and it made me not want to finish my project.
So then I thought about using a magnifying glass. It can be a great way to look at these tiny little things, and still allow me to do my project. But after holding the magnifying glass, and needing both hands, I was at a loss.
Then I remembered that headband magnifiers are actually a thing, and they are something that I could surely use for my project to make my life so much easier. So in order to help you out, and perhaps save your eyeballs a little trouble, I made up this quick reference list of some of the best ones out there.
What to Look for in a Headband Magnifier
Multiple lenses: Having multiple lenses, or a way to change the magnification level of the items you'd like to view can provide additional control when trying to view items that are smaller.
Lighting: Many headbands come with LED lighting on them, so not only can you see the tiny objects better, but you can light them up if you need more lighting to work on your project.
Comfort band fit: Since you do wear the magnifier on your head, you have to make sure that the headband that you wear is going to be comfortable enough to wear for some time, depending on how long you'd like to work on your project.
Adjustable headband: Not everyone has one size head, so having the ideal fit and being able to adjust it to where it fits ideally, but is not too tight or too loose can provide you with not only a more comfortable fit, but a better work tool.
Lens materials: The materials that the lenses are made of have to be strong and durable. Some are made from acrylic, others have glass, while some are plastic. Acrylic or glass are the two you should go with over plastic, though some options that use this are still high quality.
---
These all-in-one super lenses known as the Carson Optical ProSeries Head-Worn Lighted Magnifier will allow you to see any particle that you wish to see under a microscope.
With four different lenses, you can swap them out as you go, depending on the strength you need for the items you're trying to view.
There is a removable LED lamp that clips right to the top of the headband, which is probably one of the best inventions since you can use it when you want, and take it off when you don't.
It is also super bright, which makes viewing things a bit easier when you do not have the best lighting, or you're stubborn and don't want to turn on a light, like me.
The adjustable headband allows you to comfortably wear the band for as long as you'd like and not get a headache. It also has a comfort grip on the band, allowing you to comfortably wear it wherever you want to go.
Customer Reviews
Inner surface is smooth, feels very comfortable
Easy to wear for long work hours and shifts
At normal room temperature it doesn't make you sweat much
Makes it easy to see and maneuver small bits
Focal depth is excellent, great for details
Great adjustable features
Check Latest Amazon Price
---
The MagnifyLabs Headband Magnifier provides strong magnifying capabilities to those that want to see the smallest items, even reading books. With interchangeable lenses, though they have to be purchased separately, you're able to see anything you wish.
The adjustable headband allows you to fit it to your head, while the comfort bands do not dig or leave marks, even after long periods of use. The LED light on the top helps you see items, even in the darkest areas and run on batteries so you can change them out whenever needed.
The frame of the headband moves up and down, so you can get the best view from wherever you need the magnifying lenses to land on the item. You can easily adjust as you go.
Of course, we cannot forget the fact that the acrylic lenses are some of the highest quality, and made to entice the user since they last for quite a long time.
Customer Reviews
Love that this band is infinitely adjustable
Soft forehead piece makes it a breeze to wear
Works well for extended periods of time
Has many uses around the house aside from projects
Great for small print and other details
Check Latest Amazon Price
---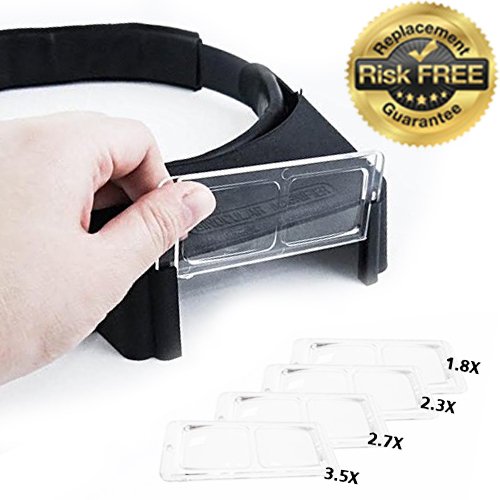 The polished lenses that come with this set from MagniPros are some of the strongest and easiest to use. With four different lenses that can be changed with one another, you can choose the level of magnifying you'd like to have for whatever project you're working on.
Enjoy the comfort band on the headband portion, and be able to adjust it to the size of your head, or anyone else's that wants to use it.
The shell of the frame is lightweight, so your neck will not get fatigued, while it also provides impact resistance, on those tougher jobs. Why not stay protected?
The only downfall of this headband is that they do not come with a light on them, but one can easily be added.
However, they still pack a punch when it comes to being able to see smaller items, but also provide comfort when it is needed during all of your projects.
Customer Reviews
Great for coin collecting and other types of small-detail hobbies
Excellent for those with poor eyesight or aging eyes
Interchangeable lenses are extremely convenient
Adjustments make it easy to get comfortable on head
Wonderful quality and construction – can feel how nice it is
Check Latest Amazon Price
---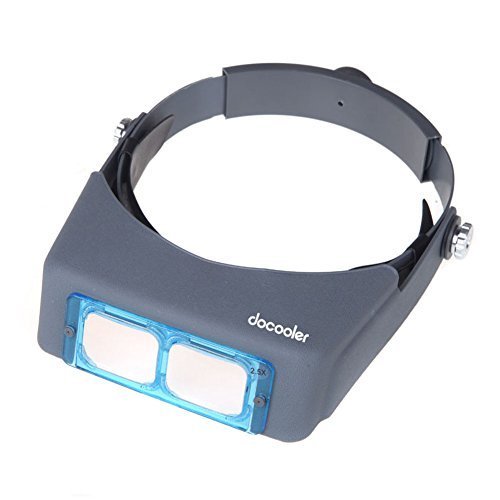 With the use of the DoCooler Double Lens Head Mounted Headband Magnifier, you're able to enjoy the benefits of seeing the smallest items up close. No one said that you had to strain your eyes, or use a magnifying glass to make those items larger.
This set comes with the adjustable, comfort grip headband that slips on the head, and the adjusts around it, all the way around it. It also comes with four different lenses, so you can change them out depending on what it is you want to view, and how large you'd like it to be.
The lightweight, impact resistant outer shell can even take a beating when you're working on tougher projects. You're able to get the most out of the headgear when you throw it on and see how it works for you, and all of your many projects.
There is not just one use for this headgear, but many.
Customer Reviews
Simple, yet effective magnifier
Adjustment knobs are easy to use and manipulate
Great value for the money
Please with the quality of lenses and parts
Great for those working with jewelry and other small parts
Check Latest Amazon Price
---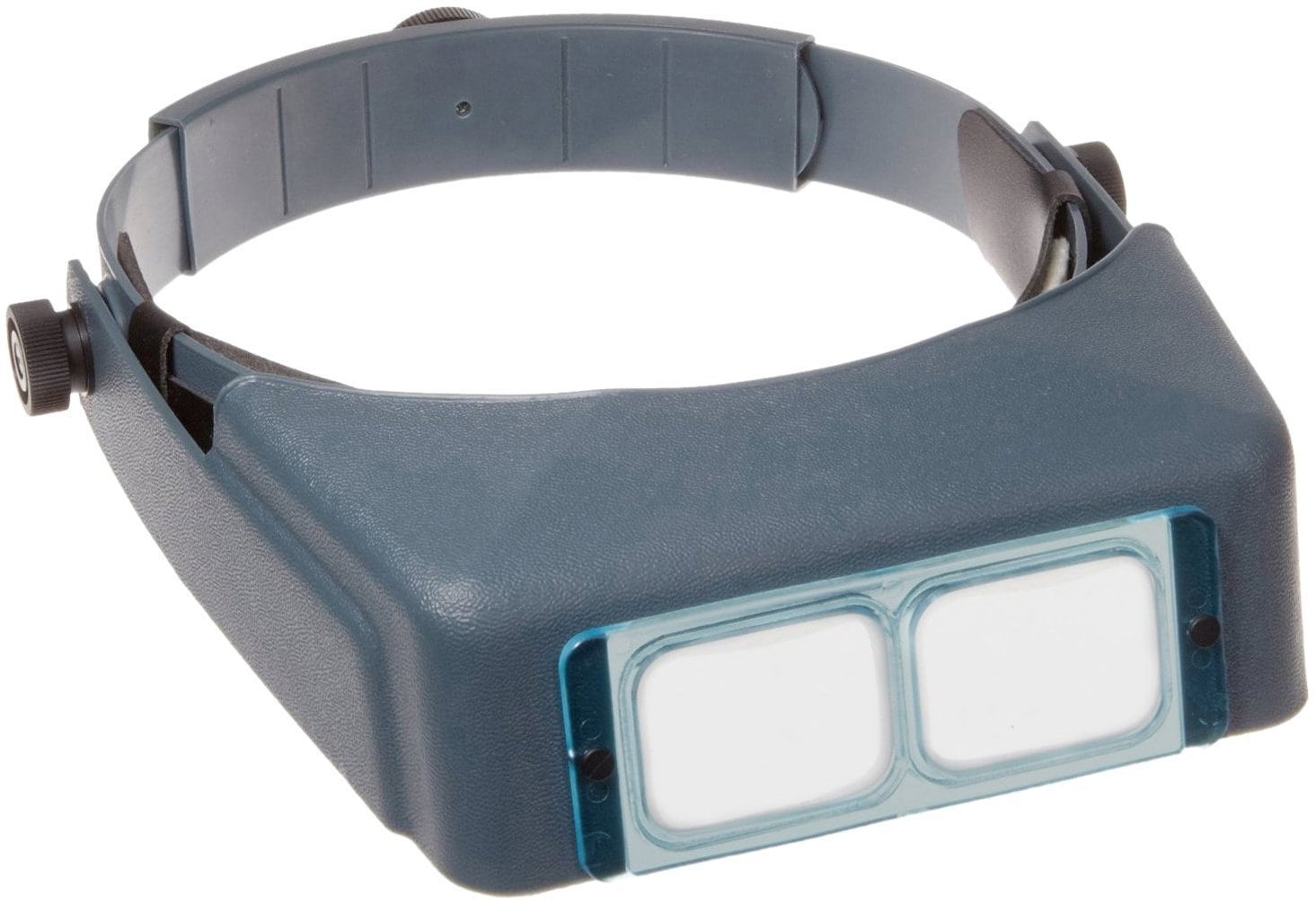 With polished lenses, this headband magnifier from Donegan provides the comfort that is needed when working hands free on many different projects. It can also be adjusted to the size of your head, making it a comfortable, easy to slip on piece that can be used for whatever purpose you have.
However, it makes the bottom of the list because there is just one lens that you can get with the headgear. The other ones have to be purchased separately. However, it is a great headgear choice to go with when wanting to see the smallest items, without having to use your hands.
The visor is able to tilt up when they are not in use, and you want to look with your normal eyes but can be brought back down when you want to get back to work. This makes them pretty versatile for the many projects you might want to use them on.
Customer Reviews
Glass lenses are extremely good quality
Optical quality is far and away the best feature
Simple, not fancy but does the job well
Adjustable headband is easy to use and maneuver
Comfortable, good durable material and feel
Check Latest Amazon Price
---
Do you recommend a headband magnifier that we didn't cover? Let us know!