Badminton is a fun outdoor game that's played at barbecues all over the country. It's the type of game that you and your buddies can get started with and have a blast for hours on end. It's also a pretty competitive sport when you get into it.
While the little badminton box sets are a fun way to get started with the sport, they simply aren't up to the task of competitive play. They wear out quickly and aren't reliable when it comes to slamming that birdie back over the net.
That's why it makes sense to consider a more expensive and higher quality racket as soon as you decide that you want to play badminton regularly. The quality rackets hold up to hard use better, and they are more fun to use.
Comparison Table
IMAGE
MODEL
FEATURES

Senston N80 Graphite Single High Grade Badminton Racket

Made of full carbon fiber frame and shaft

Medium Racket Length: 675mm

Inlcudes 2 racket + 2 overgrip + 1 cover

View Product

Yonex Nanoray 10F Badminton Racket

Balance: Head Light Balance

Weight/Grip Size: 3U/G4

Comes with string preinstalled And Small Head Cover

View Product

Champion Sports Double Steel Shaft Badminton Racket

All tempered double steel shaft and frame

Heavy-duty nylon strings

Dimpled leather grip

View Product

Yonex Muscle Power 3 Badminton Racket

Graphite shaft

Medium flex

Aluminum frame

View Product

Yonex Nanoray 20 Badminton Racket

Comfortable grip

Strong Strings

Great balance, weight and frame structure

View Product
I have more than a dozen different rackets that I use for myself and for my guests. I play competitively in local badminton tournaments and would consider myself an intermediate player. Sure I won't be making my way to the next Olympic games to represent my country in the sport, but I should at least be able to hold my own against experienced players.
Buying new rackets is always a hit or miss experience, which is why this guide exists.
To help you avoid making my mistakes, and find halfway decent rackets that won't cost you a small fortune, because who wants to spend $500 on a badminton racket?
I know I don't, so let's take a look at some of the more affordable, but just as durable options on the market to choose from.
What to Look for in an Intermediate Badminton Racket
Speed: Lightweight rackets move quickly and allow you to send back the birdie quickly and easily. You need something that's light enough for you to play competitively.
Durability: The shaft and the head of the racket need to remain firmly together during heavy gameplay. The strings should be composed of a durable material that's going to make it through many hard sessions.
Bounce: When the strings offer enough bounce, it's easy to hit those power shots. You'll find yourself launching the birdie at higher velocities than you thought possible with a quality racket in your hand.
---
Senston N80 Graphite Single High Grade Badminton Racket
The most budget-friendly lightweight racket that serious badminton players should consider is the Senston N80 Graphite Single Racket. It's supremely light, offers good springy performance and holds up reliably over regular use.
Sure it's not quite as nice as some of the high-end rackets from Yonex, but it is more affordable and comparable in performance. If you're getting started in badminton, or you're using a low-quality racket and don't want to spend $50 or $60 on a racket, this product could be the right one for you.
Do you think so? Try it out for yourself and find out.
Customer Feedback
Very light racket
Easy to maneuver
Great string tension
Improves game play
Easy to hold onto
Check The Price
---
Yonex Nanoray 10F Badminton Racket

The Yonex Nanoray 10F racket is one of the lightest that you'll find thanks to the high-quality carbon fiber construction that's laid out in a careful durable pattern. The racket is made to hold up to regular tough play, and it allows you to move fast enough to react to most plays while on the badminton court.
To get the very best out of this racket you really need to restring it for added power. You'll enjoy great control and lightweight performance with the original string, but once you add a new one you'll get the power that you need to win tournaments and play competitively for a good value.
Put it in your hands and see just how good it feels when you swing it back and forth.
Customer Feedback
Racket that hits beautifully
Provides a decent game
Clears the ball easier
Lightweight and easy to move
Good feel and control
Is more agile and flexible to play with
Check The Price
---
Champion Sports Double Steel Shaft Badminton Racket

As the cheapest option on my list, this racket is a good beginner option or a decent choice for serious players that like extra weight. If you feel like the more expensive rackets are too heavy, give this Champion Sports double steel shaft racket a try. It's heavier and has a good solid feel to it.
This product is really well built and will hold up even longer than many of the professional expert products. Sure you feel it every time that you swing, but for a stronger player it's still possible to complete quick offensive and defensive shots with it, and added power comes through in overhead smashes.
Ready to hit those powerhouse balls across the field? Now is your time to do so, just grab the new racket and head out on the road.
Customer Feedback
Hold up very well after a beating
Lightweight and provide superior control
Easy to use
Great flexibility
Constructed so the joints don't bend
Great for every day use
Check The Price
---
Yonex Muscle Power 3 Badminton Racket

This entry-level racket by Yonex is a good balance between value and performance. It's composed of a mix of graphite and aluminum, and is really comfortable to hold for extended periods. The product itself flexes slightly during use, but nothing like the cheap rackets that you find at box stores.
It's designed to hold up over regular use and can be restrung when the strings wear out eventually. It's a good solid investment for serious players looking for something more capable.
When you're ready to head out on the court, make sure to have a racket that you can depend on. This one might be the best one for the job. You won't know until you buy one and find out for yourself just how great it is able to work for you. Place it in your hand and feel the power.
Customer Feedback
Lightweight racket
Well strung
Very comfortable grip
Stable and easy to control
Smash easily
Works better than a lot of cheap rackets
Great investment
Check The Price
---
Yonex Nanoray 20 Badminton Racket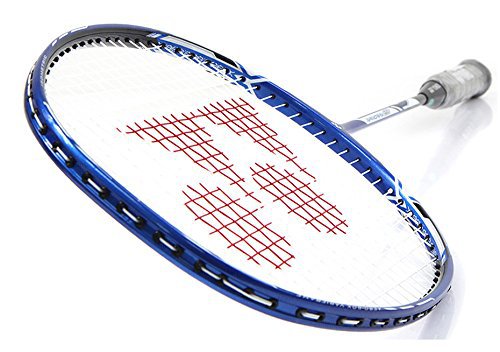 The Yonex Nanoray 20 racket offers a good balance of lightweight performance and rigidity. The carbon and graphite construction of this racket help it stay really light, but it also delivers plenty of power when rallying or smashing birdies.
This racket is a mid-range product that's priced higher than many entry-level options. It's meant to help players hit more accurately and more comfortably during heated matches.
Another great perk of this racket is that it has a pretty cool pop of color. This looks great on the court and helps you keep it apart from the others that you might come across. Win the games and be able to brag with your good looking racket.
Customer Feedback
A must have for all beginners
Lightweight
Strong strings
Flexible
Comfortable grip
Great balance, weight and frame structure
Perfect games
Check The Price