When you think about sewing machines, there are a few brands that pop to mind. There's Singer, there's Janome and the ever-famous Brother. But, are Brother sewing machines good? For as long as we can remember, Brother sewing machines have served as benchmarks for quality and professionalism. Today, we wanted to explore the best sewing machines they have to offer, but also learn a little bit more about what makes Brother the sewing machine titan it is today.
5 Best Brother Sewing Machine Comparisons
IMAGE
MODEL
FEATURES

Number of built-in stitches: 60

Sewing speed: 850 stitches per minute

Weight: 10 pounds

View Product

Number of built-in stitches: 1

Sewing speed: 1,500 stitches per minute

Weight: 24.2 pounds

View Product

Number of built-in stitches: 27

Sewing speed: 800 stitches per minute

Weight: 12.6 pounds

View Product

Number of built-in stitches: 240

Sewing speed: 850 stitches per minute

Weight: 22.05 pounds

View Product

Number of built-in stitches: 50

Sewing speed: 850 stitches per minute

Weight: 14.3 pounds

View Product
About Brother Industries
Brother was born 111 years ago (in 1908), and it was known as Yasui Sewing Machine Co. The company was founded by Kanekichi Yasui in Nagoya, Aichi, Japan. It was only in 1955 that Brother began its overseas affiliation when Brother International Corporation saw the light of day on US soil. In 1958, Brother expanded its operations in Dublin.
While they are mostly known for making some of the world's best sewing machines, Brother does more than just that. They make printers, fax machines, electronic cutting machines, label makers, scanners, and more.
I don't want to bore you with too much information on Brother's company history, but I think it's important to know about their values and philosophy in order to understand what this company could possibly do for its customers.
Brother is a company that's clearly looking to be an innovator and to cover as much ground as possible. And the way in which it does that is by making sure that every possible sewing enthusiast or professional can find at least one Brother product that caters to their needs.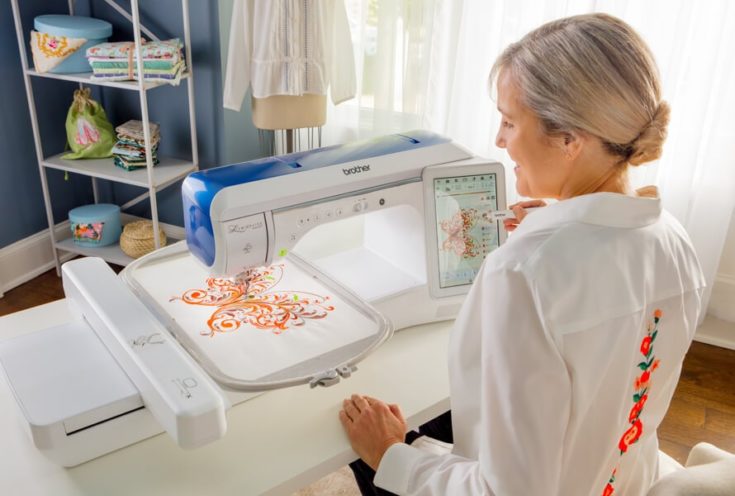 But something that a lot of people don't know is that Brother is also a brand that's interested in doing its fair share of environmental protection. For example, they have a program that aims to recycle toners and ink cartridges used in their printers.
They have a group that's engaged in sustainable development, which means they try to make products with a minimal negative impact on the environment. They are focused on creating products (such as fax machines or printers) that are Energy Star compliant. And the list goes on.
Top 5 Brother Sewing Machine Reviews
I'll have to admit, Brother's sewing machines are rather an endless topic of discussion for me. That's mainly because the models that they've made available up to this point are impressive for a multitude of different reasons. It doesn't matter if you're just beginning your sewing journey or sew for a living. It doesn't matter if you have $100 or $5,000 to spend on a new machine. It doesn't matter if you want to quilt or make embroideries. What matters is that Brother has a machine for everyone. And here are the top 5 that impressed us.
Brother CS6000i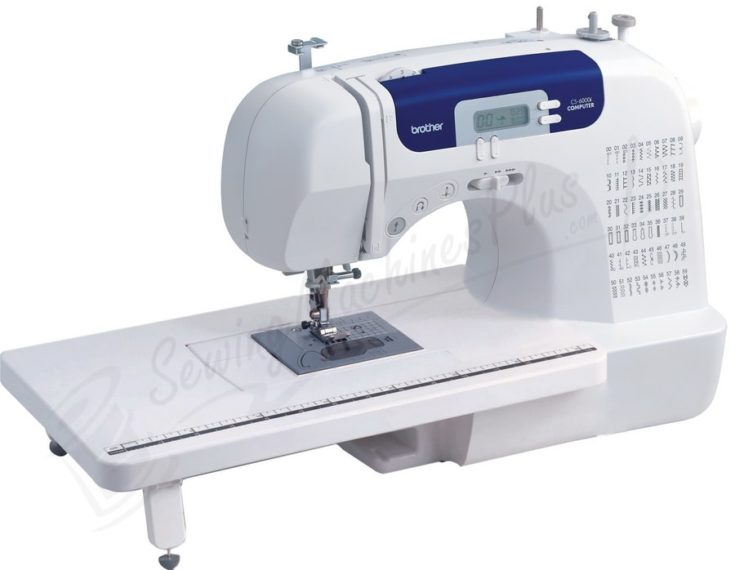 Number of built-in stitches: 60
Sewing speed: 850 stitches per minute
Weight: 10 pounds
Check The Price
There are plenty of reasons for you to consider buying the CS6000i machine, and it's not just because people are so enthusiastic about what it can do. It is a machine that comes with 60 built-in stitches to cover your basic needs and then some. Every time you select a stitch, you can see it on your LCD panel, which is a real upgrade compared to the more basic and low-budget machines out there.
It is equipped with a total of 8 different quilting and sewing feet, such as a zipper foot, a monogramming foot, a walking foot, and more. The working area is backed up by an LED light that makes it easy to see what you're doing even when the light in the room isn't that strong. You can adjust the sewing speed to match your current working rhythm. The automatic needle threader makes it relatively easy for you to set up the thread through the needle.
The machine is equipped with an impressive number of features considering its relatively low price (at least when compared to machines that cost thousands of dollars). Other features of interest include: drop feed that can be used for free-motion quilting, the fact that you can operate with and without a foot control, the built-in thread cutter, the automatic bobbin winding, the ease of using operations like start, stop, or reverse, and others.
Who Should Buy This?
The CS6000i is a customer favorite. It offers a great deal in terms of price-to-features ration because it allows sewing enthusiasts to quilt and sew with a quality machine that has plenty of built-in stitches and is so intuitive to figure out.
Pros:
Tells you what presser feet to use.
Computerized stitch selection.
Built-in thread cutter.
Automatic threading.
Sewing speed selection.
Good for all levels of expertise.
Cons:
Questionable long-term durability.
Brother PQ-1500SL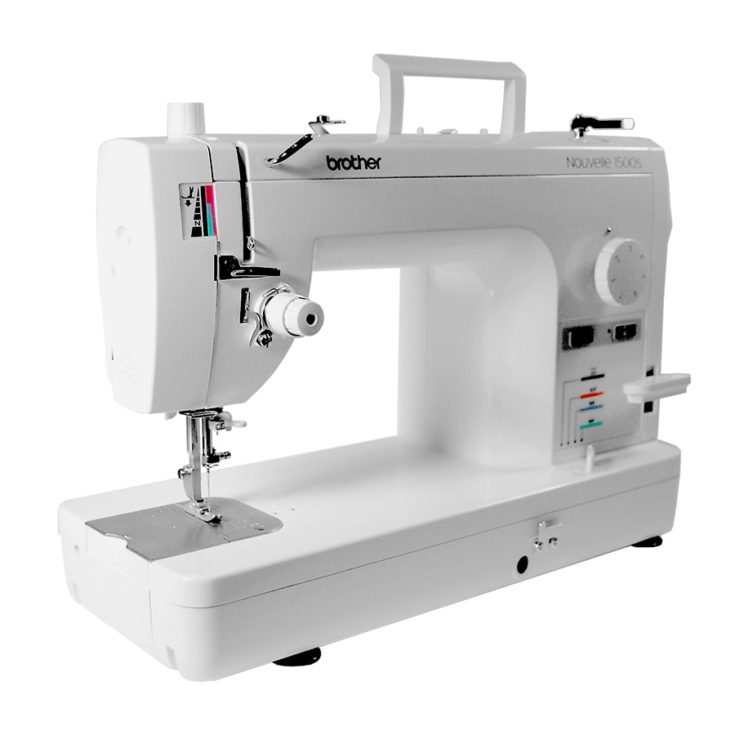 Number of built-in stitches: 1
Sewing speed: 1,500 stitches per minute
Weight: 24.2 pounds
Check The Price
Aside from the fast sewing speed, the Brother PQ-1500SL is a sewing machine with many different aces up its sleeve. It comes with heavy-duty construction that's meant to ensure this machine will stick with you for many years to come. It comes with a fabric separator that will come in handy whenever you need to join lightweight linings and eliminate puckering.
The automatic drop on the lower feed dog as the presser foot is lifted will allow you to feed fabric into the machine a whole lot faster and easier. When the PQ-1500SL stops, you can gain full control of the needle's stopping position thanks to the integrated mechanism. You are now able to prevent slippage thanks to the exclusive pin feed mechanism.
Other features of interest that make the PQ-1500SL a very intelligent buy include automatic needle threading, removable knee lift for easier fabric maneuvering, intuitive thread tension dial because of color coding, large extension table, the sewing speed of up to 1,500 stitches per minute, feed pressure adjustment, and more.
Who Should Buy This?
With the capacity of reaching up to 1,500 stitches per minute, the PQ-1500SL is a machine designed for those who are ready to pick up the pace with their sewing projects and would like to be able to work faster and more efficiently on whatever it is they have to sew.
Pros:
Extra-large extension table.
Automatic needle threader.
Auto thread cutter button.
High sewing speed.
Heavy-duty construction.
Cons:
Brother XM2701
Number of built-in stitches: 27
Sewing speed: 800 stitches per minute
Weight: 12.6 pounds
Check The Price
Whether you are on a budget or a beginner that's just learning how to sew, the XM2701 is a great machine for you. It comes with 27 built-in stitches that should cover basic and decorative needs, bringing more versatility to your home projects. The machine comes with 6 sewing feet that are easy and fast to change: a button sewing foot, narrow hemmer, blind stitch, zig-zag, buttonhole, and zipper foot.
The working area has a LED light that illuminates and provides maximum visibility over what's going on in the needle area. It comes with an automatic needle threader that's meant to take some of the pressure off when it comes to one of the most tedious parts of sewing: threading the needle. The rotary dial serves as an intuitive stitch selector, and all of the stitches and their corresponding numbers are printed directly on the chassis.
Other features you might be interested in include a top drop-in bobbin, 63 stitch functions, automatic bobbin winding system, and an instructional DVD that will teach you how to gain full control over the features of the machine.
Who Should Buy This?
Looking for a Brother sewing machine but have to limit your options because of the budget? The XM2701may be a little fellow, but it's a reliable machine for people who have their hearts set on purchasing a product made by one of the industry's veterans.
Pros:
27 built-in stitches.
Automatic needle threader.
LED-lit working area.
Top drop-in bobbin.
Automatic bobbin winding.
Cons:
Brother SE1900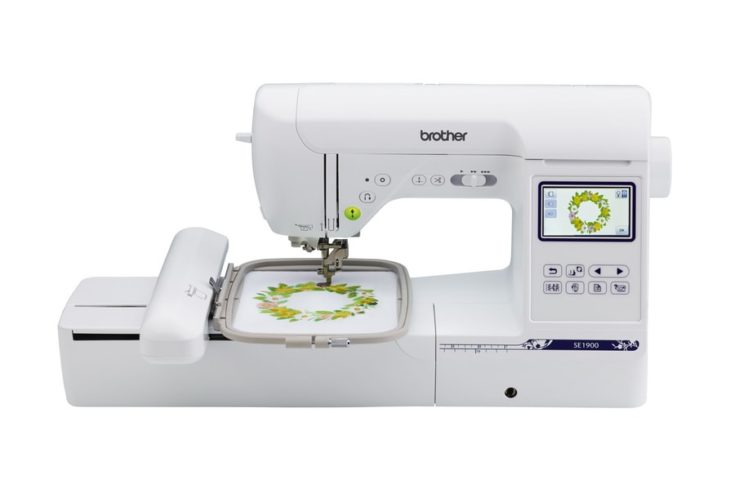 Number of built-in stitches: 240
Sewing speed: 850 stitches per minute
Weight: 22.05 pounds
Check The Price
If you're looking for a home embroidery machine bearing the Brother logo, this is it. There are tons of reasons to love this little baby. It comes with a 3.2-inch color touch screen that will allow you to visualize your embroidery designs in color. The embroidery area measures 5 x 7 inches, which is plenty of space for you to have full visual control over what's going on with your design every step of the way.
It includes 240 stitches that will help you create the most amazing embroideries and impress everyone, including yourself. It also has 11 embroidery fonts to customize your design and make the next batch of Christmas gifts for the entire family. Even more, you get 138 built-in embroidery designs that are bound to lead you to amazing results. The working area is super-bright and you can really tell the difference between this feature and that found on other less expensive machines.
Listing all the other cool features of the SE1900 would take forever, so here's just a few of them: free-motion sewing, automatic needle threading, 7 feet included, USB port for transferring designs from your computer to the machine, design combination capability, built-in memory, and more.
Who Should Buy This?
There is a reason why we labeled this machine to be the best for home embroidery since there is another model that's actually the best Brother embroidery machine (considering the price and features, that's more suited for professional sewers). Good embroidery machines will never be cheap, which makes this machine suitable for people who are really serious about investing in a unit that can make good-looking embroideries for their home projects. It's also great for quilting, but if you want more options for good machines for quilting then click here.
Pros:
138 embroidery designs.
USB port from transferring designs.
Super-brightly illuminated working area.
11 embroidery fonts.
7 feet included.
Free-motion sewing.
Automatic needle threading.
Cons:
It doesn't include software for proper file type conversion.
Brother CS5055PRW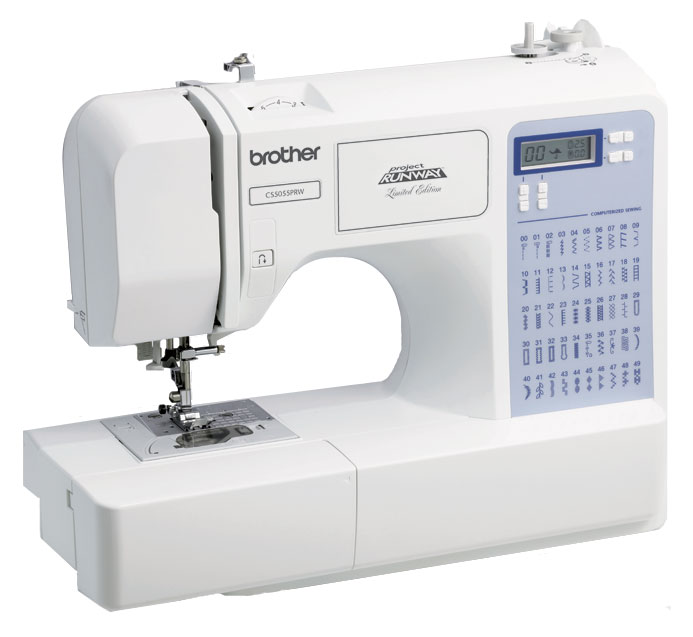 Number of built-in stitches: 50
Sewing speed: 850 stitches per minute
Weight: 14.3 pounds
Check The Price
From the first moment you feast your eyes on the Brother CS5055PRW, you can tell that it's a pretty basic sewing machine. But don't let appearances deceive you: this machine can totally handle the normal sewing projects you want to throw its way. The first thing that will draw your attention is the number of stitches on the chassis. There are 50 of them, which should have you covered in terms of pretty much whatever a beginner may need, stitch-wise.
There isn't an impressive number of buttons or dials that would get you confused about how to operate the machine. There is an LCD screen that allows you to select and visualize the currently selected stitch, as well as information about the foot that you should use, the length and the width of the stitch. The working area is illuminated, as is the case with most Brother seeing machines.
Some other features you might be interested in are the automatic needle threader, the top bobbin, the drop feed that helps with free-motion quilting, the horizontal spool pin, the 7 included feet, the multiple needle positions, and the adjustable thread tension control.
Who Should Buy This?
The Brother CS5055PRW is mostly a sewing machine for beginners that have yet to identify what exactly they expect to get from a product of this kind, or still have to discover what type of sewing projects they'd most like to handle.
Pros:
7 feet included.
Presser foot-to-stitch instructions.
Control over stitch length and width.
One-touch reverse feature.
Free-motion quilting.
50 built-in stitches.
Cons:
Bottom Line
As you can see, Brother isn't just an expert in making sewing machines; it's also a very generous manufacturer. It has identified all the potential needs that sewing beginners and professionals might have and created and tweaked its machines accordingly. In other words: there is a Brother sewing machine out there available regardless of your needs or budget or level of expertise.
Even if, by some miracle, you are unhappy with your purchase, you can always return the machine within the timeframe mentioned by the seller and ask for a refund. However, the impressive number of customers that have used Brother's sewing machines for years is a hint that you probably won't be asking for a refund any time soon.