Last week, I was working on some drawings, and I love to add some lettering in there. Not only that, but do you know how many things you can do if you know how to do fancy lettering using some fine brushes?
Anyway, I was trying to go for a nice look with the lettering I was doing, but I wasn't able to get the right look without having the ideal pen for the job. This was becoming frustrating, and then my friend said something about brush pens.
I didn't know that these types of pens even existed, but I guess they do and I guess they work great. However, I didn't want to spend my cash on some junk, so I took it upon myself to find some of the best brush pens on the market, and which ones really did the trick when it came to my fancy lettering.
It was so worth it.
What to Look for in Brush Pens for Lettering
Precision: The pens must have precision, not leak and provide an all over smooth application. When coloring or writing inside lines, having the ability to do so without having the tip move to the outside of the lines is ideal.
Fine tips: The fine tips can provide an accurate outline, but if the pens are able to switch between the fine and thicker lines, this are more ideal. However, choosing between fine and thicker lines, always go with fine.
Vibrant colors: The colors must be vibrant and alive. If you choose to go with a black option, it shouldn't look gray or watered down on the paper when it is being used.
Smooth overlay: When coloring or lettering with the pens, they should provide smooth application onto the paper that you're writing on. They should not leave streaks, clumps or other defects.
Water-based ink: Water based ink can provide a beautiful appearance for any project that you're letting. Using water based ink also ensures that it is non-toxic and that there are many other options you have with the use of the pens.
---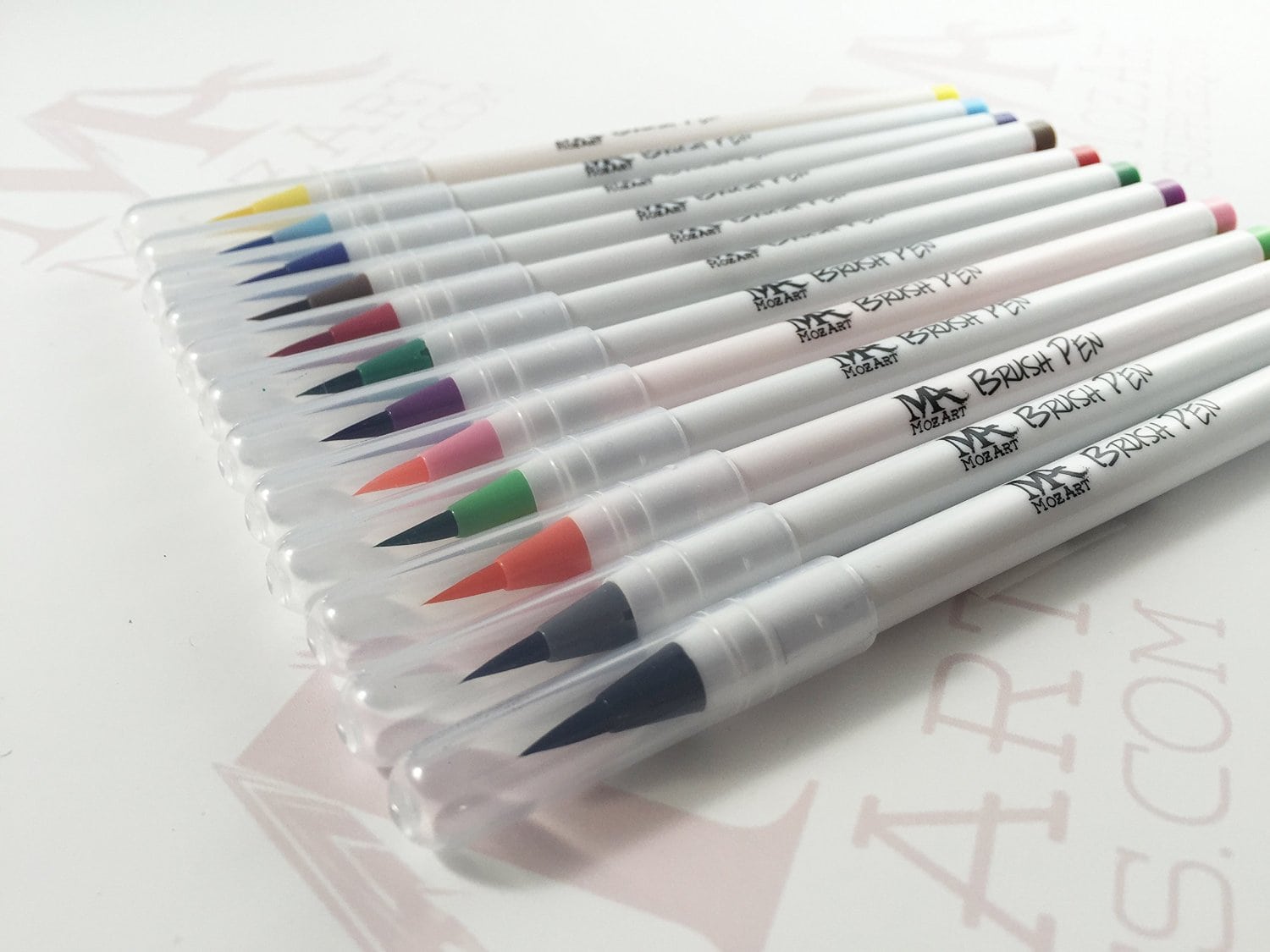 For a set of 12 pens, the MozArt Supplies Brush Pens Set provides beautifully vibrant, pop off the paper colors that you can enjoy. Each pen is comfortable to hold, and glides over the paper smoothly and easily.
The high quality pens were designed to provide hours of letting or coloring fun. They were made to outlast competitors, but also ensure that the ink does not dry out easily when used.
The fine tips on the ends of the pens can do fine lines, or be turned slightly to create a thicker line, depending on the size of the lettering and how you'd like it to turn out. These pens can also provide the watercolor effect.
Simply add a few drops of water over where it was colored, and the color bleeds and dries down the paper, creating a beautiful look. Definitely a set of pens worth checking out.
Customer Reviews
Really fun, versatile brush pens to use for lettering (and other designs)
Work smooth, they feel like you're using a paintbrush
Gorgeous, vibrant colors that stay dynamic over time
Feels great writing with these pens
Great variety of colors and shades
Check Latest Amazon Price
---
If you're searching for something a bit more professional, then the Sakura 50028 Pigma Professional Brush provides the black color that you want, but the smooth fine lines of the tips to provide the ideal lettering.
You can write a whole letter in these amazing pens without having a hand that gets tired. The black stays black, and it will provide a way for you to flawlessly flick the tips of the pens over the tops of the papers.
Enjoy all that comes from these professional, yet beautifully designed pens made for everyone to enjoy for all lettering types. The nibs of the pens have high quality materials, allowing them to be some of the best to write with on the market.
If you have some letters you want to write, crafts you need to put names on, or anything else then these pens can provide the ideal look and feel.
Customer Reviews
Best brush pens I've used in my experience
Has a great flexible brush tip that makes lettering easier
Great for details or smooth lines
Ideal for those learning lettering or  experienced in the lettering arts
Includes enough sizes to do different things without getting overcomplicated
Check Latest Amazon Price
---
Enjoy writing in style and comfort using the Kuretake Bimoji Felt Tip Brush Pen for Manga/Calligraphy. It provides the ideal smooth gliding tip that can go on without smudging, but also provide the super fine lines for the letters that you need.
These are beautifully designed, and each one is handmade, so you can ensure that you're getting a genuine product that was meant for the highest quality of lettering that you want to do.
Whatever your heart is set on, these beautiful brushes can help you do it. They do only come in black ink, though, so make sure to check that out.
Customer Reviews
Very comfortable pens to use, even for a few hours
Has same size as traditional brushes
Prevents slipping and unwanted rotations
Flexible, smooth tips make for great lettering lines
Easy to maneuver with minimal hand effort
Not difficult to get a feel for the pressure you need to use
Check Latest Amazon Price
---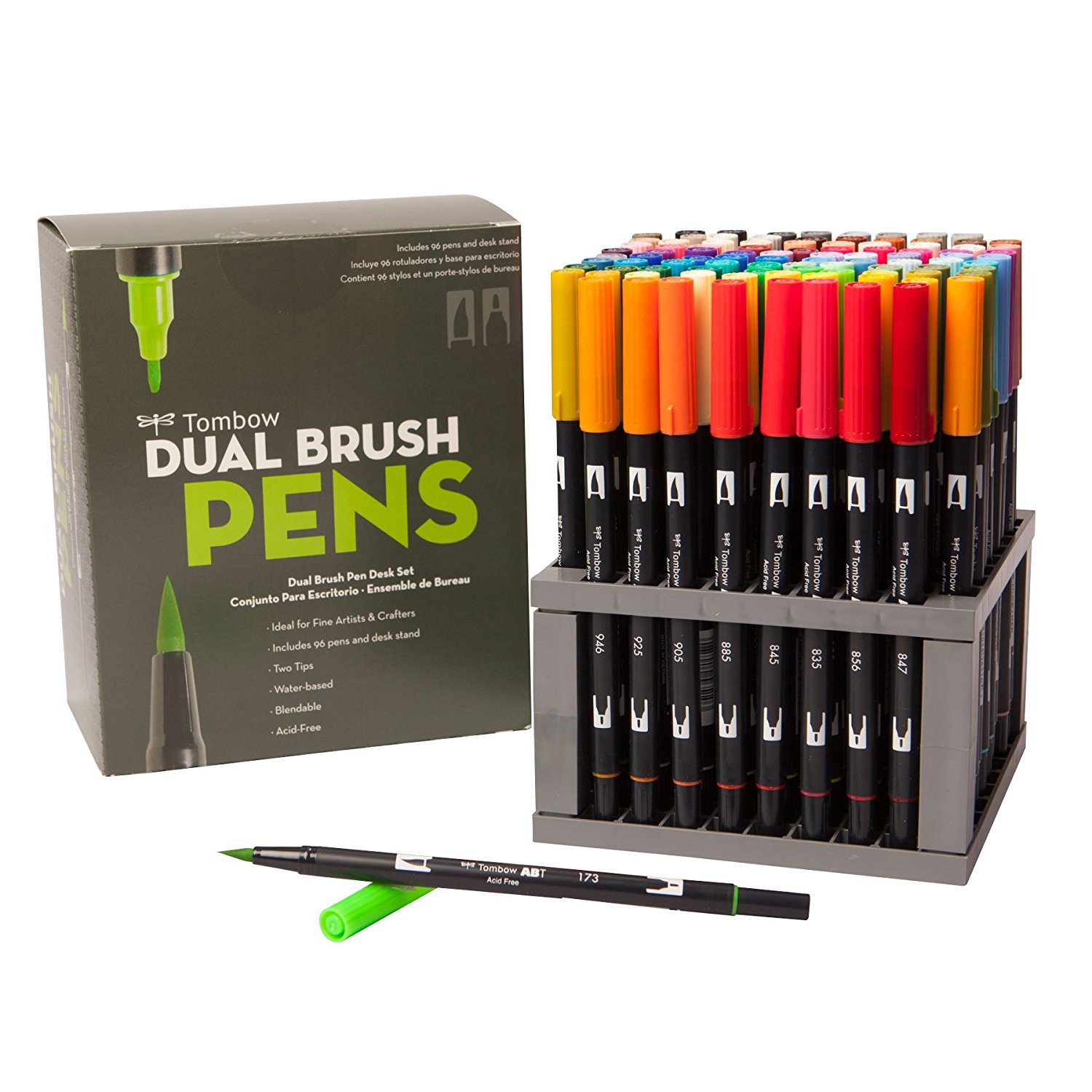 If you need a little color in your life when it comes to lettering, then you want to check out the Tombow Dual Brush Pen Art Markers. Not only do they come in a pack of 10, but all of the colors are bright and vibrant. You can imagine yourself coloring or writing with them.
The thin tips of the pens provide fine lines when needed, but when they are tilted a bit, you're able to get a thicker line for a better looking letter.
You can do so many crafts, coloring and lettering options when it comes to using these pens. The colors never bleed, or become dull with time. You're able to have the letters jump right off the page at you, if you choose.
Whatever you're choosing to letter, this set has all of the colors you need to make a statement in your own words and handwriting.
Customer Reviews
Vibrant, color-rich markers
Work well compared to similarly priced markers and brush pens
A lot of fun to use, easy to get the hang of
Great ink flow, easy to control and gauge pressure
Check Latest Amazon Price
---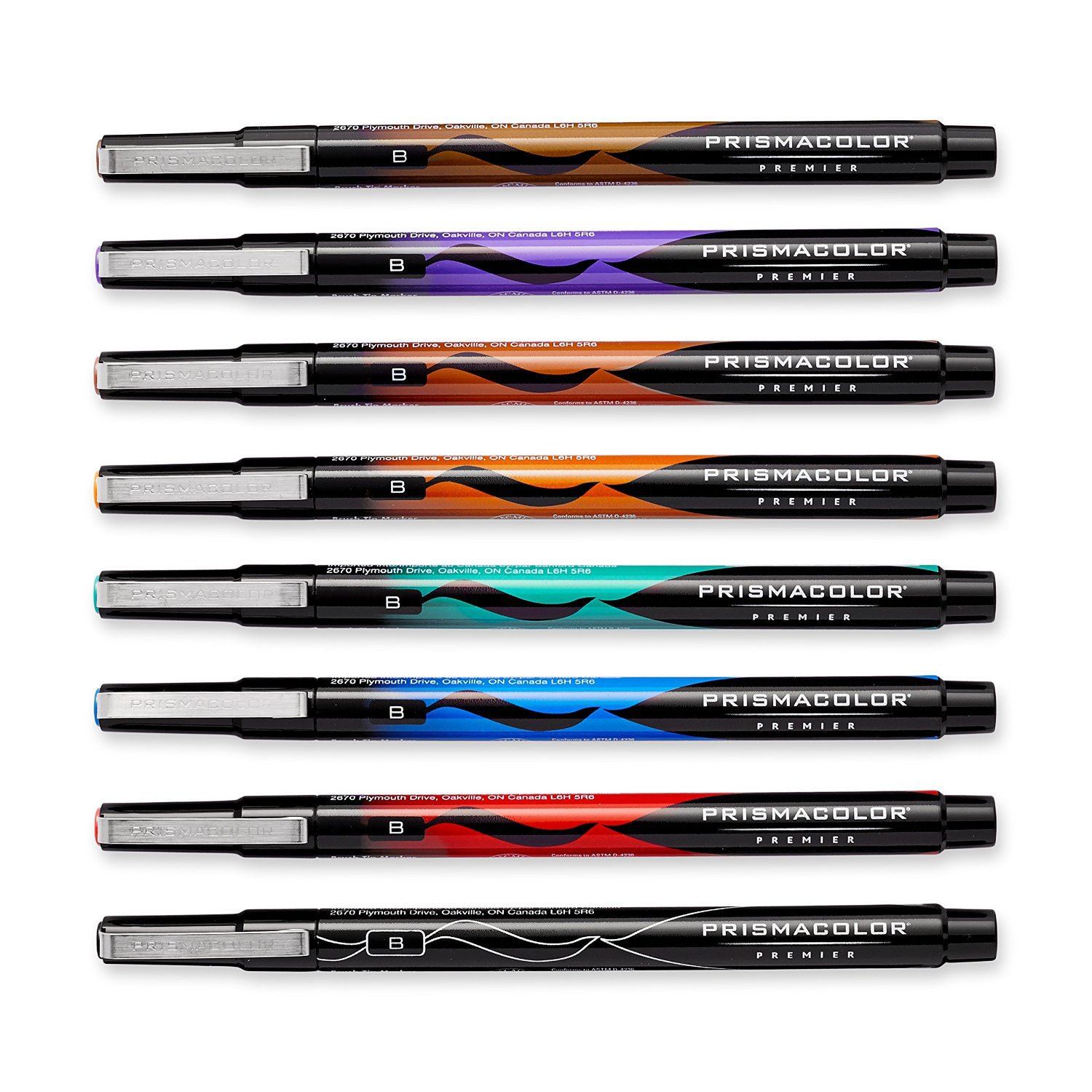 If you want something that is at an artist's grade and quality, then the Prismacolor Premier Illustration Markers, Brush Tip can be the option to go with when the time comes. You're able to make the most out of the lettering that you're doing because they glide so easily, and look so smooth.
Choose this set that comes with 8 different colors, so you can create the letters or projects that you need, without having to purchase multiple sets to get the right colors for the occasion.
The tips are made from high quality materials, ensuring that they stay wet when needed, and do not leak out too much ink when not. The ink is water based, as well; providing that smooth appearance, but weeping when you add a little water.
These are pens made for an artist, and if you're like an artist like me, then they are for you.
Customer Reviews
Blend extremely well, great for beginning or expert artists
Dry quickly, great ink flow and smooth movement from tip
Great price for what you receive
These pens have wonderful tips that make it easy to angle to your liking
Fine tips hold up well even after hours of use
Check Latest Amazon Price
---
Do you recommend a hand lettering brush pen that we didn't cover?
Great, let us know! You can also check out our reviews on other drawing and art items, including the best calligraphy pens for beginners, the best electric pencil sharpeners, the best brushes for acrylic painting and the best airbrush kits for beginners.