Well, the bad news is that we still have a lot to go until next Christmas, but the good news is that we have another great holiday to look forward to. While few people get as excited about Easter as they do about the winter holidays, it is still a wonderful time to get together with the entire family and perhaps even host a large dinner where you get to invite your close friends.
Whatever you have planned for the upcoming spring holidays, we're going to show you some really neat decorations that you can put together for this year's Easter. Each one of these is easy to make, affordable, and will provide you with an excuse to spend quality fun time with your family as you're putting these together.
A Quick Tutorial on How to Make an Easter Centerpiece
Before you make Easter-themed name cards or placeholders for the big family dinner, consider making a gorgeous Easter style centerpiece for the table! I whipped this one up in just a few minutes, so I'm sure anyone with a glue gun can do the same!
What You Will Need:
Twig Wreath ( I got one from my local craft shop )
Plastic and/or Styrofoam Easter eggs
Ribbon
Extra little decorations that are lightweight such as flowers and leaves
Glue gun and glue sticks
How to Make It
Step One: Add the Eggs
Plug in the glue gun and wait for it to heat up. Then, begin placing the plastic eggs where they rest snuggly around the wreath. Secure them with hot glue. Make sure to evenly space them to leave room for other items
Step Two: Fill in the Gaps
Using the hot glue, start placing the other items around the wreath in a decorative manner, filing in the space.
Step Three: Let Dry and Set
And that's it! Look how easy it was to whip up this cute little Easter table centerpiece! Your friends and family will love it!
Easter Placeholders
You can really get into the Easter spirit by buying or making your own festive placeholder cards, which can also double as gift tags. It's a wonderful project that you can work on together with your kids, and you can play with a variety of colors and create anything from cute to crazy-looking birds to adorn your project.
Jellybean Chicks
With just some plastic wrap, miniature pom poms, small googly eyes, and some scissors, you too can make these adorable chicks that you can fill with delicious jelly beans. Not only would these make great gifts for the kids, but they can also be given out as small favors to those coming over for an Easter get together.
Chick Crochet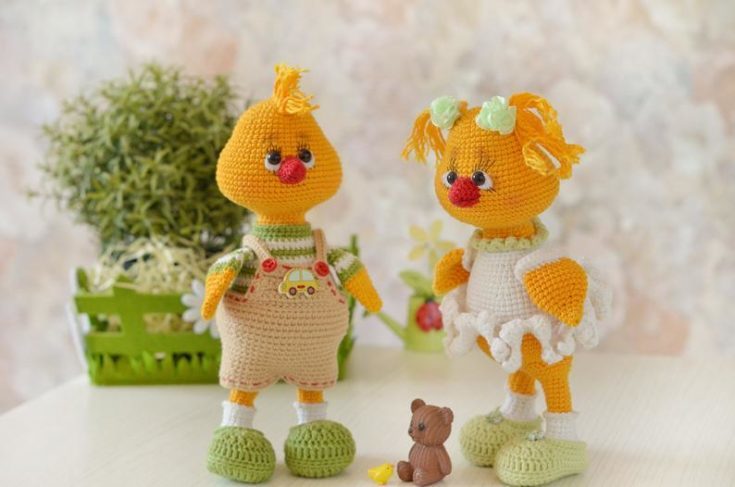 Learning how to make these adorable chick crochets is easy, especially if you know your way around the craft. These crochets can make wonderful Easter decorations, but they can also make amazing gifts for children as well. Even if this particular tutorial doesn't teach you the actual crochet basics, you can find plenty of free online tutorials that will teach you how to make several types of stitches so that you can see this project through.
Easter Spoon Decorations
Did you know that you can make some really awesome Easter decorations by re-purposing plastic spoons and using some colored papers and strings? This tutorial will show just how versatile you can be when crafting bunnies, hatching eggs, and chicks with just a handful of materials that you probably already have lying around the house.
Egg Placeholders
Here is a DIY project that uses paper mache eggs to create beautiful and playful placeholders that will surely receive much appreciation on behalf of your Easter holiday guests. You can play around with acrylic colors to achieve vivid color combinations that are both adorable and eye-catching.
Festive Hen Placeholders
Since eggs are basically the centerpiece of Easter holidays, how about you turn some of them into adorable-looking hens that you can easily decorate the house and your festive table with? The additional materials are probably in your house already. So grab yourself some colored markers, glue, some pieces of paper, and get ready to get creative!
Easter Egg Pots
If you have some terracotta pots lying around and you've been looking for the perfect excuse to integrate them in your next DIY project, here is an idea that will show you exactly how to put them to good use. The project itself is really not that complicated, as all you'll need are dyed eggs, glue, ribbon, some paints and brushes, and a little bit of patience.
Conclusion
If you have the time and the patience to make your own Easter gifts and decorations, there is really no limit as to what you can create with supplies that you probably already have lying around the house. It's really easy to turn a bunch of dyed eggs into table centerpieces and to make colored cutouts that will enhance the beauty of your crafts. What Easter crafts have you tried making so far?