Always wondered how to quilt on a sewing machine? When you sew together two or more layers of fabric in order to get thicker padding, in the end, that process is called quilting. From a sewing machine perspective, you would require special equipment in order to make a quilting project, as the thick layers of fabric have their own requirements. So, is it possible to quilt with a sewing machine for beginners?
A Word of Introduction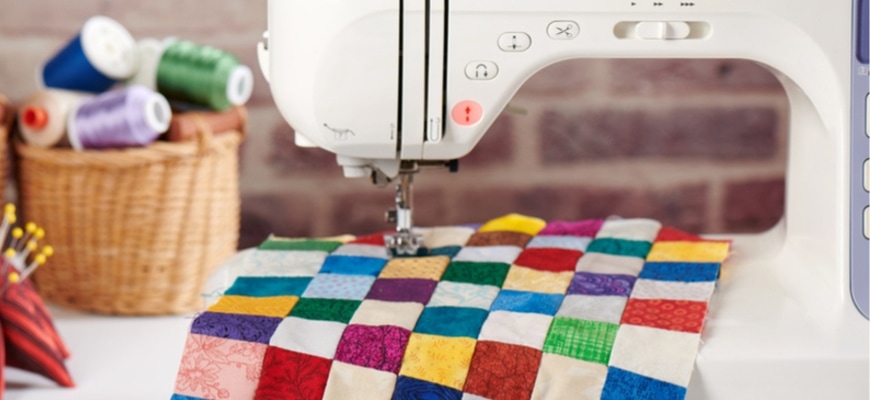 Yes, it is absolutely possible to quilt using a beginner's sewing machine. The technique itself will be different depending on what type of stitching you choose or the design you want to quilt. While we're going to show you a particular method for quilting using a basic machine, know that there are other options out there for you to explore.
With this article, you'll learn a skill that can be applied to other kinds of projects, too! Like DIY quilted sewing machine covers or kitchen cozies. There's also different kinds of quilting you can try; free motion quilting where you disengage to feed so you can move your quilt under the needle however you wish. Or keep your feed dogs engaged for a more guided experience.
For this tutorial, I'll be using an existing quilt that my grandmother made when I was a little girl. It's been falling apart and in serious need of restoring for years now, so this is the perfect opportunity. As you can see in the pictures below, the actual patchwork – done with hand quilting thread – on the face is in great condition. But the batting, backing, and binding all need to be redone. What are those things, you ask? Well, you're in luck! I'm going to talk all about it in this tutorial!
What You'll Need
Even if you're starting with a new quilt, here's everything you will need:
Whatever beginner's sewing machine you normally use. I have a mid-range Singer and it works perfectly for this. But there are plenty of good brands you can use for quilting and embroidery.
Top piece. (you can buy pre-done patchwork or use one large piece of patterned fabric. Or, like me, save the patchwork from an old quilt. There's always the option to make your own patchwork or patterned top piece, but that's a tutorial for another day!)
Backing. This is a solid piece of fabric that will be the back of your quilt. Because this is the part that touches your body, make sure it's soft. It can be brand new, or a re-used piece of fabric from something else. After all, that's what quilting is all about! Reusing scraps of materials to make something new.
Batting. This is what gives your quilt its thickness and padding. It can be in the form of cotton sheeting or just poly batting.
Sharp scissors.
A ruler. (optional)
Gridded cardboard (optional; it helps you to stay within measurements).
1.5-2inch folded binding. This is a precut strip of fabric to create your border along the outside edges of your quilt. It keeps everything together, like a picture frame, and should match the other fabrics on the blanket.
An iron (optional). See our recommended list here.
Step-by-Step Instructions for Sewing a Quilt
It is often believed that a more basic sewing machine designed for domestic use just doesn't have what it takes to be used as a quilting project. Today, we want to dismantle that theory and show you that with the right know-how, you can actually use a beginner's sewing machine for a quilting project.
Step One: Prepare the table surface
A great part of successful quilting means that your material doesn't fall off the table, as this can cause trouble with your sewing machine. With quilting, gravity is super important, which means that you don't want the fabric to go down or the stitches to be disturbed.
What you can do is get yourself a large table to work on. You will also need plenty of space on the left side of the table, which will allow you to move this hand free to work on your project. You can have the quilt fall on your lap if need be, just make sure there is room on the backside of the table if you do so.
My sewing table is actually pretty small, so I've set myself up at the dining room table for this project.
Step Two: The prep
Typically speaking, in order to make a quilt from scratch, you are going to need three sections of fabric: the top piece, the batting, and the backing. See the labeled picture above. Think of it like a sandwich.
Batting generally is of two types: cotton batting and poly batting. Either one of these is just fine, so it's a matter of personal preference and which one you'd prefer to have in your quilt.
Step Three: Layering
When you have everything at hand, you can layer all the three sections together that will make your quilt. At this point, it would be very useful if you had a gridded piece of cardboard and placed the backing piece on it. You want the backing to be very flat, and you might have to use an iron for that.
You will need to make sure that these three layers are as flat as possible in order to move on to actually sew your quilt. If you use an iron, keep in mind that any polyester fabrics you might be using tend to shrink under heat.
Step Four: Sewing
The size of the piece you're working on will determine how you start sewing. If you have a small blanket, you can sew all four outer edges first. If you're working on a large project, locate the very center of your quilt and divide the entire surface into four even squares. Then, you will start sewing from the center spot and out toward the edges of each of the four squares. This keeps your batting in place.
For me, I'm dealing with a medium-sized blanket, so I just kept it simple and sewed two straight lines, dividing it into three sections, before sewing around the edges. That should be enough to hold everything together and minimizes the amount of sewing involved.
Tip: If you're not familiar with how to set up your sewing machine, we've got another great tutorial for you!
Step Five: Binding
Next, we're going to add the final touch! The binding or, as some call it, the edging. Either way, it's the 1.5-2inch wide strip that goes around the entire perimeter of the quilt. It keeps everything in place and frames it all in nice and neatly. You should have four separate strips, one for each side.
First, take a strip of the binding for one side and fold it over the edge of the quilt you have so far. Half the binding width should be on the front, while the rest wrap around and the other half is on the back.
Using pins, tack it in place. This way, you won't have to fuss with keeping it perfectly folded around the layered edges while you push the whole thing through the sewing machine. Start at the corner and slowly work your way down, stitching as far in on the binding as you can. See the picture above for how to set it up on the machine.
When you're done that side, take another strip of binding and repeat this for all four sides, tucking the corners in and sewing over those as well. And, voila! You have yourself a quilt! I recommend testing out your new skills with a mock u for a smaller blanket first. Perhaps a throw size? This way, it's more manageable, but also allows you to make mistakes before diving into a more advanced quilting project.
Conclusion
You can use a regular beginner's sewing machine for quilting, but a lot of the operations can also be done by hand. Naturally, this will take longer, but those who have experience with sewing or want to make this project a little more challenging can do so. If you can't manage to quilt using a regular sewing machine, there's most likely a problem with the machine itself, and not with the fact that you're using a basic machine for a complex project, such as quilting. Have fun creating!