There are plenty of different ways to decorate garments and other objects that you want to bear a custom-made design. Silkscreen printing and heat press printing are two of the most popular methods, and while they're both aimed at achieving the same results, they imply using different items, setups, and methods.
Silkscreening uses a custom stencil to transfer different layers of color onto a garment, while presses use the power of heat to transfer something that resembles a sticker onto an end product. While it may not mean much for the average home user, those of you that are planning to open a small print business or those of you that want to create bulk personalized garments should know what each of these methods implies and understand when either of them would better come into play.
Silk Screen Vs. Heat Press Comparison
Silk Screen
​​​Heat Press

Limited number of color transfers.

Efficient when printing in large batches.

Taken longer to set up.

Unlimited number of color transfers.

Efficient when printing in small batches.

Quick setup.
Silk Screen
How It Works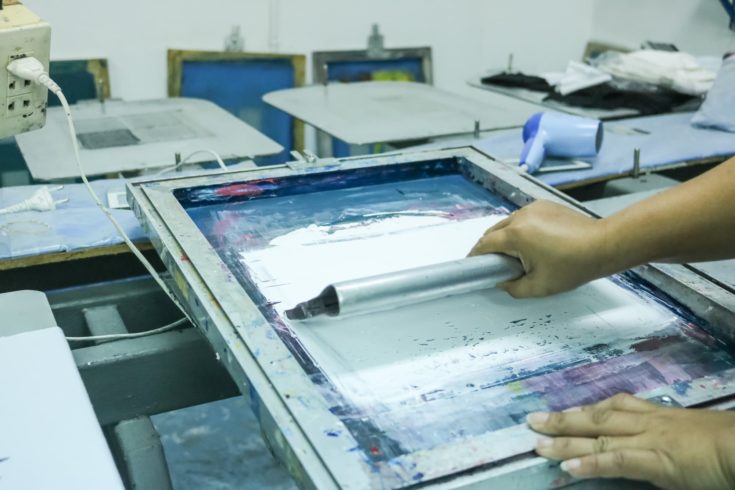 Silkscreen printing is a very popular method for transferring designs onto different types of materials. Being around for more than 100 years, silk screen printing is used for making T-shirts, ceramic objects, even paper and wood prints. As you can imagine, there are different types of silk screen printing that vary depending on the process and the aim.
In order to apply a print onto a certain surface, one would first need to create the printing frame. The frame is placed on top of the fabric where you want to transfer the image, and then the scraper is used to screen the colors onto the fabric. The thing about silk screen printing is that you generally transfer one color at a time, and you have to leave color to dry before applying the next one. Each color requires a new screen.
These have evolved a lot over the past years and now we have machines that perform the silk screening process. Overall, the best way to understand how this type of printing works is to think of it as if you were applying a stencil.
Advantages & Drawbacks
There are plenty of advantages in using silk screening printing to transfer designs onto a specific surface:
You get a perfect reproduction of the color you want to be printed.
The items that you personalize using this method are more durable and if you're using good colors, they won't fade away anytime soon.
You get to personalize a wide variety of textures and surfaces at a really good price per unit.
The mesh screen that you use to transfer the designs can be washed and used multiple times afterward.
Naturally, the process does involve some disadvantages:
In order to get everything ready for silk screen printing, you will end up consuming a lot of time. Since this method implied to create a fine-mesh screen for every color in the design, it's not very time-effective.
It's a difficult method to turn to if you want your prints to have special color effects, like gradients.
Cost-Effectiveness
The good news is that this printing is really advantageous if you have to print the same design over and over again on multiple pieces. However, if you're only looking to make a couple of T-shirts, it's not really worth using this method.
Heat Press
How It Works
A heat press is basically a machine that transfers a design onto a specific surface using thermal power. Regardless of the type of heat press that we're talking about, the concept behind using such a device is pretty similar. Heat press printing is generally a three-step process.
The first step implies creating and printing whatever it is that you want to transfer onto a T-shirt, tote bag, stuffed toy, puzzles, whatever. The second step implies cutting whatever leftover material the design has that you don't want to be transferred on your item. Lastly, the heat press will use the power of heat and a ceramic plate to apply pressure onto the design in order to transfer it to your final product.
Advantages & Drawbacks
While they're both aimed at doing the same thing, silk screen printing and heat transfer printing are two very different processes. Because of that, they also offer different advantages and bring a different number of drawbacks to the table. If you opt for heat transfer printing:
You can work with multiple color effects, considering that you can transfer entire photos onto the item of choice. It's great for high-quality heat transfer projects, especially if using digital sublimation.
You are not limited in terms of how many colors you can transfer.
If you use the right type of software to create your print, you have unlimited options as to what you can do with the graphics you want to transfer.
There are different types of heat presses to choose from, each with its own perks and drawbacks.
You can find portable heat press machines.
And, of course, the drawbacks:
Whatever design you transfer using a heat press will result in stiff prints that make the fabric firm.
If you iron fabric with prints created using heat press machines, you risk ruining the print.
There are chances of the prints fading away after multiple washes.
Cost-Effectiveness
Heat presses are good for making a small number of products using the same print. However, if you needed to transfer a design onto 500 T-shirts, for example, it would cost you more compared to using silk screen printing for the same number of products. So, figure out your crafting project first, then decide on the tool.
Conclusion
Screens and presses are two different means of transferring designs onto surfaces in order to create personalized items. Despite the goal being the same, the methods are different and each of them is more suitable for a specific situation. Carefully analyze the pros and cons of using each technique if you want to know what best suits your case.