As a lawyer, the briefcase you carry is just as important as making sure you dress professionally. You wouldn't show up to represent a client in a t-shirt and jeans, so why would you show up with a frumpy, substandard briefcase? When your job is taking care of legal business, looking the part is absolutely essential for your career success.
Winning potential clients rely entirely on building a trusting relationship. Many different factors affect the state of this relationship, including your manner of speaking, your professional knowledge of the field, and of course, your look.
Quick Look of Our Top Briefcases for Lawyers
Samsonite Colombian Leather Flap-Over Laptop Messenger Bag – Editor's Choice
Kenneth Cole Reaction Luggage Show Business
Tumi Alpha 2 Slim Deluxe Portfolio
Filson 70256 Original Briefcase
Visconti Leather Vintage Business Briefcase Messenger Bag with Strap
Frye Men's Logan Top Handle – Best High-End Choice
You, as a professional, are always making impressions, and the initial one you make on your client cannot be done again. Dressing well and having a nice, organized briefcase will go a long way in making that first meeting count in your favor. "For better or worse, a lot of my clients base my practice and the perceived quality of my practice on our initial meeting," said one employment attorney.
From your very first days in the office to your final day showing up at the courthouse, you will be carrying around files, laptops, pens, notepads, and other essentials to client meetings. Considering this, it's well worth it to take your time choosing a quality briefcase as early on in your career as possible.
"Professionally, from a client perspective, my first impression will be influenced by their professionalism and from as much as I can read about their integrity," said Micheal Chang, on Quora. Integrity comes from behavior, but you can add to your professional look by having a nice, clean look – and that starts with practical accessories.
When you make the right decision and opt for a top-notch product, your briefcase will last you your entire career in the legal business, or in some cases, even longer. There are a lot of factors to consider when you are shopping around for a great briefcase.
You need to think about the way it will feel and look as you carry it, and how it will work style-wise with your existing business wardrobe. But the level of comfort it will offer you matters, too, along with having an adequate amount of space for your work materials.
Comparison Table
IMAGE
MODEL
FEATURES

Samsonite Colombian Leather Flap-Over Laptop Messenger Bag

Polished appearance

Suitable for both professional and casual environments

Padded compartments

View Product

Kenneth Cole Reaction Luggage Show Business

Built to last

Has three divided sections

Soft leather and attractive

View Product

Tumi Alpha 2 Slim Deluxe Portfolio

Sleek and stylish

Pocket

Constructed padding

View Product

Filson 70256 Original Briefcase

Quality materials

Compact and practical

Classic and stylish

View Product

Visconti Leather Vintage Business Briefcase Messenger Bag with Strap

Real and premium leather

Vintage-style brown leather.

Design is both hefty and elegant.

View Product

Frye Men's Logan Top Handle

Made of 100 percent leather

Long lasting durability

Suitable for laptops of any size

View Product
With the above features in mind, we compiled a list of the best briefcases for lawyers.
Your first consideration should be narrowing down the type of briefcase you want to purchase. Do you have to travel a lot for work? Will this case be used for multiple purposes, or just court meetings? All of these questions must be thought through.
Some brands are perfect for a variety of situations, like the formal/casual messenger bag style briefcases. True, these aren't technically considered briefcases, but they can be used in place of one, and come with the advantage of being appropriate for vacations and more casual environments, in addition to traditional office use.
Next, you will want to consider the cost of your purchase – and how often you'll need to buy a new one. It's completely unnecessary to spend $800 to get a quality briefcase. In fact, quite a few brands offer long-lasting style for just a few hundred or less, as you will see from our list.
You must also consider the unique requirements of the impression you need to make in your specific branch of work. If your legal work tends to be in areas such as investment or corporate dealings, you may have different needs than a lawyer who works for a nonprofit, for example.
In the former case, it isn't recommended to buy the cheapest brand you can find, and is advised to invest in a briefcase of quality materials. Remember that this will impact the way you are perceived by clients over the years.
It isn't only the quality of your briefcase that will make an impression, but how easily you can access and retrieve needed items from it when necessary. The last thing you want to do is fumble around for your business card at an important and pivotal moment. All of this considered, what features must be included in order to make the best choice for your briefcase?
What to Look for in a Briefcase
A laptop-suitable design: The days of only needing to carry around files and paper for work are over. In order to stay efficient in your work and travel, you should make sure that your briefcase choice includes a design that is suitable for laptops. Some lawyers can get by using a large tablet as their work computer, while others need something sturdier, such as a heavier, 14-inch laptop. Whatever your unique needs are, having a pouch in your briefcase designated for keeping your laptop safe and easily accessible is a must.If you have to fly a lot for work, opting for a briefcase that doesn't require you to remove the computer when you go through security would be ideal. This simply means a pouch that lies flat and doesn't obscure your computer with other objects.
A convenient weight and size: Larger is not always better. Carrying around a big, heavy bag will be more hassle than it's worth and should be avoided unless you have a job that absolutely requires it. Also, depending on your height, carting around a large, stuffed briefcase will be uncomfortable as well as awkward looking.The ideal measurements for your briefcase should be no wider than 16 inches and no taller than 14. The ideal depth will vary and depend on which items you must carry for work, and how well the briefcase compresses when it's empty. The bag's inherent structure should also be considered. A briefcase that weighs a ton when it's completely empty, for example, will probably wear on your shoulders after a while.
A classic color choice: The majority of briefcases come in classic colors such as brown, black, grey, or tan. This is the norm in the majority of business environments. However, some options come in less conventional colors, such as navy blue, while still maintaining a tasteful and professional look.Whichever color you end up choosing, try to stick to something that looks polished and elegant. When possible, stay away from loud colors or unconventional color combinations. In some areas of life, experimenting with style and color is positive and encouraged, but the courthouse is typically not one of them.
An adequate number of compartments: The purpose of a briefcase is to have a convenient and organized method for carrying your essential career materials, so make sure you choose a product that has a well-designed compartment system.Not only do you need to ensure that your briefcase choice has enough sections for storage, but that they were created with sensibility in mind. For instance, a bag that requires you to remove your computer each time you need to access a pen is not what you should be aiming for. Instead, look for a bag choice that gives you at least 3 sections to work with for your documents, laptop, and other smaller, miscellaneous objects.Depending on your needs and how often you travel for work, you may even require a bag that will fit some clothing inside or one that has a suitable section for your computer charger. Whatever your requirements are, however, a quickly accessed section for your boarding passes and smartphone is a must.
Our 6 Best Briefcases for Fashion-Forward Lawyers
1. Samsonite Colombian Leather Flap-Over Laptop Messenger Bag – Editor's Choice

Samsonite is the biggest travel luggage company in the world and has existed for over 100 years. Created in 1910, Samsonite, perhaps quite surprisingly, started out as a truck manufacturer.
Eventually, the brand name went on to earn itself a reputation of innovation and quality in luggage products. Samsonite offers a wide variety of quality, durable bag styles that will suit the needs of anyone, and the Colombian Leather Messenger Bag is no exception.
This bag has a crisp and polished appearance, making it suitable for both professional and casual environments. The briefcase's leather material is deep brown in color and soft to the touch, designed to age nicely and stay looking classy and elegant over the months and years. This product's hardware is made from antiqued, durable brass, offering a long-lasting and reliable structure.
The outer part of the briefcase comes with a convenient sleeve for items that require quick and easy storage and access, such as boarding passes or business cards. The bag's front flap opens up to the central, primary compartment.
The spacious interior of this section will fit a few books in addition to your laptop computer and its charger. The bag also offers padded compartments to keep your work materials safe from harm in the inevitable hustle and bustle of the workday.
One notable and unique feature of this briefcase is the internal zippers. The bag includes two different compartments that zip shut, offering privacy for when you open the flap. In addition, one of these inner-compartments offers 3 different pockets for storage of miscellaneous items. For those of you with smaller, thin laptops, this compartment can be used to store your computer.
This briefcase will age nicely and stand up to varying weather conditions, including rain. The handle, stitching, zippers, and leather itself retain their quality and the bag stays supple and soft. The stylish design of this bag looks great whether you're dressed up in your nicest suit or simply going out in comfortable jeans.
Please note that although the strap is quality material, if you carry a heavy bag, you may want to get extra padding to protect your shoulder from the weight.
Check The Price
2. Kenneth Cole Reaction Luggage Show Business
Kenneth Cole started back in the '80s with shoe design and honorable funding for AIDS research and has since expanded its collection of quality products. Their Reaction Luggage Show Business briefcase offers beauty, soft leather, and attractive, quality stitching. Complete with a long strap for easy toting, the bag has an expensive look, feel, and scent, without the disadvantage of breaking your bank.
The bag comes with a stylish set of buckles, which look as though they would need to be fastened and unfastened each time you open your bag, but they are mainly a design feature. You will easily be able to snap and unsnap the buckles any time you need to access your bag's contents throughout the day. The clasps will last long and stay looking great as you use this product over the years.
This briefcase will fit the majority of standard laptop sizes with its 15.4-inch storage capacity and comes with an extra section for your tablet, Kindle, or iPod. The section designed for your laptop comes with padding for keeping your computer safe, and the bag has compartments along the side fit for holding your headphones, various cords, and charger.
This product has a main compartment in the center designed for holding reports, magazines, and various other work files. In addition, it has three divided sections built for holding your ID, credit cards, pens, and business cards.
This bag's material is built to last and won't scratch easily like other, similar materials, but keep in mind that leather is natural, and subject to shift in appearance as it's used. The bag's worn and distressed appearance is not a sign of the bag's lack of quality, and in fact, adds to its character. Various color changes are to be expected in genuine leather products with time.
Check The Price
3. Tumi Alpha 2 Slim Deluxe Portfolio
Created in the 1970s, TUMI is a name inspired by a noteworthy Peruvian icon during the company founder's time in the Peace Corps. The company strives to reduce its environmental impact by remaining conscious of (and dedicating research to) its manufacturing operations and is known for helping out worthwhile, charitable causes.
The TUMI Alpha 2 Slim Deluxe Portfolio briefcase is intended to hold your laptop and a few other essential items and comes with plenty of compartments. This design is great for professionals who dislike the look and feel of big, bulky briefcases and instead want something sleek and stylish.
If you require a bag that must hold multiple chargers, extra clothes, or other larger items, the slim design of this product may not suit your needs. However, for those of you who travel light and do most of your work on digital devices, it's the ideal size and holds a 13 inch (or larger) laptop without any issues.
Even if it is a bit smaller than other products, you can still fit your computer, important work documents, wallet, pens, notepad, calculator, and even your house keys on the designated hook inside the bag. In addition to this, the design offers you a light, compact bag that's easy to carry around, with reliably constructed padding to keep your digital devices safe, even in unfortunate accidents such as dropping the bag.
One noteworthy and unique feature of this product is a pocket that allows the briefcase to secure to your suitcase. Simply unzip the specially designed pocket and slide the bag over the handle of your rolling luggage. This gives you one less extra item to worry about carrying when you travel. You can expect this product to last many years and retain its attractive look as time goes on.
Check The Price
4. Filson 70256 Original Briefcase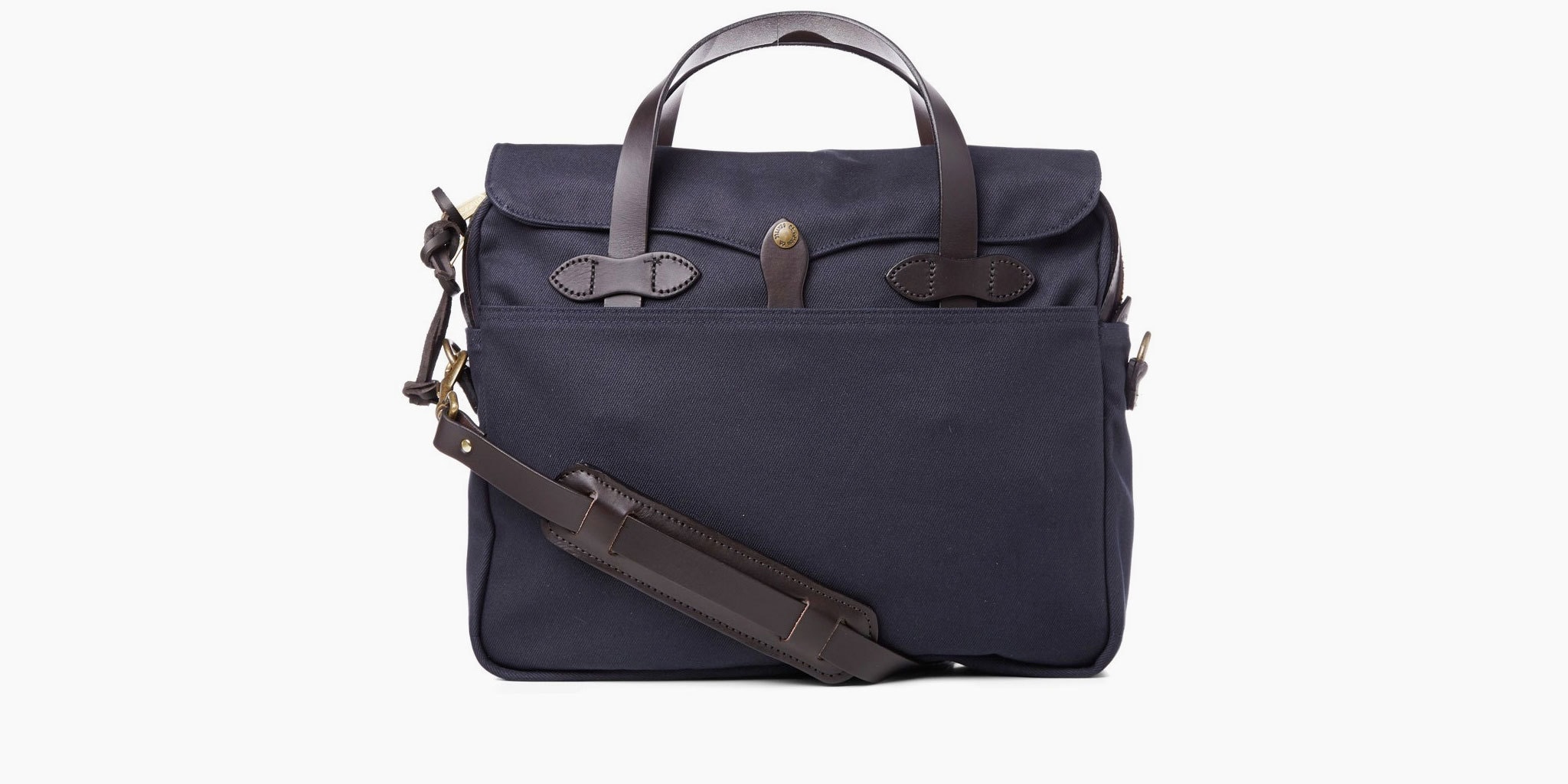 This Seattle-based company is known for creating products from quality materials, like Mackinaw Wool and durable Tin Cloth, and has fairly earned its association with long-lasting accessories and apparel.
The Filson 70256 Original Briefcase is made in the USA, designed to be compact and practical, and suitable for everyday use in the office or courthouse. The bag comes with a wide compartment, sewn sections for your pens, business cards, and calculator, and two full-sized open compartments for extra items.
The leather pulls and strap, along with the brass zipper and adornments on this bag add to its overall classic and stylish feel. Wear it along with casual or professional outfits, in any setting, and still look your best.
This quality briefcase is created from water repellent materials (genuine leather and rugged twill) for withstanding unexpected weather conditions and comes equipped with full-sized pockets on either outer side.
The materials of this product keep it looking clean and sleek over the months and years, and its 16 inch width and 12.5 inch height will provide adequate space for a laptop of almost any size. The briefcase will hold even bulky laptops quite easily, in addition to various work products and thick documents.
The thick, heavy canvas design of this bag was crafted to last while feeling less heavy than other products on the market. This briefcase comes in navy blue, a unique yet elegant choice for a professional bag. Although the bag is typically sold as a man's product, it's also suitable for women.
Unlike some of the other bags on this list, the design of this briefcase comes with embellishments and curves that would suit the taste of female shoppers. In other words, this is a very versatile product. Whether you are already a professional lawyer, or simply studying hard on your way to becoming one, this briefcase will fit your needs.
Please note that the bag will be stiff when you first purchase it and will need some breaking in, as many bags crafted from durable materials do. Over time, the bag will mold to your body and shoulder nicely and fit perfectly.
Check The Price
5. Visconti Leather Vintage Business Briefcase Messenger Bag with Strap
Visconti is a company with more than 15 years of manufacturing experience, crafting their bags out of only the finest of leather materials. The brand strives to create products that are not only practical and durable but affordable, as well. Each bag is crafted with real, premium leather fitting the highest standards, and that includes the Leather Vintage Business Briefcase Messenger Bag.
This bag was created from vintage-style brown leather, giving it a sultry and dark look and feel. The high quality, strong leather has a polished and smooth appearance with an antique design perfect for those of you who prefer classic styles of dress.
While many leather products take a while to break in and take on that charming, worn look, this bag already comes with that, complete with the pleasant and much sought-after leather scent.
Keep in mind that the surface of this product was created to mark easily and that these scratches will all blend together to create a unique look for your bag. This product's interior is completely lined in polyester to protect its contents, with a suede lining on its main flap.
You will find what you need to organize your work materials, including a variety of pockets and compartments. Although the briefcase is suitable for a paperless work environment, files will fit easily inside, if needed.
This bag's long shoulder strap was crafted from polyester with a leather finish and comes with a rubber shoulder pad to increase comfort with a full and heavy load. Choose between wearing the adjustable strap across your body or simply over your shoulder according to your needs and comfort preferences.
The Visconti Leather Vintage Bag costs far less than comparable products, with equal quality in design and looks. At 15.75 inches in width and 12 inches in height, this bag is the standard size of a traditional briefcase, crafted with quality stitching, a solid carrying handle, and durable hardware.
With this bag, there is no need to sacrifice style for quality, since the design is both hefty and elegant.
Check The Price
6. Frye Men's Logan Top Handle – Best High-End Choice
Frye is an American company that began as a boot manufacturer. Claimed as the oldest continuous show company in all of America, the business started in Massachusetts in 1863. Frye has quite a long track record for being conscious of local communities and gives back whenever possible.
The Frye Men's Logan Top Handle is made of 100 percent leather, with a 23-inch drop from the shoulder and a push-lock closing clasp. The bag is 14.5 inches wide and 12 inches high, suitable for laptops of almost any size, and comes with various compartments for staying sorted and organized throughout the day.
On the outside of the bag, you will find an exterior pocket perfect for quick retrieval of important papers. Inside you will find 5 pockets and 1 zipping pocket for storing your pens and pencils, notes, legal pads, phone charger, and more.
Adjust the strap and wear the bag across your body or over your shoulder, with professional or casual clothing. This briefcase certainly isn't the cheapest on our list, but you will get what you pay for with this product in style, efficiency, and long-lasting durability.
Check The Price
How to Get the Most of Your Briefcase
Your briefcase is essentially a miniature office that you carry around with you for easy access to the tools and information you require to manage your job. For too many professionals, the briefcase ends up being just one more area where messiness and disorganization get out of control.
We mentioned earlier that the exterior of a briefcase says a lot about you to your clients, but this also includes the way it looks inside. If your miniature office is messy and chaotic, clients and potential partners will notice this.
Following these tips, you can have your briefcase organized within just one hour.
Empty it out: The first step to organizing your briefcase is taking everything out and sorting it by category. Get rid of any spare items you can live with throwing away, like old receipts or pens that don't work anymore, then place all digital items in one pile, all files in another, functioning pens in yet another, and so on.
Evaluate its contents: the next step involves evaluating the contents of your briefcase. The average lawyer will want to carry around a laptop, a notepad, a file for documents, pens, and a wallet, but you may have a need for extra items. In deciding what to carry with you and what to leave in your office, think about the frequency with which you use each item, the weight it adds to your bag, and the amount of space it takes up. If you haven't used a document in a month, for example, you probably don't need to carry it with you every day. If you only use your laptop at the office, it's probably unnecessary to carry it with you to every meeting.
Designate your compartments: It's more important than you think to designate specific compartments for smaller items. In fact, this is a crucial aspect to keeping your briefcase from becoming a cluttered mess. Make a decision to always store your pens in one pocket, your business cards in another, and another pocket for rubber bands and paper clips. You only need a few of each of these items, since you can regularly replenish your stock when you are back in your office. As soon as you decide which compartments will be designated for certain items, make sure you stick with the plan. Not only does this save you valuable time hunting for pens or sticky notes when you need them, but consistency will help you maintain the order within your bag.
Daily maintenance: Organizing your briefcase once is only a small part of keeping it free from clutter. After each work day, remove the papers and files that are no longer relevant, take out any business cards you gathered throughout the day, and make sure your office supplies are stocked. Being able to enter your appointments and meetings and know where to find everything you need throughout the meeting will give you confidence and help you create a positive, lasting impression.
Sources and Further Reading
More Reviews