Most people are familiar with stained glass but aren't aware that you can do it at home. This is a craft that you can get into on your own with beautiful results, as long as you have the right tools. A soldering iron is the most important piece of equipment for creating stained glass projects. This article will help you figure out the best option for your workshop.
Once you discover the possibilities that become available to you after you pick this tool up, you may wonder why you waited so long. Stained glass can be used to make windows and lampshades, along with clocks, picture frames, boxes, cabinet doors for your kitchen, and much more. Imagine the gift ideas you can come up with.
Of all the items in a typical stained glass kit, the soldering iron is usually one of the most expensive. But it's worth the cost. Imagine purchasing an iron just for the cheap price, only to find out later that it doesn't even work right. This could be disappointing enough to make you want to quit soldering forever!
So how are you to know which type of soldering iron to pick for your stained glass projects? Your selection should come with a heat-resistant handle, feel comfortable in your hand, and have a comfortable weight for long hours soldering. It should warm up fast and maintain a consistent temperature, even over hours of use. Safety is also worth considering, of course, and your soldering tool should be compatible with various materials.
Comparison Table
IMAGE
MODEL
FEATURES

Adjustable "electronic" closed-loop temperature control

Dial the temperature you want

Temperature control sensor in heater

View Product

Protects from over temperature

Soldering temperature is controlled by 3 different tips

Heats to 700 Deg F in 110 seconds

View Product

Ni-chrome compression wound for reliability

Plug-style tip design provides for superior heat transfer and cleaning

Paragon iron-clad lead-free soldering iron tips

View Product
The Best Soldering Iron for Stained glass
The following soldering irons were all carefully selected based on quality, craftsmanship, durability, and overall value for the price. As you will soon see, each one is best suited for various types of environments. Read on to find the best choice for your at-home stained glass projects.
Hakko FX601-02
Weller W100PG
American Beauty 3158-200
Hakko FX601-02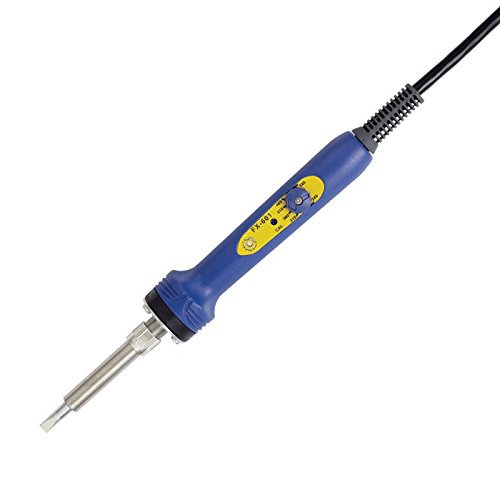 If you're looking to upgrade from an ordinary single temperature soldering iron, you can't do much better than the Hakko FX601-02. It comes with the ability to switch temperatures as needed for lead came or different soldering needs. The iron heats up almost instantly and comes with a helpful pilot light for your safety. Although it is costlier than other options, it's worth the money for the features it includes.
"It's a pretty iron!" said the Paisley Fish. "It's light weight, easy to hold, maneuver, and the cord is beefed up so you don't pull it out of the socket. (Not just the 'durable strain relief,' the whole cord is just QUALITY.)"
The soldering iron is easy to maneuver and use and comes with a controller for temperatures right there on its handle. Not only does it fire up fast, but it keeps its temperature going consistently so you can work more quickly. It has a ceramic core for maintaining heat steadiness and stays hot, even when you're working with a damp sponge. That feature enables you to keep soldering without missing a beat.
The FX601-02 is perfect for projects that require a long reach or mobility, like solar panels and more. The ergonomic, extremely lightweight piece lets you solder for hours without discomfort or fatigue. In addition, the iron comes with an adjustment dial that lets you pick your perfect temperature. The effective ceramic heater and electronic controls offer stability and accuracy that outdo previous models by the same brand.
This soldering iron has a selector for choosing the temperature and will hold your selection without issues. Some users may find issue with the fact that the directions come in Japanese, but there are also pictures included to help you figure out the iron's functions.
Other irons take up to 10 minutes to warm up, then cycle through cold and hot as you try to use it, leading to faulty and shoddy projects. Before giving up on stained glass altogether, give a quality iron like this a chance. The difference between a cheaper soldering iron and this is huge.
Of course, it's perfect for stained glass, but you can also use it for repairing vintage trains, copper metal work, brass work, and other types of wire soldering. It will always maintain heat between soldering different joins and makes tinning wire ends easier and faster than ever before. You hardly even have to touch joins before the solder flows continuously and cold joins are never an issue.
The iron is so powerful that you probably won't need to go beyond the third setting, but if you need it, the high heat is an option.
Check The Price
Weller W100PG

For a versatile option that can complete many different projects, the Weller W100PG is great. It has three tips to choose from including an 800-degree tip, a 700-degree tip, and a 600-degree tip. As you can see, you will have versatility on your side with this product.
"The Weller 100W Soldering Irons are just right for those who are starting out and who want a very good iron at a decent price," said Milly at Everything Stained Glass. "I used one for years and years until I bought the Hakko FX-601. I still regularly use them as an alternative."
The iron is safe and helps you protect yourself against too high of temperatures. It's also efficient with the standard time of heat-up for a 700-degree tip being just over 100 seconds. This enables you to get even more soldering done faster. Another benefit to this soldering iron is its portability. The iron works without a base, using a portable line and giving you freedom to move around as you work. If you are not satisfied with the product for some reason, you can return it and get a refund.
The iron is temperature regulated, meaning it easily melts solder but won't melt lead came. It also works flawlessly and heats up very fast. Note that you need a three-prong outlet to use it. Although this soldering iron is perfect for stained glass, it's not good for sweating copper joins as it doesn't get hot enough, and won't work for electronics as it's too hot.
This product heats up fast and offers the perfect amount of power for projects involving stained glass. Make sure that you are using it with wiring that is powerful enough to handle it. It will last you for years and years and is fast and big enough for home shop and general household soldering projects.
Some users may find that the stand the iron comes with isn't good enough, but buying another one is easy enough. The iron may take longer than others to cool down so make sure you take safety precautions accordingly to prevent unfortunate accidents.
Check The Price
American Beauty 3158-200
For a choice that comes with a standard diamond soldering tip, the American Beauty 3158-200 is your best bet. Its modular construction offers simple replacement on its consumable pieces, letting the iron itself last for extremely long.
"It comes with a protective steel casing which was made from a single block of steel and has undergone several procedures to strengthen it against heat," said Dave at Top Soldering Irons. "This makes sure that the iron lasts long, even with frequent industrial use where high temperatures are applied to it."
The tip has a plug-style design that offers easy cleaning and improved heat transfer. The lead-free, iron-clad iron tips on the American Beauty outlast and outperform other soldering tips on a consistent basis. In addition, the heating elements included on this model have been proven as more reliable than others for maintaining consistent soldering temperatures.
These heavy-duty soldering irons are perfect for both production-line environments and heavier soldering jobs. The included elements demonstrate both outstanding durability and unrivaled heat capacity. The hardwood handle of this iron offers durability and superior electrical and thermal insulating properties.
The American Beauty 3158-200 is crafted from a steel block, strengthened via heat treatments and brazed for optimal efficiency and strength. This product can be used for many projects, including soldering heavy leads, soldering stained glass professionally, cutting rubber sheet, soldering knives, cutting webbing, melting plastic pens, and testing heat detectors.
The product will arrive in a timely fashion and performs amazingly well, with a maximum temperature of 537.78 Celsius and 1,000 Fahrenheit. Its diamond-shaped head can reach into cramped corners and create a solder joint that is waterproof. Use it at work and the tool will easily keep up with the demands of everyday production and help you finish quicker than usual.
As you may have guessed from the name, the iron was crafted in America, can be repaired quickly, and comes with great customer service. The hatchet handle on the tool is ergonomic, perfect for odd angles, and feels comfortable even after using it for hours at a time.
A higher end model than some others on the market, the paragon tip not only offers solid and reliable performance but will last and last over time. Users will appreciate that you can easily switch out the parts you need due to its modular construction.
Check The Price
The 6 Other Supplies You Need to Make Stained Glass
Stained glass is a fun, challenging hobby that calls for a lot of different tools and equipment. Fortunately, most of it is pretty versatile and useful for both lead came and copper foil projects. Certain supplies, however, are designed just for a specific stained glass technique.
To ensure that you are always prepared for whatever you want to create in your hobby shop, take note of the following list of supplies and tools for stained glass.
Drafting Tools: For stained glass projects, you'll need basic tools for drafting such as permanent markers, a pencil, white patterned paper, and a durable metal ruler.
Brush and Flux: You will need flux to clean surfaces that you plan to solder as soldering is not possible without first fluxing. You will also need a basic brush to apply the flux onto lead surfaces and foil with your projects.
Combination Pliers: You will need at least two different types of pliers when working with stained glass, but you can save time by purchasing combination pliers. These will enable you to both fine-tune glass shards and break glass as you work.
Clear Glass: When you're a stained glass beginner, you will likely want to work with clear glass at first since it doesn't cost as much as colored glass. Once you've mastered this, you'll be ready to move onto colored glass crafts and projects. You can find colored glass online or in a local glass shop. Always remember that smooth glass is better and easier to use than textured options. Also, keep in mind that you should keep extra glass on hand while you work in case of mistakes.
A Glass Grinder: A glass grinder is another essential tool for stained glass projects. This tool comes with a diamond wheel for grinding unwanted glass and glass edges, helping your glass pieces fit together and create a beautiful pattern.
Glass Patterns: All projects with stained glass, even the simplest ones, begin as sketched designs. This means that your first task with any project should be finding the pattern you want to use. Just look in a stained glass book or online if you're short on ideas. Once you get comfortable with this, you may end up wanting to create your own.
Of course, you will also need to keep your soldering iron handy when you work, along with safety glasses that are comfortable enough to wear each time you are creating. Get yourself a self-oiling cutter for glass and you're good to go.