Needlework is a general term for any type of textile art that is created using a needle and thread. It includes a wide variety of techniques, such as embroidery, cross-stitch, knitting, crocheting, sewing, and quilting. Needlework can be used to create both functional and decorative items, such as clothing, accessories, home décor, and artwork.
To get started in any form of needlework, you will require some of the most commonly used tools and supplies. These include scissors, needles, thread, measuring tools, marking tools, thimbles, pins, and embroidery stands. In addition, you will also need materials such as fabrics, fabric paint, glue, and decorations.
Learning needlework has many benefits. Becoming engrossed in following a pattern can be extremely relaxing and therapeutic; learning a new skill helps to keep your mind sharp, and the dexterity required to handle a needle and thread is surprisingly good for hand and finger health.
To get into this enthralling hobby, we recommend joining a local needlecraft community, where you can make new friends and learn from more experienced crafters. You should also take advantage of the many online tutorials that are free to view and extremely helpful. Specialist workshops and courses are also a good place to learn basic and more advanced needlecraft techniques.
The range of finished products you can make if you take up needlecraft is vast! You could make decorative wall hangings and samplers, create a whole new fashionable wardrobe to wear, embellish and revitalize old clothes, create unique rugs and other home furnishings, and knit cozy hats and socks.
Ready to get started? Keep reading this guide to learn everything you need to know about the wonderful world of needlework!
What Is Needle Work?
Needlework is any work done with a needle, according to the needlecraft and needlework definition provided by the Merriam-Webster dictionary. Needlework encompasses a wide range of creative and practical endeavors, including embroidery, knitting, crocheting, and cross-stitching, each requiring skillful manipulation of a needle to create intricate designs and functional items.
What Are The Different Types Of Needlework?
The different types of needlework you could get into include something for everyone, including kids and seniors, making it a wonderful way to bring generations together in a shared creative pursuit!
Here is an overview of the different types of needlework and needlecrafts you might fancy learning more about.
Appliqué
Appliqué is a needlecraft that involves sewing or gluing patches or pieces of fabric in different patterns and shapes to larger pieces of material to create a pattern or picture. This technique can be used to decorate clothes or create decorative artwork using a sewing machine or hand stitching.
Crochet
Crochet is a form of needlework that uses a special hook to interlink loops of yarn, thread, or strands of other materials. You can use crochet to make many items, from hats and scarves to sweaters and blankets.
Embroidery
Embroidery is a craft that uses a needle, thread, or yarn to decorate fabric by creating pictures and patterns, usually following a pattern. You can add other materials to your project, such as beads, sequins, and pearls, depending on the look you want to create.
Canvas work
Canvaswork is a name that's used to describe any variety of needlepoint. This form of embroidery stitches yarn through a stiff, open-weave canvas fabric, typically covering the whole canvas.
Bargello
This form of needlepoint uses upright, flat stitches set out in a mathematical pattern. Bargello's name comes from some chairs found in a Bargello palace in Florence, Italy, that have a typical flame stitching pattern.
Berlin Wool Work
Berlin woolwork was in its heyday in Europe during the 1840s and 1850s. This form of needlepoint used wool with bead or silk adornments.
Needlepoint
Needlepoint is simply another name for canvaswork, which uses woolen yarn to embroider patterns and images onto stiff canvas fabric.
Counted-thread
In counted-thread embroidery, the crafter counts the number of weft and warp yarns for every stitch, producing uniform-length, extremely exact stitches of uniform length and a precise embroidery design.
Blackwork
As you might guess, blackwork is a form of embroidery that uses black thread, although occasionally, other colors might be used.
Cross-stitch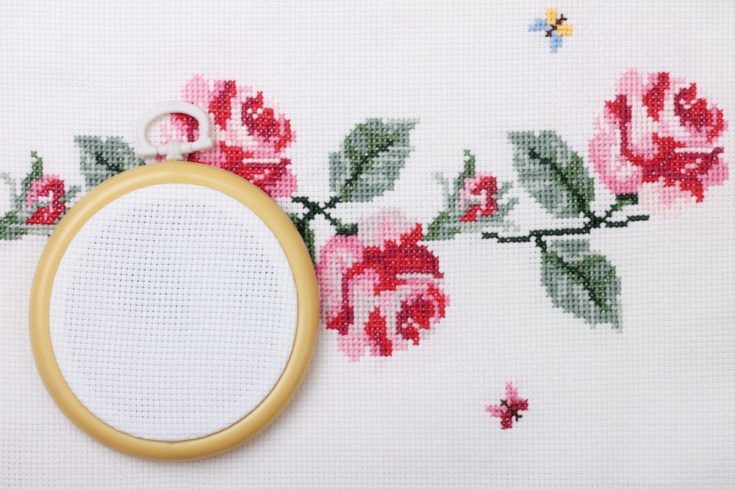 Cross-stitch is a counted-thread embroidery technique that involves creating a picture by stitching X-shaped stitches in a tiled pattern. The crafter counts the threads on even-weave fabric in each direction to ensure the stitches are uniform in size and appearance.
Whitework
Whitework embroidery is typically done using white thread on white fabric and is often used for christening, bridal, and ecclesiastical projects.
Surface Embroidery
In contrast with canvaswork, surface embroidery creates a pattern using decorative stitches and laid threads on top of the canvas or material rather than through it.
Brazilian Embroidery
This form of embroidery uses high-sheen rayon thread rather than cotton or wool. It's called Brazilian embroidery because this kind of thread first became popular in Brazil where rayon was widely made.
Candlewicking
Candlewicking is a type of whitework embroidery that uses unbleached cotton threads on a sheet of unbleached muslin.
Couching
Couching uses yarn that's set across the top of the fabric and held in place with tiny stitches of the same or a different colored yarn.
Crewel Embroidery
The crewelwork technique is thought to be at least a thousand years old and uses 2-ply woolen thread.
Goldwork
Goldwork embroidery uses metallic threads in different colors, including silver, copper, gold, and other shades.
Ribbon Embroidery
Ribbon embroidery uses ribbons rather than yarn, thread, or floss to create three-dimensional designs that are simple, although they appear elaborate.
Sashiko
Sashiko is a form of traditional Japanese embroidery that uses twisted thread that doesn't divide rather than one single strand. This thread doesn't have a shiny finish like embroidery floss, giving the work a characteristic appearance.
Stumpwork
Stumpwork embroidery is a raised form of stitchwork that creates three-dimensional stitched figures on the surface of the fabric.
Knitting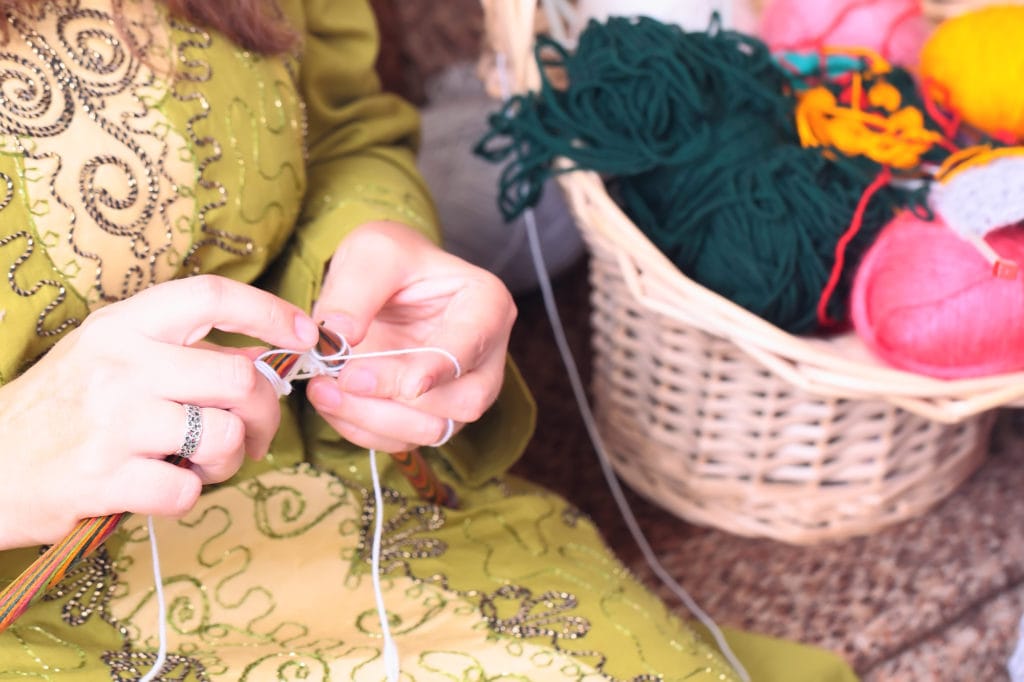 You can create fabrics from different types of yarn by knitting either by hand or using a machine. Knitting uses patterns and different-sized needles to create various items, including blankets, sweaters, scarves, socks, and hats.
Nålebinding
Nålebinding is a Scandinavian technique that was around before both knitting and crocheting! This craft involves using short yarn pieces left over from weaving and using them to make small items like bags, nets, hats, socks, and mittens.
Needlelace
The craft of needlelace uses a needle and thread, typically on a background fabric with parts of the material cut away. Some forms of needlelace are worked on paper or tissue rather than fabric. Once complete, the lace is removed from the tissue and then fixed to the fabric as decoration.
Patchwork
This craft involves stitching together different pieces of material to create a larger design. The design is typically based on repeating patterns that are built up using different fabric shapes, which are carefully measured and cut to make them easy to put together.
Quilting
This craft dates back to at least medieval times and involves sewing layers of fabric together with a layer of padding or wadding in between to create a warm bed cover. The fabric "sandwich" is held together by lines of stitches that are usually based on a design or pattern.
Sewing
Sewing uses a needle, thread, and fabric to create items of clothing or home furnishings, typically from a pattern. You can embellish and add whatever finishing touches you like to your completed item to give it an individual look.
Spool Knitting
Spool knitting is also commonly called French knitting or tomboy knitting and uses a knitting spool with a number of pegs or nails set around the rim to create a sheet or tube of fabric.
Historically, this knitting technique was used to make horse reins. However, these days, the fabric you make can be wound into a spiral shape to create a small rug or mat, and if you use a larger spool, you could knit a hat or a sock.
What Tools Are Used In Needlecraft?
The different tools used vary, depending on what kind of needlecraft you want to take up. Fortunately, some tools can be used for more than one type of craft, giving you flexibility without breaking the bank.
Here's an overview of the tools you need if you decide to take up needlework crafts.
Needles
Almost every type of needlework, by definition, uses some kind of needle. Here are some examples of different types of needles you might need to have in your stock cupboard:
Sewing machine needles
Knitting needles
Crochet needles
Embroidery needles
Needles or sharps used for hand-sewing
Needles come in different lengths, weights, and sizes, depending on the pattern you're following and the fabric you're working with.
Scissors
You'll need a sharp pair of fabric scissors for all needlework crafts. Don't try to use blunt or paper scissors or you risk damaging your fabric and leaving your yarn with a frayed edge, making it difficult to thread through a needle.
Hoops And Frames
Embroidery hoops and frames are used to hold the fabric still and keep it in place while you are embroidering, ensuring precise and consistent stitching for your beautiful creations.
Thimbles
Metal or plastic thimbles are used to protect your fingers from needle injuries when hand stitching, and they come in various sizes to ensure a comfortable fit for every needlework enthusiast.
Pins
Pins are used in dressmaking and when creating soft furnishings to hold pieces of fabric in place for stitching. A pin cushion is also handy to prevent your pins from ending up on your carpet and presenting a hazard to kids and pets.
Measuring Tools
A fabric tape measure is essential if you're working from patterns to ensure you cut your material to the correct size.
Marking Tools
Fabric markers are handy tools for knitters and crocheters, helping you to keep your place in your pattern and remind you when to change yarn colors.
Threaders
From personal experiences, I can tell you there's nothing more frustrating than being unable to thread your needle when hand-sewing! So, you'll need a threader in your needlework toolkit.
Bobbin Winders
A bobbin winder is usually integral to an electric sewing machine, although you can buy them separately if your machine doesn't have one.
This handy device loads thread onto the bobbin and distributes it evenly so that the thread is compatible with the tension of the uppermost sewing machine thread.
Seam Ripper
A seam ripper is a handy tool that's used to remove stitches when letting down hems or seams to repurpose old tools. This tool saves you from struggling to do the job with a pair of scissors and is quick and easy to use.
Needle Cases
It's all too easy to lose your needles when you're hand-sewing a garment or other item, so a needle case to keep them in is a great way of keeping your sharps safe, clean, and in good order.
Embroidery Stands
Securing your embroidery fabric hoop in a purpose-built stand makes working on projects much easier than holding it in your lap, so it's well worth adding one of these gadgets to your collection of tools.
Bodkins
A bodkin is a tool used to thread elastic and cord through seams when dressmaking and also comes in extremely handy if you lose your sweatpants' drawstring when your clothes are in the washing machine!
Fabric Glue And Adhesives
Fabric glue and adhesives are used in crafts like applique and are also handy for fixing embellishments to finished projects and repairing minor fabric damage.
Stitching Aids
There are a few other random stitching aids that you should consider including in your toolkit since they can make your life easier and save you time.
For example, a magnifying glass can be a godsend for very fine embroidery and stitching work, and a fabric rotary cutter and mat enables you to cut your fabric on a flat surface without having to lift it, giving you a more accurate result. Rotary rulers ensure an accurate result when cutting straight edges and angles, and a sewing gauge is useful for measuring very small areas as you sew.
What Are The Different Materials For Needle Craft?
The different materials for needle craft depend on what niche you're working in, but some common ones are listed below for your reference.
Fabric
Fabric is essential for dressmaking, making home furnishings, and decorative pieces. There are many different kinds of fabric to choose from, the most popular being the following:
Cotton
Linen
Silk
Satin
Damask
Synthetic
Denim
Faux leather
Of course, that's just a snapshot, and you're sure to find plenty more in your local dressmaker supplies shop.
Threads
There are many different kinds of threads you can use for needlework, including the following:
Embroidery floss
Sewing thread
Wool
Cotton
Notions
Notions are any small items that are used to finish needlework projects, for example;
Buttons
Zippers
Beads
Sequins
Clasps
Hook-and-eye fastenings
Patterns
Needlework projects like knitting, crochet, and dressmaking all use patterns containing specific instructions for you to work from, including what size needles to use, what kind of fabric or yarn to use, and what notions you'll need.
Beads And Sequins
Beads and sequins are handy for decorating and finishing clothing items and decoration, adding a touch of sparkle and elegance to your designs.
Batting
Batting is used to create the central padded layer between two pieces of fabric in quilting and comes in rolls of different sizes and weights.
Felt
Felt is often the fabric of choice for use in applique. There are many different colors to choose from, so you can let your creative juices flow!
Ribbon And Trim
Ribbon and trim are used to finish decorative items and some pieces of clothing. Ribbons come in different colors, widths, and fabrics to suit your project.
Cross-Stitch Fabric
Cross-stitch fabric is also called Aida cloth. This material is an open, even-weave fabric with enough stiffness, meaning the crafter doesn't have to use an embroidery frame or hoop to keep the material stable while working on it.
Fusible Web
Fusible web is used to secure hems and seams without the need for stitching, and it can also be used in applique. You simply cut the web to size and use a warm iron to fix it in place.
Fabric Paints And Markers
If you want to paint designs onto your material, you'll need special fabric paints for that job. Fabric paints can be used to decorate clothing items or create decorative artworks using material.
Fabric Dyes
If you can't find the perfect color for your fabric, you might want to try dying it, using a fabric dye. Before you start, double-check that the material you're using is compatible with the dye you want as some aren't.
Mesh And Plastic Canvas
Mesh and plastic canvas are used in certain types of crafting including embroidery instead of fabric.
What Are The Benefits Of Learning Needlework?
The benefits of needlework and needle crafts are many and varied. Keep reading to learn how taking up these crafts can improve your life!
Create Both Decorative And Practical Items
You can use needlework and sewing to create both decorative and practical items for use around the home and to wear.
Improve Your Focus And Concentration
All forms of Needlework demand your undivided attention and focus, and working on complicated projects can really help to improve your concentration.
Showcase Your Creative Side
Everyone has a creative side, and needlework can really help to bring that out of you. Once you've decided on the niche that fits you best, let your creativity run riot and impress your friends and family by showcasing your work.
Durability and Quality Guaranteed!
Many shop-bought products are not of the highest quality and often don't last long. You can select high-quality fabrics and materials to create durable items that will endure.
Experiment!
There are so many different patterns and threads to choose from, you will never run out of inspiration no matter what project you are working on! As you become more proficient in your chosen craft field, you can start experimenting with different patterns and threads to create a unique signature look for your work.
Needlework Is Therapeutic
It's surprisingly therapeutic to unwind at the end of the day with knitting or embroidery, spending an hour or two on a pet project. The sense of achievement upon completing your work is unbeatable.
Keep Active and Relax
If you live a fairly sedentary life, needlework projects such as dressmaking and knitting can encourage more activity, which is great news if you need to get a little gentle exercise.
Make New Friends
One of the best ways to learn any new craft is to join a local community of like-minded individuals. Here you can pick up some valuable tips and ideas, as well as widen your social circle and make new friends.
Saves Money
Depending on the field of needlework you choose, many projects can be extremely affordable and won't strain your budget.
For instance, when I was a student, I couldn't afford to buy fancy new outfits for clubbing with my friends. Instead, I would repurpose and alter items from thrift shops using an old sewing machine, some inexpensive embellishments, and my free time.
How Do You Learn Needle Craft?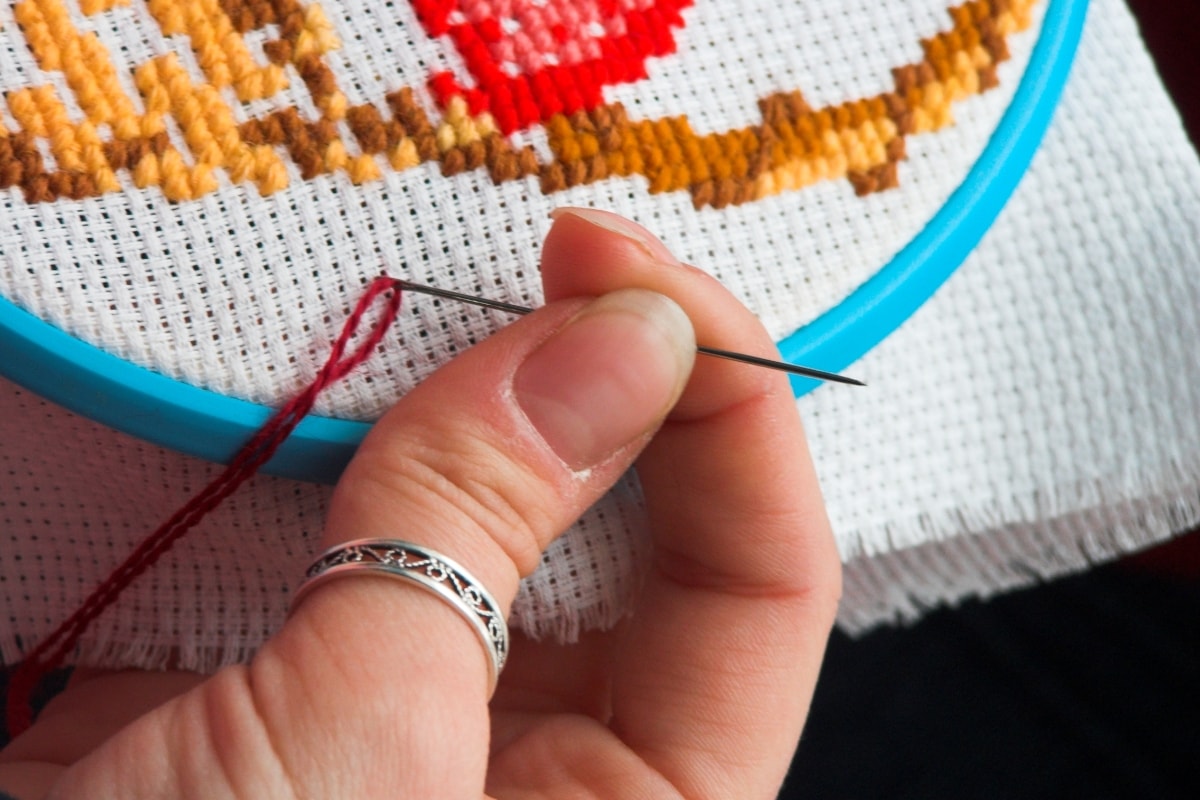 If you want to get into needlecraft, you'll need to know how to go about learning it. In this section of our guide, we give you some top tips to do just that!
Select Your Needlecraft Specialization
Start by deciding which needlecraft you want to specialize in, bearing in mind how much space you'll need to work in and store your materials and finished projects.
Assemble Required Materials
Gather everything you will need to get started in the craft, including a selection of the basic tools we've outlined for you earlier in this article.
Find Learning Materials
As a beginner to your chosen needlecraft, you will need a selection of learning materials to get started. There are lots of excellent tutorials on YouTube, and we would suggest you start your search there.
Begin With Basic Skills
No matter what needlework craft you choose, always begin by learning the basics. Once you have the fundamentals in place, you can take on more challenging techniques and larger projects.
Practice Makes Perfect!
They say that practice makes perfect, and that's certainly true when it comes to learning any new craft. Try to pick up your latest project every day and spend a little time working on it. If that's not possible, read a few articles or watch a podcast instead.
Get Guidance And Feedback
To progress in your chosen craft, you'll need to seek regular feedback and guidance from experienced crafters, and the best way to do that is by joining a local crafting community. Getting involved with other crafters will also help you learn new techniques, find inspiration, and make new friends.
Get Creative!
Don't feel constricted by patterns or automatically follow what other crafters are doing. Once you have the basic techniques in place, get creative and go your own way!
Learn From Mistakes
Everyone makes mistakes when they start learning a new craft, and although it's frustrating, learning from those mistakes is the best way to learn. When things go wrong, embrace your bloopers and make sure it doesn't happen again!
Stay On Trends With New Techniques
Fads and fashions change especially within needlework crafting circles, and it's important to stay up to date with new trends and techniques. You can do that by subscribing to websites that publish helpful articles on your chosen craft and attending workshops and exhibitions in your area.
Be Patient, And Don't Give Up!
Although making mistakes can be frustrating, and learning a new craft can seem to take forever, be patient, persevere with your new venture, and don't give up. You will eventually get to where you want to be!
Share Your Knowledge With Others
As you learn and become more experienced, be prepared to share your knowledge with other new crafters. Even newbies can have great ideas, and a pool of knowledge is beneficial for everyone.
What Are Some Common Products Created By Using Needlework?
Here are some common products you can create by using needlework crafting techniques. Some are handy items you can use to decorate your home, while others are things you can wear.
Embroidered Clothing
Embroidered clothing is right on trend at the moment, and if you're handy with an embroidery needle, you can use your new skills to upgrade your wardrobe. Clothing items you can embellish with embroidery include the following:
Jeans
Blouses
Hats
Shirts
Of course, you might have your own ideas, and the sky really is the limit!
Cross-Stitch Samplers
Cross-stitch samplers are pieces of artwork that can be displayed as wall hangings or freestanding decorations. Use a pattern to create your craft piece, or go freestyle once you're more experienced.
Sweaters And Cardigans
Crocheters and knitters can create a range of sweaters and cardigans for family and friends or add to your wardrobe.
Scarves And Shawls
Scarves and shawls are easy to make and make ideal beginners' projects. These items can be knitted, crocheted, and made using fabric.
Hats And Beanies
Again, knitting or crocheting hats and beanies is a pretty simple project that's a good starting point for newbies to these crafts.
Socks And Slippers
Socks and slippers make perfect seasonal gifts; you can make them by knitting, crocheting, or Nålebinding.
Blankets And Afghans
Knitters and crocheters can make blankets and Afghans to brighten your rooms and create a cozy vibe.
Crocheted Blankets And Throws
A crocheted blanket or throw adds a touch of comfort and individuality to any room and makes an easy project for those just starting out in the crafting hobby.
Quilted Bedspreads And Quilts
If you're into quilting, you might want to make a bedspread or two for your home. Once you get proficient, you could start a small cottage industry, making and selling your quilts.
Needlepoint Pillows And Cushions
Needlepoint is an excellent craft you can use to embellish and upcycle cushions and pillows with bright and breezy designs.
Tatting Lace Doilies
Tatting lace doilies are quite fiddly to make, but the result is a pretty, functional item you'll be proud to have around your home.
Latch Hook Rugs And Mats
Latch hook rugs and mats are simple projects to work on that will leave you with a delightful, practical item that gives a rustic look and feel to any conservatory or living room.
Crewel Embroidery Pillow Covers
Crewel embroidery uses wool to create beautiful designs and pictures, making a fabulous finishing touch to throw pillows.
Conclusion
Needlework includes any craft that involves using a needle or needles, for example, knitting, sewing, embroidery, and crocheting.
Needlecrafts don't demand too much space in your home, and you can even do some of them while relaxing in front of your favorite TV shows in the evenings after work. Working on projects can relieve stress and improve your focus and concentration. Once you get proficient in your chosen craft, you could make clothes for yourself and your family or create beautiful, unique decorative items for your home. Some of the materials and tools you need can be used for several needlecrafts, saving you money and space if you want to try more than one craft.
Embarking on a journey into the world of needlework crafts is like opening a door to a realm of creativity, mindfulness, and endless possibilities! Why not start your journey today?