Textile tools are essential for fabric production, processing, and finishing.There are many types of textile tools, which encompass a wide range of equipment and machinery used in the textile industry. Whether you are a professional seamstress or a hobbyist quilter, having the right tools can make a big difference in the quality and efficiency of your work.
This article provides a detailed overview of the different types of textile tools available, including those for sewing and stitching, cutting, marking, measuring, finishing, embroidery, pattern-making, buttonhole and fastening, fabric marking, and notions. We also cover textile machines, including spinning, weaving, knitting, and finishing machines.
If you are new to textile work, I recommend starting with a basic set of tools that includes a sewing machine, scissors, needles, pins, and thread. As you gain more experience, you can add additional tools to your collection as needed.
Finally, to help you get started, we've provided links to some high-quality textile tools and equipment you can buy online.
Enjoy!
What Are The Different Types Of Textile Tools?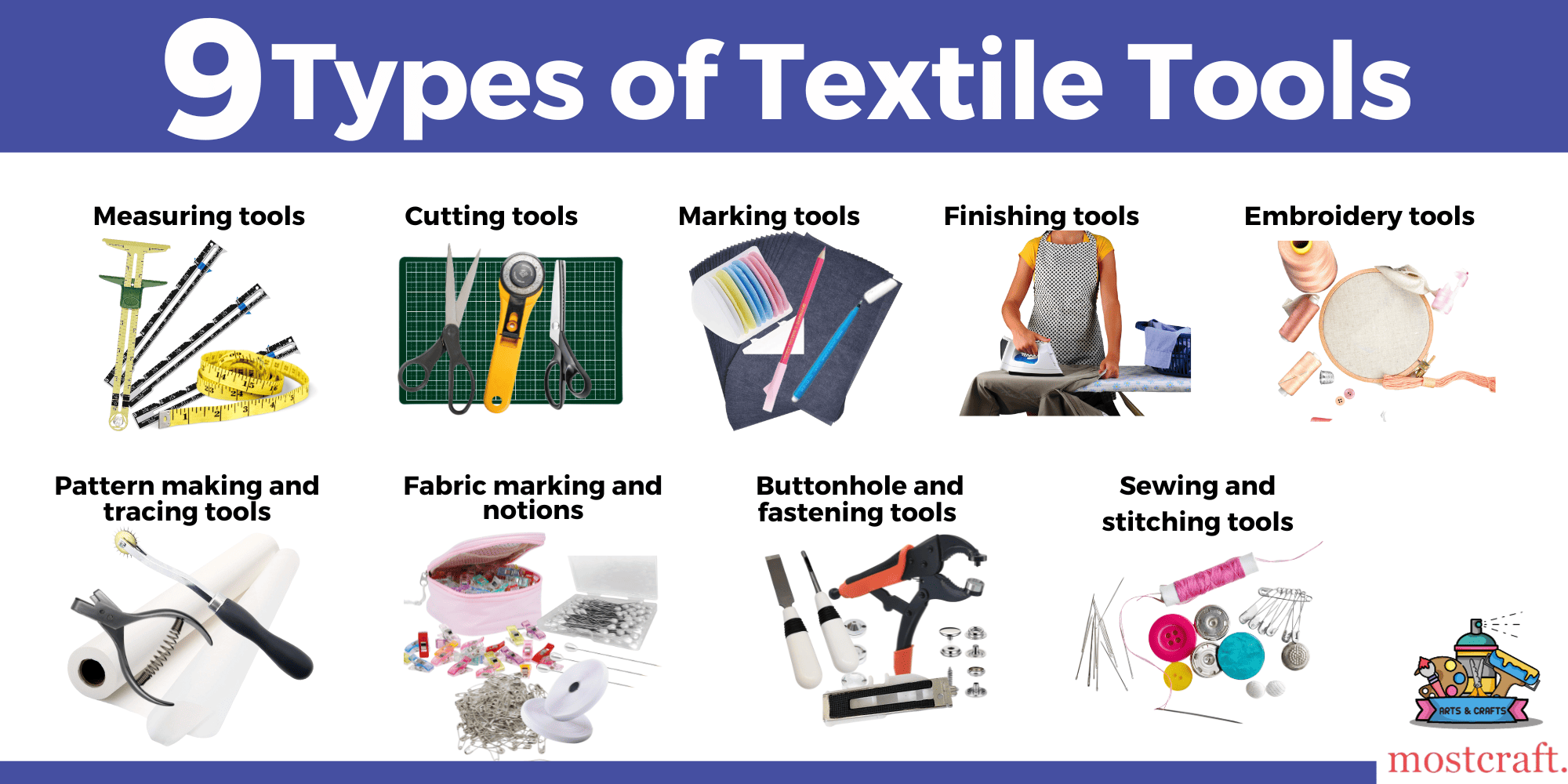 The different types of textile tools you need vary, depending on what crafting niche you want to get into. In this part of our guide, we give an overview of what tools and machinery you'll need for each different textile craft field.
Sewing And Stitching Tools
Sewing and stitching tools are used in many textile crafts to combine pieces of fabric or apply thread to a foundation fabric for decoration.
Needles
You need needles for hand-sewing. Needles come in a variety of sizes and weights, depending on the fabric you're working on.
Thread
Sewing thread is typically made from cotton, silk, or synthetic materials and comes in myriad colors and weights.
Seam Ripper
A seam is a handy tool that's used to break or unpick stitches in fabric, for example, to take down a hem or open out a seam.
Thimble
Pricking your finger and getting a spot of blood on a piece of sewing is incredibly annoying, as I know from experience! So, if you're hand-stitching, you should always use a thimble to protect yourself (and your work) from pinprick injuries.
Sewing Patterns
If you're dressmaking, you'll need a sewing pattern to work from. Sewing patterns contain detailed instructions on how to cut out your fabric and stitch the various parts together to create a garment.
Fabric Glue
Some forms of crafting require fabric glue to fix applique pieces to a foundation material. You can also use iron-on fabric adhesive to fix hems in place without the need for stitching.
Cutting Tools
Cutting tools are used to cut out patterns, cut pieces of material, and snip thread. Don't use paper scissors to cut fabric; you'll blunt the scissors and leave a ragged edge on your fabric.
Fabric Scissors
Fabric scissors are specialized cutting tools designed for precisely and cleanly cutting fabric materials, such as textiles and sewing patterns.
Rotary Cutter
Rotary cutters are used for cutting fabric on a flat surface, such as a cutting mat. This round blade with an ergonomic handle leaves a clean, neat edge to your material.
Cutting Mat
If you want to use a rotary cutter or cutting blade, you'll need a mat to place the material on to protect the surface beneath.
Pinking Shears
When you cut woven fabric, the unfinished edges fray extremely easily because the weave comes undone, causing the threads to fall out. Pinking shears have a sawtooth pattern, limiting the length of the frayed thread and minimizing damage.
Thread Snips
As the name suggests, thread snips are used to snip off threads when sewing, saving you from using large scissors that can be too unwieldy for small pieces of work.
Marking Tools
When you're working on a garment or soft furnishing item, you'll need to mark the material to show you where to cut or add notions, and there are various marking tools you can use for that.
Fabric Chalk
Fabric chalk is handy for marking buttonhole placements and seamlines, making it an indispensable tool for accurate and neat sewing projects.
Pins
Pins are used to mark hems and hold pattern pieces and fabric together, providing stability and alignment during the sewing process, which is essential for achieving professional and polished results.
Marking Pen Or Pencil
Marking pens and pencils are used in the same way as fabric chalk, to make the fabric so you know where to add buttons, decorations, and the like.
Dressmaker's Carbon Paper
Dressmaker's carbon paper is used to transfer patterns onto fabric by using a smooth or serrated edge tracing wheel.
Pattern Weights
Pattern weights are used to keep your pattern pieces in place to ensure you cut your fabric as accurately as possible. They're easier and faster to use than pins, don't bunch the fabric, or leave pin holes in your patterns or textiles.
Water Soluble Marker
Water soluble markers are a fabulous way to trace your patterns and transfer designs when embroidering, sewing, and quilting. The marker lines are there while you're working but then vanish from your finished project like magic.
Measuring Tools
Measuring tools are used in dressmaking and other textile crafts to measure the length of hems, seams, etc.
Measuring Tape
A measuring tape is used to measure various dimensions when cutting fabric and fitting garments.
Ruler
A ruler is used for measuring straight edges on fabric, precision marking, and cutting, making it an indispensable tool for ensuring the accuracy and consistency of sewing and crafting projects.
Hem Gauge Or Seam Gauge
A hem gauge or seam gauge is used to mark alterations or hems, pleats, buttonholes, and buttonhole lengths on fabric. You can also use one as a compass to draw circles and arcs by fixing the slider with a pin and placing the tip of a marking pencil in the hole at the end of the scale.
Finishing Tools
Finishing tools are used to finish off a completed piece of sewing or other textile work once all the Needlework has been completed.
Ironing Board
You will need an ironing board to press seams and creases into garments and to get rid of bunching and unwanted creases in embroidery fabric.
Iron
You will need an electric iron to press your fabric and get rid of creases, ideally with a steam setting that you can use to remove stubborn wrinkles in the material.
Pressing Cloth
A pressing cloth prevents your iron from coming in contact with your fabric, preventing scorching, little stains, and shiny spots. The cloth can also protect your iron when you're using any form of iron-on or fusible interfacing.
Tailor's Ham
A tailor's ham is sometimes called a dressmaker's ham and is a tightly stuffed pillow that you use when pressing curved areas of fabric, like sleeves, collars, waistlines, and cuffs.
Sleeve Board
A sleep board looks like a miniature ironing board and is used for pressing small, narrow pieces like pant legs, kids' clothes, and sleeves.
Embroidery Tools
Embroidery is a popular needlecraft that uses thread or yarn to decorate pieces of fabric with patterns and designs. You can also incorporate embellishments like beads, sequins, and pearls into embroidery designs.
This form of needlework requires a range of specific tools, which are outlined below.
Embroidery Hoop
Many crafters like to use an embroidery hoop while they're working to hold the material taut so that the stitches lay better over the fabric. This tool also makes managing and handling the fabric easier.
Embroidery Needles
Embroidery or crewel needles come in a medium length, have a sharp point, and a narrow eye. These needles come in various numbers, from 1 to 12, with 6 to 8 being the most popular.
Embroidery Thread
Embroidery thread or floss comes in a range of different colors and can be made from various materials, including cotton, silk, and synthetic.
Embroidery Scissors
Embroidery scissors are specially designed for cutting multiple embroidery and sewing threads. These scissors have long pointed tips, enabling you to precisely cut threads in tight spaces with sharp, clean cuts.
Embroidery Fabric Or Hoop Material
Embroidery fabric usually has a thread count of under 150, such as muslin, Aida, cotton, and linen, allowing you to pull the needle and thread through without snagging.
Embroidery Patterns Or Designs
Embroidery patterns and designs are basically drawings you can transfer onto your embroidery fabric to embroider.
Needle Threader
Threading needles can be a fiddly business, especially if you have arthritis in your fingers or your vision isn't as sharp as it once was, so a needle threader is a handy tool to have in your sewing box.
Pattern-Making And Tracing Tools
Many textile crafters like to make and design their own patterns once they're more experienced, and if you decide to do that, you'll need a selection of pattern-making and tracing tools.
Pattern Tracing Paper
Pattern tracing paper is translucent so that you can trace pattern pieces and designs onto it for sewing and embroidery.
Tracing Wheel
A tracing wheel is a serrated or smooth wheel that's used to mark patterns onto fabric, providing a quick and precise method for transferring pattern markings, darts, and guidelines onto your material, which simplifies the sewing process.
Pattern Notcher
A pattern notcher is used to create a notch in a paper pattern, enabling you to align the pattern pieces accurately during the sewing process, ensuring proper fit and alignment of fabric sections.
Pattern Drafting Rulers
A pattern drafting ruler is used for drawing perpendicular lines and accurate 90-degree angles on brown paper before transferring them onto fabric.
Pattern-Making Software
Pattern-making software is used to create and edit designs and draft patterns in dressmaking and other needlework crafts.
Clear Plastic Rulers
A clear plastic ruler is a useful tool for measuring fabric and pattern dimensions. These rulers are usually L-shaped.
Dress Form
A dress form is a three-dimensional mannequin of a torso that you use to fit garments that you're designing or sewing.
Pattern Hooks Or Storage Solutions
Pattern hooks are used to hang your patterns safely on a rail to prevent them from getting damaged or creased while in storage.
Seam Allowance Guides
A seam allowance guide is a metal device that you fix to the stitch plate of your sewing machine, close to the presser foot. The magnetic effect keeps the fabric firmly in place as your sewing machine pulls it forward, giving you a solid, reliable guide for straight lines and seam allowances.
Buttonhole And Fastening Tools
You can choose to fasten garments using buttons, Velcro, hook-and-eye fasteners, and the like. So, buttonholes and other fastening tools and devices are an essential part of any dressmaker toolkit.
Buttonhole Cutter
A buttonhole cutter is a tool you use to cut buttonholes in your fabric using only the slightest of pressure, resulting in clean and precise buttonhole openings for a polished and professional finish to your garments.
Buttonhole Foot
A buttonhole foot is a sewing machine foot that you clip to your machine when you need to stitch around buttonholes.
Snap Fasteners And Snap Setter
Snap fasteners are often used instead of buttons to fasten clothing. These notions are made from two interlocking plastic or metal discs and you need a snap setter to fit them to your fabric.
Hook-And-Eye Closures
Hook-and-eye closures consist of a metal hook and an "eye" into which the hook fits to create a fastening, providing a discreet and secure way to close garments and other textile items.
Velcro Or Hook-And-Loop Fasteners
Velcro is an extremely popular hook-and-loop fastening tool that's simple to use and very effective. You cut the Velcro to the length you want and then stitch it to the fabric to create a fastening.
Buckles And Clasps
Buckles and clasps come in various shapes and sizes and are used to fasten everything from belts and bags to garments.
D-Rings And O-Rings
D-rings and O-rings are typically used to fasten carabiners and the like to garments like belts, and can also be used when making purses and bags.
Toggle Buttons
A classic toggle button closure has two ends, one with a button or T-shaped piece and one with a loop. The T-shaped end slips into the loop to create a fastening.
Hook-And-Bar Closures
Hook and bar closures are popular fastenings for tailored trousers, skirts, and other garments, providing a neat minimal book and the ideal alternative to buttons.
Magnetic Snaps
Magnetic snaps are fasteners used in textile and fashion applications that consist of two magnetic components, typically a male and a female part, which attract and hold together to secure an opening.
A magnetic snap fastening has four parts:
A flat ball side with prongs
A thick socket side with prongs
Two flat rings
Grommet Setter
Grommets are used to protect the edges of punched holes in heavy fabrics such as denim, canvas, leather, and the like. The grommets are designed to reinforce the material to prevent fraying.
A grommet setter is used to fit the grommets into the fabric.
Cord Locks
Cord locks or cord stoppers are used to secure and adjust a cord once it's been threaded through a bag or garment, preventing that annoying slipping that sometimes happens.
Sewing Buttons
Buttons are used to fasten items of clothing and decoration and come in many different shapes, materials, and colors.
Button Sewing Foot
A button sewing foot is a simple foot that you attach to your sewing machine to stitch the button in place rather than hand-sewing it. Check with your machine's manufacturer to find out if they make a button sewing foot to fit, as these are not one-size-fits-all tools.
Button Thread
Button thread is a super-strong, often waterproof thread made from various materials, including cotton, silk, and synthetic.
Buttonhole Elastic
As you'll guess from its name, buttonhole elastic is elastic containing buttonholes! It's typically used in kids' pants so that they don't need to cinch up a belt to tighten the waistband.
Fabric Marking And Notions
As mentioned above in the section on marking fabric, tailors, and dressmakers use various means of marking their fabric to make their work more accurate and ensure garments fit correctly.
Notions are small items of handy sewing sundries that you'll want to include in your toolbox.
Tacking Pins Or Basting Pins
Basting pins are specifically used in quilting. These pins have a bend in the middle that makes it much easier to grab the right amount of fabric on the pin.
Safety Pins
Safety pins are used to hold pieces of fabric together and come in different sizes and weights, offering versatility for a wide range of sewing and crafting needs, from securing seams to fastening delicate fabrics.
Fabric Clips
Fabric or sewing clips are handy tools that are used to hold the fabric in place instead of pins. These clips remove the danger of pinpricks, won't leave holes in your fabric, and allow you to easily feed the fabric under the sewing machine foot without it getting stuck.
Sewing Labels
Sewing labels are small fabric labels that you sew into garments, usually personalized with someone's name or advertising a small cottage industry.
Elastic
Elastic is a stretchy material that you use to finish cuffs and waistbands. Elastic comes in different colors and widths to suit your project.
Rickrack, Bias Tape, And Piping
All these notions are used as finishing touches to garments and soft furnishings and come in various widths, colors, and materials to suit the project you're working on.
Boning
Boning is a long piece of flat metal or plastic that's used to shape corsets, dress bodices, and the like. You can also use boning to reinforce pleats, necklines, and collars.
Beads, Sequins, And Rhinestones
Beads, sequins, and rhinestones are used to embellish and add a touch of bling to garments and soft furnishings and come in a vast range of shapes, sizes, and colors.
Patches
Patches can be decorative or used to repair small tears in clothing. Some patches can be ironed onto the fabric, whereas others must be hand-sewn.
Braided Elastic
Braided elastic has parallel ribbing that runs down its length. This form of elastic narrows as it stretches and loses stretchiness when stitched or pinned. This form of elastic is typically used for sleeve hems, necklines, and waistbands.
Cord And Drawstrings
Cord and drawstrings are generally used to fasten garments' waistbands and make drawstring bags. Both come in various lengths and usually have a cord block to prevent the fastening from coming loose and disappearing inside the fabric.
Ribbon And Lace
Ribbon and lace are popular trimming materials for clothing and home furnishing projects, coming in many different colors, widths, and fabrics, ranging from cotton to silk and satin.
What Are The Different Types Of Textile Machines?
The different types of textile machines you can buy vary tremendously between crafting niches. Here's an overview of what textile machines you might need.
Spinning Machines
Spinning machines are used to convert raw fibers into usable thread or yarn for use in textile making and many other fields.
Cotton Gin
The cotton gin was invented in the 1700s in the US and is a machine used to remove the seeds from raw cotton before spinning the cotton into thread. You can't buy cotton gins today because the process has been mechanized and automated.
Ring Spinning Machine
A ring spinning machine is used to twist fibers into yarn and then wind it onto a bobbin for safe storage. These are large, industrial machines that are not generally available to buy.
Open-End Spinning Machine
An open-end spinning machine creates yarn without using a spindle and was invented in Czechoslovakia in 1963. You can't buy these machines for home use.
Rotor Spinning Machine
Rotor spinning is a more modern method of spinning fibers into yarn that's used on industrial scales, known for its high efficiency and speed in producing yarn for a wide range of textile applications.
Weaving Machines
Weaving machines are used to transform the yarn created through the spinning process into fabric. If you want to make carpets and woven rugs, you'll need some kind of weaving machine to do that.
Power Loom
The power loom was designed and patented by a guy called Edmund Cartwright in 1785 and was a key development during the Industrial Revolution. This loom mechanized the weaving process, removing the need for slower, labor-intensive hand-weaving.
Jacquard Loom
A Jacquard loom is a handloom that was once used for weaving silk during the 19th century. This loom has what's called a Jacquard attachment that allows the weaver to create complex patterns. Interestingly, the punch cards used in that mechanism later provided the inspiration for modern computer programming!
Air-Jet Loom
An air-jet loom uses a jet of air to push the weft yarn through the warp shed instead of a shuttle.
Water-Jet Loom
A water-jet loom works in a similar way to an air-jet loom except that it uses water to propel the yarn rather than air.
Knitting Machine
Although many people enjoy hand-knitting and find the craft very therapeutic, you can use an electric knitting machine to make the process much quicker. You simply program the machine to produce whatever pattern or garment you want, load it with yarn, and press start!
Flat Knitting Machine
A flat knitting machine knits fabric in a flat, horizontal way that produces more tension on the yarn, making the process much quicker. A flatbed knitting machine also prevents common fabric defects and mist stitches.
Circular Knitting Machine
Circular knitting machines create a piece of fabric with a circular pattern and no seam. This kind of knitting machine is commonly used to make things like mittens and socks.
Warp Knitting Machine
A warp knitting machine can have a single or double needle bar and come with a range of gauges and widths, offering flexibility to produce a variety of knitted fabric types and sizes for different applications in the textile industry.
Nonwoven Fabric Machines
Nonwoven fabric is a web or sheet material made by entangling fibers chemically, mechanically, or thermally. The fabric is flat and porous, made from separate fibers or molten plastic film.
Carding Machine
A carding machine cleans, disentangles, and intermixes fibers to create a piece of material that can then be used.
Crosslapper
A crosslapper machine stacks multiple layers of nonwoven fabric or synthetic fibers on top of each other.
Needle-Punching Machine
A needle-punching machine is an industrial piece of kit with barbed needles punched vertically through a sheet of a synthetic web to grab and entangle fiber tufts.
Thermal Bonding Machine
Thermal bonding machines are used in the production of nonwoven fabrics. These industrial machines are used to fuse or bond different layers of material together by applying heat to the layers, causing them to stick together.
Finishing Machines
Finishing machines are used to give the finishing touches to fabrics.
Dyeing Machine
A dyeing machine is used to color fabrics and yarns. These machines come in many different sizes to accommodate various quantities of textile materials.
Printing Machine
A printing machine is used to print various designs and patterns using inks onto fabrics like wool, silk, cotton, and polyester.
Finishing Machine
Textile finishing machines are used to apply chemical finishes, such as bleaching, glazing, and embossing to material.
What Is The Difference Between Textile Tool And Machine?
The difference between textile tools and machines is pretty straightforward to understand.
Basically, machines are a complete system that performs a task for you. Tools are accessories that you use to perform a task more efficiently.
For example, you can use a pair of knitting needles and woolen yarn to create a sweater. However, that task is labor-intensive and time-consuming, whereas a knitting machine will do the job much faster and more efficiently.
Here's a more detailed overview of the differences between textile tools and machines.
FAQs
In this part of our guide, we answer some of the most commonly asked questions about textile tools and equipment.
What Are The Essential Textile Tools For Beginners And Experts?
The essential textile tools a beginner and expert needs vary tremendously, depending on what craft you specialize in.
For example, if you want to design and make fabric for sale as a business, you might need to buy a loom, dyeing machine, finishing machine, and all the necessary chemicals and raw materials. However, if you just want to make clothes for your kids, all you need is a modest sewing machine, needles, thread, and fabric.
What Are The Basic Textile Tools That Every Crafter Should Have?
Again, the basic textile tools that every crafter should have depend entirely on what craft you want to do. However, a decent quality pair of scissors is essential, an iron and ironing board are useful, and fabric marker chalk or pencils can also be handy.
How Do I Maintain And Care For My Textile Tools?
To keep your textile tools working effectively and efficiently, you must look after them properly. If you have any form of machinery, have it serviced regularly and replace worn parts when required. Keep scissors sharpened, and replace blunt needles when necessary.
Be sure to store all your textile tools in a dry place and out of direct sunlight.
What Safety Precautions Should I Take When Using Textile Tools?
There are a few safety precautions you should take when using textile tools.
Wear goggles or protective glasses to prevent eye injuries.
Wear gloves when handling chemicals.
Use a thimble to avoid pin prick injuries.
Ensure the room you work in is well-ventilated to prevent dust inhalation.
Use a face mask or respirator if you work in a dusty environment.
Wear a protective apron to keep your clothes clean and protect you from spilled chemicals.
Where Can I Find Specialized Textile Tools For Unique Projects?
You can find most of the tools you need for textile projects for sale online, and in some cases, you can hire what you want from specialist firms. A Google search will most likely bring up useful contacts.
What Is The Cost Range For High-Quality Textile Tools?
Again, the cost range of your textile tools depends on what tools you want.
For example, a set of crochet needles might set you back $10, a basic sewing machine will be around $100, and fabric scissors can cost around $5. However, you're talking about a few thousand bucks if you want a fabric printing machine.
Are There Eco-Friendly Textile Tools Available In The Market?
There aren't really any textile tools that can be called truly eco-friendly since most use natural resources and energy-heavy processes to make them.
However, you can reduce your carbon footprint somewhat by using second hand tools and keeping what you have in good condition to make it last longer. Manual tools are more eco-friendly than those that need electricity, oil, or gas.
How Can I Identify Counterfeit Textile Tools When Shopping Online?
There are a few red flags to watch out for when shopping online.
Tools that are massively discounted are often fake.
Check the logo on the advertised product closely against that on the manufacturer's website. Fake logos are often slightly different.
Check the product features advertised on the manufacturer's website against that of the item for sale online. Fake goods often lack some of the true product's features, or what they do have is different.
Fake goods are notoriously of very poor quality.
The seller's reputation is poor, and their customer service is non-existent.
Buying online can be fraught with danger, so always double-check that what you're purchasing is the real deal before you part with your cash.
What Are The Latest Innovations In Textile Tools And Equipment?
The latest innovations in textile tools and equipment include 3D knitting machines that can create whole clothing items in one piece, laser cutting machines that cut intricate designs into material, and digital printing machines that can produce high-quality images onto your fabric.
Where Can I Find Reliable Reviews And Recommendations For Textile Tools?
You can find reliable reviews and recommendations for textile tools on several websites and forums, including Amazon, which has customer reviews on the products it sells. Specialized textile forums, such as The Sewing Directory and Sewing Pattern Review, are also useful places to read product reviews.
It's also worth looking at YouTube channels and crafting blogs for tutorials and reviews on specific textile tools.
Conclusion
Textile tools and equipment are the various tools and machines used in the production of textiles. Machinery is mostly automated and is used to carry out a range of complex tasks, whereas textile tools are usually manually operated and designed for more simple jobs.
The range of textile tools available is vast, depending on what craft you want to specialize in, but there are a few basics you'll find handy to have in your toolbox. Every crafter needs a high-quality pair of scissors, fabric marking chalk or pencils, needles to suit your craft, and a range of thread or yarn.
Take time to care for your textile tools and equipment properly by keeping it clean, regularly serviced, and dry, and store everything somewhere secure and out of reach of kids and pets.