Many people say that calligraphy is a dying art form, but others, myself included, definitely beg to differ. I will never forget the timeless elegance of the beautifully written letters my grandmother would send me as a child, crisp white pages of loving, sentimental words only enhanced by the gorgeous decorative handwriting.
Technology may be steadily growing, making the art of calligraphy a bit less common, but in the end, nothing beats the simplicity of the handwritten word.
It also doesn't hurt that learning calligraphy is so much easier than you'd think. A nice steady hand, a bit of practice, and, of course, a proper pen, are really all you need to delve into the wonderful world of "fancy writing". Of course, as a beginner, finding the perfect calligraphy pen can be pretty hard, especially with so many options.
Lucky for you, this list contains 5 amazing, beginner-friendly calligraphy pens that are the perfect way to start your journey into calligraphy.
What to Look for in a Beginner's Calligraphy Pen
Pen Style: In the past calligraphy was done with the pen and ink separately. In true Victorian-era movie style, the pen would be dipped into a vial of ink in order to write. In the 21st century, however, things are done a bit differently. Calligraphy pens now contain inserted ink cartridges that make writing a lot easier. When buying your first calligraphy pen, it might be best to stick with pre-inked pens to avoid frustration.
The Perfect Nib: On a calligraphy pen, the term "nib" refers to the tip of the pen where the ink is released and the pen meets the paper. Nibs come in a plethora of options, differing in both size and shape. To determine your nib needs, you must decide what look and style of calligraphy you want to accomplish. Italic nibs are great for a more dramatic gothic look and flex nibs work better for a more traditional, elegant calligraphy style.
Comfortable Handle: Practice makes perfect and no one wants to practice calligraphy with a pen that is horribly uncomfortable. Make sure that your pen grip is covered in something soft and firm that allows for comfort while also keeping your hand steady. Light pens, as opposed to those with a bit more weight, are also better for beginners, in terms of comfort.
---

It's always good to start a new project with a hefty dose of confidence and a bit of blind courage. If you're someone who agrees with this philosophy, the Pilot Parallel Pen is the perfect beginner's tool for you.
As light as a feather, with an easily grippable body, this pen comes with multi-colored ink cartridges and a handy nib cleaner, but the added features don't even come close to the ridiculously cool "parallel plate" nibs.
This pen boasts a nib that combines two parallel plates that allow writers an infinite amount of sharpness and precision when writing. Versatile enough to take from calligraphy practice to penning a grocery list, this little guy will surely come in handy.
While the ink that is included with the purchase of the pen leaves little to be desired in the way of bleeding and feathering, they are easily replaceable and super simple to load. With its comfortable, lightweight body, smooth glide, and versatility, it's easy to see why the Pilot Parallel Pen is a first pick for even the most advanced calligraphers.
What Users are Saying
Amazing action and performance from this pen
Ink flows smoothly and with consistency
Create beautiful lines and curves that maximize your artistic flows
Extremely versatile pen, great for calligraphy and drawing
Comes highly recommended from many users
---
If the elegant design isn't enough to make you feel like the most sophisticated person on earth, then the effortless way it writes will have you feeling the Queen of England. Manufactured in China, the Luxury Jinhao 250 Calligraphy Fountain Pen is the perfect combination of old world elegance and simple efficiency.
Despite the extremely lightweight body, the ink flows smoothly from the pen and while this pen may not be ideal for large-scale professional calligraphy projects, it's an awesome starter tool that can put up with hours of practice with no fuss.
Aesthetically pleasing enough to make everyone in your life jealous and a nice, medium sized nib that's great for creating striking, bold lines, the Luxury Jinhao 250 Calligraphy Fountain Pen has an effortless glide and a body that allows for one comfortable grip. Gorgeous design and quality manufacturing have definitely made this pen something to write home about.
What Users are Saying
Really captures the old school feeling of writing
Nice weight on the pen, feels balanced and high quality
One of the best pens I've used ever
Pens feels extremely solid in hand, even over time
Nib is smooth, ink flows much nicer than expected
Has all the qualities of a solid fountain pen
---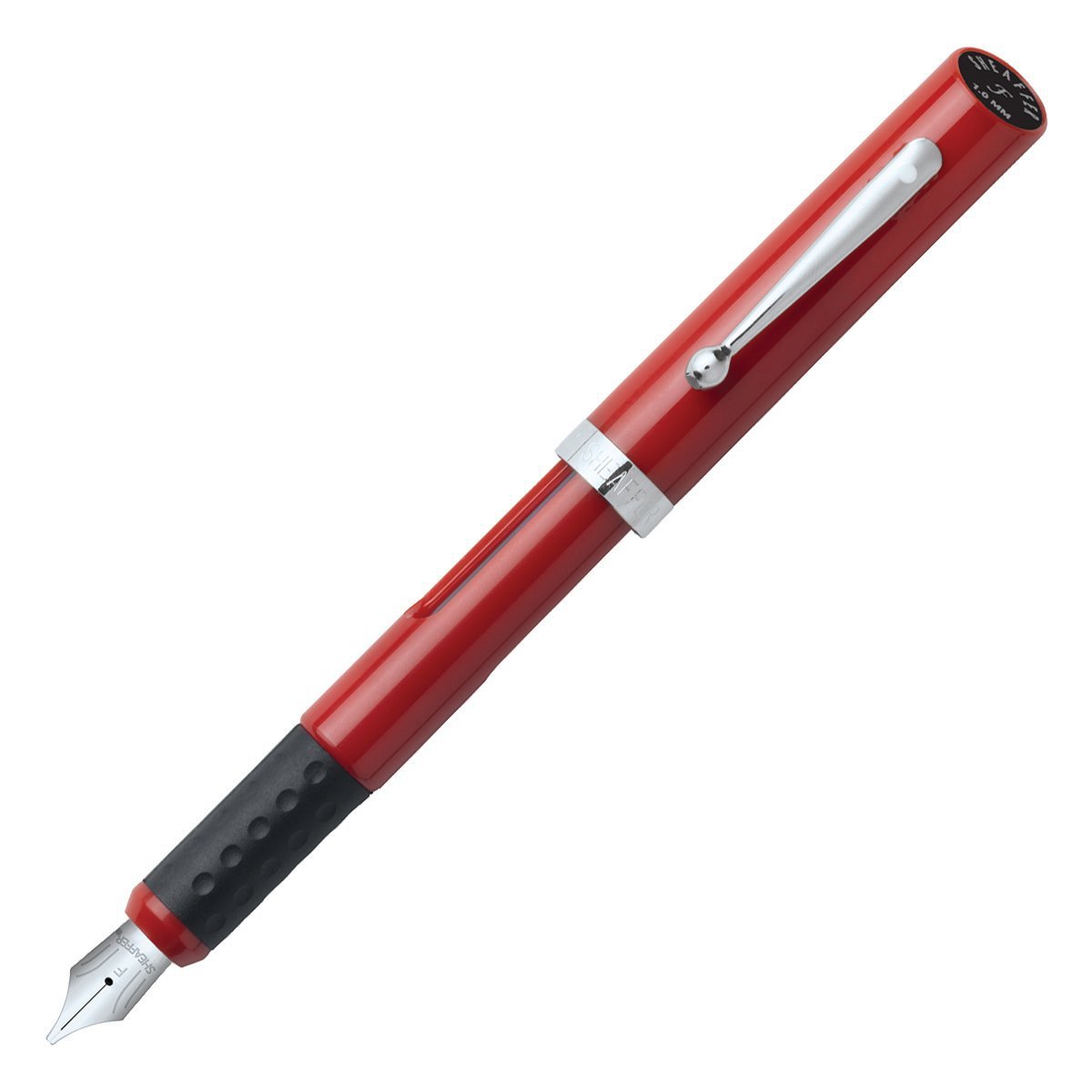 The Scheaffer Viewpoint Calligraphy Pen may not look like much, but it packs one heck of a wallop. The simplistic deep red body is fitted with a handy black grip and finished with a gorgeous stainless steel silver nib make this pen an eye-catching, but still simple, addition to any collection.
Its lightweight construction makes it ideal for beginners, and the fine pointed nib makes creating those elegant, fine lines a breeze. W
hile the viewable ink cartridge may be a bit of an eyesore to some, it allows users to continuously check on the inner workings of the pen without having to take it apart.
The Scheaffer Viewpoint Calligraphy Pen has an effortless glide and a no-frills build that allows writers to focus on what's really important.
What Users are Saying
Perfect for those looking to get the classical feel of calligraphy writing
Ideal for beginners to use for good technique and form
Excellent ink flow and smoothness
Easy to get the hang on because of pen size and weight
---
The Sleek, bold body of this pen, along with its highly esteemed reputation prove that the Pilot Metropolitan Collection Fountain Pen means serious business.
This Pilot brand pen comes in a selection of three colors, featuring the distinctive black, elegant silver, and one with a golden finish that will knock your socks off. Its stainless steel medium sized nib ensures an optimal glide and the inclusion of a singular black ink cartridge is more than enough to get you started.
Perfect for those bold, grandiose calligraphy projects, this pen slides seamlessly across paper, producing perfectly precise lines and many a bold stroke.
The body itself is slightly weightier than the other pens on this list, and while the grip section is a bit too slippery at times, the Pilot Metropolitan Collection Fountain Pen more than makes up for it with its flawless glide. This is one pen that always seems to live up to the hype.
What Users are Saying
This pen sets a new standard for entry-level pens
Great ink flow with little physical effort
You get the idea of how a real fountain pen should feel
Pen is sleek, fun to write with and consistent over time
---
Looking for something without all the frills? Something that always means business and delivers every time? Well, the Lamy Joy L15 ABS Calligraphy Fountain Pen is the tool you've been searching for.
While the, seemingly, less than sturdy design leaves some a little skeptical, the effortless performance sure knows how to 'wow' a crowd.
Allowing for both interchangeable nibs and a modifiable ink cartridge system, this pen is a great fit for beginners and pros, alike. With a notoriously smooth stride and a sturdy grip, this pen can go on for hours without causing discomfort.
The handy features and timelessness of the Lamy Joy L15 ABS Calligraphy Fountain Pen make it a tool that can be used at any stage of proficiency, and that's why I love it so much.
What Users are Saying
Pen quality is much higher than expected for price
Great for calligraphy exercises or more formal works
Writes well with no ink disturbance even after a lot of use
Performs better than more expensive pens in market
Do you recommend a calligraphy pen for beginners that we missed?
Let us know in the comments below!