If you want to make beautiful calligraphy with markers, selecting a quality brand is essential. That's why we are going to take you through some of the best products available for this purpose.
Calligraphy has been used by countless cultures throughout history, but many still use it in modern-day arts and professional work. It is a beneficial method of relaxation and the perfect way to block out the world when you need some alone time. And in terms of more practical and useful applications of calligraphy, there are always big events and weddings to use your skill for. Design one-of-a-kind invitations or signs for important work events.
What to look for: in order to select a great calligraphy marker set, make sure there's a wide variety of colors included and that the pens have a quality construction that will last a long time.
Markers and Brush Pens Comparison Table
IMAGE
MODEL
FEATURES

Ohuhu 60 Colors Dual Tips

60 Vibrant colors

Color-coded caps

Broad and fine twin tips

View Product

Pentel Arts Sign Pen with Brush Tip

Wear-resistant

ACMI Certified Nontoxic

Will not dry out if left uncapped

View Product

Sakura XBR-24SA 24-Piece Set

24 color set

Odorless, water-based solvent

Set consists of 24 colors

View Product

Water-based ink

Each pen is dual sided

Includes 95 Dual Brush Pen

View Product

Refillable

Unique "Parallel Plate" Nib

Comes with two cartridges

View Product1

MozArt Supplies Brush Pens Set

Work smooth, they feel like you're using a paintbrush

Gorgeous, vibrant colors that stay dynamic over time

Feels great writing with these pens

View Product

Sakura 50028 Pigma Professional Brush

Best brush pens I've used in my experience

Has a great flexible brush tip that makes lettering easier

Great for details or smooth lines

View Product

Kuretake Bimoji Felt Tip Brush Pen for Manga & Calligraphy

Very comfortable pens to use, even for a few hours

Has same size as traditional brushes

Prevents slipping and unwanted rotations

View Product

Prismacolor Premier Illustration Markers, Brush Tip

Blend extremely well, great for beginning or expert artists

Dry quickly, great ink flow and smooth movement from tip

Fine tips hold up well even after hours of use

View Product
The Best Markers for Calligraphy
Each of the following marker sets has been selected based on top user reviews, affordability, and a high standard of quality. After this list, we will cover each product in depth so you can make an informed decision.
Ohuhu 60 Colors Dual Tips
Pentel Arts Sign Pen with Brush Tip
Sakura XBR-24SA 24-Piece set
Tombow Dual Brush 96 set
Pilot Parallel Pen
What to Look for in Brush Pens for Lettering
Precision: The pens must have precision, not leak and provide an all over smooth application. When coloring or writing inside lines, having the ability to do so without having the tip move to the outside of the lines is ideal.
Fine tips: The fine tips can provide an accurate outline, but if the pens are able to switch between the fine and thicker lines, this are more ideal. However, choosing between fine and thicker lines, always go with fine.
Vibrant colors: The colors must be vibrant and alive. If you choose to go with a black option, it shouldn't look gray or watered down on the paper when it is being used.
Smooth overlay: When coloring or lettering with the pens, they should provide smooth application onto the paper that you're writing on. They should not leave streaks, clumps or other defects.
Water-based ink: Water based ink can provide a beautiful appearance for any project that you're letting. Using water based ink also ensures that it is non-toxic and that there are many other options you have with the use of the pens.
Ohuhu 60 Colors Dual Tips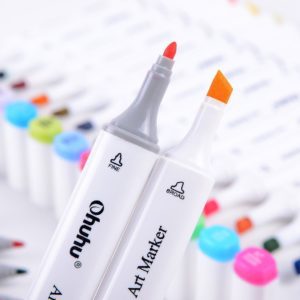 The Ohuhu 60 Colors Dual Tips offer a choice to make either fine or broad strokes for specific, precise underlining and highlighting. They let you write in either thick or thin lines, offering you flexibility and versatility to create multiple patterns, sketches, and art styles without a struggle.
"Given the price of these and the great vibrant colors," said Randal at the Leisure Pro. "I think these are the best markers for adult coloring books, enjoyed by so many casual hobbyists. Lately, I have seen a ton of new cheap alcohol marker brands pop up but these are certainly the best markers in the bunch."
The 60 bright, vibrant colors included in this pack are highly pigmented and created to protect against premature fading. In addition, the majority of the pens in the set work as highlighters. The caps are color-coded, allowing for easy identification and organization. The strong pigments in the markers allow for up to 300-meters worth of drawing.
You will also find your order complete with a carrying case for easier storing and travel. It will fit into most art bags with ease. You can use these markers along with your other alcohol-based pens without any problems and the colors blend amazingly with full, rich coverage. This can be your way of filling in the gaps with your other marker collection, or a quality set on its own.
This brand of alcohol-based markers comes at a lower price and a better quality level than many other brands. Copic markers are among the best in the industry and these are right up there next to them in terms of vibrancy and color saturation.
Check The Price
Pentel Arts Sign Pen with Brush Tip
This option offers rich and saturated colors that can be blended with other colors and water. You may dilute the pen tips with water and get a large variety of color values. The Pentel Sign Pen is great for many techniques, including calligraphy, fine line work, and details, outlining, cross hatching, and feathering.
"It has a small pen tip, is fairly flexible, and is very easy to control," said Pieces Calligraphy. "It comes in 12 fun colors you can choose from, or you can be a collector (like me) and get the entire set of 12."
The pens are pressure sensitive, resistant to wear, and come with flexible tips. They won't dry out if you leave the cap off and can be easily cleaned using paper towels. This product is water-based and certified non-toxic, perfect for use in specialty hand lettering styles. Even for those who aren't very good at fancier writing styles, these are user-friendly and easy.
The pen tips hold their ink flow and retain their shape even after being used many times. The points feel more like a pen than a brush, but still, offer plenty of flexibility for precise lines and script. You will also find that they last very long and that you won't need to replace them for a while.
The Pentel Arts Sign Pen is a great value for what you pay and feels good to draw and write with. Writing tiny fonts and adding details can be a challenge, but these are perfectly suited for those tasks and write smoothly each and every time. Use them to practice your lettering, address envelopes, or doodle in your notebook.
Please remember that, since these pens are water-based, they will take longer to dry than other markers. Left-handed calligraphers should be careful not to smudge this ink when they're working with it.
Check The Price
Sakura XBR-24SA 24-Piece Set
These pens can be compared to a paintbrush and their tips spring quickly back to their original shape when using them. The Sakura 24-Piece Brush set comes with a water-based and odor-free solvent that makes color layering and blending a complete breeze.
Practice calligraphy anywhere with these dye-based, mess-free brush pens. They make bold, medium, or fine brush strokes; simply change how much pressure you apply to the tip to make it change. These brushes are a great way to add some color to your illustrations, cartoons, journal entries, sketches, or of course, to use for calligraphy.
You can make color gradations and seamless washes with the included colorless blender piece. Each pen will come with a flexible nylon nib and the set comes packaged in a clasping, reusable case made from plastic. The set can be organized in the included translucent, durable storage case. In order to get optimal results with these markers, use them on a plate-finish, heavy weight paper.
This set comes with many different color options and shades, including several browns, blues, yellows, reds, grays, and purples. The pen tips are sharp pointed and soft. They aren't like gel roller or felt pens and must be used differently. If you wish to use these pens to color, you're going to want to make sweeping, smooth, longer type movements as you would with a paintbrush.
The more you practice, the easier these sweeping motions get and you'll be able to make the exact type of line you desire with one fluid motion. You will find that the ink flows out of these very smoothly and easily, but that the darker colors may bleed more than lighter colors. It might require some practice before you get familiar with these pens, but it's worth the effort as it's far less work to color in areas with these than it is with pencils or regular pens.
Check The Price
Tombow Dual Brush 96 Set
The Tombow 96 set comes with 95 different colors and one blender. The blender is colorless and mixes and softens colors, creating an effect similar to watercolor. The pens' durable tips can create bold, medium, or fine strokes with consistency each time and the set comes with a black desk stand.
"The other end of the pen is the interesting end, said Pen, Paper, Pencil. "It's a long brush tip that gives a sharply defined line with wide variation in width. It's possible to get very fine lines, with care, and, conversely, big broad strokes."
The ink in these markers is non-toxic and water-based, completely odorless, non-bleeding, and easily blended. Although the pens are great for calligraphy, they are also suitable for crafts and even fine art. Since these markers are water-based, they do perform differently than Prismacolors or other similar brands. This is not a negative thing unless you are hoping they will perform as alcohol-based markers do.
With these water-based Tombows, you will get translucent ink that is tons of fun to combine and layer, and can be mixed with water and used with paintbrushes. These pens will last for years and won't bleed (with the possible exception of very heavy layering). Due to the water-based nature of the ink, it may cause some paper types to tear, so using heavier papers is better. Keep in mind that you still shouldn't use too much ink at once or your paper will not hold up.
These pens are best for people who like to work with very bright, saturated colors instead of earthier or natural tones, so keep that in mind. They do, however, offer a wide range of tones.
Check The Price
Pilot Parallel Pen

The Pilot Parallel set has a 1.5mm pen with red barrel and cap and two cartridges of ink in red and black. You will also find a nib cleaner, converter, and instructional booklet included with the set. The technology of this nib lets you make sharper, clearer writing lines than other pens and you can use the same nib with two different colors of ink to create an amazing gradual shading effect.
"These pens are a lot of fun to use and are so inexpensive that I have no qualms about throwing the pens in my bag or playing around with different inks," said A Better Desk.
This pen is superior to more common calligraphy pens since it lets you blend colors easily. You will also enjoy making fine lines with the pen's corner. You may find that you should replace your cartridges with another ink brand once these run out because this kind does feather a bit.
This pen is super versatile which makes it great for drawing in addition to calligraphy, and you can even use its thin corner for note-taking in a pinch. For those who already have a bit of experience with calligraphy, this is a great choice and somewhere between a marker and a regular calligraphy fountain pen. Newbies may find the 1.5mm pen a bit less intimidating than more experienced calligraphers.
Loading up the ink is easy and the pen offers great action with ink that flows consistently and smoothly. This pen will create beautiful, solid lines each time but make sure you're using good paper as typical printer paper will cause bleeding.
Since this pen comes with a nib that is quite broad, it will go through link very quickly. The pen itself is durable and offers high performance. It offers a clean, crisp flow of ink and will never leak.
Check The price
MozArt Supplies Brush Pens Set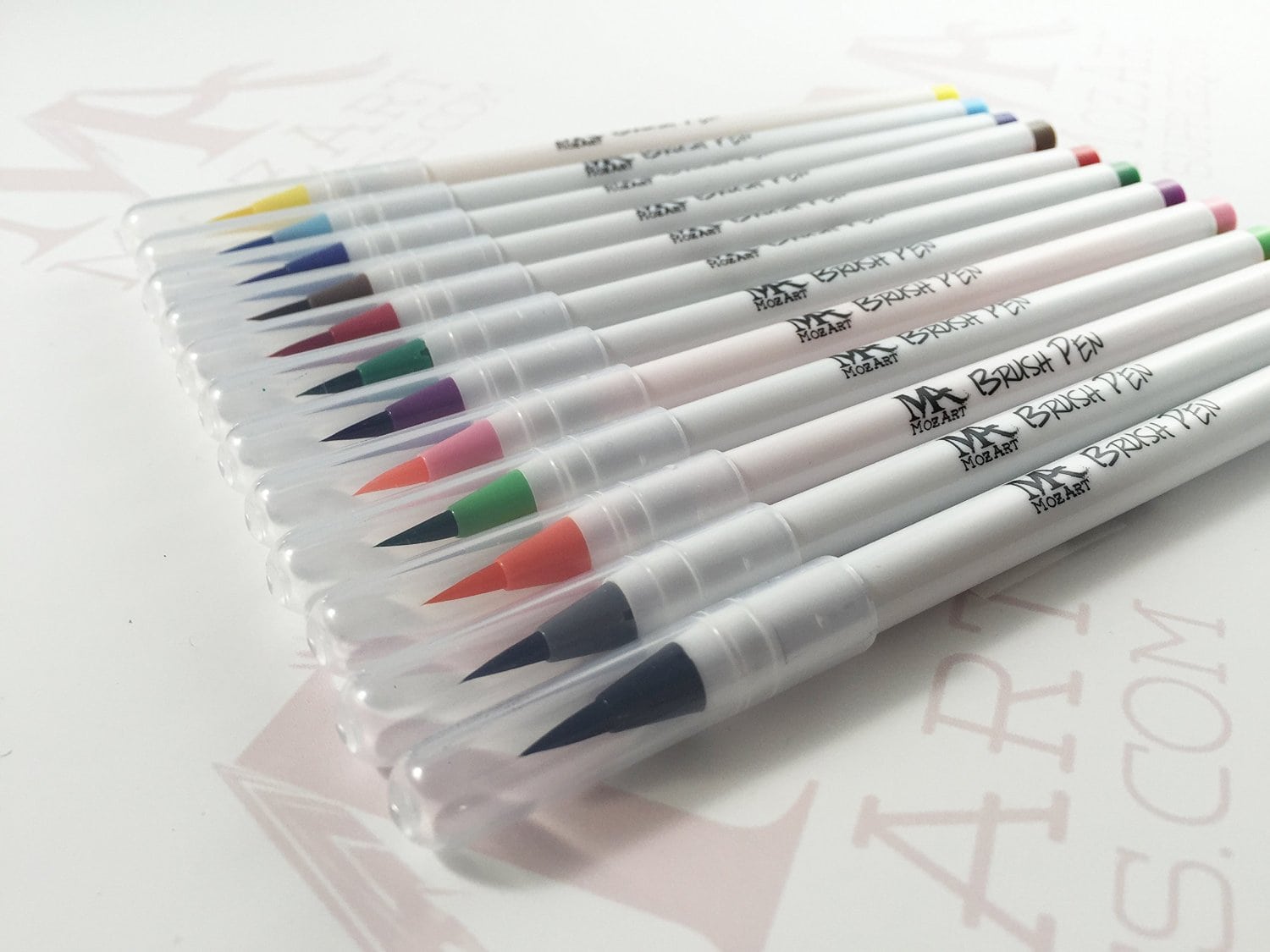 For a set of 12 pens, the MozArt Supplies Brush Pens Set provides beautifully vibrant, pop off the paper colors that you can enjoy. Each pen is comfortable to hold, and glides over the paper smoothly and easily.
The high quality pens were designed to provide hours of letting or coloring fun. They were made to outlast competitors, but also ensure that the ink does not dry out easily when used.
The fine tips on the ends of the pens can do fine lines, or be turned slightly to create a thicker line, depending on the size of the lettering and how you'd like it to turn out. These pens can also provide the watercolor effect.
Simply add a few drops of water over where it was colored, and the color bleeds and dries down the paper, creating a beautiful look. Definitely a set of pens worth checking out.
Customer Reviews
Really fun, versatile brush pens to use for lettering (and other designs)
Work smooth, they feel like you're using a paintbrush
Gorgeous, vibrant colors that stay dynamic over time
Feels great writing with these pens
Great variety of colors and shades
Sakura 50028 Pigma Professional Brush
If you're searching for something a bit more professional, then the Sakura 50028 Pigma Professional Brush provides the black color that you want, but the smooth fine lines of the tips to provide the ideal lettering.
You can write a whole letter in these amazing pens without having a hand that gets tired. The black stays black, and it will provide a way for you to flawlessly flick the tips of the pens over the tops of the papers.
Enjoy all that comes from these professional, yet beautifully designed pens made for everyone to enjoy for all lettering types. The nibs of the pens have high quality materials, allowing them to be some of the best to write with on the market.
If you have some letters you want to write, crafts you need to put names on, or anything else then these pens can provide the ideal look and feel.
Customer Reviews
Best brush pens I've used in my experience
Has a great flexible brush tip that makes lettering easier
Great for details or smooth lines
Ideal for those learning lettering or  experienced in the lettering arts
Includes enough sizes to do different things without getting overcomplicated
Kuretake Bimoji Felt Tip Brush Pen for Manga & Calligraphy
Enjoy writing in style and comfort using the Kuretake Bimoji Felt Tip Brush Pen for Manga/Calligraphy. It provides the ideal smooth gliding tip that can go on without smudging, but also provide the super fine lines for the letters that you need.
These are beautifully designed, and each one is handmade, so you can ensure that you're getting a genuine product that was meant for the highest quality of lettering that you want to do.
Whatever your heart is set on, these beautiful brushes can help you do it. They do only come in black ink, though, so make sure to check that out.
Customer Reviews
Very comfortable pens to use, even for a few hours
Has same size as traditional brushes
Prevents slipping and unwanted rotations
Flexible, smooth tips make for great lettering lines
Easy to maneuver with minimal hand effort
Not difficult to get a feel for the pressure you need to use
Prismacolor Premier Illustration Markers, Brush Tip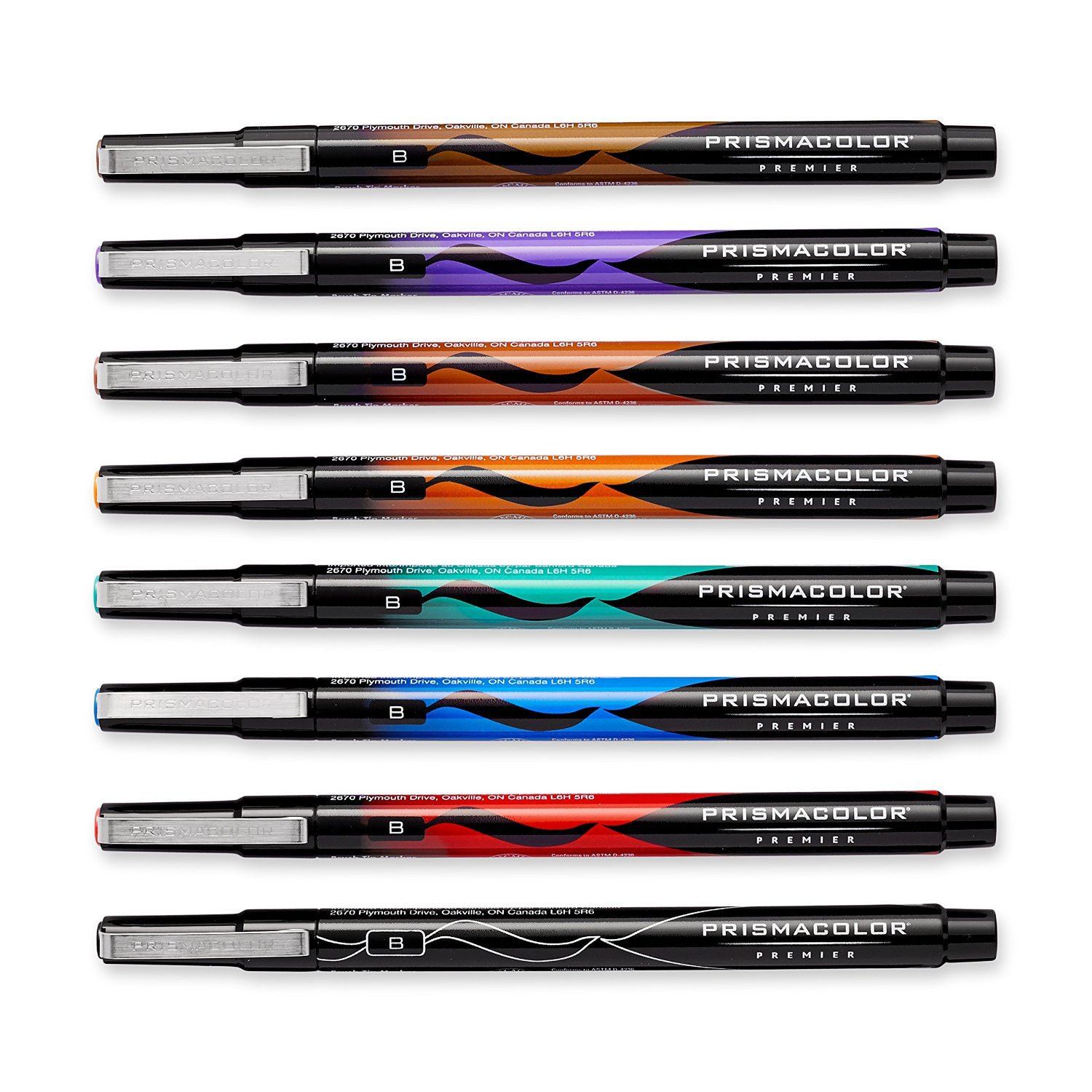 If you want something that is at an artist's grade and quality, then the Prismacolor Premier Illustration Markers, Brush Tip can be the option to go with when the time comes. You're able to make the most out of the lettering that you're doing because they glide so easily, and look so smooth.
Choose this set that comes with 8 different colors, so you can create the letters or projects that you need, without having to purchase multiple sets to get the right colors for the occasion.
The tips are made from high quality materials, ensuring that they stay wet when needed, and do not leak out too much ink when not. The ink is water based, as well; providing that smooth appearance, but weeping when you add a little water.
These are pens made for an artist, and if you're like an artist like me, then they are for you.
Customer Reviews
Blend extremely well, great for beginning or expert artists
Dry quickly, great ink flow and smooth movement from tip
Great price for what you receive
These pens have wonderful tips that make it easy to angle to your liking
Fine tips hold up well even after hours of use
4 Tips for Becoming Better at Calligraphy
Hand lettering and calligraphy are relatively affordable, un-fussy, and easy pastimes in addition to being helpful against anxiety and aiding in relaxation. But how should you go about it if you want to become a master at this art form? Let's go over some tips to help you along the way:
Take it Slow: For many beginners, the expectation is high that they will be able to form fancy words as quickly as regular writing. This is nearly impossible, even for very experienced calligraphers. Taking it slower will make a huge difference with how your hand lettering turns out and will teach you more patience.
Ideas for What to Write: Next time you want to practice your lettering but have run out of ideas for what to write, try writing down some of your favorite quotes of song lyrics. You could even open up a nearby book and copy some sentences out of it.
Holding your Pen: The way you hold your calligraphy pen will have an impact on how your writing turns out. With typical writing, you can simply pick your pen up and get straight to it, but calligraphy requires you to wield the marker in a special way. Make sure that the line is always being lead by the nib, even if it feels awkward. You'll get used to it with time.
Practice Lines: Another difference between normal writing and calligraphy is that with normal writing, you are focusing on each word or sentence as you write it. With calligraphy, on the other hand, you must focus on each individual stroke. Practice these on their own and you will soon master the art. Try doing an entire page of only strokes. The better you get at individual lines, the better you will get at calligraphy itself.
Follow each of these guidelines and you will be on your way to producing quality hand lettering in no time.