If you're ready for something new in your stationery, the right dot grid notebook can truly enhance your creativity and organization skills. This relatively new page ruling has become an instant classic that people swear by. This list will help you find the right one for you.
What makes dot grid notebooks so popular? Firstly, it's an alternative to an ordinary grid, ruled, or plain paper. The pages in a dot grid notebook have many small, unimposing dots forming rows and often very faintly marked. This creates a suggestion of a pattern and gives you, as the writer, a lot of freedom. You get to choose whether to use it as plain, squared, or ruled paper.
There are many convincing reasons to switch to this type of paper, including hand lettering and handwriting practice and a more suitable surface for creating technical sketches. Dot grid also gives writers and artists a slight structure to their art without constraining them with solid lines. Once you switch to dot grid, you may find that you never go back.
"Maybe I shouldn't be swayed by fanciful things like fashion and design, but there is a part of my mind that does like to seek out something new, something different," says Dominic at Bureau Direct. "Not accepting the status-quo led us to paper and pens and notebooks in the first place, so dot paper is just one little step further in the advancement, and it's a good one."
Comparison Table
IMAGE
MODEL
FEATURES

Affordable

8.5 by 11 inches in size

Paperback cover

View Product

Portable and perfect

5 by 8 inches in size

Ideal for bullet journaling

View Product

Leuchtturm1917 Medium Notebook

Brightly colored journal

80 GSM

Handles a wider variety of pens

View Product

Field Notes Pitch Black Notebooks

Dot Graph Pattern

3.5-x-5.5-inch

3 Books per pack

View Product

Lemome Hardcover with Pen Loop

90 Sheets / 180 Pages

The paper 20%-54% thicker

FREE Black Gift Package

View Product
The Best Dot Grid Notebooks
Dot:Grid Designbook
Northbooks Notebook
Leuchtturm1917 Medium Notebook
Field Notes Pitch Black Notebooks
Lemome Hardcover with Pen Loop
Each of the dot grid journals on this list was selected for the quality of its pages, positive user experiences, and overall value for the price.
Dot:Grid Designbook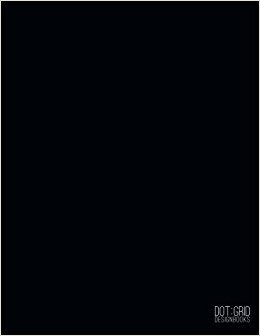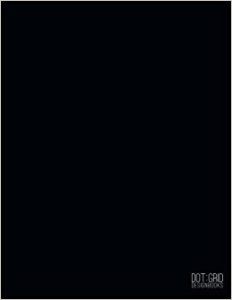 For a good beginner's dot grid journal, the Dot:Grid Designbook is a quality candidate. It's more affordable than other options, so you don't have to make a huge commitment before finding out if dot grid journaling is your type of activity. It's 8.5 by 11 inches in size and has a paperback cover.
As stated, this notebook is ideal for beginners and comes with thin pages suitable for pencil sketching or taking notes. If you are looking for a journal that can take calligraphy pens or markers, this may not be the best choice. The binding doesn't allow the notebook to lay open, so this is worth remembering, depending on what you plan to use the book for.
The grids included are squares of about ¼ inch, with closely spaced dots and larger pages. They can be used to organize your personal and business life and for bullet journaling. The cover is durable enough to hold up to being put into and taken out of your bag repeatedly and the pages won't allow bleed-through with ordinary pens.
The cover comes with a matte finish that has a rubbery texture which feels and looks unique, but some may not like that it attracts fingerprints. The dot spacing in this journal makes it ideal for weekly planning and finding out whether dot grid journals are for you.
Check The Price
Northbooks Notebook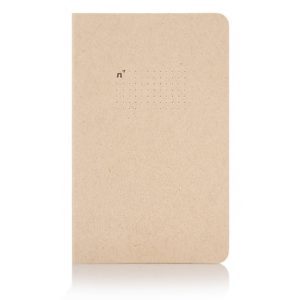 For a sophisticated, yet simple choice, consider this dot grid Northbooks Notebook. It's only 5 by 8 inches in size, making it very portable and perfect for taking notes, planning, or daily journaling needs.
Some don't like overly decorated notebooks, preferring a simpler cover and layout. The design of this Northbooks journal is basic and unassuming, allowing you to focus on your drawing or writing without distractions.
"I love the size. It will fit into a large jeans pocket and is easy to stash in a satchel or purse. I really like the look and feel of it," says Abram K-J. "The cover logo is minimalistic. If you have a ruled notebook, you see lines instead of dots. A nice touch. You could easily title your notebook and write it on the cover."
Ideal for bullet journaling, this notebook has a faint dot pattern that will guide your handwriting without imposing when you want to use the paper to draw. The dots have 5-mm spacing between them and are faint enough to stay in the background once you have filled the paper.
The paper is 89 GSM/60-lb, acid-free, smooth, and will resist bleeding and feathering with most pens. Note, however, that very wet fountain ink could be an exception and cause these issues. Instead of stark white, the paper is a soft cream hue that offers your writing or drawing an elegant surface to create upon.
The cover is made from 50 percent recycled, a post-consumer paper which is durable, yet soft. It offers flexibility yet enough sturdiness to protect the notebook's pages through everyday use. Made in the USA, the design and manufacturing process behind this notebook began in New York and, according to creators, will stay in America.
The 96 included pages are very smooth, preventing drag when you write. These make a great gift to either others or yourself and offer a sophisticated way to take notes, sketch, and journal on the go.
Check The Price
Leuchtturm1917 Medium Notebook
If you take a lot of pride in collecting pens and want a journal up to the task of handling each, the Leuchtturm1917 is worth thinking about. Choose from many different colors and find what inspires you and makes you excited to write.
"The Leuchtturm1917 is a wonderful notebook," says Kim at Tiny Ray of Sunshine. "The dotted one in particular gives you the same flexibility that graph grid does, except it's less busy. The dots get out of your way and reappear when you need them to."
The colors offered, along with the convenience of the journal size and paper quality make it a good general choice for both artists and bullet journal enthusiasts. Many writers aren't concerned with how the outside of their notebook looks, but for those who are, a brightly colored journal is a nice change. You could even select a few different colors and have one for to-do lists, one for daily journaling, and one for recipes, for instance.
You can use most pens in this notebook, including fountain pens, as the paper is 80 GSM. It handles a wider variety of pens than a Moleskine notebook without causing bleed-through. Keep in mind, though, that it may not handle all pens (like those with extremely wet inks), so always test first. Although the ink will not bleed with this paper, it may show through slightly when using certain pens.
Check The Price
Field Notes Pitch Black Notebooks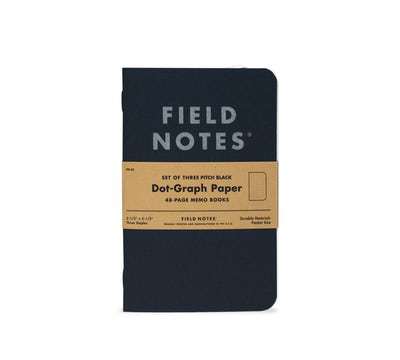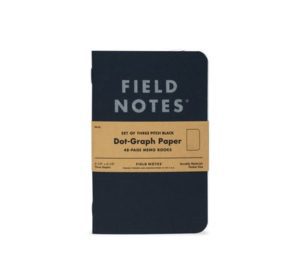 If you are looking for a notebook to use at work, especially for multiple tasks, you can't do much better than this 3-pack of Field Notes Memo Notebooks. They are very portable and offer paper that you can use either as graph paper or for the lines and contain 50-lb paper. The cover is made from 100-lb paper.
"They are not water proof or tear resistant, but they are pretty durable given the materials used," says Everyday Commentary. "I gave one to my three year old and it has held up well."
Keep the notebooks in your back pocket and they will hold up well. The paper inside can easily handle marker, pencil, and pen without bleed-through or smearing. The paper isn't entirely waterproof but won't be harmed by a little bit of water. Although they are a little costlier than generic notebooks, they will handle frequent use better and bring the advantage of looking nicer.
The notebook is brilliantly designed, approved for quality, and has a solid construction. Even the pickiest paper-users will be impressed. Note that the inside of the booklet is also black, so if you want to write your contact information and name, you'll need to use a white or metallic pen.
It will not bleed when you use 0.5mm fountain pens but was not created for use with mixed media. It's perfect for sketching with a ballpoint pen or pencil and offers a very smooth surface for those purposes. It also works well with gel pens and mechanical pencils. The thickness of the cover is the right size to hold most mechanical pencil and pen clips so you're never hunting for a writing instrument.
This notebook does have fewer pages than some other options, but this allows it to stay more durable and since there's a 3-pack, you can designate each one for a different purpose. Use them for fitness, big projects at work, and personal to-do lists.
Check The Price
Lemome Hardcover with Pen Loop
The last item on our list is a Lemome notebook and pen holder that was built to be durable with its sturdy, cleanable hard cover. It comes with an elastic loop for your pen or pencil and the pages inside are great for bullet journaling.
Use the lines as a guide when you're writing or ignore them and sketch over them. The dots have 5mm spaces between them and are faint enough to stay in the background once you have filled the page.
The paper is pollution-free, recyclable, and environmental. It's thick 120g paper, high-quality, and ivory in color instead of bright white. The pages are between 20 and 50 percent smoother and thicker than other paper and will work for most pens in your collection. When you open the book, it will lay flat, allowing you to take notes and read more efficiently. When you're done with it, just secure the journal with the tight band.
Although it may seem unusual at first, you will soon love and prefer the ivory color of the pages. The surface is smooth enough to offer a very satisfying experience when you write, especially for the cost of the journal. The cover has a nice leatherette feeling to it and the book itself is a good size for brainstorming, jotting down project ideas, or taking notes at work.
The journal comes with a back pocket for sticky tabs, so you can keep your notes organized. You will enjoy the soft feeling of the cover and the fact that this book comes with a lot of pages and can be used for a while.
Check The Price
3 Helpful Tips for Dot Grid Journaling
There are countless ways to use your dot grid journal, including both note-taking and drawing. If you are using your dot grid journal to stay on top of all of the tasks you're responsible for during the day, here are some tips for keeping it organized.
Give yourself only a Few Daily Tasks: The first rule for being more efficient with dot grid planning is learning how to stop giving yourself too many daily tasks. Overburdening yourself in this way can make you feel unproductive, guilty, and overwhelmed. Only put the items that you know you can realistically achieve when you are planning out your daily schedule. When other tasks pop up that you need to add, think through whether it's realistic to do that today and if not, add it to your weekly or monthly section.
Planning for Future Tasks: If you're having a hard time deciding where to place a task without putting it onto your current daily page, there are a few different ideas you can utilize. Have a sticky note pad nearby for writing down future tasks and when a task comes up, write the tasks and date on a note, then add it to your booklet when that day comes. For tasks that will be happening in future months or weeks, take a note in the note section of your journal.
Making your own 1.5 Spacing: When you write in your journal, you can create your own 1.5 spacing by writing on the line of dots normally and then placing the following line of writing with the dots running through the middle of the letters. This type of spacing isn't possible with grid or lined paper but dot grid pages allow you to write anywhere on the pages while still writing straight. Organizing your writing in this way can help you more easily find what you're looking for when you return to a page since your writing will be less cramped.
Writing in a dot grid notebook may take a little getting used to, but once you start, you will have no shortage of ideas for how to make use of it.