Notebooks are my thing, so when it comes to finding some of the best out there, I am on it and I am checking each and every one of them out thoroughly. I love paper, and I cannot stress enough that a great notebook will make you feel your best when writing.
When it came to finding an alternative to Moleskine, since I usually use them, it was a bit difficult, but there are some clear competitors in the market that anyone is able to use to their advantage when you want something high quality.
I wanted to go with something that was beautiful, smooth, flawless and definitely something that looked good and provided the support and paper weight that I needed. With these five different notebooks, I was able to feel the high quality difference.
If you're looking for something to replace those old Moleskine notebooks, then make sure to check out these notebooks that really hit the spot for anyone that loves paper, or loves to do a bit of writing on the side.
Write on!
What to Look for in the Best Alternatives to Moleskine
Type of finish: The outside of the book should look professional and appealing and provide the smooth, all over texture you want in a book. It should also be durable and long lasting to protect the inner sheets.
Paper weight: The weight of the paper matters more when you're using heavier things to write with such as markers and thick ink pens, so check into this before purchasing.
Ruled or unruled Some like ruled, some like unruled, depending on what your preference is, this is definitely something to look into regarding purchasing a notebook.
Affordable: The affordability of the book means a lot. You want something professional grade, but you do not want to break the bank in order to get it.
Non-toxic: The papers of the book should be non-toxic and made without chemicals. This will ensure that your ink is not ruined when writing inside the book.
---
Clairefontaine Basic Large Clothbound Notebook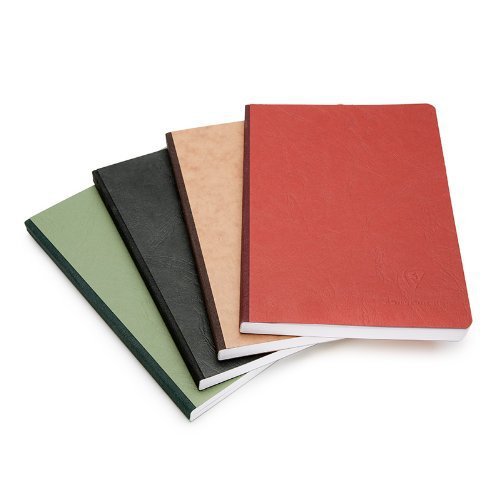 One of the biggest aspects and most loved about this Clairefontaine Basic Large Clothbound Notebook is that it provides a beautiful, smooth outer finish that protects the pages inside it, but looks awesome at the same time. It is durable and resistant, allowing you to bring it with you.
With ruled, acid free paper, you're able to use a multitude of writing mediums on the page without having it soak through our leak throughout the pages.
Not only that, but they are somewhat thick, providing a way to keep writing without having to worry about skipping pages in the process.
The outer elastic strap secures the book and pages together easily, and efficiently. This allows you to keep everything nice and uniform for all of the writing you'd like to do inside it.
Customer Feedback
Incredibly smooth paper, great feel and texture to the whole thing
Great for fountain pen use – won't leak or bleed, no feathering
Ideal paper weight, not too bulky but solid and well-constructed
Very soft, have used this for many uses and continue to buy new ones
Check Latest Amazon Price
---
Piccadilly Essential Notebook Medium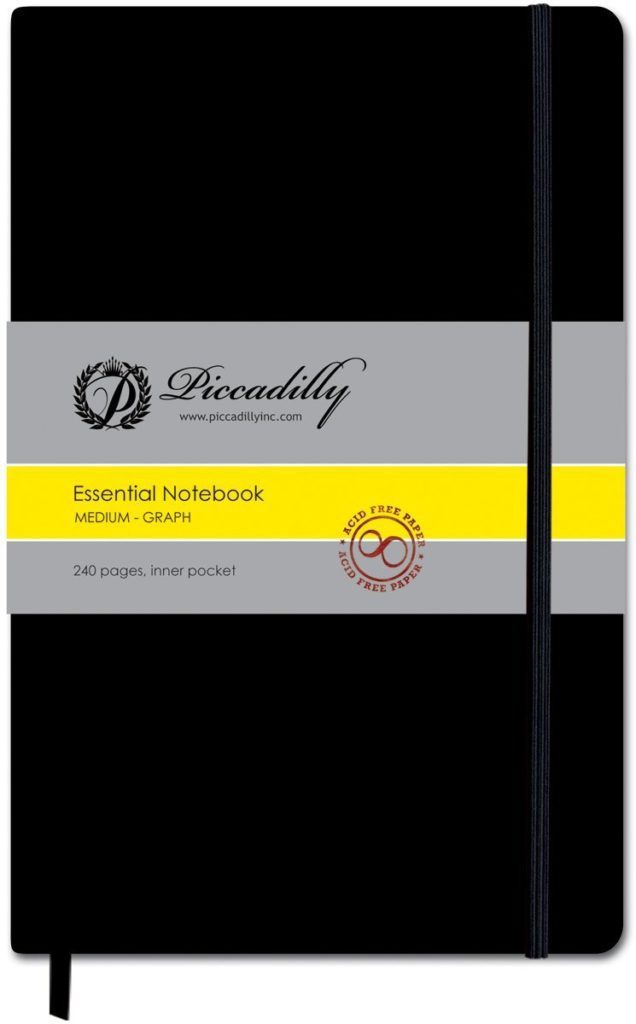 This notebook is beautifully constructed, and provides you with 240 different pages to scribble, write and draw in. Piccadilly is an excellent, high quality brand to choose from. Not only that, but they have many other types of notebooks you can choose from, as well.
This notebook provides the user with high quality, thicker graph pieces of paper. If this is something you're into, then it is definitely worth it.
Not only that, but if not, you can choose unruled or ruled notebooks from them to go with.
The outer layer of the book is a thick, smooth, almost leather like surface that provides protection and beauty for all of the writing, drawing and other means that you have. This makes it an excellent choice to go with.
Customer Feedback
Paper feels better quality than Moleskine, a little thicker
Comes with more paper and better bookmark than Moleskine
Feels good in hands, you can tell it's built with good elastic
Cheaper than Moleskine but offers just as solid writing and reading experience
Doesn't bleed when used with fountain pens
Check Latest Amazon Price
---
Field Notes Kraft Ruled 3-Pack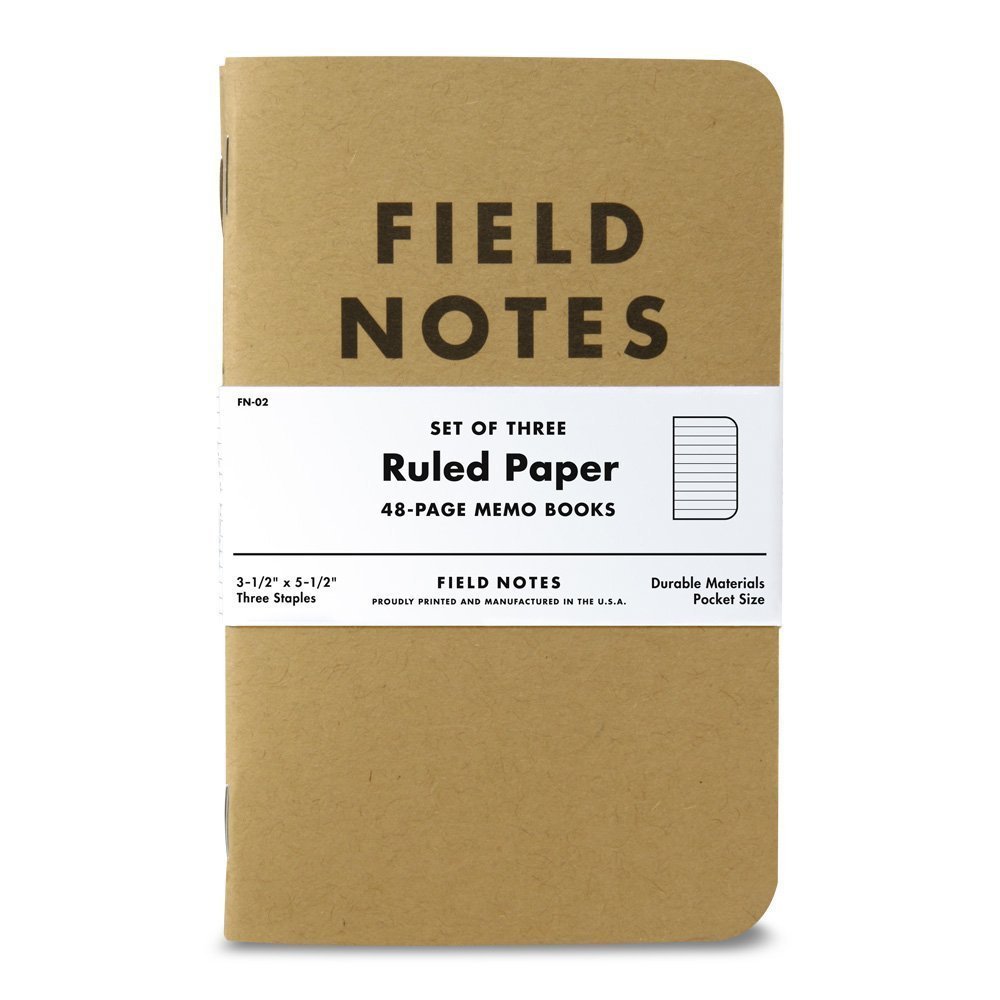 The Field Notes Kraft Ruled 3-Pack provides the user with a way to keep all of their notes secured in one area. Not only that, but with the thick, cardboard outer finish, it provides durability wherever you choose to throw the notebook.
With 48 pages in each book, they are a quick way to write yourself reminders. The pages are also thicker, allowing you to use whatever writing utensil you have handy, without having to worry about something leaking through.
They are high quality, and highly sought after for those field notes that you want to jot down.
Not only that, but they are smaller than the regular notebook, which makes them an easy product to quickly grab and go, without having to have something large and bulky with you.
Customer Feedback
Great bright white paper used in these notebooks
Ideal for pencils – paper doesn't give pencil faded away look
Works well with pens and other writing utensils as well
These put up with a lot of use and still look nice
Check Latest Amazon Price
---
Rhodia Orange Meeting Notebook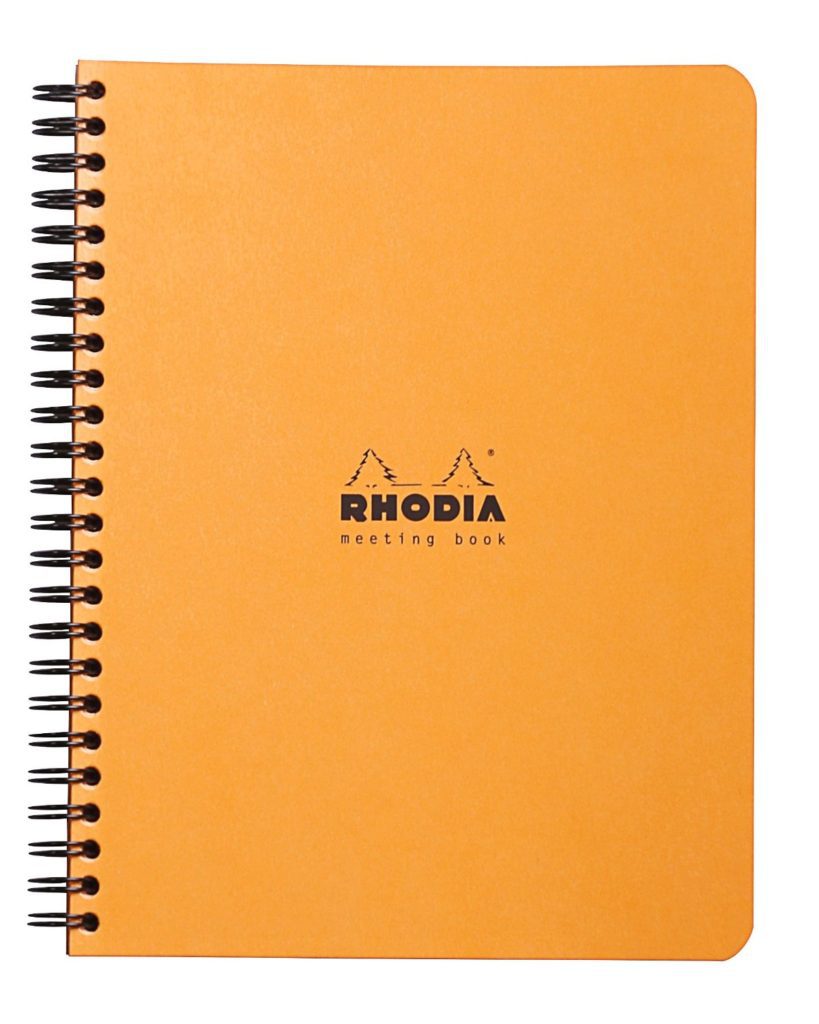 One of the highest quality notebooks on the market, the Rhodia Orange Meeting Notebook provides the user with a way to get the highest quality product on the market. Not only that, but the outside and inside correspond with the durability and beauty you'd expect from something so high quality.
The non-toxic pages are lined, and provide the user with a way to write easily on the outside of the paper without having it soak through, even with the thickest and best of fountain pens.
The outside has a thick cover, which provides protection and durability to those that want to make sure that they're getting more from the notebook, and all of the notes and writings that they put inside it.
With a spiral on the side, the pages are easy to turn and if you want to rip them out, the perforated pages provide an easy way to do so. In addition to this, the book is also waterproof, giving you even more reason to purchase it.
Customer Feedback
Love the layout – gives you more options than Moleskine
Great paper quality, very little bleeding with heavier inks
Works well for long-term projects like writing books
Rhodia's larger notebooks have great structure and quality materials
Check Latest Amazon Price
---
Leuchtturm Medium Notebook
The Leuchtturm Medium Notebook comes straight from Germany, and provides the user with a way to enjoy the high quality outer bound covers, as well as the high quality inner pages that provide the thick, finished look you're after.
The book is thread bound, and opens up flat to provide an easy surface for writing or drawing on. The pages are also blank lined, giving you a clean surface to work on for anything that you'd like to put on each of the pages.
The acid-free paper is thicker, and also provides a way to have something that is not going to bleed or go through the papers of the book.
The pages are perforated inside the book, so if you'd like to share something, you can easily tear the page out without having to worry about ruining the rest of the book.
Comes with stickers for labeling and placing tidbits through the book, which is an added extra.
Customer Feedback
Great thick feel to the notebook
Ruled lines are faint so you can focus on writing, not the lines
Great value when compared to similar sized and priced notebooks
Love that it has page numbers, ideal for referencing old things
Check Latest Amazon Price
---
Do you recommend any Moleskine alternatives that we didn't check out?
We'd love to hear about it. You can send us a message or suggestion here, or check out the other arts and crafts reviews we've put up recently: