There's nothing like fresh juicy tomatoes picked right out of your garden. They taste sweeter and just look better than what you can get at the supermarket, or at least that's how I feel every time I pluck one off the vine of my apartment garden.
That's right, I grow tomatoes in an apartment, and I'm confident that I could grow them just about anywhere that I want, thanks to my hydroponic setup.
I have hydroponic modules all over my apartment inside and out. They're growing tomatoes, peppers, cucumbers, herbs, spices and most of what I need. I eat them fresh and I enjoy using them in many different recipes. Produce prices keep going up and I'm enjoying my systems more and more.
I love hydroponics because I don't have to deal with messy soil and I don't use as much water over time. Buying kits for hydroponic growing is a pain in the butt though, and many aren't as high quality as they seem.
I've purchased several kits that I had to return or toss out because they simply weren't good enough to grow something on. That's infuriating to me, because these kits aren't cheap. Anyway, I've put together a list of some of my favorite kits, many of which are still hard at work inside and out of my apartment today.
They all operate solidly and each is worth considering if you want to begin growing using water instead of soil.
Comparison Table
IMAGE
MODEL
FEATURES

Deep Culture Hydroponic Bubbler Bucket System

4 Growing Sites

Includes Air pump, air lines, air stones, 10" basket lids

Includes 5 gallon FDA buckets

View Product

HTG Supply Bubble Brothers 6-Site DWC Hydroponic System

Electrical (air pump)

6-site DWC hydroponic system

41 watts, .42 amps @ 120v

View Product

General Hydroponics GH4830 Complete Power Grower

Replaces the older model PowerGrower

Grows small, medium, and large plants

Compatible with GH controller systems

View Product

General Hydroponics GH4120 Waterfarm Grow Kit

WaterFarm Complete

Grows small, medium, and large plants

16.6 x 10.6 x 10.3 inches

View Product
What to Look for in a Hydroponic System
Function: If the system works to grow plants, you have yourself a good system. That's why whether or not it works is the most important factor, as I'm sure every grower would agree.
Build Quality: These kits aren't cheap, so they need to last more than one season to be worth the price. Good durable construction is a top factor.
Ease of Use: Hydroponics is supposed to make growing plants simpler and less reliant on maintenance. The best systems are simple to use and maintain.
4 Best Hydroponic Systems For Your Home To Plant Tomatoes
1. Deep Culture Hydroponic Bubbler Bucket System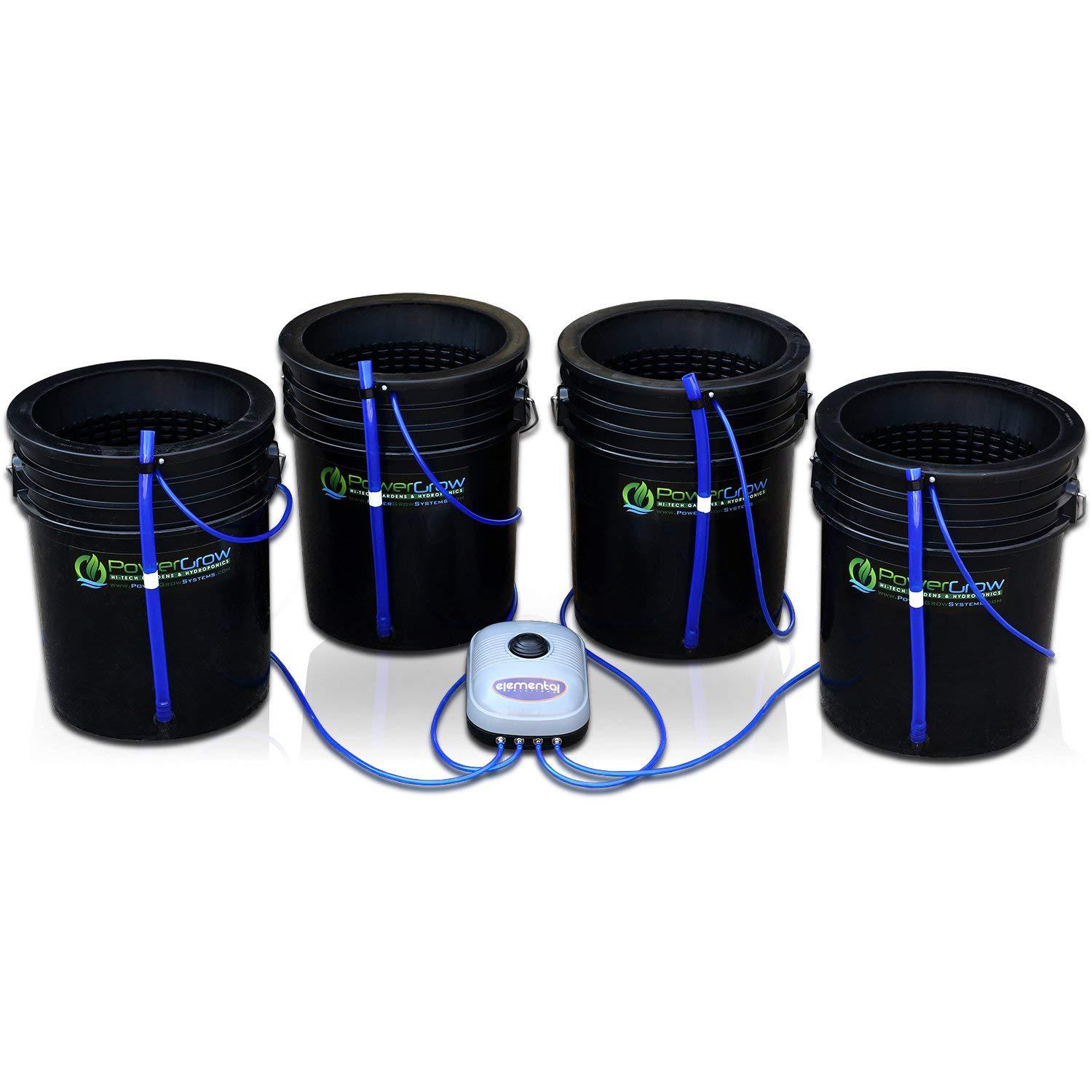 The Deep Culture Hydroponic Bubbler bucket system offers enough space to grow four very healthy tomato plants, and it does so without any special bells and whistles. It's basically four black buckets fitted with net cups and air bubblers. But the beauty of the system is that's all you need, and a single pump handles the air needs of all four buckets.
You can order the system, fill the cups with a grow medium of your choosing, and then start growing your plants immediately. It's super simple to use and you don't have to worry about picking up any additional parts to start using it other than your grow media.
The 10" cups offer plenty of room for a range of plants, and it's possible to grow several small plants atop a single bucket if you'd like. Grow big, delicious tomatoes that have it all.
Customer Feedback
Great price
Easy setup
Plug in and play
Put in the nutrients
Grow easily and effectively
Check The Price
2. HTG Supply Bubble Brothers 6-Site DWC Hydroponic System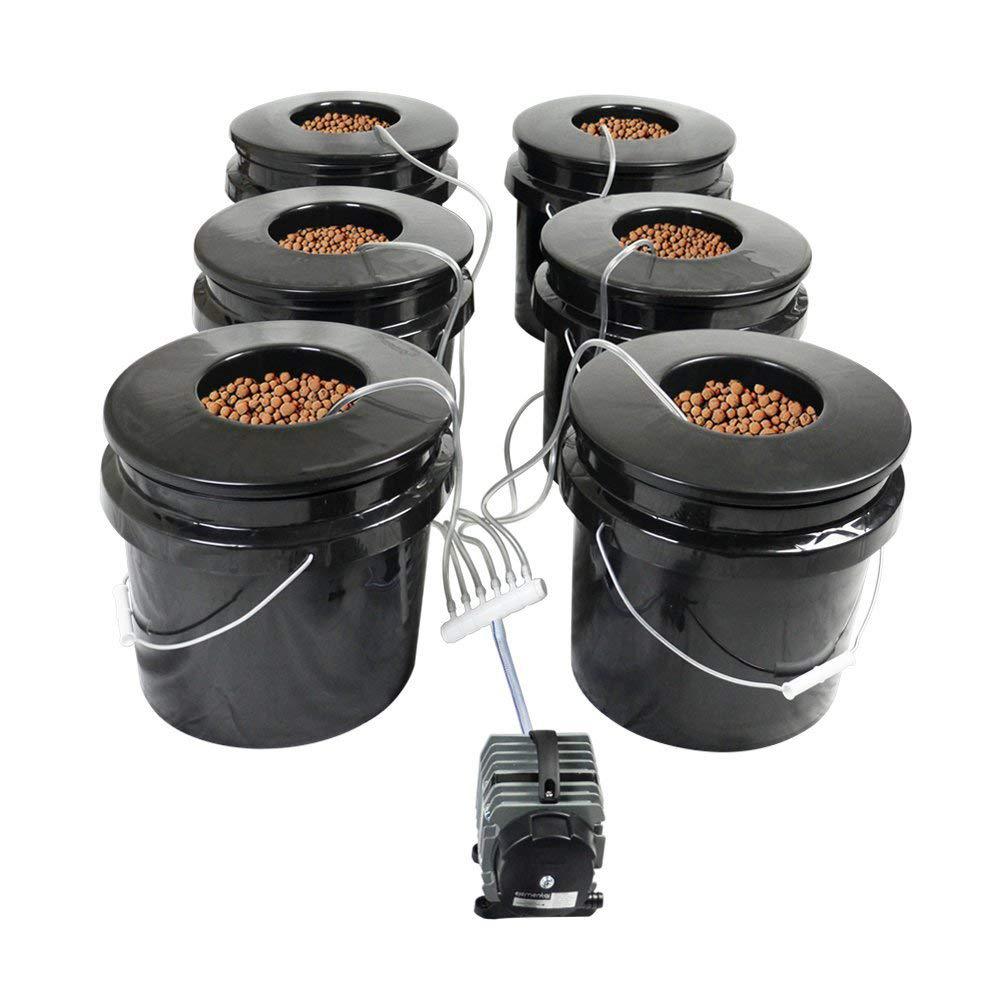 The HTG Supply Bubble Brothers 6-Site system is a simple and fast way to get started with hydroponics. Each of the six buckets are mounted with unique high-air lids that put out a whole lot of bubbles and really help to keep plants aerated.
The unique lid construction on this unit makes accessing the water below quite easy. The pump is powerful and drives plenty of oxygen to each of the six different grow buckets. There's enough space to grow six full-size tomato plants in this system, which means a whole lot of juicy ripe tomatoes by the end of the season, or year round if you live in a warmer climate.
The best part about this system is that as long as you have the nutrients, you can set it up and start using it the day that it arrives. You get the grow media, you get the pump, the containers and everything you need really. It's comprehensive, which is nice when many kits leave something out.
Customer Feedback
Great air pump and hoses
Strong and well made
Easy to set up and get started
Grows plants to perfection
Excellent product
Superb customer service
Check The Price
3. General Hydroponics GH4830 Complete Power Grower

This system is well-designed and makes growing a single plant indoors or out simple to do. The General Hydroponics GH4830 Complete Power Grower offers enough space for a single medium or large plant. It comes with the grow media that you need and relies on circulated water to aerate the reservoir rather than using a bubbler like many systems, which creates a pretty calming atmosphere.
The grower comes with a water level pipe so that you can easily see what level the reservoir is at all the time. It's super simple to make use of and will work for a new or more experienced grower.
It's also really convenient to be able to add one growing pot at a time to get the exact number needed, rather than picking up five or ten containers at a time and having too many.
Easily set it up and get it going in no time at all. You do not have to worry about a thing. Plug it in, put in the nutrients, and grow everything that needs to be grown.
Customer Feedback
Sturdy unit
Large enough to house medium to large plants
Creates happy, healthy plants
Great system even for beginners
Easy to use
Check The Price
4. General Hydroponics GH4120 Waterfarm Grow Kit

The GH4120 grow unit from General Hydroponics is a good solid starter tool for someone interested in getting going with hydroponics and it offers you the ability to expand later on. The kit is really a small media bucket mounted on a larger water bucket.
The set comes with everything that you need to get started, including the grow media and the nutrients. You just pull it out, plug it in, add the nutrients and begin growing your plants. That's all there really is to it. Sure you'll want to buy some testers and PH modifier, but it's tough finding a kit as complete as this one.
The buckets are rugged and come with a water level indicator on the side. When you decide you want to expand to grow more plants you can add more of these systems and even attach them to a large control unit for one central control for all your different containers.
Customer Feedback
Perfect for smaller homes and apartments
Attractive set
Easy to assemble
Get it running and growing within a half hour
Provides everything you need to get started
Check The Price