Running out of activities to keep your kids entertained over their summer vacation? Looking for a summer craft project to keep your little ones busy?
We've put together a list of our favorite DIY summer crafts you can easily make at home. From musical instruments to potted planters, these fun and creative crafts are the perfect summer projects for kids. We've also included some summer crafts for adults, so you too can make the most of your vacation. Also check out our patriotic crafts for kids post.
Here are 53 Fun and Creative DIY Summer Crafts
1. DIY Sandals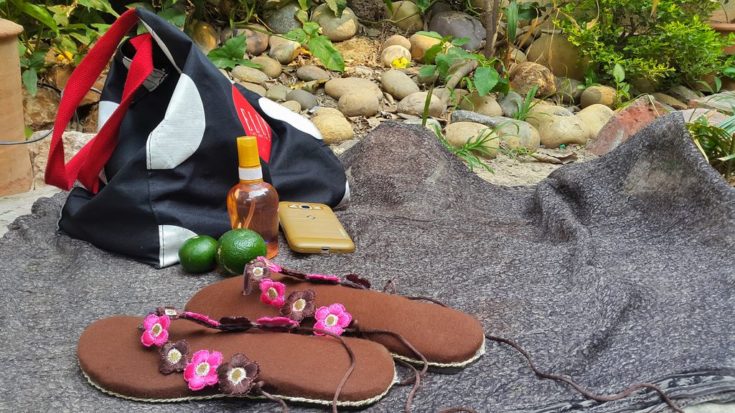 Nothing says summer quite like open-toed sandals. Instead of buying a pair of uncomfortable and cheaply made flip flops, why not try making your own custom footwear! These DIY sandals are made by upcycling the soles from an old pair of shoes you no longer wear. Add decorative flowers to embellish the straps or keep them clean for a more minimal aesthetic.
2. Summer Treats Window Ornaments
These adorable window ornaments are shaped like some of your favorite summer snacks, including ice cream cones, watermelon slices, or popsicles. Each ornament is sculpted out of pipe cleaner before being dipped in a water and borax mixture to achieve a crystalline finish. This craft looks great as a window ornament or room decoration.
3. DIY Musical Instruments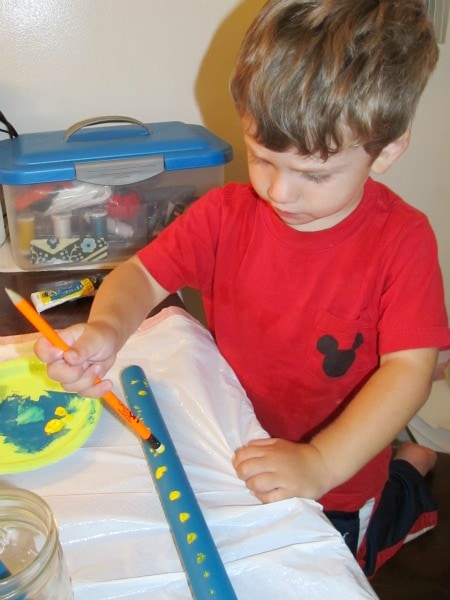 Music is a great hobby to keep kids entertained and excited about learning new things even when the school year is over. Instead of buying expensive instruments, you can teach your kids how to make their own instruments like bells and rhythm sticks. Kids will love playing these in the backyard or around a campfire.
4. Easy Foam Sunglasses Case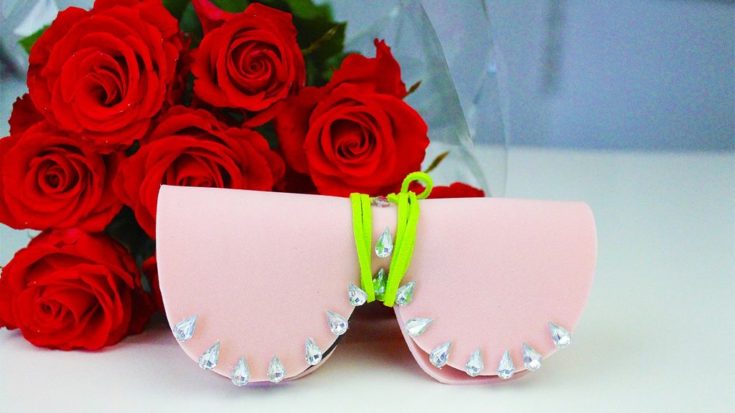 This DIY sunglasses case is super easy to make. All you need is a little bit of colored foam and a piece of ribbon or string. Simply cut the foam into the case shape and wrap the ribbon around the outside to keep it closed. You can add all sorts of decorative elements like crystals, glitter, and sequins to make it your own.
5. Summer Party Hats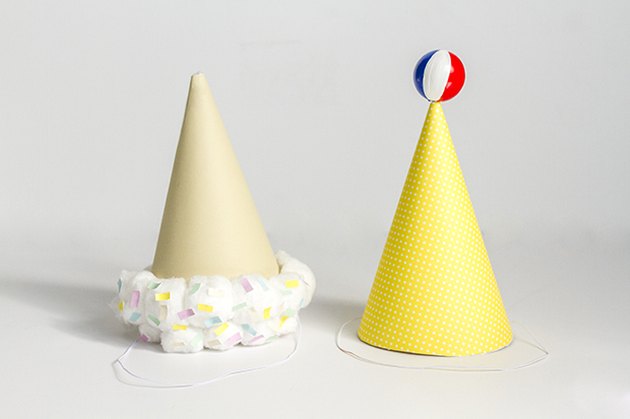 These colorful paper hats are the perfect craft for any summer party. You can easily modify the simple hat to fit any theme, including transforming it into an upside-down ice cream cone or adding a miniature beach ball on top. This craft will help you get into the festive summertime spirit, even if you are just hosting a small get together for a few friends.
6. Citrus Hair Accessories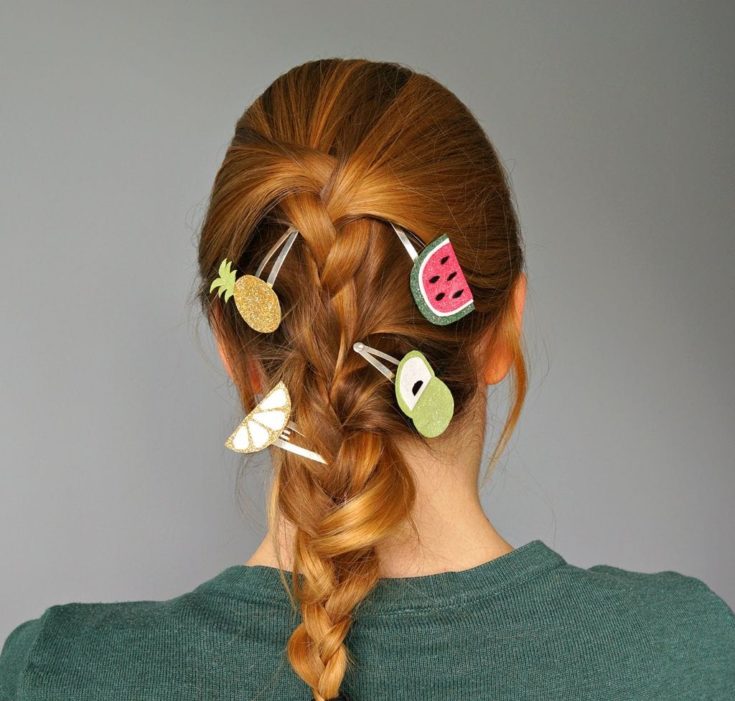 These fun summertime hair accessories are easy to make and perfect for clipping your hair out of the way during the hot summer months. All you have to do is cut your favorite citrus fruit shape out of thick glitter paper and use a little bit of super glue to adhere it to your favorite clips, bobby pins, and hair ties.
7. This Pineapple Drawstring Backpack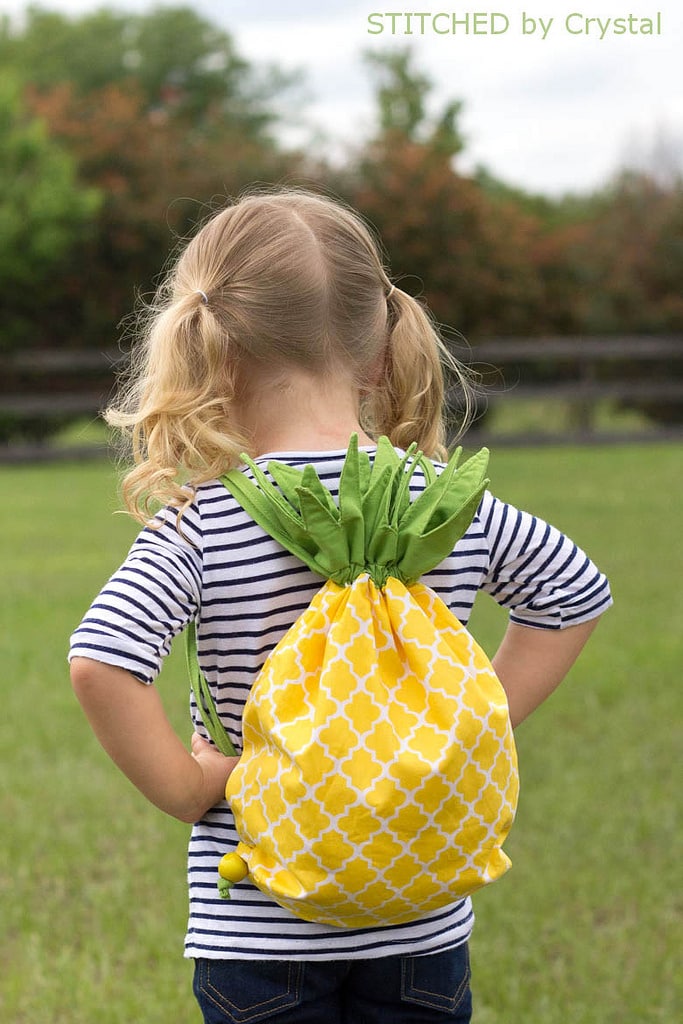 Every kid needs a lightweight bag they can carry around with them to all of their summer activities. This pineapple drawstring backpack is a fun little DIY project kids can bring with them to the pool, beach or day camp to keep all their stuff cool and dry. You can even sew in a waterproof lining for added protection.
8. Summer Fruit Trays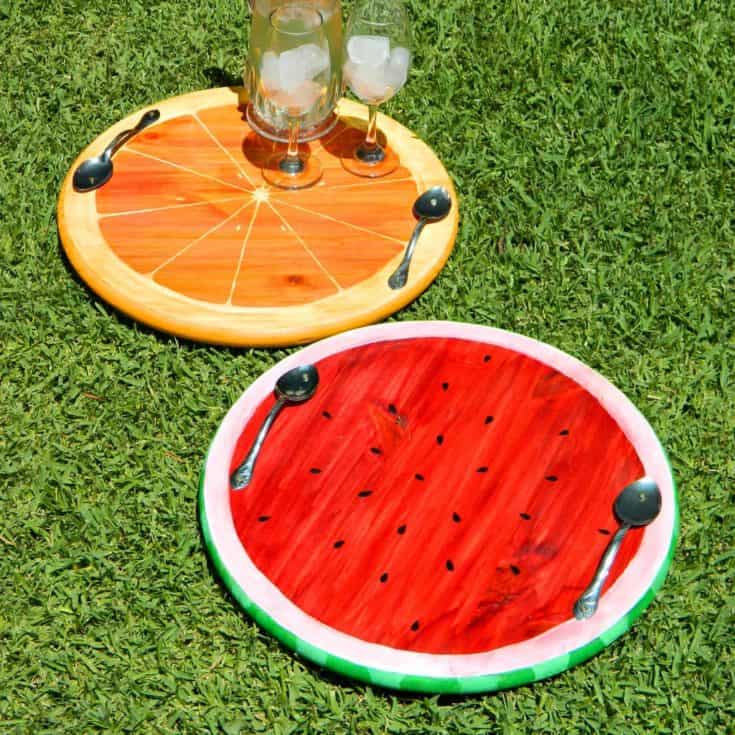 For many adults, the months of June, July, and August are synonymous with outdoor BBQs and drinks on the patio. These colorful fruit trays are the perfect accompaniment to your next outdoor meal, with cute metal spoons to serve as handles. This is also a good summer project for anyone who likes drinking ice cold, sweet tea on the back porch.
9. This Paper Umbrella Wreath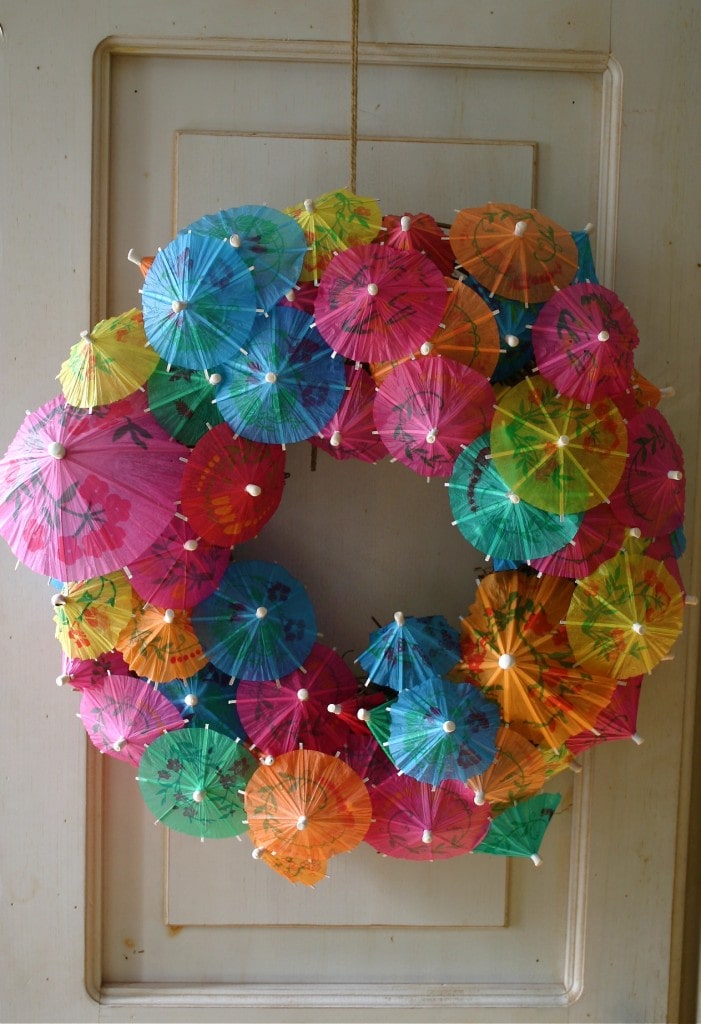 If you are looking for ideas for home summer-themed decor projects or party decorations, then this paper umbrella wreath is an inexpensive craft you can throw together in no time at all. Buy a branch wreath from any craft store and simply place the parasols into the gaps in the woven twigs. You don't even need to use glue!
10. A Beautiful Flower Crown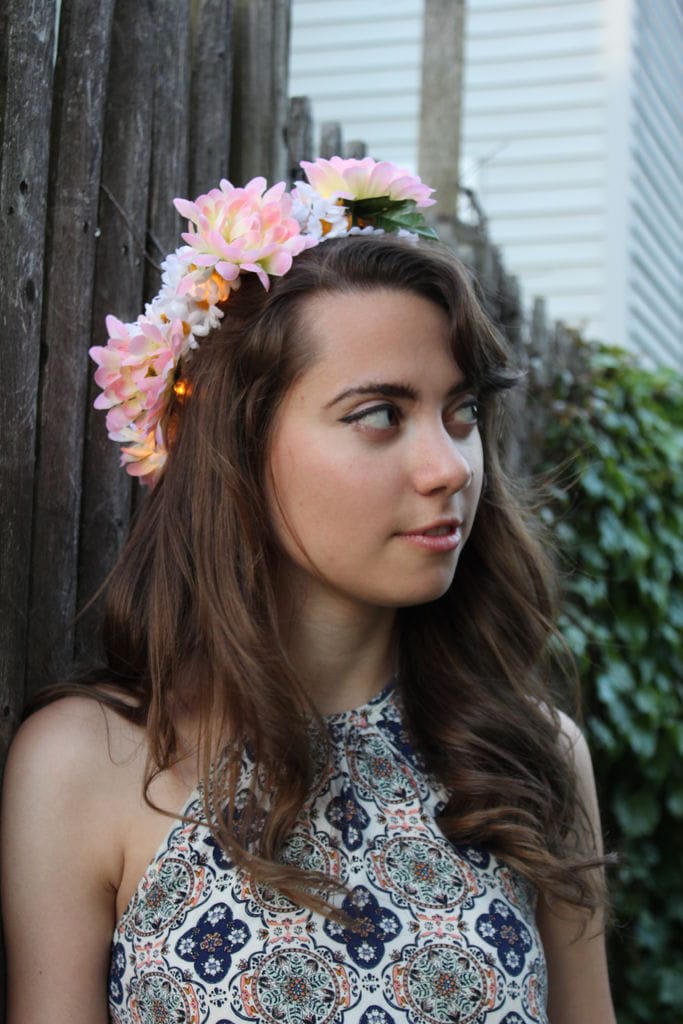 For the past few years, flower crowns have been all the rage at summer festivals. They are also a popular accessory to wear around craft fairs, farmer's markets, and outdoor theatre events. So whether you are going to Coachella or the county fair, this beautiful flower crown is the perfect art project to wear with any summer outfit.
11. This DIY Tin Lantern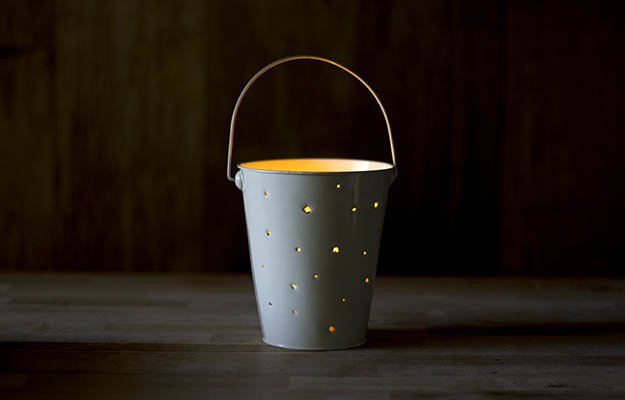 If you are looking for practical things to make and use over the summer, then consider putting together your own tin lanterns. These lanterns make wonderful garden accents and outdoor centerpieces, but they also help to keep bugs away! You can make these with inexpensive tin buckets or from upcycled soup cans.
12. Dum Dums Drink Umbrellas
These drink umbrellas made from old dum dum wrappers are a fun activity that will help kids learn about the importance of recycling and reusing old materials. The finished umbrellas are colorful and will make your kids feel extra special as they sip their festive drinks on the patio.
13. A Summer Collage for Kids
Another great art project that kids will love making is this simple summer collage. Kids can let their imaginations run wild as they paint the background, add tissue paper leaves to the trees, and even make their own bird's nest and miniature animals out of rubber bands and pom-poms.
14. DIY Resin Jewellery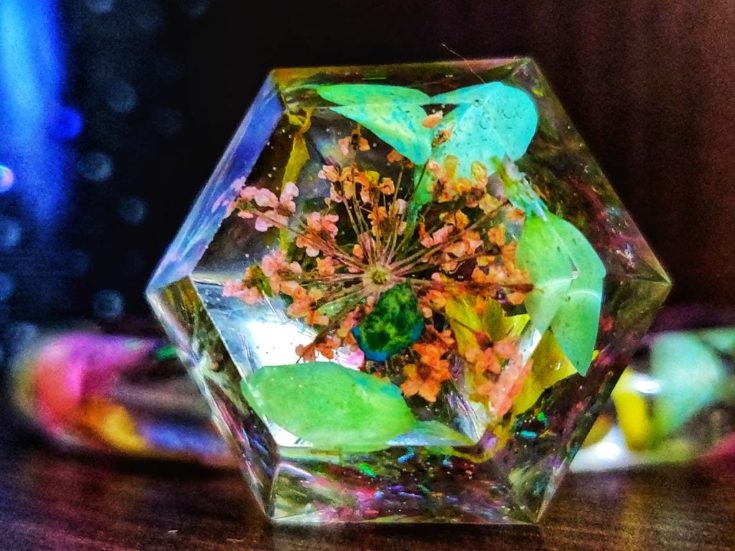 Resin crafts are the perfect summer projects for adults who love making things at home. Resin is a viscous, transparent polymer that can be poured into a mold and hardened to form simple jewelry like bangles, earrings, rings, and gemstones.
Simply collect your favorite summer flowers and sprinkle the petals and leaves into the resin mold for some gorgeous homemade jewelry.
15. DIY Seashell Planter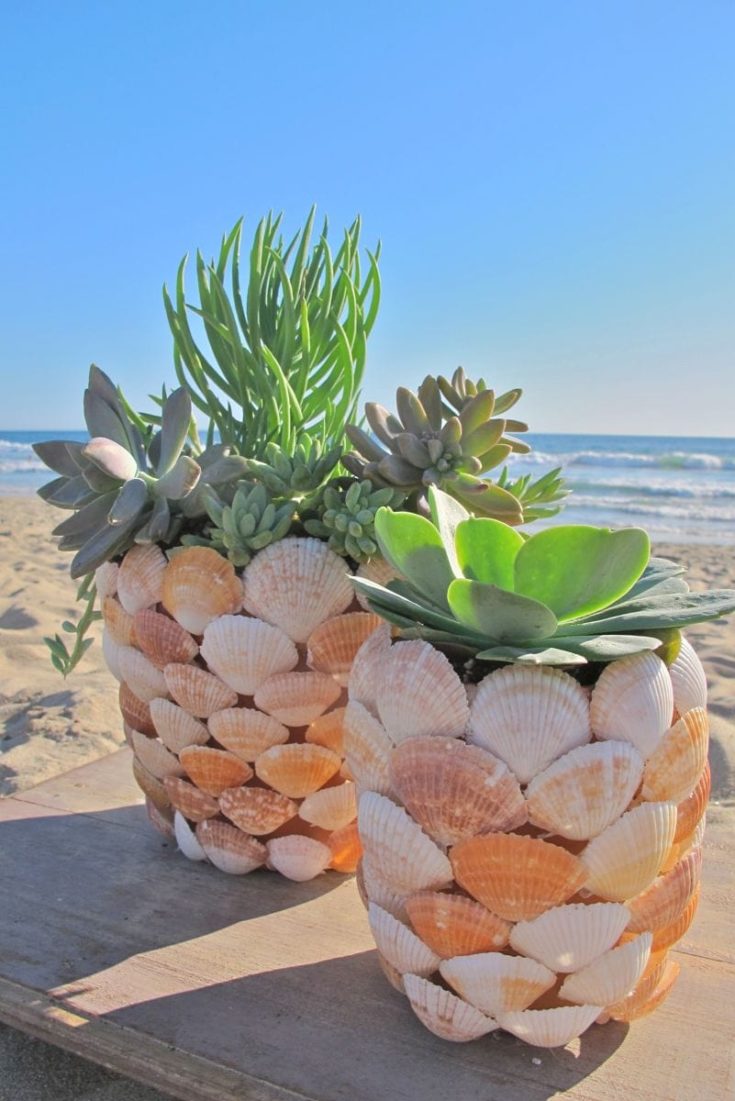 If you love succulents, then you have to try this succulent planter craft. This potted planter is decorated with hand-picked seashells for a bohemian, earthy look. You can also use other found beach items like sea glass, pebbles, and even sand. Just be sure to let the glue fully dry before planting your succulents.
16. These Cute Pom Pom Flamingos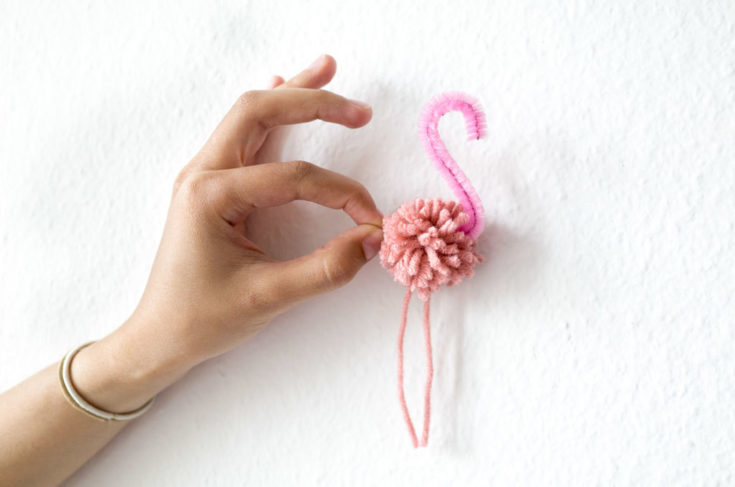 You don't need to undertake a huge summer project to have fun with crafting. These adorable pom flamingos can be made as decorations, party favors, or simply fun desk props. All you need is a little bit of pipe cleaner and some pink yarn and you'll have a whole flock in no time.
17. Felt Flower Bookmarks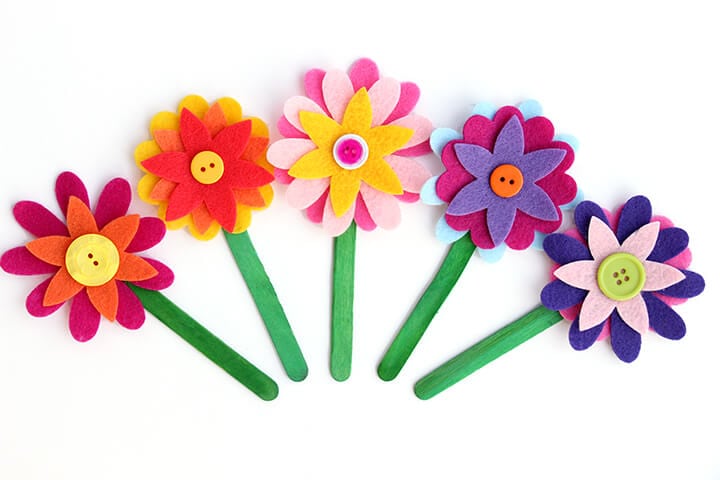 These felt flower bookmarks are an easy craft for kids of all ages. You can use a die cutting machine to quickly cut out a variety of flower shapes, or help your kids cut their own with ordinary scissors. This craft is also a great way to motivate your kids to do their summer reading.
18. DIY Pineapple Planters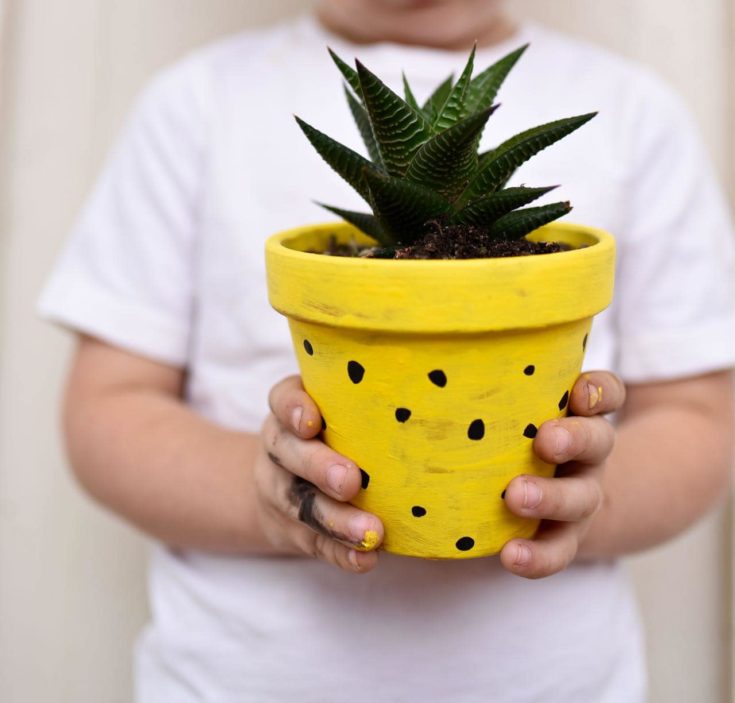 If you love succulents and other house plants but want a craft that you can make with your kids, then try out this easy DIY pineapple planter. Your kids can help create a tropical aesthetic with a little bit of yellow and black paint. Just be sure to select a plant with spiky edges as this will serve as the pineapple head.
19. Pool Noodle Sailboats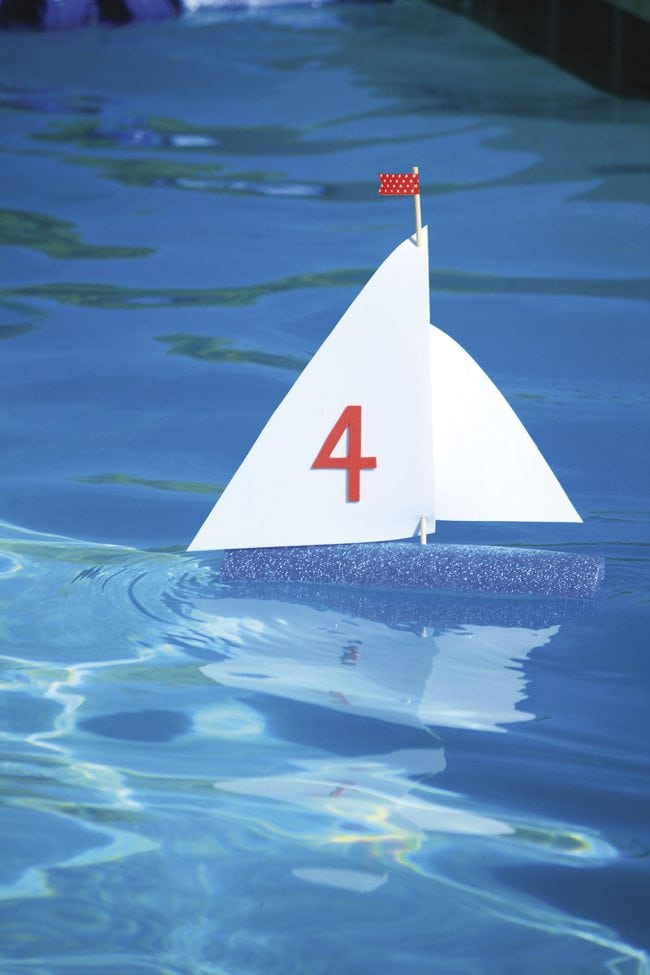 If you and your kids plan on spending a lot of time at the pool this summer, then consider helping them make these little sailboat toys out of old pool noodles. Kids will love decorating the foam sails with cutouts and colorful tape. They will also have a blast playing with their ships and racing them against their friends.
20. Geometric Canvas Art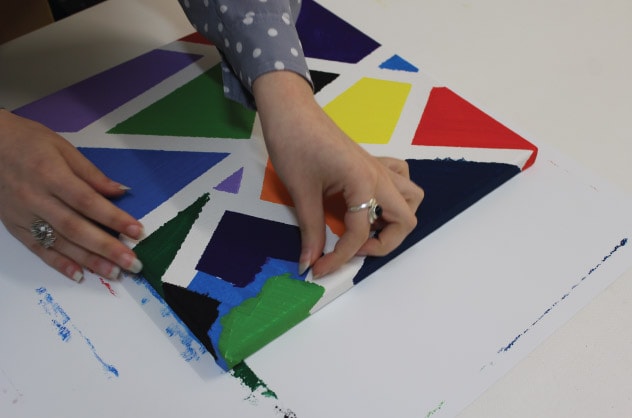 Canvas paintings are a wonderful addition to any home and an easy way to decorate any kids' room. You can make geometric art with your children by applying painters tape to a blank canvas in various shapes and designs, and then painting over top in blocked primary colors. Simply peel away the tape to reveal the colorful, geometric artwork below.
21. An Ocean View Shadow Box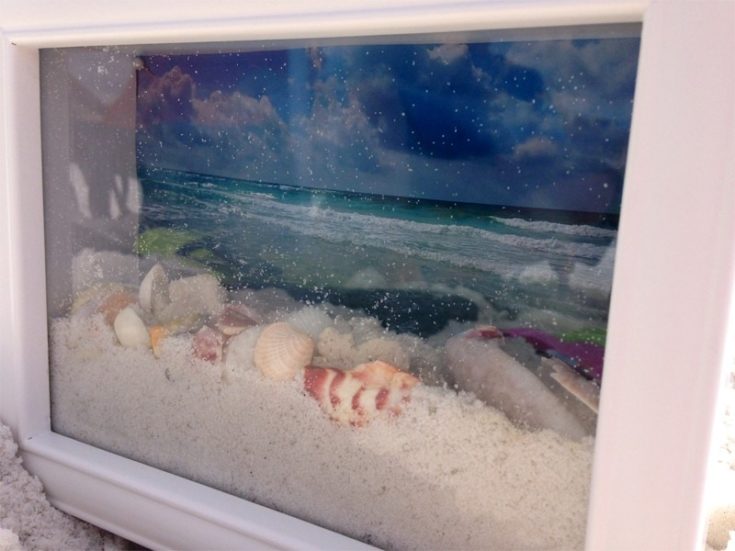 One of the best summer activities is going to the beach. If you are the kind of person who likes to collect seashells, pebbles, and sand from all your different beach adventures, then this shadow box craft is the perfect project for storing all those treasures. The picture and trinkets combined help to capture the memory of your summer vacation for years to come.
22. Seashore Wind Chimes
These seashore wind chimes are a wonderful craft for seniors to make and hang up on the porch. Once you've collected enough pebbles, seashells, and seaglass, simply string them all up with a few beads and other notions to create a beautiful wind chime that sways and jingles in the breeze.
23. Rock and Wire Photo Holder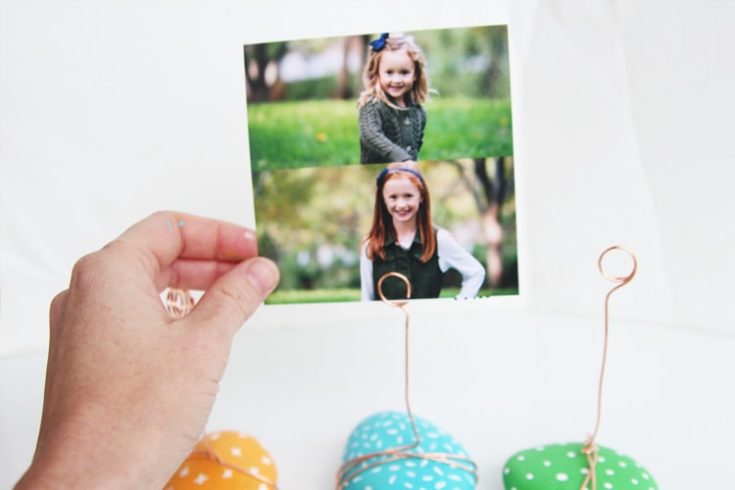 These copper wire photo holders are a great way to display summer memories. You can make these with any solid rocks you find in the backyard or at the lake. Paint the rocks for a quirky aesthetic or leave them plain for a more rustic feel. These photo holders also make great paperweights and holiday gifts.
24. DIY Pineapple Flower Vase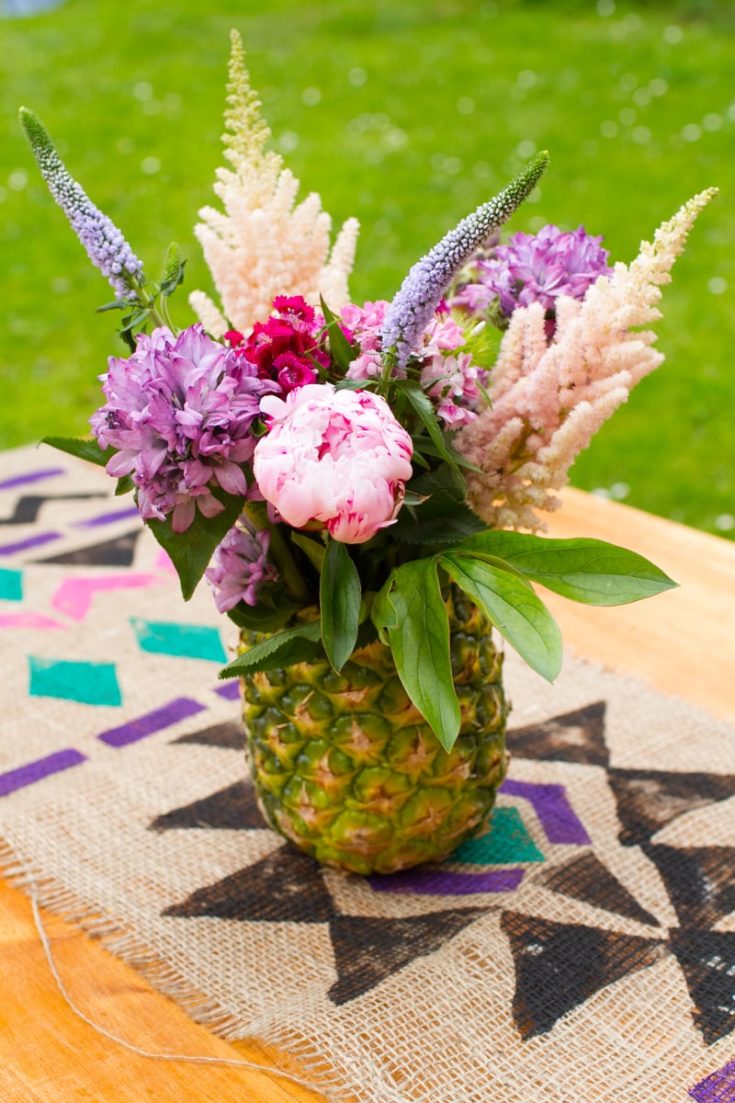 Pineapple crafts are very popular in the world of home decor. The next time you buy one of these tangy fruits at the grocery store, carve it from the inside out and save the husk to use as a fabulous DIY vase. Simply insert glass into the pineapple core and fill it with flowers for a lovely tropical centerpiece.
25. Homemade Bouncy Balls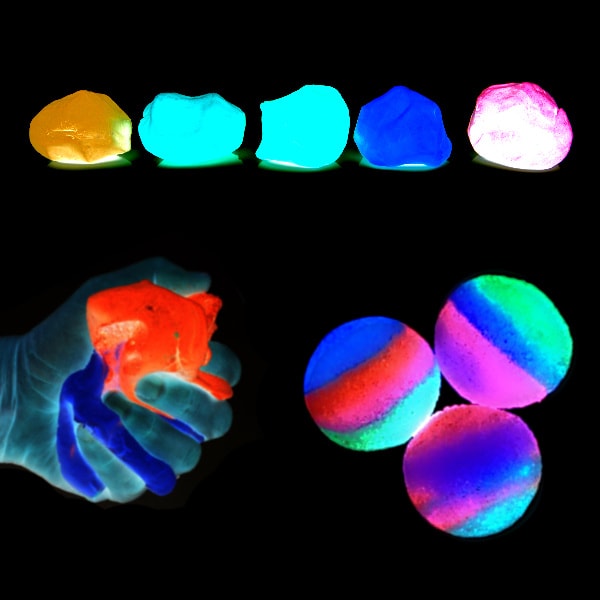 Kids love playing with bouncy balls. These little toys can keep them occupied for hours and can be easily recreated at home with ordinary household supplies. You can even make them glow in the dark with a little bit of glow paint, for a fun art activity that doubles as an awesome science experiment.
26. A Bird Feeder From Recycled Materials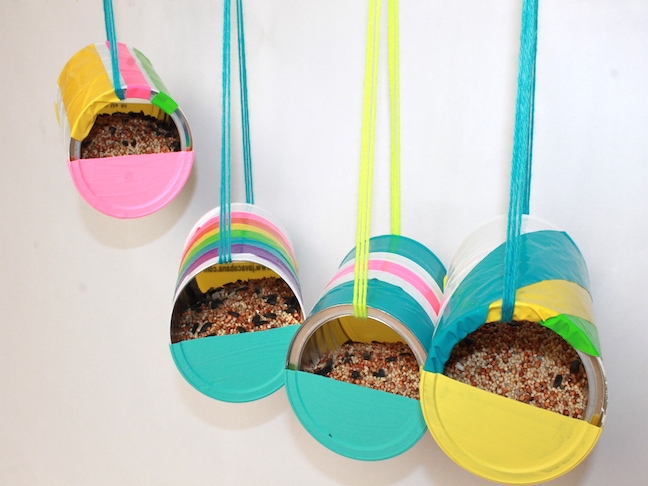 Summer is the best time for bird watching. A bird feeder is an easy DIY project you can make with an empty can and some other recycled materials like yarn and a plastic lid. Fill the can with homemade or store-bought bird feed and hang it in the backyard for a pop of color that is sure to attract all your favorite winged friends.
27. DIY Unicorn Bookmarks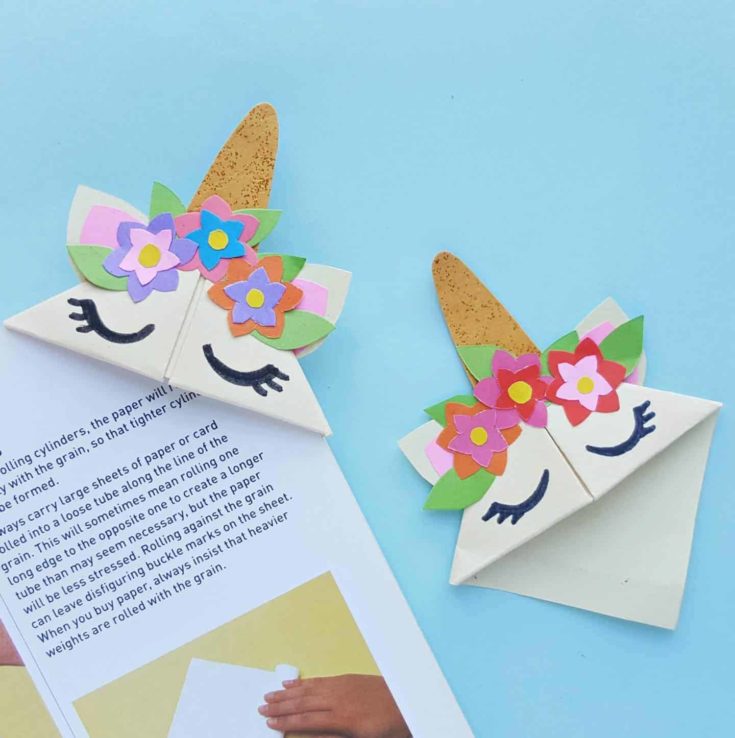 These DIY unicorn bookmarks are the perfect accessory to go with your favorite summer reads. The unicorn can be easily folded and decorated out of a few sheets of colored cardstock and is a cute literary craft you can make with your kids. Add glitter to the horn for an extra bit of magic.
28. A Wind Chime Craft for Kids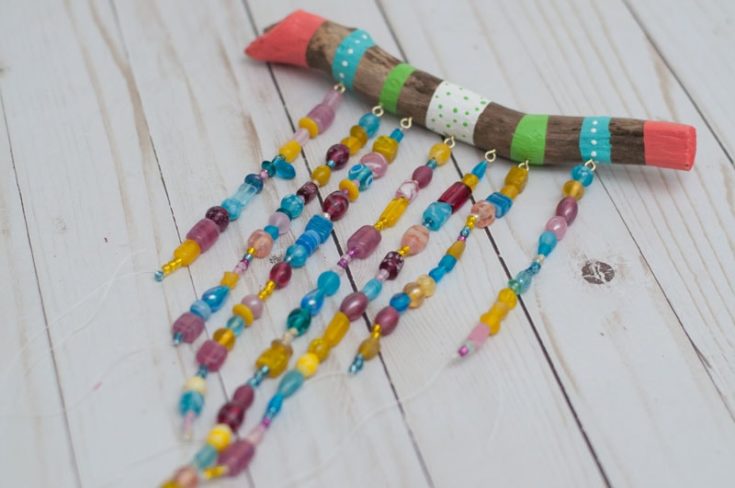 Wind chimes are fun project kids can make at home or at summer camp. Have your kids paint the driftwood top using craft paint. Let them choose from a variety of brightly colored beads in many different sizes to form the chimes. Just be careful to insert the metal hooks yourself and hang the project up when it is finished.
29. This Tropical Snow Globe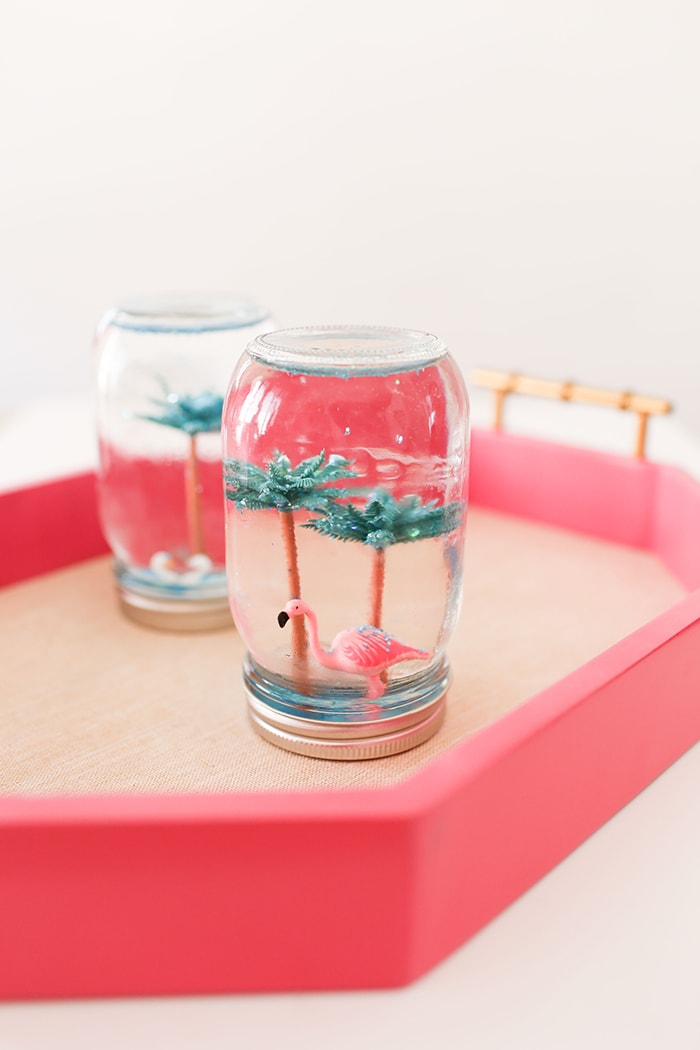 Just because it's summer doesn't mean you can't have a snow globe as a beautiful piece of DIY decor. These fun summer snow globes feature tropical elements like flamingos and palm trees, and are easy to recreate at home with an empty mason jar. You can customize the globe with trinkets from your own vacation or use plastic figurines from the dollar store.
30. Macrame Hanging Planters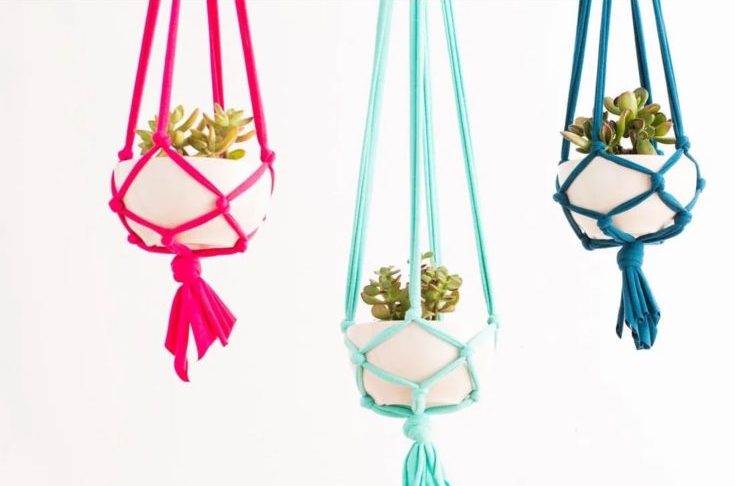 Macrame is a beautiful textile craft used to make unique wall hangings and clothing accessories. It can also be used to create easy ceramic plant hangers. Use plain rope for a relaxed, bohemian aesthetic or cut strips of colorful jersey fabric for a pop of vibrant color. Be sure to test the plant hanger before filling the ceramic bowl with soil and succulents.
31. Element Jar Friendship Necklaces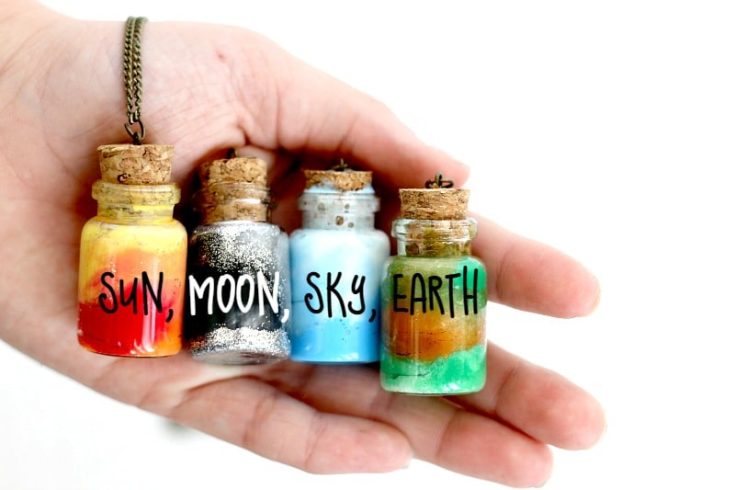 These element jar necklaces are the perfect summer gifts to give your astrology obsessed friends. You can find the tiny vials at any craft store and paint the insides in constellations, nebulas, and galaxy designs using paint soaked cotton balls. Finish them off by writing the names of the elements or your friends' astrological signs like Taurus, Virgo etc..
32. Custom Yo Yos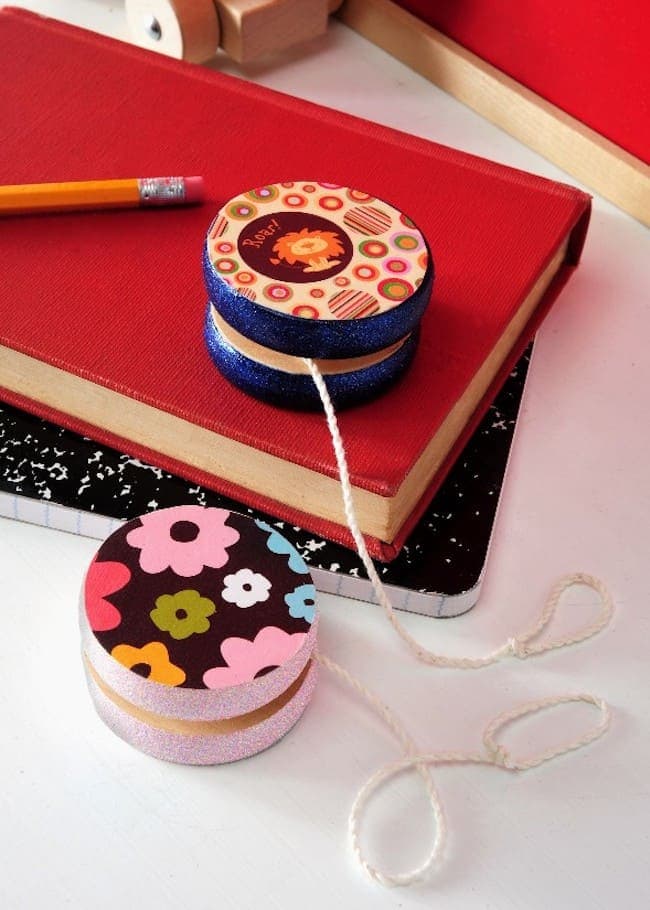 These custom wooden yo yos are the perfect craft for any kid who likes playing with yo yos and learning different tricks. You can get simple wooden yo yos at any craft store and decorate them with acrylic paint, glitter, or scrapbook paper. Just be careful not to paint past the rims and accidentally jam up the string.
33. Denim Cutoffs Wine Bag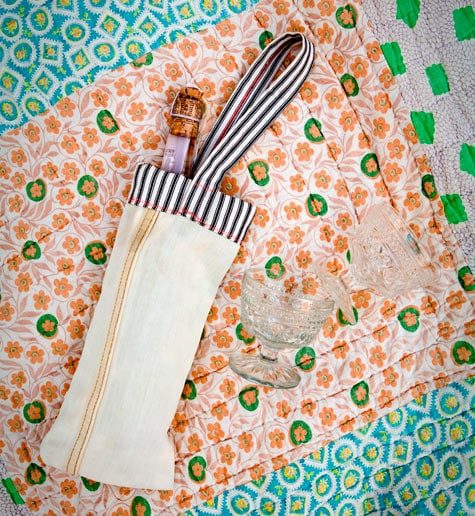 This wine bag made from old denim cutoffs is the perfect summer craft for college students. The sewing is all very straight forward and can be completed by any beginner sewer. Bleach the jeans for a tote bag aesthetic, or leave them as is to show off your upcycling skills. Bring this craft with you whenever you want to share a drink with friends.
34. Kid-friendly Yarn Letters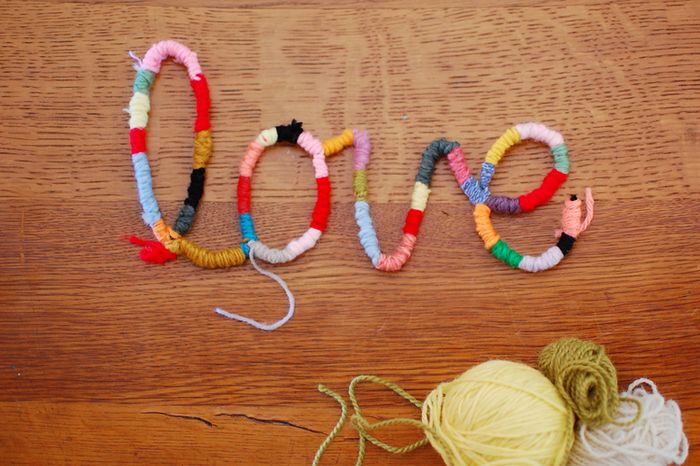 This simple lettering sign is a simple home decor project that kids can take part in. The sign is made out of bent pipe cleaners and colorful yarn or embroidery thread. It does not require glue or use small parts, making it extremely kid-friendly. You can make this project with a favorite word, phrase, or single letter.
35. Sea Creature Sand Castle Cans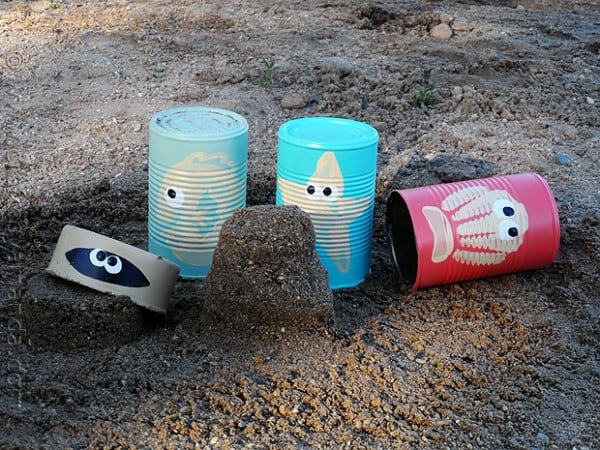 These sand castle cans are an amazing summer project for kids who love playing in the sand. You can make them out of recycled cans and craft paint, adding little sea creatures or bug designs to the sides with foam stamps. Kids will love using these to dig up sand and build castles, and during the winter they can be used to hold art supplies.
36. A Life-Size Newspaper Fort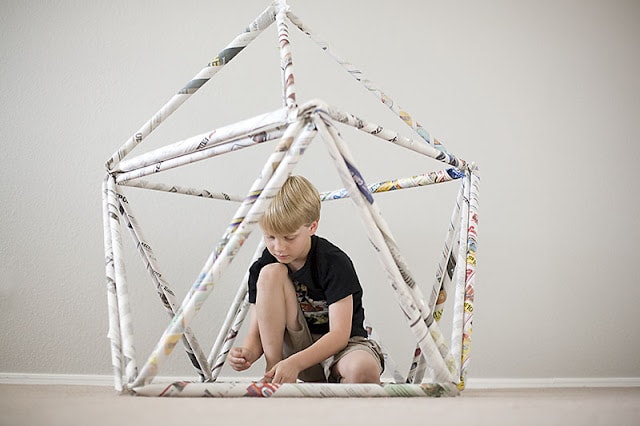 Kids love making forts, but if you have lots of big projects to do around the house this summer, you may not want them tearing the entire living room apart to build their own makeshift hideaway. This fort is made from rolled-up newspapers stapled into large triangle building blocks, so you don't have to worry about your kids making a mess of the furniture.
37. String Art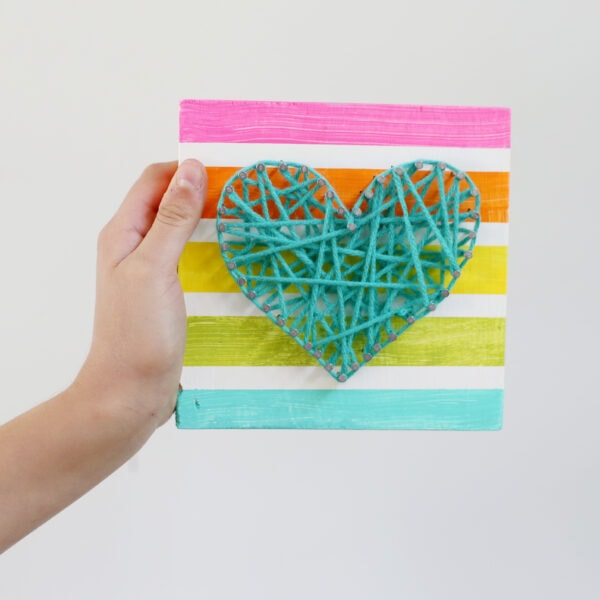 String art is an easy summer craft that is suitable for both kids and adults. Begin by pre-painting a wooden board with a solid color or rainbow stripes and then carefully hammer nails into a heart-shaped outline. Adults can choose more complicated shapes, like maps of states or countries. Then all you have to do is weave the string around the nails!
38. Easy Felt Pinwheels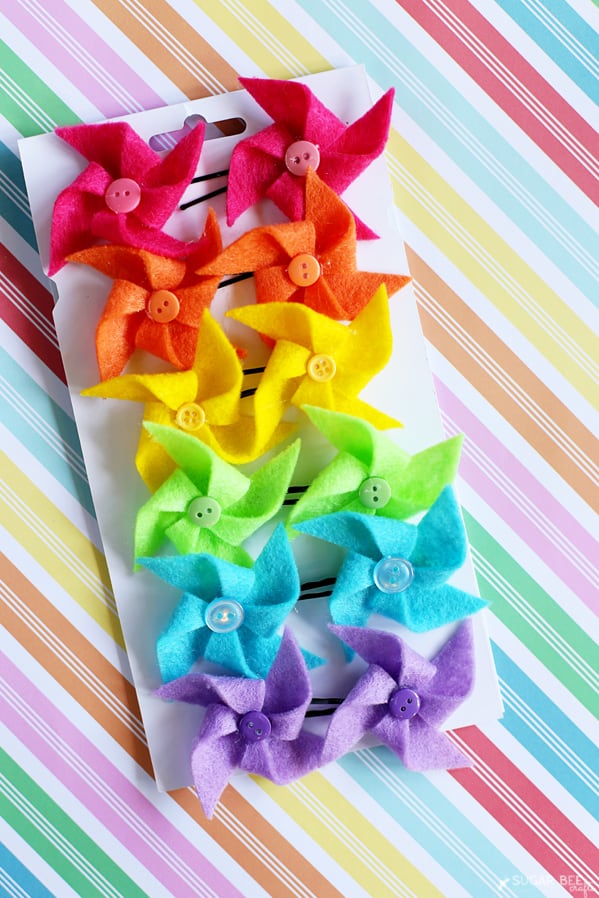 These simple rainbow pinwheels are made by cutting and folding small squares of felt into pinwheel shapes. Add a button to the front of the pinwheel to complete the effect, and then attach your little felt pinwheels to any small accessories. This craft looks great attached to bobby pins, tie clips, hair ties, and shoelaces.
39. Water Bottle Wind Spirals
Wind spirals are a little bit different from wind chimes in that they primarily serve aesthetic purposes and don't necessarily make noise. These colorful wind spirals are made from empty water bottles that have been coated with a thin layer of paint so they remain transparent enough to reflect light and make beautiful campsite decorations.
40. Milk Carton Birdhouse
Birdhouses are another fun summer craft that can be made on earth day out of entirely recycled materials. You can use old milk cartons or goldfish cracker cartons to form the birdhouse. Paint the outsides with craft paint or markers and hang the finished project up with string or an old shoelace.
41. DIY Dream Catchers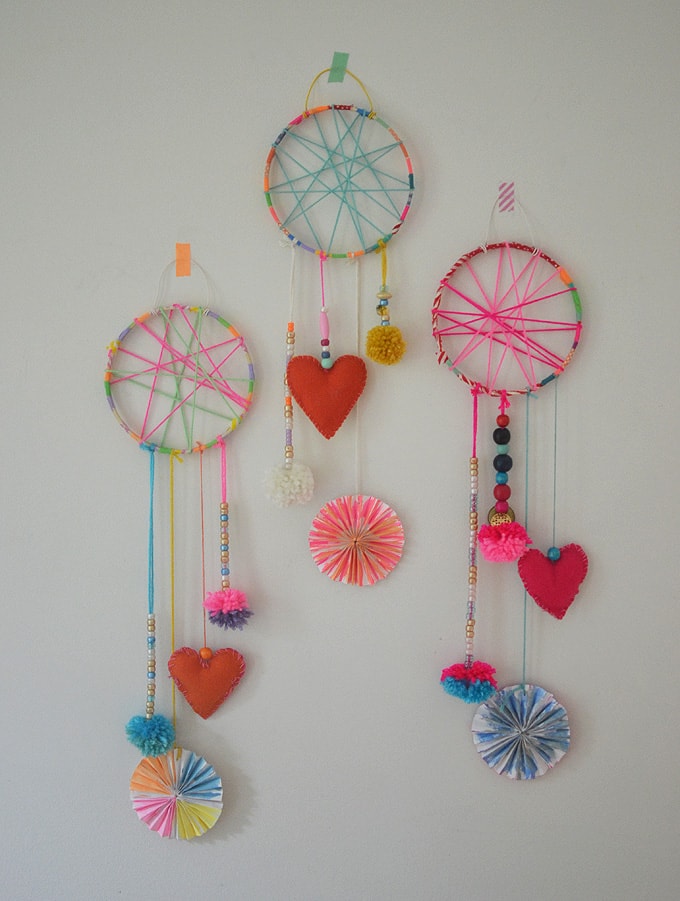 These DIY dream catchers can be made with wooden embroidery hoops, washi tape, and string. You can make this project as elaborate or as simple as you like by adding different elements such as beads, pom poms, and felt crafts or by sticking to the simple wooden hoop with a string laced center.
42. A Summer Tic-Tac-Toe Game
This reusable tic-tac-toe game is the perfect addition to any summer party. Create the tic tac toe board on a large, square piece of solid colored foam. Then make the flip flop Xs and Pineapple Os by decorating wooden letters with colored foam and puffy paint. Once everything is dry, you are ready to play this classic game.
43. DIY Faux Coral
If you aren't able to make it to the beach this summer but still want to achieve the look of washed-up coral, then try this imitation coral craft. First, sculpt the base out of thick craft wire. Then create a salt dough mixture and cover the wireframe. Bake the whole thing and you have a realistic-looking coral display piece.
44. This Macrame Hammock
Hammocks can be surprisingly expensive. Luckily this summer relaxation staple can be easily made at home with some rope, hardware tools, and basic knowledge of macrame knotting techniques. You can hang the finished hammock on your back porch or bring it with you the next time you go on vacation.
45. Tin Can Phones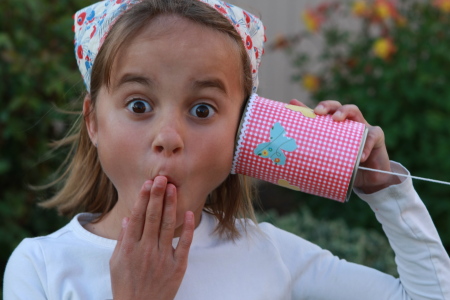 Can phones are a staple of childhood. Although these fun communication devices have become largely obsolete in a world of high tech gadgets and smartphones, they are still an awesome summer craft that kids will love to play with. You can decorate the otherwise simple cans with scrapbook paper or ribbon.
46. A Homemade Kaleidoscope
Kaleidoscopes are another fun, retro craft you can make from recycled materials. Use an old paper towel roll to serve as the kaleidoscope body. Fill the tube with shiny, transparent objects like beads, buttons, and sequins. Cover the ends of the tube and hold it up to the light to see all the little shapes and colors dance around.
47. Friendship Wrap Bangles
These embroidery floss wrapped bangles are a simple and chic alternative to the standard friendship bracelet. All you need to do is wrap a simple bangle in any color embroidery thread. Attach golden jump rings around the bracelet and help your friends slowly fill them up with unique, gold charms!
48. Beach Themed Party Tags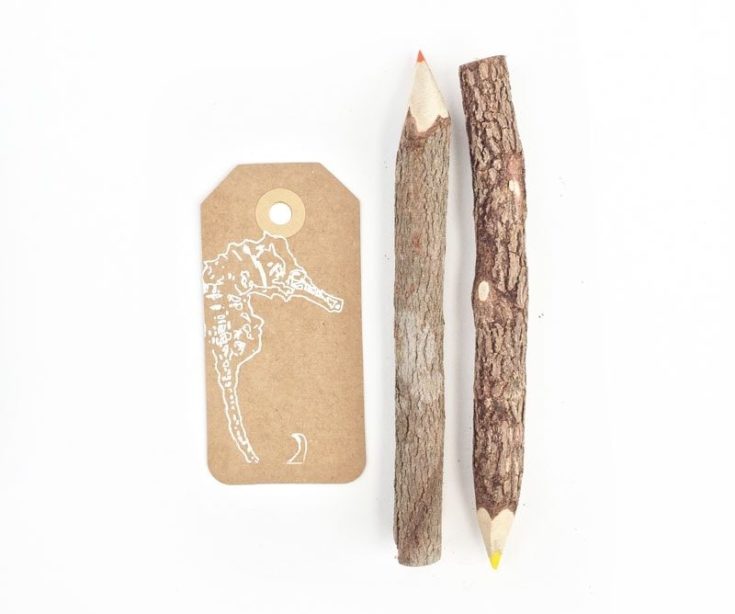 If you have access to a laser cutting machine, then you have to try making these beach-themed party favor tags. Select your favorite beach or summer themed images and set your cutting machine to the sketching set. Then sketch the beachy images onto your cardstock tags or paper gift bags for the perfect beach-themed party.
49. Fish Favor Bags
If you are hosting a summer party and want to get really creative with the gift bags, then consider making these fish-shaped treat bags. Print the fish head onto colored cardstock and tape the head to the bottom of a small cello bag. Fill the candy bag with a matching color candy and twist the open end closed to create a fluffy plastic tail.
50. DIY Bubble Snakes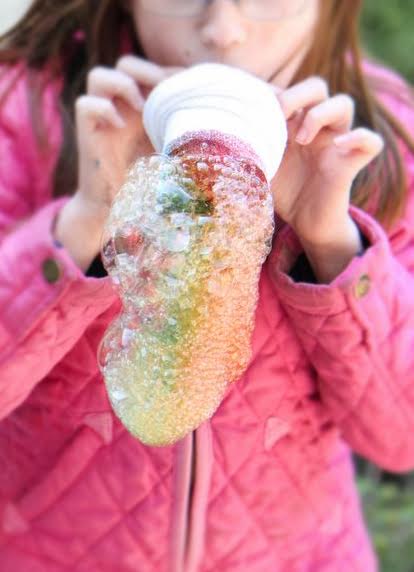 Bubble snakes are like really big bubble wands that produce long cylindrical tails of curly bubbles. You can make your own bubble snakes at home with a homemade bubble recipe that produces much larger and longer-lasting bubbles than the kind you find in stores.
51. This Sculptural Driftwood Orb
Sculptural orbs are often used as decorative accents and centerpieces in home decor. Instead of buying an expensive wooden orb from a high-end home store, make your own with short lengths of driftwood, an inflatable ball, and some hot glue. Simple glue the driftwood as a lattice around the blow-up ball and then pop the ball and remove it before displaying the final product.
52. A Glitter Seashell Picture Frame
Even if you don't live by the ocean, a few pieces of coastal decor can help give your home that warm, summer feeling. This seashell picture frame is super kid-friendly and can be made with real shells or imitation shells purchased from your local craft store. Use different colors of glitter to give the frame a bit of dimension.
53. Watermelon Shaped Soap
This watermelon shaped soap is luxurious and can be easily put together with a silicone loaf soap mold and some basic soap making supplies. You can add extra details like poppy seeds and watermelon fragrance or citrus oil to make the soap slices even more realistic. Just be careful not to eat your finished craft!
Conclusion
Summer vacation is when kids and adults have the most free time for crafting. These creative DIY summer crafts are fun to make and easy to put together at home.
What did you think of this list? Let us know your thoughts in the comments and be sure to share this article with all your crafting buddies!