There are thousands of irons on the market today, and shoppers have a variety of online and offline options to choose from. No longer are we stuck with the 5 – 10 options at your local store: finding the best iron for sewing online is easier than ever.
But not all irons are created equal, and what works for everyday use with your kid's clothes might not be ideal for your weekend sewing projects. While ironing clothing is meant to get the wrinkles out, pressing for sewing purposes is more about building shape and structure into your fabrics, and the two techniques often require two different irons.
Quick Look of Our Top Picks of the Best Irons for Sewing
Rowenta DW5080 – Editor's Choice
Oliso TG1600 – Best High-End Option
Black & Decker D2030
Steamfast SF-717 – Best Mini Option
Reliable Velocity 200IR – Alternative High-End Option
Of course, a high-powered sewing iron will take care of your day-to-day ironing tasks just fine, but the opposite may not be true. We've spent hours searching for the best sewing irons and found that a handful of models were consistently rated and reviewed as the top products. We've compared some of the most popular picks based on features, price, and other factors.
Comparison Table
IMAGE
BRAND
FEATURES

Steamfast SF-717 Mini Steam Iron

Quick Heat Up Time

Dual Voltage Convenience

420 watts of power removes wrinkles

Buy Product

Panasonic 360 Degrees Freestyle Cordless Steam and Dry Iron

Cordless ironing with a 1500 Watt steam/dry iron

Evenly heated, multi-directional ironing

Charging base shuts off automatically after 10 minutes if left plugged in and not in use

Buy Product

Stainless-steel soleplate with precision tip

400 Steam holes with 35 G/min of steam

Easy control thermostat knob

Buy on AmazonBuy on WayFair

Pro-press stainless steel soleplate

2-inch detailer tip

1800 Watts of power

Buy on AmazonBuy on Oliso

Stainless Steel Soleplate

Variable Temperature and Steam Controls

Digital Temperature Control

Buy Product

2-year hassle-free warranty

420 watts of power

1.4-ounce water tank

Buy Product

Patented continuous steam technology

Sensor "touch" technology

Hard anodized aluminum soleplate

Buy Product

Reliable 7000IS Professional Stainless Steel One Iron Steam Boiler and Iron

Aluminum Soleplate

Heat Resistant Iron Pad

Lifetime Product Warranty

Buy Product

Laurastar Lift Xtra Steam Generator Iron

Dry Microfine Steam

Active 3D Soleplate

Equipped with pulsed steam

Buy Product
What to Look for in Your Sewing Iron
Most irons today have many of the same qualities and features, but it's important to get the model that best fits your style of sewing, and consider getting something that will be more powerful than you need just in case you decide to tackle more complicated DIY projects down the road.
Here are a few points to remember when looking for your iron:
Consider irons that have variable steam volume and temperature settings for tackling all types of fabrics
Understand whether or not an iron can use regular tap water or must have distilled water
Check out the weight and wattage of the iron to get an idea of its overall power
Look at the shapes of the iron plates to make sure you get something that will meet your needs – some seamstresses require smaller irons to fit in tighter places, where others need large, broad surfaces to cover a lot of ground
5 Best Iron for Sewing and Tailoring
Overall, we like the Rowenta DW5080 as our best overall choice, but Rowenta offers so many high-quality models that it's hard to go wrong with much of their product line.
Below, you'll find a detailed breakdown of recommended irons and why each one might be right for your ironing and sewing needs.
1. Rowenta DW5080 – Editor's Choice
Recommended by SizzleStitch
The Rowenta DW5080 is one of the highest-rated irons on our list, and it's not difficult to see why. The German-made steam iron is the epitome of Rowenta's dedication to performance and agility, and the DW5080 can hang with the best of them.
The DW5080 excels by focusing on smooth steam distribution, agile movement and ease of use. It's able to fit into tight spaces just fine, but also has a large enough surface area to make pressing quick and easy.
The large water tank means you won't have to fill it up as often as other models, and the anti-build up construction of the iron makes it easy to avoid calcium build-up from hard water over time.
Consumers often cite the iron's consistent performance and construction as the number one selling point.
SizzleStitch also notes that at 3.4 pounds, it's one of the lightest high-performance irons available, ideal for those with arthritis or other health issues.
2. Oliso TG1600 – Best High-End Option
Recommended by Grandma Likes to Sew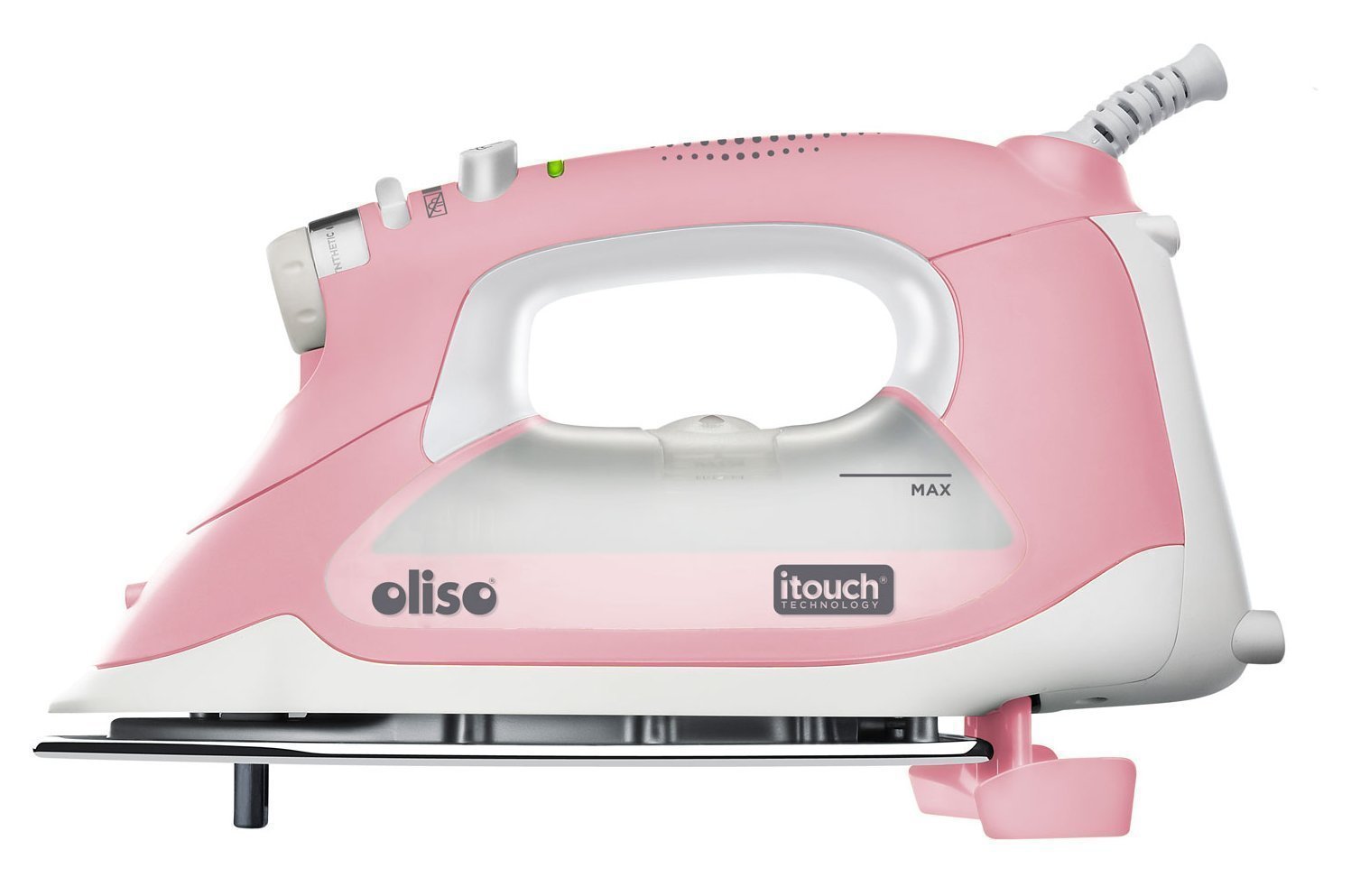 "I would probably be shocked if I could add up the amount of time I've saved not having to go over the same spot over and over again as I did with my old steam iron," writes Jessie Pullman at Grandma Likes to Sew of the Oliso TG1600.
Technology has improved nearly all aspects of consumer life, and Oliso is changing the game for irons with their TG1600 model. Their OnePass™ Technology and patented Scorchguards™ make ironing simple, clean and more efficent than ever. Once you commit yourself to spend more on a high-end iron, you'll never go back to anything less.
The iron's Tripleplay™ Xtremesteam gives you three steaming options that you can use depending on your fabric and needs, and like other "smart" aspects of the iron, the steam stops when you let go of the iron.
The best part of the TG1600's smart technology features is that at the end of the day, they are there to protect your fabrics and help you avoid distorting or messing up your projects from the start. If you are the type who likes to continually press as you sew (which is great!), then you'll find the TG1600 does a good job of keeping up with your needs without slowing you down.
Many users note that despite the higher price tag, the performance you receive is well worth it – especially for those power users who find themselves at the ironing board for many hours.
If performance, rather than budget, is your determining factor in finding an iron, the TG1600 is nearly unparalleled in technology and construction.
3. Black & Decker D2030
Recommended by Consumer Reports
If you're looking for a workhorse that's more simple than "smart," the Black & Decker D2030 is a reliable iron that will work well for sewing, regular clothes ironing and more. In their independent testing, Consumer Reports found the iron to be "very good in overall performance."
While it lacks the technological breakthroughs of more updated irons, it has the consistent performance that many users flock to simply because it's easy to use – and it works. It's one of the most popularly reviewed and purchased irons online, and the sheer volume of satisfied seamstresses proves that there is safety in numbers.
The most useful features of the D2030 is the auto-off feature that shuts down the iron after not being used for a certain amount of time. Users also like the digital display, which makes it easier to read and use. The auto-clean function helps keep the iron in good shape over the long haul, and the solid iron plate can take on nearly any type of fabric with ease.
If it's a modestly priced workhorse you're after, consider the D2030 for a great bang for your buck.
4. Steamfast SF-717 – Best Mini Option
Recommended by Home Care Guides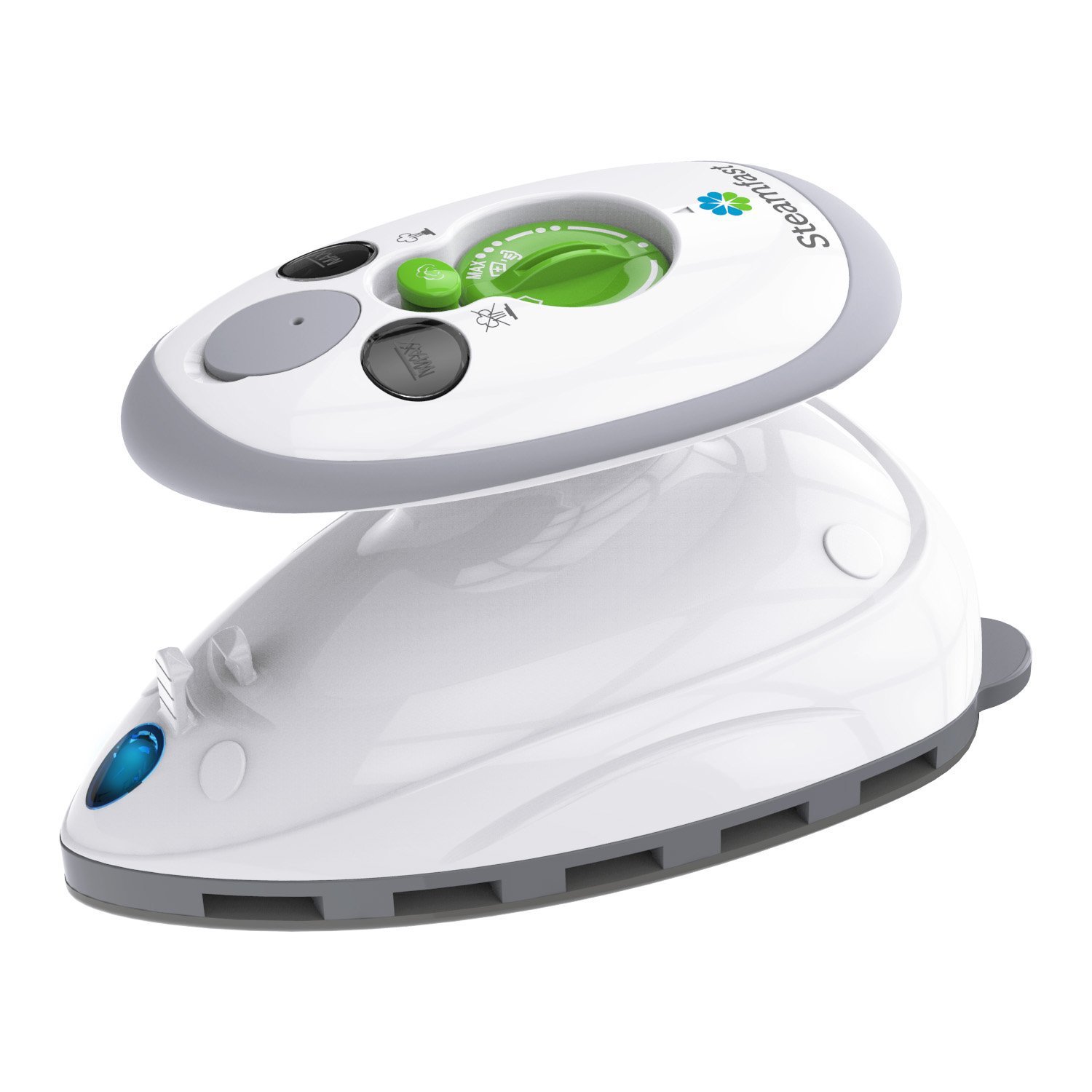 For those who need something small and nimble to use for patchwork, small sewing projects or quilting, the Steamfast SF-717 is a great mini option that offers convenience and portability without sacrificing quality and performance.
Many users find the SF-717 ideal for sewing classes, retreats, vacations, and travels that require you to have an iron. Though it has a small water tank, it offers a surprising amount of steam volume, and despite its small size, still packs a punch when it comes to heat. Home Care Guides notes that with its compact construction comes a "capacity that is enough to remove wrinkles."
Because of its flexibility and convenient nature, it's become a favorite among those who are always on the go. So whether you're working in a class or ironing while enjoying yourself abroad, the SF-717 can hold up to the job even when all the other irons tower over it in size.
5. Reliable Velocity 200IR – Alternative High-End Option
Recommended by The Seasoned Homemaker
The Reliable Velocity 200IR has two steam settings – medium and high – and according to Leslie at The Seasoned Homemaker, the higher setting "will take hard creases out of fat quarters and does a great job at fusing things like interfacing." In short, its steam performance isn't messin' around.
The 200IR is on the heavier side, and at first use, you'll find its bulk to be beneficial while you're pressing fabrics for sewing. It doesn't move much – unless you want it to – and the distributed weight makes it easy to press fabric without having to hold down too long.
It heats up fast, stays consistent throughout each ironing session and you can choose to override the auto-off function if you'd like. Users with all types of sewing backgrounds love it – embroidery, quilting, and traditional sewing enthusiasts give it solid reviews. One particular user had switched from years of using Rowenta irons to the 200IR and was happy with the performance of her new iron.
With the same price tag as the Oliso TG1600, this model can seem pricey compared to other lower-end models, but if performance and reliability are at the top of your concerns, you'll find it meets the demands of your pressing and sewing and with enough use, becomes more than worth the initial cost.
To further improve your ironing and pressing while sewing, consider getting a tailor's ham or sleeve board for those hard-to-iron spots on your sewing projects. Good luck everyone!