Sewing is a wonderful craft, but one that does require that make a little bit an upfront investment so that you can have all the equipment and conditions that you need to actually enjoy this experience to the fullest. Aside from the actual sewing machine and the fabrics that you want to sew, another important element that's part of the decor is the sewing table. How do you choose one and what are some actual tables worth buying? Read on to find out.
Quick Comparisons of 5 Best Sewing Tables
IMAGE
BRAND
FEATURES

Storage: 3 drawers + 1 shelf

Dimensions: 60.25 x 23.75 x 29.25 inches

Weight: 48 pounds

View Product

Giantex Folding Sewing Craft Table

Storage: 4 shelves

Dimensions: 46 x 16 x 31 inches

Weight: 41.7 pounds

View Product

Sauder Sewing and Crafts Table

Storage: 2 adjustable shelves + 2 storage bins

Dimensions: 40.1 x 19.4 x 28.5 inches

Weight: N/A

View Product

Storage: 1 shelf

Dimensions: 45.7 x 23.6 x 29.5 inches

Weight: 46 pounds

View Product

Arrow Sewing Cabinets Table & Cabinet

Storage: 4 shelves + 4 drawers

Dimensions: 81 inches wide

Weight: 50 pounds

View Product
Features to Look Out For
A sewing table goes by many different names, such as a sewing cabinet or a sewing cart. But when it comes to actually buying one of these, what are the features that you need to look out for?
Structure
The stability and durability of your sewing table will play a huge role in your purchasing decision because nobody wants a product that can handle the weight and pressure. For the most part, it is more important for a sewing table to be stable when compared to a normal writing desk, for instance.
Consider the fact that these tables have to support all sorts of powerful sewing machines that can go at really high speeds and produce major vibrations. A good sewing table needs to be able to handle that "stress", which is why you want to carefully check the construction of the tables you plan on buying.
Surface Area
Another important factor that you want to look into is how big the surface of the table actually is. While a sewing table needs to be able to at least provide you with space to place your sewing machine, you most likely want room for other stuff as well, like the fabric you're working with, the additional tools you need, maybe even some printed patterns and guidelines for your projects, etc.
It is not uncommon to lay out a bunch of items around you when you use your sewing machine, which makes tabletop space really important.
Storage
Aside from the surface area, you also want to look into a sewing table's storage options. If you can buy one with cabinets and drawers, it will give you more opportunities for storage, and it will allow you to have the items you need at hand, but without having them in the way.
For instance, if you're ever in need of an extra pair of scissors, you can simply reach for the drawer and grab it; instead of having to get up and take it from wherever else you've put it.
Extras
More expensive sewing cabinets have a feature which is called a pneumatic lift. Consider this like a built-in hidden compartment that can stowaway the machine when you're not using it, and then reveal it with the single push of a button when you're ready to start sewing again. These sewing tables have a more elegant look to them but, as you can imagine, they also cost more.
Things to Avoid
Since buying a sewing table isn't exactly like buying bread, there are certain things that might get in the way of a pleasant shopping experience or that could "trick" you into buying a product that isn't right for you. When you're out looking for a sewing table, keep in mind the following:
Some sewing tables will be too heavy and too bulky to move. With a few exceptions, that's something that people want to avoid, even if you have a special corner for your sewing table in mind and you don't plan to move it anytime soon. Since there are plenty of sewing tables that come with easy-roll casters, why not opt for one of those?
People also want to steer clear of tables that are really hard to put together. For the most part, the assembly of a sewing table shouldn't take you longer compared to that of an average desk. Unless you're building your own sewing table from scratch.
There are people who are so fascinated by a certain sewing table, they disregard the fact that they might not actually have enough space to it. In other words, sewing tables can be really compact, but others can also take up a lot of space, so make sure that you always check for information about the size of the assembled table, so you can avoid any frustration with having little to no space for it.
Top 5 Sewing Table Reviews
Ready to explore some of the best rated sewing tables money can buy? Because if you are serious about buying one of these, then you're bound to fancy at least one of the following five models we've selected from hundreds of potential candidates.
Sew Ready Eclipse
Storage: 3 drawers + 1 shelf
Dimensions: 60.25 x 23.75 x 29.25 inches
Weight: 48 pounds
Check The Product
We want to start off our series of reviews in style by showing you a sewing table that really seems to meet all the demands that you might have for a product of this kind. This table gives you a lot of versatility when it comes to how much tabletop space you have to work with.
The height of the platform can be adjusted so that you can align it with your own height, making you work comfortably without putting too much strain on your back or your hands. Aside from being a really good sewing table, this product can also serve for a lot of different purposes, as it can be used as a table for multiple crafts, a desk for writing, and even a space to put your computer room.
There is plenty of storage space underneath the table as well, as you have multiple drawers that allow you to store things away when you're not using them.
Who Should Buy This?
The Sew Ready Eclipse table is designed for people who are looking for something more than a product designed exclusively for sewing use. It is great for people who practice all sorts of different crafts, but also for people who are maybe looking to turn their sewing table into a writing desk.
Pros:
Versatile.
Plenty of storage space.
Foldable tabletop.
Special sewing machine slot.
Heavy steel construction.
Cons:
Too small for those who own large sewing machines.
Giantex Folding Sewing Craft Table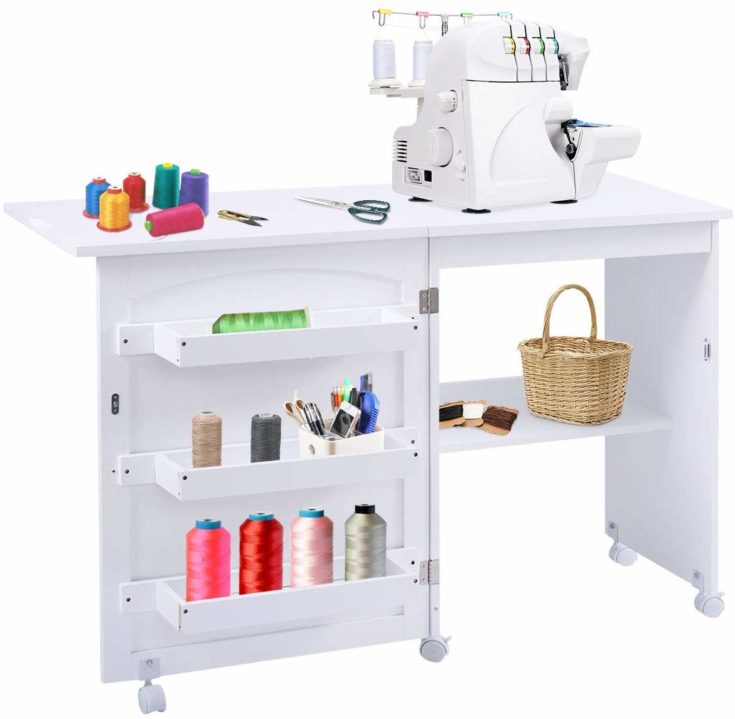 Storage: 4 shelves
Dimensions: 46 x 16 x 31 inches
Weight: 41.7 pounds
Check The Product
The next product I would like to focus on is a sewing table that is designed for smaller pieces of equipment because it doesn't offer as much tabletop space as other tables that you might find within the same price range. However, that doesn't make this particular table worse than the others that you can buy for the same amount of money. It is smaller, but that only means that you could use it if you're looking to save up space.
It comes with three shelves which are only revealed when you expand the table. Each of these three shelves has plenty of storage space for you to hide away your sewing accessories. One of the best features of this table is the fact that you can fold it so that it occupies almost half the space it does when it's expanded, which makes it a great option for people who don't have that much space available.
Because the table is equipped with five swivel wheels, two of which are lockable, it's really easy for you to move the table from one side of the room to another. The table is made from solid wood and has a beautiful white finish, resembling a cabinet when it's folded.
Who Should Buy This?
This sewing table is designed for people who have limited space available and would love a sewing table that can be folded and stored away whenever it's not in use.
Pros:
Hidden storage compartments.
It occupies little space.
Folds into a cabinet.
Beautiful white finish.
Wooden construction.
Cons:
Sauder Sewing and Crafts Table
Storage: 2 adjustable shelves + 2 storage bins
Dimensions: 40.1 x 19.4 x 28.5 inches
Weight: N/A
Check The Product
Let us move on to a more elegant choice, and one that comes with plenty of storage space both on top of the table as well as in the hidden cabinet and its compartments. This particular sewing table can be folded and stored away thanks to its wheel-based construction.
It comes with two adjustable shelves that allow you to organize the space inside the cabinet to your own liking. There are also two storage bins attached to the door which give you plenty of space for your sewing and craft accessories.
Overall, this elegant piece of furniture is basically a sewing and crafts table that doubles as a cabinet and will look amazing in a room with matching wooden furniture, but also in those painted in lighter colors.
Who Should Buy This?
Sometime you might be reluctant about buying a sewing table simply because it doesn't fit into your room decor. The Sauder table, however, is made with elegant white finish and folds into a cabinet, making it the perfect choice for people who are also worried about room aesthetics.
Pros:
Framed door.
Adjustable shelves.
Doubles as a cabinet.
Easy to move around.
Two storage bins.
Cons:
Bahom Sewing Table
Storage: 1 shelf
Dimensions: 45.7 x 23.6 x 29.5 inches
Weight: 46 pounds
Check The Product
Our next product on the list is a sewing table that's designed to be more budget-friendly compared to some of the other models we've reviewed today. It's made from MDF boards and features a modern design that's bound to appeal to younger adults that are interested in the craft of sewing.
The product features a multifunctional shelf that can act as a storage space, but it can also be just a spot for you to rest your legs. The platform that you're working on can be adjusted to one of six different levels, which means that you can always work at a height that is desirable to you.
The steel legs are designed to be able to support the full weight of the table and whatever lies on top of it up to a total weight of 100 pounds. Because of its rather simple construction, the table can be used both as a sewing space, as well as a writing desk or a computer table.
Who Should Buy This?
Are you looking to buy a sewing table that doesn't cost a small fortune? The Bahom table might be just what you need, assuming you are ready to give up some perks, such as ample storage space.
Pros:
Foldable top arm.
Special slot for the sewing machine.
Steel legs.
Made with eco-friendly MDF.
Cons:
Sharp corners that might tear the fabric.
Arrow Sewing Cabinets Table & Cabinet
Storage: 4 shelves + 4 drawers
Dimensions: 81 inches wide
Weight: 50 pounds
Check The Product
The last item on the list is a feature-packed sewing cabinet that doesn't just look amazing, but is clearly designed to provide an amazing sewing experience every single time. It comes with an airlift mechanism that will raise and lower your sewing machine every time you need it to.
You have a generous working area and plenty of storage space. The main door of the cabinet can be opened to offer you space to place your chair, but it also reveals the storage shelves that have generous space for your accessories. There are also four convenient drawers so that you can store away plenty of things for more working space.
Whenever you are done using your sewing machine, you can just push it down to activate the airlift which helps conceal the machine in the designated slot. It is an elegant piece of furniture, but also a practical one. It comes with wheels that allow you to move the cabinet at your own convenience.
Who Should Buy This?
The Arrow Sewing Cabinets table is a high-end product which is designed for people who are ready and willing to invest more money in such a product. It is designed for professional sewers that recognize the quality of a sewing cabinet and are ready to make an upfront investment in a product like this.
Pros:
Ample storage space.
Airlift.
Easy to move.
Large tabletop area.
Quality construction.
Cons:
Expensive.
Difficult to assemble.
Conclusion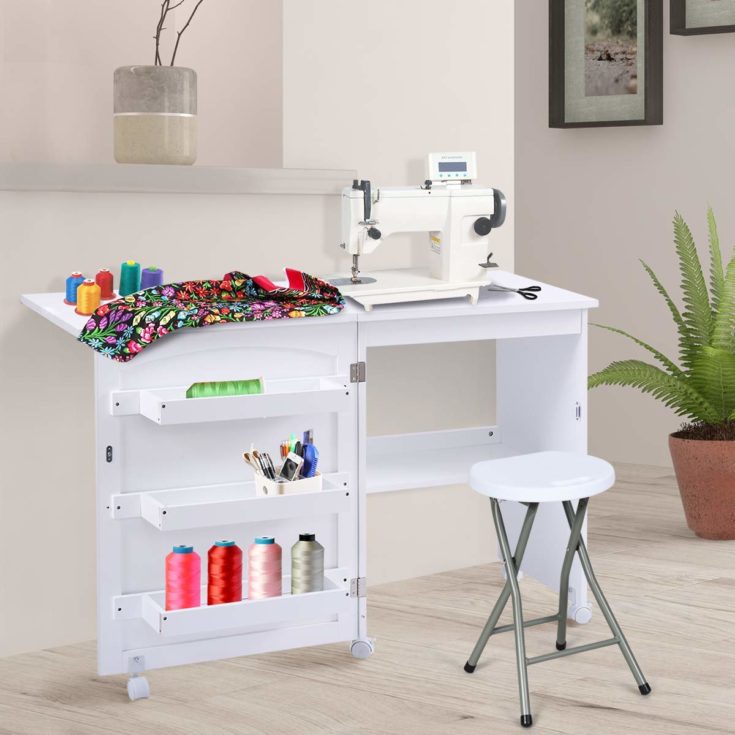 The process of buying a sewing table for your machine doesn't have to be complicated if you remember four important purchasing aspects. You want to make sure that the machine is the right size. That means that it should provide you with enough tabletop space to work freely, but also not be big enough as not to fit where it's supposed to.
The stability provided by the sewing table is another important aspect because you want to avoid movement when the sewing machine is operational. You also want a product that is easy to assemble and doesn't cause any further headaches in this department. And, to some, storage is also important, so look for sewing tables with cabinets and drawers.