If you're a teacher, you already know how much it helps the process of learning to get kids involved in creative projects. Lamination can help preserve both their hard work and yours, preventing it from getting destroyed. This article will go over the best laminators for teachers.
A lot of dedicated teachers bring work home with them by trying to come up with ideas for keeping their students engaged. Part of this is making visual aids like maps and flashcards. Instead of buying new supplies to make more and more flash cards when they inevitably wear out, investing in a laminator can help you save money on wasted materials.
Positive reinforcement has been shown to boost student performance and motivation and a laminator is one avenue for this. Having a laminator for your classroom means you can preserve certificates and diplomas that should be cherished forever and help your students feel proud. Both important documents and study materials can be kept safer for longer.
Comparison Table
IMAGE
MODEL
FEATURES

Fellowes Laminator Saturn3i 125

Rapid 1-minute warm-up

Accommodates multiple document sizes

Hot lamination and cold setting

View Product

AmazonBasics Thermal Laminator

Laminate documents up to 9 inches wide

Two heat settings

Works with any 3 mil or 5 mil laminating pouch

View Product

Heats up in less than 1 minute

Use with 3, 4, 5 mil pouches

Up to 2 times faster output than competitors

View Product

Scotch Thermal Laminator TL902A

Laminates items up to 9" wide

Anti-jam release lever

2-roller system has 2 heat settings

View Product

Scotch Thermal Laminator TL901C

Laminates items up to 9 inches wide

Two roller system for a professional finish

Suitable for use with photos

View Product
The Best Laminators for Teachers
Fellowes Laminator Saturn3i 125
AmazonBasics Thermal Laminator
GBC HeatSeal QuickStart
Scotch Thermal Laminator TL902A
Scotch Thermal Laminator TL901C
Fellowes Laminator Saturn3i 125
For a product that can laminate school projects, office documents, and presentations easily and quickly, the Fellowes Laminator Saturn3i 125 is a great choice. It gives your documents and durable and professional look and laminates thermal pouches up to 5mil. The device even comes with 10 letter-sized pouches to begin with.
"I am really impressed with this laminator – and would highly recommend it to anyone!" said Aurie at Living Well Mom. "It's not just for homeschoolers, although it really does make my life easier!!"
Teachers are busy, so you'll be happy to know that this project can be up and ready to go in just 60 seconds. The Saturn3i 125 comes with InstaHeat technology, so you can get right to work after setting it up. It also comes with an automated shutoff function to save power and prevent the laminator from overheating.
This laminator can handle either self-adhesive or thermal laminating pouches with ease. You can send the self-adhesive pouches through the machine for easy laminating, just select the "cold setting." The device has a 9.5-inch entry width to accommodate various sizes of documents and projects and has a jam release lever which will disengage the pouch for removal or re-centering as needed.
This laminator is not only effective but affordable. As soon as you begin using it, you'll see that there are many different ways to put it to use at home as well as at school. It's easy, simple, and completes jobs quickly. Unlike other machines, which may end up dying after overheating, this model will preserve itself by shutting off.
Check The Price
AmazonBasics Thermal Laminator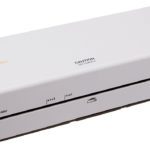 For a machine that will laminate pages with up to a 9-inch width, the AmazonBasics Thermal Laminator will meet your needs. This makes it compatible with photo-size, card-size, business card-size, legal, and letter-sized documents. It has a compact design that is perfect for any classroom or home office.
It comes with two different heat settings. When you are using it with card stock, photos, and normal documents, the 3mil heat setting is best. When you want to use it for thinner pages, the 5mil setting is better. "Mil" refers to how thick the film of lamination is. The machine heats up quick with just four minutes needed for preparation. You will know when it's ready because of the included indicator light.
It has a level for jam release that enables you to clear the machine quickly and easily. If you put a laminating pocket in the wrong way, the handle will release it instantly. The machine itself comes in simple, hassle-free packaging to make your life easier. If you want to get the best results with this laminator, read the instruction manual through all the way before operating it.
You will be happy to know that you can laminate an entire sheet of printer paper and cut it into pieces with the lamination staying intact. If you do this, though, run the sheet through the machine twice, just to be safe and make it extra durable. This machine will sit right on your desk without taking up a lot of room.
The AmazonBasics Thermal Laminator takes about 60 seconds to laminate a sheet of paper and can handle card stock along with regular paper. Use it to make name tags for work or for your students, or photos you want to last a long time. In addition to being useful, it's fun for both you and your students.
Although the unit is heavier than you'd expect for the size of it, it's still very light. Though the machine does come with some complementary laminating pouches, you may need to buy some as well to get a variety of sizes. This will save you from taking trips to Staples each time you need to preserve something with lamination. Anything that will be handled a lot in the classroom and can fit into this machine should be laminated.
Check The Price
GBC HeatSeal QuickStart
If you're ready to start saving money on getting sheets laminated, the GBC HeatSeal QuickStart is another great machine worth considering for your classroom. Having a machine in your classroom will save you from the expenses of not only laminating sheets in the first place but on re-printing and laminating them every time you have to change some information on your cards or papers.
"I can't tell you how instrumental this machine has been," said The Pioneer Woman. "Not only has it saved me trips to have cards and things laminated, it has opened up new worlds for me in terms of creating dry-erase activity sheets and charts."
Designed for easy, quick lamination for your classroom, office, or home, this device is great for environments requiring low production. Note that if you plan to be using this a lot every day, another laminator might be a better choice. It warms up in one minute, laminates quickly, has a quick release option, and a simple design for increasing productivity and saving time. Although the name brand thermal pouches of course work great with this machine, generic ones work, too.
Use it for signage, menus, business cards, name badges, certificates, photos, and more. The laminator works with cold or hot pouches of between 3 and 5mil. Just use the included touch button to control the cold and heat settings, which offer predictable performance and save you some guesswork.
The GBC HeatSeal QuickStart comes with a patented anti-jam function for quick, seamless handling of your projects and documents. Instead of pulling a lever or pressing a button to release a jammed document, this laminator releases jams on its own. If the device isn't used for 30 minutes, it will turn itself off. This makes the machine safer to use and will help it last longer.
Check The Price
Scotch Thermal Laminator TL902A
The Scotch Thermal Laminator TL902A is another compact option, bringing quality performance to your classroom, office, or home. Easy to operate and convenient, this machine lets you preserve and protect important documents.
"It is easy to operate," said Moms have Questions, too. "I found it very easy to put together the first time. Now, I just have to plug the laminator in, unfold the tray for the laminating sheets, and press the button to turn on the laminator. Once it is heated all the way, I put the laminating sheet (filled with whatever I want to laminate) into the laminator."
Any pages that will be frequently handled should be laminated, including teaching aids, artwork, and other documents. Many users find that 5mil pouches are the most durable and reliable. Although you can choose to purchase brand name pouches, generic ones are less expensive and work perfectly well.
This machine doesn't heat up as fast as some of the others on the list and requires about seven minutes to warm up. However, once you get it going, you can use it for hours at a time. A blue light indicator will turn on when the machine is ready.
Check The Price
Scotch Thermal Laminator TL901C
For a device with a two roller function with dual temperature settings, the Scotch Thermal Laminator TL901C is ideal for documents 9 inches wide and smaller.
"So why I am I really obsessed with my laminator?" asked Mique at Thirty Handmade Days. "Besides the obvious that I love any excuse to play with office supplies? There are lots of reasons but the main thing is that it makes me feel more on top of my life. I feel like I'm organized and have gone the one extra step to make sure that I've finished it off."
Use this machine for recipes, documents, cherished photographs, and more. Like the other machines on our list, this unit laminates sheets up to 5mil in thickness, including the commonly used 5mil and 3mil pouches. Families and businesses will always find uses for this machine, which was crafted with intelligent and durable construction.
The TL901C laminates photo-size, business card-size, legal-size, and ordinary letter-size pages. You can also use it for artistic crafts and projects. The machine is easy to set up anytime and anywhere and is also fun to use. Make custom gifts, bookmarks, durable menus, preserve memorable invitations, make tags for your luggage, and more.
This system is lightweight and portable at just 5.4 pounds, so you can easily travel with it when needed. It will only take up 9 inches on your desk and comes with a useful jam release lever for any mishaps you encounter. Included with the package, you will find warranty information, instructions for use, lamination pouches, along with the device itself.
Most teachers are probably already aware of the potential issues you can run into with low-quality temperature settings on laminating machines. Some machines claim they are ready when they aren't hot yet, for instance. This can ruin documents and isn't a gamble worth taking when you are working with important documents.
Just make sure you read through the instructions before using this and it will work flawlessly. This machine is quick and easy to put together, just put the feed tray on and it's set up. When you need to pack it again (for travel or for any other reasons), just take the feed tray off. Using the pouches is also a simple experience and only involves slipping the paper into the lamination pouch and feeding it through.
Check The Price
Ideas for What to Laminate in Your Classroom
With how busy you are and how much you already have to think about as a teacher, ripped flash cards and projects shouldn't be added to that list. An in-classroom laminator can save you the hassle of hiring someone else to laminate the work that you need to preserve and protect. This will show your students how much you care, along with saving you money and valuable time.
Lamination will keep important school projects and supplies lasting long and looking good for years. It can get time-consuming and expensive though if your school places limits on what you can laminate. For this reason, it's best to do it right the first time. Which items should you laminate for your class? This list will show you where to start.
Folders for Substitute Teachers: If you're a teacher, you will need a reliable substitute folder for basic information in your classroom, in case you get sick. To make this, laminate each sheet and put them into a folder or binder. You can also laminate the folder, if it fits in your machine.
Bulletin Board Items: Any items that you plan to display on the bulletin board year round should be laminated. Having different bulletin board accents, cutouts, and letters in various sizes and colors will save you both money and time over the years.
Name Tags for your Students: Some classrooms give students name tags to put on their locker or desk, while other schools require students to wear them. Either way, these tags will get a lot of use and wear out eventually. Laminating them will help them last a lot longer than they would otherwise.
Although these items are good to begin with on your laminator, they are just the beginning of what will now be possible for your classroom.