There's something so incredibly satisfying about a nicely laminated document. Laminators are an awesome organizational tool, a total lifesaver, and a surprisingly fun way to spend an hour, all in one.
As a roundabout educational tool, personal laminators allow educators to create tools for students that are easily reusable, and as an organizational tool, they ensure that your most personal and important documents are preserved and protected forever.
In the not-so-distant past, the only way to laminate important documents was to visit a specialty store and pay for an employee to do it. These days, just like printers and computers, personal laminators fit perfectly into any home office and are always readily available for purchase at surprisingly reasonable prices.
Your stress-free guide to the wonderful world of home laminators is only a few scrolls away.
Comparison Table
IMAGE
MODEL
FEATURES

Scotch Thermal Laminator 2 Roller System

Two roller system

Suitable for use with photos

Laminates up to 9 inches wide

View Product

AmazonBasics Thermal Laminator

Two heat settings

Quick 4-minute warm up

Laminates up to 9 inches wide

View Product

One step laminating

Limited 90-day warranty

laminating speed of 10" per minute

View Product

Purple Cows Hot and Cold Laminator

Heat-up in 3 - 5 minutes

Anti-Blocking System

For 3 - 5 mil (80 - 125 micron)

View Product
What To Look for in the Best Home Laminators
Hot vs. Cold: Laminating machines have two very different ways of going about laminating. While hot laminators use an adhesive that is activated by heat to properly seal the laminate as it passes through the machine, cold laminators rely solely on the pressure to seal. Hot laminators ensure extreme durability but they may not be suitable for all types of sensitive documents and though cold laminators are marginally easier to use and much safer, the laminations may not last as long.
Maximum Document Width: Depending on the size of the typical document, photo, etc. you decide to laminate, it is important to find a laminator that has a healthy width. Most home laminators are about 9 inches wide, making it pretty easy to fit a wide array of items through the machine. Anything less than 9 inches may not be able to handle all of your documents.
Speed: Cold laminators may work faster than those that run on heat, but that doesn't mean it should take forever to run something through a hot machine, either. The speed at which your laminator works definitely determines how much work you can get done in a single session. Finding a laminator that is proven to be just as fast as it is accurate is very important.
Footprint: It's always important to care about the effects your favorite equipment has on the environment, and luckily, since laminators are relatively simple, choosing one with a low carbon footprint doesn't mean skimping on quality.
Scotch Thermal Laminator 2 Roller System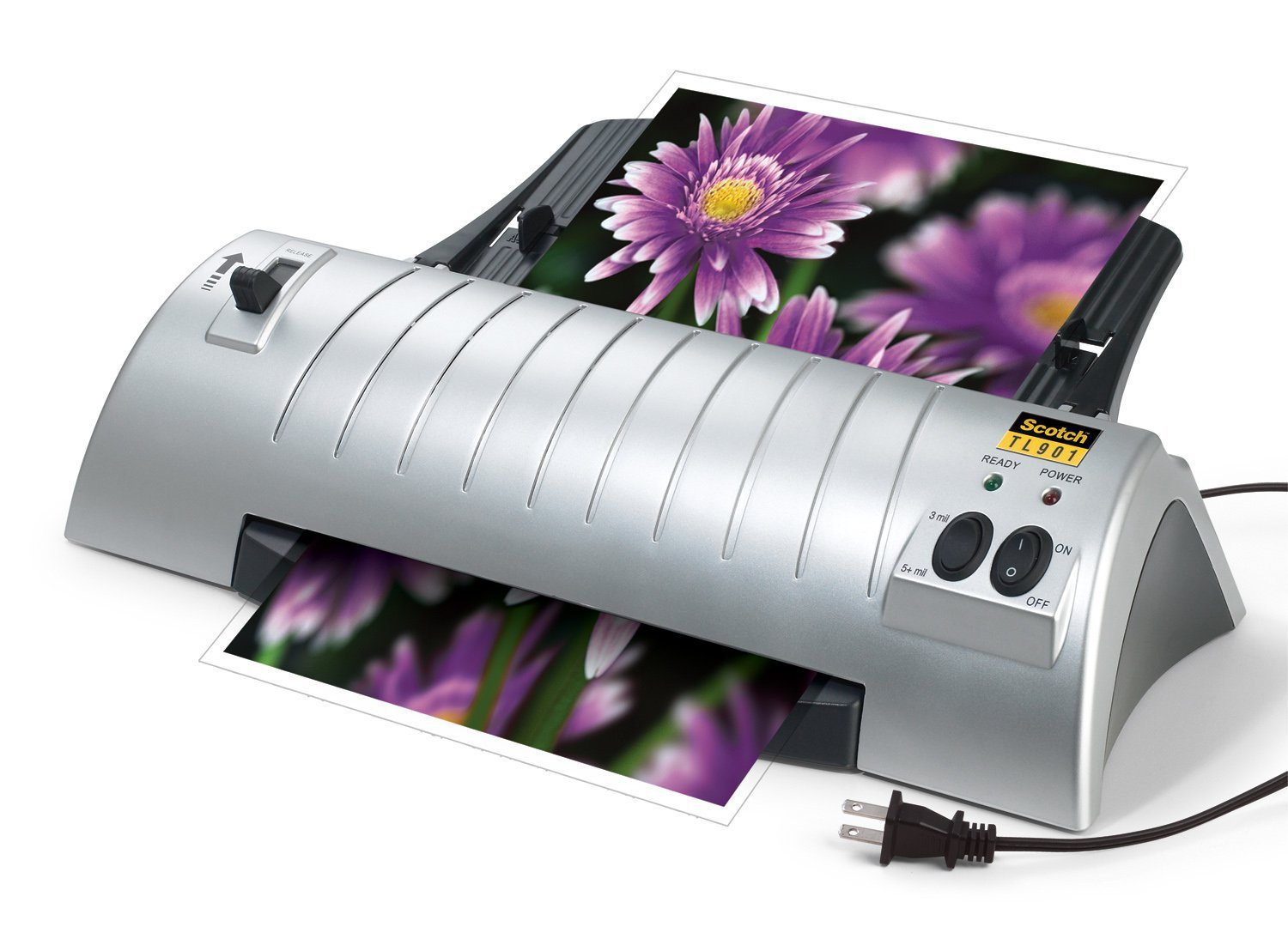 In an effort to make this machine ideal for home offices, classrooms, and small businesses, the Scotch Thermal Laminator 2 Roller System is sleek, stylish, and quiet. Three things that are much appreciated in close quarters.
With an efficient two-roller system along with a simple two temperature-setting gauge, this laminator can be used to laminate anything from personal photographs to business cards.
With the ability to laminate items up to 5mil thick, the Scotch Thermal Laminator ensures durability in just about everything it touches.
The laminator does take a little longer than normal to warm up and does have a tendency to jam from time to time, but the reputable Scotch brand and easy-to-use interface make it a steal.
Customer Feedback
Extremely easy to use, right out of the box
Great for students and anyone who makes presentations
Simple product that's compact and doesn't take much workspace
Small size that's perfect for home use or small businesses
Check The Price
AmazonBasics Thermal Laminator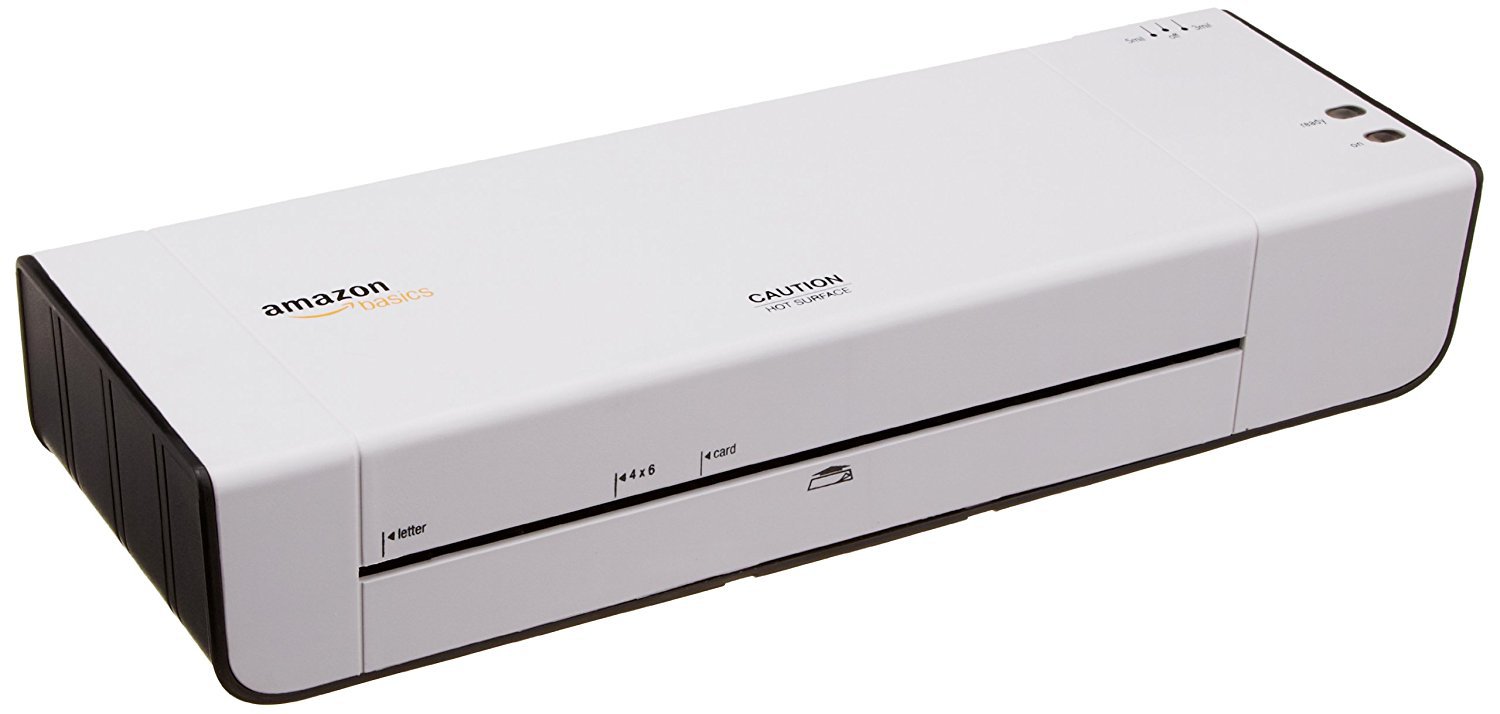 From Amazon comes a simplistic laminator that is super chic, perfectly simplistic, and very high quality. The AmazonBasics Thermal Laminator comes in the form of an extremely compact, rectangular machine that contains two different temperature settings and a maximum 5mil-laminating pouch.
While its specs are generally pretty standard, the quick 4-minute warm-up time, handy indicator lights, and unbelievable price tend to set it apart from the rest.
At less than 3 pounds, this thermal laminator is extremely portable and has the ability to fit in just about anywhere, making ideal for both home and office.
The only downfall seems to be its tendency to jam but the overall deal that comes with this machine is almost too good to be true.
Customer Feedback
Excellent quality that's better than the price suggests
Surprised by how powerful the performance is for how small it is
Very convenient and easy to get the hang of after a few uses
Good quality, small footprint and crisp laminating – would recommend
Check The Price
Swingline GBC Laminator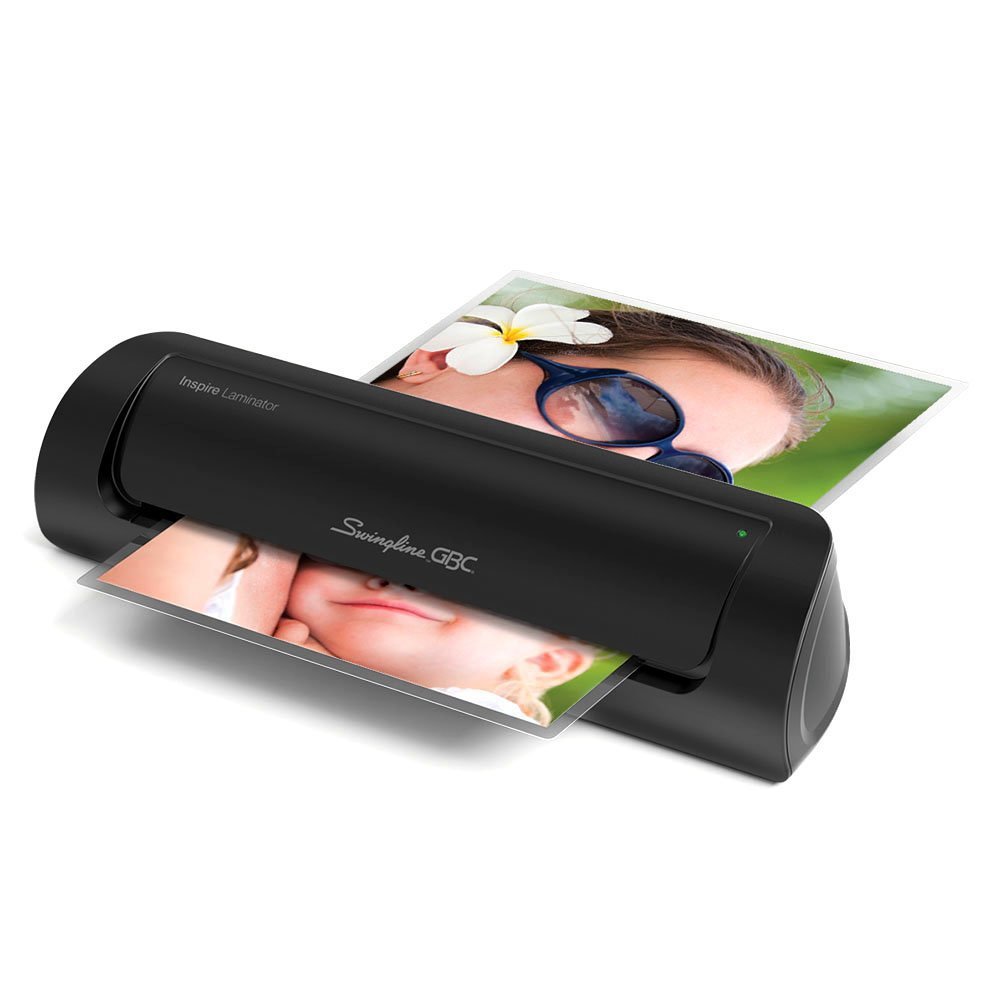 This no-frills laminator isn't particularly fancy or complicated but it definitely gets the job done. The Swingline GBC Laminator is a slim, rectangular machine that fits easily into small spaces and is exceptionally easy to use.
With a relatively quick 7 minute warm-up time, this laminator is able to easily laminate any document up to the standard 9 inches wide and with pouches up to 5 mil.
The one-step interface offers users a quality product that takes minutes, and as little effort as possible, to use, and while it's not as fast as other machines, and is better suited for home, rather than business use, this sturdy laminator definitely gets the job done.
Customer Feedback
Solid quality and performance for a good price
Ease of use is above-average compared to similar machines
Was able to get really good at laminating just after a few uses
Love this machine, would purchase again if needed
Check The Price
Purple Cows Hot and Cold Laminator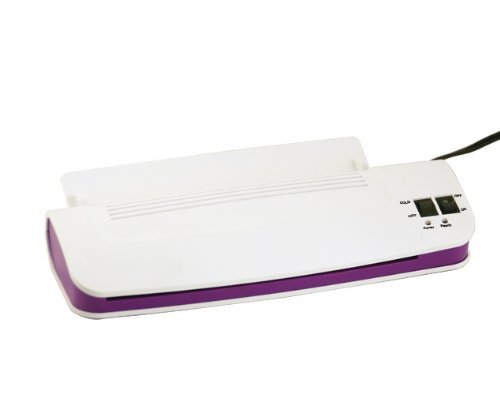 Don't let the cutesy brand name fool you; the Purple Cows Hot and Cold Laminator is a beast of a machine. While its size may be small and compact, this laminator offers tons of amazing features that rival highly professional machines.
This laminator has the ability to run both hot and cold, allowing users to switch up their laminating style based on the needs of their documents and/or items.
Along with its state of the art technology that uses 50% less energy than other machines, and top-notch silicon rollers, its tendency to jam pales in comparison.
Customer Feedback
Lamination is easy, beautiful and clear every time
Durable lamination sheets and machine construction
Overall wonderful user experience, especially for beginners
Check The Price
Do you recommend a home laminator that we didn't review?
We'd love to hear your input. We're always welcome to reviewing new products, especially if they come highly recommended from our readers. You might also want to check our our article on the best laminators for school here.