Getting a long arm machine for quilting is no small decision. It requires a lot of thought, some planning, and of course, an investment. Today, we are going to look at some of the best machines on the market.
Where will you put your machine? Do you need to make some extra space for it? What are you willing to spend? What will you do if your machine needs servicing?
Once you've thought through each of these questions and have decided to go ahead and buy one, it's time to think about the characteristics of an ideal long arm quilting machine for home use. First, it should be user-friendly for quilters of all skill levels. In addition, operating the machine should be simple enough to be fun, allowing you to get lost in your quilting projects for hours at a time.
Many different types of quilting exist, including foundation piecing, English paper piecing, embellishment, reverse applique, and more. If your machine is simple enough for you to perform any necessary maintenance, that's also a plus and will save you money over time.
Comparison Table
The Top Long Arm Quilting Machines for Home
Each product on this list was carefully selected for overall value, quality of the machine, and usability based on user reviews.
SINGER 7469Q Confidence Quilter
Juki TL-2010Q 1-Needle Machine
Brother PQ1500SL
Brother SQ9185
SINGER 7469Q Confidence Quilter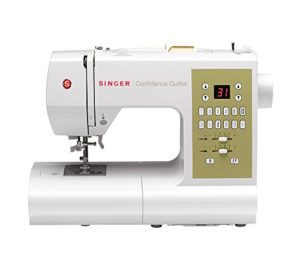 For those looking for a computerized machine, the Confidence Quilter is a good candidate. The SINGER 7469Q is a machine with a programmable needle. The drop feed and its up/down capabilities make quilting easy and fun to do at home. Setting it up is also fast and simple with the Drop & Sew system for the bobbin and the automated needle threader.
"The ergonomic design and useful function buttons, such as the twin needle capability and on board stitch guide," said Sewing Insight, "not only simplify the sewing and quilting process, they are major assets for any sewing machine."
The machine comes with seven single-step buttonholes and 98 stitches built in, providing you with countless possibilities for projects. It also has four quilting feet, as a bonus, and an extendable table. Customize your quilting projects with the adjustable stitch length and digital needle control. Keep in mind that the machine is 110-volt, making it safe for use in Canada and the U.S. only.
This machine is perfect for both skilled and brand new quilters and offers advanced features so that you always have something new to learn. When you are piecing patchworks together, the up/down feature on the programmable needle is a must. Just choose to make it stop when it's down for pivoting, quilting, or appliqueing fabric.
This Singer product allows you to manage sewing projects, such as big quilts, easily. It comes with an embroidery and darning foot for stippling, a ¼-inch foot made for quilt blocks, the walking/even feed foot to receive fabric evenly, and the open toe foot to give you more visibility. This is a great machine to select as an upgrade from something older. Changing stitches is easy and can be done with a single button.
You can't hear about sewing machine brands without hearing about SINGER and that's because they have built themselves a good reputation through supplying machines that last. If you work with several layers, heavy materials, or big projects, the larger table and walking foot on this are irreplaceable.
Some may find the plastic cover on the bobbin strange to get used to but it's transparent, allowing you to see the amount of thread you're working with. If you have a hard time getting more complicated stitches to work well, look through the manual, which should cover that in detail.
Check The Price
Juki TL-2010Q 1-Needle Machine
Next on our list is a lock stitch, single needle machine. The Juki TL-2010Q is ideal for home décor, dressmaking, tailoring, and more. You can use this on a table top, with machine quilting frames, or mounted into your cabinet. It comes with a carrying handle built in, making it easy to transport.
"If the sturdiness of an industrial sewing machine combined with the accessibility of a home machine is something you're looking for," said Sewing from Home, "you should probably consider the Juki TL-2010Q Long-Arm Sewing & Quilting Machine."
The machine comes with an extension for the sewing area. Using the device, you will instantly be able to tell the difference between this and a cheaper machine. Unlike machines of lesser quality, this one easily stitches through up to five layers of material with ease. You can even use it with your quilting needles kept in place without issues in the stitching.
This isn't the absolute lightest sewing machine out there, but it's still portable. The machine was built heavy enough for staying in place when you use the pedal and light enough to lift and move to another spot when necessary. It weighs about 30 pounds and comes with a well-positioned handle for carrying.
Users who are used to older machines will appreciate the machine's thread cutter, which is activated by the push of a button. This machine is simple enough to be used by beginners but comes with enough advanced features to keep skilled sewers busy. No matter what kind of material you're using, this gives you a perfect straight-stitch.
Add this reliable, sturdy machine to your sewing room and you won't regret it. It runs quiet, is effortless to thread, simple to load and wind bobbins, and will fulfill your every quilting wish. As stated, it's not the cheapest option, but there's a good reason for that!
Check The Price
Brother PQ1500SL
The Brother PQ1500SL makes quilting easier and more convenient with its needle positioner, thread trimmers, and automatic needle threader. Each of these traits helps you get to sewing quicker so you can dedicate more time to your craft instead of tedious setup.
"With a maximum sewing speed of 1,500 stitches per minute, the PQ1500SL is lightning fast," said Shannon at Quilter's Review. "But just like a regular sewing machine, this model uses a foot pedal to control the sewing speed. Move as quickly or as slowly as you like."
The PQ1500SL has an extension table that spans 12 by 18 inches and a built-in knee lever for easy, hands-free lowering and lifting on the presser. This allows you to focus on the important tasks of removing or re-positioning the fabric as you work. The table offers more working space and freedom from constant re-positioning of your material.
For those who like free motion quilting, the height adjustment feature will be much appreciated. It offers four heights that will be suited for nearly any sewing project. You will also find a mechanism for pin feeding, which lets you trade the included feed dogs, getting a pin instead from under the sewing machine. The pin lets you easily move the layers of your quilt together or work on challenging fabrics such as velvet with no feed dog marks left on the material.
The thread tension level on the PQ1500SL can be adjusted easily and quickly with a simple touch on the dial. If you notice any tension issues, it's probably because the bobbin or machine have been threaded incorrectly. When you have the machine threaded properly, you can fix any tension problems with your adjustment dial.
As with other machines from Brother, this type includes many useful accessories. With it, you will find invisible zipper feet, walking feed, rolled hem feet, and more. The machine also comes with extra items such as a spool cushion, seam guide, cleaning brush, metal bobbins, a spool cap, fabric separator, packet of needles, ballpoint needle, knee lifter, and more. With these accessories, you can fulfill your sewing and quilting projects right after unpacking your new machine.
This machine allows you to easily adjust the position of the needle, saving you time so you can focus on your sewing projects. The positioning of the bobbin casing is useful. Since it's on the machine's side instead of front or top, you can switch bobbins out easily as you sew. The extension table included is 12 by 18 inches and very sturdy, giving you lots of space to quilt.

Check The Price
Brother SQ9185
The Brother SQ9185 has plenty of features included with it. The device has 130 different built-in stitches, including heirloom, decorative, and utility stitches. You will also find eight different auto-size, one-step buttonholes and over 50 alphanumeric choices for creating monograms.
Intermediate sewers will be able to expand their potential with all the stitch patterns and the 55-character font for monogramming. An excellent choice for working with light to medium fabrics.
The computerized quilting and sewing machine is suitable for the most complex or the simplest projects and has 11 different feet included with its large array of extras. The machine also has a free arm, fit for designing sleeves and cuffs and a wider table for gowns or quilts.
The speed controls on the machine are variable, allowing you to choose the most productive and comfortable rate for your projects. You will also find an easy and advanced system for needle threading, built to make your projects run smoother. The machine's fabric feeding mechanism has seven-point feed dogs and is built to be as smooth as possible, while the LED work space makes your work more visible in dim lighting.
You will receive an accessory bag with an eyelet punch, bobbin clip, four bobbins, a spool pin, screwdriver, cleaning brush, and more. You will also receive an instructional DVD, operation manual, power cord, and foot controller. Users will notice that this machine is way easier to use than mechanical machines and thus makes a great upgrade choice.
Although the machine is lightweight and portable, it isn't made cheaply. You will enjoy the stop/start button which eliminates the concern of the foot pedal causing spasms or cramps in your legs. If you're stuck on any threading questions, make sure you watch a video that instructs you on how to do it. Make sure that when you are winding thread to the bobbin, you aren't inserting it into the bobbin hole.
The buttons on this machine are well-positioned and the feet included will save you from needing to make additional purchases.
Check The Price
Tips for Making Your Quilting Experience Easier
So, you've decided that you're ready to make a beautiful, handmade quilt. Sure, you could hire someone or buy one pre-made, but you'd rather make it yourself. This quilt could be your own personal masterpiece. How do you make the process run as smoothly as possible? Just follow these simple tips for easier quilting with your machine.
Choose the right Fabric: Try to choose a backing material wide enough for the top of the quilt and think about the pattern and color of this material. Try to pick a color that matches the quilting thread. If you're somewhat new to quilting, choose patterned material that won't show mistakes as much.
Press the Fabric: The next step involves pressing your quilt top and backing fabric. When using a wool or cotton batting, you may need to press that too in order to make it smooth. Cut off any loose threads as these can show through when using light materials. Tape your backing fabric down to a table or floor with the right side down. Put the batting on top of that, then the actual quilt over both of those. The batting and backing are supposed to be larger than the top of the quilt.
Take your Time: Now you should be deciding whether you will pin the quilt layers to each other or baste the quilt. Usually, hand quilters will baste their projects using a grid design with thread and needle, while machine quilters use pins. Get some safety pins and put one every four to six inches beginning from the center of the quilt and working your way out. This will require many pins and might leave your fingertips a bit sore.
Quilting a Shape: Usually, simple machine quilting doesn't require marking your pattern out on the top of the quilt. You can instead do this section by section, looking to the quilt design for guidance. For those who are quilting a shape, make sure the pattern is transferred onto the quilt before you attach together the layers. This can be done with tailor's chalk or a water-soluble marker since pencil lead can be hard to get out.
To proceed, follow along with the seam line with your stitches. You can also quilt curved or straight lines by stitching one line and following it. For questions, make sure you refer to your instruction manual. These tips will help you get beautiful results with your quilting machine.