While some people learn and like to quilt by hand, a quilting machine can smoothen out the entire process and turn it into a less exhausting experience. There are plenty of people unaware of the existence of a quilting sewing machine, and it's about time we explained what that is.
5 Best Sewing Machines for Quilting Comparison
IMAGE
MODEL
FEATURES

SINGER Quantum Stylist 9960

Dimensions: 17.2 x 8.2 x 12 inches

Weight: 20 pounds

Presser feet included: 18

Number of stitches: 600

View Product

Dimensions: 16 x 6.7 x 11.4 inches

Weight: 13 pounds

Presser feet included: 8

Number of stitches: 60

View Product

Dimensions: 7.9 x 12.6 x 19.3 inches

Weight: 33.5 pounds

Presser feet included: 7

Number of stitches: 1

View Product

Dimensions: 25.7 x 14 x 18 inches

Weight: 38 pounds

Presser feet included: 6

Number of stitches: 1

View Product

Dimensions: 12.1 x 5.9 x 15.3 inches

Weight: 12.6 pounds

Presser feet included: 6

Number of stitches: 27

View Product
Quilting vs. Regular Sewing Machine
Some of you might be wondering if your current sewing machine can handle quilting or if you need a completely different machine for that. The answer is quite simple: while you can quilt with any type of sewing machine, one that's designed particularly for quilting will take the experience to a whole new level.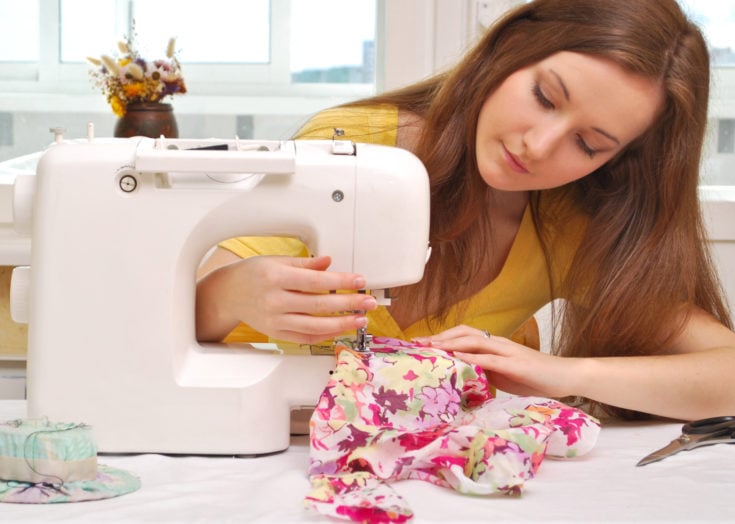 While you're sewing machine is probably good, a quilting machine has more features that are dedicated to this particular type of sewing. What are some of the things that make quilting machines better, you ask? Well:
Quilting sewing machines have a wider table because the entire process usually requires you to work with larger pieces of fabric at the same time. The extra working space is absolutely welcome in such a scenario.
Quilting machines also have stronger thread tension. This makes them better for working through multiple layers or thick fabrics. With a regular sewing machine that has weaker thread tension, you risk not getting the job done and end up being frustrated due to stuck needles and torn threads.
Those of you that have a basic sewing machine might not have the possibility or the ease to switch threads while you're quilting. A machine that's designed particularly for that will make it easier to switch threads.
What to Look for in a Quilting Sewing Machine
As you know, quilting implies sewing together several pieces of fabric. So, what does a sewing machine needs to have in order to be good for such a craft?
A powerful motor is the first thing you should look out for. For instance, if you want to start an upholstery project, you should know that your quilting machine should have a motor that's more powerful compared to the requirements for a basic quilting project. For your home quilting needs, a machine with a 50W motor should just about have you covered.
Also important in quilting: stitch length. In sewing, there is a process called basting, which is a term used to describe a temporary stitch that's meant to hold pieces of fabric together. When you're quilting, basting is of uttermost importance, because if you try to use pins, you will find it harder to work. Basting is a process that involves a lot of stitch removal, so having a large-length stitch will prove to be very useful. When your stitches are large, there's less basting involved, which brings you close to the final quilt a lot faster.
Large tables are important in a quilting project because you'll have to handle plenty of fabric in the process. That means that you won't be stuck with making small blankets for the rest of your life, and can easily handle larger-sized projects. Sewing machines with extension tables are the best option for quilting.
For the optimal quilting experience, you want to have special presser feet that are designed for quilting. If you already have a sewing machine, you can buy these separately, but a quilting machine will already include them in the package. Speaking of presser feet, you are much better off using a free motion presser foot. With this foot, you can add stippling to your design, which is a cool and easy way to embellish your quilting projects.
Top 5 Sewing Machines for Quilting Reviews
Now that you have an idea about what the differences between a quilting machine and a regular sewing machine are, and what to look for when you're buying a new quilting companion, let's dive into some of the machines that have received honorary praises from quilters all over the world.
SINGER Quantum Stylist 9960
Dimensions: 17.2 x 8.2 x 12 inches
Weight: 20 pounds
Presser feet included: 18
Number of stitches: 600
Check The Price Here
Singer will always be one of the top brands in the world, and the 9960 stands proof of its awesomeness. It's one of the best Singer sewing machines. We have to specify that this particular model was not designed particularly for making quilts, but that doesn't mean it can't do an excellent job.
There are plenty of specifications and features that make this machine quite a champion amongst its brethren. This computerized machine has more than 600 stitches to impress you with (plus an 850 stitches-per-minute speed) and yes, quilting stitches are included in that array. The LCD screen will guide you through the different settings and current options of this Singer beauty.
It comes with 18 presser feet, features a heavy-duty metal frame for maximum durability, allows you to select the stitches with the press of a single button, and it comes with an extension table which, as we've already established, is a priceless asset for quilting projects.
Who Should Purchase This?
If you want to choose the very best from the very best, which is a machine that can handle quilting as well as different other sewing projects, this Singer model is a best-buy.
Pros:
18 presser feet included.
600 stitches.
Heavy-duty metal frame.
Extended arm.
Built-in needle threader.
13 buttonhole styles.
Cons:
Brother CS6000i
Dimensions: 16 x 6.7 x 11.4 inches
Weight: 13 pounds
Presser feet included: 8
Number of stitches: 60
Check The Price Here
This Brother quilting machine is giving us plenty to talk about. It is a computerized machine that features an automatic needle threader, which is really useful when you want a smoother quilting process. It features a sliding button that offers users the possibility to adjust their sewing speed in a second.
Since it's computerized, it features an LCD display that grants full control of the machine and the information you need to know to see your quilting project through, such as the current stitch you've selected. As all good quilting sewing machines, this one also comes with a large extension table that will hold the fabric in place for easier maneuvering.
Other features of this model include bobbin windings, an arm designed for easier sewing of sleeves and cuffs, eight feet for quilting and sewing, plus a hard protective case that's useful for both storage and transportation.
Who Should Purchase This?
People are going bonkers over this Brother quilting machine, as it's one of the brands that will always stand out in its industry. If you like to buy products that other people have positively reviewed, the CS6000i should be on your list. But if you're looking for something else, check out our other Brother sewing machine reviews.
Pros:
8 presser feet.
60 stitches.
Protective case.
Extended table.
Automatic needle threader.
LED-lit working area.
Cons:
Requires plenty of cleaning.
Brother PQ1500SL
Dimensions: 7.9 x 12.6 x 19.3 inches
Weight: 33.5 pounds
Presser feet included: 7
Number of stitches: 1
Check The Price Here
Brother is here to amaze once again, only this time with a more professional-like machine. With quite a spicy price tag to accompany it, this machine does manage to deliver more power than the previous two models ever could.
It can reach speeds of up to 1,500 stitches per minute, which is way more than what a sewing hobbyist needs, but good enough for people who sew on a professional level. Just by examining a few of the features, you can tell that this Brother sewing machine was designed for people who need true power.
Some of the features include: a built-in LED light to illuminate the working area, a fabric separator that can help you streamline your quilting project, heavy-duty construction for maximum durability, an extension table that serves the large fabric purpose, plus foot pressure adjustment.
Who Should Purchase This?
Sometimes, it's all about the speed, particularly for those of you that sew for a living. With the Brother PQ1500SL, you will get torque that equals to 1,500 stitches per minute, which is pretty impressive and extremely useful when you're sewing at an automatic fire.
Pros:
1,500 stitches per minute.
Feed dog adjustment.
Extension table.
Knee lifter.
Automatic thread cutter.
Built-in LED.
Fabric separator.
Cons:
Only includes a straight stitch.
Juki TL-2010Q
Dimensions: 25.7 x 14 x 18 inches
Weight: 38 pounds
Presser feet included: 6
Number of stitches: 1
Check The Price Here
We've labeled the Juki TL-2010Q as being the most solid sewing machine we've seen so far, but there's so much more to it than that. If you feel discouraged about the machine only having on straight stitch, know that there are plenty of other features that will knock your socks off.
First off, it's a machine that's clearly designed for quilting and applique, especially since it features an extended table that gives you the freedom to work with large fabrics. It allows you to control the speed of the machine (which can also reach about 1,500 stitches per minute, by the way).
With a simple turn of the dial, you can adjust the stitch length. Underneath it, you will find the reverse stitch lever, which is great for backward stitches that will complete your projects. With this Juki model, you won't be afraid to sew anything from rubber, fur, or leather, to upholstery, synthetics, and fine fibers.
Who Should Purchase This?
Some of you just want a quilting sewing machine that can last, and we totally get it. But you have to be willing to spend the money to get one. The Juki TL-2010Q is designed to last, with its aluminum die casting and sturdy casing construction, but is still rather cheap coming in just under $1000.
Pros:
Good for all fabrics.
Plenty of accessories.
High stitching speed.
Automatic needle threader.
Speed control.
Extended working table.
Cons:
Only has one stitch.
Noisy bobbin winder.
Brother XM2701
Dimensions: 12.1 x 5.9 x 15.3 inches
Weight: 12.6 pounds
Presser feet included: 6
Number of stitches: 27
Check The Price Here
Here is one more for the road and, you've guessed it: it's another Brother sewing machine. This model is lighter and more portable compared to the ones we've shown you above, mostly because it's designed to be a more conveniently-priced product and not the best-performing quilting machine your eyes have ever seen.
But, despite its rather low price tag, the XM2701 delivers more than you'd expect. It features no less than 27 built-in stitches, which already opens up a world of sewing possibilities. It features an easy-to-use threading system that's based on automatic needle threading.
There is a rotary dial that allows you to select between the 27 stitches. The machine is delivered with six presser feet, including zipper, zigzag, narrow hem, and blind stitch. It is a great machine for people who are just at the beginning of their "quilting careers".
Who Should Purchase This?
While the Brother XM2701 isn't a fierce quilting beast like the other models in this review round-up, it does manage to meet the basic requirements for easy to moderate quilting projects for beginners as well as seasoned sewers. It's a great starter machine. We've included it on our list because it is, nevertheless, an incredible sewing machine considering how inexpensive it is.
Pros:
27 stitches.
Six presser feet included.
Automatic needle threader.
LED-lit working area.
Portable and lightweight.
Convenient price.
Cons:
No extended table included.
Bottom Line
Quilting can turn out to be quite a complicated part of sewing, particularly if you're not using the right machine for the job. The machines we've just shown you are some of the best-performing ones in their categories, but it's ultimately up to you to decide how much money you want to spend on a product like this, how many stitches you need, or what other features are important to you.
But if you're truly passionate about quilting or about sewing in general, don't be afraid to invest in a better machine, with more features and goodies that will surely come in handy along the way. And if you didn't find one that you like, check out our other sewing machine reviews and read more about what's the overall best machine you can get.