You need a good saw for cutting tree branches and the right one will become an irreplaceable tool in your gardening kit. Safety, convenience, and the quality of your yard are all reasons to take this decision seriously. The right choice will last you years and spending some extra money now will pay off for seasons to come. This article will help you find the best option available for your needs.
When should you prune your trees? Of course, removing dead wood and light pruning tasks are possible at any time, but there are also seasonal considerations. Also, you should always remember that individual tree species can differ in what is most appropriate for them in terms of ideal pruning conditions.
Pruning in the Winter is most common as this results in more growth come Spring, so try to cut your tree branches in the Winter if this is your goal. Remember, however, that you should only do this after the coldest time of the year has passed. Other gardeners may choose to prune in the summer to correct problematic limbs as they are more visible during this time.
Autumn pruning is not generally recommended because decay fungi tend to spread more easily during this time of year, so keep that in mind. Make sure you know all about using pruning saws before you make your purchase, then you're ready to go. Let's look at some of the best pruning saws available on the market today.
Comparison Table
IMAGE
BRAND
FEATURES

FLORA GUARD Folding Hand Saw

3-sided razor teeth for efficient cutting

Impulse-hardened teeth for long service life

Replaceable 7" blade

Buy Product

Fold it up and blade is totally secure

10-inched Sharp Blade

Fold it up and blade is totally secure

Buy at AmazonBuy at Garrett Wade

Pull-stroke design, best portable saw

Blade width 2 inches and 10 inches long

With blade lock angle adjuster

Buy at Garrett Wade

Corona RS 7265D Razor Tooth

3 Sided Razor teeth for efficient cutting

Provides a comfortable grip for extended use.

Folding blade is curved, taper-ground, and replaceable.

Buy at Amazon

Powerful 3.4 amp, 4,600 SPM motor

6-foot cord

Cuts wood and metal

Buy Product

Fiskars 7 Inch PowerTooth

Razor-sharp, triple-ground teeth

7-inch blade length

Non-slip grip

Buy Product

Silky 270-33 with Zubat Blade

New Professional Series Edition

Silky's most popular curved pruning saw

Very light and flexible

Buy Product

Made of stainless steel blade

Secure locking button on the side of the blade

Blade is less than 9 inches long when folded

Buy at AmazonBuy at Etsy
The Best Saw for Cutting Tree Branches
Each of the saws on this list was selected for its reliability, price, and overall quality based on user reviews. You will see options of various sizes with different functions. We will cover each in detail so you can decide which will be best for you.
Corona RS 7265D Razor Tooth
EverSaw FOLDING HAND SAW
Black & Decker PHS550B
Fiskars 7 Inch PowerTooth
Silky 270-33 with Zubat Blade
Corona RS 7265D Razor Tooth
If versatility in your tools is important to you, you will like this option. For a saw that will work in your yard on normal lumber, as a general tool, and for camping purposes, the Corona RS 7265D is a good choice.
The blade is 10 inches long and curved, easily slicing through foot-long limbs. In addition, the saw folds down for convenient portability. Certain types of wood are, of course, easier to cut through, but this blade works even with harder varieties.
"Initial impressions of the blade were good," said Can Bike. "The teeth are hardened and the blade is curved for more efficient cutting. The curve design reduces friction and pinching of the branch onto the blade."
A good saw will be useful for more than just pruning your trees. Do you live somewhere that has frequent storms and high winds? Then a tool like this can be very helpful for clearing your yard. It's easier to carry than a Husqvarna chainsaw and will slice through many branches just as effectively, though some types of trees might require some extra elbow grease.
If you're wondering whether this saw cuts on the push, pull, or both, it can work either way. The teeth look identical for both directions, but the curve and handle on the saw are designed for working best with the pull stroke. Whichever way you choose to use it, rest assured that the branch you were sawing will fall before you have much time to think about it.
The saw is extremely sharp, well-designed, and cuts effortlessly. This tool will hold up well to frequent use and comes in convenient and easy-to-open packaging instead of the difficult clam shell that many people fear. When this tool eventually gets worn out, you can use it as a root saw.
Check The Price
EverSaw FOLDING HAND SAW
For an 8-inch blade useful for hunting, camping, pruning trees, and as a great general addition to your toolbox, consider the EverSaw FOLDING HAND SAW.
This all-purpose tool comes with a solid grip and easily slices through plastic, wood, and even bone. Its superior design is built to reduce binding and friction.
You will get a fast, smooth sawing experience each time as the triple-cut razor teeth on the blade have been hardened for this purpose. The tool is useful for many different purposes and is both safe and easy to carry. It has an adjustable blade and a gear-style lock to keep it open while in use.
Its slip-resistant, ergonomic handle was crafted to be comfortable so you can use it for long periods of time without fatigue. This is a most welcome feature for those long days working out in the garden. The saw is simple to use, even for beginners, and doesn't weigh much. This is perfect for use while up on a ladder when lopping shears aren't a safe choice due to requiring two hands.
This will slice through branches between 6 and 8 inches thick in mere minutes without much effort. When it comes time to clean the blade, use a mild soap and water, then dry it off and apply WD40. This treatment will help your saw last much longer. Some users may wish to use a sheath with this knife as it can accidentally open when not in use otherwise.
Since the blade folds, it will stay sharper in your toolbox and this also makes it more portable for travel. Wonderfully sharp, the blade cuts just as it should, while being the right size for cutting down small branches. All in all, it will be a great addition to your existing landscaping toolbox.
Check The Price
Black & Decker PHS550B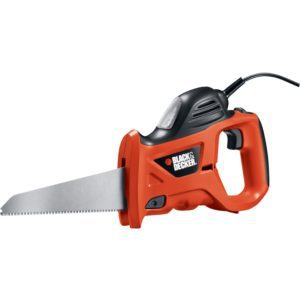 For those who would rather have an electric saw than a manual pruning tool, the Black & Decker PHS550B is definitely worth thinking about. It comes with a 4,600 SPM motor and 3.4 amp, both of which let it cut through metal and wood easily. It has a 6-foot long cord, a tool-free feature for changing the blade, a lightweight and compact design, and a bag for storage when not in use.
"The Black & Decker PHS550B electric hand saw is extremely versatile and lightweight;" said the Chainsaw Journal, "capable of cutting small-to-medium tree branches for pruning, as well as cutting metal, plastic and of course, wood — including firewood."
The saw comes with a limited 2-year warranty, metal cutting blade, and large capacity blade. It can slice through metal, plastic, and wood effortlessly and is easy to handle and control. The long cord helps make your outdoor pruning tasks easier and also enables indoor use.
The Black & Decker PHS550B will cut smaller trees easily, even those 5 or 6 inches thick. It will also work well for smaller branches. Note that some thought that the tool-less blade attachment arrangement was lacking and that the process is much easier if you use a screwdriver or wrench.
Check The Price
Fiskars 7 Inch PowerTooth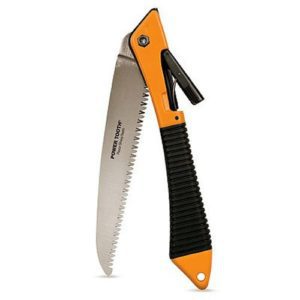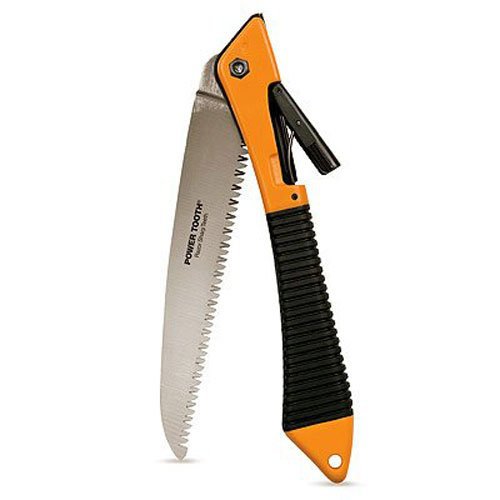 If you are experienced with gardening, you've already heard of Fiskars. Their Fiskars 7 Inch PowerTooth is one of their many premium-quality products and is also priced very affordably.
A lot of pruning saws stick out of your pocket and get in the way as you work outside. This saw, on the other hand, avoids that problem with its relatively small length.
The blade is triple-ground and razor-sharp, easily slicing through branches on your trees. The locking mechanism and grip of the knife are great, though some users found that the plastic handle wasn't as durable as the rest of the knife. However, with this price point, that's to be expected. If you plan to use this saw sparingly and want to save some money, it's the perfect choice.
The handle is comfortable and built to fit securely in your hand, while the soft rubber insulates energy transfer to your hand. These features enable you to use the blade for hours at a time without soreness or fatigue.
The blade will fold into the handle and then lock to stay put, either out or in, offering both safety and stability. The teeth look like those in way bigger wood saws and the blade works best on "pull" strokes. Some might compare how it works to a mini version of the 2-man straight saw.
Not only is it perfectly suited for tree branches, but it may also be used to trim dying or dead fronts in your large bushes. It is easy to maneuver in the bush without compromising healthy branches or fronds. The saw is simple to use and light to handle. It's great for use while hiking and camping, especially for collecting firewood for your small stove. The bright orange color of the tool will ensure that you don't leave it behind.
Check The Price
Silky 270-33 with Zubat Blade
If you need a saw that is longer than 7 or 8 inches, consider the Silky 270-33. It's a hard chrome-plated, heavy duty, professional saw that is taper-ground and resistant to rust. The blade is curved, which offers better cutting speed with less energy expended.
The razor sharp, precision-ground blade has four cutting angles, providing clean, fast, and smooth sawing action perfect for cutting big branches and other pruning tasks. The advanced blade comes with 6.5 teeth for every inch, will hold up well against tree resin, and can easily be wiped clean when needed.
Made in Japan, this saw has a handle made from molded rubber and comes with a pivoting, custom-fitted sheath and detaching belt holder. This blade is strong enough to cut through nearly any thickness in tree branches, excluding the trunk. For those who prefer to make a single purchase that will last a very long time, rather than having to buy the same tool over and over, this is a good choice.
When you use this tool, you will instantly notice that it was built to last. This knife is a top seller, and for good reason. This tool offers a mono-constructed blade and reliable sawing with minimal effort.
Check The Price
Three Tips for Tree Pruning Safety
There are many reasons to prune or trim your tree, including health reasons, safety reasons, and for aesthetic purposes. Pruning helps your trees maintain their general appearance and shape. It also prevents broken or dead limbs from falling off and harming anyone. In addition, branches and limbs can grow dangerously near to utility lines, creating the necessity to cut them back.
There are a lot of great tips for pruning that will help you stay safe and keep your trees healthy. When you have both the right tools and knowledge, you'll be equipped with what you need to eliminate dangers and make your garden the best it can be. Let's cover some basic safety tips you should keep in mind at all times:
Pick the Right Season: It's always advisable to prune or trim your trees during the right time of year, which is usually when they are dormant. Although it's possible to prune trees any time you want, the dormant season is best so you can eliminate fungi and other issues. You should also make sure that you never prune your trees when the weather is hazardous. You should also try to prune younger branches instead of older ones. This makes them easier to manage and also reduces the risk of nasty scars on the tree.
Notice Branch Size: When you are trimming your trees, branch size is something to always keep in mind. How big is the branch you want to remove? Very small branches aren't a big concern, but when branches are 4 inches wide or wider, you should have a specific reason for removing them. You should only cut back branches that have narrow, V-shaped, weak angles and keep the branches that have U-shaped and stronger angles.
Safety Precautions: If you are cutting down larger branches, make sure you check the area for any potential damage. Use protective gear like a hard hat, safety glasses, and gloves if necessary. When you are cutting down an entire tree, figure out which direction it will fall and ensure that the area is clear of any objects. Before you use limbs or branches to climb, make sure they are stable. Never climb as you are holding a tool; instead have it attached to your belt or stowed in your pocket as you climb.
When you are aware of the safety basics of tree pruning and trimming, you can probably handle most of this work on your own and save money. Always stick with these general safety guidelines and have a helper with you when you can.