Some people are into camping completely off the grid with nothing-sleeping under the stars with the bears and bugs and making a fire by rubbing two sticks together while pretending you are Bear Grylls.
I am not one of these people. I like light at night and coffee and I'd like to be able to charge my devices so when I'm being attacked by god knows what I can attempt to get service and make that last phone call to my friends and family.
Here are the best quiet camping generators that will help provide you power while keeping noise to a minimum.
Westinghouse WH1000i Digital Inverter Generator – Best Overall Pick
WEN 56180 Gas Powered Portable Generator – Best Budget Pick
Yamaha EF2000iS – Best Looking Pick
Champion Power Equipment 42436 1200 Watt Multi Purpose Portable Generator
Suaoki Portable Gas-Free Generator – Best Solar Pick
So when I heard that people bring generators while camping, I was immediately like, "Why did we NEVER do this?" Apparently this is a thing that people do, a lot. And not just glampers. Just practical minded normal people that maybe like roughing it a bit, but also need tent heaters. Or music. Or a waffle iron.  Don't judge me!
Comparison Table
IMAGE
MODEL
FEATURES

Westinghouse WH1000i Digital Inverter Generator

30 pounds

1000 watts of power

4-stroke gasoline powered engine

View Product

WEN 56180 Gas Powered Portable Generator

50 pounds

2000-watt

Low oil shutdown

View Product

44 pounds

1600 watts

Special sound blocking design

View Product

Champion Power Equipment 42436 1200 Watt Multi Purpose Portable Generator

62 pounds

1200 Watt

Nice rubber feet

View Product

Suaoki Portable Gas-Free Generator

5 pounds

Zero-emission

Fuss free

View Product
But no one wants to be next to the guy with the generator. They have the reputation for being more than a little annoying and when you are trying to get back to nature (somewhat, but not too much!) you don't want to hear that thing droning on making everyone else hate you.
Luckily there are generators with noise in mind. And also luckily, because you don't need the kind of generator that can power a whole house during a blackout, these smaller generators are a lot cheaper. A low wattage generator-anything from 1,000 to 3,000 watt is more than enough to supply most of your camping needs, while keeping the decibel levels moderate.
But for the newbie, like me, the world of generators can be a bit daunting. I'm no math whiz and I'm not an electrician so I really had no idea what kind of wattage I would need for camping. Inverter generators? Conventional generators? I really had no idea before I started digging into this topic how much there was to know about generators.
Good thing there are other people who have already done the work. According to this article at Camping World, wattage can be determined by multiplying amps by volts. So, as they explain, most home appliances, like a coffee maker are 120 volts. So a coffee maker rated at 14.5 amps requires 1740 volts. Simple!
Another site by Honda breaks down most appliances into this handy chart. So you see, you don't need a lot of power to fuel most of the kind of appliances you will be bringing camping. Charging your computer takes minimal power, whereas an air conditioner takes a lot more. If you are going to be using it to power a whole RV, you have to adjust your needs accordingly.
In terms of inverter vs. conventional generator, the difference is pretty straight forward. A conventional generator creates alternating current or AC power and an inverter generator makes direct current or DC power and it gets converted to AC power.
To put it even more simply, conventional generators have a greater output and run for longer but are typically noisier and use more fuel than inverter type generators. Since an inverter generator only produces electricity on demand, the engine can run at a lower speed making it more fuel efficient and quieter.
So through my research on all of this stuff, I have come up with a list of the best quiet generators for camping.
What to Look for in a Quiet Generator for Camping
Noise Level: Again, a totally new area for me, I had no idea what decibel level was considered "quiet." But now, from reading a few different articles like this one, I know that normal conversation is anywhere from 60-65 dB, whereas a gas lawnmower is around 90dB. While noise sensitivity is a pretty subjective area, I am using this chart to give me an idea of what will be the quietest generator for my needs.
Quality: A high quality generator with a lot of positive feedback by people who have used it for camping would be ideal. I don't mind paying more for a quality name brand with a lot of history rather than cheaping out for something that is going to break within a year. Heavy duty metal components and something that can stand being banged around in the garage or thrown in the back of a truck.
Price: While I don't mind paying more for quality, I don't want to break the bank with something I'm only going to use a few times a year. Value is the ultimate goal here-a good price for the quality of the equipment.
Fuel Efficiency: I am looking for a generator that is small enough to be quiet but also efficient. This means it can't be so small that I have to fill the fuel tank every couple of hours. It should be enough to get through the night if we are using it for heating, while also being efficient and not go through gas like crazy.
Usage: When choosing a generator for camping, you're going to have to look at some of the points I mention above and decide how much power you're going to need. If you are only powering a few small things, save yourself some fuel, weight, noise and money and just go for a smaller generator. Everyone's needs are different, so think about what works best for you.
5 Best Quiet Generators You Can Use For Camping
1. Westinghouse WH1000i Digital Inverter Generator – Best Overall Pick
The first quiet generator for camping I'm bringing you is also my top choice and it's easy to see why. Westinghouse is a great name when it comes to all things electrical so it caught my eye right away.  The other thing that caught my eye right away was the compact, fully portable style of this generator and how it just LOOKS quiet.
The Westinghouse WH1000i Digital Inverter Generator is so great for camping, it's one of the first things the company mentions in the product description.
Some of the generators I looked at were hundreds of pounds. Who wants to lug that around? This baby is only 30 pounds and puts out 1000 watts of power. It has a great carrying handle and is small enough to fit in everyone's camping kit.
With its 4-stroke gasoline powered engine it can run for 8 hours on a tank at 25% load. It has two 120VAC outlets and is designed to be safe for electronics such as laptops and phones. And most importantly, this thing is quiet.
So quiet in fact that Westinghouse claims that at 50% load, the WH1000i "operates at a volume quieter than the average person speaks" at 59dB. Now that's a pretty awesome claim. You can run this generator all night in your campsite and be sure that you aren't going to annoy anyone.
And because this is an inverter type generator, it is load regulated, meaning it puts out as much power as it needs, unlike standard generators that maintain a consistent speed and are less efficient. This is a great choice for a first time camping generator purchase and the 2-year warranty doesn't hurt either.
What Makes This the Best Quiet Generator for Camping
After over a year of research on run time, voltage delivery, wattage, ruggedness, Westinghouse was always on the short list, not a single regret
Worth every dollar
Solidly built
Great customer service
Set up is as easy as pie
Starts right up quickly and is very quiet
Very good purchase – it simply works
Check The Price
2. WEN 56180 Gas Powered Portable Generator – Best Budget Pick
My next choice in smaller generators for camping would have to be the WEN 56180, a well-loved choice for many in the under 2000-watt category. At 50% load, this generator runs for 7.5 hours with only 1.45 gallons of gas. Like the previous model, this generator comes with two AC120V outlets and also one cigarette lighter style 12V DC outlet for charging phones and whatnot.
I liked that the Wen 56180 comes fitted with a spark arrestor which they say "permits usage while camping in national parks and forests." After looking into this, as many of you probably already know, this is a standard thing for all off road vehicles, motorcycles and related engine powered machines and something that every generator should have.
While not all generators are advertising this as a feature, it's something that is worth looking into if you're going to be using your generator for camping. With the Wen 56180, you can be sure it meets the standard and you aren't going to get fined.
This model also features low oil shutdown to prevent damage and is lightweight and portable at 50 pounds. Not as quiet as the previous model, this one operates at about 63db but that's not much louder considering you are going up in wattage and this is still in the quieter end of generators.
Great customer service located in the U.S and a fantastic price makes this one of my top choices for quiet generators for camping and hundreds of other people think so too.
Customer Feedback
Stores easily in a big Rubbermaid container
Use a transmission fluid funnel for easy oil filling
Not as loud as I expected
Ran all night and still had between ¼ and ½ tank the next morning
Includes all the tools needed to set up and service the unit
Easy to start, even when cold
Affordable price
Use this almost every day, pushing its limits and it's still running strong
Check The Price
3. Yamaha EF2000iS – Best Looking Pick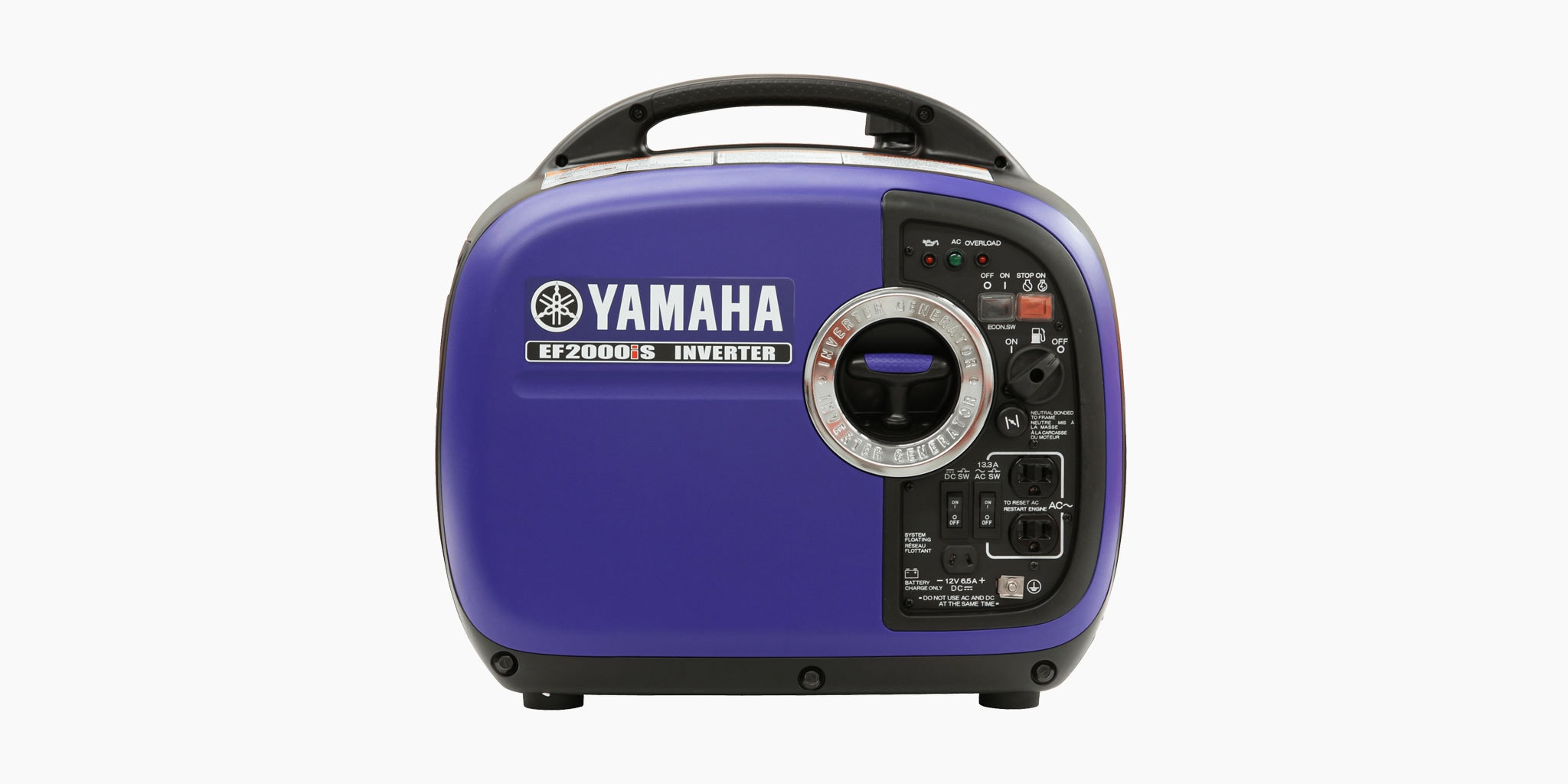 Is it possible for a generator to look cool? This sleek little model is unobtrusive and compact, making storage simple. Running at 1600 watts, the Yamaha EF2000iS is everything you need in a quiet inverter generator for camping.
Runs for up to 10.5 hours on one tank and features Smart Throttle Load which leads the engine speed fluctuate as needed depending on output. Very light at 44 pounds this generator is designed specifically with noise in mind.
In fact, it is designed with a "special sound blocking design" and "noise absorbing glass wool construction." This, combined with a quiet muffler and vibration absorbing feet means that you won't drive your camping neighbors nuts. It also has an 'eco' setting to turn down the engine when it's not being used to full capacity, which also turns down the noise significantly.
While running quite a bit more expensive than other inverter models, this generator is backed by the reliability of the Yamaha name. I can be sure that this thing will probably never die and just in case, there is a 2-year warranty.
Customer Feedback
You get what you pay for
At 6 feet away you can have a normal conversation without raising your voice
Anyone looking at a cheaper model should consider that a 5db increase is a major difference
Everyone praises how quiet this unit is
Researched the low cost Chinese knock offs and there is no comparison with noise and weight
Check The Price
4. Champion Power Equipment 42436 1200 Watt Multi Purpose Portable Generator
Coming in at 65db, the Champion Power Equipment 42436 1200 Watt Multi Purpose Portable Generator is just what you need for camping and while we're at it, RVing, tailgating or hunting. This is the generator you want for durability and it looks it too. Heavy duty construction, this generator has a steel frame but is still portable at just under 62 pounds.
It can run up to 10 hours on a full tank of gasoline at 50% load and it also comes with a nice surge protector so you can use it for all your electronics and appliances without worry. Equipped with a 120V 20A household outlet it can handle a strip outlet to power more than one appliance at a time, depending on what they are.
Starts quick in the cold and there is really nothing bad to say about this generator. It's built to last with high quality materials, overhead valves and cast iron sleeving.
Nice rubber feet reduce vibration. The Champion name is reliable and this generator comes in at a great price too, for the power.
Customer Feedback
For the money, it's quiet and easy to use
Great for camping
While it's running you can talk without shouting
Starts in any weather
Don't forget to put oil in it
Quiet, VERY quiet
Small, basic generator for a few small things
Check The Price
5. Suaoki Portable Gas-Free Generator – Best Solar Pick
Maybe you think there is no such thing as a silent generator. Go solar and be amazed. Many people think that you can't get much power in such a small inverter unit but those people, my friends, would be wrong. The Suaoki Portable Generator is the one you want to take camping if you don't want to mess around with gas and you want to be sure of absolute peace and quiet.
One great thing about this generator is its versatility.  It comes with a number of outlets and can charge by USB/5V, DC/12V and AC and has the power to fuel phones, tablets, laptops and other household electronics or appliances up to 220 watts of power.
It has a sweet portable design that just looks like a suitcase, made from aluminum, and can also be charged by wall outlet when you are home. If you want to use solar, just buy a folding panel. It's compatible with any and Suaoki recommends the Sunpower Mono-Crystalline Folding Panel inside the case. LED indicators show consumption and charge.
You can't really beat 5 pounds for weight and while it isn't the heavyweight of a large gas powered generator, it's going to take care of your basic needs while you are camping and be completely unobtrusive to the people around you.
Zero-emission, silent, fuss free and light enough for a backpack. Love it!
Customer Feedback
Worked right out of the box without being charged first, super convenient
Seems to power a lot of things and devices at once
Have ordered multiple ones for different vehicles and uses
Charges phones, drones and cameras well and quickly
Hard to beat the price for the quality and performance you get
Check The Price