If your budget for a new sewing machine is under $100, you're in luck. There are some great and affordable machines available out there.
These days, clothes are sold for extremely cheap. Due to the fashion industry expanding as it has, clothing is seen as something both easily attainable and disposable. Because of this, some see repairing and making your own clothes as something unnecessary or outdated.
But many of us aren't happy with this way of doing things and would prefer to take matters into our own hands. Sewing is more than just making cool stuff at home. It can bring you genuine joy while improving dexterity and hand-eye coordination. Not to mention that you'll never be short on gift ideas for your loved ones!
To help you figure out your best option, we've compiled a list of the best sewing machines on the market for under $100.
Comparison Table
IMAGE
MODEL
FEATURES

Quick and easy

It has an easy selection of stitching

Comes with four presser feet that snap on

View Product

Simple dial stitch selector

27 built-in stitching options

Auto-sizing buttonhole creator

View Product

Lightweight

Full-size sewing machine

25-year warranty

View Product

Janome Sew Mini 2-Stitch Sewing Machine

Complete accesories

Reliable product

It has a drop-in bobbin

View Product

10 different unique stitches

Perfectly suited for everyday mending and sewing

Substantial and well-built

View Product
The Top Sewing Machines Under $100
These sewing machines were chosen based on user feedback and experience, overall quality and value for the money. At this budget, you're not getting a top-of-the-line machine, but you can find a perfect entry-level starter machine.
SINGER 2259 Tradition
Brother XM2701
Brother Jx2517
Janome Sew Mini 2-Stitch Sewing Machine
Brother XM1010
SINGER 2259 Tradition
The SINGER 2259 machine comes with a "quick-and-easy" system for threading, meant to save you valuable time. It has an easy selection of stitching which makes selecting stitches easier than ever and comes with four presser feet that snap on and extend your sewing possibilities.
"Singer is a trusty old brand, and the 2259 Tradition is a solid little entry-level sewing machine," said Sally James from Sewing Machine Pros. "It does the basics, like straight and zig-zag stitching, extremely well."
Different sewing projects call for different stitching lengths and patterns and the SINGER 2259 offers you options for stitch length, automatic buttonholes, and 19 built-in stitching options. Sewing with the wrong machine can be a huge hassle, but that will be a matter of the past with this model. The machine makes it easy to change needles and thread and it's lighter than it looks, making it easier to move.
Some may be reminded of older models when they use this machine, but it has the lever closer to the needle, which is a bit of a change. In addition, it doesn't have a button in the dial center for changing the sewing direction, as many older models do. Regardless of these adjustments, switching to a newer model won't be regretted.
Please note that if you have issues with the tension in this machine, it could be due to a loose screw on the case of the bobbin. Tightening this will get the machine working well in no time. Also, keep in mind that this machine is 110 volt and designed to be used in Canada or the United States only.
Check The Price
Brother XM2701
The Brother XM2701 is versatile, value-packed, and easy to use, making it ideal for a series of daily sewing tasks. It has a LED-lit workspace, drop-in bobbin which will not jam, and a built-in threader for your needle. It's lightweight and easy to transport.
"Users like the machine's simple dial stitch selector, and they appreciate the top-loading bobbin and automatic needle threader," said Saundra Latham from The Spruce, "There is also automatic bobbin winding."
The machine comes with 27 built-in and unique stitching options, including stretch stitches, zigzags, blind hems, decorative options, and an auto-sizing buttonhole creator that makes essentially perfect buttonholes each time. The machine also comes with six quick-change feet, a bilingual user guide, instructional DVD, free tech support for the entirety of the product's life, and a 25-year warranty (limited).
The instruction booklet included with the purchase is detailed and the stitching options make ideal additions to cotton curtains, clothing repairs, and more. Beginner sewers may be hesitant to spend too much money on their first machine, which makes options like this very useful.
The best part is that as you learn and advance in your sewing, the machine will stay useful and relevant to your progress. If you have any questions or issues with this product, the instructional DVD will tell you what you need to know.
Check The Price
Brother Jx2517
This option comes with 38 different stitch functions, 17 built-in stitch options, an automatic buttonholer, a free arm for sleeves and cuffs, and a conveniently and brightly lit LED workspace. The machine has built-in storage for your accessories, weighs 12 pounds, and has a 25-year warranty (limited).
"The Brother Jx2517 is a lightweight, full-size sewing machine with a fun design and more options than most seamstresses will ever need," said Shannon Reed at Quilter's Review. "If you're just getting started with sewing and you want a machine that can grow with you, the Jx2517 is a great choice."
The bobbin winding system on the Brother JX2517 is automatic and easy to use and the top bobbin is jam resistant. The machine has a maximum speed of 900 stitches per minute, comes with an upper thread and dial for selecting patterns, and has a blind hem stitch. It's suitable even for complete beginners and if any questions arise, the DVD will help. If you're new, start out on scrap material and work your way up from there.
Included with your purchase will be accessory feet (a zigzag foot, zipper foot, button sewing foot, and buttonhole foot). You will also get a bobbin, set of needles, oval screwdriver, darning plate, operation manual, power cord, and foot controller. You will have the machine threaded and the bobbin set up in no time. Try out the various stitches on thin or thick textile scraps and you will be impressed.
The machine is lightweight, meaning you can sew anywhere you wish. It makes a great addition to your existing machine since you can much more easily bring it out at a moment's notice to get a quick job done.
Check The Price
Janome Sew Mini 2-Stitch Sewing Machine
This miniature sewing machine has a lot of the same functions as Janome's regular-sized sewing machines and is manufactured in the same place. The Sew Mini 2-Stitch sewing machine is ideal for traveling sewers, beginner seamstresses, and as an additional machine for the more experienced.
"It has a drop-in bobbin, and threading it is a breeze," said Jillian at the Re-Fashionista. "I've used it a good bit and haven't had any issues with any plastic parts snapping off."
Janome made this machine small and reliable, but keep in mind that it's also quite simple and doesn't have many special features. There isn't an on/off switch or light and it only comes with a single speed. In addition, there's no storage compartment, thread cutter, or footplate measuring guides. However, it's super sturdy, lightweight, and small.
The machine has dependable tension and stitching, allowing you to sew on sleeves quite easily. You will also find that threading the machine and winding a bobbin is simple and that you can switch between stitching types quickly and painlessly. The product comes with a foot pedal, power adapter, threader for the needle, an extra needle, and three bobbins.
When you are first running the machine, try sewing with bare feet so you can get an idea of how much pressure is needed, as the pedal is made from plastic and shouldn't withstand heavy stomping or pressing. Unlike the others on this list, the machine doesn't come with extra feet and the pressure foot is already set.
What stands out about this product is the fact that you don't have to lug your big heavy sewing machine out if you just need to sew something small. This reliable product will be well-suited for crafts and general mending. The sewing machine will arrive in good shape and the instructions are easy to follow, allowing you to start sewing within less than an hour of the package's arrival.
Check The Price
Brother XM1010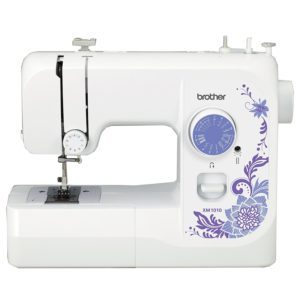 The Brother XM1010 is lightweight and portable in addition to being a full-sized machine, perfectly suited for everyday mending and sewing. It comes with a 25-year warranty, a bilingual instructional manual, free tech support, and a DVD included.
"The stitch length and the width adjustment can both be set automatically, moreover, which is another very handy feature of this model," said Dawn at the Sewing Machine Club. "The presser feet are very responsive to the touch and so you will find that speeding up or slowing down your sewing is so simple to do."
The Brother XM1010 has 10 different unique stitches built in, including an auto-size buttonholer, stretch stitches, zigzag stitches, and a blind hem option. It has four sewing feet, including button, zigzag, zipper, and buttonhole sewing feet. It's easy-to-use features include the easy dial for selecting stitches, reverse sewing, LED lighting, automatic bobbin winder, control for thread tension, a free arm, and a top bobbin that is jam resistant.
For what you pay, this machine is substantial and well-built. Unlike some other budget machines, this product is not made mostly of plastic, which can call for regular repairs and risks of failure. The machine is not as light as some of the others on the list, but that's just because its inner parts are solid metal that will work for heavier-duty tasks and last longer, overall. This also means that the machine can be maintained and adjusted for years.
It's obvious how solid the product is when you both move it and use the presser foot. It can handle more than one layer without the gears becoming misaligned. The machine is a bit noisy when in use, but will always do exactly what you want it to do. This machine is ready to go right out of its packaging, but always make sure that its notch is properly aligned when you wind bobbins to make sure it runs smoothly.
Check The Price
Sewing Machine Travel Tips
Are you commuting to a class in another city or visiting a retreat a couple of states over? Whatever the case, lugging your heavy machine from your home to somewhere else can be dangerous for it and annoying for you.
Here are some considerations to keep in mind next time you have to do this:
Protect the Presser Foot: When you get a machine shipped to you, there is usually a piece of fabric under the presser foot, which helps the presser foot's bottom from getting scratched up. Of course, taking the presser foot off is an option, but then it's easy to forget it at home. This simple hack takes care of that issue.
Box your Machine up: When you are flying with your sewing machine, it's best to pack it up in the box and foam it originally came in. Whenever you buy a new machine, it's always advisable to keep the box for times that you need to travel with it.
Keep the Needle up: This is especially important for long car trips. When you go over a bump on the road, it's best to have your needle up instead of down around the bobbin case.
Get a Protective Case: Even for shorter trips to a friend's house or sewing class, a machine case is a good idea. A padded case will protect the machine from harmful bumps. For extra safety, put the sewing machine in the back or on the floor of the vehicle so it can't tip over or fall down. You may also pack soft things or fabrics around the machine, but keep sharp objects far away from it.
In addition, always remember to pack the machine's power cord, bobbin case, and bobbins. Following each of these guidelines will ensure that you have a safe trip with your sewing machine and remember all that needs to be remembered. Happy sewing!