Macro photography is a highly popular style that encompasses a wide genre of subject matter. Not only does it produce beautiful, amazingly detailed images, but material for these photos is easy to access in a variety of places.
Experienced photographers can take close up pictures of flowers, water droplets, leaves, or insects and enjoy having complete control over the conditions for lighting and other details. Someone who loves being in nature will have an extra reason to enjoy being outside, spending hours looking for tiny treasures among the leaves and flowers. This is a truly peaceful way to spend an afternoon and leaves you with something to show for your efforts.
Another benefit of macro photography is that you don't have to travel far to find great photo opportunities. With portrait or landscape photography, conditions have to be just right and are often hard to find when inspiration strikes. But when you focus on close up photos, there are countless options to capture beautiful shots, right at home in your yard, without needing to go anywhere.
Here are the best tripods for macro photography that offer quality construction, consistent performance and the ability to clearly focus on the subjects of your photos.
Manfrotto MT055XPRO3 055 Aluminium 3-Section Tripod with Horizontal Column – Editor's Choice
Gitzo GT2531EX Series 2 Carbon 6x 3 Section G-Lock Explorer Tripod – Best Upgrade Pick
Vanguard Alta Pro 263AB 100 Aluminum Tripod Kit
Oben AC-1441 4-Section Aluminum Tripod with BA-111 Ball Head
Dolica AX620B100 62-Inch Proline Tripod and Ball Head – Best Budget Pick
Taking outdoor macro pictures is a rewarding interest, but since you will probably be walking in some cases to find the perfect photo material, you might wonder if this means you will need a tripod.
They tend to be awkward and heavy to carry, leading many photographers to think about skipping out on this added implement. But there are plenty of reasons why you will regret not investing in a quality tripod and remembering to take it with you each time you are out taking photos.
Comparison Table
IMAGE
MODEL
FEATURES

Manfrotto MT055XPRO3 055 Aluminium 3-Section Tripod with Horizontal Column

3/8" top attachment screw

One finger operation

Easy link connection

View Product

Gitzo GT2531EX Series 2 Carbon 6x 3 Section G-Lock Explorer Tripod

Anti leg rotation system

Locking system

Built-in accessory hook

View Product

Vanguard Alta Pro 263AB 100 Aluminum Tripod Kit

Multi-angle central column

3 Different leg angles

Swivel stop-n lock system

View Product

Oben AC-1441 4-Section Aluminum Tripod with BA-111 Ball Head

Support up to 11 lbs

Maximum height of 61.6"

Built-in bubble level

View Product

Dolica AX620B100 62-Inch Proline Tripod and Ball Head

62" Aluminum proline tripod

Support up to 13.2 lbs

Quick release ballhead and bubble level

View Product
Get the Stability Your Pictures Need
Tripods offer you stability for taking pictures. To start with, when snapping close up photos, it's harder to prevent the camera from shaking, which leaves you with blurred results. In order to minimize shaking even more, turn on the cable release/remote or use the self-timer function.
This way, you don't have to touch your camera during exposure and will end up with a crisp, clear image. Not every subject for macro photography is easy to get to, so it's great to have a tripod with a moveable center column that you can adjust to be horizontal, or even flip around to make accessing small spots easier.
You will also find it helpful to have a tripod that can be adjusted to be down lower, toward the ground. Tripod heads can be switched out as needed, but you may find that a ball head offers a wider range of movement and flexibility, leading to better and more varied positions for the camera.
Test this out at home before you go out to take photos, as it may take a bit of time to get used to. Another benefit of using a tripod for macro photos is that it will offer you the extra support needed for long shutter speeds. Holding the camera in your hand for shots like these will usually cause blurriness in the images.
Sometimes, it can take ages to find the perfect angle for your shot. A tripod helps you perfect your framing, adjust the shutter speed, aperture, and shift the white balance, all without changing the position of the camera.
This also allows your hands to stay free for removing or adjusting objects within the frame without needing to put down your camera. You may have the perfect shot ready, for example, but need to quickly move some twigs out of the way, so this feature is very helpful.
The Importance of Focus
In some cases, you might require pre-focus for your macro shots, especially in warmer seasons when you want to capture butterflies or other small, quick, flying creatures. Speed is of the utmost importance when you are trying to capture fast subjects, so try to adjust and pre-focus in the area you expect to capture your photo.
A tripod will help with this because even tiny nudges can ruin your focus entirely. It will give you free hands for adjusting your lens, when necessary, to get to your preferred focal range once the subject enters into the frame.
What to Look for in Macro Photography Tripods
A Sturdy Design: As mentioned before, one major reason why people opt for using tripods is to prevent shaking and blurred images in their final photos. The right choice for a camera tripod will offer stability, even on windy days or uneven terrain. You should be able to set it up on rocky ground or stairs without a problem and shouldn't have to worry about your camera being too heavy for the tripod. This means finding a tripod that can support at least 10 pounds of weight, including point and shoot cameras, digital styles, and video cameras.
Portable and Convenient to Transport: Although it's necessary to have a sturdy, durable tripod for your camera, many photographers will need a product that can also be easily traveled with. For people who enjoy hiking with their camera and tripod, a light design is important, while those who drive or take a short walk to their photography locations can get away with a tripod that they can simply fold up and lift easily. Before making your choice, decide which of these situations apply to you and buy accordingly.
Varying Height Options: Tall photographers are all too familiar with the experience of having to bend over or crouch to comfortably use a camera tripod. This is fine for a few minutes, but quickly wears on the back and shoulders, causing pain and discomfort. Your passion is supposed to be relaxing and fun, not taxing. When you purchase a quality choice, this won't be a problem since the tripod will extend far enough to accommodate your height. In addition to this, make sure that the product locks firmly into place to avoid unhappy accidents with dropping the camera.
5 Best Tripods for Macro Photography
1. Manfrotto MT055XPRO3 055 Aluminium 3-Section Tripod with Horizontal Column – Editor's Choice
Manfrotto is a trusted, Italy-based company that markets, manufactures, and creates a large range of lighting support and camera equipment for videography, live entertainment, theater, film, and professional photography. Their line of products has an extensive variety of camera heads and tripods, along with lighting stands and other types of camera accessories.
The Manfrotto MT055XPRO3 055 Aluminium 3-Section Tripod with Horizontal Column has been built with the best quality standards, created to be sturdy and last long. It's pretty big compared to other camera tripods and can be heavy to carry around.
However, if you travel for photography by motorcycle, car, or short distance walking, this isn't a problem. If you do plan to backpack with the tripod, however, be prepared for the added weight. This product is durable and doesn't need any extra weight for stability, even on windy days.
The setup for the tripod is simple and easy, only requiring two snap openers for extending the legs, making it much more convenient than models that require screws. This product is great for taller people due to its height.
Check The Price
2. Gitzo GT2531EX Series 2 Carbon 6x 3 Section G-Lock Explorer Tripod – Best Upgrade Pick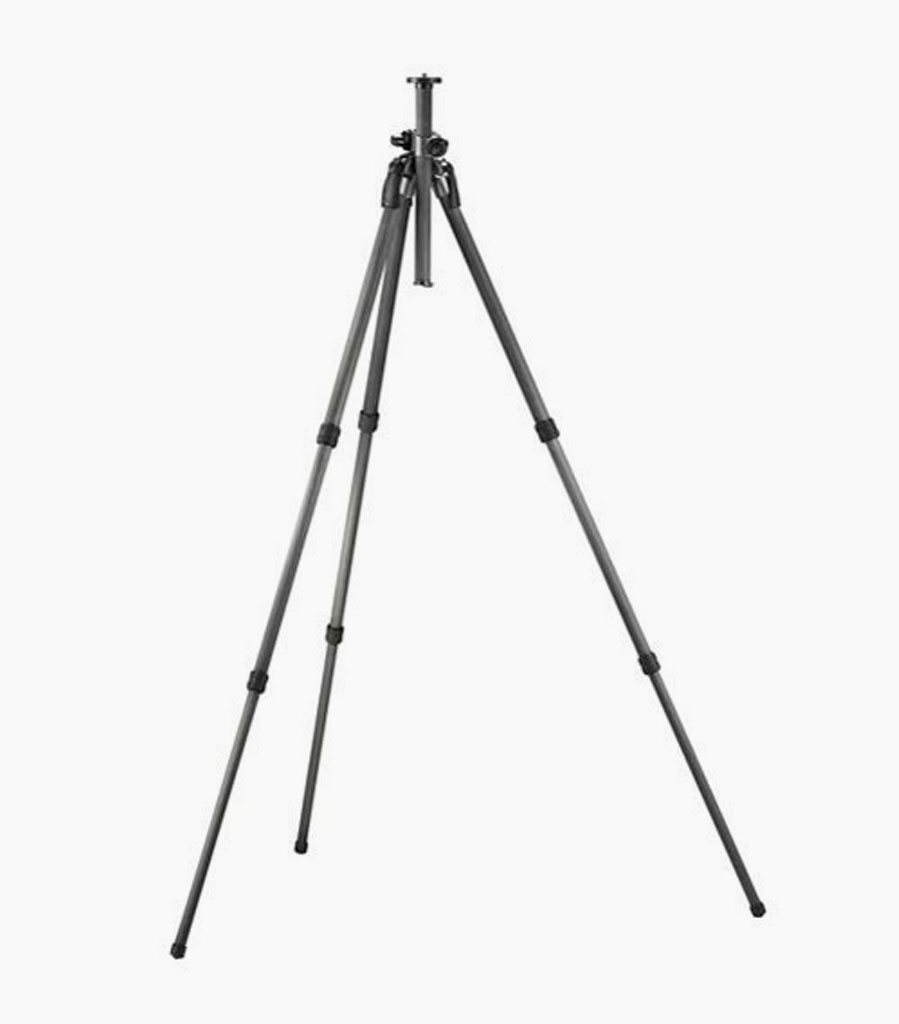 Gitzo is an Italy-based company that has existed for more than 90 years, designing and producing quality camera accessories, products, and general supports. They strive to offer straightforward, simple, and elegant products and pioneer revolutionary and advanced technologies.
Their Gitzo GT2531EX Series 2 Carbon 6x 3 Section G-Lock Explorer Tripod is the best budget pick on our list and allows you to capture even the most unconventional shots imaginable.
This product's legs can move independently and be adjusted to any angle, and the center column of the tripod rotates and tilts easily to the position of your choice. The carbon fiber that this product is crafted from absorbs vibrations and allows for maximum rigidity and durability, providing users with quality, lightweight performance.
The upper disk is made from solid aluminum and has a safety locking feature, improving the grip between the head and tripod. This product is suitable for either light video cameras or DSLR cameras with 300mm (or less) lenses.
The tripod comes with a ball head that locks down easier than other products, maneuvering better with the included tension control. Some features you should be aware of before you purchase this product are that the center column is off-center for easy and quick rotation to horizontal positioning.
The column in the center has a hook underneath, allowing users to add weight to the tripod for extra stability. The legs on this product lock easily into the position of your choice instead of only locking into 3 fixed options. Getting the leg angles right for stability on uneven terrain does take some practice, though, so keep that in mind.
Check The Price
3. Vanguard Alta Pro 263AB 100 Aluminum Tripod Kit
Vanguard has been around since 1986 and started as a simple manufacturing location. Since then, the company has grown to a global corporation that is leading the industry of accessories for photo and video. This includes high quality bags and cases for cameras, tripods, monopods, and tripod heads.
Their Alta Pro products, such as the 263AB 100 Aluminum Tripod Kit, are unmatched in stability, flexibility, and general versatility. It allows for more variance in camera angles than other products, and the MACC (multi-angle central column) included lets you adjust the column from 0 to 180 degrees in various horizontal or vertical positions. This makes the process of taking special wide-angle photos and extra close up images easier than ever before.
The product comes with a quick swivel locking system that allows you to reposition your frames securely with the central column, in mere seconds, without sacrificing any stability in the tripod.
Other features of this tripod include the shock and vibration control, aluminum legs that can be adjusted to 80, 50, or 25 degree angles, and quick working leg locks. It also has a hexagon-shaped column at the center for more stability, spiked, non-slip rubber feet suitable for many different terrains, and a hook for accessories that can be used or removed as you require.
The ball head on this tripod is fluid, rotating a full 360 degrees and locking with smooth knobs. The functions allow you to fine tune the shot to your exact preferences and comes with an amazing loading capacity.
The multi-angle designed head on this tripod is one of the best available on the market. Although this tripod is lightweight, it offers great support and feels very solid. The camera comes with a free case, adjusts to very high or low positions, and has a better price than competitive products with equal or better functions.
Check The Price
4. Oben AC-1441 4-Section Aluminum Tripod with BA-111 Ball Head
The Oben AC-1441 4-Section Aluminum Tripod with BA-111 Ball Head is our best upgrade pick on the list. It provides quality support for point-and-shoot products, DSLR digital cameras, and video cameras, with a weight capacity of 11 pounds.
The three-section legs on this product are created with high-tensile aluminum, allowing it to rise up to 61.6 inches when completely extended. The product is also compact and folds down to 21.3 inches when you need to transport it.
The legs have flip locks for quick setup of the tripod, along with easy breakdown. There are three different leg angles available including 80 degrees, 55 degrees, and 24 degrees. To make use of these, you simply need to use the adjustment tabs on each leg joint of the tripod.
The column can be reversed with a simple twist to the accompanying knob, or you can split the column, using the shorter column for close ups and getting as low to the ground as 8.3 inches. You can combine the leg angles to suit obstructions, stairs, or other uneven areas and the bubble level built into this tripod will aid you in squaring up composition.
There is a spring-loaded hook for counterbalance that will give you even more stability in the center column when needed.
The ball head on this tripod comes with a simple knob, allowing for panning 360 degrees, while the ball-locking function allows you to solidly secure it. The four choices for bubble levels on this product will ensure that you get clear, accurate panorama shots.
The product's quick release function has a camera plate with a removable, retractable video pin. This offers extra stability for video cameras. When you buy this tripod, you will receive a shoulder strap and carry case for easy transport and storage. Taller people will find this product user-friendly without needing to bend over or crouch constantly, which can ruin the photography experience.
The product can be pointed straight down, allowing you to capture videos from above you without needing someone else's help. The included leveling system ensures that you have a flat, even, and level view. Although this tripod is sturdy, crafted from metal rather than plastic, and is heavier than flimsy tripods, it's still convenient to travel with.
For those of you who have the need to use a highly portable tripod for shooting pictures out on vacation, during hikes, or while out exploring a city, this is a great choice. It's a quality budget pick but is far from cheaply made. Use it with varying lens sizes and it will stay stable, even if you add weight by attaching a microphone.
Check The Price
5. Dolica AX620B100 62-Inch Proline Tripod and Ball Head – Best Budget Pick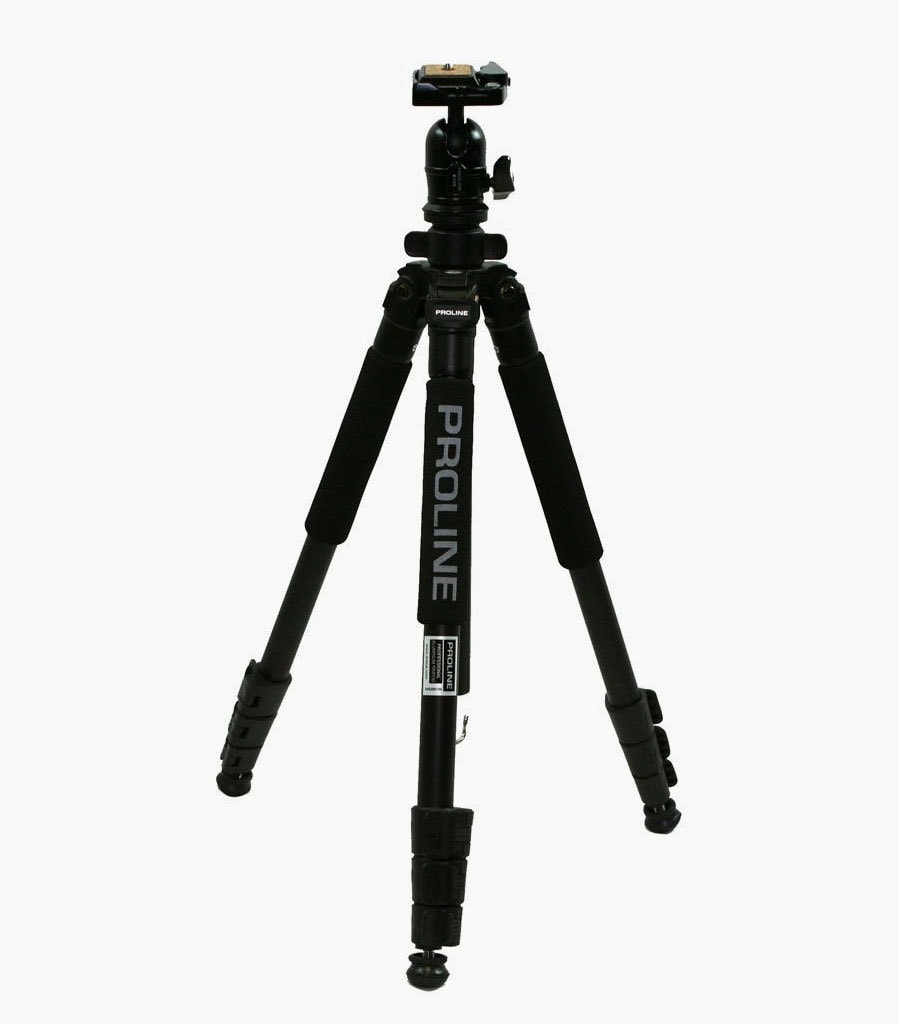 Dolica is a company based in California that aims to support creativity and passion in photographic artists. Their products are created from experienced videographers and photographers and based on development and research. Their Dolica AX620B100 62-Inch Proline Tripod and Ball Head is our best overall pick on the list.
This product is suitable for both outdoor and indoor photography, including sporting events, weddings, and more, and is created to support point-and-shoot styles or digital DSLR camera types. It has an aluminum, durable alloy construction and can hold over 13 pounds of weight.
The tripod comes with a ball head, bubble level, and a fast releasing plate. The platform is 90 degrees and vertical, allowing you the option of full-wide, semi-wide, and standard angles. The leg locks have a quick release feature and non-slip covers on the feet for extra stability while you take photos.
This tripod can be purchased for the cost of replacing a tripod head on other comparable products, but still has all of the features and qualities of much more expensive models. In other words,  it's highly affordable and a great value for the price.
The pan head is quick to use, smooth, secure, and has enough leverage for quickly locking positions in, ensuring that you never miss the chance for that perfect, split-second shot. The tripod's legs adjust, lock, and deploy without hassle or struggle. It's sturdy, yet light, the rotating head is flexible, and there is even a hook included for hanging stabilizing weight.
Similar to professional and more expensive tripods, the legs on this product spread wide, allow you to get close to the ground, and lock into a variety of other positions for your changing needs.
Check The Price
How to Get Better at Macro Photography
Which photographer doesn't want to perfect their art? If might seem difficult or daunting initially, but getting great at macro photography doesn't require much more than mastering other types, as soon as you get the hang of some simple basics. Here are some tips for bringing your macro photography skills to the next level:
Use the Right Lens: Macro lenses typically come at focal length ranges of 50 to 200mm. Some lenses for the zoom feature claim to have macro settings, but these often have less than 50 percent magnification of life-size objects. Real macro lenses, on the other hand, start at 1:1 and are never less than this. A lens of 50 to 60mm will work for typical macro-style photos, but for those who want a higher distance between the lens and subject, a 100mm choice will create this. When taking photos of dragonflies or butterflies, for example, the distance between the lens and subject is even more crucial, meaning you need a greater focal length. The most costly option you can go with for a lens is a 150 to 200mm choice, but this gives you added power and accuracy for capturing moving subjects.
Diopters for a Closer Focus: Some macro photographers will prefer to use a close up filter for their shots, which is essentially a single-element lens with the appearance of a magnifying glass. This filter screws onto your camera's element thread at the front, providing a more affordable alternative to the pukka lens, for example. These are available in multiple strengths, calculated by diopters. Filters for close up images come in options of +4, +2, or +1 diopter magnification and can be added to a compact or bridge camera for breathtaking macro shots.
Using Tubes on Standard Zoom: Some photographers might find that using extension tubes enhances their work. These fit between the camera body and the rear area of your lens, helping the lens to focus at a closer range, producing a much larger picture of a tiny photo subject. Using extension tubes is a lot cheaper than getting a specific macro lens, but they are not as convenient or easy to use. In addition to this, extension tubes mean you are sacrificing your range's infinity end. The more tubes you add, the more this is limited. As with anything else, what works best for you depends entirely on your personal needs and goals in photography and what you're snapping images of.
---
Sources & Further Reading