Icicle lights are beautiful for Christmas, but anyone who has used them before knows that they can be difficult to both store and unravel after storage. Luckily, there are some inventions that help with this hassle to spare you extra headaches this Christmas.
It's quite common for Americans to decorate their houses for Christmas and icicle lights are among the most popular of outdoor decorations. Icicle lights are especially common in areas that don't have ice or snow in the Winter as it can add a bit of sparkle and realism to the season. Once you have your decorating idea in your mind, you're ready to go.
Getting icicle lights hung up can be a challenge, but it's well worth it once they're up because they look so beautiful. You're in for another challenge, however, when you start taking them down. How are they meant to be stored, anyway? Should you fold them up and put them into a large plastic tub? This is important to know because if you don't store them properly, they might get tangled or damaged beyond repair.
Comparison Table
IMAGE
MODEL
FEATURES

Elf Stor Light Storage Bag

Case Dimensions: 12" x 12" x 12''

Easily holds two 100' strings of lights.

Keeps light strings safe and tangle free year around.

View Product

Santa's Bags Install 'N Store Light Storage Reels

Includes Versa-Clamp that attaches to your ladder or rain gutter

Spool spins while attached to aid in installation

Comes with 3 Spools, Versa-Clamp and Storage Bag

View Product

Set of 5 Christmas Storage Reels by DYNO

Storage bag holds up to 4 Christmas light storage reels

Zipper closure

Bags have carrying handles for easy mobility

View Product

Trademark Home Christmas Light Reels

Four separate Reels

Works with Extension Cords too

Each Reel Holds 2 100 Mini-Light Sets or 1 150 Icicle Light Set

View Product

Adams Christmas Light and Cord Wind Ups

Strong handle for easy winding and storage

Comes in festive holiday green

Holds 100-feet of lights

View Product
The 5 Best Way to Store Icicle Lights
Elf Stor Light Storage Bag
Santa's Bags Install 'N Store Reels
Set of 5 Storage Reels by DYNO
Trademark Home Christmas Light Reels
Adams Christmas Light and Cord Wind Ups
Elf Stor Light Storage Bag
The first item on our list is the Elf Stor Light Storage Bag, which comes with two storage reels that measure 11 ¾-inches in diameter. They also come with sturdy carrying handles for simple transport and easy maneuvering.
These can be used every year to keep your lights safe and the reels and bag will easily collapse for quick storage in between uses.
Whether you need to store icicle lights or traditional tree rope lights, these reels work for both. When you don't have lights on the reels, you can break them down into smaller pieces for easier storage. It's obvious that the bag, along with its nylon carrying handles, is built to last many Christmases.
The reels have space in the middle of them for your hands so you can unravel the lights with ease. Untangling Christmas lights can take hours if you aren't prepared with a good storage solution, so products like this can save you so much time.
You can fit three strands (about 300 feet) of LED Christmas lights on each of these reels and fit two spools into each bag. These bags keep your lights organized, protected, and dust-free until the following year when it's time to decorate again.
These Elf Stor reels are built to last and crafted with heavy-welded steel. Some may find that the bags aren't as heavy-duty as they could be, but you only need to use them a couple times a year. Some users may want to purchase multiple sets of this product if they have a large amount of Christmas lights. The reels work so well because they are smooth, so your lights have nothing to snag on.
This product is well-made and sturdy. The bag will fit snugly and won't allow your lights to stick out past the outer ring. The zipper on the bag is good quality. Note that it might be a challenge to assemble the spools at first because the paint on the bolt and nut is quite thick. Keep that in mind so you can try not to cross-thread it.
Check The Price
Santa's Bags Install 'N Store Light Storage Reels
The next item on our list comes with a versa clamp for attaching to your rain gutter or ladder for both putting up and removing your Christmas lights. The Santa's Bags Install 'N Store reels come with a bag, the hanger, and three spools for your lights.
The spools are 14 inches from top to bottom and 12.5 inches across. The depth of the reels from front to back is also 12.5 inches and the product weighs two pounds altogether.
This light storage system not only helps you store your decorations but helps you put them back up the following year. The reels do need to be assembled, but this can be done right after unpacking and without any tools. You can fit two medium-sized LED strands of light on each reel. Note that the system won't provide a lot of drop or shock protection for your lights, but will keep them easily accessible, easy to find, and clean in your attic or basement.
This product is super easy to both put together and use, even for first-timers. The spools are a little flimsy, but you can expect to get at least a few years out of the product based on the construction.
It's always a good idea to purchase more than one set of these, especially if you have a lot of Christmas lights. If you are putting away lights with bigger bulbs, you may only be able to fit a single strand on each reel. You will be able to fit these into the bags easily. There is also room for your light timers.
These bags and reels are also perfect for extension cords, so purchasing an extra set for those is a good idea. The bags themselves are oversized with plenty of room so you don't have to cram lights in. They will hold up to multiple seasons without deteriorating, especially if you store them with care. If you need a time and space-saving tool, this will be great for your holiday season.
Check The Price
Set of 5 Christmas Storage Reels by DYNO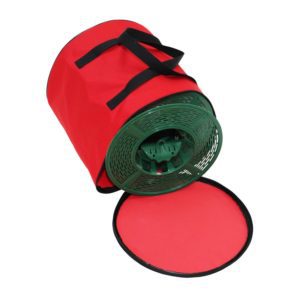 For those who like to keep everything holiday-related nice and festive-looking, this next item is sure to please. Do you need some extra storage this holiday season for your new lights?
This 5 Reel set by DYNO will provide you with a great (and great-looking) solution. These reels will protect and store your lights in a festive, durable red bag. Each green reel can hold about 100 mini Christmas lights or 150 icicle lights.
Need to store your extra extension cords, as well? Each reel can hold up to 50 feet of extension cord and up to 24 feet of beads, garland, or rope light. The included materials in this set are metal, polyester, and plastic. Each bag comes with a zipper closure system and handles so you can easily carry them up to the attic or to your closet for storage.
Note that some users report that there are only four reels included instead of five. Also, some may find that these new reels by DYNO are not as sturdy as the previous versions made by the company.
Check The Price
Trademark Home Christmas Light Reels
If you are ready to make Christmas decorating fun instead of a gigantic hassle, these Trademark Home Reels will help. They let you easily and quickly store your lights and remove them from the spools as needed. The holiday season should be fun, not something you dread.
This product works well, but note that you need to carefully and intentionally lay the light strings onto the spool without the lights sticking up. If you want the string of lights to fit all the way on the reel, this is a must.
In addition, it will help you put them on and take them off without tangles. If you are able to be patient as you wrap your lights around this reel, it will work perfectly.
Most users will greatly appreciate the designated holes for light strings' male ends to be inserted. These will help the lights stay in place. The spools each have a hole in the center that you can use as an axle for unwinding the lights for next holiday season. Note that while these spools are very useful and appreciated by users, some wish that they would be a little bigger.
Check The Price
Adams Christmas Light and Cord Wind Ups
Have you been dealing with balled up, broken, or tangled Christmas lights year after year? If you are ready to end that chapter of your life and make the holidays more enjoyable, this next item can help.
For those seeking a fairly priced, convenient storage solution for their icicle lights, these Adams Christmas Wind Ups are a good choice. They not only save you room in your Christmas storage bins but keep your lights untangled and neat. Although these aren't as aesthetically appealing as some other items on the list, they will get the job done.
The design is simple and will store even bulky strands that include bulb covers and wire gauge. You could easily fit two strands of lights on each wind-up, but if you want to save even more room, you can wrap a third. Keep in mind, however, that it may extend past the handles.
For people who have grown accustomed to wrapping their icicle lights around cardboard and taping the ends, this convenient solution will be most welcome. Now you won't have to hunt for the tape while putting decorations away and will also have an easier time unraveling your lights next year. No more throwing your icicle lights into a plastic bin after New Years and hoping for the best.
Check The Price
Tips for Decorating with Holiday Lights
The itch to deck your house out in Christmas lights during the holidays can hit all of a sudden, without warning. But before beginning your decorating frenzy, you should take a step back and craft a game plan. Icicle light storage is a great first step, but what other considerations should you make during this time of year?
Safety: Anything involving electricity should be approached with caution, especially when children are present in the home. Make sure you are always observing manufacturer's guidelines in terms of safety instructions, maintenance, and care of your Christmas lights. You should also read over tips for usage to both preserve the life of your Christmas lights and keep you and your family members safe from unfortunate mishaps.
Testing your Lights: Even when you are using new lights, you should still test them inside before you put them up. Don't go through the trouble of putting all of your lights up outdoors only to find out that some of them are busted. Once you've done this, you can move onto putting your lights up. Checking your lights is important, too, especially if they are older. Look for any frayed cords or busted bulbs which could present a hazard.
Get a Helper: Before you begin hanging up your lights outside, choose what you will be putting up and get it all in one place. Having someone there to help you will make this process a lot easier. Begin with lower areas such as bushes, then move onto trees, doors, windows, and then your roof line. As you work, step back periodically to make sure it all looks the way you want it to look. This way, you can fix errors along the way instead of having to start over at the end.
Use a Light Timer: In order to save on your power bill, use a timer for your Christmas lights. There is nothing worse than waking up at 4 in the morning to discover that they've been on the entire evening. You can find timers that will turn on when the sun goes down and then go off again at midnight.
Matching Lights: If you're using a few different brands of lights, you may want to check and make sure that they match. Not all white lights are the same shade of white. Incandescent bulbs tend to be yellowish, while LEDs have more of a bluish color to them. If you're working with a bunch of different brands of lights, you may be better off just buying a whole new set so your lights are all the same shade.
Follow each of these tips this holiday season to make sure your Christmas is as safe and beautifully decorated as possible.