There are times that an adult craft is just what is needed to alleviate boredom, learn a new skill, and exercise your creative side. Why not combine the upcoming holidays and the Christmas season with adult crafts that will do all of the things just listed? Not only will you have fun, learn new skills, but there are some crafts on the following list that are perfect for a friend's night or family craft night!
Craft projects also exercise the mind while reducing tension, anxiety, and stress so not only will your house be decked out for the holidays with handmade items – you will also be in a great mindset while decorating!
1. Wooden Christmas Ornaments
Available on Etsy
These wooden slices come complete with festive red ribbon, making them perfect for hanging on the tree or using them as a gift tag for a gift for that special person in your life. Not only can you paint or carve a design of your choosing; you also get to choose what colors you want to use for your decoration!
2. Scrabble Tile Ornaments
Read More
If you know someone who enjoys a good game of scrabble, reading and learning new things, or just plain enjoys having fun with family and friends over a classic board game; then this is the craft for you. This tutorial shows you every step of transforming wooden Scrabble tiles into the perfect holiday ornament. All you need is glue, backing fabric, twine (or string), and paint to transform these tiles into a treasured holiday saying!
3. Bell Jar Christmas Scene
Get one here
If you have someone (or yourself) that thoroughly enjoys an artistic scene that is displayed in an unconventional way, then you definitely want to check out this craft! Featuring everything you will need to create a winter scene with the silhouette within a jar, you will not be disappointed. If your sewing or creative skills are not up to the level you feel you will need for this project, then you will be pleased to know that you just need a cutting utensil. Want to truly add a whimsical touch to this craft? Place twinkling fairy lights all around the finished project!
Also Check Out This Post On "Christmas Gifts For Girls".
4. Beaded Holiday Ornaments
View on Amazon
With the pieces to create 15 beaded wreath ornaments, this craft is perfect for a fun night with your family. Creating the beaded wreaths is straightforward and simple, so there isn't a chance of frustration but only fun instead! All the pieces needed to complete your ornaments are within the package and they are a great addition to your tree or they can be hung on your window with the help of suction cups. Add a touch of gold or silver to your finished wreath with the help of a ribbon that can also double as a hanging tool.
5. Paper Gift/Treat Box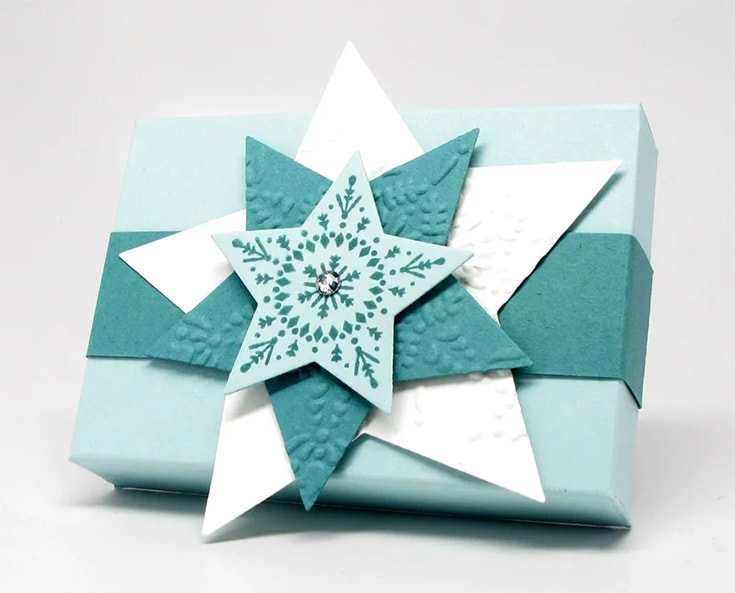 Tired of having to give gifts or Christmas cookies in expensive boxes that are full of dyes and unrecyclable materials? Then check out this tutorial to make inexpensive but festive gift boxes right in the comfort of your own home. You can use recycled paper and tape to create your range of gift boxes that double as treat boxes.
6. Holiday Throw Pillows
Looking for a touch of holiday décor without overwhelming your current color scheme? Perhaps you live in a smaller space and you don't have the room for an elaborate setup of Christmas décor. Then you want to look at this easy tutorial for creating your holiday throw pillows. You won't need a needle and thread but instead your imagination, this tutorial, and throw pillows! This is also a great gift idea for a smaller budget that doesn't look that way. Check out this post on throw pillows for brown couches.
7. Button Wreath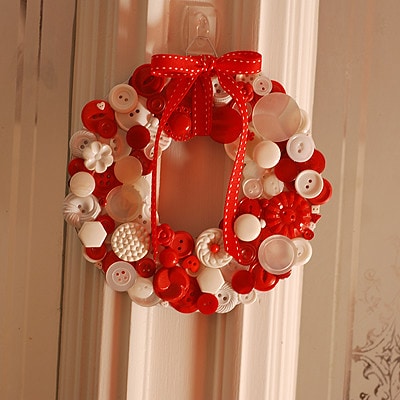 Do you have a lot of random buttons laying around your house from various pieces of clothing that you aren't even sure if you still own? How about an array of buttons that are all similar sizes and colors? Then why not transform them into a festive Christmas wreath? All you need is buttons of similar colors and sizes that are within the Christmas décor, wire, and ribbon to create an asymmetrical wreath to welcome those holiday visitors out of the cold.
8. Snowflake Banner
Do you love the look of gently falling snowflakes without the cold for the holidays? Looking for something simple but Christmassy to celebrate the holidays that can be hung on your porch? How about a snowflake banner that features snowflakes of various sizes and shapes that are strung together to hang from the rafters? You will definitely need a weatherproof paper to ensure its longevity through winter weather but while the materials are tough, this banner looks delicate. Choose paper of Christmas colors if you desire or stick to stark winter white – it's your creation!
9. Lavender Handmade Soap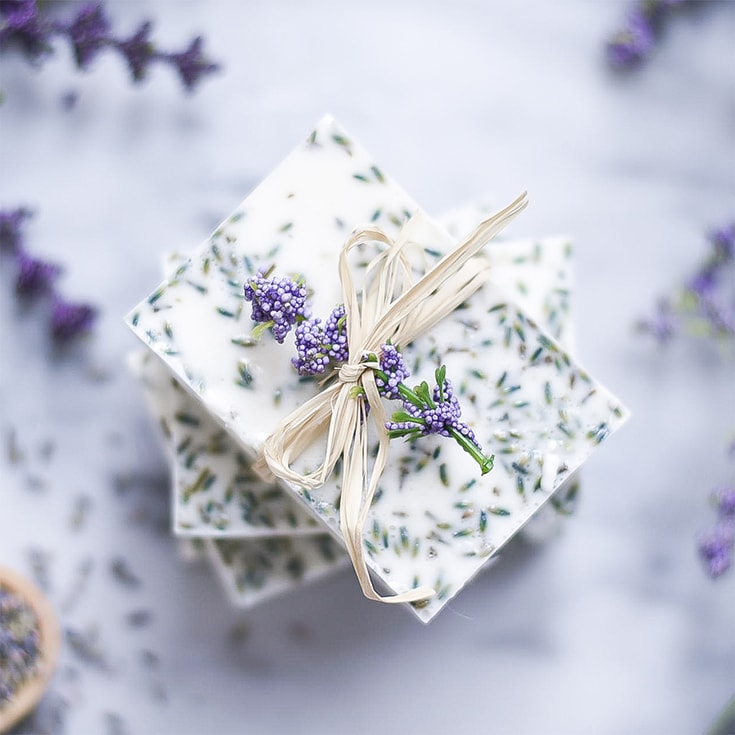 With this DIY recipe, you can make your own bars of soap to accompany your gift or you can use it in a relaxation basket for your best friend. Not a fan of lavender? Then use this recipe but switch out the essential lavender oil for your favorite scent of your favorite essential oil and its natural benefits. Wrap a few bars of soap together with a festive ribbon, wrap, and voila! A fancy and expensive looking gift that was made with love and affection instead.
10. Seashell Wreath
Looking for the perfect gift for the traveler in your life? Then look no further than this seashell wreath that uses delicate while seashells to create a holiday wreath suited for any location. This wreath is easy to recreate and you can bring the holiday's home with the use of a Christmas ribbon at the top of the wreath. Choose a variety of colors when it comes to the shells to add a touch of creativity or use stark white to bring to mind the softly falling snow.
11. Paper Snowflake Décor
The best thing about these paper snowflakes is not only are they festive and bright, they are also perfect to use at different occasions throughout the year! You get to choose the design of the snowflake, the color of the snowflake, and even the size. Create a bunch of Christmas snowflakes to hang from a ribbon and allow them to cascade down the wall or create a gorgeous window piece to bring home the holidays.
12. Wooden Carved Angels
This is the craft for the woodcarver in your life, the person who enjoys working with different species of wood to create images and designs from their own two hands. The items needed for this tutorial are simply wood, foam craft balls, felt pieces and leaves for the halos on the angels. They are the perfect country addition to your décor and minimal carving, making this the perfect craft for the budding woodcarver in your life.
13. Handmade Hand Warmers
The best thing about these handmade hand warmers is not only are they the cutest side-table décor for the holidays, but they also double as the perfect stocking stuffers. Don't we all find that on certain winter days, the cold tends to seep deep in your bones? Then why not alleviate this by creating your own bundle of hand warmers for your family and friends? Simple and easy to make but intense on style and cuteness; these hand warmers are guaranteed to warm the hands and the heart of the lucky recipient.
14. Paper Gift Box and Tag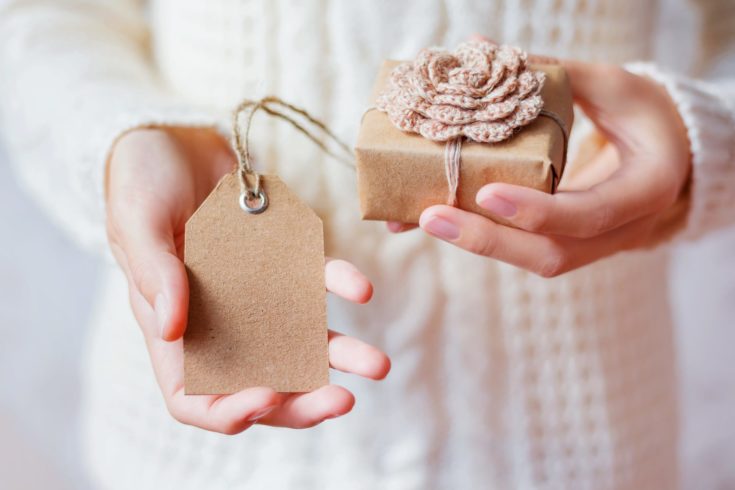 Tired of trying to find a smaller gift box for a jewelry item or don't want to give someone a ton of packaging along with their gift? Then check out this handmade paper gift box and attached paper tag. Using sturdier card stock paper, you are able to create a gorgeous but simplistic present with an attached tag. Go even fancier when it comes to the top of the gift box and place a tiny flower or Christmas design created using string. Not only will these packaging actually be recyclable, but its understated design also allows it to be used on more than one occasion.
15. Modern Christmas Wreath and Garland
Want to bring some sleek and modern décor into your current Christmas décor lineup? Tired of the same styles and designs that pop up in stores each time the season approaches? Then check out this modern Christmas garland and accompanying wreath. Using greenery, pinecones, and other parts of nature that can be easily found outside; you are able to create this perfectly balanced between traditional and modern décor for your home. Additional bonus of this craft? You can keep up the garland on your mantle after the Christmas season is over to showcase your home and bring a touch of nature within the four walls of the home.
16. DIY Snowy Mason Jars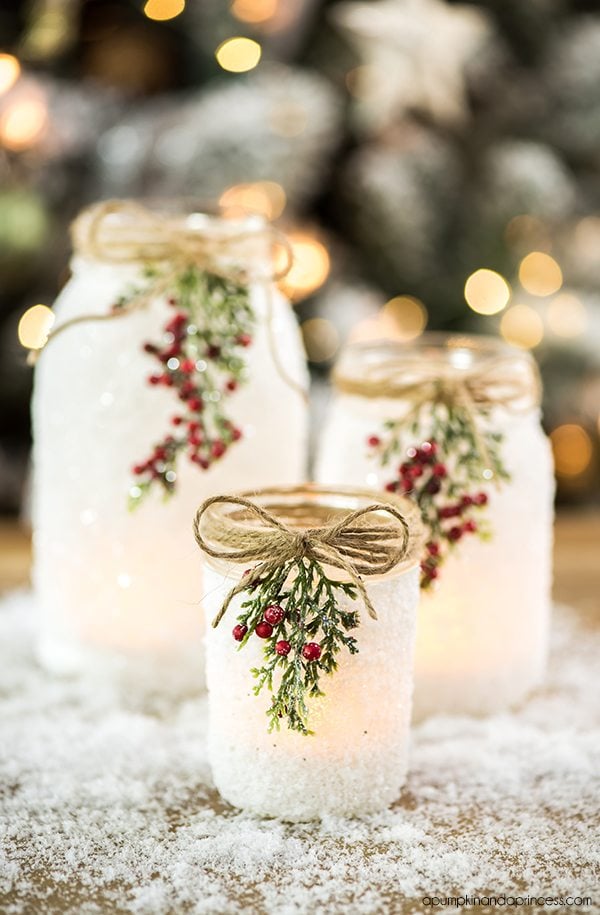 Whenever it comes to a Secret Santa gift exchange, do you find yourself wondering what to buy as you aren't sure who you are buying for. Why not create a series of varying sizes mason jars that are gently brushed with falling snow and contrasted with holly berries for the season? These DIY snowy mason jars use three different sizes for a modern look. You then glue fluff or spray fake snow on the outside of the jar. Add a mini Christmas floral arrangement and a ribbon tied into a bow. Place fairy lights or a LED mini-candle inside to create a warm glow. It's the perfect way to enjoy the snow without the cold!
17. Christmas Rocks
Painted rock art has exploded in popularity in recent years because of its simplistic nature and easily made designs. Using waterproof and toxin-free paint, why not recreate your favorite Christmas image on the face of a rock? Then use these festively painted rocks as bookends on your bookcase, as a door stopper within or outside the home, or even use them as a paperweight (just choose a smaller rock!). You can even enlist the help of your children and allow them to create their own painted Christmas rocks for their room. It's the perfect craft that also has practical purposes.
18. Christmas Bulbs with a Twist
The first thing you will need is a pack of clear, plastic Christmas bulbs to create these beautiful DIY Christmas bulbs. Carefully open up the clear bulb, place the scene of your choice within the confines, and then glue each piece into place. Then using glue (unless you purchase the self-snapping bulbs), close up the bulbs and thread a festive ribbon through the loop. You then have a Christmas scene within a decoration to brighten up your tree, add a touch of elegance and rustic décor, and voila! The perfect Christmas bulb for years to come.
19. Sequined Christmas Bulbs
If you know someone that loves their bling, shiny and sparkling is better, and would melt over a Christmas bulb full of glamour; then you want to make these DIY Christmas bulbs. Using clear plastic craft bulbs, you then can glue sequins all over the exterior for a light-catching addition to your (or anyone's) Christmas tree! Choose a sparkly ribbon for the hanging loop and watch as the lights on the tree capture the rainbows from this bulb. Make these to suit your friends' color preferences and you can even up the creativity by gluing different colored sequins all over the same bulb!
20. Stained Glass Ornaments
There is something timeless about stained glass. Think of seeing those pictures of abandoned ruins with their stained glass windows still intact. You appreciate the beauty of the glass, the work of the artist, and the images created within. Recreate this with a Christmas bulb and give your friends and family the same sense of wonder. Using non-toxic paint, a steady hand, and glass clear bulbs; paint your favorite Christmas scene or even create your own designs. Hang these in front of the lights of the tree and watch as the rainbows of the season play out on your wall right in front of you.
21. Popsicle Stick Ornaments
If you want a craft that your children can complete with you as well or something simple to use on the next social night out with friends – then take a look at these tiny Popsicle stick sleds. Designed to look like sheds from generations ago, you use the Popsicle sticks to recreate this, glue incomes or holly, or even a small Santa to the front, and a couple of tiny Christmas bells. Paint the Popsicle sticks beforehand to whatever color you desire, and if you want? Use these as gift tags and write the name of the recipient in permanent marker on the painted surface. It's practical and two presents in one!
22. Cookie Cutter Ornaments
Do you have a bunch of warped or unused aluminum cookie cutters lying around your baking cabinet? Do these cookie cutters no longer work to the best of their abilities? Then why not transform them into ornaments instead of tossing them in the trash? You just need to print out a Christmas scene on card stock, glue it to the back of the cookie cutter, and attach a festive ribbon to the top to hang the decoration with. Why not print off older photos as well and place these within the cookie cutters to showcase those we lost during this holiday season? It's the best way to recycle these older cookie cutters and also add more handmade elegance to the Christmas tree.
23. Dried Fruit Decorations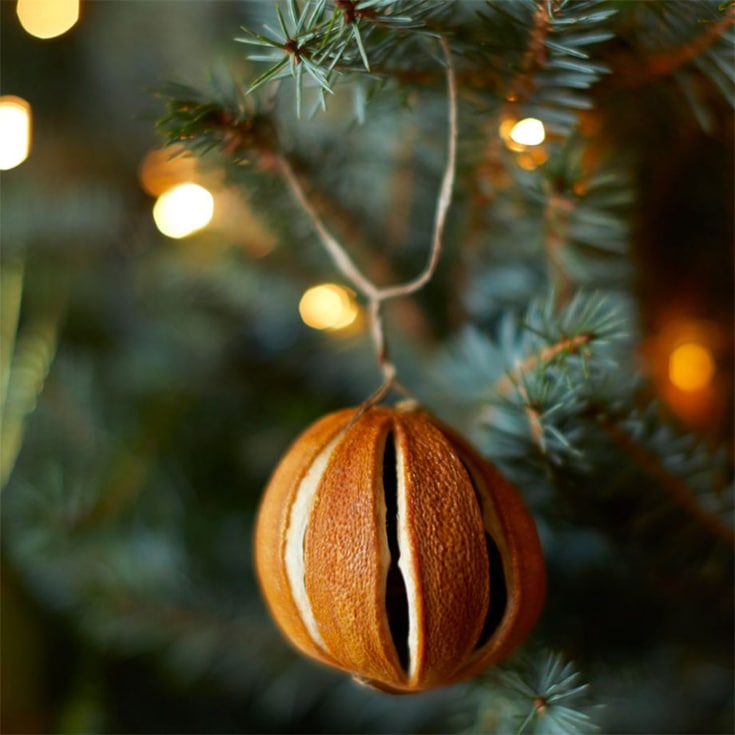 Using your oven to dry out fruit into a non-perishable item then threading a ribbon through the top of the fruit transforms it into a simple, easy, and inexpensive decoration without skimping on visual appeal. Choose a variety of fruit to add color to your Christmas tree. Another great idea? Hang these dried fruits from the trees in your backyard to give a Christmas treat to the birds and other wildlife that hang out there. Just check to see what types of fruit would be the best to serve up for their Christmas meal!
24. Wooden Christmas Tree
If you love the look of understated country elegance, then you will love the look of this wooden Christmas tree. Using birch logs of different sizes, create a Christmas tree silhouette on a wooden background. Nail or screw the logs into place for security and safety, choose your favorite smaller ornaments as color pieces (also glue these into place), and then cut out stars from wooden planks to complete the look of your tree. This wall hanging is beautiful and simple or you can use the wooden planks of the background as a table setting. If you are going to go this route, protect your craft with weather and waterproofing spray!
25. DIY Wooden Lights Garland
Using wooden planks, cut out Christmas light bulbs. Then you paint them in various colors and join them together with greenery and garland. The end result? A décor piece that is right at home with Santa's workshop in the North Pole. These jumbo Christmas lights are awesome to look at and you can guarantee that no one else will have the same outside décor as you! Use them to line your doorway or string them across the patio railing. Want to bring one of these jumbo Christmas lights inside? Then use it as a wall hanging and ask your children to paint their favorite Christmas scene on the center for handmade memory.
26. No Sew Flannel Blanket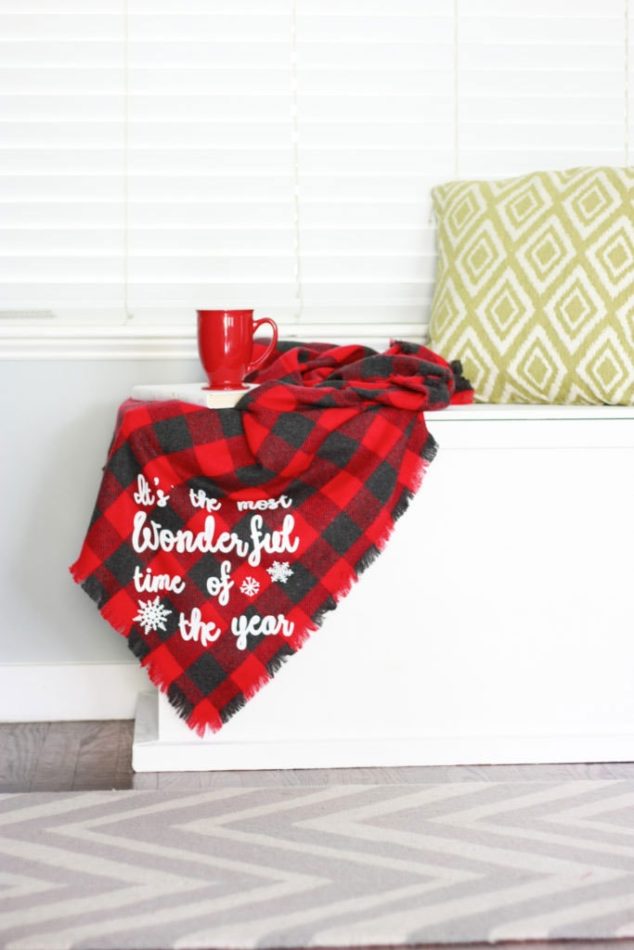 Name something better than curling up under a cozy flannel blanket while the cold wind whistles outside. This no sewing required flannel blanket gives you (or some lucky person on your gift list) the ability to do just that. Using your Cricut machine, you are able to transfer Christmas sayings or scenes onto a festive flannel blanket, making it the perfect addition to your couch during the holidays. Find the blankets at your local department store or order online, choose your saying or design, and let the Cricut machine do the rest. It's the perfect hostess gift or for the workplace Secret Santa.
27. DIY Advent Calendar
Using colored paper and cardboard, you are able to save money and give something fresh and new this year without having to purchase expensive advent calendars for your children. Instead of purchasing the advent calendars, why not create your own? Using this tutorial, you are able to give your children a countdown to Santa. Design the bulbs, place the tiny treat inside, and then use numbered slips to show your children what bulb they get to open today.
28. DIY Button Christmas Trees
Want to decorate your desk for the holidays but you don't have the room for an elaborate display? Then check out these tiny button Christmas trees! Using smaller green buttons of slightly varying sizes; get out your glue gun and go to town. Pick up some small foam cones at your local craft store to use as the base, glue the buttons all over the foam, and then use pearled stick pins for the ornaments and lights. These little trees are festive, cute, and easy plus they will fit easily on a desk or computer stand.
29. Sparkleballs
This adult craft allows you to make a lighted sparkle ball that is guaranteed not to melt while in use. You will need some power tools for this one, however, in the form of a drill and a ½" bit, craft wires, and soldering iron. Use the soldering iron to melt together clear plastic cups into a ball by building up the layers. Twine mini lights all throughout the structure and light them up! These are perfect for outside decor (just place them where the weather can't touch them) or for the New Year's Eve party with friends.
30. Pinecone Christmas Trees
Bring a touch of nature inside your home for the holiday season and create your own little pinecone Christmas trees. Using paper cups or small metal baskets, pinecones, and ribbon; you are able to make desktop Christmas trees. Choose different sizes when it comes to the pinecones to create a tiny forest on your table or desk. Glue the pinecones into the holders, paint the tips white, and then glue a festive ribbon (tiny bells optional) on the top. Arrange the ribbon to cascade down over the pinecone and display! It's that easy.
31. Reindeer Root Beer
If you are attending a function or party at someone else's home, it is always a tasteful idea to bring a small hostess gift. Why not gift the hostess a case of root beer (or adult beverage if preferred) that also brings a smile to their faces? Why does it bring a smile? Well each bottle is decorated as a reindeer for the holidays! Googly eyes, felt red buttons, and brown pipe cleaners are all you will need to complete this craft!
32. DIY Wine Glasses
These elegant ladies bring to mind glamour of years gone by with their silhouettes and elegance. Using acrylic craft paint, design the perfect leading lady (or man) and stencil it onto the wine glass. Fill in the outline, add pearls or beads, sequins or glitter, and cover the base of the glass with fabric. These sparkling ladies will be a welcome addition to any function!
33. Wooden Christmas Tree
Using wooden pallets and laser cut shapes, create a range of wooden Christmas trees to display on your table or desk during the holiday season. You will need wooden dowel rods to keep these upright and displayed proudly. Christmas paint and glitter completes the look of these traditional trees with a twist!
34. Snowflake Candle Holder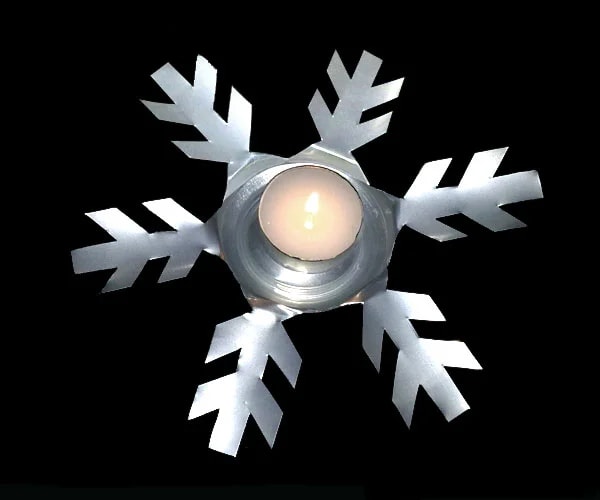 If you have lots of aluminum cans lying around, then this is the craft for you. Not only will this snowflake candle holder clean up some of that clutter, the finished product doesn't resemble an aluminum can in the slightest. Follow the instructions to learn how to cut your aluminum can to resemble a snowflake and create the candle holder inside. Not only does this keep your candles safe while reducing fire hazards, it's just plain pretty to look down upon.
35. Marbled Mugs
Gift the coffee lover in your life the present of custom mugs. Using nail polish, water, and alcohol; you are able to create a range of marbled mugs that are beautiful and practical. These marbled mugs can be used for drinking their favorite hot beverage, because it is cold outside, or on their desks as pencil holders. Gift a set of four (or more) so each person in their household has a custom marble mug to use for their own purpose.
36. Christmas Cookie Containers
Are you a part of a cookie exchange with friends, family, or coworkers? If yes, why not transform some Pringles cans into a dazzling cookie container? With the help of scrap paper and an active imagination; you will be the belle of the kitchen when you pass them these decorative cookie containers that can be used after all the treats are gone to store other Christmas items. They also double as bulb storage containers (just use some sort of protective material in between each one).
37. Paper Christmas Tree
Don't have the room to display a big Christmas tree? Or are you tired of seeing all the discarded trees outside during cleanup? Then why not create a paper Christmas tree in the color of your choice? Elegant, simple, and mess-free; this Christmas tree brings the holidays into your home without having to sacrifice a live tree or major space. Arrange your presents underneath the base and enjoy your Christmas morning with loved ones in style.
38. Modern Paper Christmas Trees
Looking for something that brings the holidays to your home (or desk) but you want to modernize it? Then look no further than these classic paper Christmas trees that are made using stark black and white geometric shapes! They add a touch of holiday whimsy, modern and sharp contrasts, and they can be whatever size you want!
39. Vintage Jeweled Christmas Tree
Back generations ago, people would create their own Christmas tree décor out of items lying around the household, such as broken jewelry. Those who are creative and crafty, especially when it comes to transforming old items into new and fresh items will love this tutorial to create your own jeweled Christmas tree. Use a backing mat to glue broken or old jewelry onto in the shape of a Christmas tree. Frame this design and proudly display it in the home!
40. Coffee Filter Garland
Holiday décor doesn't have to break the bank nor does it have to follow the traditional Christmas colors. Using natural and white coffee filters, and following this tutorial, allows you to use the blueprint for traditional popcorn garland but without the popcorn! By threading together bunches of coffee filters, you have a string of garland that is gorgeous, cheap, and practical! Add another level of holiday cheer with a string of fairy lights or miniature Christmas lights! Just remember to ensure that the lights will not get hot enough to burn the coffee filter – after all, they are paper!
41. Christmas Photo Display
Do you want to treat your best friend to something this Christmas that commemorates the precious memories you have together? Then why not a triangular Christmas hanging photo display? Using recycled cardboard boxes, spray paint, glitter, and ribbons; you are able to create a wonderful display of memories by hanging the pictures to center within the painted triangles. String them all together and include the hanging paraphernalia within the gift box! You are able to create the triangles in whatever size you want as well as add as many pictures as you want. Sentimental and decorative, your bestie will love this present!
42. Festive Jar Toppers
Do you have a stack of old Christmas cards that you just can't part with but you truly don't have a purpose for them so they are just taking up space in your decoration bins? Well, now you have a reason for keeping them! Festive jar toppers! Trace out the image on the Christmas card that you want to use (just make sure it will fit on a Mason jar lid) and use hot glue to transfer it onto the lid of the Mason jar. As they are paper, you are able to write on the image what is bottled, who it is too, and who it is from. Tie a festive ribbon around the neck of the jar to amp the wow factor of your handmade gift from the packaging to the contents.
43. LED Wooden Mini Christmas Tree
If your children are in awe of the Christmas tree and all its lights that sparkle and wink; then you will thoroughly enjoy creating this craft for them. It's a miniature wooden Christmas tree! Using a handsaw or blade, cut out a stencil of a Christmas tree from a wooden plank. Spray paint it using whatever color you desire, add a touch of fake snow, and then drill holes throughout the body to string LED lights through.
44. Paper Art
Want to add a personal touch to the presents you are putting under the tree this year? Then check out these paper art gift boxes! Colored paper and glue, along with thin ribbon, plus a tutorial, will grant you the option to do just that! With tightly coiled paper in the shape of a gift box and springy ribbon; this paper art gift topper is a Christmas favorite.
45. Holiday Bath Bombs
More than ever, people are starting to recognize the importance of self-care and self-love, treating themselves to relaxation whenever they can find it and carving out time for just themselves. This self-care involves relaxing in a hot bath whenever the tension and stress of life is just a tad bit too much so why not up the ante when it comes to your self-care with a holiday bath bomb? Using essential oils to add benefits to your bath, moisturizing ingredients, and some other things – you can create your own holiday bath bombs with ease!
46. DIY Joy Sign
This DIY wooden joy sign is the perfect accompaniment to the front porch of your home for the holiday season. Welcoming, inviting, warm, and rustic; this sign only looks like it cost a lot of money! The background is wooden pallets or boards that are fastened together and painted. Stencil in the J and the Y of the word joy and then create the O out of a beautiful Christmas wreath. Fabric balls will work the best and avoid someone from accidentally breaking the design.
47. Silver Pinecone Décor
There is an old German legend surrounding pinecones and their use as Christmas décor via a bride's tree (read more here) but we have adopted facets of this to create beautiful table settings for the holidays out of pinecones. It is your choice if you want to use natural pine cones from outside or if you prefer, you can purchase them from your local craft store. Dig out those old candle holders or purchase those as well, paint the pinecones silver to winterize them, and secure them using glue to the candle holders. Add ribbon or bells if you choose!
48. Felt Christmas Garland
Break out your sewing kit, find the perfect pinecones within the yard, and transform a piece of rope into a Christmas garland for a king! Using stencils found online, cut out duplicate pieces from red felt. Take your thickest white thread, stuff the felt, and sew (fabric glue is also an option if you don't have the sewing skills). Thread the preserved pine cones on the rope or string, add your felt ornaments using wooden clothespins and hang this homemade Christmas felt garland where your guests are bound to notice and appreciate it.
49. Crocheted Swan Christmas Doily
This tutorial transforms white crochet into a ring of five swans surrounding a crocheted centerpiece that is perfect to be used as a doily. These handy doilies not only protect your tables from drink rings, scratches, or damage but they also look super cute while doing so. Any piece of Christmas décor that protects your furniture while looking festive is a plus in anybody's book!
50. Advent Calendar from a Repurposed Type Tray
Dig into that imaginative side of your brain and purchase little gifts to place into the advent calendar for your children (think chocolates, tiny toys, action figurines and headbands, etc.). Choose a non-toxic, safe paint to disguise the original color of the wood, use white stickers or stencils to add in your dates, and then place the treat in the slot next to the number! As each day in December passes, allow your children to choose their corresponding treat and relish in their joy.
51. Wooden Christmas Signs
Screen printing is a major part of the art and craft world, thanks to major updates in technology and designs. Find wooden plaques of various shapes and sizes or make your own, paint the background to the color of your choosing, and then laser print the perfect Christmas saying or design to the front. Attach a hanger on the back of the plaque and not only do you have super cute décor; you have a super cute and festive gift for those on your shopping list this year!
52. Picture Frame Memory Wreath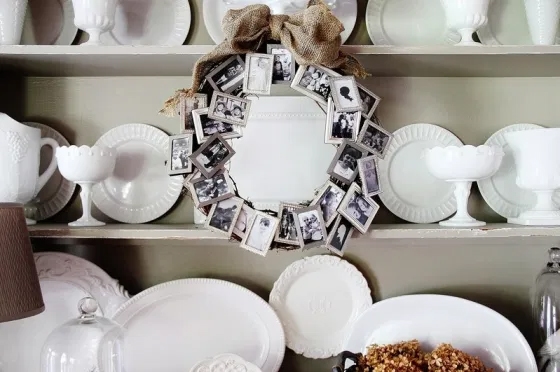 During the holidays, those that we have lost tend to play on our minds a little more, don't they? Bring them into your holiday celebrations by proudly displaying their photo in a Christmas wreath that will take the center spot in your décor. For the best results, use 2" x 3" picture frames during this craft project. You will also need dark floral wire and an 18" grapevine wreath. Print off your favorite old photos of your family and place them in the frame. Thread the wire through the hooks on the back of the picture frame, secure it to the wreath using the same wire, and top it off with a favorite ribbon.
53. Christmas Cards with a Tree Twist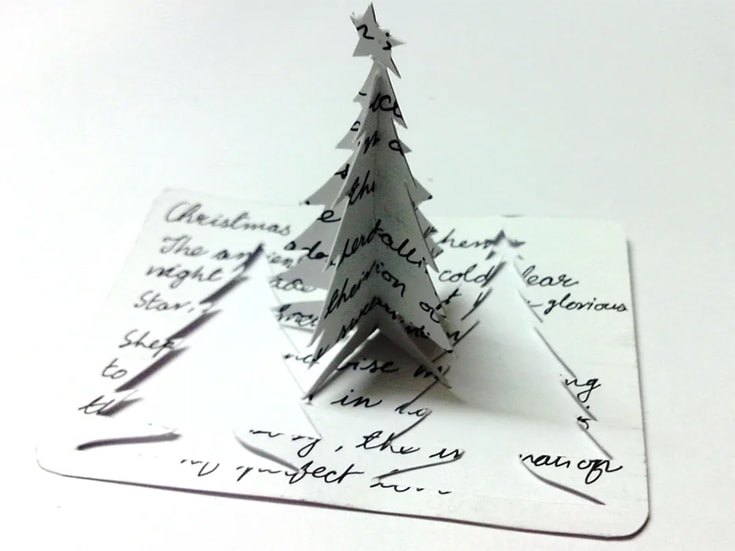 Who doesn't love getting their Christmas cards from family and friends in the mail? How about a Christmas card that turns into décor without you having to make anything? Sounds interesting right? Well this tutorial shows you how to do exactly that. You trace out two Christmas trees on the cards, use a scalpel or thin blade to gently cut into (but not through) the card stock, and then write your Christmas message over the stencils. Once the recipient has your card, they just have to remove them from the card stock in a gentle motion and fold them to have little tabletop, paper Christmas trees of love!
54. Crochet Elf
Dig out your crochet hooks, dust off that red, green, and white yarn, and go to town on creating this handsome, devilish little elf! He's cozy, he's cute, and he's easy to make. Once you have followed all the instructions when it comes to sewing this elf (and they are all included in the link), it's your decision on if you display him or allow your children to have him as a trusted friend.
55. DIY Christmas Lantern
Transform an older, rusted, and unused hanging lantern into the most beautiful piece of décor you've seen. Start off by cleaning the lantern in preparation for painting, paint the lantern, and then within the glass panels – place a LED light or a bundle of colorful Christmas lights. Choose your favorite Christmas figurines, wide and glittery ribbon, and dangling ornaments as the decoration on this lantern and follow the instructions to find out how to glue these in place.
This lantern can be displayed anywhere within the home and will definitely bring the compliments your way once people ask "where did you buy that?" and you can answer proudly, I made that.
56. Snowman Ornaments from Wine corks
Think of the wine corks you have lying around the kitchen drawers – definitely a few, right? Now there is something you can do to create a festive ornament for your tree from them! Painting the corks white is the first step because you are going to create snowman ornaments for your tree. Felt, pipe cleaners, twine, and pom-poms finish out your shopping list at your local craft store. Use these items to turn those old wine corks into a snowman family and why not enlist the help of your family to create memories while doing so?
57. DIY Embroidered Hoops
Bring a touch of the country with these DIY embroidered hoops for your tree. You can purchase embroidered hoops at any local craft store and you are able to get the rest of your supplies there as well! Rustic, simple, but beautiful, these hoops will be a welcome addition to any tree. Want to truly showcase your creative side and make them pop on the tree? Then dangle them in or around the lights to throw off your own little light show each evening before bed.
58. Pringles Can Christmas Light
Pringles cans truly can be made into anything, can't they? Storage containers, decorative objects, and even Christmas lights! You will need a clean Pringles can, red or green craft paint, and a drill, along with a string of lights. Trace your Christmas stencil onto the Pringles can and then use the drill to perforate the can along the design. You want to space out the holes fairly even. Once the design is punched into the can – you need to paint it (along with the lid). Once dry? Place your light inside and turn off the overhead ones for an awe-inducing moment.
59. Puzzle Piece Candy Canes
Old puzzles with missing pieces? Check. Jigsaw puzzles that no one attempts anymore? Check. Turning them into a festive candy cane with texture? Sign me up! This tutorial will give you the steps needed to transform those old puzzle pieces into a candy cane décor delight that can be hung on the wall to truly pop. An old cardboard box is the perfect backing for this project and you just need to trace out a large candy cane shape on it. Glue your puzzle pieces onto the cardboard until the stencil is covered, paint in alternating white and red stripes, and you are done!
60. Pom Pom Christmas Trees
These little pom pom Christmas trees are a fun craft project for not only adults but also children as they will definitely enjoy transforming foam cones into their own personalized Christmas tree! Hot glue is needed for the pom poms, however, so always supervise them and yourself! Choose a variety of colors when it comes to these little Christmas trees and enjoy the memories!
61. Coffee Filter Christmas Tree
You know that surplus of coffee filters you have? The same ones that are cluttered up your kitchen cabinets or drawer? Why not take one or three and make little paper Christmas trees for your end tables? All you have to your supplies is paint, a foam cone, and stick pins. Also whatever you want to use as a topper and a base as well. These not only recycle the coffee filters you no longer need, they also look quite sweet as décor!
62. Upcycled Christmas Wreath
This one will require a little bit of effort and patience but the end result is 100% worth it. Find an old book that is no longer enjoyed or read and be prepared to roll the pages into a Christmas wreath everyone will want. You want to use a book that is at least 100 pages in length or more because you are going to display the pages in layers to create fullness within your Christmas wreath. Old ornaments and figurines that no longer have a place on your tree will find new life as well within this wreath!
63. Upcycled Christmas Ornaments
Similar to the craft we just listed but also different enough to make you want to complete both; this project uses old magazines to create Christmas ornaments. This tutorial shows you how to roll magazine pages and glue them onto a foam ball to create a one-of-a-kind Christmas ornament with ease. The magazine pages bring a pop of color to your tree and people will be staring, wondering how did they do that? They are that neat.
64. Newspaper Reindeer
Looking for something to do with all those old newspapers you have in storage? How about rolling sheets of them into tiny tubes then painting them? Once they are dry, you are able to create teeny, tiny reindeer for your end tables or on the mantle of the fireplace within your living room. Use these as a companion for some of your other crafts on this list and create a little Christmas village right in your home!
65. Magazine Christmas Trees
Want to be environmentally friendly, upcycle some older items but also decorate for the holidays? Combine the two and turn old magazines into little tabletop Christmas trees! Fold the pages of the magazines into a fan design and secure them to form a tree shape, twist strips into your star topper, and display. That's it.
66. Pasta Puppet Dancing Santa Claus
He's happy, he's jolly, he's dancing, and he's made from macaroni? That's right, this project puts an adult spin on the pasta art we all once made in primary school. Using macaroni that has been painted red, wooden beads, and pipe cleaners – you are set to create a dancing Santa Claus puppet from items found in your home! Tie this puppet to a wooden dowel rod and be the best entertainer in the world as you make him dance for the children.
67. Rock Santa
Painted rock art that is placed in sequence to create a Santa Claus? Ok then, sign us up right? Find a variety of rocks, paint them to resemble Santa in his famous red suit, and place them on your porch to welcome visitors into your home. You can also place him on the patio stone walkway if you desire and let him point the way out of the cold!
68. Christmas Pillows
Everyone has at least two throw pillows somewhere in their home and they are always missed when it comes to Christmas décor, aren't they? Well not this year because this is a tutorial on how to create your own Christmas throw pillow covers! With minimal sewing, imagination, and time – you can bring your holiday décor all over the home with these pillow covers!
69. Santa Claus Christmas Balls
The final craft for adults on our list are classic Christmas balls for the tree but with a slight difference – they are plastic and clear, stuffed with red pompoms, and decorated with a wide gold and black belt! They are Santa's suit in a Christmas ornament! Easily made with a bit of time and glitter, hang these balls in front of a twinkling light on the tree for the best effect.
Conclusion
We hope you enjoyed this list as much as we did and as you can see, there is no shortage of adult crafts that you can complete in your spare time to use as sentimental, handmade gifts or to decorate the interior (and exterior) of your home for the holidays! There is always a craft that will suit your skill level while branching out into new areas to further increase your creative side.
As comprehensive as this list is, there are always more craft ideas for adults available so if you have a special or favorite Christmas adult craft; please let us know in the comments below. Also feel free to share this list with the crafty person in your life or with your friends! Ask them what craft they would like to complete on your next social night and prepare yourself for laughter along with precious memories.