Ugly Christmas sweaters became all the rage a while back and for good reason. They're super cute, tons of fun, and a great way to express yourself. In this post, we are going to take this trend a little bit farther and talk about tree ornaments made from ugly Christmas sweaters.
If you're thinking that there's no way your tree will hold up a human-size sweater then you are thinking too big, which is never a bad thing. But in this case, we are talking about little sweaters that would fit one of the smaller dolls in yours or your child's collection.
How To Make Ugly Sweater Ornaments
There are several approaches you can take with this project. The materials and methods you use are completely up to you. But, the overall operation sequence should be as follows.
Step 1
The first step to making your ornaments is to plan a course of action. All good projects start with a thought and some notes. For example, if you want to knit little sweaters, you will need needles and yarn. What is important here is you consider each step of making these ornaments and what materials can help you reach your goals.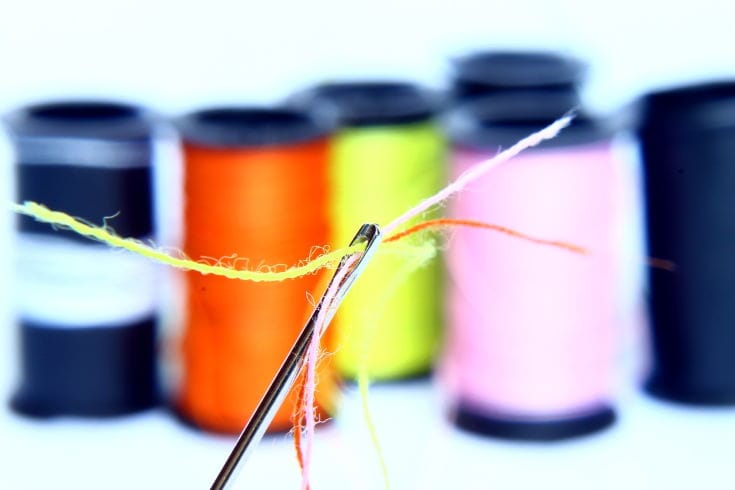 Step 2
Next, you need to get your materials together. If you are creating your sweaters out of felt then get your sheets, scissors. You may be gluing beads or bows on these sweaters, so you need glue. Each step of creation requires supplies. You don't want to be in the middle of a step and have to run and look for your box of colorful glitter.
Remember, it's always best to have it and not need it than need it and not have it.
Step 3
Get started! This is the most important step because it's by far the most fun. Creation is the best part of making anything. I don't know about you, but for me, the sheer act of making something that wasn't there before is enough to keep me going.
These general steps can be used to make any of the following ugly sweater ornament ideas we've found around the internet.
Good Old Fashioned Felt and Glue
My first love of crafting was in grade school, cutting out felt shapes and then gluing things to them. This example will bring your right back to second grade, but what's wrong with that? Your first step is to draw a sweater on paper. If you can't draw then download an image from the internet.
Fold a piece of felt in half. Pin the shape to the folded felt and then cut around it. You should have a front and back attached to the top. It might be a good idea to cut a few of the shapes and leave them aside so you can grab new ones to decorate.
Next, get the glue and start making that sweater ugly. Sometimes, ugly refers to the gaudiness, so the more glitter, stones, gems, and bling you can get on there the better. Get some wire and start shaping hangers. As you can see, you don't need the bottom half. When the sweaters dry, fold them over the hanger and glue in place.
Out With the Old to Make Something New!
This next example is a great way to get rid of all those old sweaters with the holes that you don't have the heart to throw away and you'll be doing your part to keep our planet clean. First, you'll need some Mod Podge fabric stiffener, old sweaters, scissors, fabric glue, stickers, felt and other fun things. Also, they suggest to either buy little hangers or make them out of paper clips.
First, you'll cut little sweaters out of old ones using the same paper type mold we described in our first example. Next, you can add some fringe on the bottom or add stickers. Since human sweaters are so large, this might be a great activity for a teacher to do with a class or as stocking stuffers for those on your list.
Get The Paper!
This is a great activity with the little ones because it doesn't require any scissors (because you'll cut the molds out beforehand) and the kiddies can draw all over them. They can paste gems, use Washi tape, or use stickers. When it comes to card stock, the mediums available are endless.
All you need are needle now pliers and paper clips to make the hangers and glue to fasten on your sweaters. Another thing that's nice about this type of ornament is that you can write things like "Ho! Ho! Ho!" on your little sweater. Plus, the supplies are so inexpensive this can keep children busy for hours.
Time to Start Sewing
In this video, you will see that, even though this project requires sewing, you don't need a sewing machine to get it done. It will take more time because there are parts that require reinforcing. But if sewing by hand is your thing then this is the DIY project you were looking for. If you are having a party, these are a fun party favor or group activity.
What I like about this style is that the creator stuffs the sweaters with pillow stuffing, which makes them look much more filled out than the ornaments we've discussed before this one. The materials to make this are inexpensive and easy to find. Basic knowledge of sewing would be helpful whether you use a machine or not.
Pipe Cleaners
Here we have a project that looks similar to others. It's the same when it comes to using a template to cut your sweater out of felt. And, just like the others, the idea is to glue pom-poms and other fun things on your sweater to make it look ugly.
What is different here is that silver pipe cleaners are used to create an original hanger from the others. Another aspect of this ornament that is not like the others is that this one only uses the one side of the sweater. The hanger is sewn on the back and a blank back of the sweater is not sewn on.
If you like this example but want backs on your sweaters all you need to do is cut them double as they did in the first example and glue the back on to hide the hanger.
Simple Sweaters
Here we have, possibly, the simplest project that we've discussed thus far. It also requires felt, which isn't surprising since it's such a versatile material and gives the fluffy look of a sweater. Just like the others, use a mold, cut out the sweater but you don't need to cut out two if you want it back.
Instead of creating a make-shift hanger this design requires a hole punch and some silver chording or thread. I prefer silver chording because it looks more festive. Once you glue and glitter your little felt sweater and the bling you've attached has dried, just punch a hole in the shoulder and string in the chording to serve as a tree hanger.
Christmas Balls Sweater
Here we have something completely different. Instead of cutting out little sweaters, this project requires clear glass round ornaments, acrylic paint, vinyl adhesive, and a cutting machine. The idea is to spray paint into the clear glass ornament and swirl it around to give it the full color, be it white, green, red, etc.
Then, using the creator's file, you have your wireless cutting machine stamp reindeer, trees, and other shapes that call out Christmas. Use these to create patterns that resemble some of the ugly Christmas sweaters you've seen on the market.
If you don't have a wireless cutter then you can probably find stickers that would work just as well. And, if you want to skip the mess of rolling paint inside a glass orb then you can purchase ones that are already colored. These short cuts will take away some of the creation processes but you have to work with what you have.
Markers For a Different Use
Don't put that felt away because it will come in handy here as well. This project points out some options that appeal to the creator's crafting preferences. If you like to sew, you might want to attach sequins, fringe, or other fabric type decorations. If sewing isn't your thing, then the glue will work as well with some of those materials and a bevy of others.
What is unique about this is the way the hangers are made. They require aluminum sixteen gauge craft wire, cutters, and a ruler for precise measurement. But the hangers are wrapped around a Sharpie marker to create the type of curves one typically finds in a clothes hanger.
Use What You Have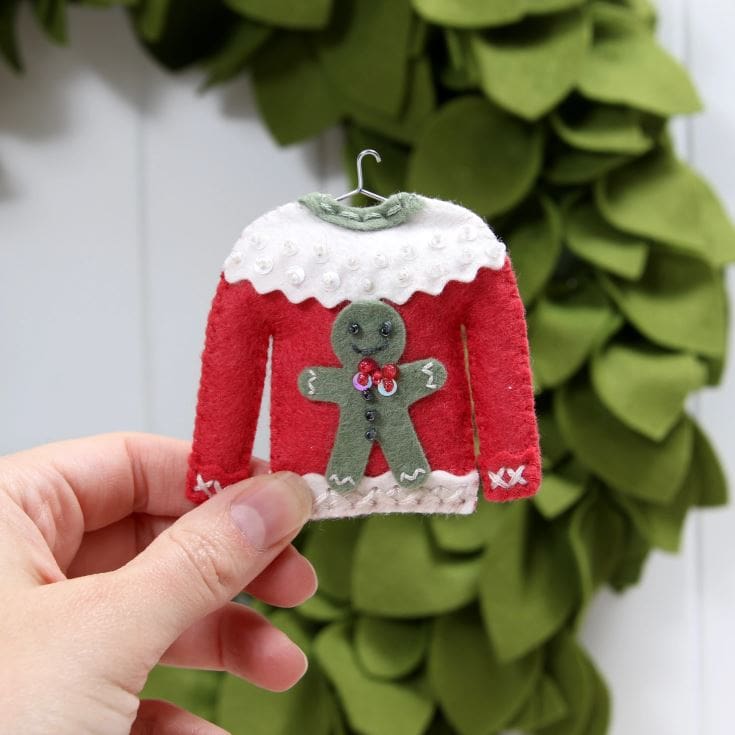 What I love about this tutorial is it shows you that you can use any materials you find in your to create ugly Christmas sweater ornaments. You can cut out felt and glue things to them or you can use paper and find a way to draw in stitching to make it look like a real sweater. Other options are leaving your sweater flat or stuffing it with something to fill it out.
As creative people, we all have extra crafting supplies sitting in our homes that are just itching to be used. I've always said, what good is a guitar that just sits in your house. It wants to be played. I feel the same way about glitter, paint, fun beads, and other things that are screaming to be used in a project.
Take it From the Dolls
This next homemade project uses sweaters that are created for dolls as the base for the ornament. That means no cutting or sewing. Yet, don't forget that finding small sweaters won't be as easy as cutting them out for yourself, but if you are a fan of hunting then this is for you. I would think the best places to find doll sweaters are on dolls.
But who wants to buy new doll clothes to create ornaments? Not many thrifty crafters would be willing to do that. Second-hand stores are a wonderful place to find these things. And, you can find them without the doll or, if you find a sweater on a doll then buy it and save the body later for another project.
For the Painters
Our last example is nothing that we've seen so far. Instead of having a sweater made from felt, paper, or even sweater material, this is a mold made of ceramic. All you need to do is clean it off and paint. You can attempt to create your design freehand or you can cut some stencils out using tape and contact paper, paint over it and peel away to create a pattern.
There are no hangers to make for this ornament but, since it's ceramic, you'll want to loop some strong chording that won't break when you hang it on your tree. If a felt sweater falls you won't have to worry about it breaking. I wish I could say the same for ceramic. But then you'll just have to paint another one, which is always beneficial to your brain and it's functioning.
Conclusion
While this article has one theme, which is how to make an ugly sweater Christmas ornament, we've illustrated the many ways you can make these for you and your loved ones. None of them require too much expertise in any specific area or none at all. The felt ones would also make fantastic decorations on top of your wrapped presents to replace the traditional bow.
If you enjoyed this article please share it with your network via your social media platforms. We love when readers leave comments in the section below.