Are you planning an Easter themed party? Inviting all your relatives over for a big Easter brunch?
Easter is a wonderful season of celebration that is full of fun activities the whole family can enjoy. In this article, we have rounded up all of our favorite Easter party crafts, from paper carrot party favors to easter bunny crafts. These DIY activities include all sorts of wholesome craft ideas like cupcake liner flowers that will help you truly make the most of the holiday.
So whether its a cereal box Easter bunny basket, a paper Easter egg and chick, or a simple Easter bag craft, kids and adults alike can enjoy all that the holiday season has to offer.
Easter Party Crafts
1. A Rabbit Ears Cake Topper
You can easily replicate this cute bunny rabbit cake topper with a couple of food-safe bamboo sticks and some pink and white glitter cardstock. Cut the cardstock into elongated ear shapes and use a little bit of icing as glue to stick on an adorable pink rabbit nose. This craft is a great way to brighten up a simple cake.
View product here
2. Paint Chip Easter Egg Party Garland
Another simple, but colorful, craft that only requires scissors, a small hole punch, and some ribbon, is this elegant party garland made from paint chips. You can get a small collection of paint chips for free from any home or hardware store and create this beautiful party decoration. You can cut the chips into egg shapes or any other Easter theme, including bunnies and chicks.
3. This Felt Easter Egg
This adorable egg is made from simple craft felt and a small styrofoam ball. Cut the styrofoam into an oval shape and use the excess to build a small base for the egg to stand on. Use hot glue to affix the felt, including three-dimensional poppies that give this project its folksy, natural feel.
Check Out Here
4. 3D Paper Eggs
These decorative eggs are great for home decor and can be hung as a garland or as individual ornaments. All you need is a few sheets of different colored or patterned paper. Cut the paper into egg shapes and stack several different colors on top of one another. Add a vertical staple in the center of the stack and fan out the edges.
5. An Adorable Jelly Bean Tree
You will love this jelly bean tree project because it is colorful, easy to make, and a lot of fun to put together. Kids will enjoy eating the unused jelly beans and parents will love working on a project that has virtually no clean up but still looks festive.
The best part is that this jelly bean tree can last up to two years!
6. The Classic Egg Hunt
You really can't go wrong with a traditional egg hunt. This timeless classic is fun for all ages, and can be customized for younger children by adding brightly colored balloons to help guide toddlers towards the eggs. Even older kids and teens will get a kick out of hiding the eggs in your backyard.
7. An Easter Egg Knit Necklace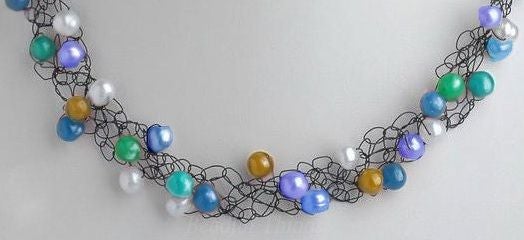 Not all Easter-themed arts and crafts have to be simple or kid-friendly. This intricate necklace is hand-knit from the coated wire with shimmery beads and pearls woven in as festive eggs. Although it is definitely not a project for the faint-hearted, this wearable project is sure to stand out at any holiday party.
8. Multipurpose Plastic Eggs
Less advanced crafters will appreciate the durability and longevity of these brightly colored, plastic eggs. The polypropylene finish can be painted or even colored on with crayons, making it a great alternative for toddlers that can be safely stored and cherished for years to come. They even come with a string so you can easily hang them as ornaments.
Buy One Here
9. Painted Easter Eggs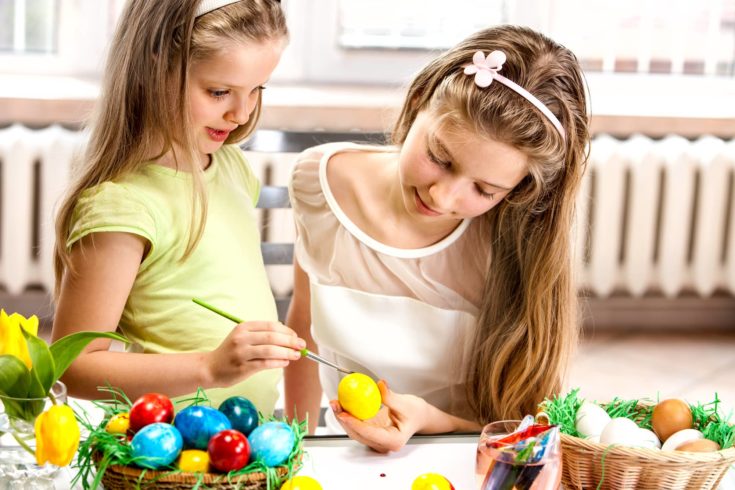 There is nothing more authentic than decorating your own Easter eggs. And while plastic options may be preferable for younger children, there is really no substitute for the time-honored tradition of painting eggs with your friends and family.
If you are tired of painting the same designs every year, then you can try out some unique painting techniques or attempt an intricate galaxy design.
10. An All-in-one Easter Crafts Kit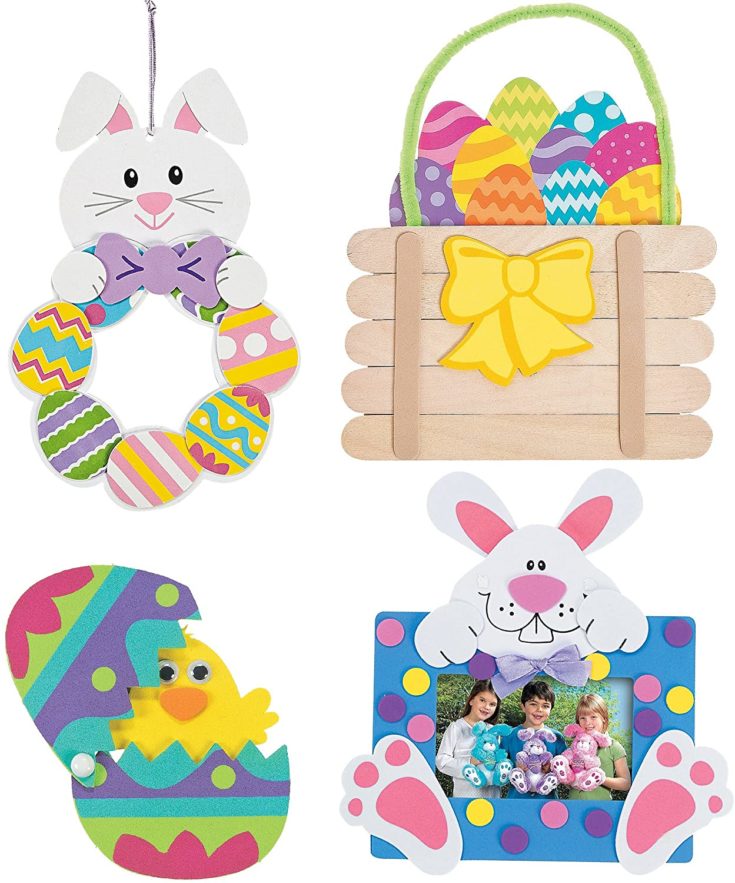 If your kids love DIY but you don't have the time to go out and buy a bunch of different art supplies, then consider getting a craft kit. This version comes with all the supplies needed for a fridge magnet, a basket-shaped sign, a bunny wreath, and a picture frame, that way your kids will have plenty of options to choose from.
Buy It Here
11. This DIY Polka-dot Paper Lantern
Another great way to decorate your home is with an egg-shaped paper lantern. This hanging lantern can be used as a lampshade or hung as is to add some festive energy to any party. Add pastel colored polka dots for a fun look, or skip them if you're having a more elegant get together.
Easter Party Food Crafts
The Easter theme is not only great for party decorations, but can even be incorporated into the snacks and desserts you give out during the holiday. Here are a few ideas for some edible crafts that are sure to take your party to the next level.
12. A Bunny Snack Bowl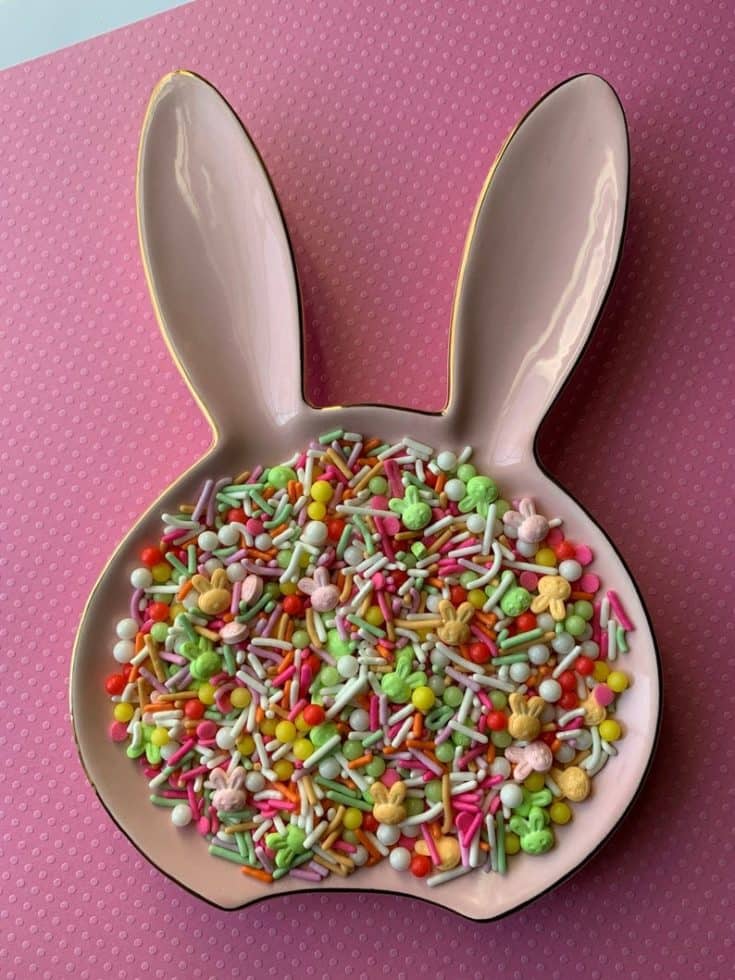 Not only is this snack bowl an adorable bunny ear shape, but it is filled with a specialty snack mix that includes bunny rabbit sprinkles. This colorful snack bowl is the perfect Easter party idea for anyone who is short on time. Simply throw the sprinkles in a bowl and you have a centerpiece that is both beautiful and tasty.
Get It Here
13. Marshmallow Chocolate Bark
This snack is a springtime take on the classic white chocolate bark. Instead of using peppermint, it uses colorful marshmallows, and can even be cut into Easter shapes using specialty cookie cutters.
Ingredients:
1 bag white chocolate chips (12 oz.)
3 cups mini rainbow marshmallows
1 TBSP shortening (optional)
Sprinkles for decoration (optional)
Directions:
Line a glass dish or half-sized cookie sheet with parchment paper.
Put white chocolate and shortening in a medium-sized glass bowl and melt chocolate in the microwave or on the stovetop until it is completely melted.
Add marshmallows to the melted chocolate and pour onto parchment paper.
Decorate with sprinkles and then place them in the freezer for 20 minutes until chocolate is fully set.
Remove from the freezer and use a cookie cutter or knife to cut into cute shapes.
14. An Italian-Style Easter Bread
This Italian Easter bread is both festive and delicious. The recipe is similar to a challah egg bread or brioche, producing slightly sweet, soft slices of tear away bread. You can bake this bread with colorful sprinkles and vibrant eggs in the center for a baked product that makes a delightful and eye-catching breakfast or dessert.
Shop It Here
Ingredients:
1 1/4 cups milk, (300ml)
1/3 cup unsalted butter, (74g, 2 1/2 ounces) cut into small cubes
2 1/4 teaspoons rapid rise instant yeast, (1 package, 1/4 ounce)
1/8 teaspoon salt
1/2 cup granulated sugar, (100g, 3 1/2 ounces)
2 large eggs, beaten
4 cups all-purpose flour, (568g, 20 ounces) divided, plus more for kneading
1 large egg, beaten plus 1 teaspoon water
3 dyed hard boiled eggs
colored sprinkles (optional)
Directions:
Melt butter and milk in a small saucepan, being careful not to let the milk get too hot.
Combine yeast, salt, sugar eggs and warmed milk and butter mixture in a large mixing bowl. Add flour in 2 cup batches and use a stand mixer to knead the dough until stiff and slightly sticky.
Place dough on a lightly floured board and knead by hand for 4 more minutes.
Let the dough rest for 10 minutes.
Divide the dough into 6 sections and roll into ropes. Twist two ropes together, pinching the ends and looping into a circle to create a ring shape.
Place shaped dough on a parchment-lined baking sheet and allow the braided dough to rise in a warm area.
Heat oven to 350F.
Whisk together a large egg and 1 teaspoon water. Brush each braided dough section with the egg wash and top with sprinkles. Gently place dyed Easter egg in the center of each braided ring.
Bake until golden brown, approximately 15 to 18 minutes.
15. Deviled Egg Chicks
Deviled eggs have never been cuter. These charming, hatching chicks make for the perfect hors d'oeuvre, adding a little bit of light-hearted fun to any house party. And if chicks aren't your thing, you can always try this smoked-salmon, carrot alternative.
Ingredients:
12 large eggs
½ cup mayonnaise
¼ cup finely grated parmesan
2 teaspoons dijon mustard
3 thinly sliced carrots
24 capers
Dry dill sprigs for garnish (optional)
Directions:
Fill a saucepan with water and heat to a boil. Hard Boil eggs. Cool and peel shells.
Trim rounded bottoms of eggs so that they stand upright. Cut off the top third of eggs and set tops aside.
Remove yolks and mash with mayonnaise, parmesan and mustard until smooth. Place yolk mixture into a resealable plastic bag or piping bag.
Pipe yolk mixture into each egg white cavity, filling approximately 1 inch above the rims.
Cut carrots into very small triangles
Place carrots and capers for eyes and beaks. Top each deviled egg with an egg white top.
Refrigerate and serve with dill.
16. Circus Peanut Carrot Toppers
Circus peanuts can be transformed into the perfect carrot topper for cupcakes, cakes, and all other baked goods. Kids and adults will have a great time putting these candied marshmallows together. You can even eat these cute little carrots as is!
Ingredients:
Circus Peanuts
Green licorice
Directions:
Shape the circus peanuts with your fingers until the marshmallow is the desired carrot shape.
Use a toothpick to create realistic lines on the tops of the circus peanuts, mimicking the natural variations in a regular carrot.
Cut the licorice to make skinny slivers and use the toothpick to cut a small hole in the top of the carrot.
Insert two to three pieces of licorice into the hole and your candied carrot toppers are ready to go!
17. Edible Easter Egg Baskets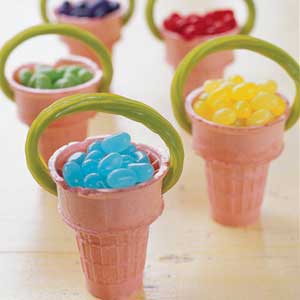 These miniature Easter egg baskets are an edible take on the iconic basket. Not only do they look great as centerpieces and homemade decorations, but they are completely edible and a delicious treat for kids to enjoy. They are also very easy to make, with absolutely no cooking required.
Ingredients:
Sugar or cake ice cream cones
Jelly beans
Green or red licorice sticks
Ice cream (optional)
Directions:
Fill the ice cream cones with colorful jelly beans. If you want, you can also fill the bottom of the cones with ice cream and top them with jelly beans for a cool treat that is meant to be enjoyed right away.
Using a small knife, carefully cut two holes into the sides of the tops of the cones.
Insert the licorice into the holes to create an edible handle.
18. Painted Chocolate Eggs
Egg painting is a classic and creative Easter tradition. Unfortunately, painted eggs are not always edible, and even when they are, it can be disappointing to peel back a beautiful design only to reveal a simple hard-boiled egg.
This chocolate egg is an exciting alternative that combines all the fun of decorating with the tastiness of chocolate.
Ingredients:
Chocolate Easter Egg
White chocolate
Food coloring or coloring powder
Sprinkles (optional)
Directions: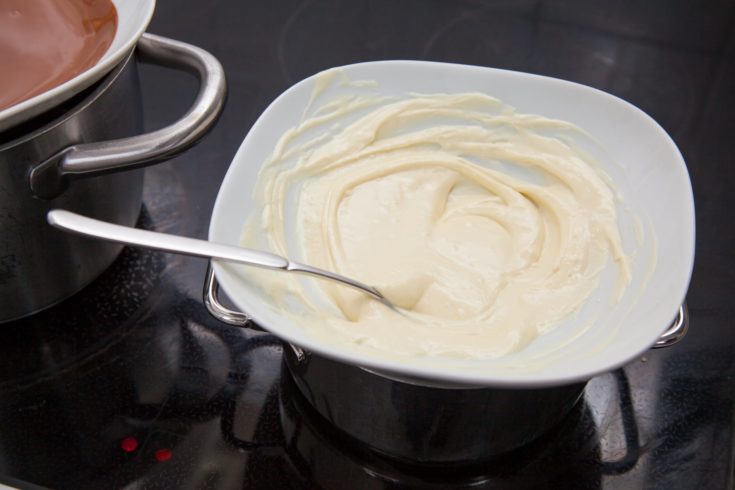 Melt the white chocolate in a bowl over boiling water. Use a muffin pan to melt several small batches of chocolate at once for various colors.
Mix the food coloring into the chocolate as it is melting.
Place the egg in a mug or egg carton to keep it steady, and then paint the egg in sections starting with the bottom. Use thick strokes to prevent the painting chocolate from melting the underlying egg. Let the egg sit in the freezer in between colors and paint applications.
Add quirky designs, polka dots, and sprinkles as you see fit.
Easter Bag and Basket Crafts
No Easter party is complete without a basket or bag for egg hunting. These DIY paper bag crafts are easy to make and perfect for carrying and storing all of your Easter treats.
19. Miniature Paper Basket Critters
Kids will love making these charming paper baskets. All you need is a little bit of colored construction paper, a cardboard tube, and some oversized googly eyes to put together these adorable, miniature rabbit and chick-shaped baskets. Each one holds a single chocolate egg, making them the perfect miniature craft for little kids to enjoy.
20. Found Materials Basket
The downside of any holiday is the amount of waste that is produced. If you are eco-conscious or looking to teach your kids about the importance of reusing and recycling materials, then these compostable baskets made from found materials are perfect for the occasion.
You can use any materials you have in your recycling bin, including newspapers, flyers, and empty tissue boxes!
21. Burlap Bunny Bag
Another environmentally friendly craft is this cute bunny motif made from an ordinary burlap bag. Unlike a lot of DIY projects, these bespoke bags will actually last a really long time, and can be reused for other holidays or outings. Simply use heat transfer vinyl to add the bunny design to any burlap or canvas bag you have at home.
Buy It Here
22. Easter Basket Hot Air Balloon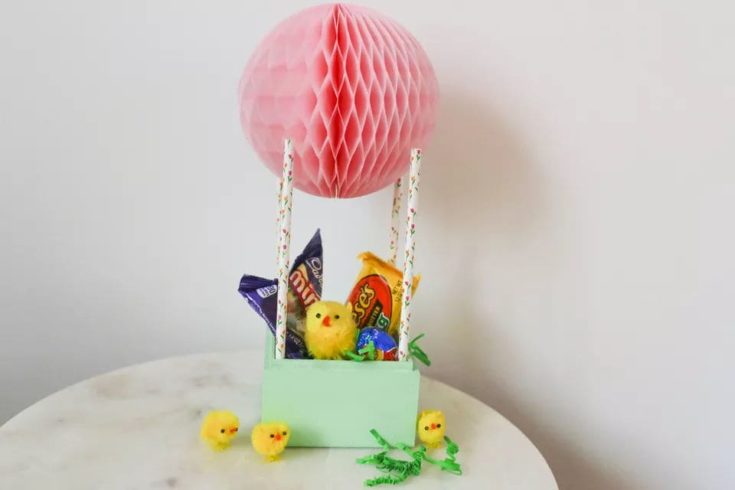 This DIY basket is incredibly precious. Made from a wooden box and a honeycomb ball, the hot air balloon design is a perfect piece of spring decor that has enough durability to last the whole season.
Place this basket in your entryway and fill it with candy to create an adorable homemade candy dish.
23. Woven Paper Basket
Another option for a DIY paper basket is a simple woven design. The interlocking strips of construction paper give this project a little bit more strength than other paper crafts, so you can fill it with jelly beans, chocolates, and even a few painted eggs. Make it your own by choosing vibrant colors and even patterned paper.
24. Coffee Cup Easter Basket
Coffee cups make great supplies for upcycled crafts, and Easter baskets are no exception. Fish out some disposable coffee cups and a few of those cardboard heat sleeves from your recycling bin and transform them into mini Easter crafts with a little bit of paint, glitter, and sequins. These baskets make great gifts for neighbors, teachers, and friends.
25. Shoebox Baskets
Another great material for upcycling crafts is the shoebox. With a little bit of duct tape and glue, a simple shoebox can become a beautiful basket for Easter eggs, craft supplies, and even decoration storage. If you do not have a shoebox on hand, you can use just about any sturdy cardboard box, including old appliance containers and shipping boxes.
26. Eyelet Ruffle Basket Liner
One of the simplest ways to spruce up an otherwise ordinary woven basket is with a fabric liner. This basket liner has an eyelet ruffle trim that creates a soft, delicate look that is perfect for Easter. You can personalize this craft by choosing your own unique, patterned fabric, or by embroidering your name on the outside.
Check The Product
27. Sewn Bunny Bag
This bunny-themed bag is the perfect homemade accessory for any egg hunt. Made from canvas and felt, the bag is both durable and soft. It features a hand-stitched bunny face and a pom pom tail, lending it that extra level of detail any crafter will appreciate. What's more, kids will love this bag so much, they will want to carry it all year round.
28. A Ruffled Collar
This project takes a traditional basket and gives it that extra level of cuteness by adding a collar made from patterned fabric sewn into ruffled layers. Anyone with basic sewing knowledge will be able to whip together this craft in no time. You can even mix and match prints and patterns to make this ruffled collar your own.
29. Party Favor Bags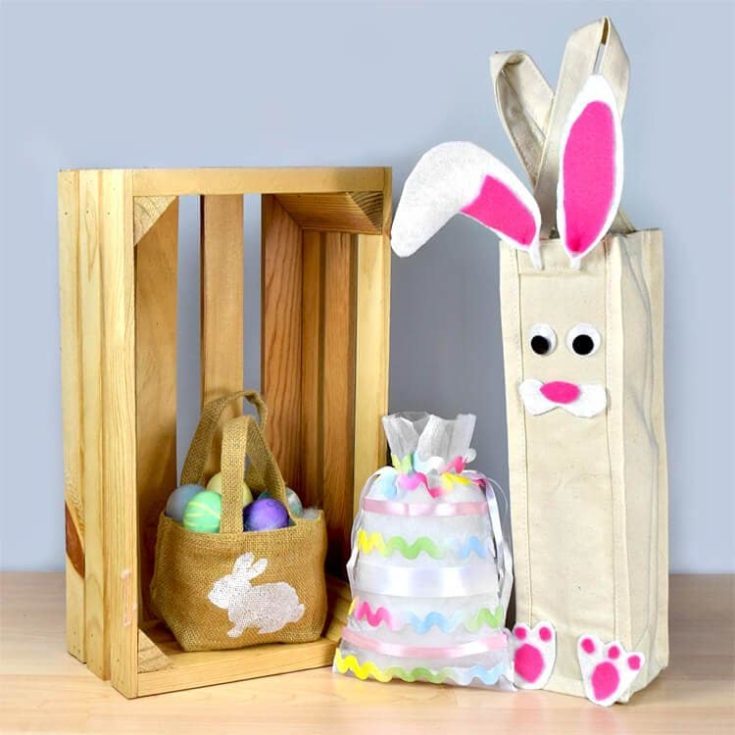 If you are planning on giving out goody bags to your party guests, then why not make them yourself! These party favor bags are a festive way to deliver simple gifts. They are perfect for holding kids treats and even a bottle of wine for the adults. Not only are they inexpensive, but they can be used over and over again.
Easter Bunny Crafts
There's nothing more symbolic of Easter than the Easter bunny. Here are a few of our favorite bunny rabbit crafts you have to try out this holiday season.
30. DIY Wire Bunny Ears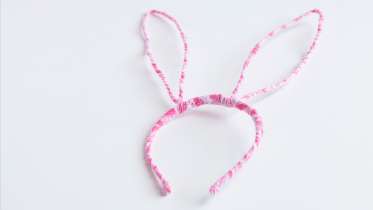 These bunny ears made from craft wire and strips of pink fabric are so simple that even children can make them. This is one craft the whole family can enjoy together. You can make them in different colors and sizes to wear throughout your Easter party, or use them as props in photo booths or family portraits.
31. This Burlap Rabbit Wall Decoration
If you're going for a more rustic look or spending Easter outdoors, then you have to try out this burlap wall craft. This rabbit decoration can be made in just a few simple steps, so even if your sewing skills are not the greatest, you will still be able to pull it off.
32. A Fluffy Bunny Paintbrush Topper
This is the perfect Easter craft for artists and painters. The fluffy bunny figure is made from simple materials and glued to the top of a paintbrush, so when you're decorating eggs or painting Easter baskets, it will look like this little bunny is the one doing all the work. It also makes a great gift for creative kids.
33. These DIY Party Hats
No party would be complete without a great selection of party hats. These animal hats are not only adorable, but can be made in bulk using a circular hole punch or triangle stencil. They are the perfect attire to sport during egg hunts and Easter brunch, and look good on both kids and adults.
34. An Elegant Easter Bunny Topiary
Topiaries, little shrubs or trees cut into ornamental shapes, are symbols of elegance and sophistication usually only found in botanical gardens and wealthy estates. However, you can make your own DIY topiary with materials found at the dollar store.
This Easter bunny version makes a great indoor and outdoor display piece that will add an element of festive elegance to your home.
35. This 3D printed Rabbit Planter
This miniature rabbit-shaped pot is perfect for holding chocolates or serving as a planter for succulents and small flowers. Because all aspects of the planter are printed in plastic using a 3D printer, they can be fully customized from scratch and even turned into small toys for children to safely play with.
36. A Painted Wooden Sign
Painted wooden signs make great decorations for any occasion. They integrate seamlessly into both home and outdoor environments and are sturdy and long-lasting. This bunny design is perfect for Easter and can be elaborated with colorful foam eggs, pastel-colored beads, and green moss, or kept as a simple white silhouette against the dark wood.
Easter Crafts for Toddlers
If you are worried about finding craft projects that are suitable for toddlers, here are a few simple ideas that are safe for young kids and easy for parents to monitor.
37. A Tissue Paper Suncatcher
Tissue paper is a great material for toddlers to use because it is much softer than cardstock but has all the vibrancy and color of craft paper. These suncatchers can be made in fun Easter shapes like eggs and bunny rabbits, and can be assembled with tape, so young kids are not at risk of swallowing any glue.
View Product Here
38. Cake Easter Eggs
Another great food craft is the Easter egg cake pop! All you need for this craft is some moist cake, icing in a variety of colors, and sprinkles. You can mold the cake into egg shapes and freeze them in advance, leaving the decorating and painting for your toddler.
Because all the materials are edible, you won't have to worry about your toddler licking any of the painting supplies!
39. The Classic Bunny Portrait
Directed drawing is a great way to get young kids excited about arts and crafts. After a quick demonstration, you provide kids with the materials they need and let their imaginations run wild. This watercolor bunny portrait lets kids explore colors and paints in a safe and fun way. It is a perfect craft for the classroom, day care, and home environments.
40. Egg Carton Bunnies
These bunnies made from recycled egg cartons are a great craft to make with your young children. Kids will love the silly googly eyes and the fun spring colors. When you are done, you can fill the bunnies with small candies and chocolates or incorporate them into Easter baskets or egg hunts.
41. Lolly Pop Bunnies
These adorable lolly pop bunnies are the perfect treat to fit into Easter baskets or send your little kids to school with. They are made with simple crafting materials, and because all the add-ons adhere to the plastic wrapper, they are still completely safe to eat.
Although these are probably too complicated for kids to make, toddlers will love how cute they are.
42. Paper Bunny Decoration
These paper bunnies are incredibly easy to make and suitable for really small children. All you need is a few pieces of folded construction paper and some colorful paper for decorating. This craft is perfect for little kids and a great way to show your children that you can get creative with even the simplest materials.
43. Clothespin Bunnies
Clothespins are another crafting staple that can be transformed into all sorts of fun and decorative projects. These clothespin bunnies can be made with markers instead of paint, so they are suitable for young toddlers and won't leave behind a big mess. Kids will love playing with the little bunny characters they've created.
44. Paper Roll Chick
Another easy craft that kids will love to play with is this sweet little chick made from yellow cardstock. These chicks are simple enough that you can make them alongside your kids, but they use minimalistic, low mess materials, so you won't spend hours cleaning up paint and glue afterwards.
45. Boo Boo Bunnies
These adorable rabbits are cute little projects to make during Easter that simultaneously serve as ice-packs for all your little bumps and bruises. They are a great project you can make with your toddler and reuse anytime they get an unexpected boo boo. Use a plastic, refreezable ice cube to avoid drippy situations.
Conclusion
Did you like this list? These Easter party crafts are just a small sample of all the amazing Easter themed crafts out there. Let me know which project you're most excited to try in the comments, and be sure to share this article with any crafters and parents you know.