Tired of using the same basic dyeing methods on your Easter eggs every year? Looking for something a little more eye-catching but don't know where to start?
Easter is a time of celebration, and the eggs you use for table decorations, centerpieces, and Easter egg hunts should reflect that. We've rounded up some of our favorite egg shell designs you can try out this holiday season. From cool easter eggs, to funny easter eggs, these designs are sure to stand out and grab any party guest's attention.
Here are 69 Eye-catching DIY Easter Eggs You Can Make at Home
1. The Traditional Pyanska Ukranian Easter Egg
Pysanky is the traditional art of hand-decorating Ukranian folk designs onto Easter eggs. Traditionally, these intricate patterns are inscribed onto the eggs with beeswax and colorful dye. If you don't have the time or drawing skills to devote to this wax-resist technique, you can make these Ukranian eggs at home with heat-shrink plastic egg sleeves and some simple wooden eggs.
Get One Here
2. Speckled Rice Dyed Eggs
An alternative to the basic dip-dye is a speckling technique involving rice and simple food coloring. Adding dye to small bags of rice and then shaking the egg in the dyed rice creates a folksy, speckled effect that is usually only achieved with hours of painstaking paint application. You can even use multiple colors to create unique, rainbow flecks.
3. Kid-Friendly Easter Eggs
Another easy and straight-forward way to decorate Easter eggs is with simple markers. This method is perfect for children, who can play around with colors, polka dots and stripes without any of the messy clean up of other egg-dyeing alternatives. Washable markers or sharpies in primary colors are perfect for this design.
4. Boho-inspired Cactus Decorations
These miniature cactus decorations made from hard boiled eggs are a really unique and chic take on egg decorating. First, an interesting boho pattern is drawn on each of the eggs. Then a little bit of construction paper is glued on and the eggs are placed in miniature clay pots to achieve the desert-inspired look.
5. DIY Decoupage Egg
Decoupage is a really fun art form that involves gluing colored paper cutouts onto hard surfaces to create special painted effects. These decoupage eggs are made using floral napkins and a little bit of glossy mod podge to transfer the designs onto the egg surface. You can use any printed napkin and mix and match to make it your own.
6. Ribbon Wrapped Eggs
It's amazing just how much you can do with a little bit of colored ribbon. These eggs have been wrapped with a thin band of polka dot ribbon, but you can make this DIY project with almost any ribbon you have on hand. Use a vibrant color that will stand out against the white shell, or add the ribbon as a topper to any other design.
7. Threaded Cage Decoration
This oversized Easter craft is the perfect alternative to decorating simple white eggs. The threaded cage is made from glue-set twine wrapped around a balloon and later filled with shredded pink paper. It's a good display piece as is, but looks even better as a home for a small stuffed rabbit.
8. Crochet Kawaii Egg Cozies
These cute little cozies are made in adorable Easter animal shapes like bunnies and chicks, and are simple enough that even beginner crocheters can make them. They are the perfect addition to any spring breakfast and fit nicely over both soft-boiled and chocolate creme eggs. They also make amazing gifts for friends and family during the holiday season.
9. Feather Easter Eggs
This design is a simple and easy way to decorate Easter eggs. Simply affix the feather with a little bit of mod podge, being careful to apply the glue in the same directions as the feathers are naturally angled to avoid any spikey or off-center bits. You can use real eggs or plastic ones if you are planning on saving the project for next year.
10. Felt Easter Craft
This felt egg is the perfect Easter craft for school. With a little bit of thread and some multicolored felt, students can decorate these felt eggs with polka dots, leaves, colorful flowers, and any other designs they can dream up. You can pre-make the egg shapes to serve as templates or let your students complete the whole craft from scratch.
11. Classy Mustachioed Eggs
If you're someone who likes to be different, then there's nothing more fun and unique than these white eggs decorated with various mustache styles. This craft is great for adults and kids, who will love treating their eggs like fancy French characters or macho bullfighters. Try sneaking these into the fridge as a silly surprise for your family members to find.
12. 3D-Printed Spinning Toy
If you have access to a 3D printer, then you absolutely have to try this spinning Easter egg design. With fun shapes and multiple moving parts, this craft makes a great toy for children's baskets or to use in place of a traditional egg hunt. You can also make it entirely out of filament remnants or sample scraps you have laying around.
13. This Modern Brushstroke Design
These designer Easter eggs were inspired by modern artist Damien Tran, making them an elegant Easter decoration suitable for adults and small businesses. Use plastic eggs, which are better for painting and coloring, and will allow the brushstrokes to stand out against the solid color background. If you make a mistake you can always paint over it!
14. Denim Bunny Ear Egg Holder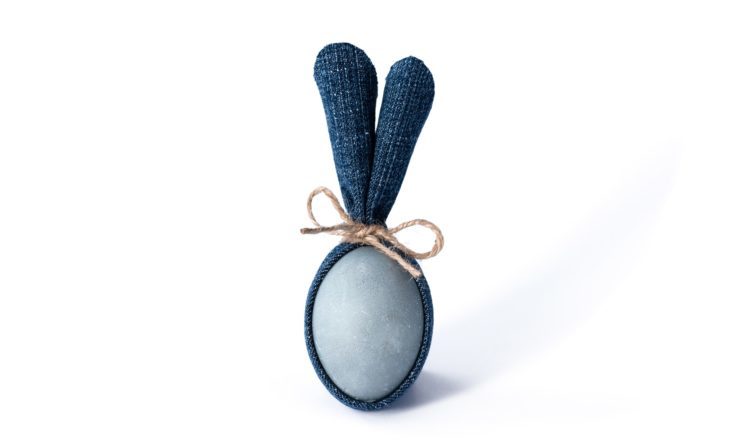 This egg holder made from denim and sewed into the shape of bunny ears is an awesome way to wrap your Easter eggs before giving them away as gifts. Anyone with basic sewing knowledge can quickly put this project together and it can be used on both painted and plain white eggs.
15. Eggs in Party Hats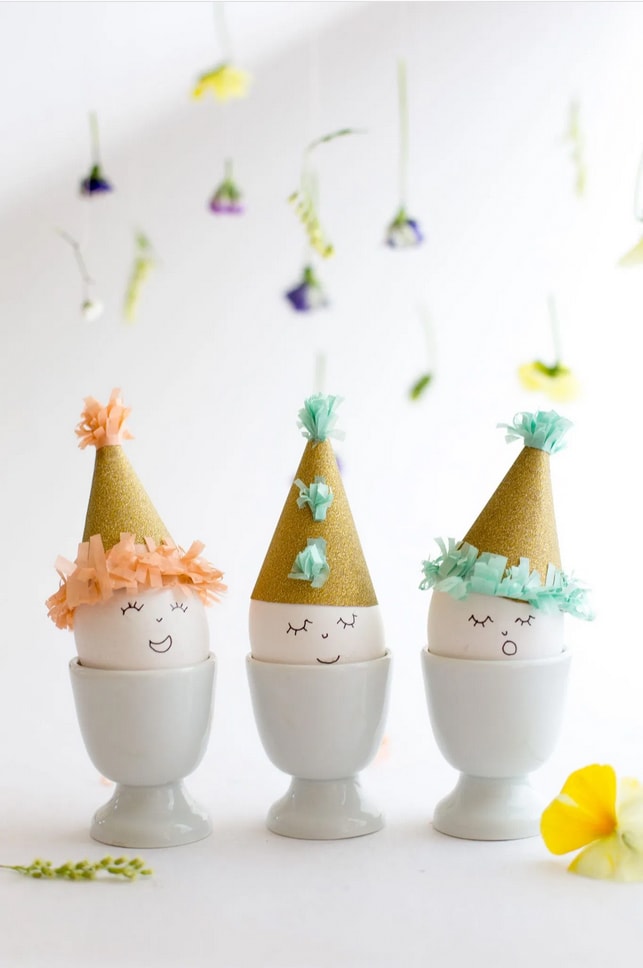 These pretty easter eggs are incredibly easy to make and look absolutely adorable in their tiny party hats. If you are intimidated by more complex designs and are not sure how to make the eggs in your egg hunt stand out, then this is the craft for you. Simply cut a miniature party hat out of construction paper and glue it on top of your boiled eggs.
16. Travel Themed Printed Designs
Using the decoupage technique, you can add pictures of your favorite cities to create beautiful, travel-themed Easter eggs. Simply print images from the internet or your own travels onto a plain white napkin and glue the pieces to the front of your egg. If you want a natural alternative to mod podge, you can use egg whites as a simple but durable adhesive.
17. Chirping Egg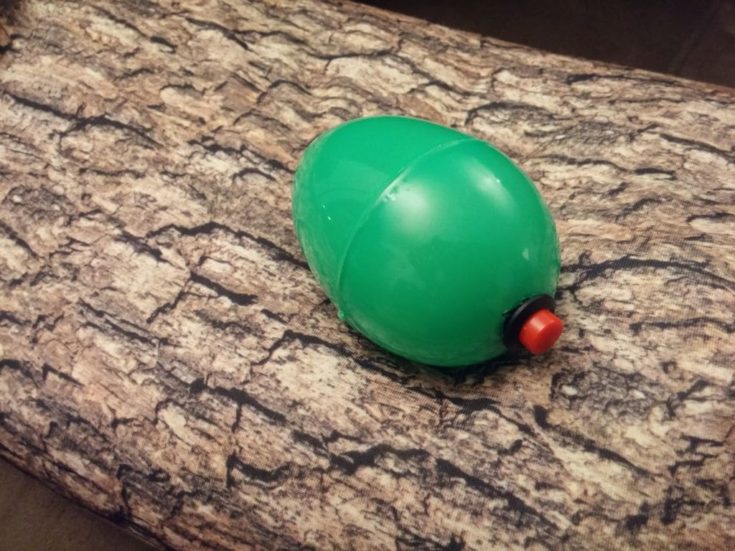 This chirping egg is the perfect solution to making Easter egg hunts accessible. Children with autism, physical, or visual impairments can participate in all Easter activities with this beeping plastic egg. It may take a few tries to get the circuitry correct, but anyone with a little bit of electrical experience will be able to put these together in a flash.
18. Celebratory Balloon Eggs
If you have any relatives with birthdays that fall in and around Easter, you will really appreciate this balloon twist on traditional Easter decorations. Incorporate the birthday theme into your normal egg hunt by cutting the knots off of a few blown balloons and glueing them onto your pre-dyed eggs.
19. Bunny Rabbit Egg Decorations
Another quirky way to spice up your standard egg hunt is with these cutesy rabbit decorations. Using styrofoam eggs, paint the faces using a sharpie, markers, or craft paint. Glue colored felt to the pointed tops and skewer the rounded bottoms onto a wooden craft skewer. You can stake the wood into your backyard or create an alternative bouquet out of several decorative eggs.
20. DIY Hershey Kiss Display
Nothing screams Easter quite like chocolate. This egg-shaped display is made up of 2-3 packages of Hershey kisses, making it a fantastic edible centerpiece. The chocolates are attached via pins so that they can be easily removed for eating and replaced so the egg does not lose its finished look.
21. DIY Pineapple Easter Eggs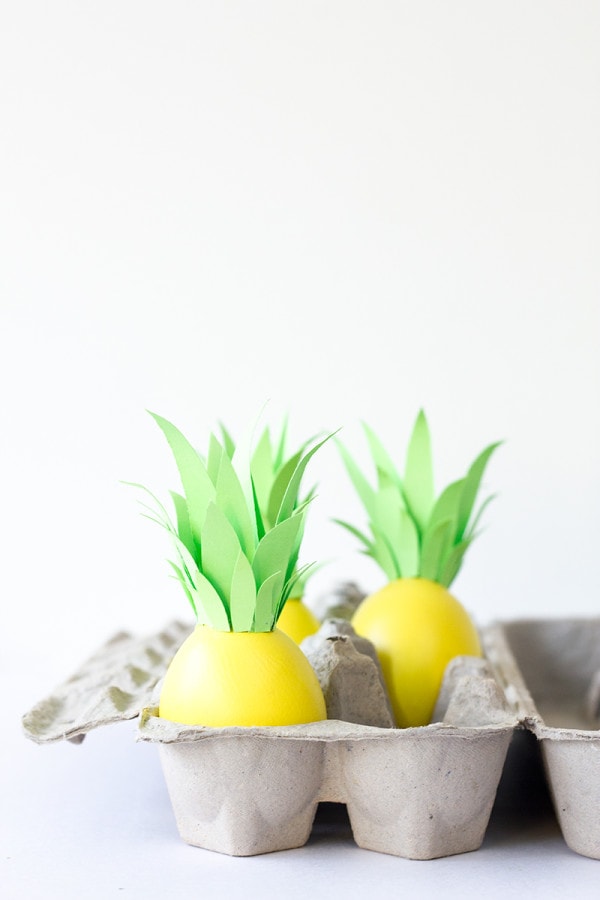 Pineapples are a major trend in popular culture and home decorating. If you love the quirky pineapple motif, then you'll really enjoy making this paper craft. Use craft paint to color faux or real eggs a vibrant yellow and then glue green cardstock in concentric circles to create spiky pineapple leaves.
22. A Googly Eyed Egg For Kids
Although this particular project probably won't win an egg decorating contest, it is still a lot of fun for young kids and families. Kids will love painting the eggs and will enjoy playing with them once they've dried. Try using glossy acrylic paint to give the project a bit of sheen and use oversized googly eyes for a sillier look.
23. DIY Dyed Robin Eggs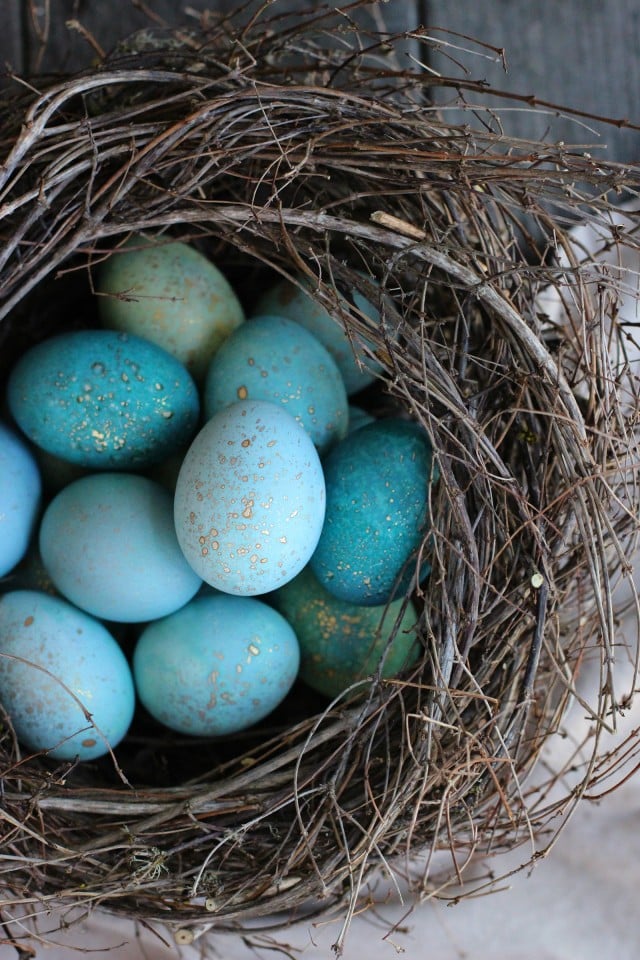 The pale blue color found in robin's eggs is one of the most beautiful colors found in nature. If you want a more rustic and natural look, then you can try making your own robin's eggs at home using red cabbage as a natural dye. The purple color of the cabbage dries down to the prettiest turquoise blue for a truly authentic finish.
24. An Awesome Super Mario Brothers Design
These Easter eggs inspired by Nintendo characters are the perfect design for gamers. You can print out a template or draw the patterns on by hand to create these really nice Easter eggs your kids will adore. If you want, you can even use wooden eggs to create decorations that are suitable for displaying all year round.
25. DIY Egg Garden Rocks
Not everyone wants to deal with the messiness and hassle of holding an egg hunt every year. If you love decorating Easter eggs but don't want to risk leaving hard boiled eggs in your backyard, then consider putting together a rock garden instead. These garden rocks add a pop of color to any planter and eliminate the hassle of using real eggs.
26. Calligraphy Eggs
These calligraphy eggs can be decorated with personalized messages, names, and inspirational quotes for a sophisticated and pinterest worthy Easter project. You can use calligraphy templates and tattoo paper to save time, or read up on some calligraphy tips and try creating your brush strokes by hand. Either way, you'll love this chic design.
27. Beadwork and Geometry Decor
These beaded eggs are not for the faint of heart. Making use of the relationship between hexagons and honeycomb patterns on circular surfaces, these wooden Easter eggs employ a lot of finely detailed beadwork to create an interesting geometric effect.
You will need to understand beading increases and simple stitches like the peyote stitch, but the result is definitely worth the effort.
28. The Confetti Spackled Egg
Another cool technique for creating alternative Easter eggs is DIY spackling. This method involves applying a thick paste to the outside of the egg and then covering the surface with shredded paper or whatever other confetti-like stuff you have on hand. The texture that is produced is really cool and one of the best ways to mix up your normal holiday routine.
29. Galaxy Easter Egg
This cosmic design is easy to make but produces a really complex and eye-catching effect that is sure to stand out in any egg decorating competition. You can use craft paint to create the galaxy design by hand or practice your dipping skills to create this space-inspired project using only natural and edible materials.
30. Golden Animal Toppers
Another designer DIY project are these adorable yet extremely stylish golden animal toppers. The egg toppers are made from tiny, plastic animal figurines you can find at any craft store. With a little bit of gold paint, glitter, and craft glue, these ordinary materials are transformed into an elegant, designer-quality decoration for Easter.
31. Egg-Shaped Cookies
If you're tired of decorating and giving away eggs at Easter, then why not try decorating cookies instead. All you need is an egg-shaped or Easter-themed cookie cutter and some icing in a variety of fun, pastel colors, and you'll instantly have a new favorite holiday tradition. The best part of this decorating project is that you get to eat it afterwards.
32. Egg Shell Farm Animals
This is another, relatively mess-free project, you and your kids can enjoy together. Using blown out egg shells and standard crafting materials like pom poms and felt, you can create a variety of animals, including pigs, sheep, rabbits, and chicks. Assemble the animals in one place and you'll have a cute farm diorama to decorate your home and celebrate spring.
33. Dyed Eggs Using Silk Ties
Another handy trick for creating really intricate and beautiful designs on your eggs is to use patterned silk and vinegar. This tutorial shows how to take printed silk scarves and ties and transfer those patterns onto plain white eggs by allowing the dye to bleed out in a boiled water and vinegar bath.
34. Raggedy Ann Egg Dolls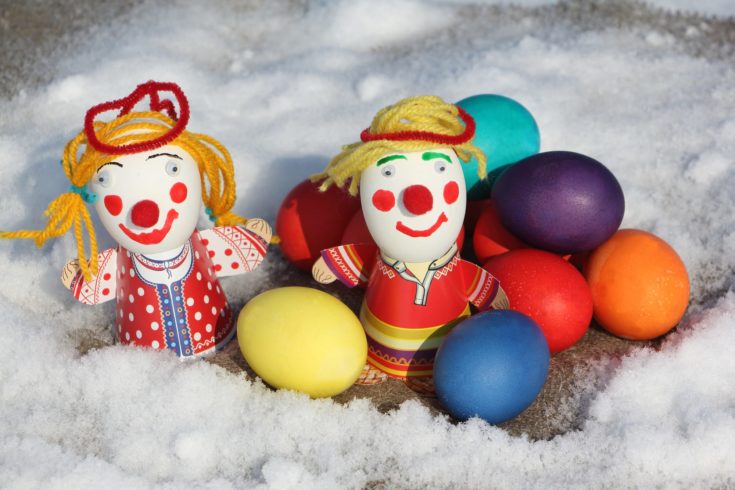 Fans of Raggedy Ann and Raggedy Andy will love these miniature egg-headed figurines. With eggs for heads, rosy pink cheeks, and yarn for hair, these miniature dolls give off serious Raggedy Ann vibes. They are perfect to include in any children's egg hunt or Easter basket. Make them with wooden eggs for a longer-lasting toy.
35. Angry Birds Easter Eggs
Fans of angry birds will love these painted Easter eggs. You can use hard-boiled eggs or plastic ones, and any acrylic or craft paint you happen to have at home. You can also create an angry birds stand for your eggs to rest in using an old cardboard tube and some printer paper.
36. Dip-dyed Easter Bunnies
These sweet little sleeping bunnies are hand drawn onto partially dipped hard boiled eggs for a simple DIY decorating project you can make with everyone from toddlers to adults. Feel free to add details like buttons and bow ties to each of the bunny characters to put your own creative spin on the project.
37. Simple Cloth Bunny Ear Wrap
This cloth egg wrap is one of the simplest Easter crafts you can make in no time at all. Simply draw the bunny face onto the egg using a sharpie or graphite pencil and wrap the egg in a thin cotton cloth. Then tie the cloth in place with string, straw, twist ties or a rubber band.
38. No Dye Typography Eggs
These typography eggs are funny additions to any Easter egg hunt. They also make great decorations by themselves. The letters are embossed on the surface with adhesive vinyl, but if you do not have a vinyl cutting machine, you can also use tiny alphabet stickers purchased from any craft store.
39. Googly Eyed Animals
This is another kid-friendly project suitable for toddlers and primary school classrooms. Kids can paint their eggs any color they like and decorate the animals with construction paper ears and beaks. Finish off the project with some oversized googly eyes and display them all as a group in an empty egg carton.
40. Crocheted Animal Egg Holder
This crochet project is an egg holder, decoration, and egg cozie all in one. You can make the bunny or the chick version using basic crochet stitches that even the most beginner crocheter can easily do. This is a really versatile craft that you can reuse any time you like, so every breakfast is an enjoyable one.
41. Golden Jacquard Egg
These Easter decorations are hand-sewn using a beautiful woven jacquard in gold and silver variations. Create the cover by sewing two egg-shaped sections of fabric together and filling the insides with cotton batting or fiberfill. Use a thick metallic thread and a foil tape to create an attractive wrap and display your handmade decorations prominently.
42. Romantic Crepe Paper Eggs
Although this is one of the messier crafts on this list, the results are truly gorgeous. If you aren't afraid to get a little messy, you can make these super attractive paper egg decorations with pleated tissue paper and a decoupage technique. Add lace, tulle, crochet flowers, flower petals, golden buttons or any other accessories you have lying around to complete the romantic look.
43. Glowing Nest for Displaying Easter Eggs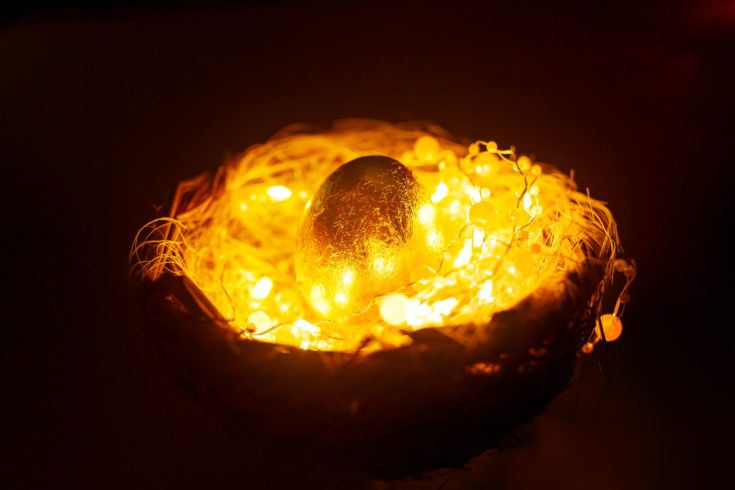 If you're looking for an innovative and festive way to display your Easter eggs after they've been decorated, then this glowing bird's nest is a wonderful way to keep the holiday spirit alive. You can make the nest out of paper mache or small twigs from your backyard. Fill the inside with fairy lights and place your egg in the center.
44. Escher Inspired Wax-resist Eggs
These gorgeous Easter eggs are inspired by the graphic design work of famed Dutch artist M.C. Escher. Each is made using the traditional pysanky wax-resist technique to reflect the etching work of Escher's woodcuts. If you are new to pysanky, this is a great design for practicing your technique.
45. This Marbled Gold Dipped Egg
A true luxe takes on an otherwise simple dipped egg, this marbled golden design makes for a stunning tablescape. These eggs are easy to make but can really make a transformative difference in your home decor. Display them in a modern bowl, on a long rectangular tray, or in a tall, clear vase.
46. A Punk Rocker's Easter
Punk rockers and goths will love this fun and edgy Easter egg. Made from a plastic egg and screwed in metal spikes, this strong design looks quite ornate but is actually very simple to make. All you need is a little bit of paint and some spikes from any hardware or craft store. This decoration looks good in black, or any other rich primary color.
47. A Punny Springtime Display
This springtime display piece is both fun and sophisticated. Using hand-turned wire springs as offbeat egg stands, the design takes a play on words and turns it into a beautiful decorative piece that will fit seamlessly into any home. Use jewel tones and bronze paint to match the coloration of the springs.
48. Chalkboard Eggs
Another great Easter craft suitable for both adults and kids is the chalkboard egg. You can easily make these at home by painting wooden or hard-boiled eggs with chalkboard paint. Throw a bunch of these in a bowl and you can decorate them with colored or white chalk whenever you like.
49. Egg Crayons
These crayons shaped like eggs are the perfect craft to make for your kids. Kids will love drawing with these, and the large size makes them perfect for classrooms and large parties. To make these, melt several crayons of the same color and pour the melted wax into plastic eggs that open.
50. DIY Burger Easter Eggs
There is nothing better than Easter eggs shaped like food. The best part about these burger eggs is that you don't even have to dye them. You can use brown eggs and simple non-toxic colored markers, so you'll still be able to peel away the shells and eat them afterwards.
51. Laser Engraved Eggs
If you have access to a laser cutter, then why not use it to spruce up your yearly egg hunt? You can carve personalized messages and images into the shells without destroying your hard-boiled eggs. The laser engravings still show up even after dyeing and look great in baskets or as display pieces.
52. DIY Pantone Eggs
Graphic designers will love recreating these faux Pantone paint chip Easter eggs. Dye the tops of the eggs by standing them vertically in small cups of dye. You can write the Pantone labels with a sharpie, but you will get the best results printing them on inkjet tattoo paper. Just remember to print the words in reverse!
53. A Mosaic Glass Egg
These glowing mosaic glass eggs are one of the more complex DIY crafts on this list. To make these, you will need a hollowed out egg, LED lights, glass cobbles and tiles, and grout. Although this is a very technical piece, the final effect is absolutely stunning and really shines in a dark room.
54. DIY Emoji Easter Eggs
These Easter eggs are incredibly fun and can be decorated with all of your favorite emojis. Use blown out, paper mache, or wooden eggs and yellow craft paint to get the perfect emoji look. You can even throw an egg decorating party for all of your friends and display the finished products in an empty egg carton.
55. DIY Crescent Moons
This is another craft that is super easy to make and doesn't require any dyeing. Cut crescent moon shapes into a strip of painters tape and place the small pieces of tape around the egg in a freeform manner. Paint over the eggs in craft paint and peel away the tape to reveal stunning moon shapes.
56. A Giant Floral Egg
This paper mache egg is a wonderful focal decoration for any Easter party, in part because of its tremendous size. Modelled off of a 36" balloon, this egg is truly massive and may take several days to make. You can also use this project as an incredible, life-sized photo booth prop.
57. Miniature Eggshell Vases
Not only are these miniature egg shells crafted into adorable easter bunny shapes, but they are also completely functional as miniature vases for tiny flowers. This craft is perfect for any Easter brunch table and even makes a sweet little gift. Cut the tops of the shells off and fill the bottoms with soil for perfect miniature planters.
58. Natural Dye from Household Foods
If you love decorating eggs but are not a fan of craft paints or synthetic dyes that could be toxic if consumed, then you have to try out these natural egg dyes made from ordinary household foods. Dye your hard boiled eggs a variety of colors from bright yellow to pastel green using items from your pantry like spices and vegetables.
59. Miniature Gumball Machines
If you want to do something totally different with your Easter crafts this year, then you might like these miniature gumball machines made from white eggs, construction paper, and colorful sharpies. These whimsical candy dispensers stand up on their own, making them a fantastic option for any indoor egg hunt.
60. Moss Covered Easter Eggs
For a more rustic and earthy aesthetic, try this DIY moss covered egg project. You can buy sheets of synthetic or natural moss at any craft or home store, and transform ordinary plastic eggs into wonderful pastoral centerpieces. Just make sure you lay down newspaper or a table cloth before hand to avoid getting stringy bits of grass everywhere.
61. Washi Tape Eggs
If you want to decorate your Easter eggs as quickly as possible, while avoiding the messiness of decoupage, paint, dye and other crafting materials, then these washi tape eggs are the perfect project for you.
This craft works especially well on plastic eggs w, as it adds color and pattern while still ensuring the eggs can be opened without spoiling the chocolate inside.
62. Easter Egg Bath Bombs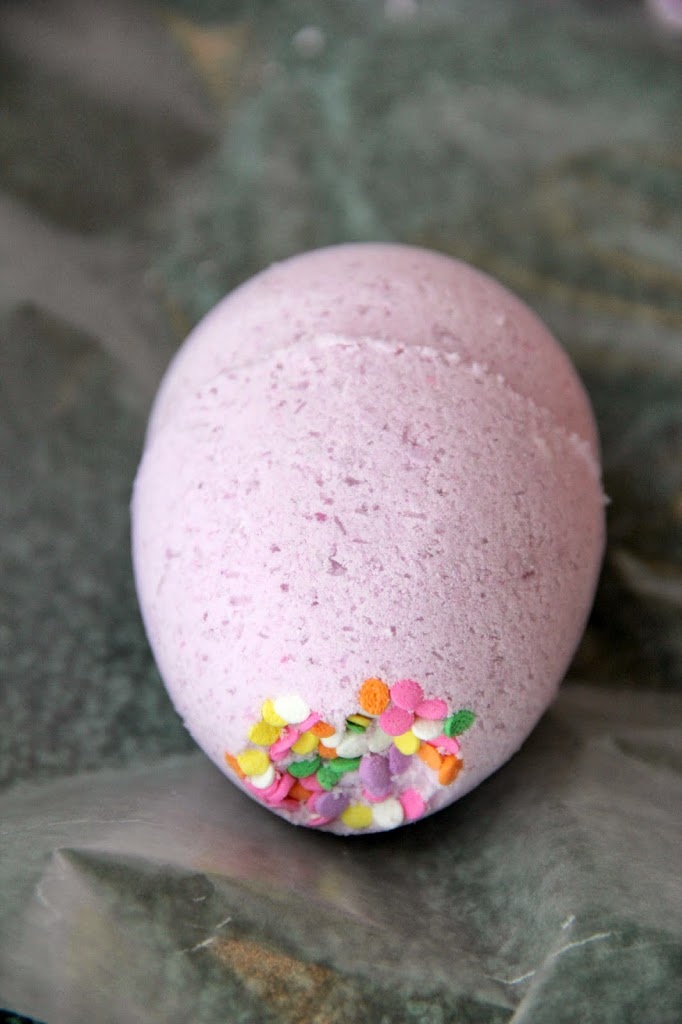 Another great way to use leftover plastic eggs is by turning them into molds for homemade bath bombs. Use any bath bomb recipe you like, and make it your own by adding essential oils and aromas. Then pop the mixture into the plastic mold for a relaxing and fun springtime bath.
63. Game of Thrones Dragon Eggs
Fans of the hit fantasy series Game of Thrones will love this intense Easter craft. You can make these dragon eggs at home using paper mache, push pins, craft or tacky glue, and metallic spray paint. The final product is so eye catching, even Khaleesi would be jealous.
64. Wired Egg Ornaments
This simple Easter showcase is whimsical and sophisticated, making it the perfect centerpiece for any classy Easter brunch. You can make the wire egg ornaments from ordinary craft wire or a thicker, heavy-duty flat wire. Hang the finished craft from a small tree branch or any floral arrangement for an elegant, put-together look.
65. Matisse Inspired Cut Out Egg
Based on the works of French modernist Henri Matisse, this cut out egg-shaped sculpture is a fantastic craft for Easter or any other time of year. You can use any cardstock or construction paper you have in a fun primary color. Just be sure to leave enough time for the glue to dry so that the sculpture is sturdy enough to stand up on its own.
66. Doodle Easter Eggs
If you are intimidated by difficult crafting techniques like paper mache, beading, or painting, then this is the Easter craft for you. All you need is a sharpie and an imagination to turn your ordinary hard boiled eggs into your own doodle masterpiece. If you want, you can dye your eggs in advance, or leave them white for a stronger contrast.
67. Paper Flower Easter Eggs
This paper craft is a little bit time consuming, but it produces really gorgeous, feminine Easter eggs that look great as decorative effects. Use a flower punch to cut out the little paper flowers and glue them all around a painted wooden or paper mache egg. You can use one color for a monochrome look, or use printed scrapbook paper for added detail.
68. A Little Bit of Nature
These natural eggs are very simply decorated with small flowers and a little bit of twine. The best part of this Easter craft is that you don't need to own any craft supplies to make them. You can find everything you need in your backyard!
69. DIY Easter Wreath
If you want to decorate your home for Easter but find yourself short on table space, then this simple wreath made from plastic eggs is a great option. All you need is a hot glue gun, plastic eggs, and an old cardboard box. You can use any leftover cereal box, shoebox, or shipping box.
Conclusion
What did you think of this list? These DIY Easter eggs are perfect for all levels of crafters to try at home. Let me know which craft you're most excited to try in the comments and feel free to upload pics if you want to show me your finished Easter eggs. Finally, be sure to share this article with any crafters you know!