Ever struggled to find the perfect graphic t-shirt to express your unique style?
I've always envied people with creative, unique clothes, but the idea of actually developing my own t-shirt designs has always seemed too daunting. Luckily, the internet is full of interesting heat transfer designs that are both customizable and simple to recreate. From heat press designs for t-shirts to designs for Disney characters, there is something out there for everyone to try. So for all of you bold crafters, I've compiled a list of heat transfer ideas that will help you showcase your own wild, creative personality.
Heat Press Designs
These cartoon character pillows (Super Cute!)
This charming pillow was created using sublimation printing, in which the ink actually becomes a part of the fabric itself. The image takes on the fabric's original texture, resulting in a pillow that is not only cute but soft and silky throughout. All you need is sublimation paper and any heat press designed for home use.
Get It Here
Or this adorable iron-on glitter cat
There's nothing cuter than a graphic t-shirt that showcases a furry friend. The beauty of this iron-on glitter textile is that it adds an extra level of sparkle to help bring out your most glamorous, sassy self. If you're not a cat person, you can try making a dog, rabbit, or turtle version. The sky's the limit with this design!
Get It Here
This Rhythmic Gymnastics Vinyl t-shirt for your high achieving niece
Heat press projects can also make amazing gifts. This rhythmic gymnastics project is perfect for both practicing your crafting technique and creating something your relatives will truly cherish. It can also be altered and customized: you can use this versatile heat transfer vinyl to make personalized gifts for any sportsman in your family.
Get It Here
Or this tribute to your favorite superhero
When you're ready for a real challenge, you can try this two-colored superhero design. Printing a dual-colored vinyl design can be somewhat tricky, but if you have a heat press design software you can easily tackle multicolored projects with crisp, professional-looking results. So whether you're rooting for a superhero or a supervillain, you can always support your favorite characters.
Clothes that commemorate your favorite destination
If you've ever visited a new city, then you're familiar with the endless array of hats, mugs, clothes, and miscellaneous souvenirs marketed towards tourists looking to commemorate their trip. Unfortunately, these products are usually low-quality, generic, and over-priced. By making your own heat transfer designs, you can transform clothes you actually love into tributes to that special city.
Or a tote bag with your home's coordinates
If you're looking for a more hipster aesthetic, you can personalize everything from grocery tote bags to canvas purses with the coordinates of the city you grew up in. This design is perfect for anyone who wants to subtly show off their hometown pride and is incredibly easy to pull off.
Cute aprons for every aspiring kid-chef
These adorable children's aprons are simply irresistible. Using heat press stencils, you can easily cut out cute kitchen images from ordinary heat transfer vinyl and outfit your children or grandchildren with the perfect apron to get their baking career started.
Or iron-on pillows with personality
While the process of heat transfer is most commonly associated with DIY t-shirts and accessories, it is also great for bringing a bit of personality into your home decor. This quirky dog pillow was made using a variety of iron-on materials from Cricut, which specializes in heat transfer templates, stencils, and pattern cutting. Interested to know more about making your own DIY heat press pillow, instead? Check out our detailed guide here.
Check the design at Cricut.com
This edgy skull patch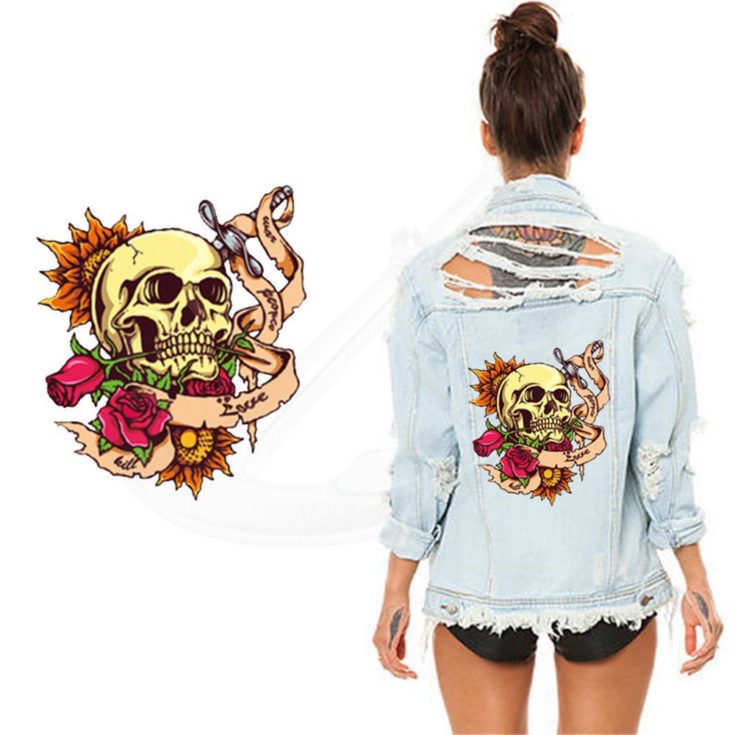 Ready-made heat transfer designs are also for sale. So if you want all the benefits of bold, creative designs, but don't have the time or materials to invest in a new project, then check out these iron-on appliques you can use instantly. This intricate and edgy skull patch can be used to decorate everything from jeans to backpacks.
Get It Here
Heat Press Designs for- shirts
This iconic Keep Calm t-shirt design
No t-shirt design is more iconic that the Keep Calm motif. All you need is some heat transfer vinyl and a vinyl cutter and you can make your very own Keep Calm t-shirt. What makes this design so exciting is that you can finish the motivational phrase however you want!
These sweet newborn onesies
If you thought that the children's aprons were cute, you have to try out this design for babies' onesies. The design itself is relatively simple and easy to recreate, and the glitter vinyl is just too cute for words.
A t-shirt with an inspiring quote to spark your creativity
Chances are, if you're a creative person, you've gone through periods of time where you just could not find any inspiration. If you're stuck in a creative rut, try making one of these t-shirts with your favorite motivational phrase or inspirational quote. You can even accent the text with little doodles to remind yourself just how artistic you are.
This vibrant vinyl pattern
I'm in love with this vibrant, striped vinyl pattern. It reminds me of Alice in Wonderland! In this design, the artist has used the textile to create a silhouette of a deer. But I can think of so many other ways to use this vinyl pattern to depict fairytale characters!
Get It Here
Disney heat press designs
Or Cinderella's iconic carriage
For those of you who simply can't get enough fairy tales, there are even vector templates for Disney heat transfer designs. Try recreating Cinderella's classic carriage using multiple bright, vinyl colors and make your design pop with a bit of iron-on glitter.
And this Mickey Mouse Disney heat press design
There is no Disney character more famous and universally adored than Mickey Mouse. This design will go well on virtually any product. Try using a miniature, hand-held heat transfer to transfer Mickey Mouse's goofy smile onto small accessories like shoes, hats, and mugs!
What I love most about these designs is that they're an easy, mess-free, fun way to show off your personality and unique sense of style. Unlike other crafts, there's not much of a learning curve. Once you decide to buy a heat press, you can immediately start producing your own customized treasures.
What did you think of this list? These fifteen designs are just a small sample of all the amazing ideas out there. Let me know which design you're most excited to try in the comments, and make sure to share this article with your bold, crafty friends!