If you're serious about sewing, having a comfortable chair is crucial. When you are sewing by hand, this could be a rocking chair or the corner of your recliner.
However, for using a sewing machine or dedicating hours to basting, cutting, and drawing patterns at your stable, something more substantial is necessary. You owe it to yourself to find an ergonomic, comfortable desk chair to sew in. After all, you'll be spending a lot of time in it!
Whichever chair you end up choosing, make sure you review each special feature and quality to make the best choice possible. That way, you can dedicate all of your time to sewing and less of it to dealing with discomfort or pain. No matter what project you're working on – from sewing kids clothes to waxed canvas aprons – the right sewing chair will help the hours and effort pass much more comfortably.
Quick Comparisons Of The 8 Best Chairs for Sewing
IMAGE
BRAND
FEATURES

Lumbar support

Adjustable seat height

360-degree swivel

View Product

Can hold up to 250 pounds

Adjustable seat height

Lumbar support

View Product

Gayla Mesh Executive Chair

Fine mesh back

Adjustable seat height

Lumbar support

View Product

Boss Office Deluxe Posture Chair

Five-star base made of nylon

Fully adjustable pneumatic seat height

Stable, supported base to move around

View Product

Arrow Height Adjustable Hydraulic Sewing Chair

Can hold up to 250 pounds

Adjustable seat height

Lumbar support

View Product

Boss Office Medical Stool

Can hold up to 250 pounds

Pneumatic gas lift feature

Comfortable surface

View Product

Gliding feet

Full height adjustment

Lumbar support

View Product

PU Leather Mid-Back Mesh Task Chair Office Desk Task Chair H20

Can hold up to 250 pounds

Pneumatic gas lift

Sturdy

View Product
So what are the best chairs for sewing?
Here are some of the best chairs for sewing available on the market:
Best Choice for Most People
Boss Office Deluxe Posture Chair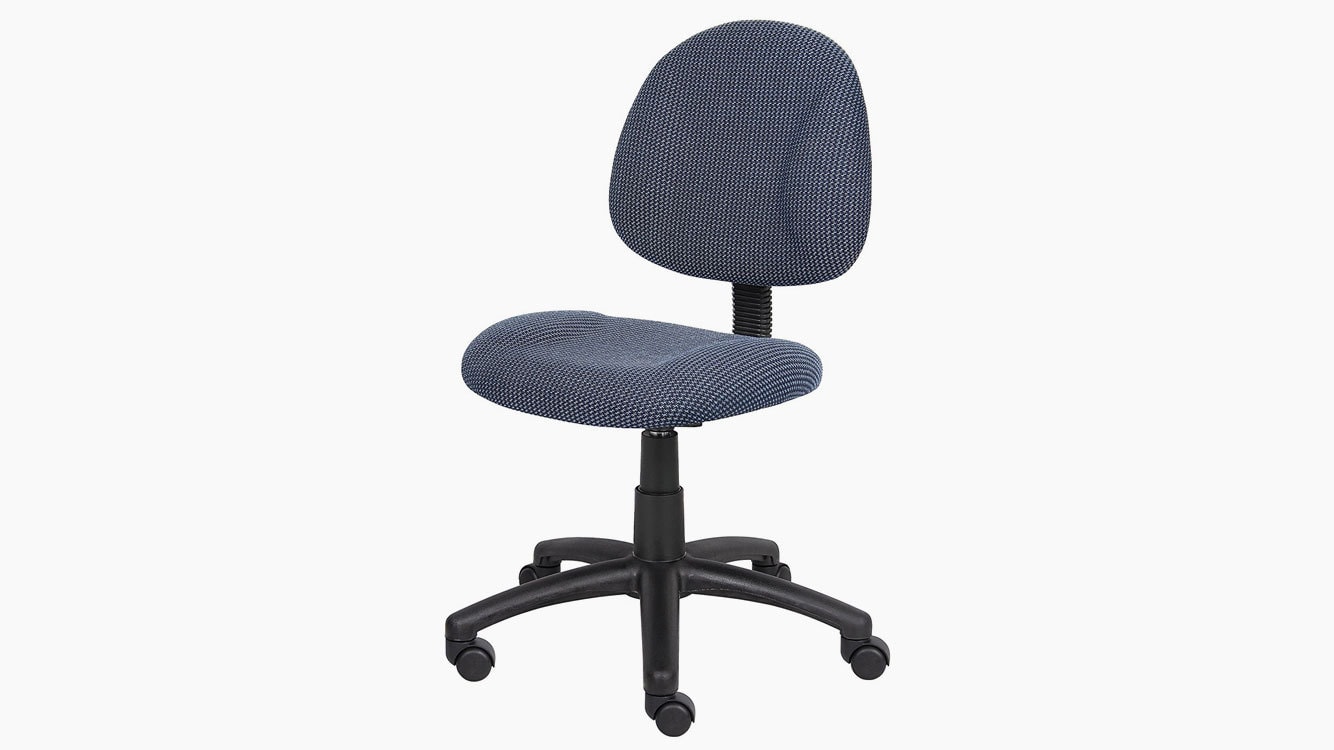 This option has a thickly padded back and seat, along with quality lumbar support to keep you relaxed and comfortable as you sew. The waterfall design seat will lessen stress on your legs and the adjustable depth of the seat back offers a fully customizable experience. The seat is well-padded and covered with a very durable tweed material. Choose between gray, black, red, or blue.
The Boss Office Deluxe Posture Chair has a fully adjustable, pneumatic seat height and a five-star base made of nylon for easy movement. The hooded wheel casters give you a stable, supported base to move around on and the armless design of the chair gives you more freedom of movement as you sew.
Compared with other options, this chair is very light and only weighs 23 lbs. But the frame is strong enough to support someone up to 250 lbs. heavy. Even for those with a wider frame, this chair will offer great support. This unit has typical measurements at 25 inches deep, 25 inches wide, and 35 to 40 inches high, but can be customized fully.
Although the unit has standard measurements of 25″ W x 25″ D x 35-40″ H, it is completely customizable. Not only can users move the height up and down using the pneumatic gas lift, but they can also adjust the depth of the back.
The chair is packaged well and is within the same price range as big box retailer's costs for similar items, with better quality. It can be put together quickly and easily.
The fabric of this chair is attached firmly and built to last. The design of the chair will force you to sit erect, but in a gentle and comfortable way. In addition, the back pivots slightly and the wheels won't drag, even across various floor types.
Best Higher End Option
Arrow Height Adjustable Hydraulic Sewing Chair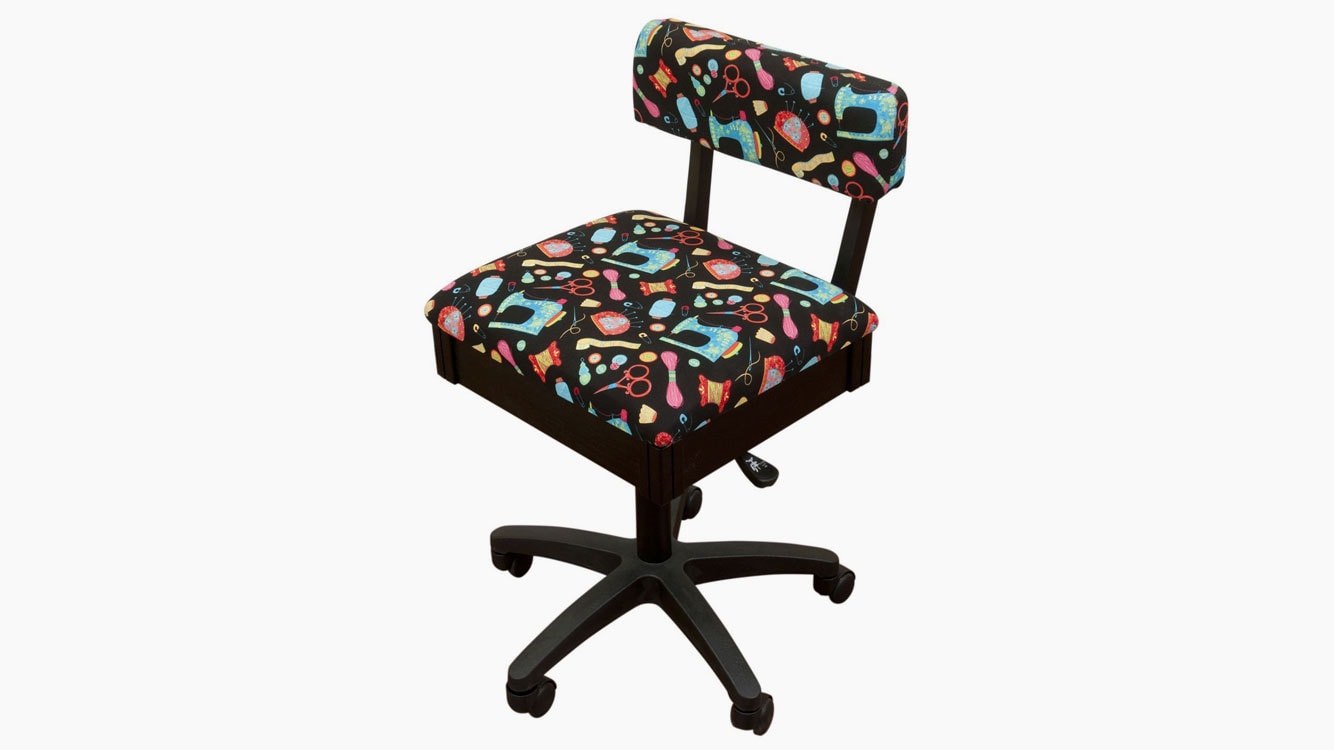 The Arrow Height Adjustable Hydraulic Sewing Chair is 29 inches tall but can be adjusted to 33 inches. The height of the seat can adjust from 18 inches to 22 inches and the cushion of the seat is 16 inches deep and 18 inches wide. This hydraulic chair can hold up to 250 pounds and must be assembled.
This chair is a great addition for any sewing or craft room. The heavy-duty, vivid fabric on this product has an appealing sewing motif featured on a black background. This, in addition to the black frame of the chair is certain to go with any style or décor. The height of the chair is easy to adjust with simple controls and the lumbar support will offer your body deep comfort for the hours you spend sewing.
This chair has a durable base with five casters for easy movement over to your crafting desk or sewing cabinet. You can lift up the seat cushion to find a storage space for small patterns or sewing supplies. This chair can be put to a perfect height and will give you much-needed comfort as you sit.
Best Stool Style Option
Boss Office Medical Stool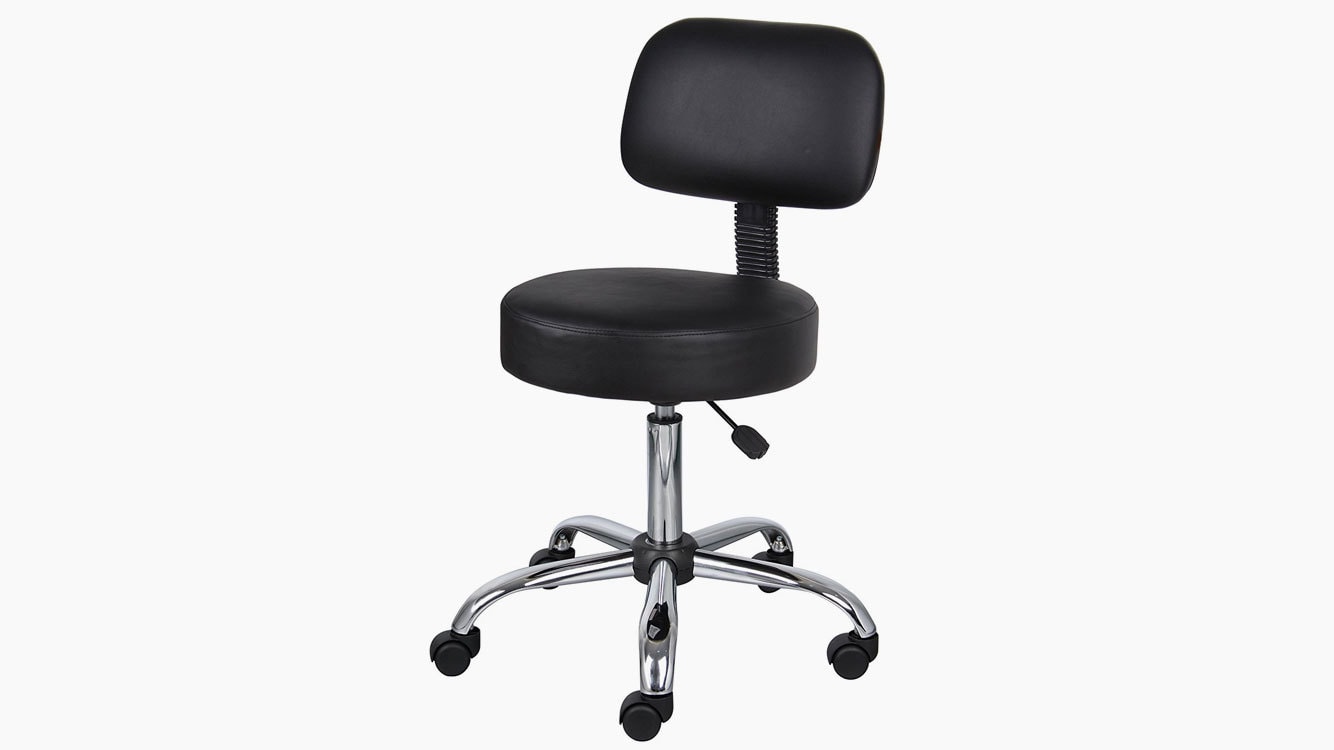 Created with dual casters for the wheels, this product moves easily across the floor and has a height range of 6 vertical inches. The Boss Office Medical Stool can hold up to 250 pounds, will ship ready to put together, and can be easily cleaned with water and mild soap. The chair has been ergonomically designed to emulate your spine's natural shape, improving productivity and comfort.
Users of this chair will appreciate the curve of the chair, which works with your body to improve comfort and reduce stress on your spine. The back and seat of the chair are crafted with soft vinyl upholstery, offering an appealing appearance and a comfortable surface.
Use the pneumatic gas lift feature to find your perfect seating height. Aside from the model that comes with a back cushion, you can select the B240 model if you'd rather have no extra cushion.
Those who purchase this chair will be surprised at the quality offered at the price. Once it comes and you put it together, you will appreciate its cushy surface and quality back support. It can be hard to find chairs that adjust to this height, especially a product so sturdy and aesthetically appealing.
The beige seat on this chair looks attractive, is well-stitched, and feels like leather. The chair's seat is nice and firm and you will get quality support from the backrest. Although it does come with assembly instructions, it would be easy enough to put together without them in a short time. All you need is the four included screws and a screwdriver.
In addition to using this chair for sewing, you can also use it at your work desk and the armless feature will make it convenient for both. You can even use it in your kitchen. The chair works silently and smoothly and is crafted from top-quality materials. The lower height on this chair works great with a desk 30 inches high.
Best Chair for Long Hours
Reliable SewErgo 100SE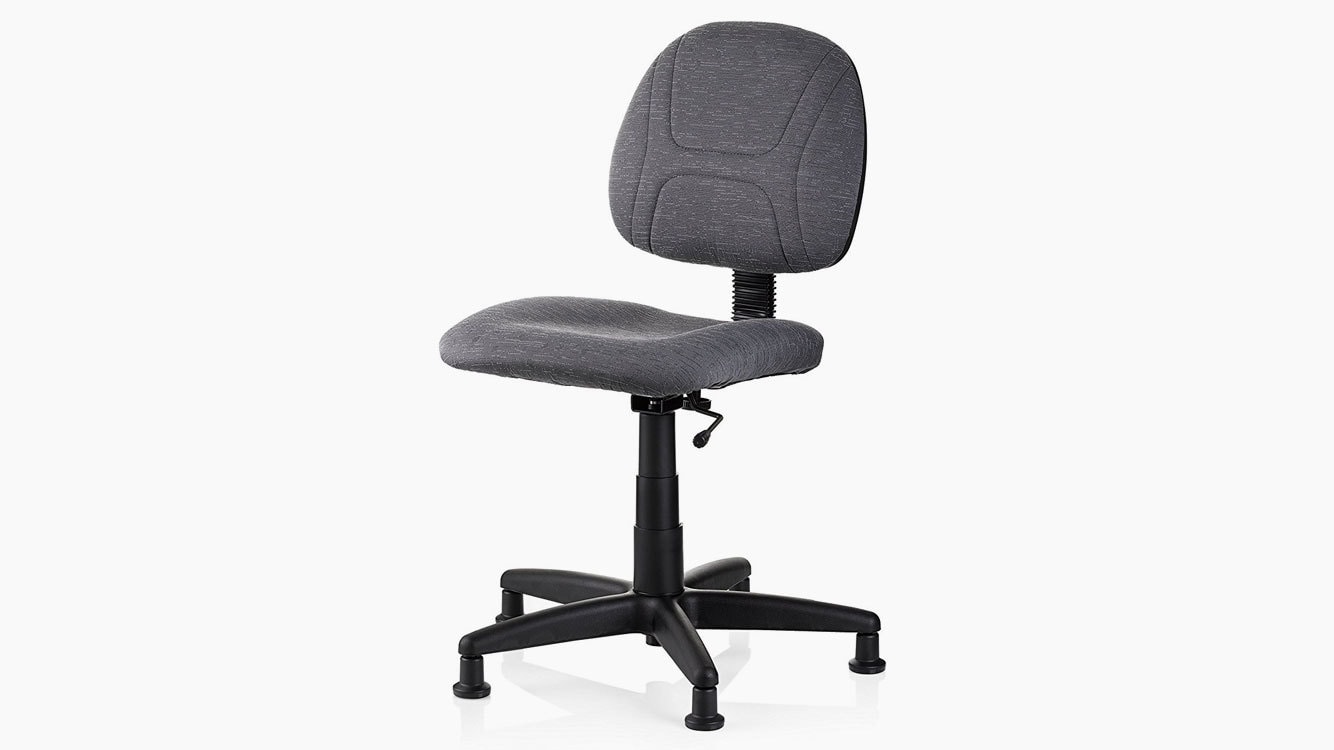 This ergonomic and comfortable chair is also stable and safe, with contoured cushions perfectly suited for long periods of sitting and sewing. This chair comes with lumbar support and height adjustment and is made from 60 percent recycled polyester material. The seat edge has a waterfall design meant to take pressure off your legs.
The Reliable SewErgo 100SE has a three-year fabric warranty and a five-year warranty for the other pieces. This chair was designed with comfort in mind, without the sacrifice of stability and safety. Built to be environmentally conscious, the product uses foam material for cushioning and durable plastic portions without CFCs. It was manufactured in a Greenguard certified facility.
The SewErgo 100SE chair blends together necessary ergonomic design features for sewers, including lumbar support, full height adjustment, and gliding feet. It also has oversized cushions for pressure point relief. The chair has a back made of hard plastic to add extra durability in tougher environments and can be adjusted from 16 inches to 21 inches from the ground.
Best Budget Choice
BestOffice Mid-Back Chair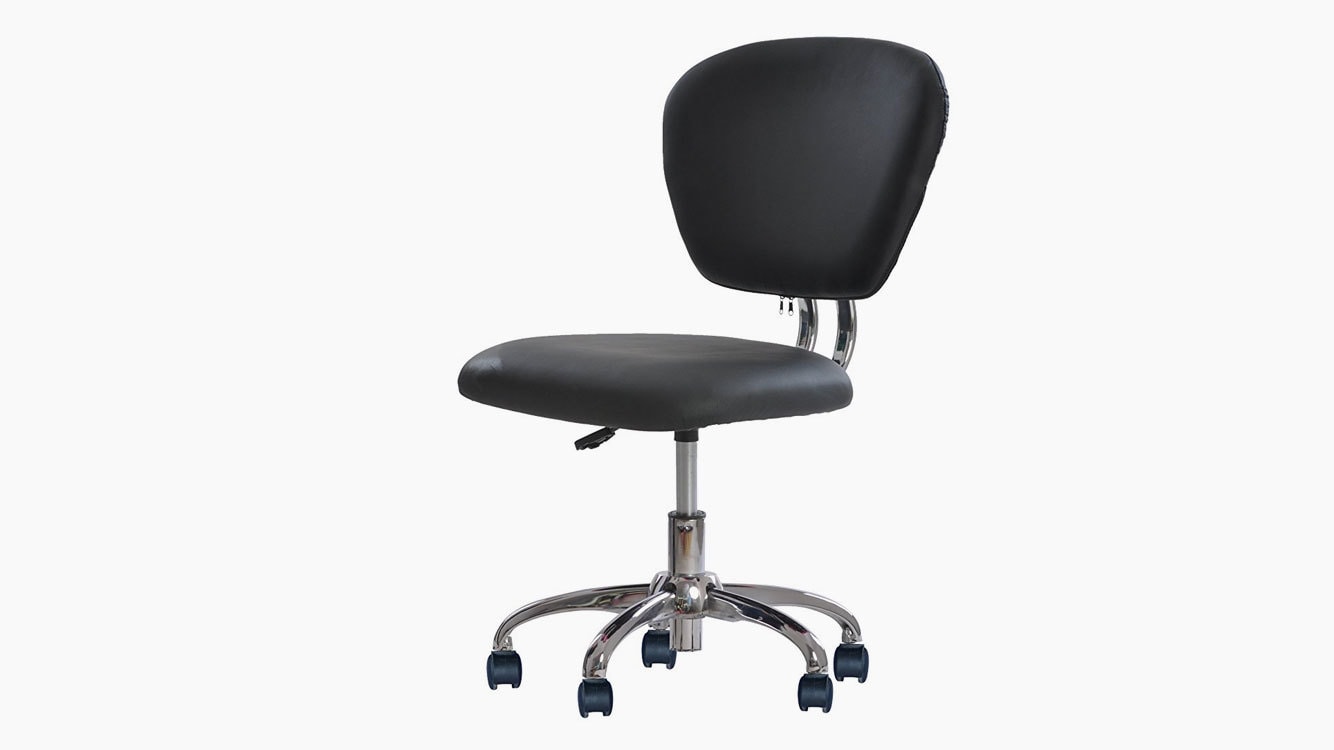 This mid-back task chair is made from PU leather, is water and oil resistant, swivels a full 360 degrees, and comes with a pneumatic gas lift.
You can adjust the height (from 16 to 19 inches) instantly and enjoy the 16 inch by 18 inch seat size. The seat has ample padding for your comfort and the chair is very compact.
The BestOffice Mid-Back Chair doesn't get as tall as other models, so keep that in mind. But it does go together quickly and easily without extra tools. Once assembled, it's very sturdy and operates exactly as it should.
For those with spine issues, sitting in chairs without padding is very uncomfortable, so a chair like this can offer much needed padding and relaxation. Shorter people will be happy with the adjustment levels on this chair, which goes low enough for smaller people. The reclining design of this chair forces you to lean back, helping you retain an easier posture.
Another great feature of this chair is the extra room on the seat, which makes it fit for people of varying weights and widths. This chair is extremely affordable, especially for a product with a chrome base and such thick material.
The product is welded together well and can hold up to 250 pounds. The pink hue option on the chair adds a welcome splash of color and looks great.
Mesh Task Chair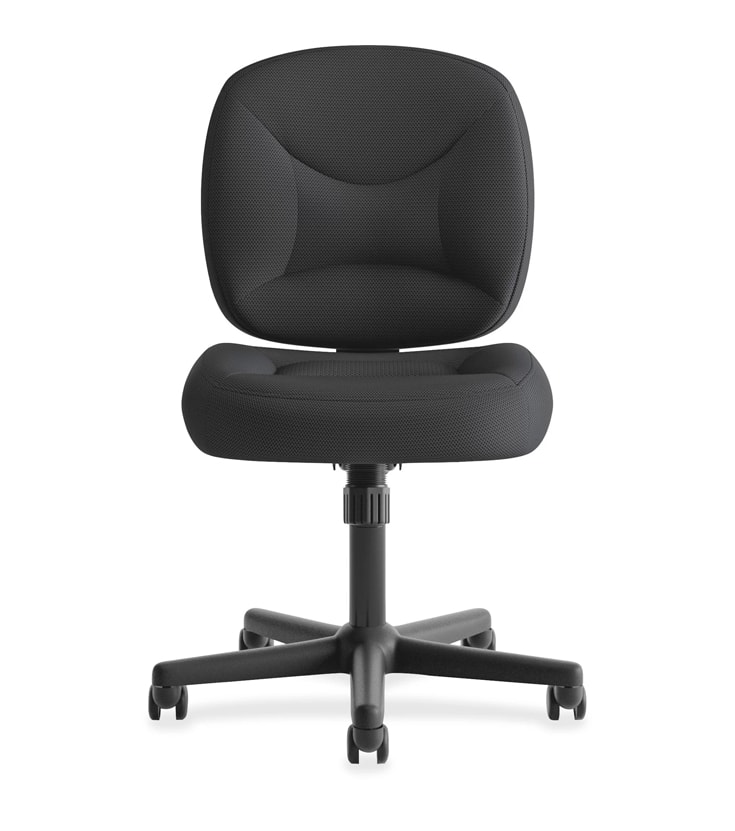 The Hon mesh task chair comes with all the features needed to ensure that you get comfortable in front of your sewing table and that you control the things that help ensure that comfort. It is designed to offer lumbar support, which is really needed when you spend hours sitting down every day.
You can adjust the height of the seat so that you can work in a comfortable position regardless of the height of the sewing table itself. It has a 360-degree swivel that allows you to change the position without having to get up each time you need to grab something that would normally be out of reach.
The base of the chair is molded from reinforced resin and it has an overall weight capacity of 250 pounds. Other ergonomic features that make this chair a good buy for those who need a solid sewing seating space include tilt tension, center-tilt mechanism, and breathable upholstery.
Who Should Buy This?
The Hon mesh chair is suitable for people who want an armless seat with adjustable height, for those who experience back pain and need lumbar support, but also for those who don't have that much free space and could use a more compact chair.
Pros:
Adjustable height.
Lumbar support.
Comfortable seating.
Tilt lock.
5-year warranty.
Cons:
Downing Task Chair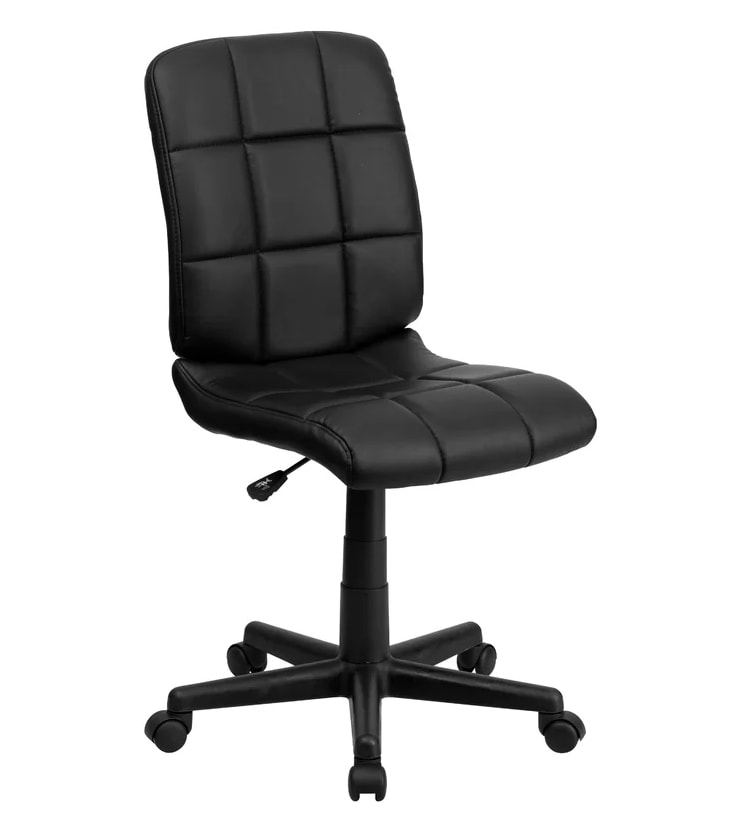 With a more unique design and surely different from most of the chair we've shown you so far, this seating product is great option for people who want to bring a little bit of color into their lives but are also looking for that sweet level of comfort that will allow you to sit down and work on your sewing projects.
This chair comes with a total weight capacity of 250 pounds and features a seat with a metal and plastic construction. The vinyl upholstery is wonderful because it cools down really fast, but we are a little bit concerned about how it might feel if you sweat while sitting down. We do love the quilted design that offers the chair a unique appearance.
The nylon base is host to five dual-wheel casters for greater chair mobility. Something that might pose as a downside to some of you is the fact that the seating isn't so generous. The actual seat measures only 16.5 x 16.5 inches, which might be good for some people, while others will require a larger seating space.
Who Should Buy This?
This task chair is a great option for people who are comfortable with a 16.5 x 16.5-inch seat, but also for those who want a more unique design and a perhaps a bolder chair color (like green or pink).
Pros:
Adjustable seat height.
Swivel.
Beautiful color options.
Upholstery design.
Cooling vinyl surface.
Cons:
No tilt mechanism.
Small seating space.
Gayla Mesh Executive Chair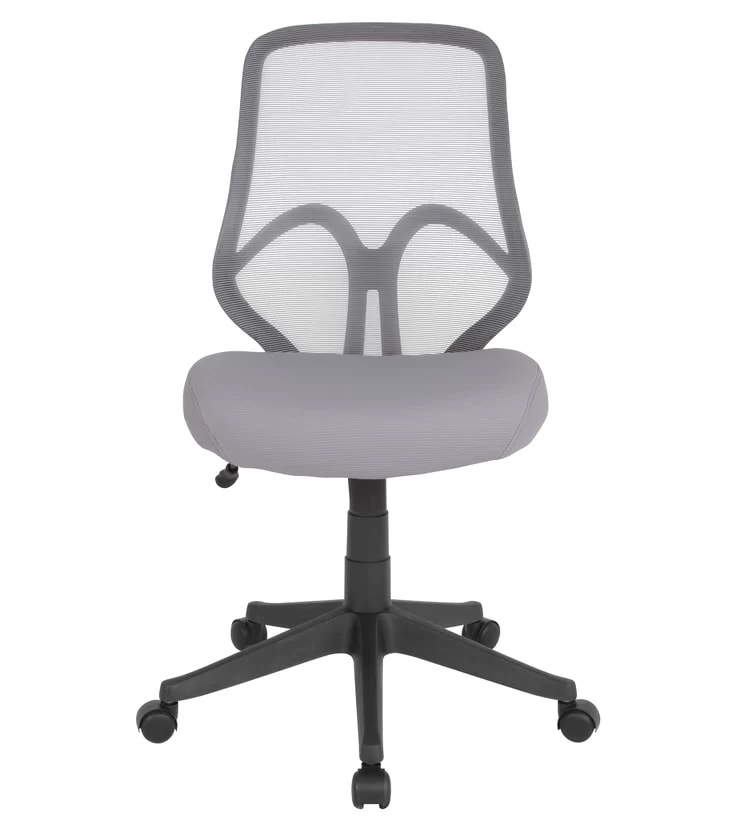 Time to move on to another chair that works perfectly for people who need a suitable seat when working at their sewing table. We're talking about a product with a fine mesh back that's super breathable and allows air to circulate so your back won't be all sweaty even in the middle of the summer.
The height of the seat can be adjusted from 17 to 21 inches, offering you the possibility to adapt the seat to multiple desk/table heights so that you can find comfort in working for hours on end. The diameter of the seat is 19.75 inches, which is pretty decent.
The backing of the seat is curved to your spine's natural shape, allowing you to benefit from lumbar support and prevent back pain which is quite normal when you spend a lot of hours sitting down. The cushion is also pretty comfy, being made from a combination of low melt fiber that surrounds a block of supportive foam.
Who Should Buy This?
If you often find yourself sweating when sitting down and working on your sewing project, the Gayla chair is the right product for you, as it comes with a transparent mesh backing that facilitates airflow.
Pros:
Breathable backing.
Adjustable height.
Lumbar support.
Swivel.
Tilt mechanism.
Cons:
Tips for Proper Sewing Posture
As you design your space for sewing, it's crucial to notice and maintain correct sewing posture. A lack of proper posture gives you a risk of fatigue, backaches, and even permanent issues with your body down the road. In order to maintain correct sewing posture, observe these guidelines:
Holding your Knees the Right Way: You should use a sewing chair that lets you keep your feet on the floor and your knees bent at a comfortable 90 degrees.
Stand up and Move Often: One of the best ways to prevent soreness and back pain is to make sure you are taking breaks from sitting often. Try to get up at least once every hour and move around for 10 minutes, stretching your back and legs. Your body will thank you later!
A Low Sewing Table: A short sewing table is important for proper sewing posture. Your table should be low enough so that your elbows form a right angle when your hands are level with your machine's needle.
Proper Alignment: While you're sewing, form a habit of having your hands, wrists, and arms in a straight line. This will help you sit up straighter while reducing the tension in your shoulders, back, and wrists.
Don't Hunch: This is a hard one, but resist the habit of hunching over as you sew. Developing the discipline needed for maintaining proper posture will allow you to sew for much longer without any unnecessary and distracting aches and pains.
You can choose between buying a cabinet for your machine, a special sewing machine table, or just a regular desk that has a low enough height for sewing comfort.
Looking for other essentials to get started on your sewing project? Check our list here.