Every artist wants their finished work to turn out great, and the right colored pencils for blending are essential to this. This article will take you through some of the best options available on the market.
Adult coloring books are growing in popularity not only for artists, but for business professionals in stressful industries, and there's a good reason for that. Evidence shows that coloring for even a short time can spur creativity and improve mental focus. Drawing and coloring are enjoyable pastimes and the perfect way to unwind after a long day.
In order to get your art to look as good as possible, there are a couple of techniques you need to master. Firstly, make sure you're using the right textured paper. A fine texture or some tooth will catch the pencil, holding it and enabling you to layer colors and blend well. Let's look at the best tools for accomplishing this.
Comparison Table
IMAGE
MODEL
FEATURES

Prismacolor Premier 48 Set

Perfect for shading and shadows

Ultra-smooth, even color laydown

Thick, robust leads resist cracking and chipping making them perfect for adult coloring books

View Product

Faber-Castel 110060 Polychromos

Polychromes colored pencil set in metal tin 60pc

Imported and acid free

Color pencils can be laid down with delicate or strong strokes to unfold their vibrant colors

View Product

Staedtler Ergosoft 24 Set

Ergosoft ultra-soft non-slip grip set of 24 brilliant colors

Soft break resistant .3mm lead

Triplus triangular barrel

View Product

Vibrant collors, smoothly glide over a variety of drawing surfaces

Due to their enhanced formulation, these pencils are highly blendable

The velvety soft core helps emphasize the richness of each colour

View Product

Prismacolor Scholar Pencils

High-quality art pencils designed for beginning artists and crafters

Soft, smooth leads for superior blending and shading

Hardened cores resist breakage

View Product
The Best Colored Pencils for Blending
Each of these products was selected for reliability and value according to user reviews. They are all high-quality tools that will add to your artwork.
Prismacolor Premier 48 Set
Faber-Castel 110060 Polychromos
Staedtler Ergosoft 24 Set
Derwent Colored Pencils
Prismacolor Scholar Pencils
Prismacolor Premier 48 Set
This set of pencils is great, particularly for artists who love to draw and blend. The Prismacolor Premier set will bring out the softness of your art projects or illustrations with soft cores. Within the package, you will a set of 48 pencils with smooth, creamy cores ideal for layering, shading, and blending.
"The Prismacolor Softcore colored pencils are one of the must-have choices for anybody who is wanting some of the best soft wax colored pencils you can get," said Best Colored Pencils. "These pencils are silky smooth, have excellent color choices, and are fantastic at blending."
If you are an artist just now learning how to blend, this set will make it much easier on you, but seasoned artists will also find this user-friendly and workable for many styles of art. The pencils contain pigments that have yet to be matched in quality and leads suitable for sharpening to precision. This will enable you to switch between silky shading, delicate blending, and powerful lines as you wish.
Even those who are not experienced with art can benefit from this amazing set of pencils for projects, coloring books, or school. Use them to combine the colors you have to make new ones and trust that they will look great every time.
Keep in mind that Prismacolor Premier pencils are sold on their own, as well, so you can buy extra colors as needed. You won't run into any issues with breakage with these pencils as they will not break even with regular, continuous use and sharpening.
Check The Price
Faber-Castel 110060 Polychromos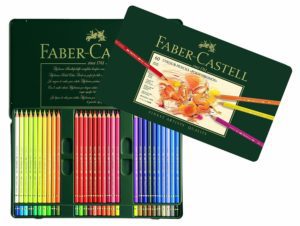 Faber-Castel 110060 Polychromos come in a metal tin and can be used in strong strokes or with delicate pressure to make the most of their vibrant hues. The pencil lead is bonded in order to prevent unfortunate breakage and you can perfectly combine the colors with graphite.
These imported, acid-free pencils come in 60 colors and blend effortlessly without the need of mineral spirits or alcohol. The leads in these pencils are a little harder than the Prismacolor pencils we mentioned above, but this helps them last longer. In addition, the leads hold a sharpened point longer than other products. Although the leads are a bit harder, they aren't scratchy and offer deep, saturated tones with ease.
"The cores are oil-based, water-resistant, and acid-free," said Sarah at the Pen Addict. "They have a thick 3.8mm diameter that helps with their break-resistance. They feel buttery soft when coloring, but hold their points well."
One standout feature of this set is that it comes in a nice tin for storing the pencils. These are perfect for drawing small details since they get so sharp. Softer pencils are great for larger areas, while these truly excel in smaller ones. For this reason, some may consider buying two sets.
The nice pigment of these pencils allows the color to be put down easily with tips that won't wear out as quickly. Broken cores are no issue with these leads, but do note that some find Prismacolor pencils to be more vibrant in color.
Check The Price
Staedtler Ergosoft 24 Set
These pencils come with a non-slip, ultra-soft grip and triangular barrels. The Staedtler Ergosoft set has a standing easel case and contains colors such as Olive Green, Turquoise, Violet, Golden Ochre, Dark Mauve, and more.
"Everything about these pencils makes them durable," said Pencil's Place. "From their thick, 3 mm core, to their sturdy triangular shape, to the ergosoft coating to ensure a controlled grip, these are some of the most durable pencils on the market for their quality."
You will notice when purchasing a set like this that higher-end pencils are a lot more fun to use than cheaper, competitor's brands. They allow you to easily layer colors and having 24 color options allows for some serious variety in your art projects. These are perfect for coloring in previous drawings you've made with a fine liner or brush pen.
These pencils can even be used in the same art piece as markers and offer colors just as vibrant. You may also use them to fill in details on watercolor paintings. Since the pencils aren't water-soluble, they won't run when exposed to water. The ergonomically designed triangle shape of the pencils makes shading, even coloring, and holding much easier.
The pencils layer perfectly due to the clarity and brightness of each color. Layering enables you to make unlimited color variations. They don't feel heavy in your hand and even though the cores are thinner than other pencils, they won't break even with weeks of use.
Each of these colored pencils is a unique hue, although some may find that the brown spectrum could be more varied. For those seeking a smaller travel set for taking on trips, this is a great choice.
Check The Price
Derwent Colored Pencils
Another great supply for blending color is Derwent Colored Pencils. The pencils offer soft, pigmented cores ideal for mixing and layering as many colors as you wish.
"One cool thing about Derwent is that they don't charge an arm and a leg for the wooden box like many other companies," said Color with Iris. "Usually I wouldn't even consider a wooden box cause that almost doubles the price. Not with Derwent though."
Due to their consistency, which is very soft, they aren't recommended for detailed or precision drawing. In these cases, the pigment may smear since these pencils aren't designed for that task. Derwent Colored Pencils are not considered pastel but are still very soft compared to other art pencils, but they are just as easy to sharpen.
The hues are bold and strong, suitable for laying down heavy color coats free from a waxy result. Derwent has improved their brand and these Colorsoft pencils are better for mixing. Although these are more affordable than competing brands, they are of equal quality and with thicker leads than other leading brands. This means better bang for your buck and better colors for what you spend.
These pencils work fantastically, allow you to lay colors down easily and blend seamlessly, and they are comfortable to hold for long periods of time. They will come well-packaged and sealed with plastic in two boxes. Keep in mind that these pencils aren't ideal for darker paper and the color won't show as much. They are best for use on regular white surfaces.
Check The Price
Prismacolor Scholar Pencils
In order to practice essential art skills such as shading and blending, the right tools are essential. The Prismacolor Scholar set was designed for intermediate and first time art students, with strong lead cores for less breakage and saturated pigments for strong, vivid colors, every time.
"You get a great value with this pencil," said the Virtual Instructor. "The pigment is not quite as strong as you'll find in the Premier series, but it's good enough to be a solid pencil. The colors blend and layer easily. Burnishing is also easily achieved."
These pencils come with a sturdy, stand-up case. In order to use this, just unsnap the cover, then fold it back, snapping the cover's two parts together to create an easel. The pencils will then sit upright and be easy to use, remove, and put back when you're done with them.
In the case, you will find Light Pink, Terra Cotta, Peach, Scarlet Red, Neon Yellow, Pale Green, Copenhagen Blue, Aquamarine, and more. No matter what you're drawing, you'll be prepared with the color options offered here.
Once you're done using them, just fold the cover back and snap it shut, keeping your pencil set secure in your desk or backpack. These were designed for growing artists and are chosen often among teachers and have an easily blended, creamy texture.
Check The Price
How to Blend Your Colors
As with all other types of drawing, the need to blend will inevitably arise in every piece you make. With certain mediums, such as soft pastels or charcoal, blending is easy and can be done with just a smudge of the finger.
With colored pencils, on the other hand, blending can be more of a challenge. But that doesn't mean you can't create the smooth color layers you dream of. Here are some tips for achieving that:
Use the Right Product: We've already covered some of the best available on the market in this article, but choosing a quality product is a must for a quality piece of art. Ensure that the pencils you select are specifically good for blending color, as many colored pencils aren't.
Proper Gradation: When you are blending colors, make sure you're going from lighter to darker with your colors to create a seamless end result. There are tutorials online that show how to do this if you're uncertain.
Use Extra Products: Extra products, such as alcohol-based solvent or blending markers, can be used with your pencils to leave you with a result that looks more like paint.
Care for your Pencils: Pencil care is important for how your art will turn out. If you're using tools that haven't been properly cared for, it will show. Keep your pencils sharp at all times so they won't break as often and make sure you clean the shavings out of your sharpener.
And of course, a carrying case for your art supplies is always a good idea to keep them in top shape. Follow these rules and you will end up with beautiful art and pencils that last a long time.