I've lately come to find that crochet hooks are something that can be uncomfortable if they're not held the right way, or if you use them for long periods of time. This is why I found that ergonomic crochet hooks might be the best way to go for those long projects, or nights when you do not want to put the crochet project down.
If you're searching for the same thing, then I have made it simpler and laid out some of the best ergonomic crochet hooks on the market. I found that each one offers something valuable to the crafter looking to have a more comfortable handle on their project and the hook.
The next time you get a cramp from that extended crochet project, remember these ergonomic crochet hooks can make your life a bit simpler… they made mine much simpler, and less painful to work through. Combine these hooks with the best yarn winder and you've got yourself a golden setup!
Comparison Table
IMAGE
MODEL
FEATURES

Classy Catz Crochet Ergonomic Crochet Hook Set

100 pcs locking stitch markers

Knitting Stitch Counters are made of plastic

2 Sizes Needles Point Protectors

View Product

Haven for Hands Ergonomic Crocheting Needles

9 crochet hooks in sizes

Avoid aching hands - the soft grip of the ergonomic handles helps you crochet comfortably for hours

Inlcudes zipper pocket with supplies

View Product

Hooks & Loops Ergonomic Crochet Hook Set

Comes with 10 Crochet Hooks

Comes in 12 sizes, from 2 to 8 mm.

Has an ergonomic handle for comfort

View Product

WooCrafts TM Ergonomic Crochet Hooks Set

Comfortable rubber grip handles

Sizes: 2mm, 2.5mm, 3mm, 3.5mm, 4mm, 4.5mm, 5mm, 5.5mm and 6mm.

Ergonomically shaped handles

View Produ
What to Look for in an Ergonomic Crochet Hook
Variety of sizes: With a variety of ergonomic crochet hook sizes, you can tackle just about any project and switch between the different sizes, depending on what the pattern calls for. This makes ease of use even easier.
Soft grip: I don't know about you, but having a soft grip that is easy to hold can make life so much easier. When choosing an ergonomic handle, you also want to have soft comfort to hold onto.
Aluminum construction: Aluminum crochet needles tend to last longer, and put up better performance than plastic, or other types of materials. They will not let you down, they haven't let me down so far.
Non-slip grip: Though the crochet hook may have a soft grip design, you also want to check out the non-slip capabilities it might be able to provide. This can be ridges or lines on the handle that help you keep crocheting for even longer.
Organizer case: While this is not necessarily a need, I thought it would be handy if you're getting a whole set of different hooks to work with. You want something that can hold them all comfortably in one place, so you can quickly grab and go.
Classy Catz Crochet Ergonomic Crochet Hook Set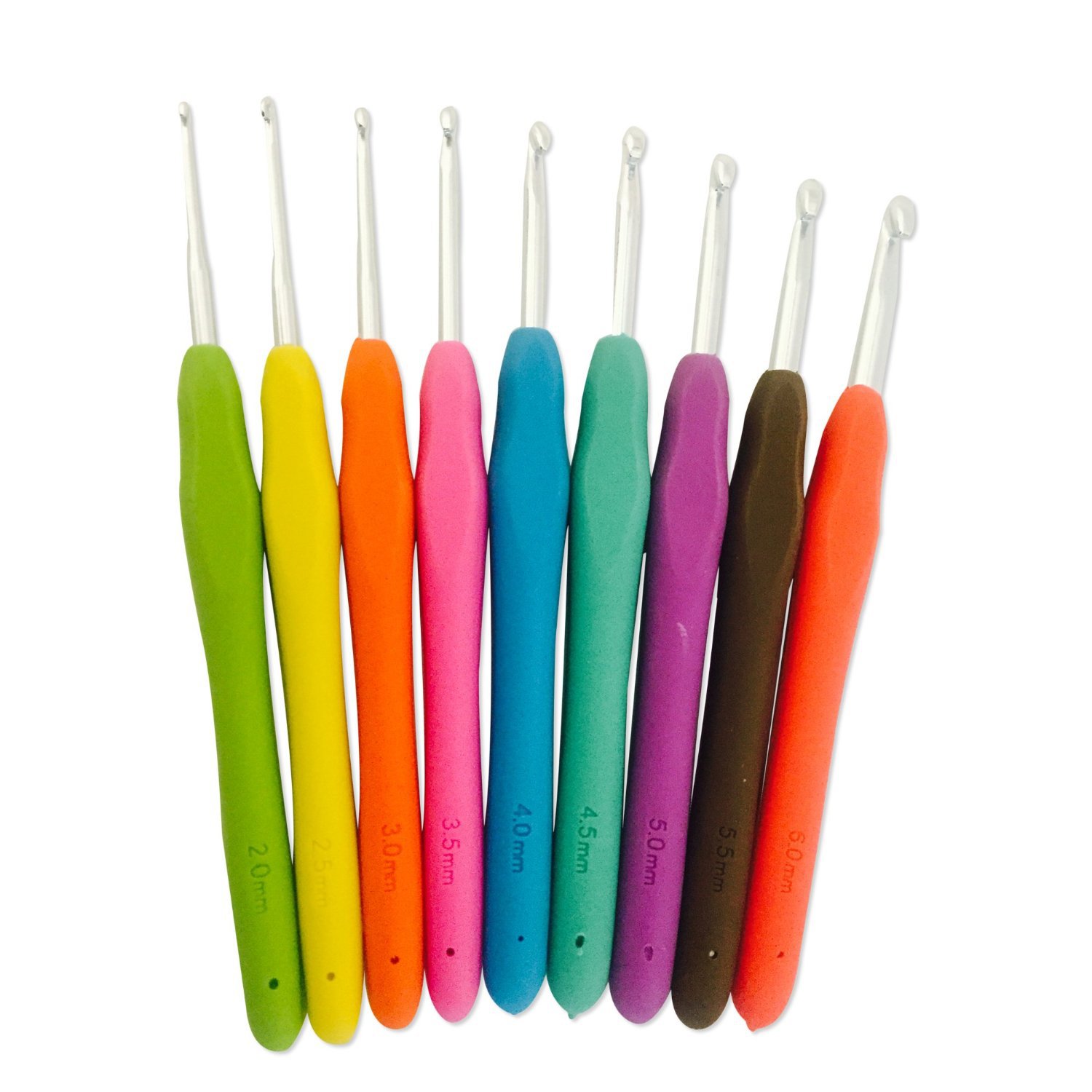 The Classy Catz Crochet Ergonomic Crochet Hook Set provides just about everything you need to start that awesome project you've been waiting on. All you need is your yarn, and you're ready to go.
One of the biggest highlight of this product is that it comes with everything you need to start. You get the 9 hooks, counters and snips for the entire project, wrapped up nicely in a carry case.
This makes crocheting easier, and definitely more fun since you can crochet on the go when you use the case to carry all of the pieces with you, and its stylish too!
Another great aspect is that each hook is color coded, based on the size and has a non-slip, comfort ergonomic grip on it. No more tired hands!
The hooks are made from aluminum, so they will last for some time to come, making them the strong, durable and comfortable hooks that you want to do each and every project with.
Customer Reviews
Great set of crochet hooks with color coding and clear labels
Works very well for those with aching hands or arthritis
Can use over a long period of time without discomfort
These hooks make it much easier to crochet without pain
Grips are comfortable, easy to get the hang of
Check The Price
Haven for Hands Ergonomic Crocheting Needles
This little set is one of the most complete ones you'll get out there. Not only are all of the handles in the Haven for Hands Ergonomic Crocheting Needles Set ergonomic and gripped, but they have non-slip texture ridges to them.
This allows you to work more comfortably with any project, good bye hand cramps!
With 9 different sized needles, you can ensure that you have one for each project you decide to do. The zipper pouch keeps everything in place, and tucked neatly inside, because let's face it, we are all not as organized as we'd like to be, and this case makes it so you can keep this little hobby as organized as possible.
One of the best features is that you're not spending hundreds of dollars on different sizes hooks, you can get them all affordably and in nice quality.
The aluminum hook is a high quality metal, while the grips stay strong against heavy duty crocheting.
Customer Reviews
Extremely reasonably priced, still just as comfortable as more expensive sets
Handles have great grip, easy to use and maneuver
Plenty of space on shafts for multiple stitches
Performance and comfort is much better than expected for price
Check The Price
Hooks & Loops Ergonomic Crochet Hook Set
The pink (or green), tough carrying case with the Hooks & Loops Ergonomic Crochet Hook Set is one of the best points about this set. Not only can it hold all of your crochet items, but it has extra room for anything else you might want to bring along for the ride in the cute little middle pocket.
With 20 different pieces, you will have everything you need to start crocheting any project imaginable.
Eleven of the pieces are the comfort grip, ergonomically designed hooks, while the rest are there to provide you with an easier way to crochet such as snips and counters.
If you wanted a more comfortable way to crochet, but also a way to leave and bring your hobby with you, then this set has it all and each product has a nice little pocket to keep each item in.
Zip the bag up, and make sure to head out on any adventures! I wouldn't want to miss any trips because I couldn't easily bring my hooks and counters with me, but this set makes it possible.
Customer Reviews
Complete set – all you need to crochet comfortably
Great for beginners and expert crocheters alike
Quality of pieces is great, excellent grip and feel
Includes everything you'd need to complete just about any crochet project
Easy to carry around and use on the go
Check The Price
WooCrafts TM Ergonomic Crochet Hooks Set
This all-in-one complete set has everything you need to crochet wherever you are. The WooCrafts TM Ergonomic Crochet Hooks Set welcomes beginners and advanced crocheters alike to use every little piece that it comes with.
The different sized, comfort gripped, hooks come in different colors so they are easier to locate for whatever project you're going to be working on.
The brightly colored case with different pockets for everything rolls up, unlike some of the other designs so you can throw it in a bag while on the go, or carry it alone.
There are also many different pockets for the other items such as stitch markers, snips and other items that you need for your projects. If you're a person on the go, like me, then this case is pretty awesome.
Your hands will never get tired using this high quality, ergonomically shaped, comfort grip handles. The aluminum hooks also last for some time, allowing you to purchase an affordable set once and not have to replace it for years.
Customer Reviews
Really comfortable grips
Many sizes included great variety
Can use for hours in one sitting without hands hurting
Yarn moves very smoothly over hooks
Great shape and construction, easy to use
Check The Price
EpicBelle Ergonomic Crochet Hooks
Last, but not least since it does not come with a nifty carrying case, the EpicBelle Ergonomic Crochet Hooks come with 9 different colors coded, and sized hooks for all sorts of crochet projects that you want to take on.
This set is ideal for those that already have a crochet bag or pocket that they use, and do not want to switch out the bag, just the uncomfortable hooks.
The non-stick, non-slip handles are perfect for those that want to crochet more comfortably, without having the hook come out of place, or get hand cramps.
The smooth aluminum hooks glide effortlessly over the yarn, so you will not have to pull or splitting happening during your projects.
Reduce your finger pain, and hand strain with the help of the hooks that allow you to glide in and out through yarn without a problem, and create a comfortable way to make all of those projects, no matter how long they take you to complete.
Customer Reviews
Would purchase this set over and over if I had to
Padding on hooks is comfortable without being bulky
Great for those with tendinitis and other ailments
Works well for those with weak muscle tone and strength
Easy to make and complete crocheted items without feeling pain
Check The Price