I do a lot of crocheting, both for selling and for gifts and so I go through a lot of yarn. I tend to just use my yarn as it comes from the store, which is in a sort of oval shaped blob or 'skein'. Most of the time when I buy a higher end, luxury yarn, it comes in a 'hank' type shape, which is like a big loop than is then twisted on itself.
Sometimes I spend the time to hand wind my skeins into balls so that they are easier to use but usually I'm just too lazy. This means that depending on if I pull the yarn from the centre of the skein, or the outside, I can sometimes end up with frustrating knots and tangles and then I have to do some raging and I get all sweaty, and well it's just not fun!
So lately I've been thinking about buying a yarn ball winder. It would save me so much time and make perfectly shaped yarn balls with a nice hollow centre that makes tangles and knots virtually obsolete. But there are so many types, And what are the differences between them and the different brands?
We've done the legwork and found the best yarn ball winders on the market. Here's what we found.
---
Editor's Choice
Stanwood Needlecraft YBW-A Hand-Operated Yarn Ball Winder, 4-Ounce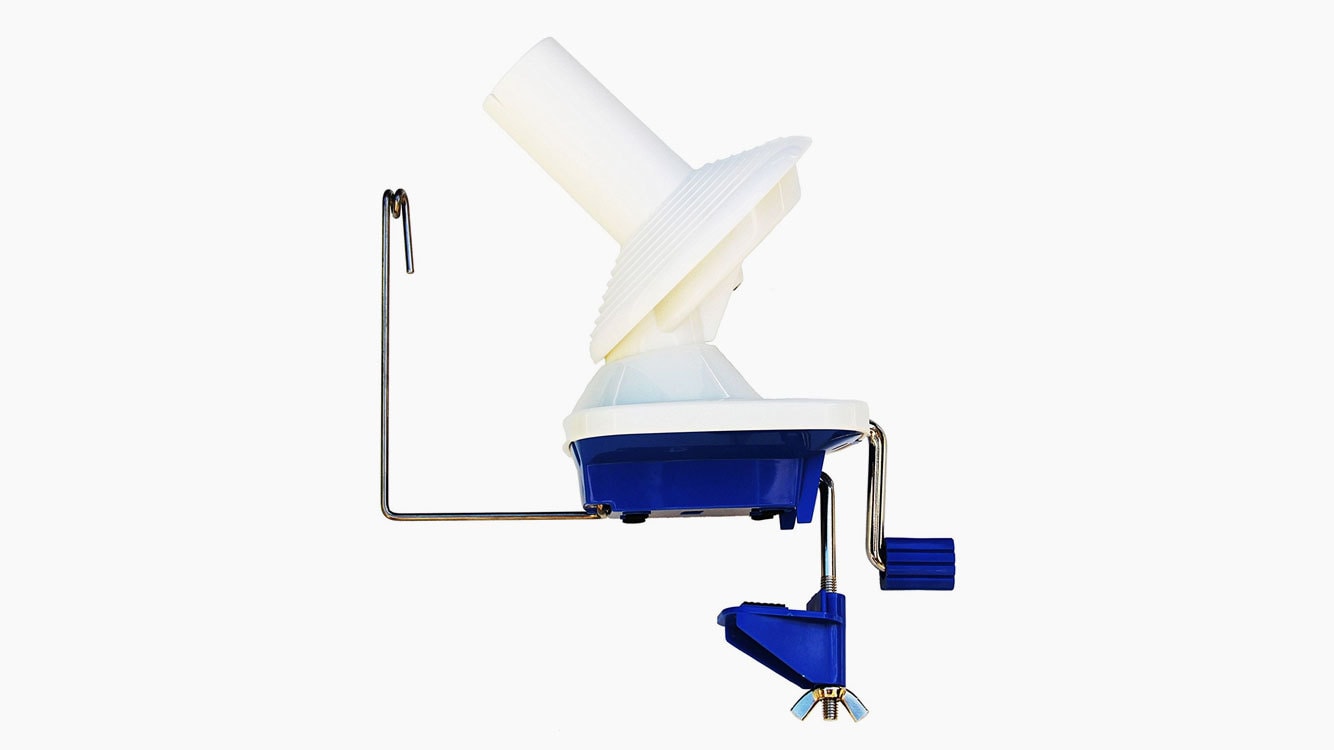 Stanwood is a big name in the needlecrafting world so I am confident this could be a top choice for me. The Stanwood Needlecraft YBW-A Hand-Operated Yarn Ball Winder makes smaller 4 oz. balls with centre pull, which is nice because it ensures I will never have a tangled mess. Smaller balls means sometimes I have to cut my skeins into two pieces, but that's not a big deal if it means they are going to be more organized.
"I am impressed with the quality of Stanwood products. This makes it so easy and quick to wind yarn. I seriously love it."
The table clamp has a range of about 1 ¾" so it means I can clamp it to a variety of tables or shelves or even a chair depending on where I am working. If winding from swifts, it is recommended that I also purchase the swift winder that goes with it but it's not totally necessary. For me, I'm mostly winding skeins so it will be fine.
Very easy to crank, with a sturdy metal crank, it makes smooth, easy to wind balls in about a minute, which I really like. A great option for the price!
Customer Reviews
Works perfect, just as described
Extremely easy to crank and use over time
Wonderful investment in my craft
Works well for rewinding scraps as well
Makes great big center pull yarn balls
---
Stanwood Needlecraft Large Metal Yarn/Fiber/Wool/String Ball Winder, 10-Ounce
Also from Stanwood, the Stanwood Needlecraft Large Metal Yarn/Fiber/Wool/String Ball Winder is a similar model to the above, but makes larger 10 oz. balls. This can be most useful if you don't want to cut your 8oz. skeins in half.
Very sturdy construction that is mostly metal apart from the cogwheels, which are made from a durable nylon material that won't wear down. Designed for heavy duty use, this 'jumbo' model has electrostatic paint so it won't chip or wear off.
Solidly built, this yarn ball winder is a popular choice for yarn shops and requires little assembly so it's straight forward to use and will last you for many years. It's also quiet and doesn't rattle or make any more noise than the smaller model, due to it's smooth and even crank.
Makes nice, easy to stack and store yarn "cakes" with a hole in the middle where the yarn pulls from the center. Overall, a great choice for those who want something with a bit more heft and are going to be doing a lot of winding.
Customer Reviews
Extremely good durability and construction
Easy to assemble and use, fast learning curve
Works very smoothly, cakes yarn hanks well
Comfortable to use, even after many hours
---
Yarn Ball Winder by KnitPicks
On the other end of the scale, the Yarn Ball Winder by KnitPicks is a cheap and cheerful model makes small 3.5 oz balls so it's great for small projects or lightweight yarn. Clamps easily to the table and although it has mostly plastic components it can stand up to many "winds".
It has directional arrows on the crank to show you which direction to go in and a three step set up so it's perfect for beginners. While it might not be able to go as fast as some of the other bigger models, it still has the smooth, even crank system that I'm looking for.
It's small size means it stores away easily in its own box and the directions are written on the box so it's very user friendly. And at this low price point, I don't have to make a huge commitment, I can test it out and see how I like it and move to a pricier, larger model down the road if I want to.
Customer Reviews
Wound hundred cakes in 3 hours, works perfectly
Easy to use – three steps to making perfect yarn balls/cakes
Excellent value for the price and quality you receive
---
Yarn Ball Winder by Yarn Valet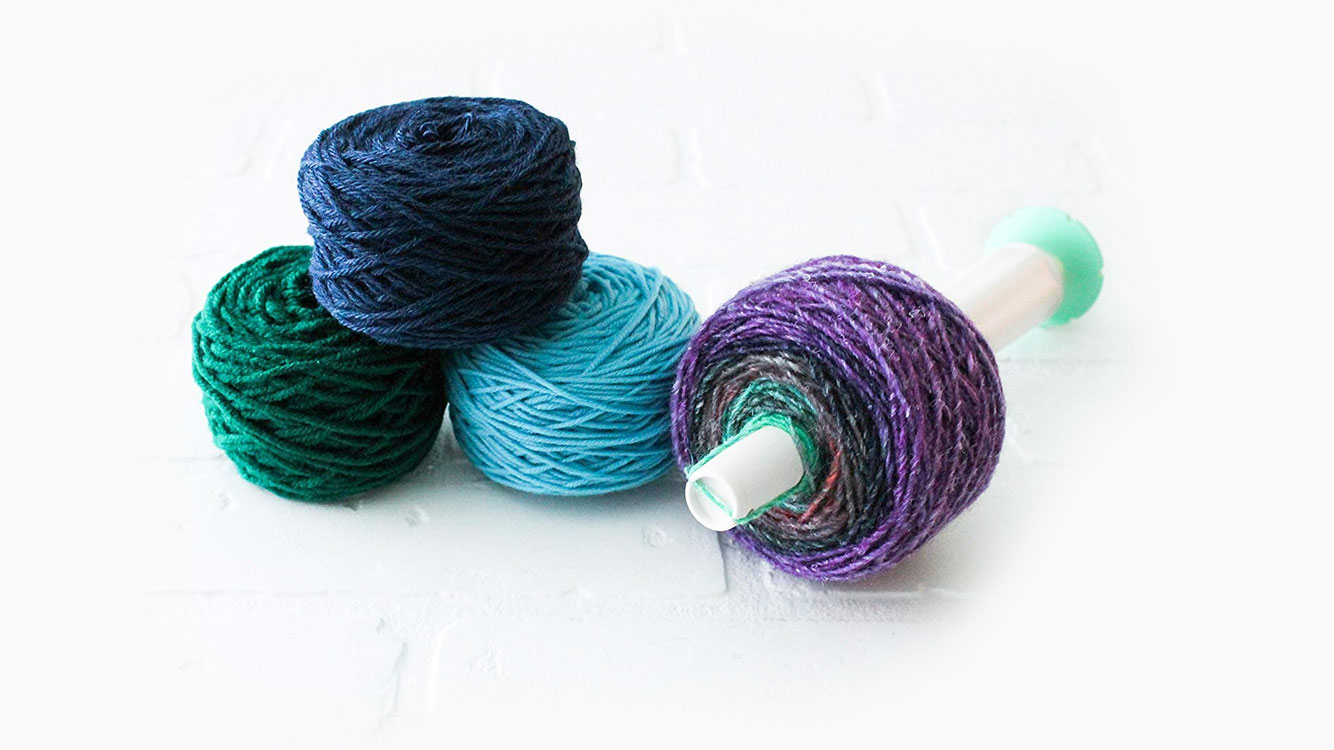 And now for something completely different, the Yarn Ball Winder by Yarn Valet is a manual type of lo-fi yarn ball winder with no crank which makes for an interesting and very easy to use option with no learning curve. In fact, there is no set up at all.
What's also cool is that it is also a storage compartment so you can keep crochet hooks or patterns inside and it's small enough to store inside your yarn bag while on the go, if need be.
You can make balls that pull from the outside or inside and handy YouTube videos show how to use this simple, straightforward model. If you are looking for something low cost and don't care if your yarn ball winder has a crank mechanism, this might be the one for you!
Of course it is going to be a bit slower to wind than some of the other models I mention, but if you just want the cheapest option that is portable, this is your yarn ball winder.
Customer Reviews
Works great with many types of yarn
Creates consistent yarn ball all the time
Small enough to be portable and travel-friendly
Takes a few minutes to learn technique, then really easy to use
Lightweight but still very good construction and feel
---
Heavy Duty Ball Winder by Nancys Knit-Knacks
Finally, I bring you a classically beautiful model that is sure to last you a lifetime. The Heavy Duty Ball Winder by Nancys Knit-Knacks is just that-heavy duty-and can wind up to 1 lb. at a time.
It has a sleek ergonomic design and focuses more on using your arm for winding, rather than your wrist, which could cause strain over time.
In fact, this model can be adjusted in several different ways so you can adjust the yarn ball at five different angles relative to the positioning of the machine. Guaranteed to be easy to use and comfortable. It also has adjustable options for tension and yarn ball size.
It's made of maple hardwood in the USA and has Swiss gears, so you're really getting a highly crafted quality product that is built with the serious yarn ball winder in mind. And it has a one-year warranty, so they really stand behind their product.
Worth the extra money, this product could be an heirloom. Smooth gears, smooth wood, you won't even want to pack this one away. A lovely piece of handcrafted machinery.
Customer Reviews
More expensive, but worth the quality and lifetime lasting quality
Sturdy, doesn't move, easy to use
Great workmanship, and great to see it made in America
Winding mechanism works very smoothly, easy to use
Will last for years
---
What to Look for in a Yarn Ball Winder
Sturdy Construction: When purchasing a yarn ball winder, I am looking for something that is built to last and I don't mind paying a little bit extra for a product that might stand up better to time than cheaper models. If it has plastic components, that's fine, as long as they don't feel cheap and don't have a bad track record for breaking right away. The table clamp should also be sturdy and have a good grip and overall the yarn ball winder shouldn't feel cheap.

Easy Crank System: Pretty self-explanatory here. I want to buy a yarn ball winder that can hold up to some serious cranking. It should feel smooth and have an even tension that doesn't feel like it's pulling on the yarn and the crank shouldn't feel like it's going to bust off at any minute!

Ease of Set Up: Since I'm a yarn ball winder newbie, I want something that doesn't have a huge learning curve. I need to get down to business right away and I don't want to be spending five hours reading a manual trying to figure out how to feed this thing and get it going. It should be quick and easy to set up and just do what it's supposed to do.
---
Do you recommend a yarn ball winder that we didn't cover?
Let us know! You can also check out our reviews on everything from the best ergonomic crochet hooks to best headband magnifiers.