When I first learned to crochet, my instinct was to immediately go shopping at a speciality yarn store. If you've ever been to one of these boutique shops, then you'll understand the excitement I felt seeing all the colorful, luxurious yarns on display. I was so excited about the beautiful materials that I didn't even consider the fact that some yarns might be easier to work with than others. I learned my lesson the hard way, through hours of frustration and dropped stitches. To help beginners avoid my mistakes, I've put together this handy guide to selecting the best yarn for crochet.
What Is Yarn Weight?
Yarn comes in a variety of thicknesses, which are categorized from lightest to heaviest according to the standard yarn weight system. On this scale, crochet thread is the lightest possible material you can work with and is great for making intricate doilies, lace applique, and floral embellishments.
However, crochet thread is significantly thinner than yarn, making it difficult for beginners to work with. For that reason, I recommend practicing crochet stitches and completing a few projects with yarn first before moving on to the thread.
Beginners will find it easiest to work with worsted weight yarn (labeled #4). This is a medium-weight yarn that is often considered the standard for needle-point crafts. Its middle of the road thickness provides a perfect balance between ease of use and durability, allowing beginners to easily hook stitches without accidentally dropping them.
A DK weight or light worsted (#3) is also a good choice for beginners because it is easier to distinguish between stitches but is still thick enough to hold its shape around the crochet hook. In general, thicker yarns are easier to work with because they enable the project to grow faster and the larger size requires fewer fine motor skills to manipulate. The drawback of very thick yarn (#5+) is that it has the tendency to slip off the hook.
Choosing A Fiber Type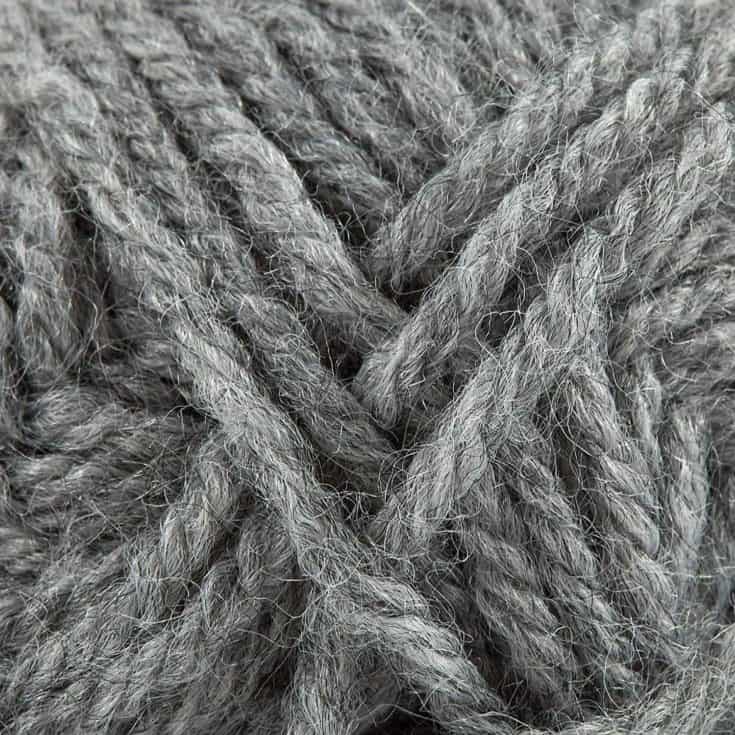 Yarn also comes in a variety of animal and plant fibers both natural and synthetic. There are so many different options out there, but the three most common types are wool, cotton, and acrylic yarn.
Wool: Wool is one of the more expensive yarn options, but its unique and beautiful coloring more than makes up for it. Its unique dyeing properties lead to some of the most brilliant colored wools. It is also a sturdy fiber, making it a good option for beginners prone to making mistakes.
Cotton: Cotton is my favorite yarn for beginners. Its natural, inelastic qualities safeguard against slipped stitches, and it is both inexpensive and soft. You can also buy sustainable yarn made from organic cotton.
Acrylic: Acrylic yarn is a great choice because of its durability. Although it is not as soft as natural fibers like cotton or wool, it is incredibly strong. It is also one of the most affordable yarns available, making it a great option for new learners.
You'll also want to be aware of yarn color and texture. If you're just getting started, try practicing with a lighter, solid color. This will make it easier to tell if your stitches are uniform and if you have the correct tension.
As you get more advanced, you may want to experiment with textured yarns like fuzzy mohairs or specialty pom-pom yarns. Just keep in mind that fewer uniform fibers will require greater patience and skill.
Reading The Yarn Label
The most important thing to do when selecting yarn for a crochet project is to read the label. Yarn labels provide a wealth of useful information, and I wish I knew how to read them properly when I was first getting started. Here are some things to look for before you choose a yarn:
Yardage: Yarns come in balls, skeins, and hanks. In order to compare prices effectively across brands and packages, check the yarn label for the exact yardage. Prices can be deceiving because a ball may appear larger but actually contain far less material.
Hook size: Yarn labels list both the yarn weight and the recommended hook size. It is really important to make sure that you have the correct hook to match the yarn's thickness and that you are achieving the recommended gauge.
Dye Lot: Most yarn will come with a very specific dye lot number. Yarns with the same dye lot were dyed at the same time and have uniform coloration. If you're working on a large project that requires multiple skeins, you'll want to make sure they all came from the same dye lot. The same color and brand of yarn will exhibit slight color variations depending on how and when it was dyed.
Care instructions: Yarn labels will also specify washing instructions. You should select a yarn that is appropriate for the type of project you are working on. For example, you may not mind handwashing a cowl or beanie, but if you're making a baby bib you will probably want to pick something machine washable.
Top 5 Yarns For Crochet Projects
Now that we've gone over the basics of selecting the right kind of yarn, here are a few of my personal favorites to use for crochet projects.
Red Heart Soft
Weight: 4-Medium
Yardage: 256 yards
Material: 100% acrylic
Hook size: 5.5mm
Machine Washable: Yes
Check The Price
Available in 43 extremely pretty colors, this yarn is great for anyone seeking the durability and affordability of acrylic, but not willing to compromise on feel.
This worsted weight acrylic is ultrasoft. It has an elegant drape to it, making it a wonderful choice for blankets, scarves, and beanies. It also has a subtle luster that gives it a nice shine without being too flashy.
What I like about this yarn is that it has all of the functionality of an acrylic fiber, but is just as soft as natural fibers like wool and cotton. It is completely machine washable and can even be tumble-dried without shrinking, but it still feels incredibly soft and cozy.
Red Heart soft is also a no dye-lot yarn, meaning it is dyed in much larger batches and has very little color variability. This makes it a great option for garments and last-minute gifts. I keep a few skeins of this lying around for all those occasions when I want to whip up something fast.
Who Should Purchase This?
If you're looking for a good acrylic yarn but dislike the scratchiness of synthetic fibers, Red Heart soft is a versatile option that combines durability with an ultra-soft texture. This is a good option for beginners who wish to complete their first full crochet project or anyone making crochet garments as gifts.
Pros:
Wide variety of colors
Good stitch definition
Durable and ultra-soft
Cons:
More expensive than other acrylics
Not environmentally friendly
Caron one Pound
Weight: 4-Medium
Yardage: 812 yards
Material: 100% acrylic
Hook size: 5mm
Machine Washable: Yes
Check The Price
If you're new to crochet and anticipating making lots of mistakes, then Caron one pound yarn is likely your most cost-effective option. As the name indicates, one skein of this yarn weighs a full pound. That works out to over 800 yards of material, which is almost four times more than the average skein. It's definitely a great value option for anyone on a tight budget.
My favorite thing about the gigantic skein is that it virtually eliminates the need to weave in yarn ends. After spending over 60 hours crocheting an Afghan, the last thing I want to do is sit down and hand-weave all the little yarn pieces into the blanket. This yarn significantly reduces the amount of time spent finishing a piece.
Who Should Purchase This?
Caron one pound is great for anyone striving to find the best value. It is a good option for people working on large crochet projects that require a large quantity of durable material. It is also a great choice for absolute beginners who want to practice their crochet technique.
Pros:
Extremely affordable
Large skein
Good for Afghans
Cons:
Stiff/scratchy
Splits easily when inserting hook
Lion brand wool-ease
Weight: 4-Medium
Yardage: 197 yards
Material: 80% acrylic 20% wool
Hook size: 6mm
Machine Washable: Yes
Check The Price
Lion brand is known for it high-quality wool-ease range. The worsted-weight version comes in a variety of solid colors, heathers, and multi-colored twists, and has inspired an entire family of wool-blend yarns.
Wool-ease has all of the warmth and softness of wool, but because of its high acrylic content, it can still be machine washed and tumble dried. It also has great stitch definition, making it a great choice for crochet garments and blankets.
Who Should Purchase This?
Lion brand wool-ease is a favorite amongst seasoned crocheters. It is a wool blend with a soft texture and a tremendous amount of warmth, but it won't cost you a fortune. It's for anyone who wants a washable yarn with the unique color qualities of wool.
Pros:
Warm and soft
Versatile
Good value for wool
Cons:
Large color variation between dye lots
Wool and the Gang crazy sexy wool
Weight: 6-Super Bulky
Yardage: 87 yards
Material: 100% peruvian wool
Hook size: 8mm-12mm
Machine Washable: No
Check The Price
Wool and the Gang is by far my favorite brand for yarn and all things needlepoint. The brand specializes in environmentally sustainable and ethically sourced products that are 100% renewable and biodegradable.
Their crazy sexy wool is a super chunky yarn that is friendly for beginners, making it possible to crochet nearly anything in less than a day. The yarn is also made from 100% Peruvian wool, which results in incredibly soft hats, sweaters, and cowls.
Who Should Purchase This?
Anyone looking for a chunky weight or pure wool yarn. Crazy sexy wool is a great choice because it is a very high quality, luxury yarn, but one that is specifically designed to be beginner-friendly. This is also for anyone concerned about sustainable yarn selection.
Pros:
Extremely high quality
Environmentally sustainable
Softest wool
Good for chunky garments
Cons:
Very expensive
Must be hand-washed
Lily Sugar N' Cream Cotton
Weight: 4-Medium
Yardage: 706 yards
Material: 100% cotton
Hook size: 5mm
Machine Washable: Yes
Check The Price
Lily's Sugar N' Cream yarn is made from 100% cotton and is made entirely in the USA. The yarn is available in both traditional skeins and extra-large cones with 706 yards of material.
What's great about cotton is that it is known for its versatility and absorbency. I would use this yarn for dishcloths, bath scrubbies, and mug cozies because its lack of elasticity gives it incredible scrubbing power. I also appreciate the large cone-shaped packaging because I can complete entire projects without ever having to weave in any pesky ends.
Who Should Purchase This?
This yarn is good for anyone interested in homeware crochet projects like bathmats, dishcloths, towels, and table covers.
Pros:
Highly absorbent
Holds shape well
Durable and ultra-soft
Cons:
Subdued colors
Stiffness makes it difficult to work with
Not well-suited for garments
Conclusion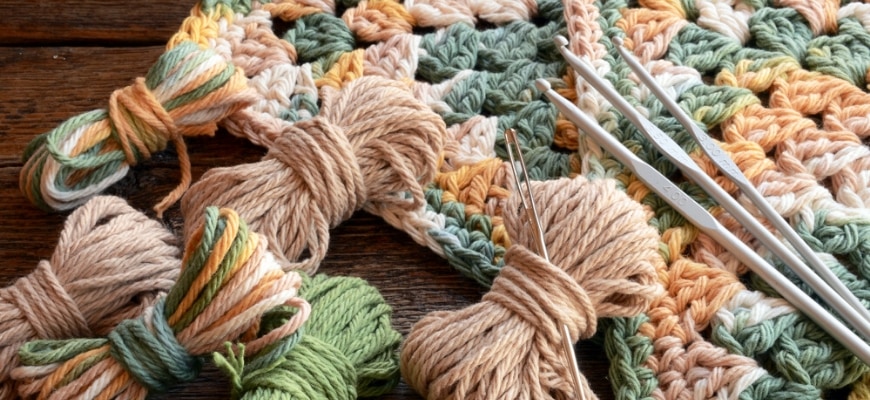 There's no such thing as the perfect yarn for crochet, as all yarns have different qualities and attributes that make them suitable for some projects and not for others. The most important thing is understanding yarn weight and fiber type so that you can select a yarn that is best for your personal needs.
While it can be tempting to select a material purely based on aesthetics and color, it's important to consider a range of factors like yardage, care instructions, and texture. The good news is that there are lots of beautiful yarns that are beginner-friendly, so don't be afraid to get started crocheting!