Special colored pencils require specific types of paper if you want your art to turn out well. This article is going to take you through some of the best types to use with your Prismacolor pencils.
Although colored pencils used to be thought of as just for kids, they are steadily growing in popularity among collectors, galleries, and artists both casual and professional. Artists everywhere are taking advantage of this wonderful medium as enthusiasts marvel at what they create.
Odds are, you've probably used colored pencils as a kid and are somewhat familiar with them, but the pencils you would have used as a child are very different than professional pencils, which have more pigment, allowing for deeper, richer color.
Prismacolor pencils, in particular, have softer tips that lead to drawings so pigmented and smooth that they can look like paintings. For the best result, however, you must invest in some quality art paper like the ones we recommend for copic.
COMPARISON TABLE
IMAGE
MODEL
FEATURES

Strathmore 400 Series Medium Surface

Strathmore 400 series drawing pad is ideal for sketching and most finished works

This item is acid free

Ideal for all levels of artists

View Product

Strathmore 300 Series Bristol Smooth Pad

Great paper for an artist who likes to use a pen and ink to create a masterpiece

Strathmore Bristol Smooth Paper Pad

Manufactured in United States

View Product

Fabriano Artistico 140 lb. Paper

Extra white watercolor block

Acid-free and pH neutral

Mould-made of 100% cotton

View Product

Recognized worldwide as the preferred papers for pastel, drawing, and paper craft

Light-fast paper that is colored at the pulp level

Dual-surfaced: one side with a heavy texture and the other with a lighter texture

View Product

Professional grade watercolor

100% cotton - cylinder mould made with natural gelatin sizing

Flawless texture surfaces - acid-free and buffered

View Product
The Top Paper Choices for Prismacolor Pencils
Each of the types of paper on this list was selected for affordability, quality for the price, and positive feedback on user reviews. Keep reading to learn more about each and select the best one for your needs.
Strathmore 400 Series Medium Surface
Strathmore 300 Series Bristol Smooth Pad
Fabriano Artistico 140 lb.
Mi-Teintes Pastel Pad
Arches Watercolor Block
Strathmore 400 Series Medium Surface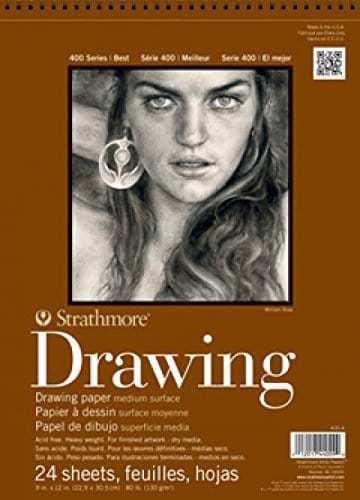 If you like making art on cream-colored paper and working with medium textured surfaces, the Strathmore 400 Series could be the right choice for you. Its surface is perfect for ink, pen, markers, oil pastels, soft pastels, sketching sticks, charcoal, and of course, colored pencils.
"I like this paper very much, said Carol at Toad Hollow Studio. "It's off-white and the texture is a little rough. It makes a good quick sketching paper because of that roughness."
The paper is 130 gsm, 80 lb., and acid-free with 24 sheets of 12 by 18-inch wire bound paper in each pad. This paper is among the more versatile products offered by Strathmore and is ideal for all levels of artists. The pad has a durable surface and offers easy ratings and erasing for sketching sticks, charcoal, colored pencils, and more.
Strathmore has been creating paper for artists for more than 125 years. The company believes that choosing paper is a highly fundamental choice on the artist's part and will direct the quality of the finished product.
Although the paper is listed as being suitable for many different types of media, it is thinner than you would expect and thus better for colored pencils than watercolors or paint. It works wonderfully with Prismas.
Check The Price
Strathmore 300 Series Bristol Smooth Pad
If you want a 20-sheet drawing pad with tape-bound, 9 by 12-inch pages of 100 lb. paper, this could be what you need. The Strathmore 300 Series option is a heavy Bristol paper best suited for markers, air brush work, mechanical drawing, ink, pen, and of course, Prismacolor pencils.
"The paper is treated on both sides; this allows you to be able to work on both sides," said Dave at Nevue Fine Art Marketing. "The texture is different between the front and the back. Practicing on both sides will allow you to decide which side of the paper will work best for your project."
This paper is 270 gsm and acid-free, with a smooth surface well-suited for tiny details. The paper is suitable for art enthusiasts of every stage and level and has a surface perfect for finished art and traditional drawing. You may use Copic markers and watercolor pencils, in addition to your Prismacolor pencils, on these sheets as it is thick enough to handle them. But please note that Copic markers might bleed through slightly if you lay it on too thick.
You can easily remove sheets of paper from this pad without the adhesive glue coming off and sticking to the paper, which is an issue with other artist pads. You may use both sides of each page and even when your art is more than a decade old, it won't yellow or fade.
Please note that you can use this paper for using watercolor and painting landscapes, but too much paint or water can lead to warping and needing to flatten the sheet out later. The paper will give charcoal a calming, smooth feel and absorb ink very well without any resistance.
Check The Price
Fabriano Artistico 140 lb. Paper
If you're interested in a 9 by 12-inch block of 140 lb. cold press, pH neutral, acid-free paper, Fabriano Artistico is worth looking into. The paper in this watercolor block is extra white and made from 100 percent cotton. Let's take a look at some of its other noteworthy features.
"The quality of the paper is fantastic," said Teoh Yi Chie at Parka Blogs. "I like the even fine grainy texture of the coldpress surface. The quality is good enough to withstand glazing. I usually use pencils for drafts and they erase off well from the surface, even multiple times."
This paper comes in extra white, as stated, but you can also select traditional white, both at 300 gsm. The surfaces are rough, hot press, and cold press. Watercolor paper with cold press has more texture, grooves, and bumps to hold the pigment and water. It also absorbs water quite fast. Hot press, on the other hand, is much smoother and doesn't soak water up as quickly, allowing for more time to play with colors while painting.
Moving onto a thicker type of paper, such as this one, enables you to work with excess water and color, giving you more time to complete your piece. If you do end up using a lot of water and experiencing slight warping, this can be fixed with artist's tape.
Check The Price
Mi-Teintes Pastel Pad
The next pad on our list has been recognized across the globe as preferred for paper crafts, drawing, and pastels. Mi-Teintes Pastel pad has gelatin-sized pages that are made from 50 percent cotton.
"Canson Mi Teintes pastel paper can fill a lot of roles: exploring and experimenting on a good surface to master techniques, student use in class and for practice," said Yak Max, "and even finished works to display or sell."
You will find that one side of the sheet has a light texture while the other has a heavier texture and that the paper is light-fast. The 24 pages in this artist's pad are 9 by 12 inches, 98 lb., and acid-free. The colors are beautiful to mix with colored pencils and pastels.
This pad is unique in that it allows you to choose from the two sides, the rough texture is great for holding pastels well, while the smoother side is good for ordinary pencils. Keep in mind that if you're using a wet artistic medium, this paper probably won't work. With dry mediums, however, it's perfect.
When using Prismacolor pencils, a "toothy" paper is best since it allows the colors to truly adhere to the page in a way that smooth paper doesn't. For the price, the Mi-Teintes Pastel pad is an amazing value and of great quality.
Check The Price
Arches Watercolor Block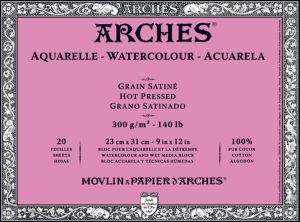 The Arches Watercolor block offers professional grade paper for watercolors, with buffered, acid-free, and flawless textured paper surfaces. This block with 20 sheets of paper is bound on every side and made from 100 percent cotton.
"Arches is a good, all around workhorse paper," said Jennifer at JenniferBranch.com. "Arches hot press is not extremely slick. Cold press is not extremely textured and the rough is not very rough. Arches is a basic, reasonably consistent paper for most work."
You will love how your watercolors move and how your colors look on these sheets of paper. Since it's meant to handle water and paint, you can trust that it will also handle professional colored pencils easily.  It's the best paper for all wet mediums but works just as well with dry ones.
Make sure you know whether you should get hot press or cold press. When you are working with rougher paper, it can be hard to make details. You might prefer to get cold press because of its texture, but for those wanting to add small details, hot press is recommended instead. Just ensure that you are careful and don't saturate repeatedly when you're doing heavy washes.
The sheets are tough, thick, and nice to use. Even when using graphite and erasing a lot, it will hold up well. Buying paper of high quality will completely transform your art. If you've hit a plateau or don't think your art can improve, upgrading to a better brand of paper can help.
Check The Price
Blending Tips for Prismacolor Pencils
It can be hard to blend Prismacolor pencils, even for advanced artists. Unlike graphite, chalk, charcoal, or other mediums, you cannot blend these pencils with a scrap of paper. But if you are determined to get a blended effect, it is possible with the following techniques.
Blender Pencils: This is a tool specifically made for blending that looks similar to a colored pencil, but without color. Some also call these colorless blenders. To use one, just rub it on top of the hues you wish to blend, rubbing it side to side until you have achieved your desired blending level. When you spread a layer color thickly over your base using this blending pencil, it's possible to make a glazed look on top, lending your finished piece a blended look.
Layering: You may darken or lighten up a color to make it match what you're envisioning, by layering a color on another color. You should do this lightly, using as small a number of strokes as you can. It's always possible to put more layer color down, but not always possible to remove it once it's on. Try lightening up too-dark colors with white or other light colors over the top. You can also use this technique to soften up colors, such as skin tones in portraits.
Use a Bristle Brush to Spread Color: Using a medium-stiffness bristle brush, you may smear and drag already-applied colors across the page. If you spread colors together, they will blend, while thicker concentrations will become more intense and thinner concentrations will look lighter. Play around with this technique in order to get more comfortable with it. When you are choosing a brush to use, make sure you consider the paper type you have. Thin paper may need a softer brush with gentler blending, while thicker paper could more easily handle stiffer bristles.
Care for your Pencils: The cores in your Prismacolor pencils are somewhat fragile and need to be treated with care and caution. Try not to handle them too roughly or drop them in any circumstance, as that can lead to wasted lead or inconsistent drawing. Store your pencils in a safe place so that they are protected. With your pencils in top shape, your drawings will turn out much better.
As you can see, blending doesn't have to be complicated. Just follow these simple guidelines and you'll start getting better results in no time.