Copic markers can sometimes bleed through normal paper if they are not on something that is going to do the job. This is something I learned the hard way.
I chose to write on normal printer paper with my markers. I was trying to design something for a friend, and it bled all the way through to the counter. Not to mention that copic markers are tough to scrub out of anything.
Stay away from what I did and know that there is actually paper out there that was made to go along with these markers, so you do not have a mad wife, like me, because you drew on the table like a child, when you were not supposed too.
Here are our top picks for the best paper for copic markers, and why they're so practical if this is a marker you use on a regular basis. I might have just saved your table (you're welcome).
---
Editor's Choice
Copic Markers Alcohol Marker Pad
When searching for a high quality pad of paper to use for your copic markers, this is one of the best pads to go with. The Copic Markers Alcohol Marker Pad is made specifically for these types of markers, so it won't let you down.
The paper is bleed resistant, but it seems thin when you're drawing on it. This is one of the best things you're going to notice about this pad. Many times, the paper made for these markers are not thin feeling.
The pad comes with 50 sheets, giving you more than enough pieces of paper to perfect your skills on when the time comes. Keep the sheets together as you draw, or decide to rip them out piece by piece. The choice is yours.
The pages are also slightly bigger than normal ruled paper that you'd purchase to write on. This gives a bit more space when drawing.
What Users are Saying
Excellent quality, ink does not bleed through pages
Arrived quickly and in perfect condition
Holds up better than other papers used for same inks
Surprisingly bleed-proof for how thin paper is
---
Copic Marker Sketchbook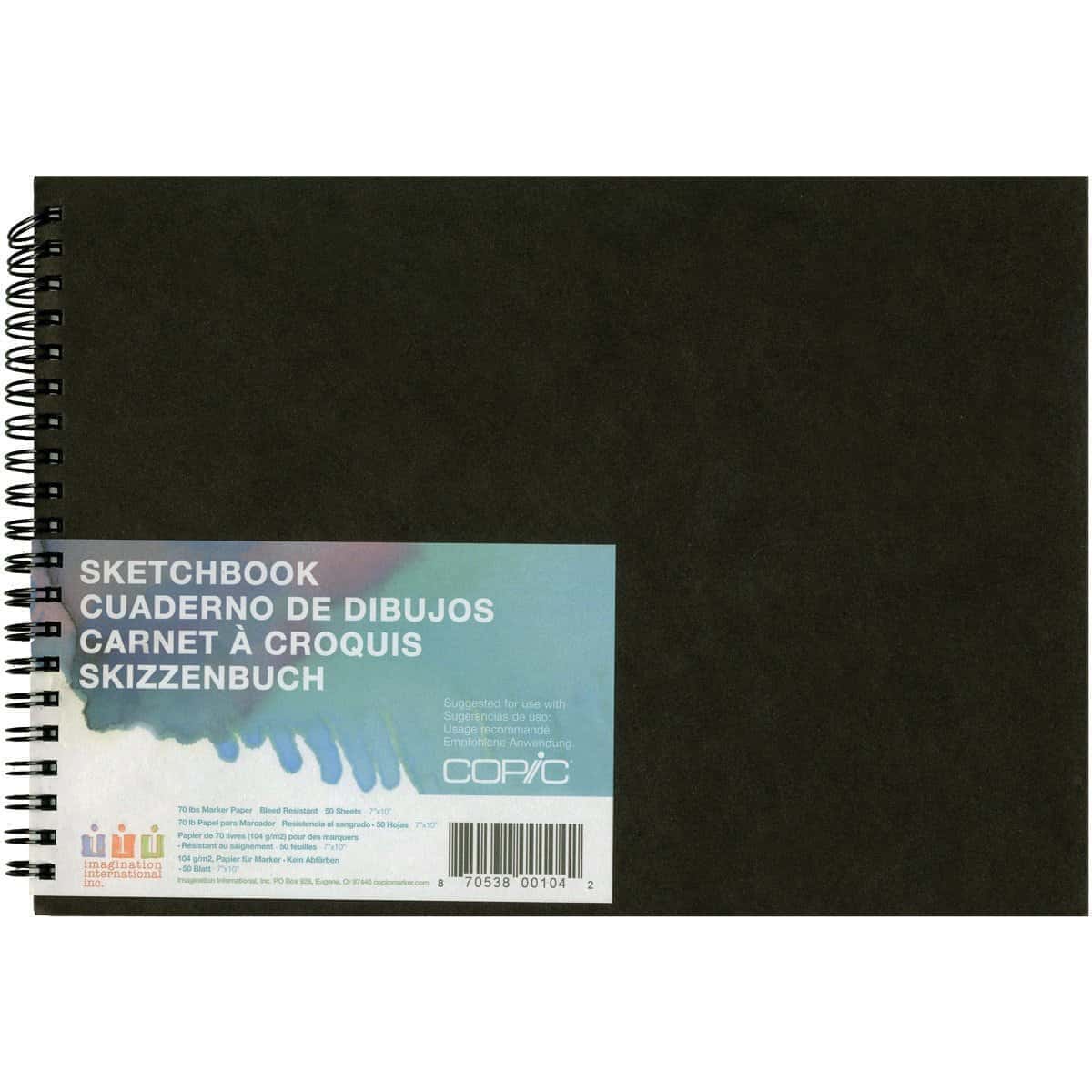 With larger than normal pages, you're able to get 50 pages worth of coloring in this Copic Marker Sketchbook. Each of the pages is thick enough so that the marker does not leak through, and allows you to keep up the designs as you go.
The spiral bound notebook keeps all of the drawings and designs in one place when you need them. It is bleed resistant, and keeps everything neatly tucked inside.
If you're looking for something a bit more professional and that keeps everything together, with a spiral side instead of the sticky sides that just tape the pages together; then this book of high quality papers would be for you.
High quality, and able to keep the color in the paper for much longer than some of the other options on the market. The paper works with a wide variety of other markers and drawing mediums, so you can make the most of the picture.
What Users are Saying
Paper is extremely smooth and high quality
No bleed-through even with a lot of ink/coloring
This sketchbook works better than other Copic books purchased
Paper is forgiving if you're heavy handed with drawing
Paper is great, fine quality, looks vibrant with colors
---
Copic Markers 8-1/2 by 11-Inch Blending Card by X-Press It
Through the use of Copic Markers 8-1/2 by 11-Inch Blending Card by X-Press It, you're able to keep all of your designs on paper that will not let you down and will not bleed through.
Enjoy the larger sized papers that provide enough space for larger pictures to be drawn on. Blending is something that can be done on the papers, but you have to ensure that you do not press down too hard because this can cause problems.
Even though it is a card stock paper, it is one that provides you with a way to keep the color on the paper, and not all over the back of it or on any of the surfaces you're using to draw on.
The papers are loose though, so if you're looking for a pad then this is not it. However, you can clip them together or hand them out once your drawings are done.
What Users are Saying
Works well with drawing techniques, does start to get thick when blending colors
Excellent paper quality for cardmaking and other crafts
Very little bleed-through even after a lot of drawing and inking
Best cardstock used for Copic markers and similar inks
Keeps colors bright and vibrant
---
Bee Paper Bleedproof Marker Pad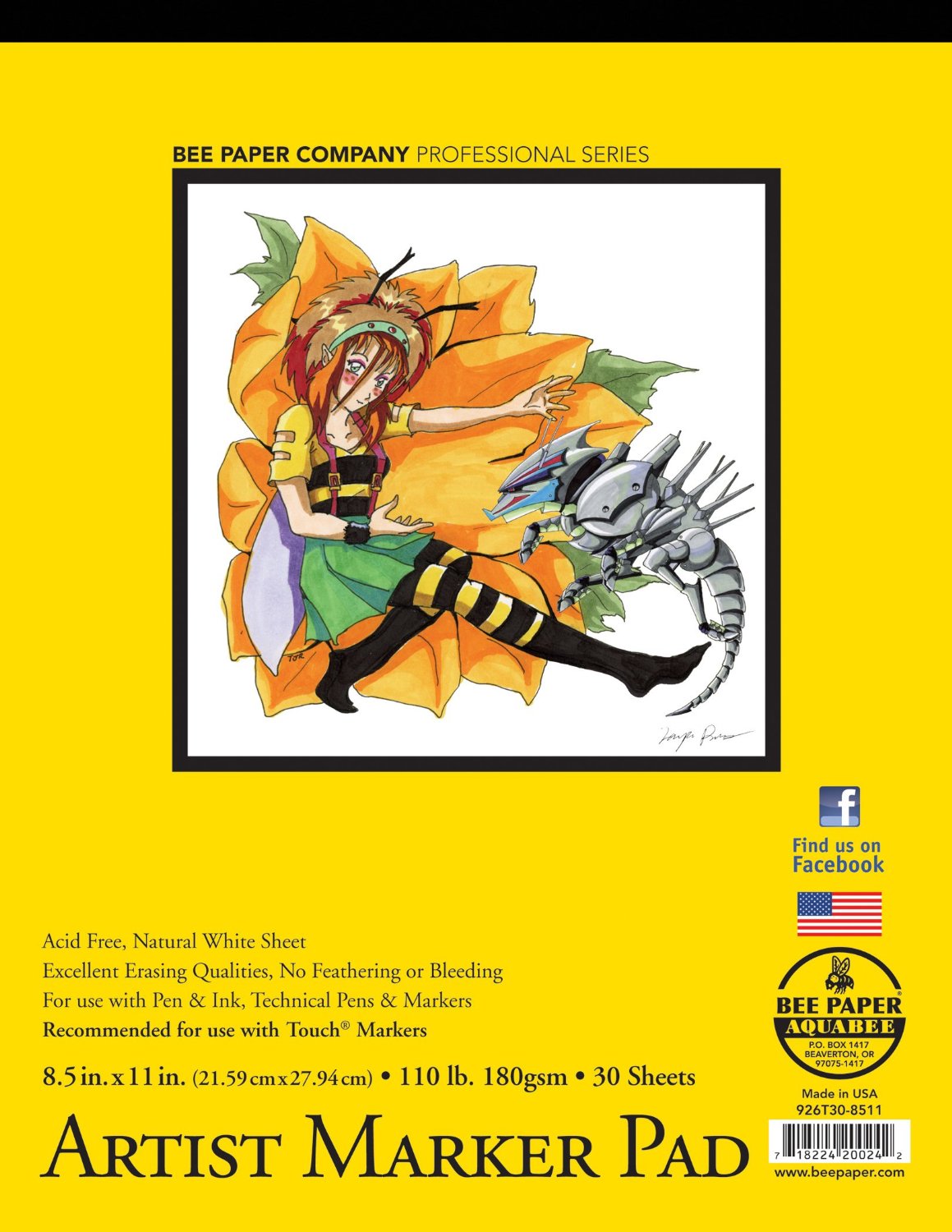 Through the use of the Bee Paper Bleedproof Marker Pad, you're able to keep your drawings in one area and let your creativity fly. Enjoy the benefits of having a thicker paper that holds the ink, but not so thick that it doesn't seem like paper.
About the size of normal ruled paper, you're able to get the most from the paper that you can draw on and make the most of. Enjoy the soft feeling of each page, as it absorbs the colors but keeps them true to their original color.
Can be used with many other drawing mediums, making this a versatile pad to use for all of your artistic needs.
Acid free design lets you keep drawing, and not having to worry about the paper sucking up the ink and causing further problems or issues. Keep your drawings just as fresh as when you first drew them on the paper.
What Users are Saying
Performance exceeded expectations for paper
Paper is thick, smooth and great with heavy inks
Paper feels similar to cardstock in quality and thickness
Works well when blending colors and markers
Great texture, brings out details and colors well
Best paper used at such a reasonable price
---
Copic Marker 8-1/2-Inch by 11-Inch Express Blending Card
Blend and make sure to make the most of your drawing through the markers with these papers that will not bleed, even when you press down to blend the different colors in your drawing. The Copic Marker 8-1/2-Inch by 11-Inch Express Blending Card provides you with strong hold, long lasting coloring fun.
The ultra smooth and silky surface ensures that your colors are going to stay bright when it comes to coloring on them.
Non toxic and free from acid and other chemicals, the paper is a strong hold for many different markers, laser printers and other materials that you draw with.
The white color is crisp and sharp, provides you with the ultimate platform for drawing a number of things on the outside of the paper.
Even though this is not a pad, and all of the papers are loose, it can be ideal to draw on the many different papers that are provided. You can then place them in a portfolio or folder, or hand them out to others.
What Users are Saying
Works great for creating cards
Excellent layering qualities when using multiple inks
Perfect for blending Copic markers
Less bleeding on this paper than most other papers used
Smooth paper with great texture and depth
---
What to Look for in Copic Marker Paper
Durable: Durable paper that is not going to rip or cause further problems is always a good thing to look out for. You want to make sure that you're choosing something that is also going to hold the drawing that you make for some time.

Thick: The thicker the paper, the less likely it is to bleed through the back of it. Always check the thickness, and make sure it is bleed-proof to save your tables!

Quality: The quality of the paper means a lot. Many times, when you're drawing using the markers, they might bleed down and into the paper. With higher quality paper, this is something that is not going to happen.

In a pad or set: Purchasing more pieces of papers together, rather than a small set is always recommended. It is ideal to grab more than a little. You never know how much drawing you're going to want to do.

Size: Depending on what you're trying to draw or design, then you need to make sure that the paper is large enough to fit the design on. This is because you want to have enough space to cover the area, but also that you're not using multiple pieces that you have to tape together.
---
Copic Marker Tips and Helpful Links
If you're just getting started working with copic markers, check out this helpful video on the basics, including shading and getting used to how the markers work.
You can also check out these Pinterest projects on copic markers, tips for getting started with copic markers, and tips from Copic themselves.
Do you recommend a certain type of paper for copic markers that we didn't cover?
Let us know! In the meantime, check out reviews for the best copic markers, the best brush pens for lettering, the best beginner's calligraphy pens or the best brushes for acrylic painting.