A quality pencil sharpener is an important tool for keeping your art supplies in great condition. It's useful for shaving down the wood on your pencils to show more lead, of course, but also gives you the perfect tip for creating intricate details in your pencil art drawing.
Some see pencil sharpening as an art form of its own, but traditional sharpeners will work for most artists. Whether you like hand-crank sharpeners, simpler designed tools, or electric devices, this article will have something for you. Pencils can vary a lot in size and shape. Their core can range from regular graphite to colored ones like Prismacolor. They come in various diameters and triangular, circular, or hexagonal shapes.
Quick Look of Our Top 6 Picks of Pencil Sharpener for Artists
Uni KH-20 Hand Crank Pencil Sharpener
School Smart Vertical Electric Pencil Sharpener
OfficeGoods Battery Operated Pencil Sharpener
Faber-Castell 9000 Double-Hold Pencil Sharpener
AFMAT Rechargeable Electric Pencil Sharpener
ZMOL Long Point Pencil Sharpener for Artists
Although most pencil sharpeners can adequately handle varying pencil shapes, some are more suitable than others for certain shapes. This is something you want to consider when making your pencil sharpener selection. But unless you are using very unusual pencils, the items on this list will do just fine for your needs.
Different pencil sharpeners also come with different sharpening angle degrees. When pencil tips have bigger angles, they expose more lead and allow you to use your supplies for longer between sharpening sessions. Pencil tips can also come with smaller angles though, which tend to break less often and offer a sturdier drawing experience. Before you choose your pencil sharpener, know your pencils.
Comparison Table
IMAGE
MODEL
FEATURES

Uni KH-20 Hand Crank Sharpener

Hand Crank Wooden Pencil Sharpener

130.5X86X131mm

Cylinder shaped mechanism

View Product

School Smart Vertical Electric Sharpener

Contemporary design

Measures 6 x 4 inches

Highly effective and fast

View Product

OfficeGoods Battery Operated Sharpener

Great for the office, artists, kids

Kid Friendly

Compact and Portable

View Product

Faber-Castell 9000 Double-Hold Sharpener

Double hole sharpener

Collects the shavings inside

Kid Friendly

View Product

AFMAT Rechargeable Electric Pencil Sharpener

Can sharpen 6 - 12mm pencils

Provides adjustable tip sharpness settings

Wireless and compact

View Product

ZMOL Long Point Pencil Sharpener for Artists

5 nib lengths to choose from

Built specifically for charcoal and graphite pencils

Fits 6 to 8mm diameters

View Product
What to Look For in a Pencil Sharpener for Artists
The following details are worth considering when looking for the best pencil sharpener for artistic uses. Although the lack of these features does not make an inferior product, they may make your choice more versatile overall depending on what your needs are.
Blade vs Helical Sharpeners: A blade sharpener allows you to push the pencil tip into the conical opening and up against the blade. To sharpen the pencil, you need to rotate the pencil which causes the wood to par away as it comes in contact with the blade. These are good for a pencil with very soft graphite and delicate leads. But they often leave a tip that is not uniform and it takes time.
Helical sharpeners revolve around the pencil tip while you hold the pencil stationery. These generally produce a uniform tip and work quickly. The vibration from the machine can create breaks in delicate leads so it is important to buy quality items that work quickly.
Side Adjustment: Some sharpeners only accept one size diameter pencil. This can create issues for artists that may have multiple sized pencils and favorites they like to work with. Look for a sharpener that can accept a variety of pencil diameters so you don't have to purchase more than one product.
Nib Size Control: The length and sharpness of your nib are very important when drawing, sketching, and coloring. Depending on what you are doing you may want a duller tip or a very precise tip. Quality artist sharpeners will provide you with adjustments to sharpen your pencil to your desired need.
The 6 Best Pencil Sharpener for Artists (Durability and Quality)
Each of the items on this list was selected for its quality, durability, speed, and efficiency based on user reviews. We feature a few different styles on this list so you have plenty of options.
Here are the best pencil sharpeners for your drawing needs!
1. Uni KH-20 Hand Crank Pencil Sharpener
For a sharpener that is both low and high tech, the Uni KH-20 is the best choice. The device securely grips your pencil and keeps it steady, then gradually moves it toward the blades. The sharpener will automatically stop once your pencil has been sharpened to a perfect point. All of this is done with a comfortable hand crank.
"This sharpener reminds us of the old-school crank sharpeners we used to use in grade school–except a lot sleeker and more efficient," said Jet Pens. "To use it, pull out the top front portion of the sharpener to stick the pencil in. The clutch grips the pencil firmly and pushes the pencil in as you turn the crank."
Some recommend using razor sharpeners with art pencils, but certain art supplies such as charcoal pencils may break from that. Even if you do mainly use a razor for your pencils, it's always a good idea to have a sharpener like this as a backup. The teeth in this device will stay sharp and reliable, even after many uses.
The Uni KH-20 leads to perfect drawing pencils with each use and many users will even find that the sharpening process is fun enough to look forward to, rather than a chore. For those who have tried out a wide selection of expensive, cheap, electric, and manual sharpeners and found nothing that works yet, this will change your experience.
Many artists go through sharpener after sharpener seeking the perfect device. Some start out perfect and then wear out quickly or never get your pencils completely sharp. Worst of all, low-quality sharpeners can break your leads and damage your precious art pencils. A reliable device like this can really be a game-changer.
The nice, sharp points you get from the sharpener won't break and the device itself has a simple-to-use, sleek, and mobile design that makes it user-friendly for all artists. When you turn the handle-crank, it stays put, offering a sturdy and trustworthy base. You can expect to own this sharpener for a long time.
Check The Price
2. School Smart Vertical Electric Pencil Sharpener
Are you tired of dealing with your old sharpener's squeaking and squealing as it wears out? This School Smart Sharpener could be the answer to your conundrum. It's great for artists and for teachers, but bear in mind that though effective, it still isn't the quietest of options. Although it's not silent, it does work quickly enough to keep your workspace free from disturbances.
"This pencil sharpener is the perfect device for those busy with school or those who love to draw," said Sharper the Point. "This sharpener is easy to use and will quickly get your pencils in working order. No more need to turn a crank with this all-electric sharpener."
For those who need an effective and non-traditional option for their new sharpener, the contemporary style of this will be a most welcome change. This is a great choice for those who use standard-sized pencils as it doesn't adjust for bigger pencils. The sharpener has a single hole and comes with a shavings receptacle that is transparent and easy to empty.
For your safety, and the safety of your children, the receptacle will pause operation if you remove its cover. The sharpener stops sharpening automatically once a perfect tip is reached with the helical steel blade and strong, reliable motor. In addition, the device comes with non-slip pads for a stable sharpening experience. The tool is 4 by 6 inches and comes in gray and black, easily matching any art studio or classroom.
This sharpener works perfectly immediately out of its packaging and sharpens both colored and ordinary pencils quickly and perfectly. Every pencil you put into it will come out with sharp, clean points. It won't overheat as quickly as other electronic sharpeners but you may want to give it a rest every 20 pencils or so for optimal efficiency.
For the best results with this sharpener, make sure you sharpen your new art pencils immediately after you purchase them and keep them sharp. Cleaning out the shavings frequently is necessary for every type of sharpener you use. Not doing this may lead to issues when you try to sharpen your pencils.
This sharpener will start out strong and stay great over time, offering symmetrically sharpened pencils each time and a strong, durable motor. Caring for your art supplies is important, of course, but accidents happen. You'll be glad to know that this sharpener can get banged around a little and still stay aligned and intact.
Check The Price
3. OfficeGoods Battery Operated Pencil Sharpener
Are you sick of ending up with crooked tips on your colored pencils? Then try this battery-operated OfficeGoods Sharpener for an even point every time. It's perfect for those who need versatile functions and uses for their sharpener.
You also won't end up with that inconvenient, annoying excess wood when you use it. Whether you need a sharpener for standard #2 pencils, graphite, or typical colored pencils, this will do the job.
"Do you regularly have to stick your pencils back in to get the tip sharp?" asks Homeschool Base. "This little unit sharpens on the first try with an even and symmetric cut."
Not only is this a useful device for your art studio, but it's safe for your kids to use. The safety tab included will stop the sharpener from activating once you remove the shaving cover. Whether your pencil is currently completely blunt, medium, or slightly less than sharp, this sharpener will do the job.
In addition, the sharpener is portable and compact, perfect for small desks or artists with limited space in their work studio. Although it's small and compact, it can get any sharpening task done within around 10 to 15 seconds. This sharpener offers the unique trait of being both electric and portable. Bring it with you to class or use it out on your porch while you draw.
Do you travel often but like to take your art projects on the go? Then you will love this little machine. If you need to work somewhere that doesn't have outlets, you'll be happy to know that this device is powered in three different ways. If you simply prefer to work without cords getting in your way, use this sharpener with batteries instead of the included USB cord or AC adapter.
It works equally well with an outlet or batteries. Just make sure that before you connect the USB cord, you check that the sharpener is compatible with your electronic device. Also, ensure that you purchase any needed batteries separately as the machine doesn't come with them.
As stated before, you will get an even, sharp point each time you use this device. Keep in mind, however, that it works better with ordinary graphite rather than charcoal. This machine is quiet, compact, versatile, and a joy to use. It's lightweight, won't get clogged, and offers improved points for detail work on your art.
Check The Price
4. Faber-Castell 9000 Double-Hold Pencil Sharpener
Whether you've been drawing for years or just got into adult coloring books, the Faber-Castell 9000 will fit your needs. This one offers two different sizes for your varying art supplies. It also comes with the benefit of being an affordable choice.
"When I'm drawing, I really like the Faber-Castell Castell 9000, because it features two different-sized holes," said Gina at Pencils.com. "My sketching pencils are regular size, but my colored pencils are fat (shh, don't tell them I said that!) and I love being able to carry one pencil sharpener that works on all my pencils."
The design of this sharpener is both aesthetically appealing and ergonomic, offering reliable pencil tips even after many uses. Sometimes you just need something specific for the supplies you use. For artists who need a sharpener that will work with a 79-degree sharpening angle, this device is up to the task.
While purchasing specific products for your art supplies isn't always needed, sometimes it's advisable. If you use the Jumbo 9000 pencils from Faber-Castell, for example, this sharpener is a must. It will maintain the original shape of your pencils while other sharpeners might turn the original sharp point into a wider, fatter surface.
Maybe you're a student or just tend to be on the go a lot. If you ever like to travel with your art supplies, you'll appreciate that the case on this device snaps shut within the shell, preventing pencil shavings from spilling all over your bag. The device also comes with replaceable blades.
Check The Price
5. AFMAT Rechargeable Electric Pencil Sharpener
Frustrated with the lack of options that allow for various size pencils and nib control? The new and improved AFMAT Large Electric Pencil Sharpener may be the last sharpening product you ever need. The built-in 2000 mAh lithium-ion battery allows you to take it on the go, and can sharpen up to 300 times on a 1-hour charge.
With the ability to handle pencils 6 to 12mm in size, you can easily sharpen No.2 pencils, colored pencils, and even certain charcoal pencils. The durable blade can also sharpen up to 5000 times before replacement is needed, which is easy to do.
"I've had this sharpener for over 2 months and haven't had to charge it yet," states leadfast.org, and although a professional artist may go through it more quickly, it certainly holds a strong charge for awhile.
There are also 3 sharpness settings, blunt, medium, and sharp to provide you with the options you need for whatever you are working on. This allows it to stop automatically once the desired tip is reached to avoid wasting both power and blade use.
The charging wire also stores easily in a compartment under the sharpener and is easy to retract to plug into a standard USB charger. The top also is simple to remove to throw shavings away.
This sleek, upright design takes up very little space. And the smooth, fast, and quiet operation, makes it a favored product.
Check The Price
6. ZMOL Long Point Pencil Sharpener for Artists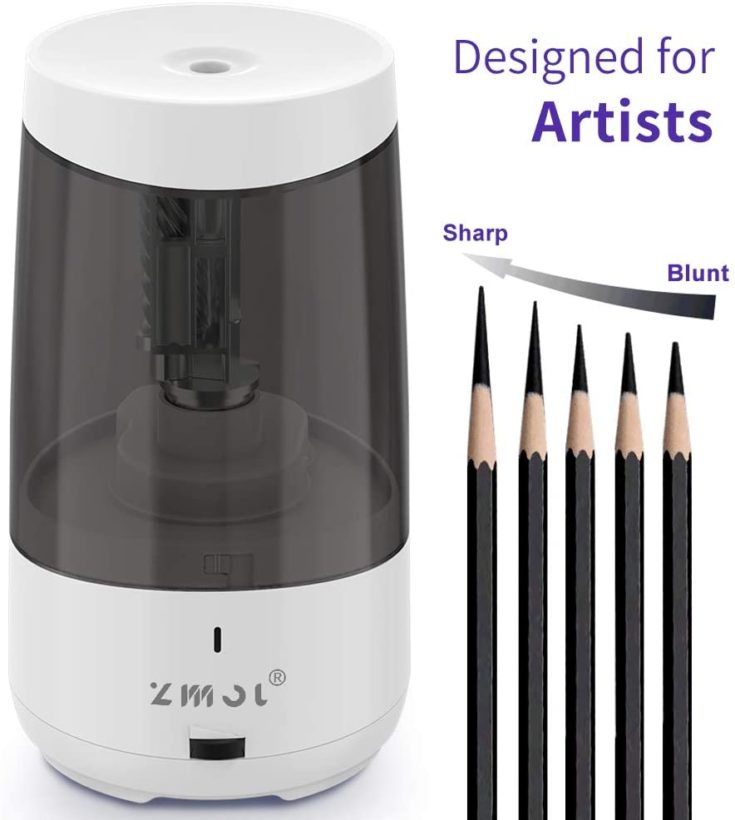 Designed for charcoal and graphite pencils, this long point electric sharpener is designed to provide amazing control over the pencil tip. With 5 nib length and sharpness options, you never have to struggle to find the perfect point. It also helps keep you from wasting the pencil and allows you to get the most out of your product.
Designed for drawing pencils, it can handle 6 to 8mm pencil diameters and has a replaceable blade that is easy to remove so you don't have to buy an entirely new sharpener once this one wears out.
This is a "perfect fit for sketch artists that typically hand sharpen to get the extra-long point" says Vanilla Arts Co. It truly is designed with tip control in mind in order to give you the effect you desire on paper.
Easy to empty, the canister allows for a mess-free cleaning experience and snaps back into place without any issues. It is considered to hold up to 200 times the sharpening scraps compared to similar sharpeners.
The rechargeable battery can be used up to 500 times before having to be charged. And it can sharpen quickly so you can get back to work!
An auto-start and stop also help to keep waste from happening!
Check The Price
Colored Pencil Techniques to Try at Home
Colored pencils are highly versatile instruments of art, so why just stick to coloring? Instead, you can employ and practice the following techniques. After a bit of time, you will get them down and you'll soon be adding more light, beauty, and texture to your art projects.
Mixing Mediums: A lot of artists go the mixed media route and start a layer with watercolor pencils for their background, then add a little water over it to blend and dissolve the color. As soon as the paper dries, you can add more colored pencil layers on top of it, or even start working with marker or paint.
How to do Highlights on a White Surface: When you use white paper to draw, leave some room on it for highlights on the finished piece. Instead of drawing over the paper with a white pencil, which will lead to a duller white, outline lighter areas with light peach or cream so you remember to leave them as they are. It can be easy to forget about your reserved white highlights if you don't do this. When your piece is finished, you will have much more pronounced and vibrant highlights.
How to do Highlights on a Toned Surface: When you are using toned paper instead of a white surface, use your white pencil to create highlights before anything else. Since white is a cooler shade and highlights often have their own warm tone, do your shading first with a cream or light peach pencil. You can then apply white over this later. For this stage, a heavier pressure is needed to get the brightness you're aiming for with your pencil.
Using the Rubbing Pencil Technique: You can do rubbings with leaves, a cheese grater, seashells, a frame, or another textured surface. You are only limited by your imagination. In order to get this type of look, just put your drawing sheet on top of a surface such as lace, then lightly rub the pencil over the sheet. Doing this on thinner paper is advised as it won't be as noticeable with thicker paper.
Preserving your Supplies: Taking care of your pencils will ensure that the leads break less often, leading to a far less frustrating experience for you. Store them in a safe place where they won't fall off the table and break. When you travel, take them with you in a case for added protection. Also, keep your pencils out of extreme temperatures, if you can, as this can weaken the leads over time.
And of course, caring for your art supplies will always lead to better art projects. The way you treat them is going to affect how long they last and your relationship to your art, in general, so don't neglect this part. Follow all of these tips and your experience with art will develop and grow.