Around this time every fall, we ask ourselves, "what kind of Christmas ornaments can we make this year?"
Inevitably it came down to this: candy cane ornaments. We shall make you.
For these simple ornaments, we used regular candy canes, jute, some hot glue and different ribbons and bells to add as "accent pieces," if you want to put it that way.

Jute Candy Cane Ornaments
These are the easiest to make – simply wrap the jute around your candy cane and apply hot glue where it's needed to keep the whole thing together. Keep the jute wraps tight on each other to make sure you fully cover the candy cane.
Add a loop of jute to the top of the candy cane to use as an ornament hook.
Christmas Ribbon Candy Cane Ornament
For these, we wrapped the candy canes in jute, then wrapped them in a cute (we think so, anyway) Christmas ribbon. We try not to play favorites, but deep down these are probably our favorite candy cane ornaments.
Ribbons and Bells and Jute. Oh My.
We loved the way all these candy cane ornaments turned out. They're perfect for that country Christmas look, and great as gifts to people who you think might be getting you gifts too.
Other Candy Cane Christmas Ornament Styles
Here are a few other DIY candy cane ornaments we like.

via etsy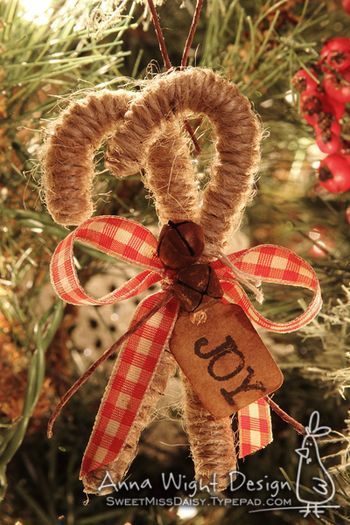 via sweet miss daisy

via martha stewart
Tell us about your candy cane ornaments in the comments below!
You might also be interested in reading our article on the best way to store icicle lights!