As children grow they learn an incredible amount through their exposure to various critical thinking experiences. Creating art and projects is an incredible way to support both fine and gross motor skills, as well as problem solving and decision making skills. And you don't have to be artistically talented to provide these opportunities for your children to take advantage of.
Town of excellent crafting ideas exist online for you to explore, and all you need is some basic supplies. We've compiled some of the best paper craft ideas for kids that we could find. Included are easy project and activity ideas and fun things to make with construction paper and other various paper products found in the home.
Toddler (1-3 years old)
Let your little one begin to explore textures and colors with these many paper crafts for toddlers and younger. With a little bit of help from mom and dad, basic instruction and guidance, your kiddos will be having a blast and learning how to follow direction and work on their motor skill growth.
1. Paper Masks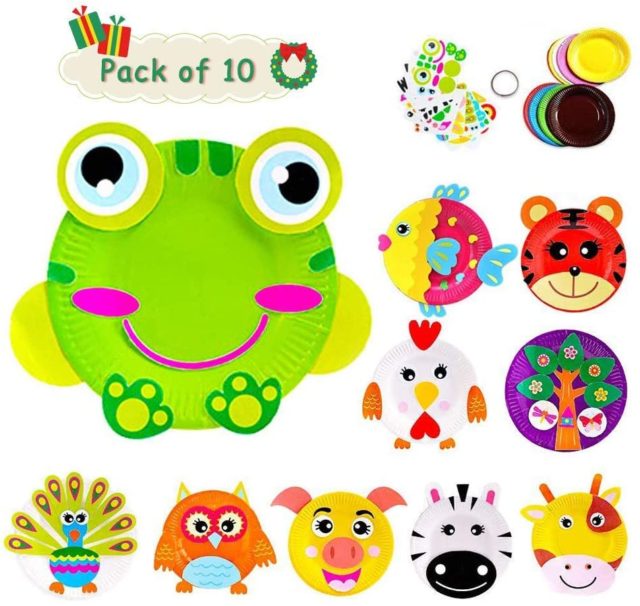 Check on Amazon
Paper plates are a quick and easy way to make fun masks that are perfect for little hands to help with. Even if they are not a project for a little one to complete, they are also excellent ways to help grow their imagination through play!
2. Painting With Bubbles
Mic some food coloring with a little dish soap to create colorful bubbles that when blown onto paper make fun and unique designs. For older children, allow it to dry and have them locate what sort of designs they recognize from the shapes and textures created.
3. Fingerprint Sundaes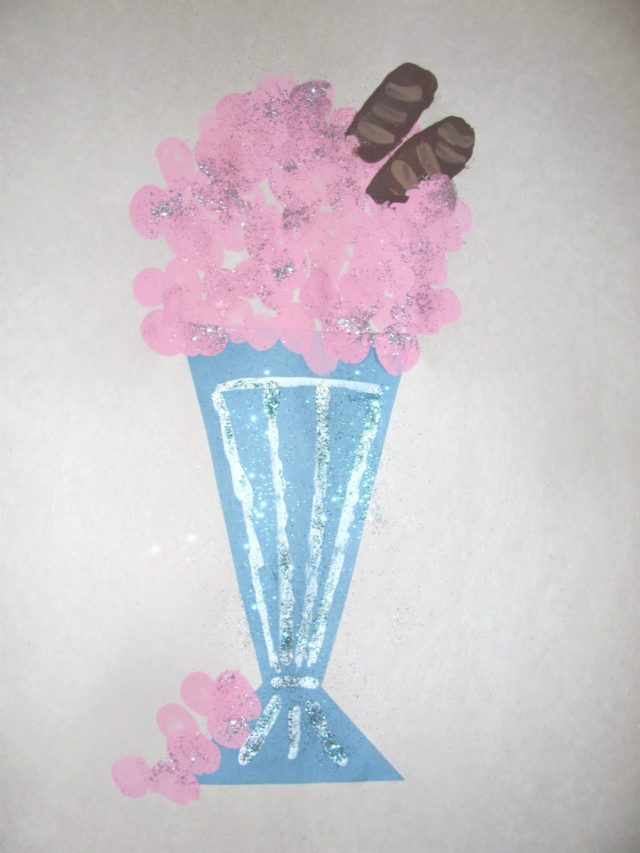 Parent's, first draw your sundae cups and then provide colorful finger paints and let your little one 'build' their own sundae upon it! Use cotton for whipped cream and glue it on the paper, and cut out cherries from construction paper for them to paste on top!
4. Fingerprint Flowers
Let your little ones design their own gardens full of flowers with guided steps to finger paint petals and leaves. Help draw the stems for guidance, or, allow older children to help draw the stems and other details they may want, such as butterflies and bees.
5. Paper Plate Masks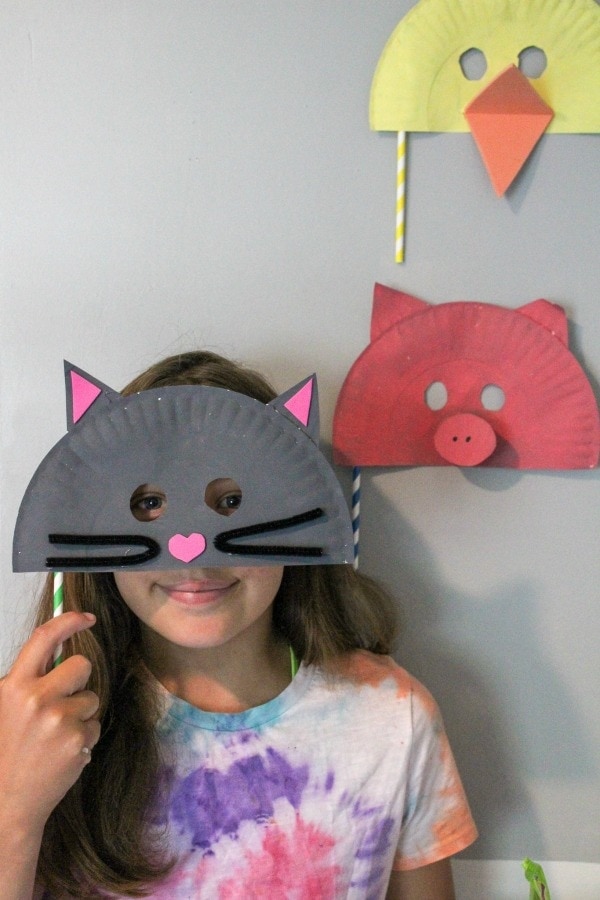 As mentioned, paper plates are great for making masks. These half masks are excellent for imaginative play and are very easy to create with a little bit of paint, construction paper, and other household items. This is a great way to teach step by step construction.
6. Paper Hats
Kids love playing make believe and anything you can do to help inspire their imagination is worth considering. These paper hats can be decorated to be all sorts of things: pirates and explorers are sure to be popular, or glue a bunch of materials to it and make a crown!
7. Fork Painting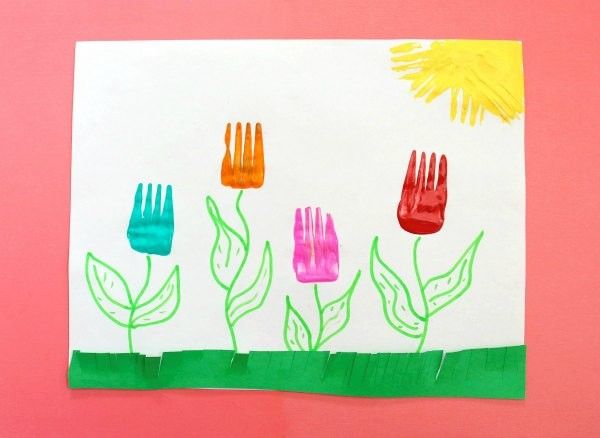 Forget the paintbrushes, let your little ones explore the designs they can make using forks! Lay it down to create flowers, fences, grassy fields, or sunshine. Turn it sideways to make thin lines and swirly designs…the possibilities are endless.
8. Paper Pigs
Help create a farm and add your very own pink, white, black, spotted, or rainbow colored pigs to the barnyard! Paper plates, paint, and a bit of construction paper make these cuties come to life. Add some googly eyes for even more fun effects!
9. Finger Painting Cards
Let your little ones create their very own greeting cards with original finger paintings! Great for thank you purposes and a way to help teach written communication, these are one of a kind pieces that double as a meaningful art piece that you can share with others.
10. Paper Bag Fish
A paper bag is all you need to make your very own fish! Before you fill them up, make them colorful and decorative and then tie them off to add eyes and other details! Perfect for a preschool classroom, or just a fun way to decorate a wall at home, make multiples for a school!
11. Fitness Cubes
Although this may not be the project you want to have your child make, it is an awesome way to introduce a new way to get moving. You can create your own to include the exercises you prefer, and then 'roll' the cube to participate!
Preschool (3-5 years old)
These awesome paper crafts for preschoolers are perfect to help continue to develop the motor skills they are beginning to master. Children under 5 in particular benefit from crafting as they are better able to begin making independent decisions and growing in personal preferences. They also may begin to exhibit their own artistic skills through various mediums, and work on color and size relationships.
12. Busy Bees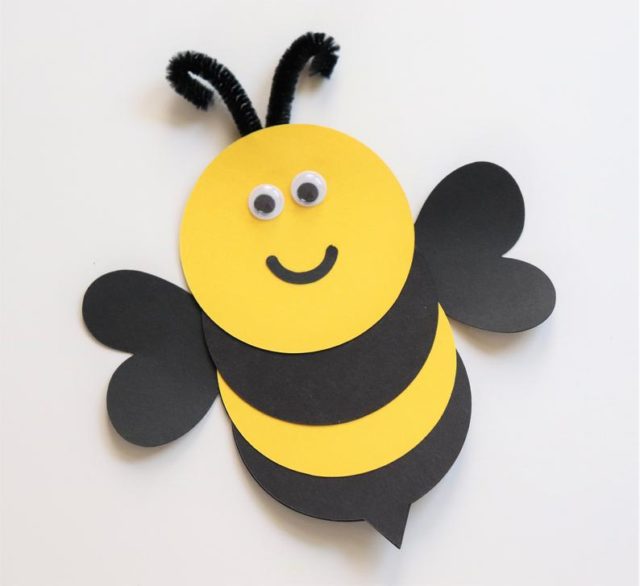 Available on Etsy
These adorable bees are easy to cut form circles to allow little hands to piece together. Let your kids mix and match colors, or create a whole hive to help pollinate your finger painted gardens. This is also a great classroom project to take advantage of.
13. Rolled Butterflies
Role, glue, and cut paper to mix and match a plethora of colorful butterflies. These are simple projects that build motor skills, and work great as part of a larger display, an addition to a bouquet of flowers, or as a cute teacher gift.
14. Stained Glass
Available on Etsy
Wax paper, a black paint marker, and water colors are all you need to make your very own stained glass ornaments and window hangings. These are a great project for any age and allow children to explore color matching and enjoy their final creations.
15. Fun Octopus Arms
Piece of paper, marker, and googly eyes are all you need to make an entire family of octopus. Thes simple, fun, easy to make little guys are a perfect step by step project for preschool age children to do on their own.
16. Cereal Box Monsters
Don't toss those empty cereal boxes. Instead, upcycle them with a bot of construction paper into cereal box monsters. Cut out fun shapes, mouthes, ears, eyes, noses- and whatever else you can think of in advance. Then let your children piece together their custom monster.
17. Funky Shades
Make your own paper eyeglasses as a party theme, dress up day, or simply just because! A parent may need to provide the sturdy frame, but children can have a ton of fun fitting them with colorful cellophane and decorating!
18. Bunny Ears
Whether you are celebrating Easter or simply want to play dress up and let your imagination run wild, these fun bunny ear projects are adorable and super easy to create. All you need is a paper plate, some scissors, and a pink or red marker.
19. Paper Swords
Help your little ones follow directions and fold and shape swords. These can keep your kiddos occupied for hours and help them build critical thinking skills. Make a series of various sizes and let them decorate them for dress up purposes. Perhaps they can be a knight chasing down a dragon!
20. Race Cars
Get ready to race with these homemade cardboard roll cars. Set up an experiment to see which goes the furthest and make basic charts, and practice some basic math with your little ones to help them begin making relationships with learning and having fun!
21. Paper Chains
Who doesn't love paper chains? Use them to decorate, as a countdown calendar for holidays and birthdays, or simply to practice motor skills and pattern creation! Easy to make, parents may want to first cut the paper strips and mix and match for a fun time!
22. Fire Breathing Dragons
How much fun are these fire breathing dragons? Cardboard tubes, paper, and some pom poms are all you need to make your own colorful dragons. Hide them about the house and go on your very own dragon hunt!
23. Dragon Headdresses
Take advantage of the swords you folded and play at defeating the dragon! This fun headdress may need a bit of help from a parent to complete, but is a great project to do together. Let your little one pick and choose colors, decorate, and name their creation.
24. Paper Lanterns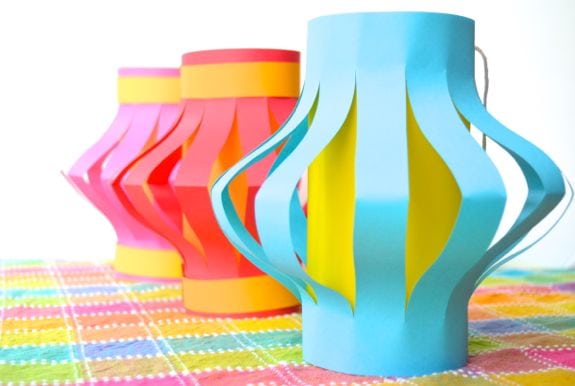 Paper lanterns are fun to hang along a porch or patio, and look great in a bedroom when battery operated candles are placed inside. Use them to bring a soft glow to a birthday party, or make them as gifts to give during the holidays.
25. Paper Mache Eggs
Using plastic eggs and tissue paper, you can make your own unique, paper mache eggs that are much more fun to hunt for on Easter morning. This is a fun project that kids can own and even use as a science project.
26. Paper Bag Animals
Help create your very own forest of woodland animal puppets using a simple paper bag and paint. Parents may want to draw guidelines for the animals in advance and then help little hands stay in the lines.
27. Ring Toss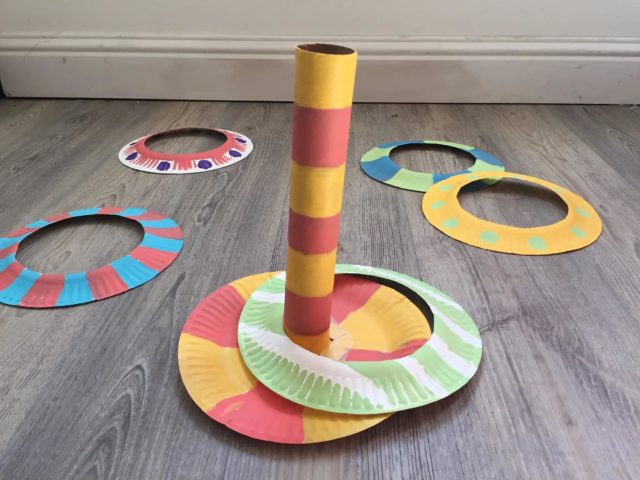 Who doesn't love a great game of ring toss? Making a set form paper means you can do it in the house without fear of breaking anything, and it also allows you to help teach young children how to play fair and take turns.
28. Leafy Garlands
Decorate your mantle and dinner table with these one-of-a-kind garlands that your children handmade. Easy to create, these are fool proof and work wonderfully well with little ones. Let them create from various tissue papers, or if you are feeling up to it, allow them to first watercolor white tissue paper and let dry.
29. Kites
Who doesn't love to fly a kite? It is so easy to create your own paper kite with some simple materials. You can even use an old newspaper as your kite, and play with various straws or thin lathing for the frame.
30. Rolly Snakes
How adorable are these little paper snakes? Cut paper into strips and let small hands decorate them with markers and crayons to create their own little buddies. Then simply roll over a paper towel tube, or if you are feeling brave, strip with a pair of scissors to create the curl.
31. Happy Penguins
Everyone needs a happy paper plant penguin to display. These are an adorable paper craft for kids to create. You can even make it a step by step learning experience for the kids and have all the pieces in order to show them how to put it together.
Kindergarten (5-6 years old)
Kindergarteners are better able to follow step by step instruction on their own and even create a finished project without guidance. These crafts hone motor skills and provide more developed projects that they can customize and start to exhibit their own visions and interpretations of a crafting idea. These are awesome for boys and girls learning independent creativity.
32. Cut Out Patterns
Available on Amazon
As older children master the skills of cutting with scissors, you can provide them with resources such as this cut out patterns book that allows them to work on attention and also pick and choose from favorites. Use these to help create even more exciting projects!
33. Paper Dolls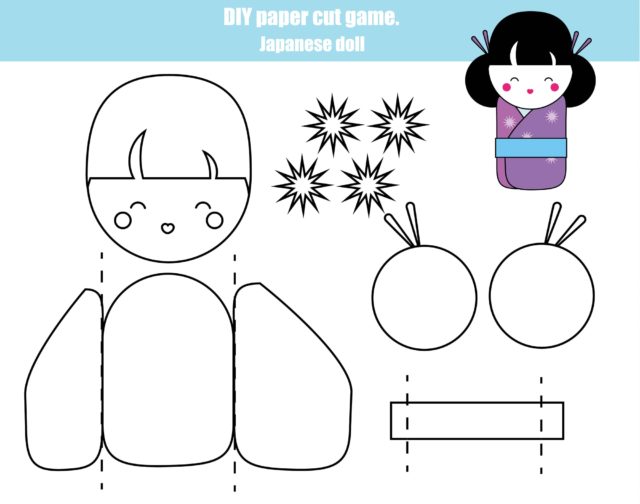 Download here
Paper dolls used to be a go to long before the mass market production of the toy doll. These are still a favorite of young children as they can be personalized and designed to be exactly what a child wants them to be.
34. Bookmark Crafts
Your emerging readers will want to reach for their books more when they make their own bookmarks to help keep the pages they are reading from getting lost. Make a set for both school books and reading books at home.
35. DIY Greeting Cards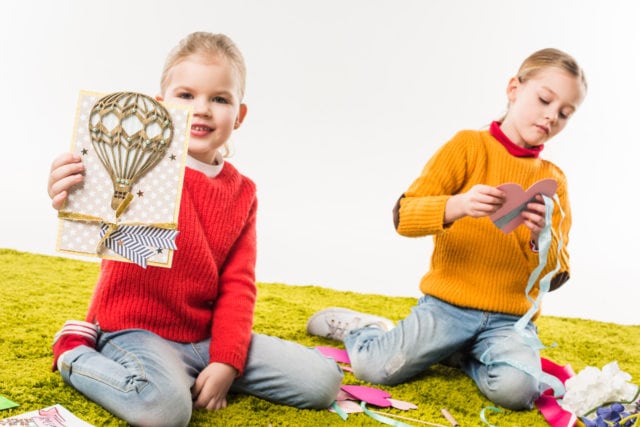 Nothing quite says thank you or I love you than homemade greeting cards. This is even more true when you children made them because now they are one of a kind works of art! Allow them to free hand their creations or have a blast coloring in and adding to a design you provide.
36. Party Hats
Nothing says party quite like a party hat. Forget those cheap ones you buy in the store, instead, make your own and add your own unique touches! Having a tea party? Why not make it an Alice in Wonderland theme? Or- make your own woodland animal party!
37. Paper Fans
Folding fans to help keep you cool is a no brainer, but did you know that the careful folding and creation is an awesome way to help your child build motor skills? Show them this fun technique that can be both practical and used for dress up play!
38. Weaving Paper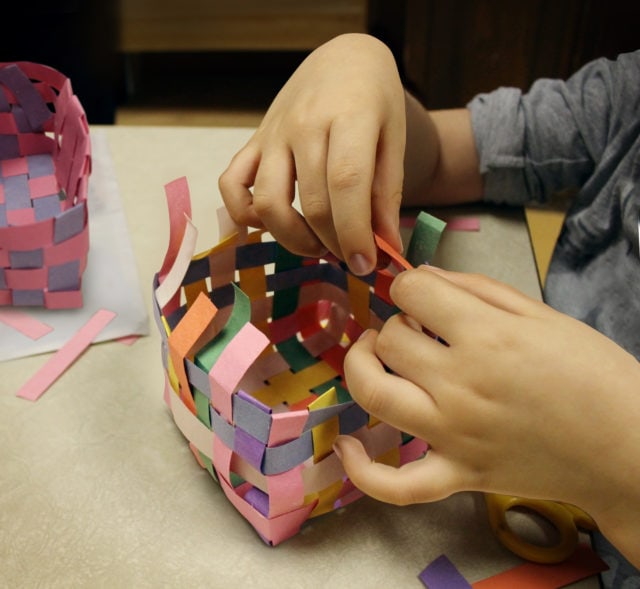 Provide your little ones with long strips of narrow paper and show them how to weave them in and out of one another. With the results, you can make a whole array of fun, useful products- such as placements, table protectors, or even fold them into baskets. This is also easy to laminate for a long lasting result.
39. Pencil Boxes
Need a place to stash all your colored pencils, markers, and crayons? This pencil box is a fun craft to do with your kids and then let them decorate to make all their own. Plus, it proves an area to place their crafting supplies so they are up out of the way.
40. Paper Weather
Strips of colorful paper, paper plates, and cotton balls hale you make rain clouds, sunshine, and even rainbows! This is a great way to teach about and recognize weather, and can be used to start your day as your children pick and choose which to use for what it looks like outside.
41. Homemade Paper
What is a better paper craft than making paper itself! Such an easy task, all you need is ripped up bits of paper to make a pulp from, and then let your littles add in glitter, dried flowers, bits of confetti… pretty much anything they want to personalize their creation!
42. Dream Catchers
Dream catchers are said to catch the bad dreams and only allow the good dreams through. Children may need a little help getting started with this one, especially if they have never seen a dream catcher, but it is an amazing project and can help ease little ones to sleep at night.
43. Paper Strip Rainbows
Work with building measuring skills when you set this project out for your children. The trick is to make sure the lengths of paper decens in length in order to create the perfect rainbow. For those children who can recognize their numbers, this is a great way to apply the skill.
44. Rolled Paper Pictures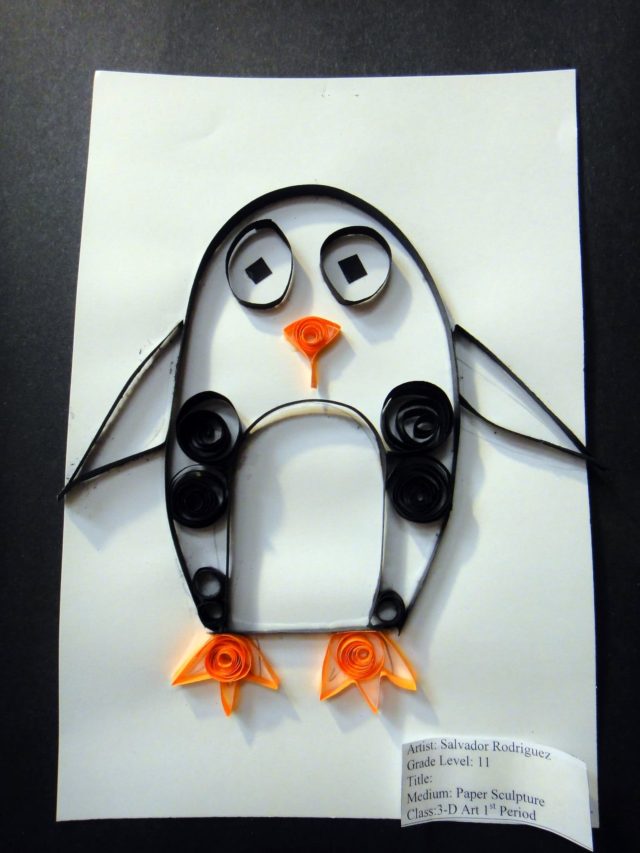 Ever wonder what you can make with all those leftover pieces of scrap paper? Trim into strips and roll them up to create intricate designs and pictures using the result. These are a great way to get little fingers working with small objects, and also allowing them to play with texture.
45. Paper Kitties
Basic origami, this easy to follow tutorial allows you to make paper kitties with your children and put them on display. Mix and match colors and paper sizes to create an entire litter that can be personalized with whiskers, fur, and even hair bows!
46. Pinwheels
Folding paper into pinwheels is a fun project even I remember doing as a kid. Precut paper and have the basic supplies on hand while you teach your little ones how to follow basic directions to fold and secure their project.
47. Plate String Art
A sturdy paper plate, x-acto knife and paper punches is what you need to make fun designs your kiddos will have a  blast with while they string colorful thread to form a fun design. This simple idea is an amazing way to create art worth gifting!
48. Cupcake Liner Flowers
Cupcake liners are an awesome addition to your crafting product collection. They are made from a thin paper and already have a  un shape you can take advantage of to make a huge array of crafts. These flowers are the cutest idea yet!
49. Spring Flowers
Curling paper strips makes them so fun and bouncy that you have to create with them! These spring flower patterns are amazing and are so much fun to make. Make bunches of bouquets to hand off to teachers, and neighbors- and know they will last!
50. Pinwheel Art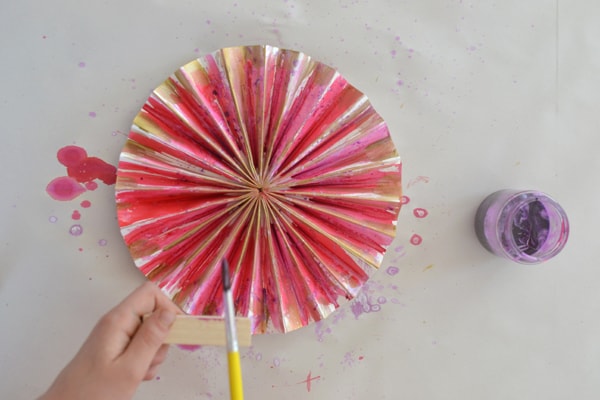 Folding and painting paper into pinwheels is a craft that can be enjoyed by any age. Explore color options and how you plan on displaying them in your home and yard. They also can be placed together as a pinwheel bouquet! Especially if you make different sizes!
51. Holiday Crafts
Children love to help decorate for the holidays, no matter what time of year it is. Provide them fun cut outs and let them run wild with their ideas and decorations. These fun paper projects provide hours of enjoyment and can be used for years to come.
Conclusion
Aren't these the cutest ideas to help get your young children engaged and creating? Plus, the majority of these projects can be made with what you might already find around the house! Simple and easy, they are budget friendly and can be used to help spur on your child's imagination and help them learn valuable motor, visual, and oral direction skills.
We'd love to hear which are your favorite down below, and, as always, please share!