As your children get ready to go back to school, why not review some basic skills, or create and personalize supplies in preparation for heading into the classroom again? Young children in particular will benefit from simple DIY projects and basic instruction, while older students may enjoy tie-dying and labeling their belongings.
Take a look at these simple, yet fun back to school crafts for kids to help get them excited for learning. These also make an excellent family activity you can do together! Included are ideas for toddlers and kindergartners, elementary-aged children, and even your middle school tweens!
Toddlers and Preschoolers
This is a great age to work on basic motor skills, colors, and shapes. It also is the time to begin instilling a love of learning! These easy crafts are great for you to do together and help ready your child to meet their new teacher and classroom.
1. Personalized Supply Box
When your little one is heading to a learning daycare or preschool for the first time, it can be scary. Get them excited by allowing them to decorate their own supply box with stickers, and choose and organize the materials that fit inside.
2. Favorite Things
Small writing prompts are a popular way for teachers to get students thinking about their feelings. This is especially fun to do with young children as they often make comments worth writing down for a future laugh. Make your own favorite things about going back to school prompt and write them down to remember later on as they get older.
Kindergarteners
Kindergarten is often the first time your child will go to school all day, ride a bus, or walk with their siblings to class. Prepare for this with lots of fun projects and ways to make this an enjoyable first school year for kindergarten!
3. Back to School Collage
Make a fun back-to-school collage with paper and sweet treats. Allow your children to pick and choose their own background picture and then make a list of fun sayings or quotes for them. You can create little superhero capes for suckers, or get creative to showcase these positive reinforcements.
4. Photo Display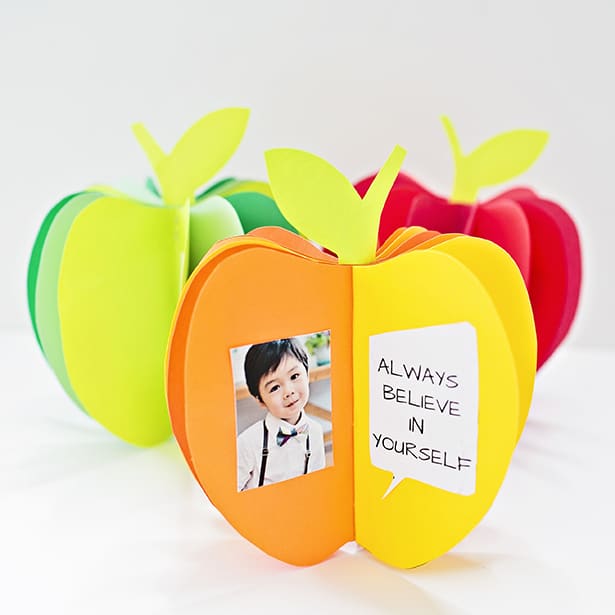 Memorialize your child's first days of school through elementary with this multiple pages, standup display that can showcase their school pictures, quotes, child favorite's, and other things you don't want to forget. This is also a great gift for grandparents, or even for teachers as an end of the school gift to help them remember their school year!
5. Zipper Pulls
This is actually a great craft for children (and even adults) or all ages. Fun beaded shapes and small toys are the perfect objects to create backpack dangles and zipper pulls. It also helps children more quickly recognize their own backpacks and bags from amongst the many found in a classroom.
6. Book Marks
Ready your child for school and get them excited for reading with a personalized sweet treat and bookmark! This is also a fun craft for classmate gifting, either at the beginning of the year or for birthdays and holidays. Teachers also can provide this simple welcoming gift to their students.
7. Counting Trees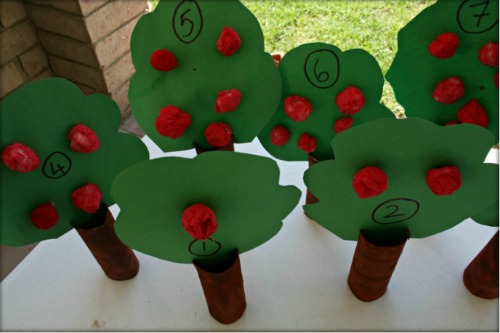 Your little ones are probably already learning how to count, but they don't often associate the numbers with a physical object until they are taught to do so. Have fun making your own counting apple trees using paper crafts, or even add a bit of extra fun and glue on wrapped pieces of candy that you can later remove to teach basic subtraction!
8. Pattern Practice
Help hone up on basic skills with your kindergartner with fun pattern practice crafts. You can identify and cut out paper shapes, glue, and create pictures out of a wide variety of different school-related themes. This school bus design is a way to get children excited about new independence and quell anxiety overriding a bus as well.
9. Telling Time
Don't neglect to help teach and practice how to read a clock with your children. This is a great skill not only for telling time but also for number bundling recognition and counting. Invest them in this skill by making your own clock using paper plates or poster boards, a little bit of pain, and some cardboard for the clock arms.
10. Teacher Gifting
Gift your teacher a bouquet of pencils topped with handmade flowers. One thing teachers always need are pencils as they are borrowed, broken, and forgotten throughout the school year. This simple, inexpensive craft is a great way to help your weather start their year right, and knowing they are appreciated.
11. Hanging Mobile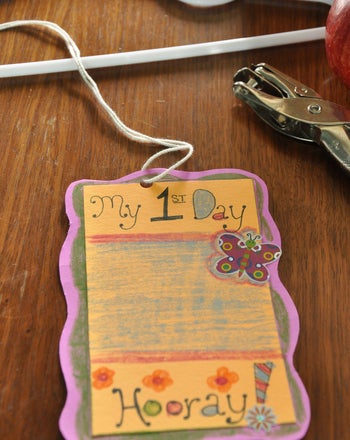 Memorialize your school year with a hanging mobile. Start out at the beginning of the year with simple names and fun prompts about what your child is looking forward to, but don't stop there! Add to it through the year with pictures and other small projects. You can leave it hanging and watch it grow as your child learns.
12. Watercolor Art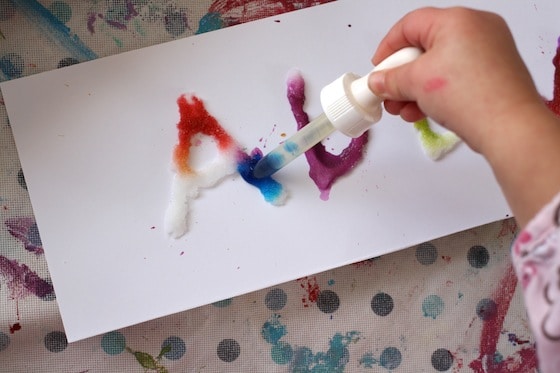 Glue and salt provides an awesome medium to watercolor on. Teach the alphabet, basic counting, and names by having children watercolor the numbers and letters you provide for them. Not only will your kids make connections and recognize the lessons in these building blocks, but it also helps work on motor skills and colors.
13. Stencil Name Activities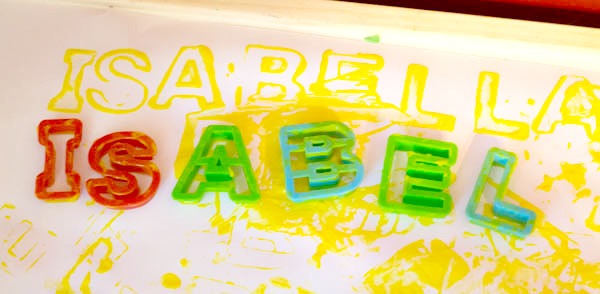 Knowing how to spell their name is important for kinder aged children. Allow them to explore and play with letters when you hand off individual letter stencils, paints, and markers to provide them the chance to play and organize letters into the proper order, and also follow steps to make their own name.
14. Painting Rocks
Rock painting is a fun activity for all ages. They also have gotten quite popular to hide around schools and in parks to find and rehide. Start a school-related rock hunt or just a fun display by painting rocks with school inspired supplies and other objects. These also are fun to place in flower pots or use as a paperweight!
15. Paper Plate Crafting
Make your own paper plate crafts with school pictures, fun sayings and any other information you want to remember as your child grows. This is a perfect beginning of the year project to help showcase how much your child grows through the year! Especially if they have a birthday!
16. Personalized Shirts
Personalize your little one a fun back to school shirt. These are a great idea for first day pictures, or even for gifting to teachers for holiday or end of year appreciation. Appliques are easier than ever with special printer paper and free software to allow you to simply print and iron the ideas you create.
17. Handmade Cards
Take this idea and help your child create a welcome back to school card for their teacher. You can also do this for holiday family gifting, and teachers can use it for in-class crafts to bring home. It does take some adult help, but children can easily do the cutting and pasting, as well as writing.
18. Star Names
Being able to spell their names is one of the first things your kindergartner will do. Allow them to trace their name in sticker stars (or other small sticker shapes) and hang their creation for easy reference when practicing independent name writing. This is also a great classroom practice for teachers!
Elementary Students
Elementary-aged children are a bit more capable of handling more complicated projects. After 2nd grade, most can read their own directions as well and can follow along with step by step tutorials. These are great to help build independence and learn how steps create a final result.
19. Paper Folding Apples
Paper folding is a great way to teach kids to follow step by step instruction and is fairly forgiving and easy to practice without wasting expensive materials. Paper apples are a great way to start the year and provide a thoughtful beginning of the year gift for teachers without having to spend too much money.
AVAILABLE ON ETSY
20. Cut and Fold 3D Pictures
Cut and fold diorama kits and other fun scenes are a great option for elementary-aged children. They provide a 3D image for excellent spatial and visual learning practices and come in a wide variety of choices for various ages and genders. You can also take the idea to make your own.
GET ONE HERE
21. Pom Pom Bookmarks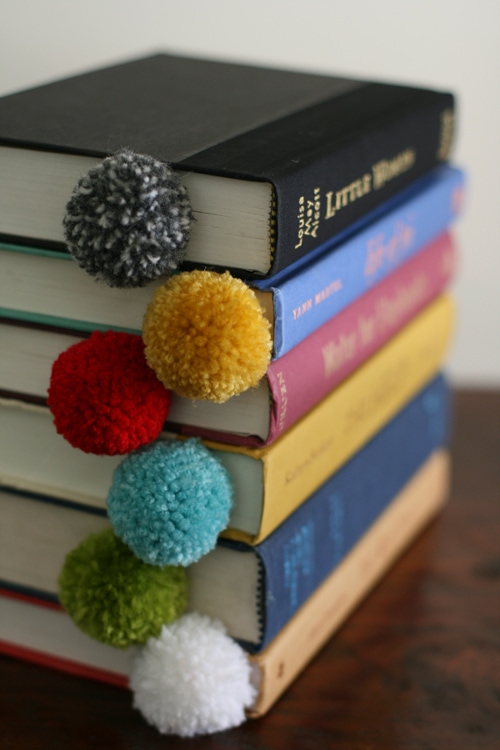 Making a pom pom yarn bookmark is a quick and easy way to personalize a way to hold a place in a textbook, and share it  with friends or gifts for special occasions. Mix and match yarn textures and colors and even attach meaningful quotes or messages to make it even more unique.
22. Cute Character Bookmarks
These stitch card bookmarks can be printed out and then stitched to make a unique, durable space saver for both text and reading books. This is a great craft for little fingers as well to help them learn basic sewing stitches and to teach spatial awareness. You can easily draw and cut out your own as well for special occasions.
23. Duct Tape Pencil Cases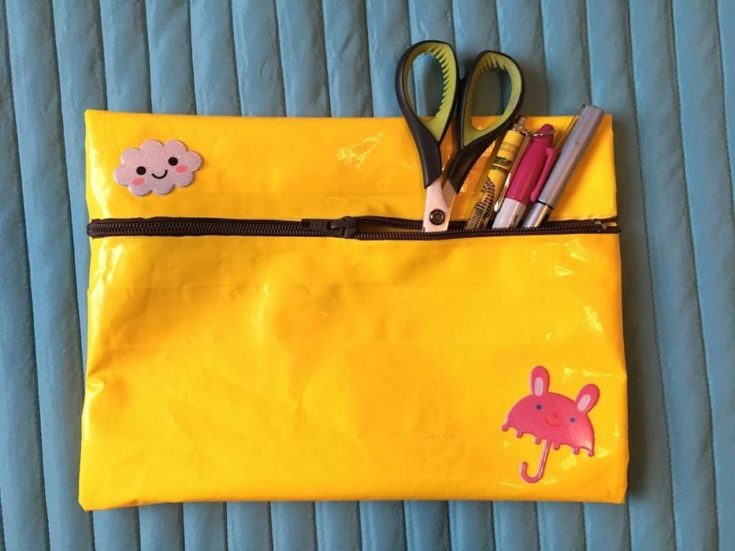 Follow these easy instructions to make unique duct tape pencil cases. These are fun and easy to do with a little patience, and are simple enough most kids can easily do it without help from an adult. They also are great for older kids looking to have a personalized, one of a kind case for their pens and pencils.
24. Decorative Pens
Personalize a cool pen or pencil in under 5 minutes! All you need is a roll of washi tape for your project, some scissors, and a few minutes to easily wrap and create a one of a kind option. This is fun for all ages, and even can be completed by little fingers with a bit of help. Add a pencil topper or pom pom to make it even more special!
25. Personalized Pencil Holders
Adorable pencil holders are easy to create using mason jars. You can either purchase jars or save those jars your various foodstuffs come in to help reduce trash and upcycle glass! Once painted, your child can add anything they want to make it truly personalized. Whimsical faces, designs, or landscapes are popular choices.
26. Pencil Toppers
Foam paper is incredibly versatile and a great way to create fun, 3D pen and pencil toppers. Create little creatures, decorative pom poms, happy faces, or anything your child's imagination can come up with. Help younger children by drawing the shapes to cut, and be sure to man the hot glue gun.
27. Life Sized Self-Portraits
Newspaper rolls and a pencil are all you need to trace your child and let them get to work making it all about them. This is not only a great way to memorialize the size of your child, but also their own perception of themselves while still young. Add to the paper through the year, such as marking off the height and making note of things they have learned.
28. Crafty Locker Mirrors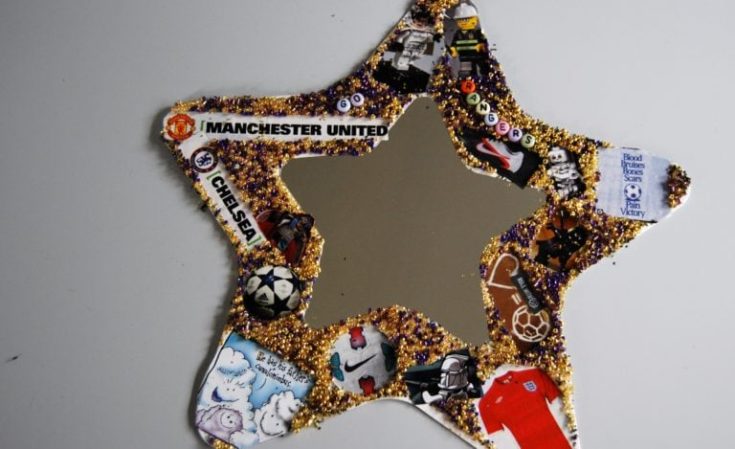 Mirror lockers are popular with both older elementary-aged students, as well as for tweens. Kids want to take a quick glance at themselves when they stop off for books and lunchboxes, especially as they get older and are more self-conscious. Get some mirrored paper or inexpensive mirror lockers that you can cut and personalize with shapes, stickers, and frames.
Middle Schoolers
Middle schoolers are definitely capable of creating their own crafts, and often can even put their own twists to them for a personalized touch. Hand them some basic ideas and then watch them get busy making these fun crafts that will help them express themselves through art. If you have been in need of ideas for your middle schoolers to help get them focused and readied for school, these are some great options.
29. DIY Pencil Cases
Fabric cutouts, stickers, paint pens, or anything else that adheres to plastic can be used to help create a wholly unique pencil case. All you have to do is decoupage over the items to help lock them permanently into place and provide durability.
30. Personalized Clip-Boards
Small clipboards are awesome for hanging in lockers to attach daily and weekly schedules on, as well as to-do lists for easy to glance at reminders. Make your own with customized shapes, colorful tapes, wrapping paper, and clips you can glue on for a unique and fun option.
31. Fashionable Note Taking
Older students love to begin making themselves stand out from the crowd. Most classes require notebooks for notetaking and assignments, but nothing screams boring more than a plain colored option. Let your kids design the covers of their notebooks to make them stand out from their classmates'.
32. Painted Zipper Pouches
Inexpensive white canvas zipper pouches are easy to find for crafting purposes. Find some fabric pens and paints, permanent markers. Iron-on vinyl, appliques, or anything else you can find to help your kids design their own school zipper pouches.
33. Decorative Clip-Boards
Clipboards are awesome for organizing notes and loose paper. They are often overlooked for everyday use but can be great to help with keeping upcoming quiz and test materials in order. Get your kids used to using them and allow them to get creative with the spacious back they have so they are more likely to reach for them when papers need to be clipped together.
34. Craft Kit Organizer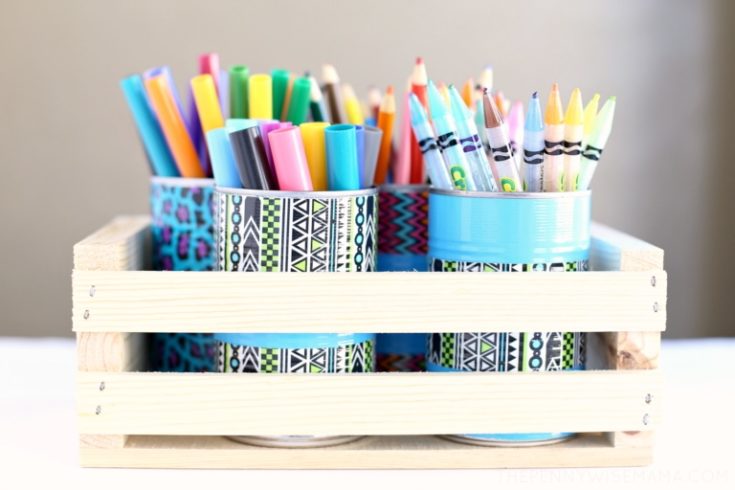 If you have a home workspace for your children, it's probably a mess if you don't have an organization kit. Let your older kids make a kit organizer using tin cans wrapped in colorful duct tape or washi tape, or even mason jars that are painted and decorated. Place multiple holders in small wooden crates that most craft stores carry, or even make one of your own.
35. Decorative Backpacks
Allow your kids to decorate a plain, light-colored backpack with permanent markers, fabric pens and paints, and even stencils or iron on applique. Perfect for older students, as well as younger with a little help, this is a great way to have a completely unique and easily identifiable backpack.
Conclusion
Getting kids excited for school generally isn't too difficult when they are younger, but it can be a challenge as they age. Some kids do dread leaving the freedoms of summer break as well, so having a few crafting days to ready themselves and even review basic skills can be a helpful step prior to walking into the classroom on the first day.
Whether you needed back to school crafts for toddlers, or for older students, this is a way to get started. These many ideas are easy to make all your own and are a great way to provide personalization and instill a bit of excitement in school supply ownership. We'd love to see your finished projects, and, as always, please share!