Having a hard time finding the perfect card to give your mom for her special day?
This year, why not skip the generic, store-bought cards all together and try making one on your own. Mothers will love the effort you put into crafting a homemade card, while kids will enjoy the chance to get creative and make something truly special. We've rounded up our favorite DIY Mother's Day cards that are sure to put a smile on mom's face.
Here are 37 Easy DIY Mother's Day Cards You Can Make at Home
1. 'Love You Mom' Easy Printable Card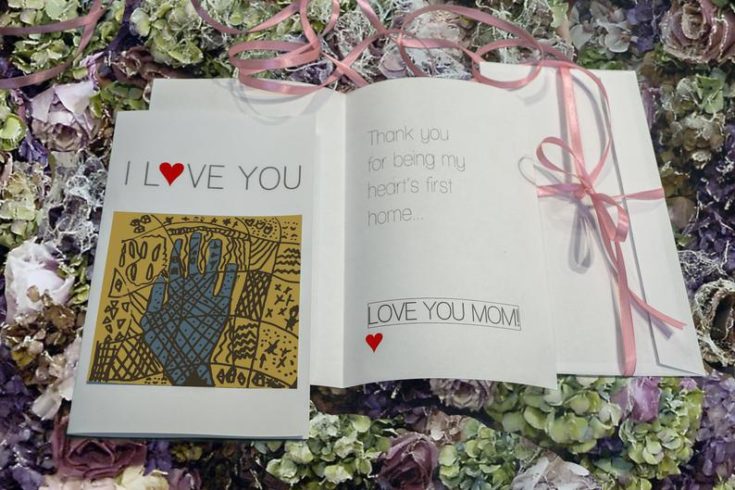 If you love the sentiment of homemade cards but are not the best with crafts or don't have access to many crafting supplies, then this easy printable card is the perfect solution. The modern design is elegant and can be personalized with special messages. Kids can also add drawings to the inside for an even sweeter touch.
Get One Here
2. A Flower Pitcher for Mum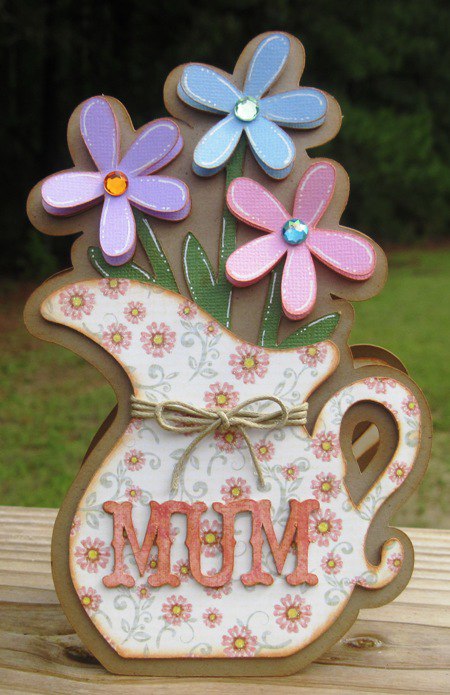 Shaped cards are a lot of fun to make and a really straight-forward way to transform otherwise simple materials into an interesting and eye-catching final product. This flower pitcher card uses pop dots to make the flowers stand out. The bold letters on the front for Mum are made out of repurposed cereal boxes cut and layered to create a faux chipboard aesthetic.
3. A Heart Fan Card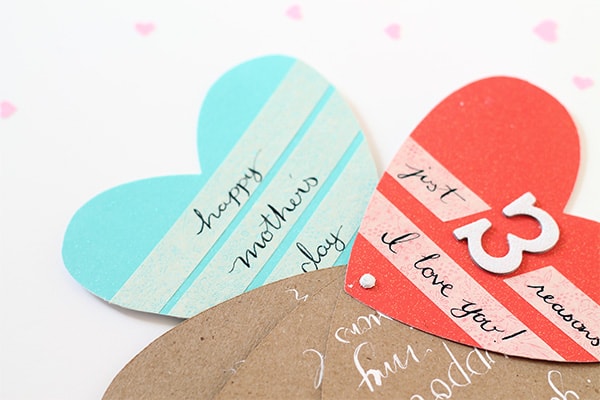 This sweet heart-shaped card uses a brad and multiple sheets of cardstock to create a fan-out effect. You can decorate the top heart however you like and fill the inner layers with reasons why you love your mom. Use calligraphy for a more stylized look or cut out larger heart shapes and let your kids decorate the front with crayons.
4. This Interactive DIY Flower Pot Card

This interactive card is a wonderful craft that teachers can make in class with their students. You can cut out the flowers in advance, but let kids put the project together with white glue or tape. When the card is finished, have the kids tuck the flowers into the pot so mom can pull them out and reveal the message inside!
5. Home Is Where the Mom Is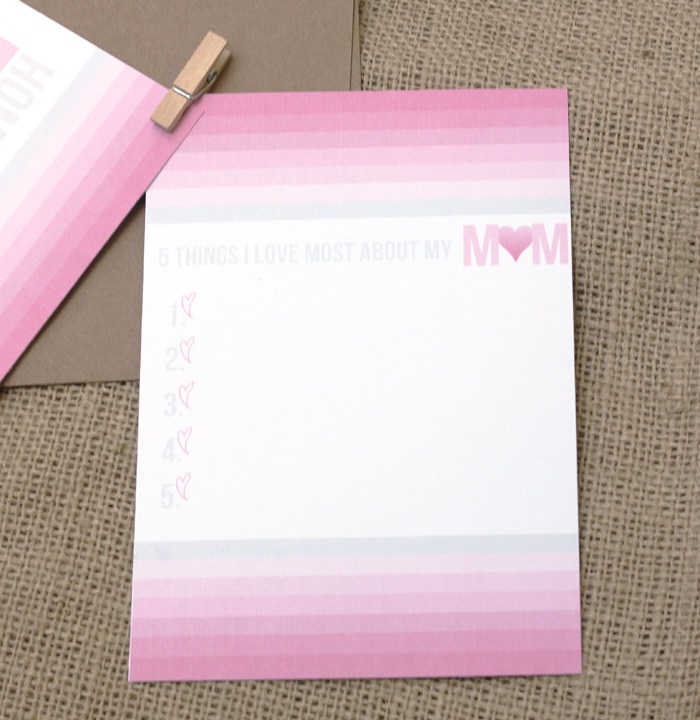 There are lots of variations on the age-old saying, "home is where the heart is," but none more accurate than this one. It simply is not really home if mom isn't there. You can make this card by printing the slogan onto colored paper and filling the inside with all the things you love most about your amazing mother.
6. Beautiful Embroidered Cards
Embroidery is the next big trend in crafting, showing up in all kinds of DIY projects from wall art to clothing, and even sneakers! If you want to try your hand at this art form, then there's no better place to start than with a beautiful Mother's Day card. Use a simple floral design or block letters for a really unique gift.
7. A Card With Origami Letters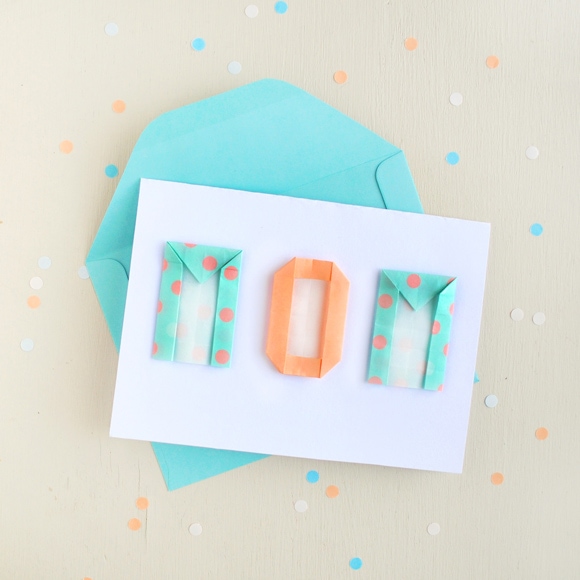 If you love 3D cards, then you have to try making this Mother's Day card with pop-out origami letters. You don't have to be an expert with origami to make this craft, as the letters are very easy to fold. If you have trouble working with the small folds, you can always make your own paper squares out of patterned scrapbook paper.
8. Pop-up Floral Cards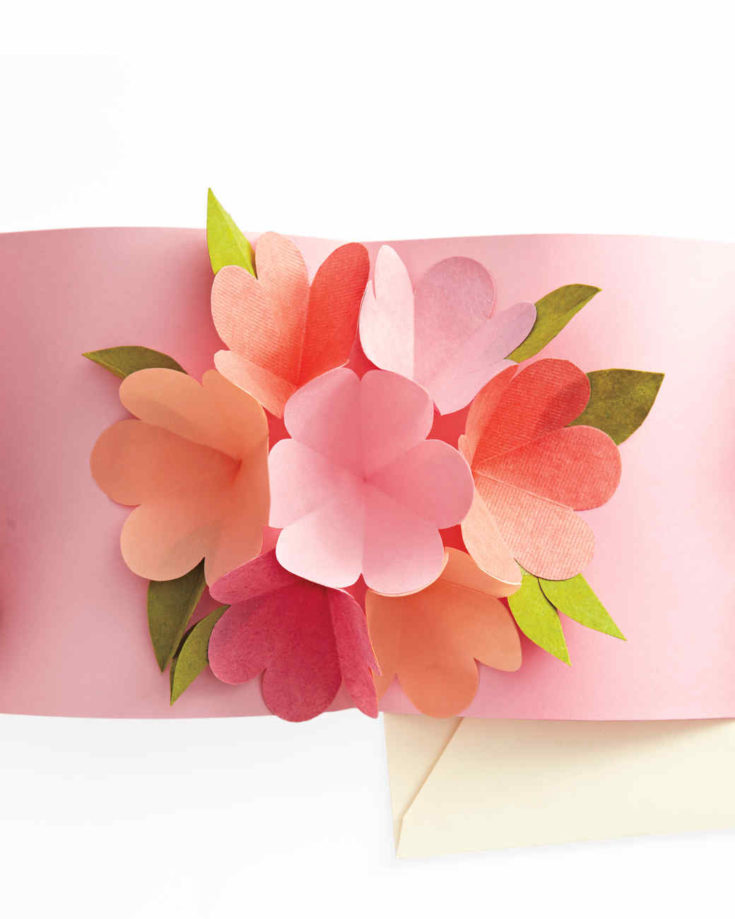 Another great way to achieve a 3D effect is with a pop-up card. When your mom goes to open the card, she will be greeted with a beautiful bouquet of paper flowers. There are lots of variations you can make with different types of flowers and varying levels of difficulty, but the underlying sentiment is the same.
9. Or This Realistic Flower Cut Out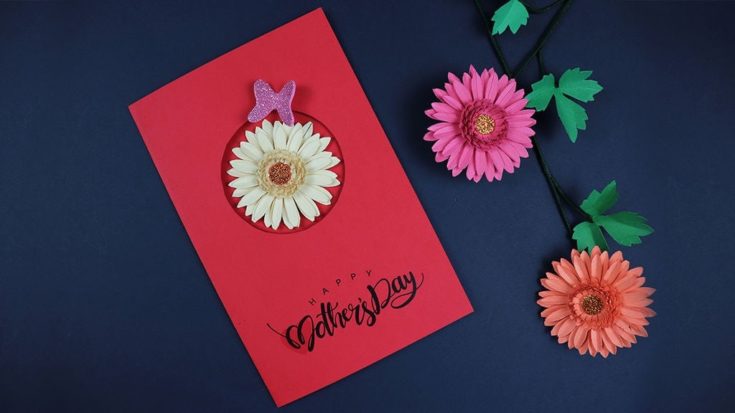 If you love making paper flowers, then this realistic floral card with a simple cut out window is the perfect craft to make for your mom. You can make any type of paper flower you like to serve as the centerpiece. Simply cut the window to fit around your paper creation and write a thoughtful message inside.
10. String Yarn Heart Cards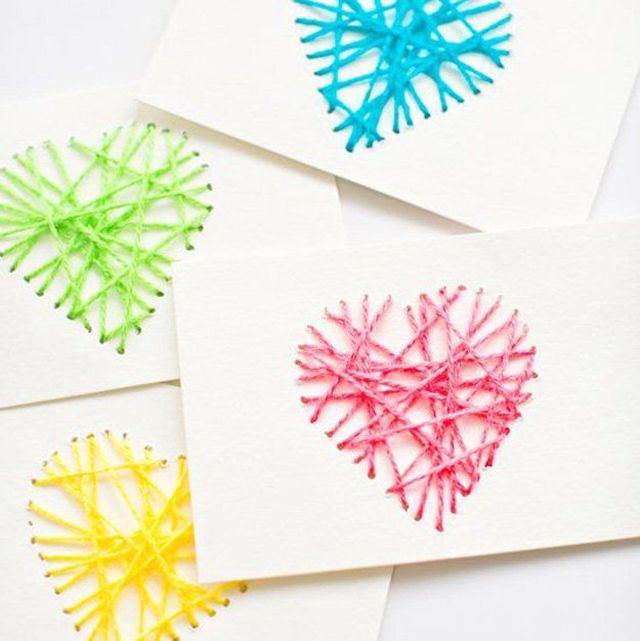 These yarn cards are really pretty and super easy to make. Kids will love threading the string through the paper to create a beautiful heart for mom. In fact, you can use any shape you like, including stars or written text like "I love you mom."
11. A Bold Single Layer Card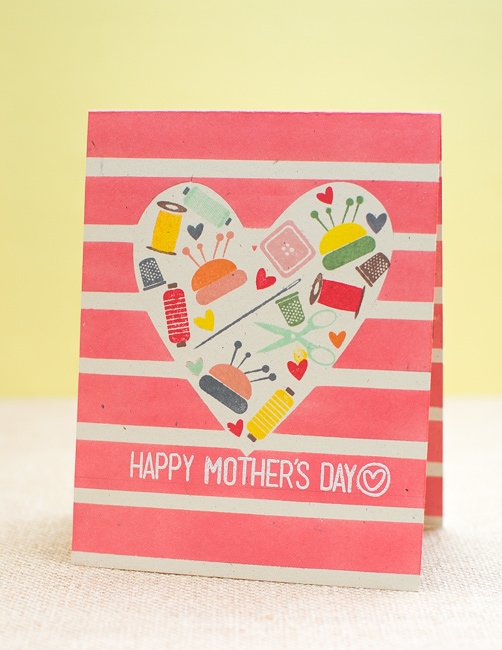 The downside to cards with pop-up letters is that they can be difficult to send through the mail. This bold striped card is made with a single layer of paper, but has all the interesting features and dimensionality of a 3D craft. Use masking tape to create the striped background and lots of fun little stamps to create a central focal point.
12. Mother's Day Bird Card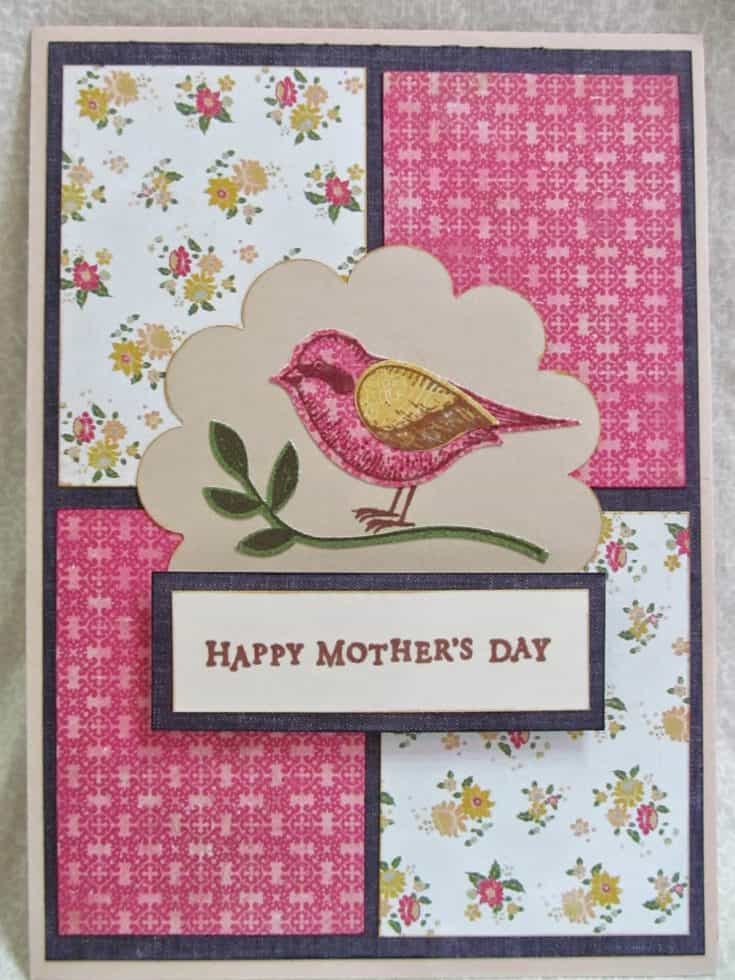 Any mom who loves bird watching will absolutely adore this stamped bird lover card. You can also modify this card for any kind of animal lover. Simply use a stamp of your mom's favorite furry friend and pick cardstock and scrapbook papers that match the color theme for that particular animal.
13. Finger Painted Flowers for Kids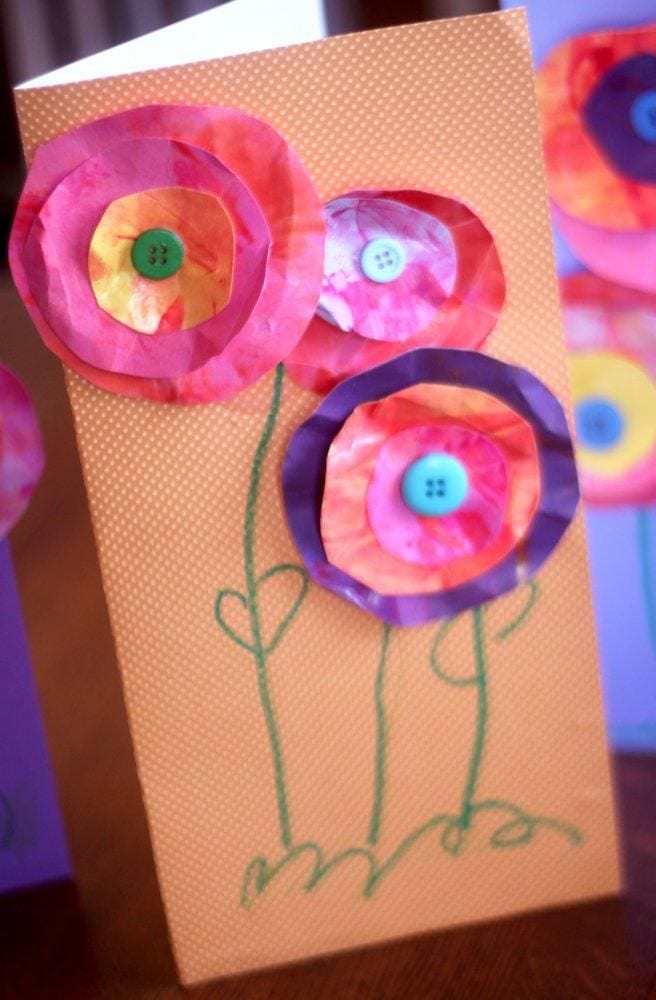 While intricate paper crafts are not exactly kid-friendly, this fun card featuring simple finger-painted flowers is. For this Mother's Day craft, all you need is some construction paper, paint, and glue. Paint the paper and then cut out circles of different sizes and colors. You can add buttons or pom poms to the center of the petals for a whimsical finishing touch.
14. A Card Made From Repurposed and Household Materials
This resourceful card is made from all sorts of household and repurposed materials, including a paper bag, an advertising insert, scrap paper, and wrapping paper. Despite using everyday materials, the final product is incredibly polished and features a lot of really intricate fine details. Your mom will love all the time and effort you put into making such an elegant card.
15. This Glittery, Flowery, and Kid-Friendly Craft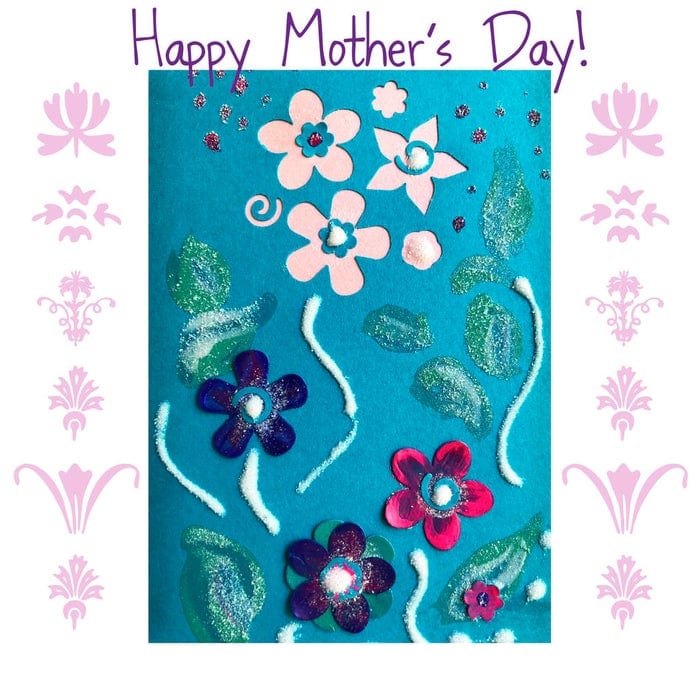 Kids will love making this super glittery and flowery card for Mother's Day. Let their imaginations run wild with glitter glue, glitter dust, and colorful paints. A paper punch is an easy way to achieve the flower shapes and a kid-friendly cutting tool that is very fun to use.
16. Spin the Amazing Wheel of Mom Card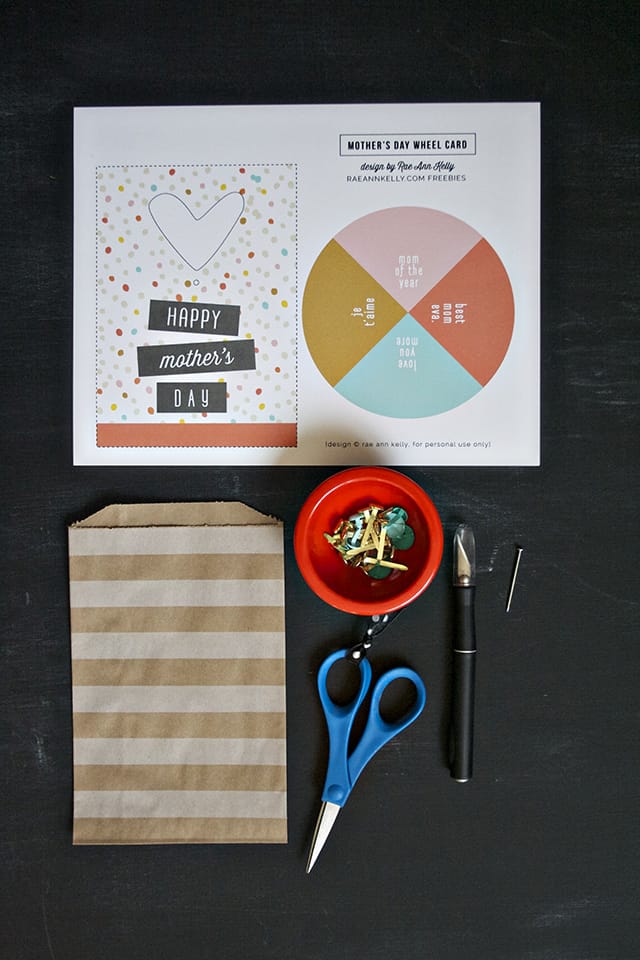 This wheel card is a more sophisticated and chic take on the interactive greeting card. Each spoke on the wheel features a different message of love for mom. You can print a template with four pre-written messages, or easily draw your own wheel and fill in unique, personalized messages. This is one card your mom will want to save forever.
17. This Handprint Cactus Card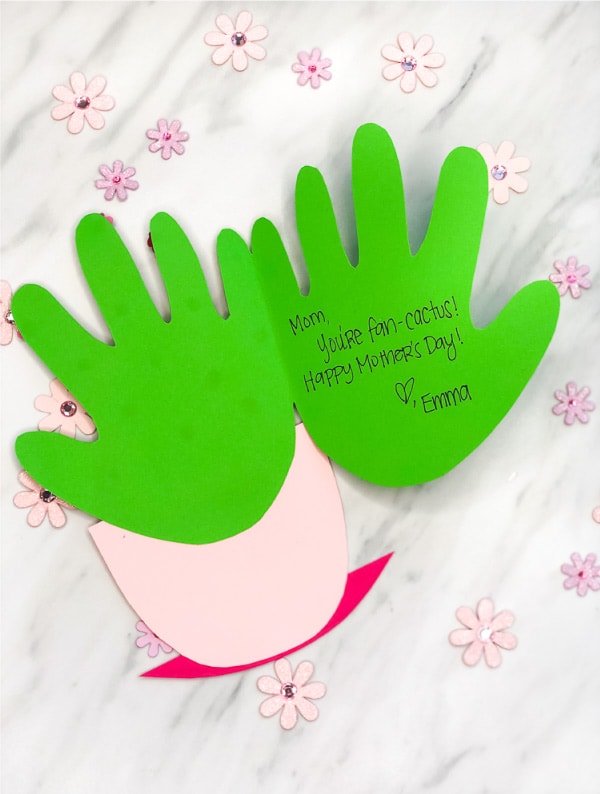 Handprint crafts are easy art projects for kids that make great keepsakes and mementos when they grow up. This quirky cactus card is made using a trace out of a child's handprint, so it serves as both a wonderful memento and a thoughtful gift for mom. Kids can even decorate the front with flower embellishments or stickers.
18. An Embellished Orchid Card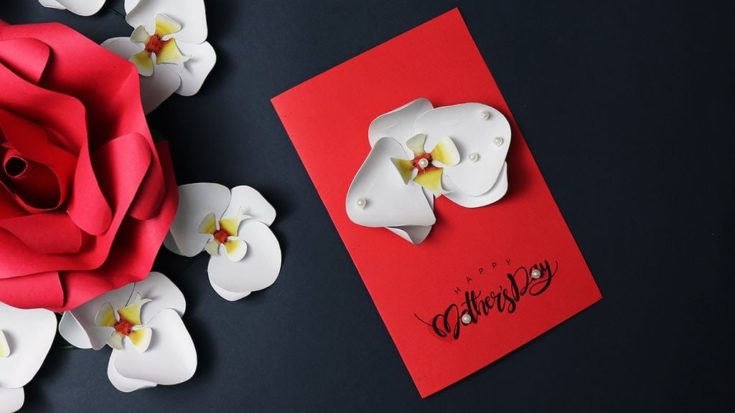 Another great DIY floral craft is this embellished orchid Mother's Day card. This project is a lot easier than some of the other paper flower crafts out there because the orchid petals can be printed out using a template and curled into shape with household items like hot glue gun sticks or pencils. The pearl embellishments add an extra special touch.
19. Button Cards for Kids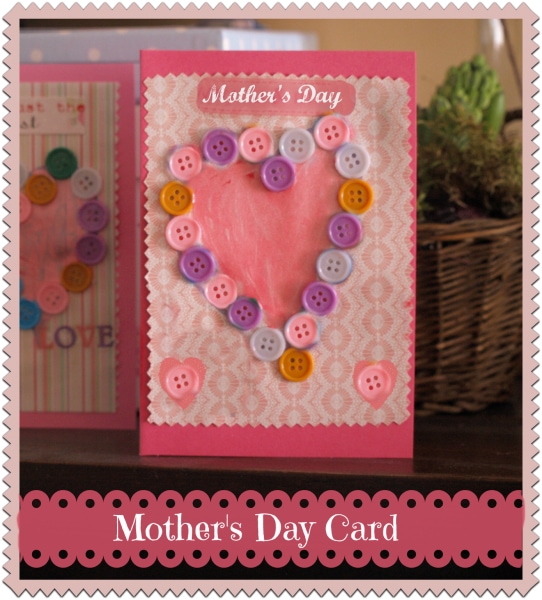 Button crafts are perfect for toddlers and young children because they are colorful, tactile, and require kids to use their developing fine motor skills. These bright and colorful cards are simple to make with some colored buttons and glue, and they happen to make wonderful gifts for mom. Simply draw the heart shape beforehand and help your kids fill it with buttons.
20. A DIY Pop-up Heart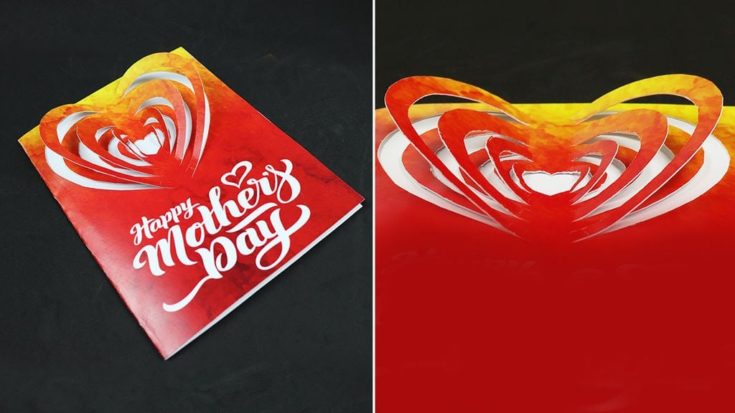 When we think of pop-up cards, we usually think of cards that reveal a surprise 3D element when opened. This DIY pop-up heart card doesn't hide the 3D element inside, instead opting for a more prominent outer display. This is another great Mother's Day craft for anyone who's running low on crafting supplies, as it uses a printable template and single sheet of paper.
21. This "I Love Mom" Pop-up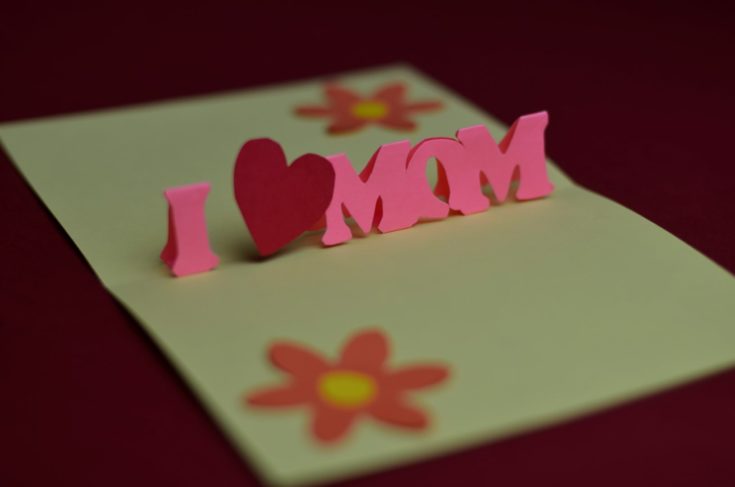 If you have some colored cardstock and are willing to spend a little bit of extra time cutting small letters, then this is an amazing pop-up card that still leaves room for writing a really sweet message on the inside. You can even use a template to make cutting out the letters easier.
22. Momma Bird Cards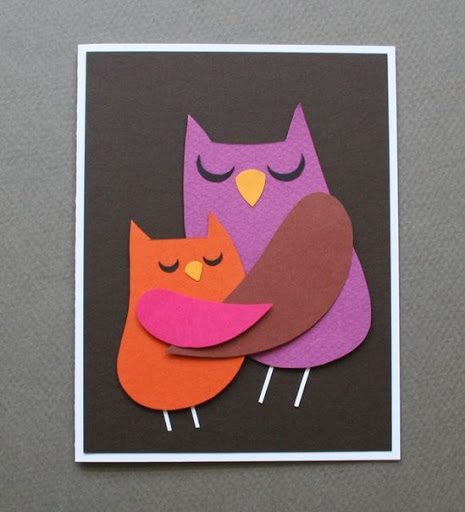 These adorable momma bird cards are not only cute and easy to make, but clearly show just how much love you have for your own momma. The birds are made from cut out shapes from heavy paper. If you want to simplify the craft to make it more kid-friendly you can use glue instead of pop dots and draw in the finer details with a sharpie.
23. Paper Cut Calligraphic Letters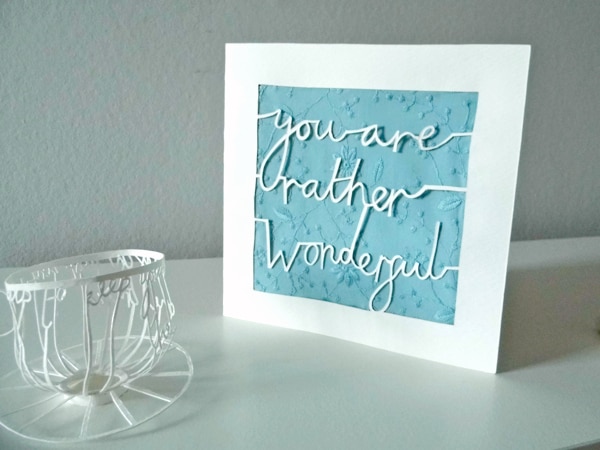 This unique Mother's Day card features paper cut out text that's been carefully created with an exacto knife and a tremendous amount of patience. If you want to save time, you can use a Cricut machine to create a similar effect, but nothing can really beat an intricate card that was made entirely by hand.
24. A Simple Stamped Card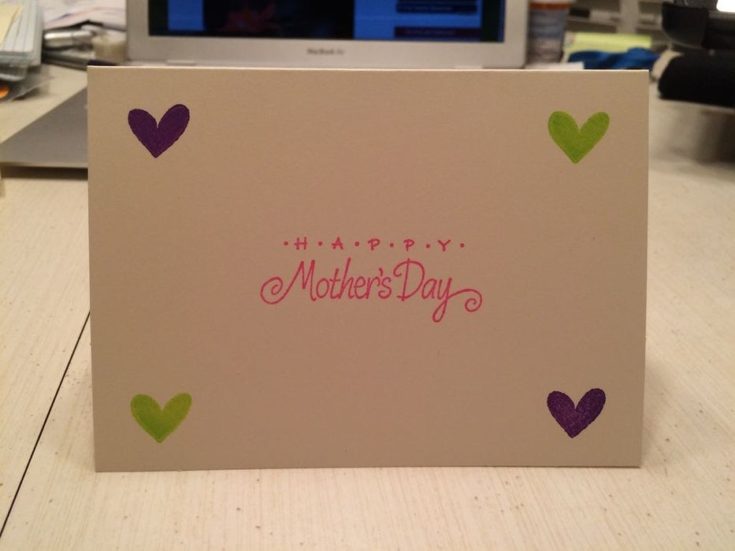 Sometimes less is actually more. If you find yourself spending too much time worrying about the card you're going to give your mom on Mother's Day, and not enough time thinking about how you're going to spend quality time with her, then consider this simple stamped card. You can get a Mother's Day stamp online and decorate the outside with some simple, colorful hearts.
25. My Love for You Grows and Grows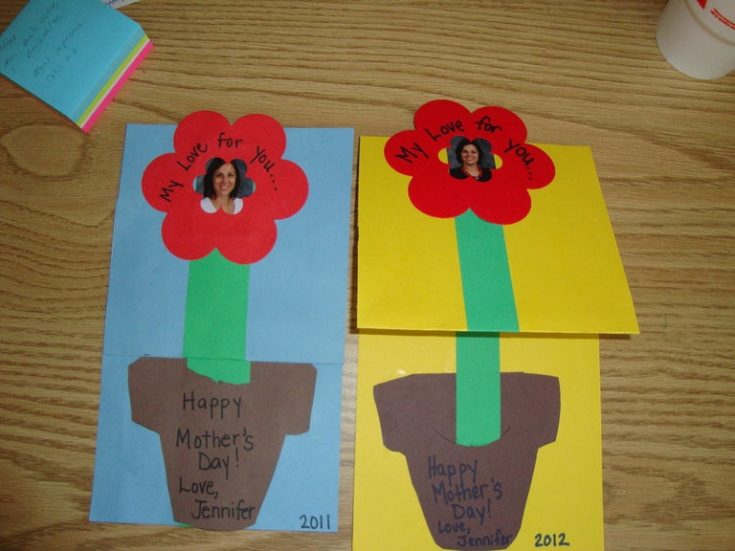 This is a unique Mother's Day card that you can make over and over again. The card folds out to reveal a growing flower stem with a message of love. You can easily make larger and larger versions of the card each year so your mom can remember just how much you've grown and how your love for her has only deepened over time.
26. A Dress-Shaped Surprise
This little card is full of fun surprises. From the outside, the card looks like a pretty dress-shaped card with floral and pearl embellishments. It then opens up diagonally to reveal a row of pop-up hearts! This is a really creative and multi-faceted Mother's Day card, but one that takes a lot of patience and finesse to pull off.
27. #1 Mom Paper Medallion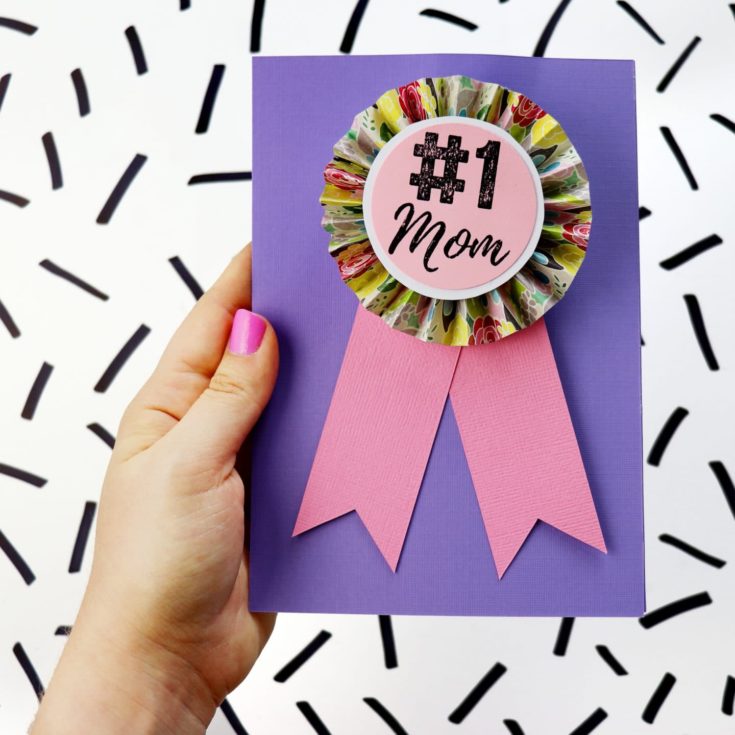 This interactive card is a fantastic way to tell your mom that she is truly the best. The paper medallion on the front of the card is super easy to make. Glue a pinback onto the back of the medal and pin it to the front of the card so your mom can actually take it off and wear it!
28. Origami Dahlia Cards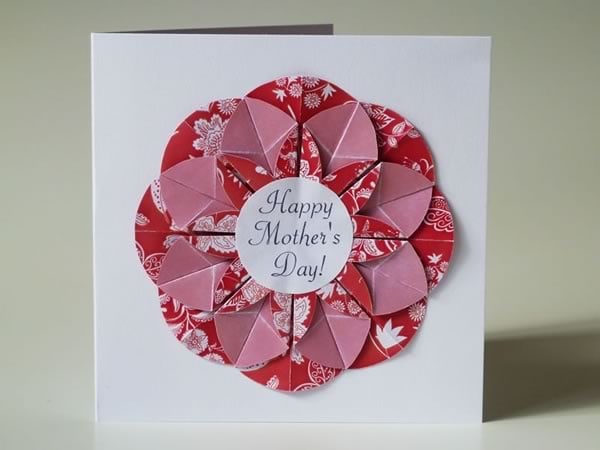 These origami dahlia cards make great homemade greeting cards that are suitable for all kinds of occasions, including Mother's Day! You can use your favorite scrapbooking paper or print out a patterned template onto ordinary printer paper. If you want to get really creative, you can make lots of smaller dahlias and place them all around the front of the card.
29. Plantable Seed Paper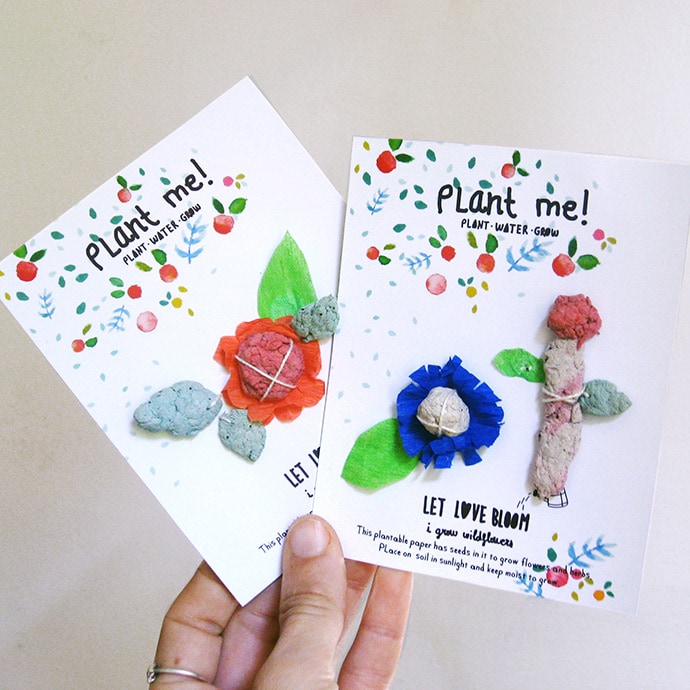 If your mom has a green thumb, then she'll adore this greeting card that doubles as plantable paper. The seeds are embedded into recycled newspaper pulp that's been dyed with natural food coloring and shaped to look like mini flowers. When your mom plants the seeds and watches flowers bloom in her garden, she'll remember your thoughtful card!
30. A Handmade Card From Handmade Paper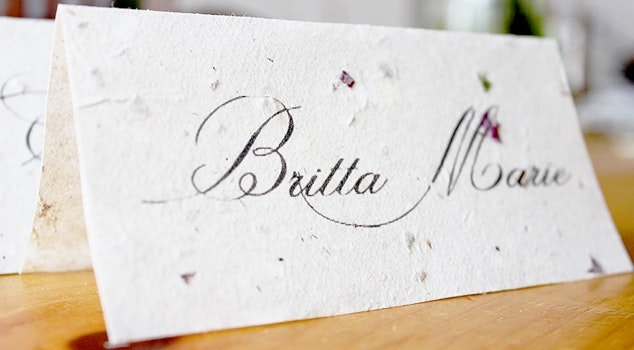 There's nothing more elegant than a DIY Mother's Day card that's made from homemade paper. Paper making is a lot of fun and a lot easier than it seems. You can make it out of scrap bits from bills, junk mail, or old newspapers and even add finely chopped flowers for a gorgeous, romantic look.
31. A Printable Coloring Card
This printable coloring card is perfect for anyone who enjoys adult coloring books. Simply print out the calligraphy and floral wreath template onto printer paper or white cardstock. Once you have written your message inside, you can personalize the front however you like with markers, pencil crayons, and gel pens.
32. Fold Out Hearts Card
Not only does this gorgeous floral card have a cutout window, pearl embellishments, a 3D butterfly and a pop out flower design, but it also opens to reveal a fold out heart. The paper heart unfolds into a shamrock shape that displays the words "I love my mom." This is a truly elaborate card that any mom would be happy to receive.
33. A Miniature Stand-up Card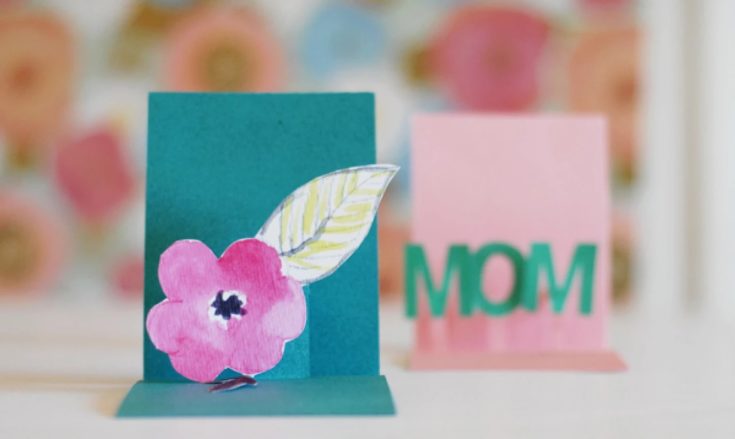 This card made from stiff scrapbook paper features a pop-out design that doubles as a card stand. When the card is opened, a cute flower or bold "Mom" lettering pops out while the rectangular support that creates the popup effect actually helps the card to stand up on one of its sides, making it easy for mom to display the card on her desk.
34. A DIY eCard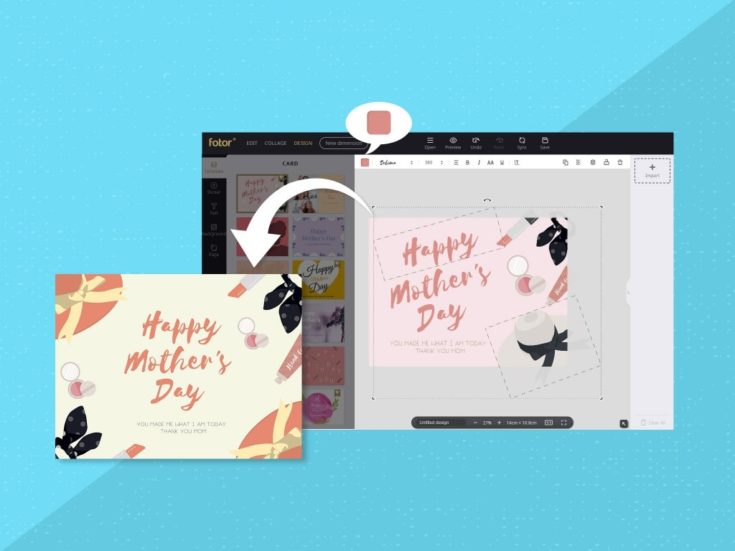 Nowadays, almost no one sends physical cards in the mail. Electronic cards are a lot easier and can be delivered at a set time. Just because you're sending your mom an ecard for her special day, doesn't mean it has to be generic. Add childhood photos and a personalized message to any card template to make your e-card special.
35. Cards Made from Scrapbook Paper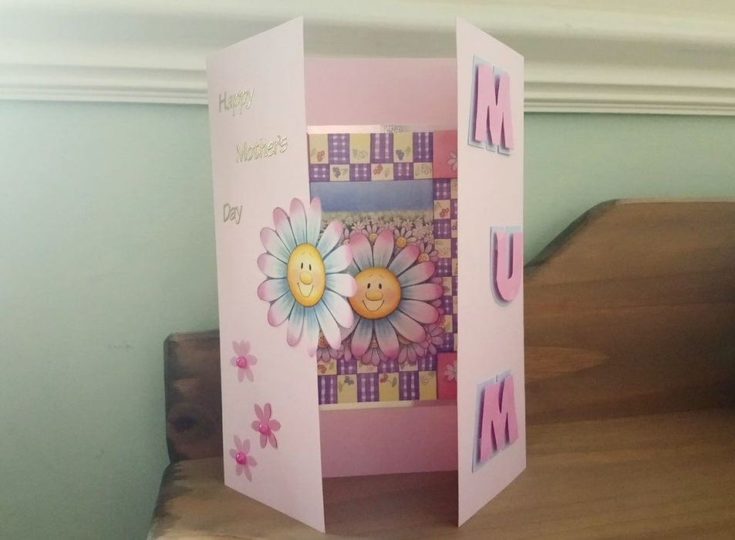 Scrapbook paper is used for so much more than making photo collages and memory pages. It is especially helpful when it comes to greeting cards. This Mother's Day card made from checkered pink and purple scrapbook paper is the perfect example of how colorful paper and 3D spacers can be used to make a really eye-catching card.
36. Washi Tape Script Cards
An easy way to transform a simple script card is with a little bit of patterned, colorful washi tape. Write your Mother's Day script onto the back of a sheet of parchment paper and cover it with washi tape. Cut out the script and carefully peel the parchment backing off before sticking the tape to the front of your card.
37. DIY Giant Mother's Day Card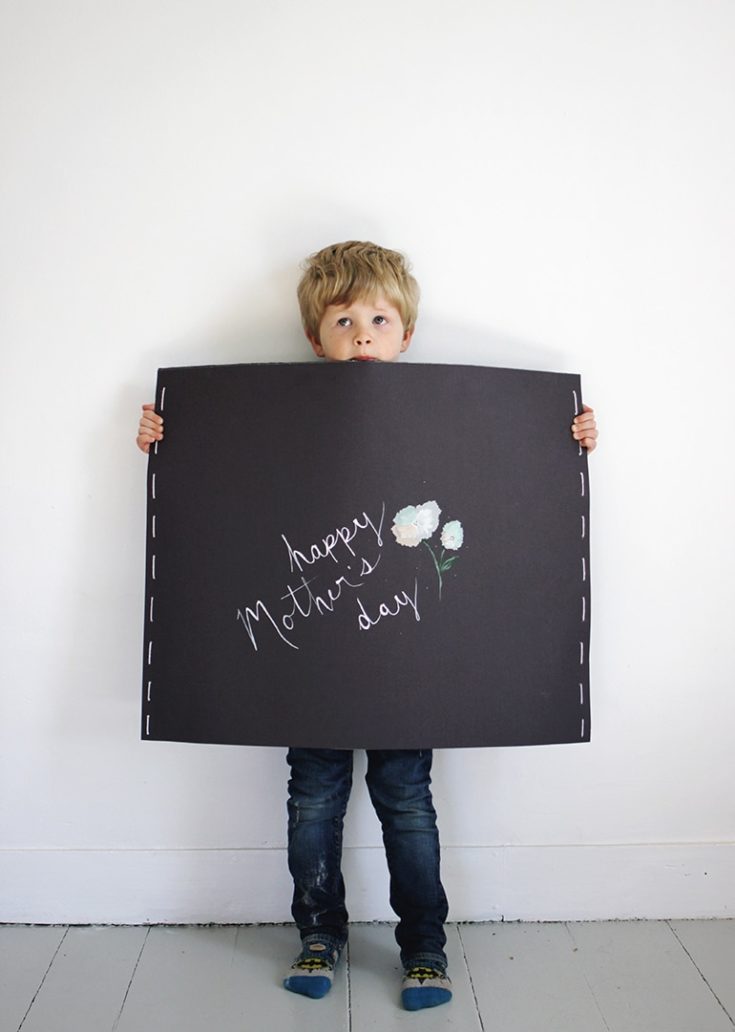 This giant card is guaranteed to put a ginormous smile on your mom's face. The card is actually an oversized envelope made out of black poster board. Kids can paint a fun message on the front of the envelope and you can place a family photo poster inside. Mom will love the gift and you can hang the photo up afterwards.
Conclusion
What did you think of this list? Moms know that nothing beats a homemade card. These DIY Mother's Day cards are more thoughtful and unique than store-bought cards, and they happen to be a lot of fun to make!
Which card will you be making this year? Let us know in the comments and be sure to share this article before Mother's Day!
Further Reading