Are you looking for a meaningful gift to give your mom on Mother's Day?
DIY Mother's Day Gifts make some of the most thoughtful and memorable presents.  We've rounded up some of our favorite Mother's Day gift ideas, so whether you're a kid looking for cool things to draw for your mom, or an adult wanting to make something thoughtful for the amazing mothers in your life, these creative Mother's Day gifts are wonderful presents you can make at home. From paper crafts to soaps and candles, these artsy gifts for mom are great ways to show her just how much you care.
Here are 55 creative Mother's Day gift ideas you can make at home
1. A bouquet of crocheted tulips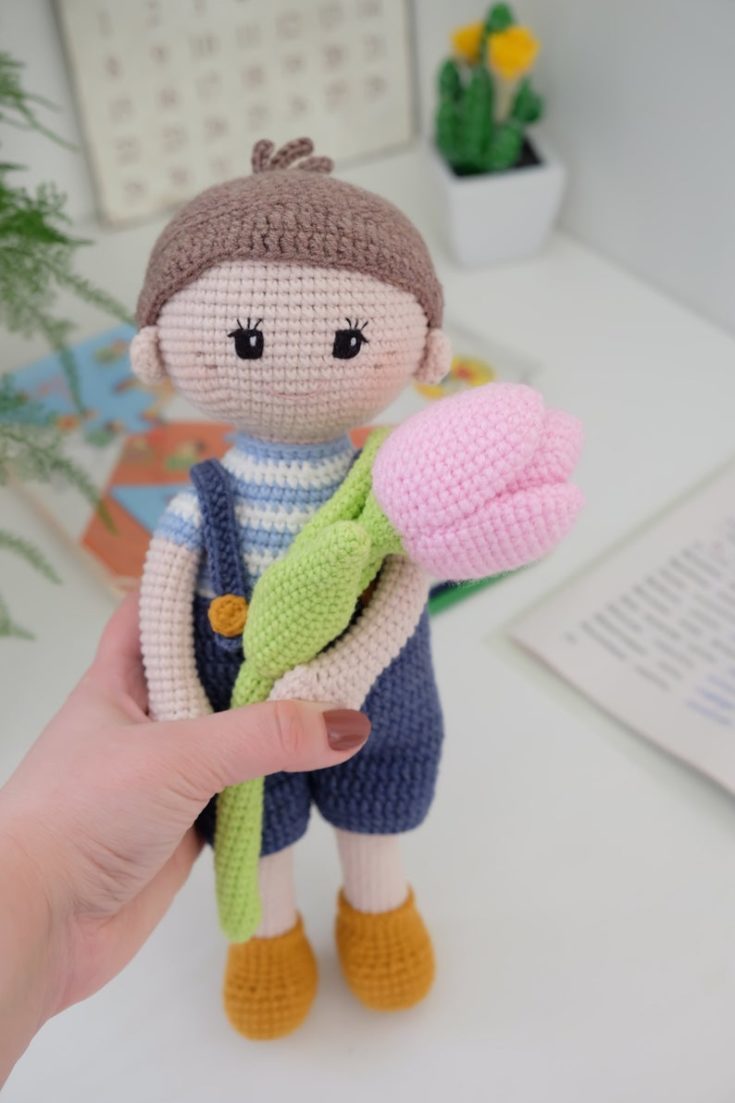 Tulips are the quintessential Mother's Day flower, representing comfort, coziness, and happiness. This beautiful crocheted tulip uses simple crochet stitches and is super easy to make, so you can easily put together a whole bouquet of gorgeous flowers that will last a lifetime.
If you're a more advanced crocheter, you can make a sweet little crocheted doll to hold your tulips.
Get One Here
2. Geometric Mother's Day surprise boxes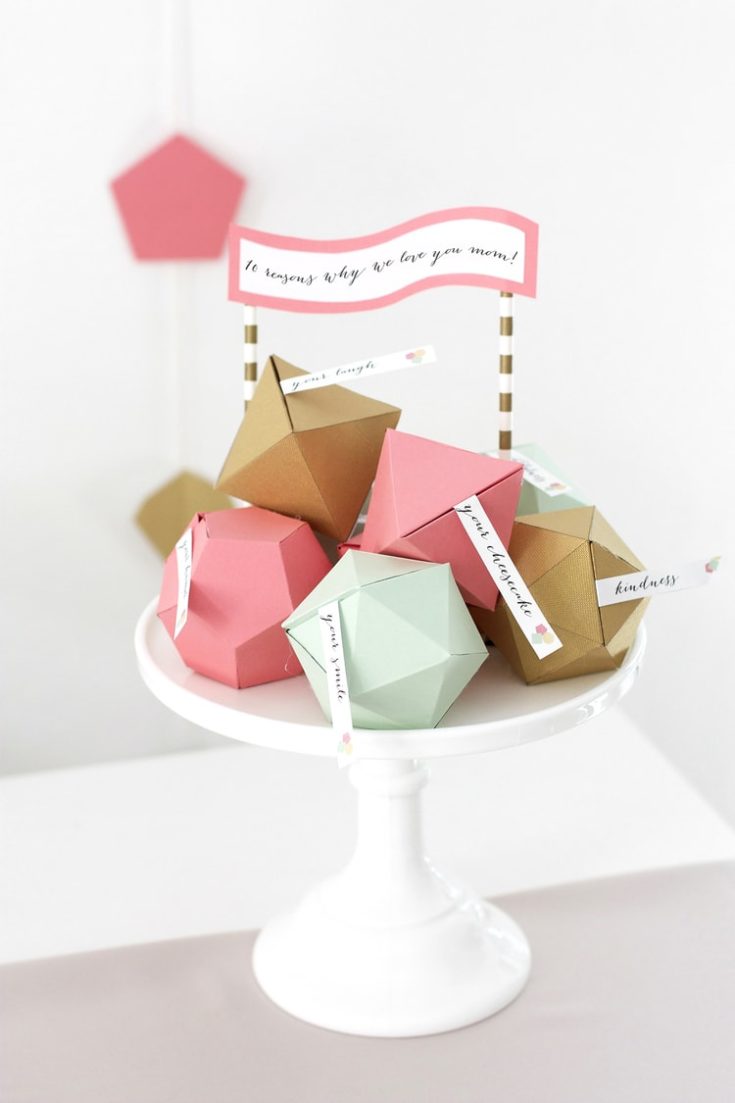 This unique Mother's Day gift is full of surprises. The geometric boxes are a simple DIY paper craft made from easy to use templates and colored cardstock. Each one features a pull tab that can be personalized with thoughtful messages or reasons why you love your mom. When she pulls the tab, she will reveal the jewelry, chocolates, and goodies you've hidden inside!
3. A floral pinwheel for mom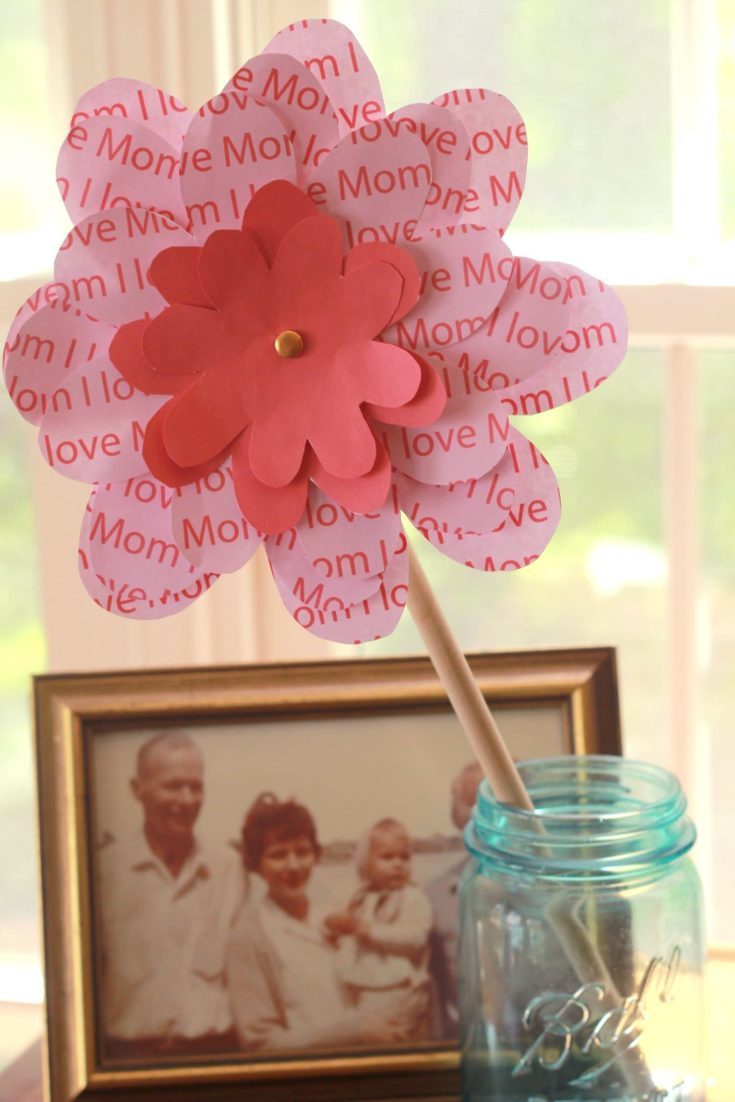 A pinwheel is a very simple craft you can make in no time at all with a round head fastener and some colored paper. You can print a Mother's Day pattern onto printer paper or colored construction paper and cut the paper into different sized flower heads to create a floral pinwheel that is perfect for her special day.
4. This heart-shaped wooden art piece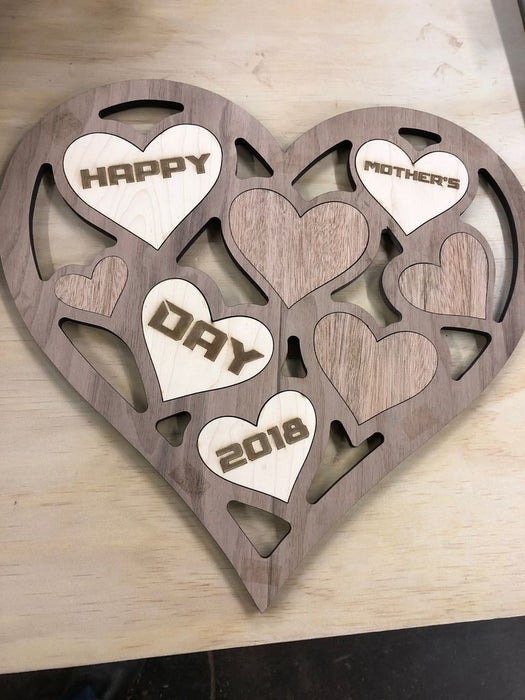 This is the perfect project for any handyman or woodworker looking to create a Mother's Day gift that will really stand the test of time. Use different species of wood to achieve a range of colors in the final art piece. You can even use small cuts of wood and scraps that you have lying around the shop.
5. Embroidered lavender sachets for Mom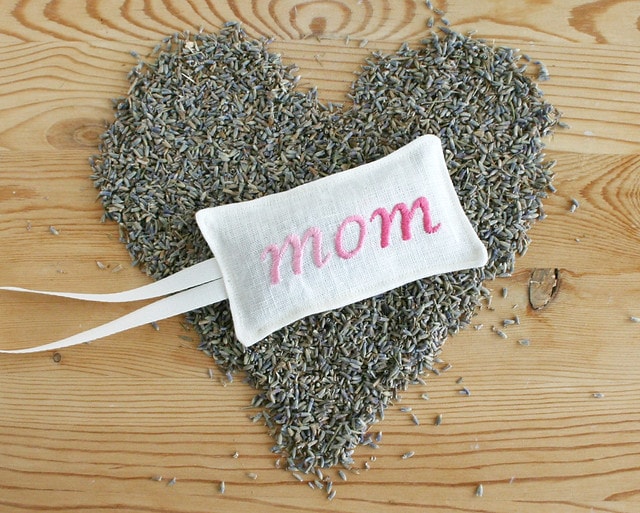 Lavender sachets are used as natural scent boosters you can tuck away in your linen cupboard, drawers, or storage boxes to prevent stale odors and keep your clothes fresh. Handmade lavender sachets are a useful gift you can give your mom, and one you can easily personalize with colorful embroidery and sweet little messages.
6. This unicorn succulent planter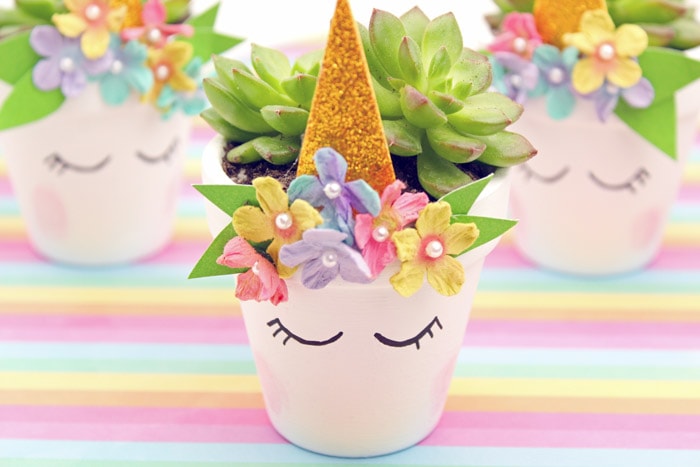 If your mom has a green thumb, then there is no better gift to give her than this DIY potted planter. This planter will add a little bit of magic to any home, and kids will love painting and decorating the adorable unicorn design. You can use the pot your succulent came in, or put together your own arrangement of mom's favorite plants.
7. This Pop Up Mother's Day Card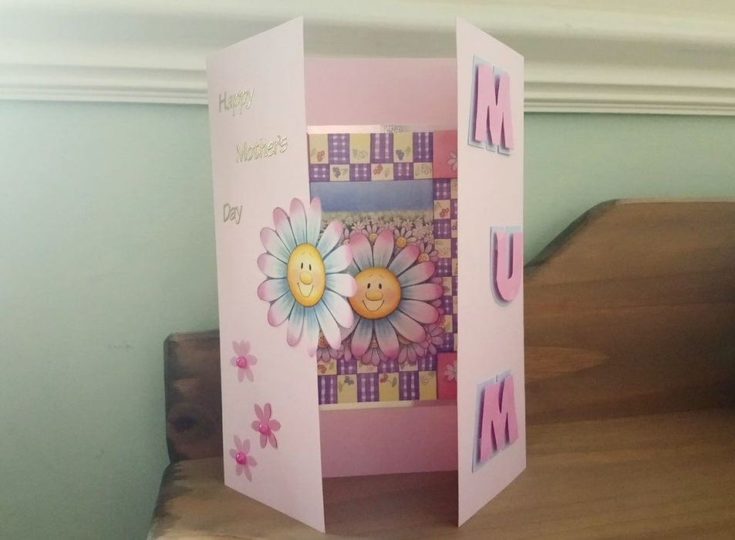 Moms love to receive thoughtful cards on their special day. With colorful scrapbook paper, plastic gemstones, and different colors of cardstock, this card really stands out. You can use 3D spacers to help the letters and flowers really jump off the page or add a folded flower to the inside for a pop-up effect.
8. Mason jar vase crafts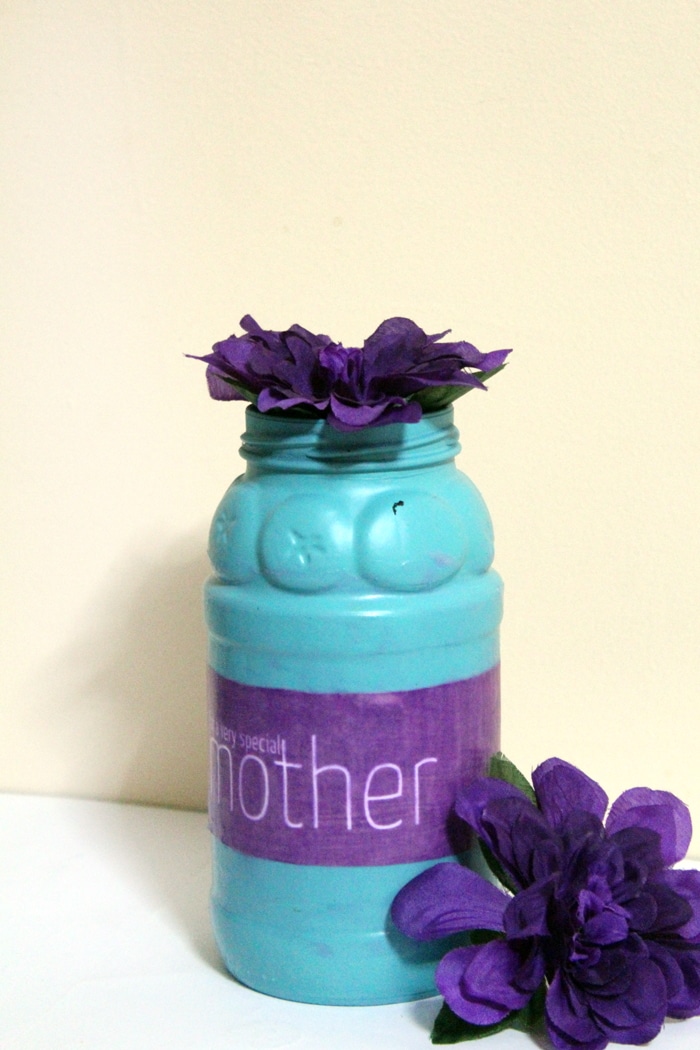 Another great upcycling craft for nature lovers are these mason jar vases. In fact, you can make this craft with any empty cans or jars you have lying around. Simply paint the outside with craft or spray paint, adding block letters or decoupage messages for mom. You can fill the finished craft with an elegant floral bouquet of flowers picked from your own backyard.
9. DIY floral bath bombs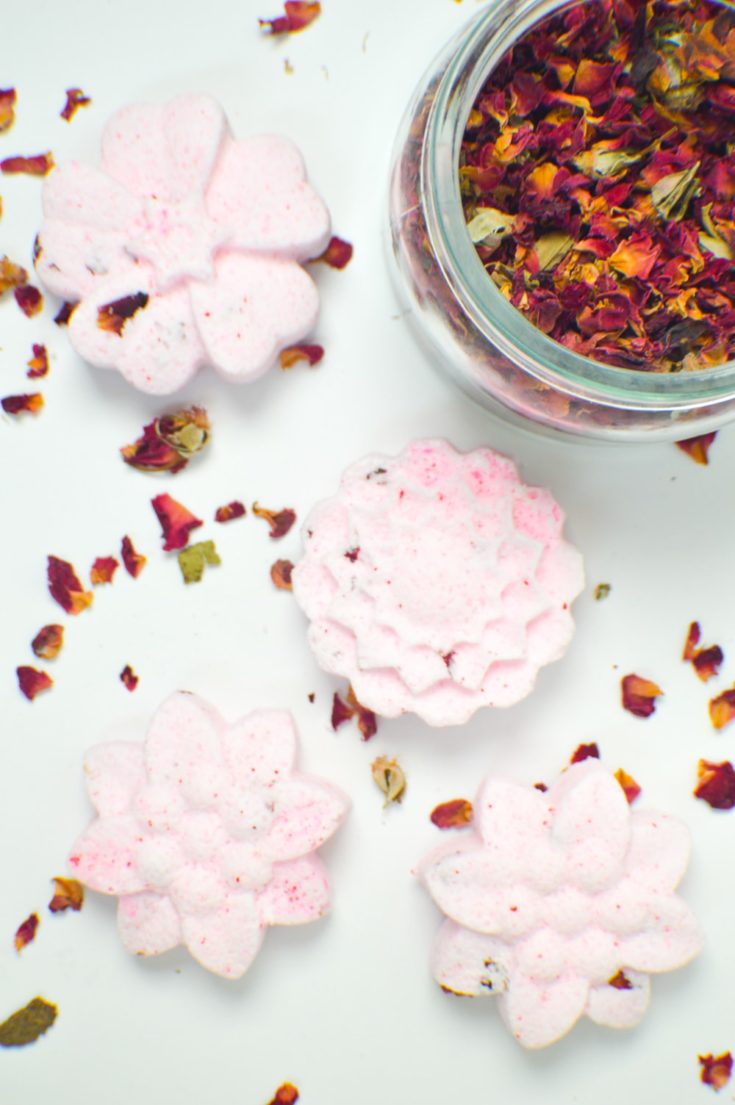 Moms work notoriously hard all year round and almost never take time for themselves. These amazing DIY bath bombs will help your mom relax, with epsom salt centers that help to relieve muscle and joint pain. Each can be made with her favorite scent, essential oils, and even extra things like rose petals for a truly luxurious and relaxing experience.
10. This canvas mounted metal sign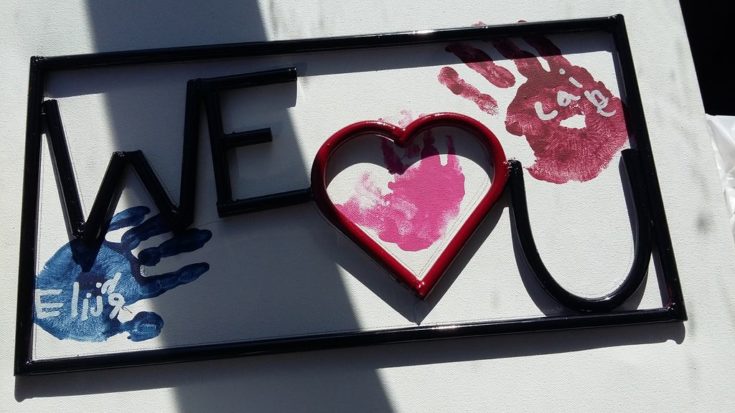 This hanging wall decoration is great for kids and adults to make together. The metal words are welded together using shaped steel rods, which are then spray painted for a more polished look. While you work, your kids can have fun making handprints on the canvas board and writing little messages with acrylic paint!
11. DIY gemstone soaps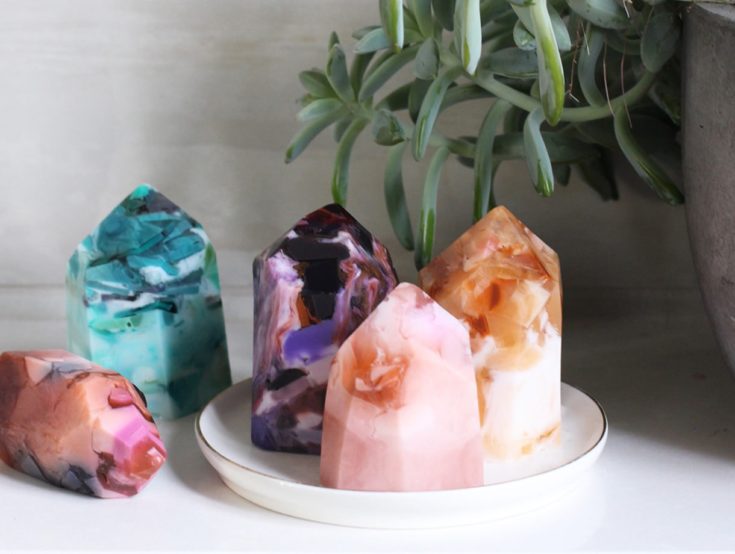 For a beautiful and functional Mother's Day gift, try making these marbled gemstones that are actually a DIY soap craft! Add fragrances and essential oils to the clear and opaque soap bases to make the project your own. This is a really easy and inexpensive craft that is a lot of fun to put together, but the end result looks super sophisticated and high-end.
12. Monogrammed clay keychains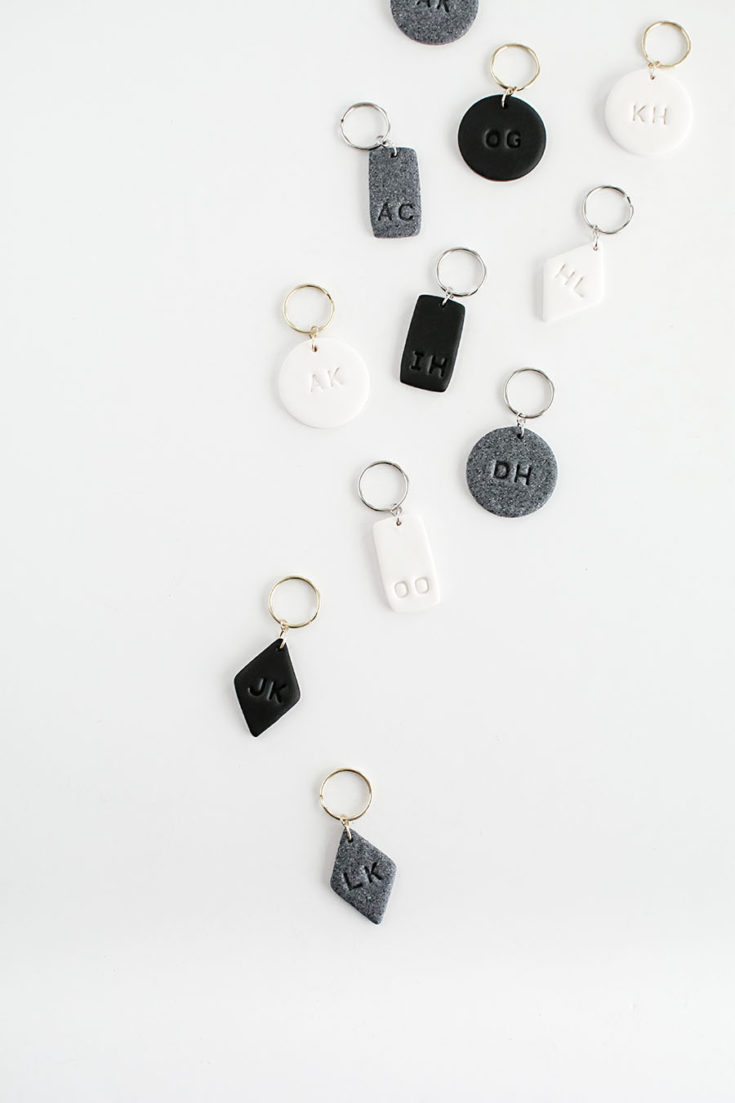 Keychains are another practical gift that moms can use every day. You can emboss these minimal clay keychains with the letters "mom," or with the initials of all your family members for a really personal gift. You can also experiment with different shapes and colors of clay. For a really professional-quality finish, use a clay embossing kit to get perfectly uniform letters.
13. Fabric wrapped terracotta planters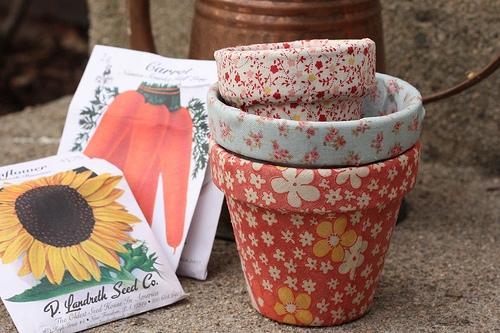 Another great planter craft moms will love are these fabric wrapped terracotta pots. You can use any lightweight cotton or linen fabric in a fun pattern or print. Simply wrap the fabric around the pot and seal it with a little bit of glue or mod podge for a beautifully decorated indoor planter mothers will admire every day.
14. A metalwork flower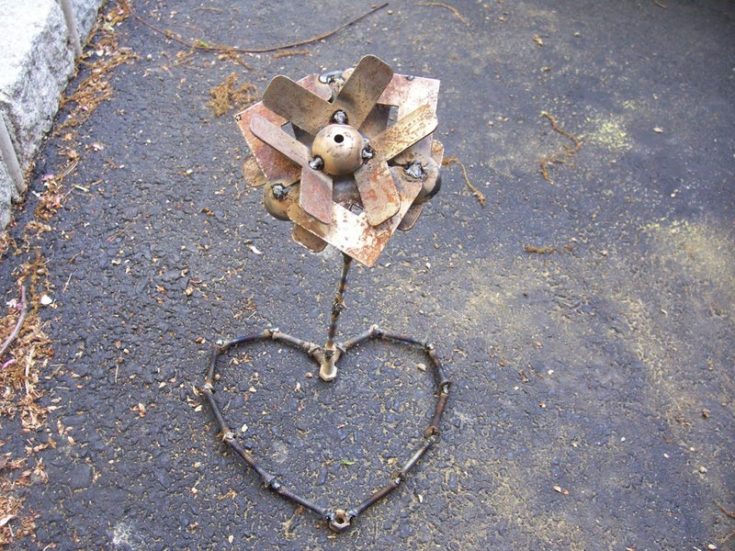 This metalwork flower is a great Mother's Day craft that any mechanic or handyman can make out of spare bits of sheet metal and some assorted nuts, bolts, and nails. Just make sure that you are using the proper protective equipment while welding and that you trim any sharp metal bits before giving it to your mom!
15. Gilded edge agate coasters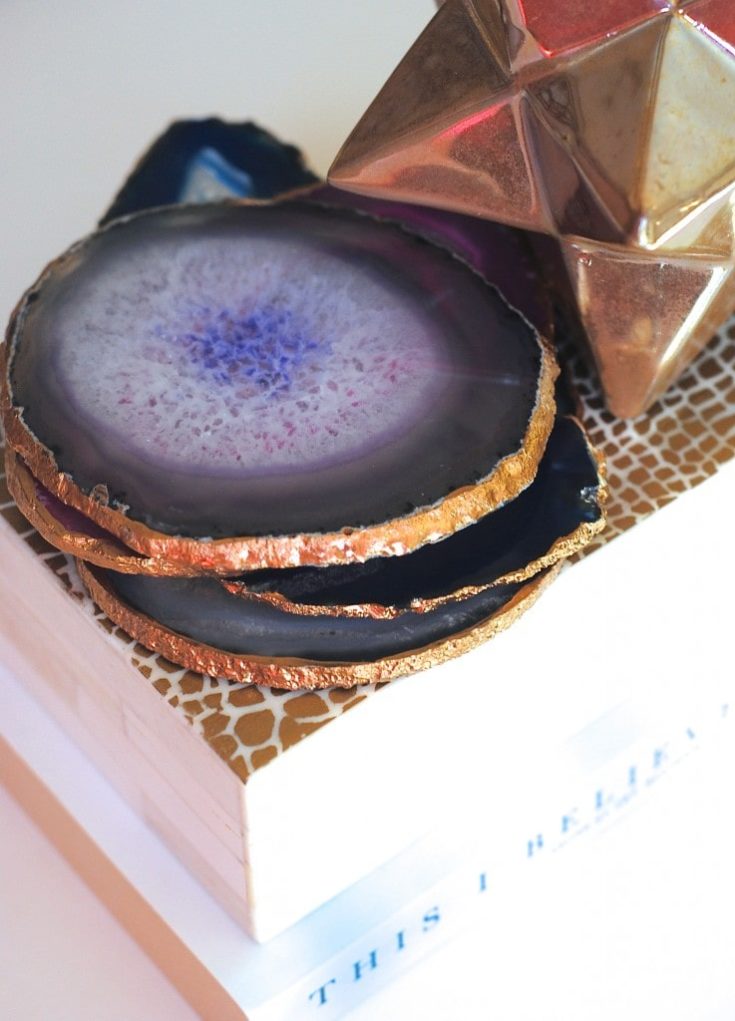 Moms will love these coasters made from gorgeous slices of agate rock. Agate coasters are a popular home decor item featured in high-end catalogs, but you can make them yourself in just a few minutes and for a fraction of the cost. All you need are some agate slices and a little bit of gilded paint to brush onto the edges.
16. Mother's Day spring gift basket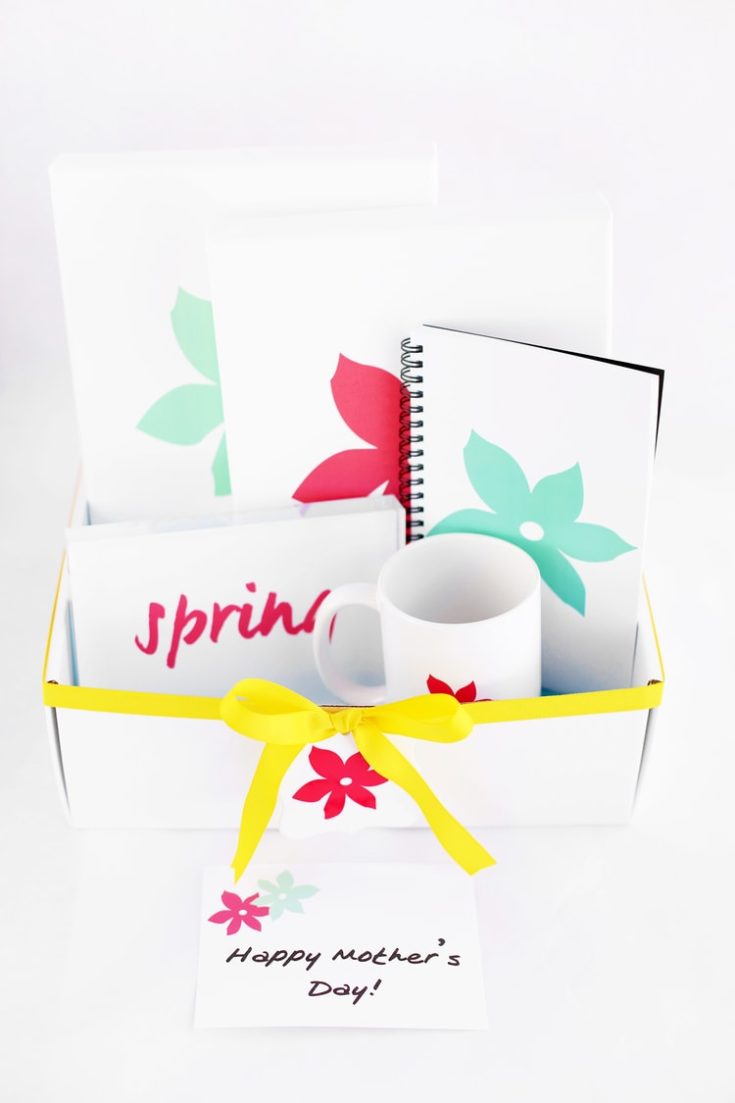 This Mother's Day gift basket is special because all of the items are personalized stationery products that are unique and specifically made for your mom. The basket is full of useful products like notebooks and cards that your mom will really appreciate and that she wouldn't be able to find in a store.
17. DIY desk sculpture
This eco-friendly desk sculpture features a mother holding her child, making it the perfect gift to thank your mom for everything she does for you. The sculpture is made almost entirely from upcycled waste materials that you would have otherwise thrown away. All you need to add is a little bit of gold ribbon and some craft paint.
18. Hanging lightbulb vases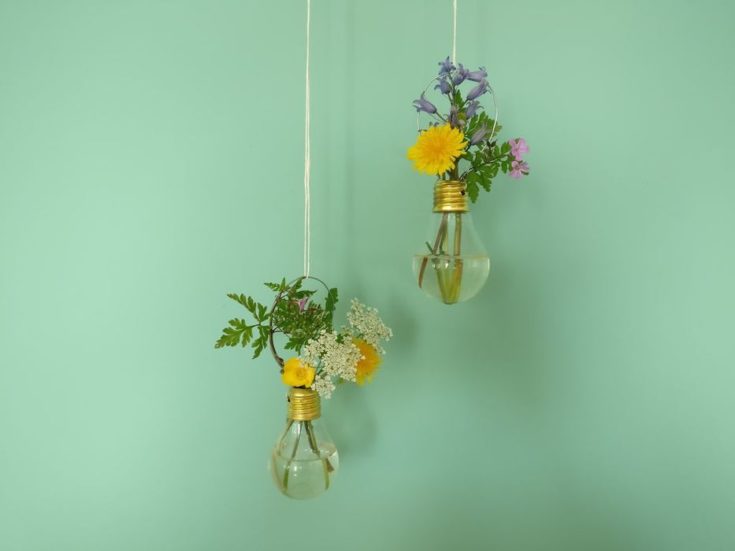 If you are planning on giving your mother flowers, then why not make the vase as well? These unique hanging vases look truly beautiful in both indoor and outdoor settings. They are also really sturdy and easy to make out of old lightbulbs. Just be careful when opening up the bulb that you don't accidentally break it.
19. A blooming monogram wall hanging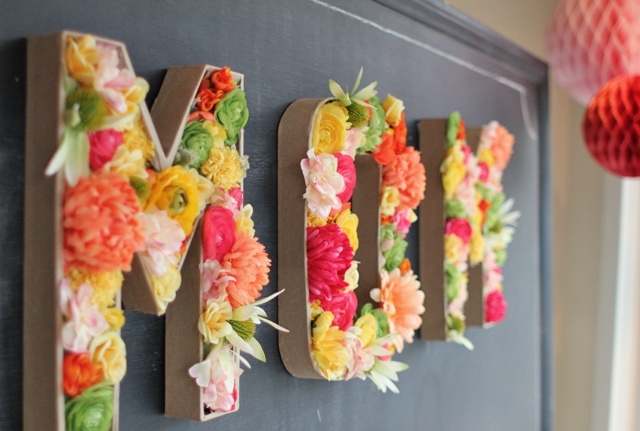 Paper mache initials are great for accent pieces, window displays, and wall hangings. They even make wonderful Mother's Day gifts! Simply cut off the front of the letters, carefully hollow them out, and fill each one with some inexpensive floral foam. Fill the letters with silk flowers, trimming the stems for a uniform appearance.
20. Mother's Day Magnets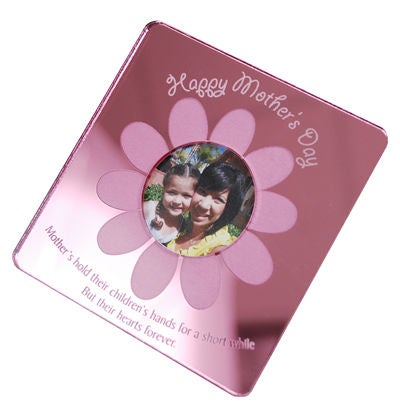 These cute little magnets are great mementos to give your mom on her special day. All you need is some mirrored acrylic that you can engrave with a laser cutter. Add a picture to the center and some adhesive magnet strips to the back so your gift can be placed prominently on the fridge.
21. Popsicle Stick Photo Frame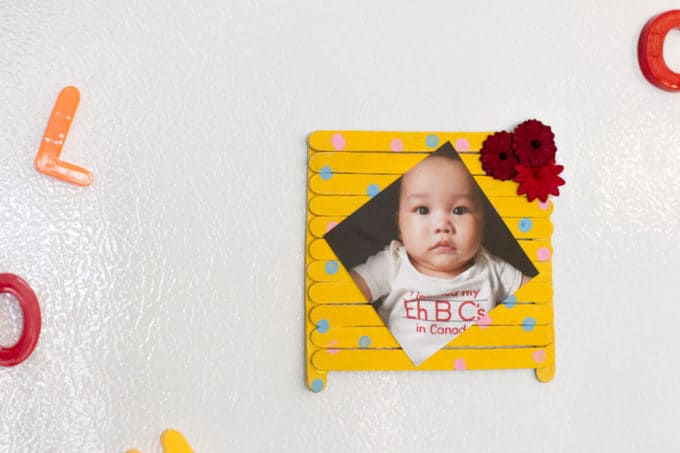 Are you looking for a craft that you can make with your classroom at school or at home with your kids? This adorable popsicle stick picture frame is a kid-friendly project that moms will love to receive. Add some magnet strips to the back to turn it into a fridge magnet or simply prop it up against your desk.
22. Journey of a Mother Drawing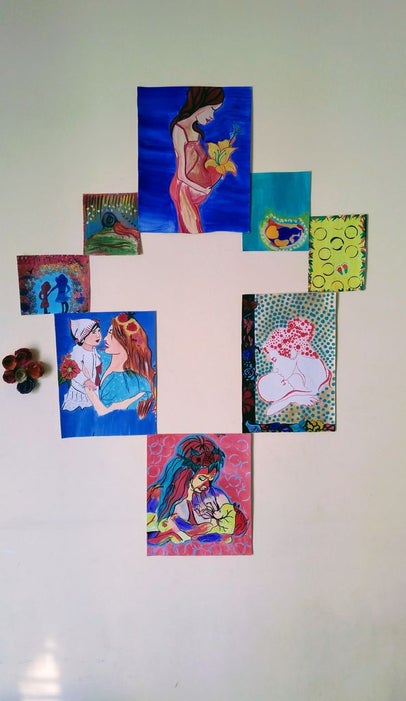 If you want something easy to draw for your mom on Mother's Day, then try this collage of drawings depicting the incredible journey a mother goes through and the cycle of motherhood. You can draw these pictures with colored pencils, or paint using watercolors for a beautiful and heartfelt art piece.
23. Portraits of Queen Mom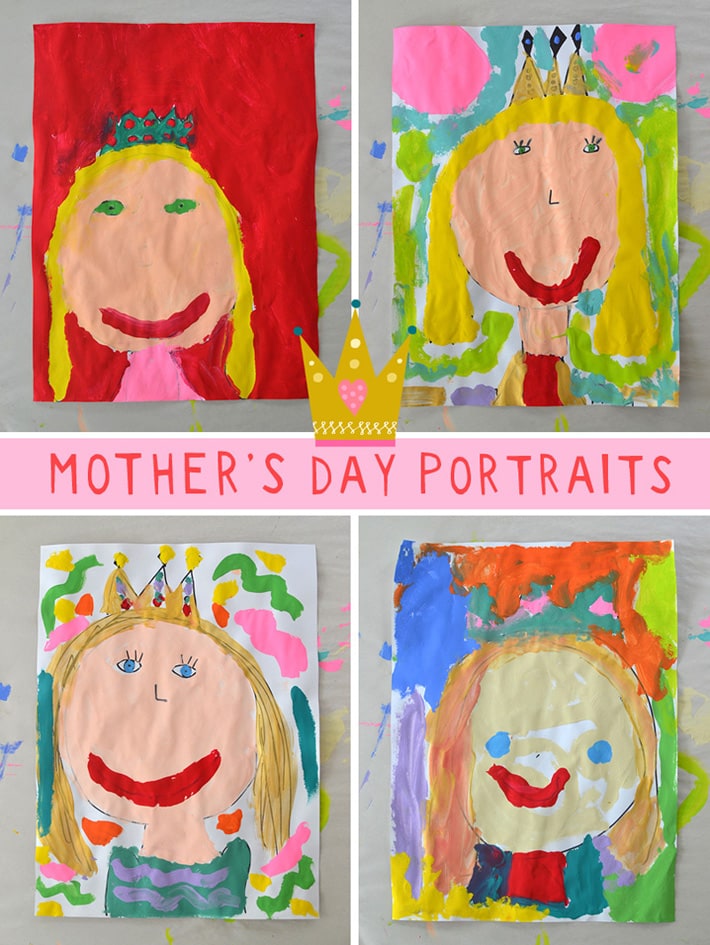 Another fantastic drawing idea kids will love are these portraits of mom as the queen of the house. Moms will appreciate the sentiment behind these and will love storing the artwork for years to come, and kids will love drawing their moms from memory. You can use watercolors, markers, or wax crayons.
24. Handprint in a Wooden Frame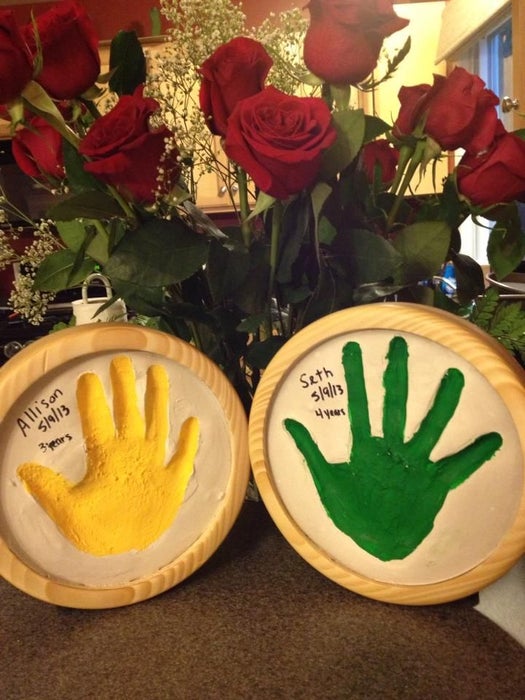 These solid plaster handprints make really great gifts for Mother's Day, but they are also great mementos to keep for the future. The wooden frames can be handmade using a wood lathe, or you can use any shallow wooden bowl that you can find at a craft store. Fill the frames with plaster and have your kids make their handprints in the center.
25. Mother's Day Photo Frame Insert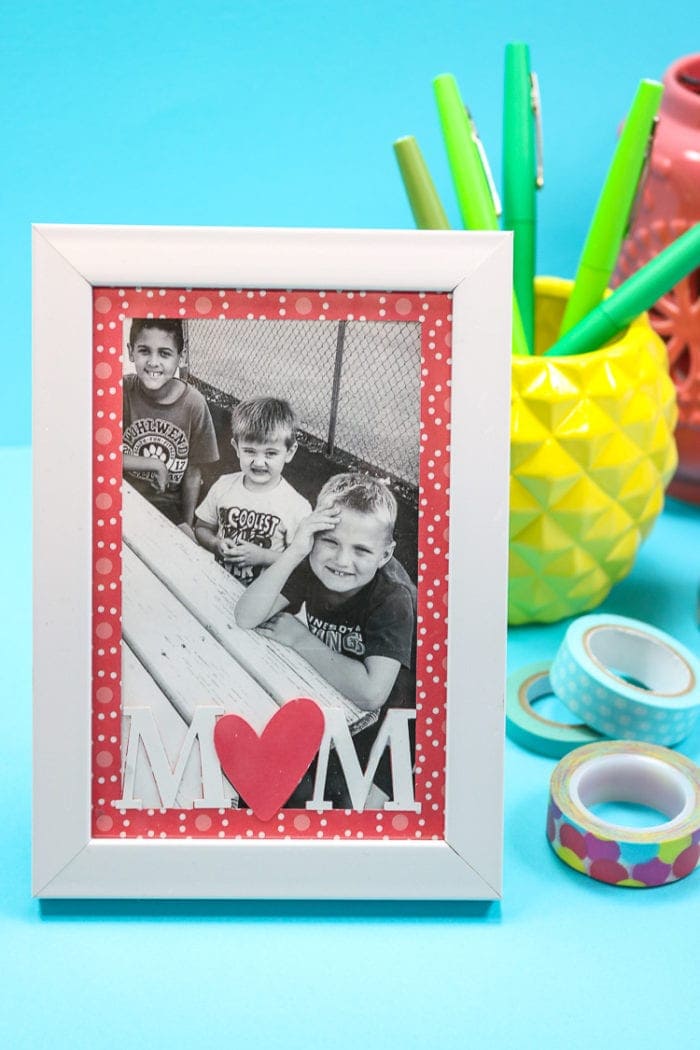 Picture frames make great gifts for any occasion. You can use this photo frame insert to turn any ordinary picture frame into a thoughtful present moms will love. Use a Cricut machine and some scrapbooking paper or cardstock to easily put it together. If you don't have a Cricut, you can use an exac to knife as a simple alternative.
26. Fingerprint Box of Chocolate Kisses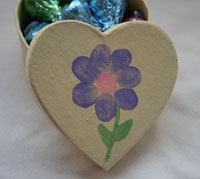 This cute little box is another easy homemade gift that you can make with little kids and even toddlers. The flower design is created using fingerprints and craft paint for a one of a kind box that kids will have a ton of fun making. You can fill the box with chocolate kisses or other gifts like jewelry or heartfelt notes.
27. Polaroid Fridge Magnets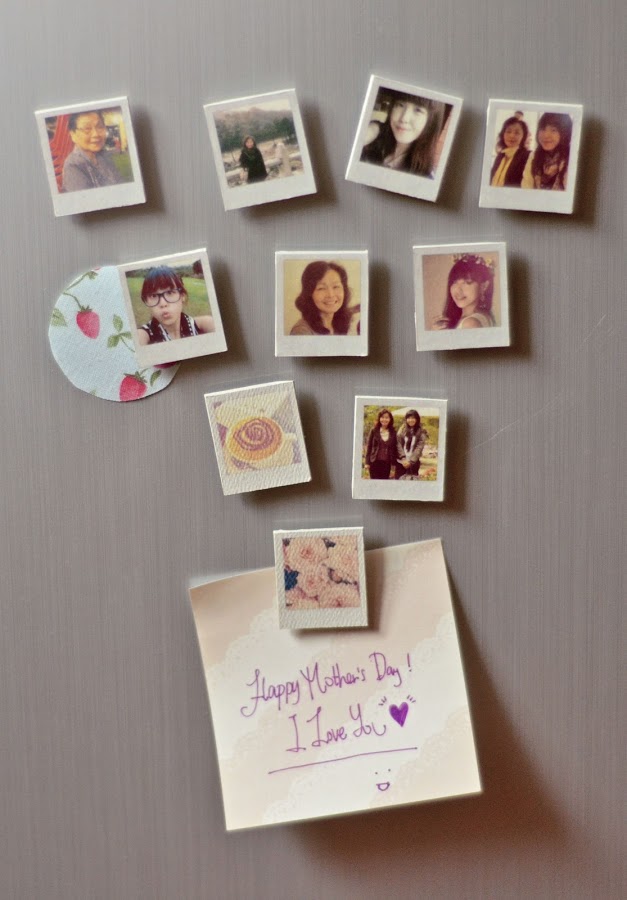 These fridge magnets are a super creative twist on the traditional fridge magnet. The photos in this tutorial are photoshopped to look like polaroids and printed onto ordinary printer paper. However, you can always use real polaroids if you have ones showing you and your mom together!
28. Fingerprint Flower Candles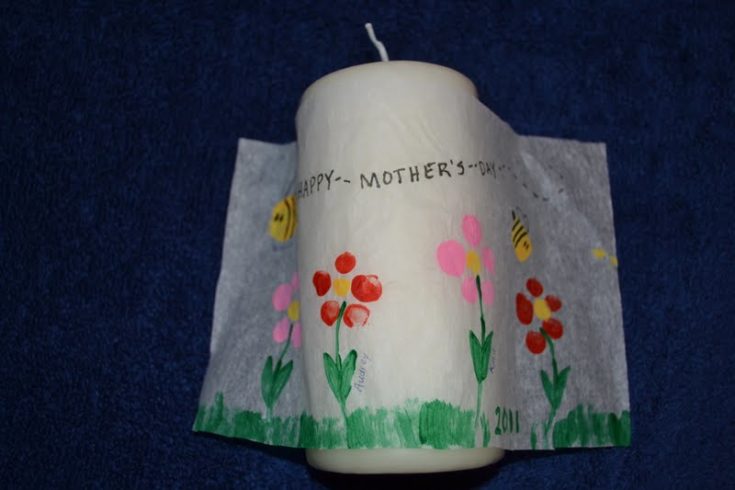 An easy way to personalize candles is by painting white tissue paper with colorful designs and transferring the artwork onto a wax candle with a little bit of heat and some wax baking paper. With this craft, kids can create little fingerprint flowers and paint a simple Mother's Day design onto tissue paper, and an adult can help transfer their artwork onto a candle.
29. Mother's Day Handprint Apron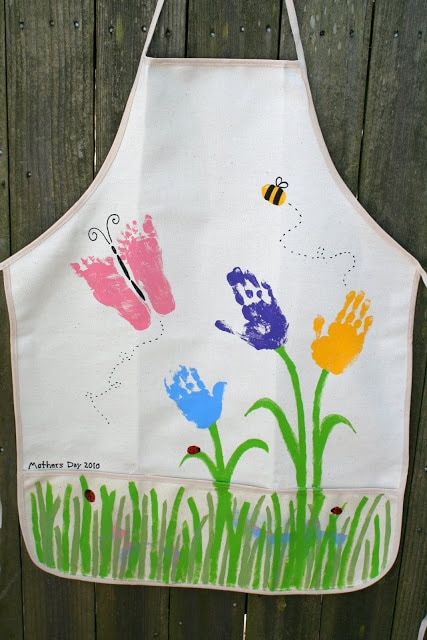 Moms who love to cook will adore this simply painted apron. This garden design is perfect for kids to help create using handprints, footprints and a little bit of good old fashioned finger painting. Be sure to use a waterproof craft paint so that you can still use and wash the apron normally.
30. Printable Mother's Day Book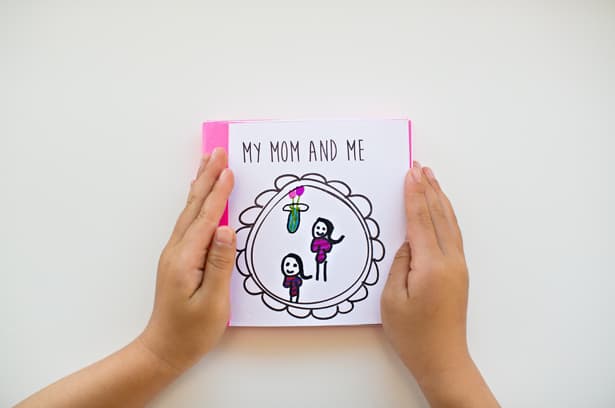 This simple printable book is a thoughtful gift kids can make all on their own. Print out the questions on blank paper and kids can fill in their own unique reflections about their moms and draw pictures throughout the pages. You can mount the pages onto cardstock or staple them together as is.
31. Paper Best Mom Ribbon Award
There isn't a Nobel Prize for being a good mother, but there really should be! Moms work harder than anyone and almost never receive any credit for it. You can honor your mom this Mother's Day with a paper medal for "World's Best Mom" and give her the credit she deserves.
32. A Felt Flower Bouquet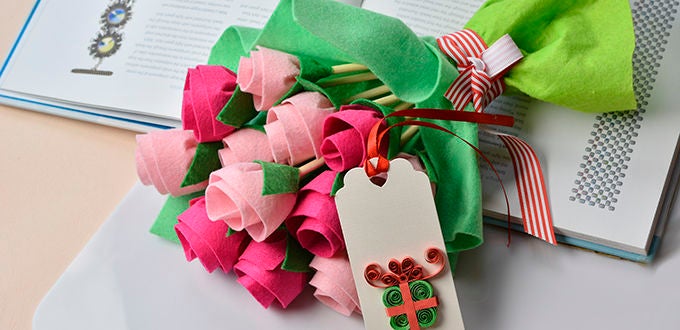 If you love felt crafts, then this simple but elegant rose bouquet is the perfect gift to celebrate Mother's Day. You can use pink and fuschia felt for a more realistic look, or play around with other vibrant colors for a more eye-catching finished project. You can also make a miniature version of the bouquet by using smaller felt squares.
33. This Exploding Gift Box
This amazing paper craft is full of fun surprises. From the outside it looks like a simple paper gift box, but when you open it, the sides unfold to reveal several layers of heartfelt messages of love and appreciation. To make it even more interesting, you can replace some of the messages with coupons or gift cards for your mom's favorite restaurant or store.
34. Coffee Filter Rose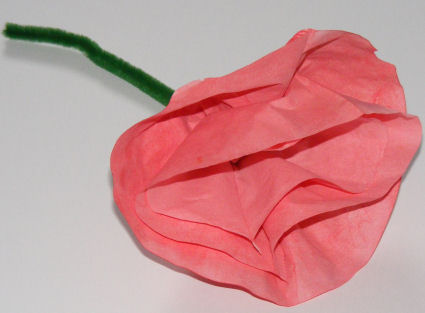 If you are short on time and don't have access to many craft supplies, then this coffee filter rose is an easy Mother's Day craft that will do in a pinch. Use three or more coffee filter papers to create the rose petals. You can dye the papers with food coloring, craft paint, or watercolors to create a beautiful pink hue.
35. DIY White Brick Vase

Fans of the minimalistic loft aesthetic will love this white brick vase. All you need is some very thin masking tape, white spray paint, and a clear vase or jar to use as a vase. This DIY project is a homemade Mother's Day craft that looks like it was bought at a professional home decor store.
36. Handprint Poem Poster
This is a fantastic Mother's Day craft for parents of young toddlers. You can print the template poem or work with your toddler to write your own! Have your kids decorate the edges with colorful handprints and then mount the poem onto a thick sheet of cardstock to create a simple and sweet poster.
37. DIY Floral Bangle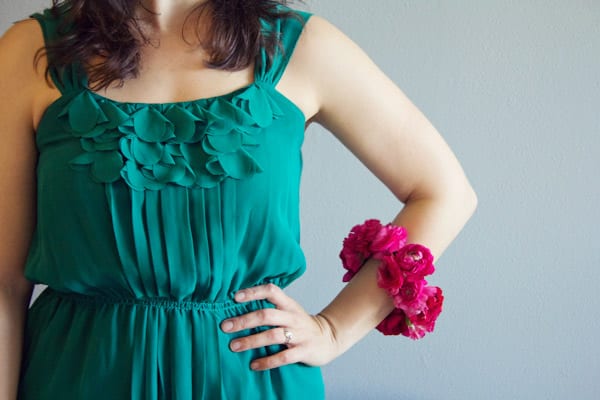 This DIY bangle is a beautiful piece of homemade jewelry you can make for all the wonderful mothers and women in your life. Use her favorite flowers and adjust the wire to fit her wrist. You can personalize the gift even further by creating a printed gift tag to include with the bracelet.
38. DIY Crayon Candle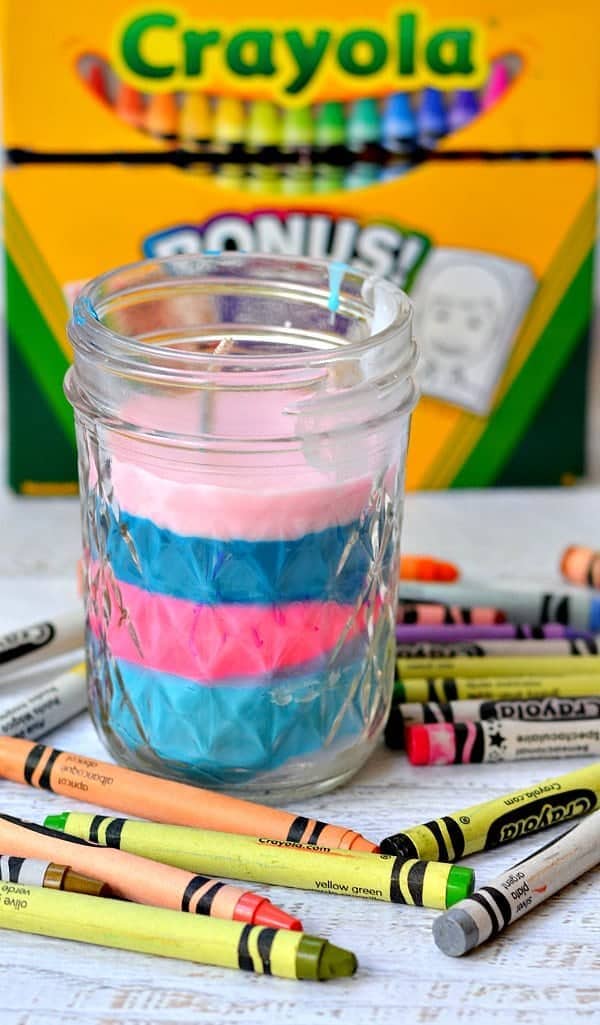 Homemade candles make great Mother's Day gifts. They can be placed throughout the house and filled with essential oils and fragrances that give off lovely, relaxing scents. This particular candle is made using an empty household jar and wax crayons, so you and your kids can make it together.
39. A Simple Bookmark for Mom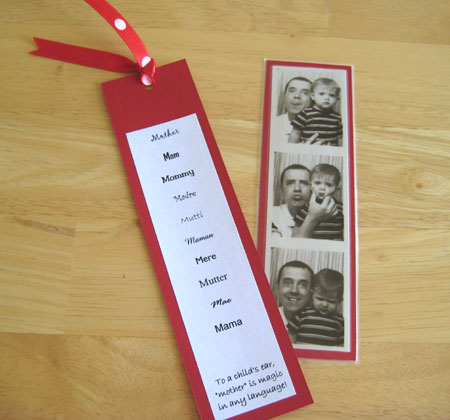 If your mom loves to read, then a bookmark is the perfect gift. Visit a photo booth to get a nice column of family photos for the back of the bookmark. You can also print square-shaped photos on your computer and line them up vertically. Tuck the finished bookmark into a new book to give your mom!
40. Hand-painted Wooden Bracelets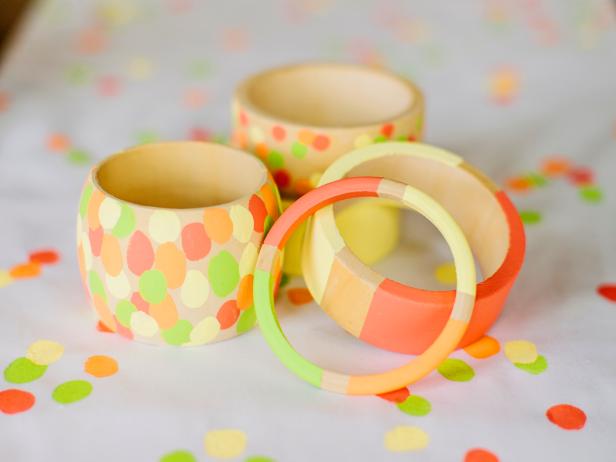 These hand-painted wooden bracelets are the perfect gift to give any mom who likes to wear jewelry. Kids can get super creative with this project, painting different colors and designs with their fingertips. Adults can opt for a more minimalistic and modern design by sectioning off portions of the wood with masking tape and applying paint in nice, clean lines.
41. Bouquet of Flowers Card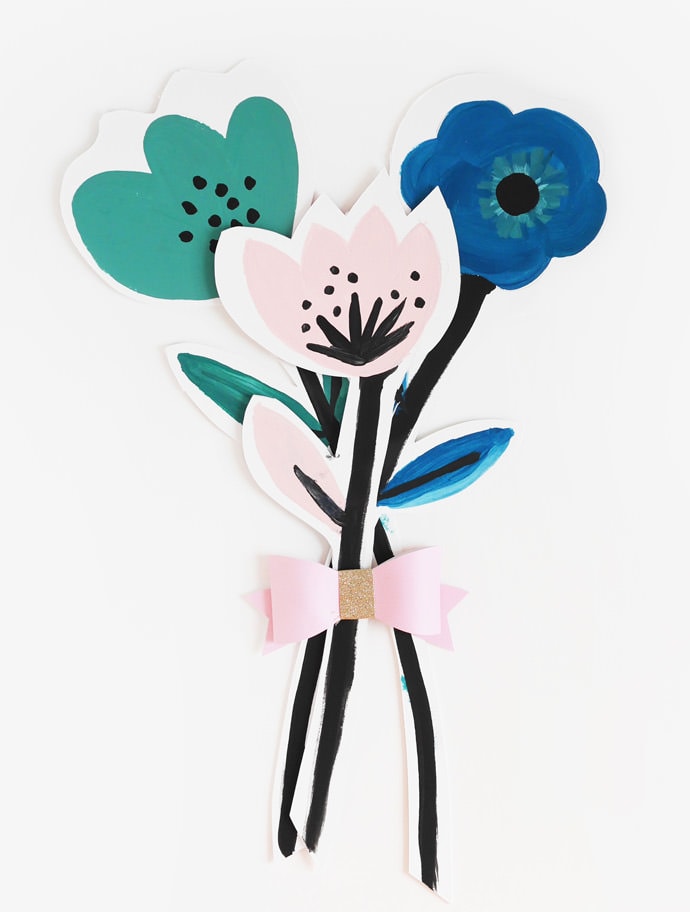 This craft combines all the sentiment of a handwritten card with the beauty of hand-painted flowers. Simply cut the flower shapes out of thick paper or presentation board and use craft paint to add color and detail to each one. When the flowers are dry you can write notes on the backs and tie them all together with some ribbon to finish the gift.
42. Doily Dream Catcher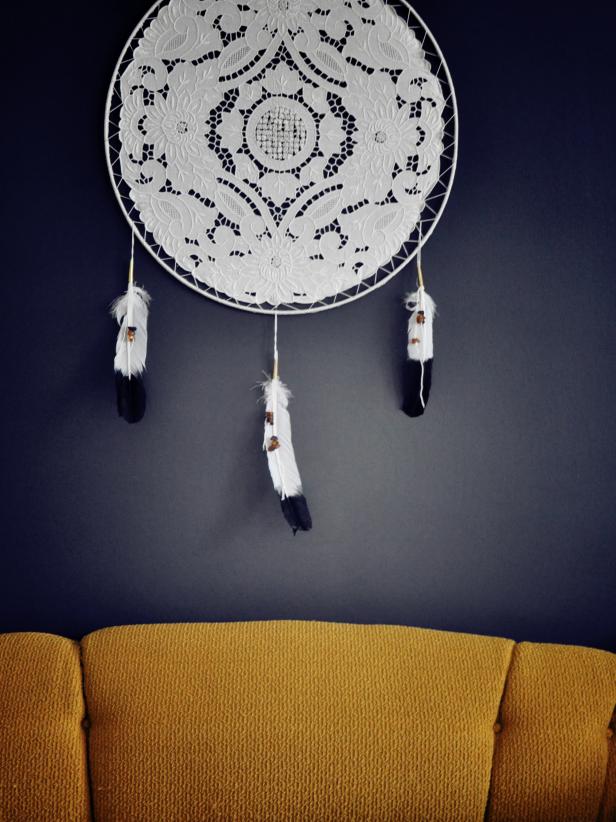 This dream catcher is made from second-hand materials, including a lace doily that you can borrow from your grandmother's house or pick up at any thrift store. Once you've put together the dream catcher you can adorn it with all sorts of stones, gems, shells, and fabric you have lying around and hang it where your mother can always see it.
43. Keepsake Photo Charms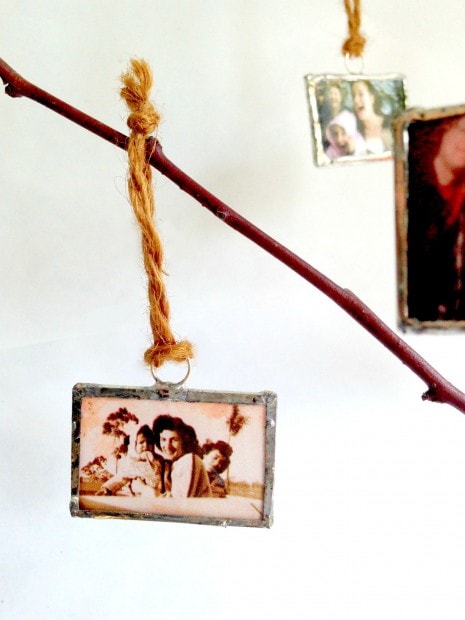 These beautiful photo charms make great hanging ornaments and keychains. They are a wonderful DIY project you can give your mom to make her feel extra special on Mother's Day. If you are new to soldering, this craft is also an easy introduction to a new skill set you can use in a wide variety of crafts.
44. Quilling Craft for Mother's Day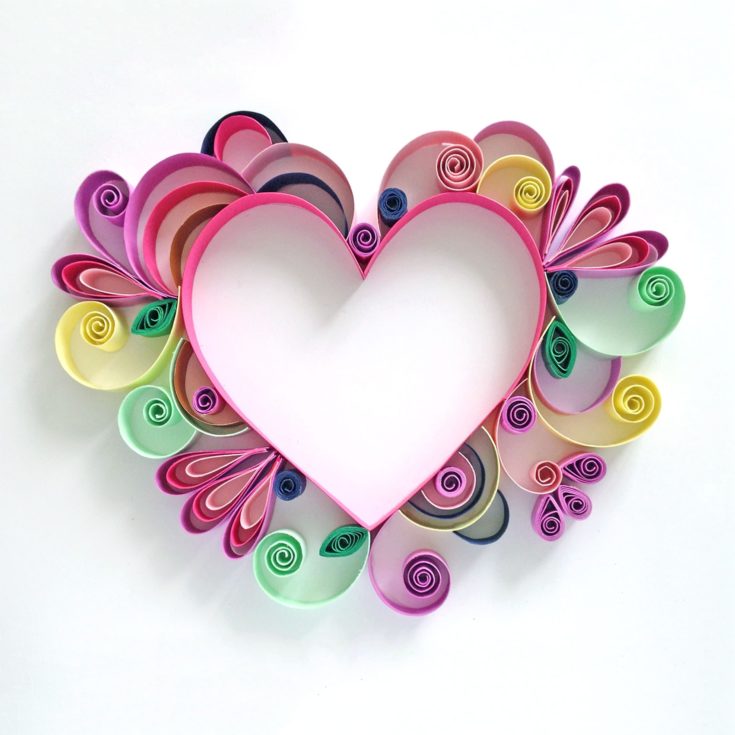 If you've never heard of quilling, then you absolutely have to give it a try this Mother's Day. Quilling is an art form that involves coiling and shaping strips of paper around thin dowels and then gluing them together to create designs. It's an incredibly fun craft and one you can turn into an artsy project to give your mom.
45. Embroidery Hoop Jewelry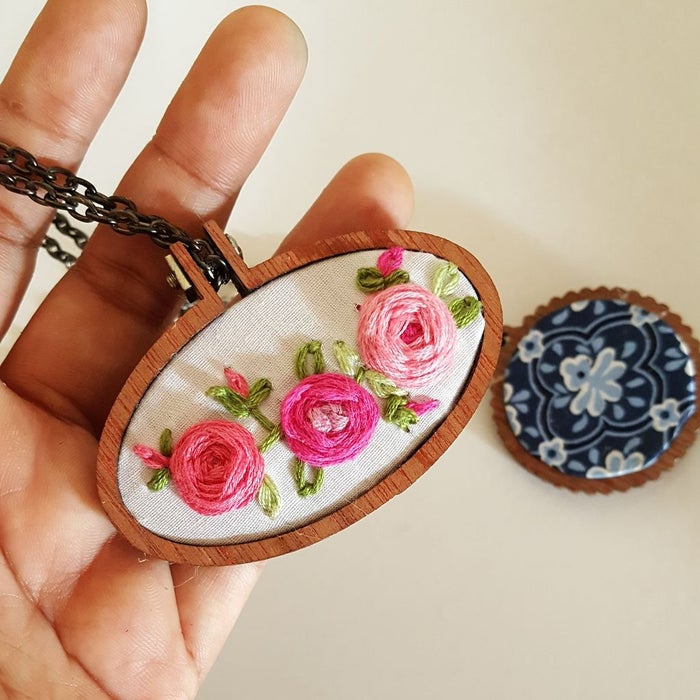 Pocket-sized and miniature embroidery hoops are a growing trend in DIY jewelry making. You can finish an entire hoop much quicker than you would with a normal embroidery project, and easily attach the designs to a metal chain or wire to create necklaces, bracelets, and earrings. These embroidery hoops are so elegant, your mother will love to wear them.
46. A Kid-friendly picture candle holder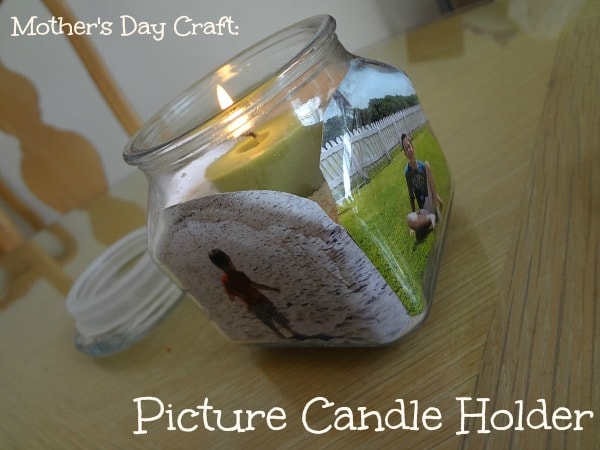 If you love the idea of giving your wife a scented candle for her special day, but are wary of allowing kids near melting wax, then this candle holder is the perfect solution. Kids will be able to take part in all aspects of the craft with very minimal mess, so your wife can have a beautiful gift and you can have peace of mind.
47. A Handy Homemade Notebook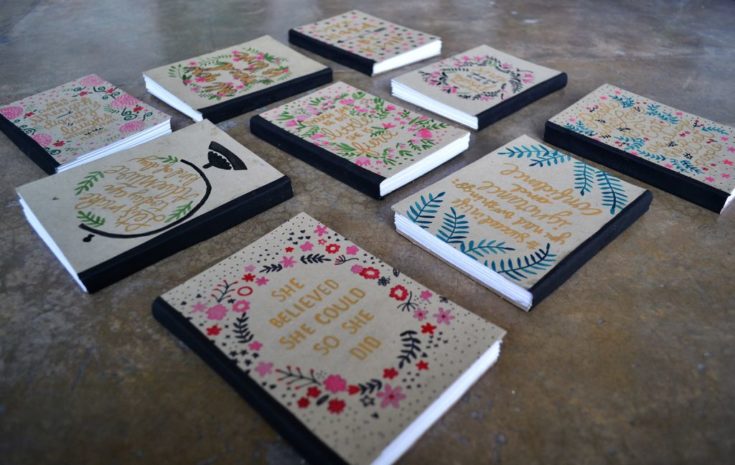 If your mom is a writer or someone who does a lot of journaling, then there's nothing more useful than a good notebook. Even if you have no book-binding experience, you can easily put together this beautiful A6 sized notebook. You can then decorate the cover with an interesting quote and a cute floral pattern.
48. A Quilted Heart Ornament
These fabric hearts are wonderful ornaments that can be hung up during the holidays, used as keychains, or displayed as desk accents. They make great gifts for moms and grandmothers alike and are easy to customize with different designs, words, or fabric choices. Use hollow fiber or fiber fill to stuff the inside and woolen thread for an old-timey look.
49. This Salt-Dough Footprint Heart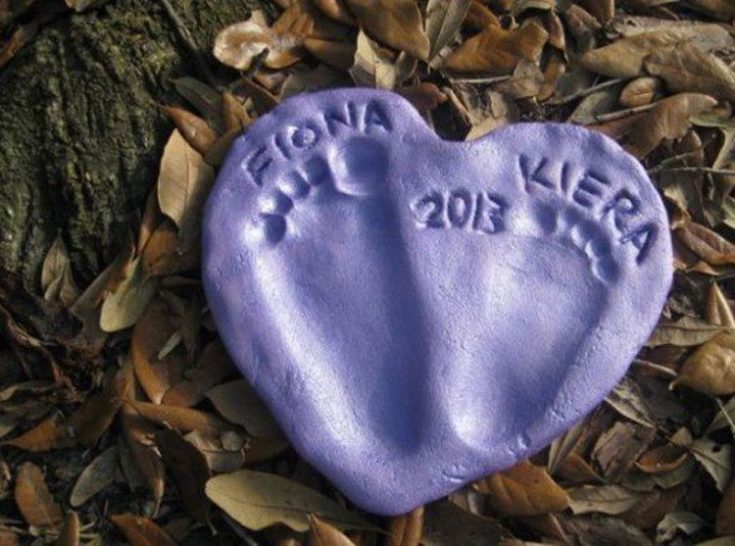 This is another safe and fun craft parents can make with their kids for Mother's Day. Not only is it easy to make, but the dough is made from entirely edible materials, so babies, toddlers, and preschoolers can help put it together without parents having to worry about supplies being swallowed or messy hands getting put into mouths.
50. Floral Pom Pom Wreath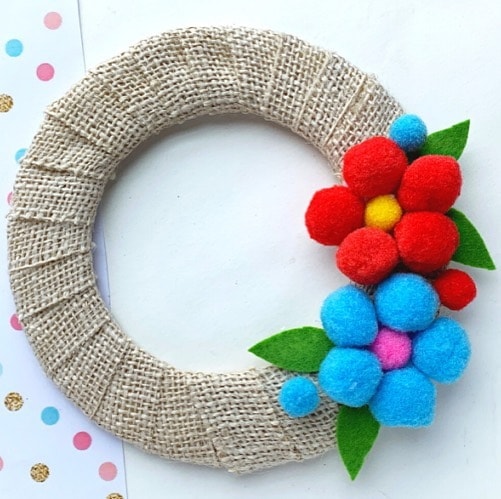 This floral wreath is the perfect Mother's Day gift to hang in your house during spring and summer. You can buy a wooden ring at any craft store to use as the base, or make your own with household materials like leftover cereal boxes. Wrap the ring in canvas, burlap, or fabric and add pom poms to create the flower details.
51. Paper Mache Bowls

It is no secret that kids love paper mache. However, paper mache is usually the type of craft you help your kids with for school projects like dioramas and presentations. Instead, try helping your kids make a paper mache bowl that they can give their mom on her special day. These colorful bowls are perfect for holding office supplies, house keys, and loose change.
52. Button Letters for Mom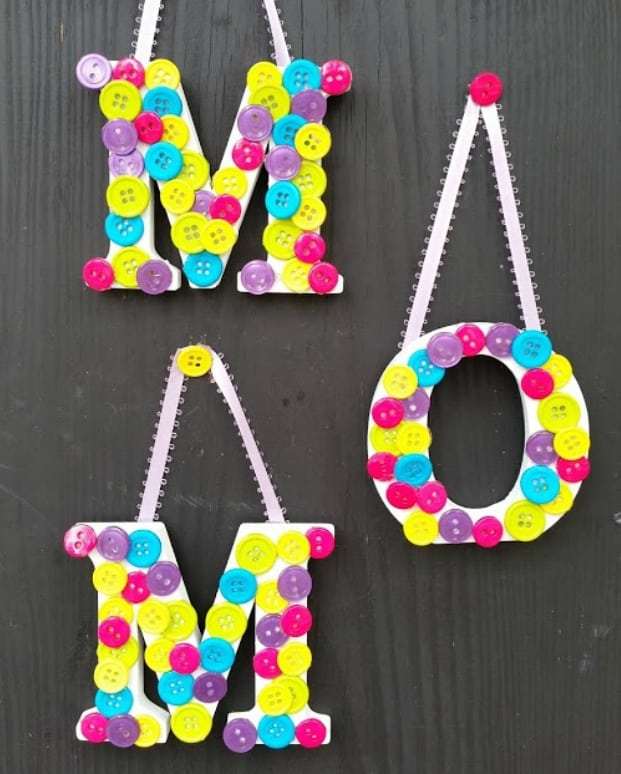 Another really fun lettering craft are these button letters that spell "mom." You can use small wooden letters from your local craft store to spell any word or Mother's Day message. Kids will love applying the colored buttons and you can use glue dots instead of hot glue so even toddlers can get involved.
53. A Mother's Hug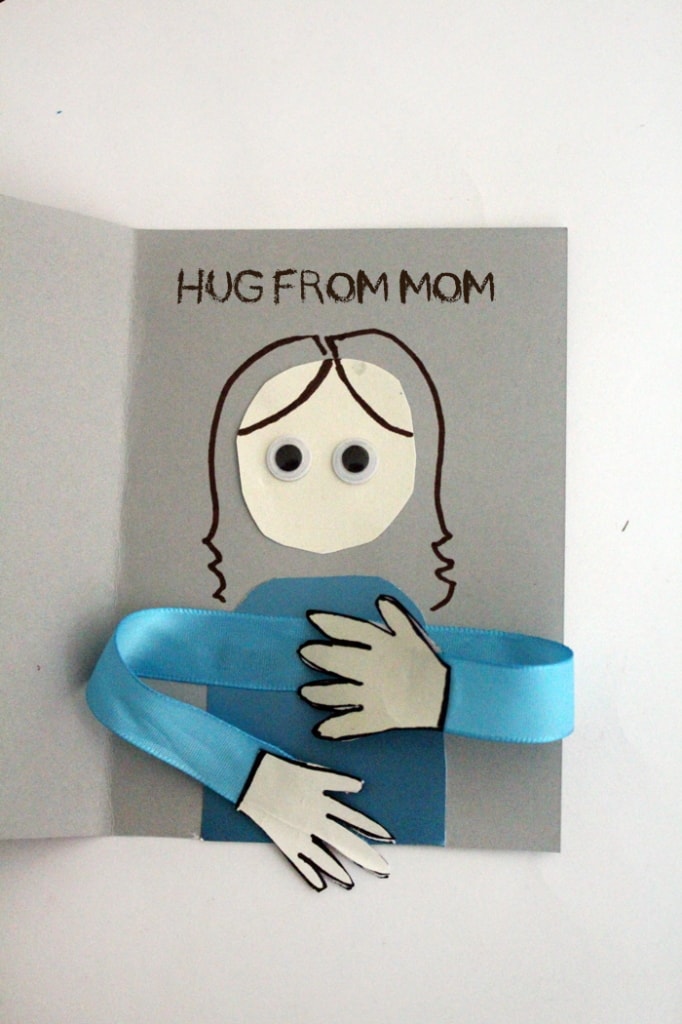 There is nothing better than getting a hug from your mom. Let her know how much you appreciate her by making this adorable 3D card with ribbon arms that wrap into a soft hug. This is a wonderful craft to make at school or at home. All you need is some colored cardstock, googly eyes, ribbon, and glue.
54. A Hand Shaped Ring Dish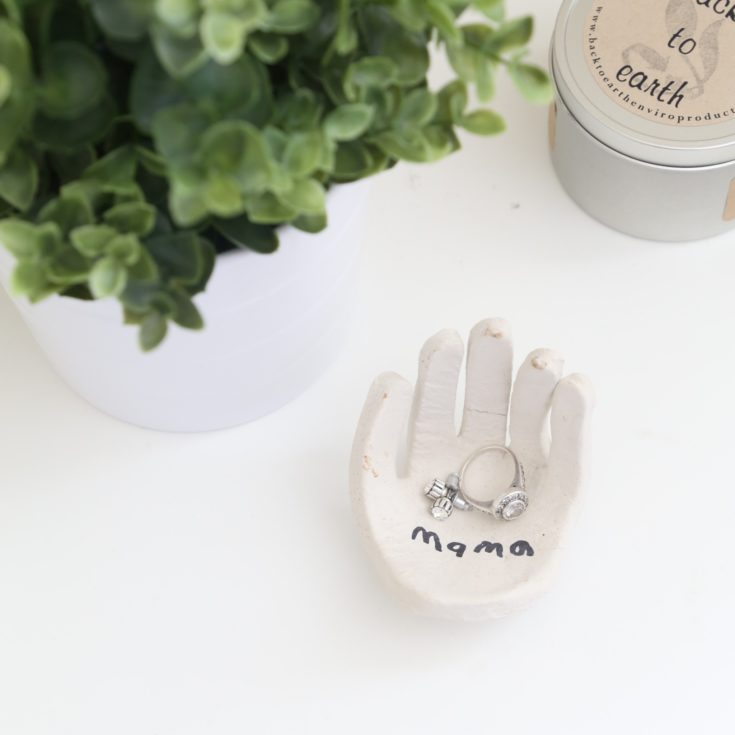 This hand-shaped ring dish is a beautiful and useful craft you can make with your kids. Use your child's handprint as the template for the clay dish and mold the clay around a small bowl. When the clay is dried, your mom can fill the palm with all her rings, bobby pins, and accessories. Better yet, she can hang the rings on the clay fingers!
55. Felted Flower Hair Accessories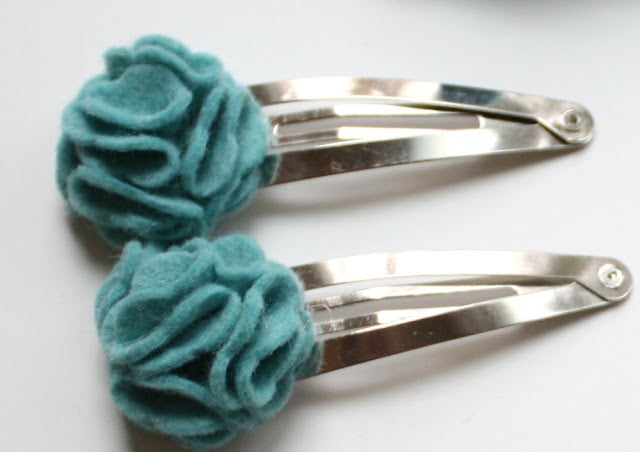 Felt flowers are super simple to make and look great when attached to hair accessories. You can make a variety of different flowers or stick to the tried and true layered carnation. Different sized flowers can be used to brighten up any accessory, including headbands, brooches, hair ties and barretts.
Conclusion
What did you think of this list? These Mother's Day crafts are a sweet way to show all the mothers and grandmothers in your life just how much she means to you. Let me know which craft you are most excited to try in the comments and be sure to share this article with any crafters, parents, and kids you know!
Further Reading