Not sure what to get your dad for Father's Day?
This year, why not try making your own homemade gift! We've rounded up some of our favorite Father's Day crafts and gift ideas, including last-minute Father's Day gifts you can DIY in no time at all. So if you are struggling to find the perfect present for your dad, or you just want to learn how to make a nice Father's Day card, we've got you covered. Here are 61 Father's Day cards and crafts you can make at home.
Father's Day Craft Gift Ideas
1. A Family Handprint Photo Frame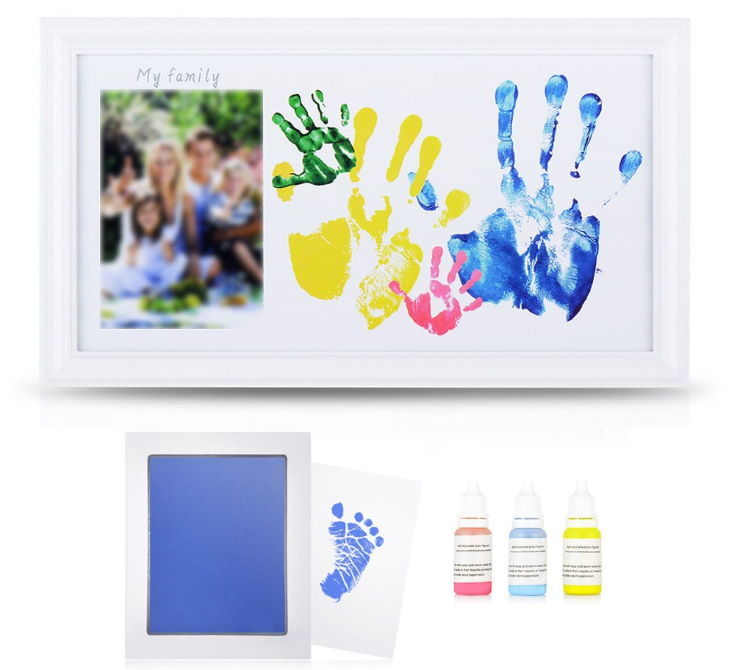 Photo frames make thoughtful gifts for any occasion. This picture frame craft uses a photo mat and a half-sized picture, leaving extra space to display family members' painted handprints. This is the perfect craft for kids to make along with their dads and a wonderful way to celebrate the entire family.
Available on Amazon
2. Building Memories With Dad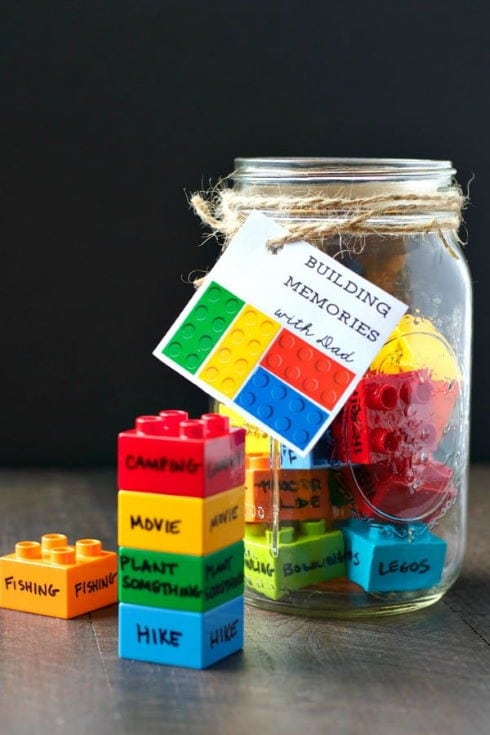 This jar of lego building blocks is a great craft for anyone who loves spending quality time with their dad. Each Lego block is labeled with a favorite activity or fun memory you shared with your dad. Kids can continue to fill the jar up throughout the year, or take the legos out and use them to literally build something amazing with their dad!
3. Father's Day Wooden Key Chains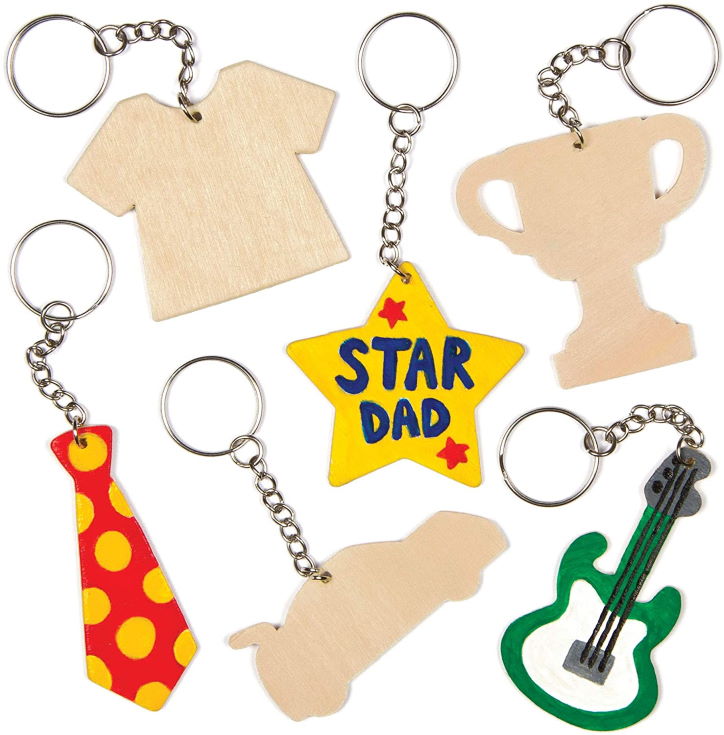 Keychains are practical and thoughtful gifts that fathers will use every single day. Kids can paint the wooden designs however they like, and even add their own special messages like "#1 Dad" or "Dad of the Year." This is also a great craft for school teachers to make with their students, as supplies are inexpensive and kids can use their imaginations freely.
Check on Amazon
4. Plaster Hands and Feet
If you have infants or toddlers and want a special memento to look back on when they get older, then you have to try this father and child plaster craft. The materials are very easy to work with, and all you have to do is dip your hands or little one's feet into the mold.
Check The Price
5. This Wooden Baseball Glove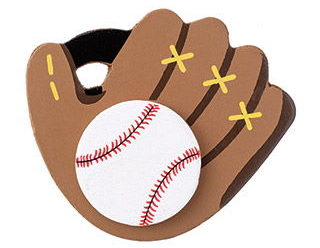 If you love playing catch with your dad, then this wooden baseball glove wall hanging is the perfect gift to give him on his special day. You can paint the wooden craft shape with any ball design you like, including the baseball for "Most Valuable Player" or "All-star Team." Screw a hook into the back so your dad can hang it up next to his desk.
Check Product
6. DIY Handprint Keychains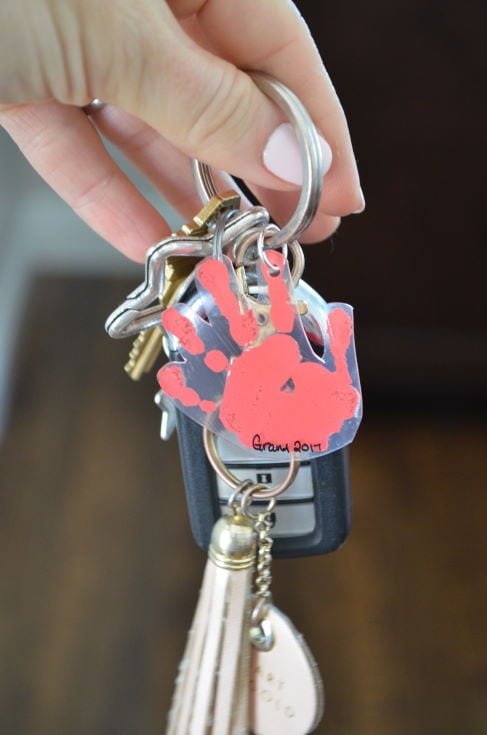 Kids will love making these handprint keychains. The handprints are painted onto special Shrinky Dinks paper that shrinks down to a miniature size when baked. If they don't want to do handprints, kids can also color and draw on the sheets to make tiny trinkets that look like expensive, frosted glass.
7. This Carpenter Themed Coat Rack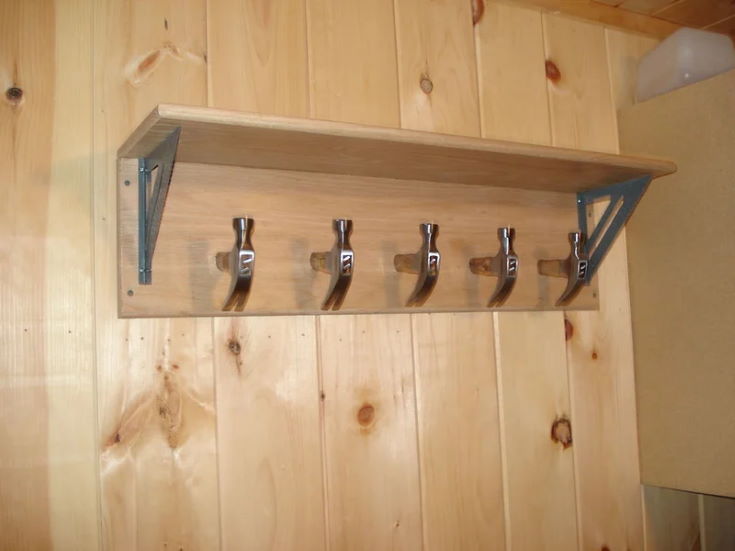 If you and your dad both love woodworking, then this carpenter themed coat rack with claw hammers for hangers is a fantastic gift you can make with very simple materials. Simply cut the handles off the hammers and screw them into a wooden board. Add quick squares as supports and a nice wood stain or protective finish to complete the look.
8. A Simple Wallet Card
This fun and thoughtful craft looks like your dad's wallet but it is actually just a really cool card to give your dad on his special day. Write your message on a separate sheet of paper and tuck it into the paper wallet like a folded bill. You can even add a slot for a gift card to your dad's favorite restaurant.
9. An LED Tie That Glows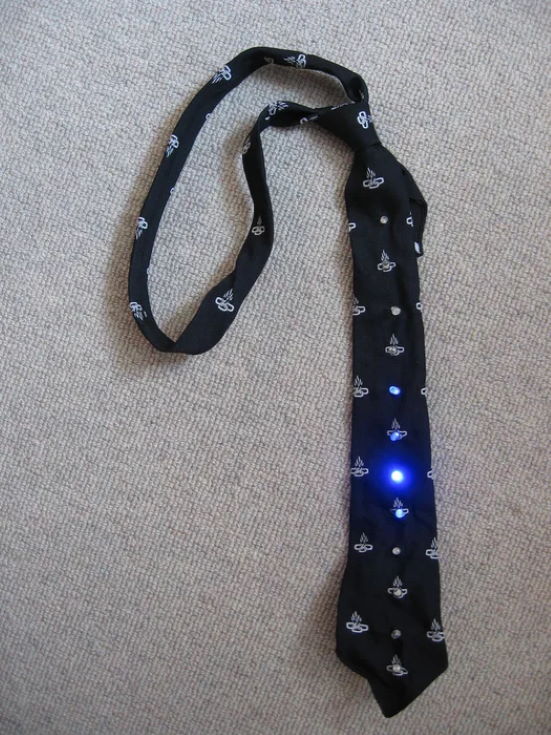 This glowing LED tie is definitely one of the more interesting presents you will ever give your dad. All you need is an ordinary tie, some ultra-bright LEDs, and some very thin wire or conducting thread. Just be careful! This craft is better suited for adults and should never be made using your dad's best tie.
10. A Baby Sign Language Card
This beautiful card idea is very easy to make with some basic crafting supplies and features a cute little baby making the sign for dad. It's a good papercraft to make for dads to be or for deaf parents, and a simple art project for anyone who is short on time. You can also have the baby signing the word for "Grandpa" or "Daddy."
11. Origami Bow Ties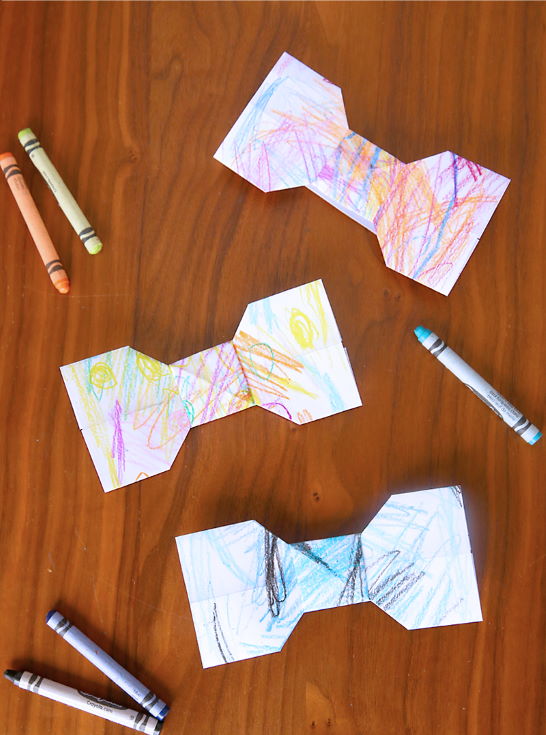 If you are looking for a quick and inexpensive Father's Day craft that is suitable for toddlers and younger kids, then this origami paper bow tie is the perfect homemade gift you can make with ordinary household materials. Kids can scribble all over the paper and you can help them fold it into a bowtie. Glue a piece of ribbon to the back so dad can actually wear it!
12. DIY Embossed Leather Luggage Tag
Luggage tags are essential accessories for any dad who loves to travel. This Father's Day, make your own embossed leather luggage tag using a letter punch set and a small piece of cowhide leather. These tags look way more professional than the traditional paper and plastic ones, so your dad will always be able to travel in style.
13. Bottle Cap Fishing Lures
These bottle cap fishing lures are a cheap, creative Father's Day craft that combines two of dad's favorite things: fishing and beer! All you need are some leftover bottle caps, treble hooks, swivel snap connectors, and some round slip jump rings so dad can easily attach the hooks to his favorite fishing pole.
14. Shrunken Head Lapel Pins
Another great craft you can make using shrink paper is this shrunken head lapel pin. All you have to do is print pictures of your kids onto the paper and turn the shrunken photos into a lapel pin, keychain, or fridge magnet. Give the finished lapel to your dad so he will always have his family with him at work.
15. Hand Stamped Handkerchief
If you are not sure what to make for Father's Day, then this hand-stamped handkerchief is an elegant and sophisticated present any man will love. All you need is a little bit of fabric and a stamp set. You can even make your own stamp out of foam and a film roll cap.
16. Chinese Takeout With Fortune Cookies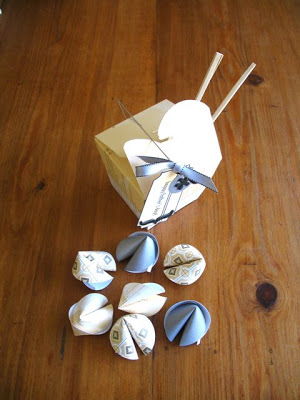 This Chinese takeout box with cardstock fortune cookies is a really unique papercraft to give any food-loving dad. Each of the paper cookies is made with a different patterned scrapbook paper. You can fill the cookies with slips of paper that list all the reasons why you love your dad.
17. Concrete Stepping Stones for Father's Day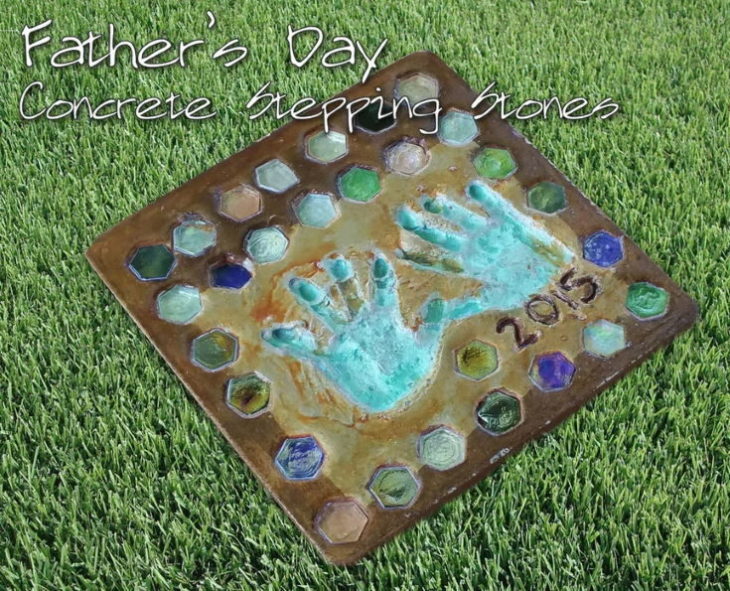 If you want a Father's Day art activity that will last a lifetime, then consider making this concrete garden stepping stone. Kids can help decorate the stepping stone by pressing their hands in the wet concrete and by filling the edges with tiles and found objects like buttons and pebbles.
18. DIY Canvas Wine Tote
If you are looking for things to give your friends with kids for Father's Day, then this simple DIY canvas tote for wine and other party favors is a wonderful present. The rustic, handmade feel gives this DIY project an extra special feel that your friends will really appreciate.
19. A Quilling Display for Your Dad
This rainbow Father's Day display piece is a simple craft you can make with virtually no money. All you need is some colorful paper and a pencil or pen. Create a 3D outline with paper strips that spell out the word "Dad" and fill the outline with quilled paper for a beautiful display dad will be sure to appreciate it.
20. Paper Airplane Garland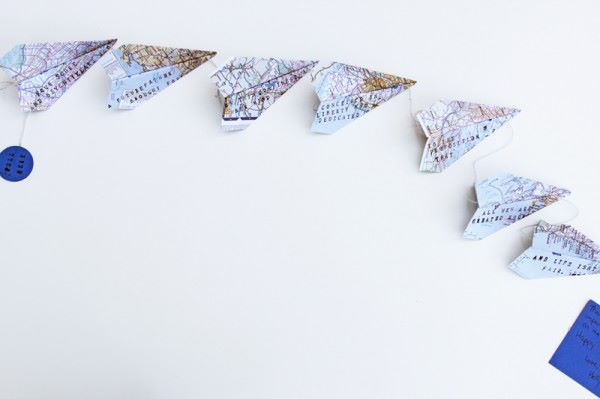 This paper airplane garland is a wonderful party decoration or gift to give any history or travel buff. Each of the airplanes can be decorated with an inspirational message or made out of maps of all the states that your father has visited. Add a pull here sign at one end of the garland and a gift card at the other.
21. Buttoned Up Pillow Cushions
Every dad has a closet full of old button-down shirts he no longer wears. Instead of throwing these out, grab a few to put together this free pillow cushion project. Cut the shirt to match the shape of your pillow. Then sew the right sides of the shirt together and the whole thing inside out for a dad-themed pillowcase.
22. DIY Domino Clock
This DIY domino clock is a fantastic way to repurpose an old domino set and transform your dad's home office space. All you need is a set of clock hands and some adhesive dots, and you can very quickly put together this functional, avant-garde clock project.
23. Rocky Picture Frame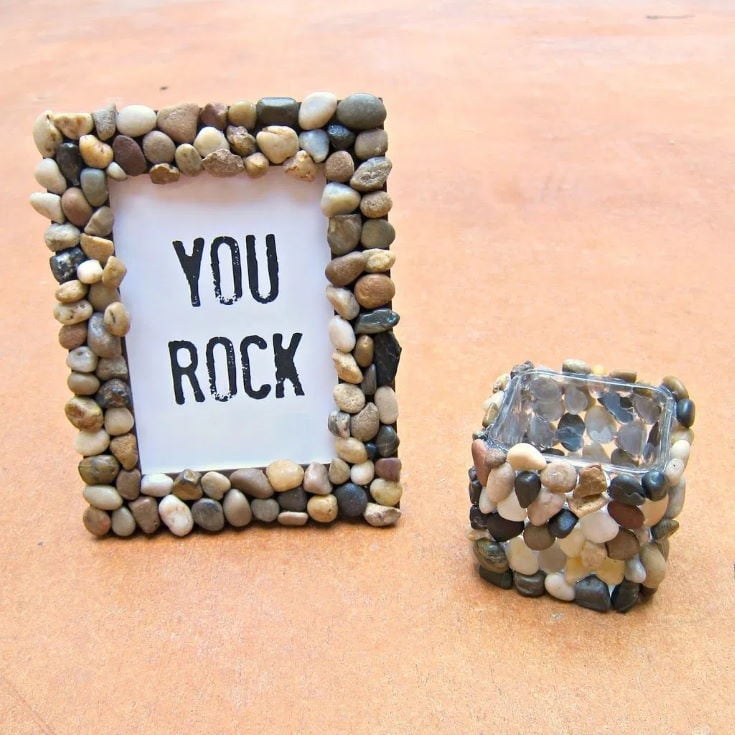 Dads love receiving homemade gifts from their kids. This rocky picture frame is incredibly easy and fun to make. Kids will love playing with the different colored stones! You can use polished stones from any craft store or choose pebbles and shells collected from vacation for a more personalized gift.
24. An Easy Homemade Mug
Tape resistance is a useful art technique that involves taping designs and letters onto the craft surface and then painting over it so the tape can be peeled off to reveal the initial design. Use acrylic paint and bake the mug to lock in the design for a useful and colorful craft your dad will love.
25. A Cutout Frame For Your Dad
This photo frame is made from cardstock cut into bold block letter shapes. Each of the letters is filled with a different picture of dad's favorite little munchkins. The frame can be easily propped up against any desk or bureau for a long-lasting keepsake that will always make dad smile.
26. This Tool Belt Gift Set
Every handyman and woodworking dad will appreciate this stylish and practical gift set. Use any hardware apron to serve as a basket for holding all of dad's presents. You can fill the apron with all sorts of handy gifts and turn free paint chips into themed cards. Use the apron strings to tie the whole gift set together.
27. #1 Best Dad Medallion
Every dad deserves an award for all that they do. This #1 best dad medal is made from repurposed paper plates and is a wonderful way to let your father know just how much you appreciate him. So whether it's a gift from his daughter, son, or wife, this paper medal is something any dad would be happy to receive.
28. This Interactive DIY Car Shirt
This DIY car shirt is designed with playtime in mind. All you need is a little bit of fabric paint and a plain white t-shirt. Paint the road and the surrounding city in black and have your kids help color in the buildings and trees. Dads can lie down and relax all day while their kids have fun racing toy cars around his back.
29. Popsicle Stick Picture Frames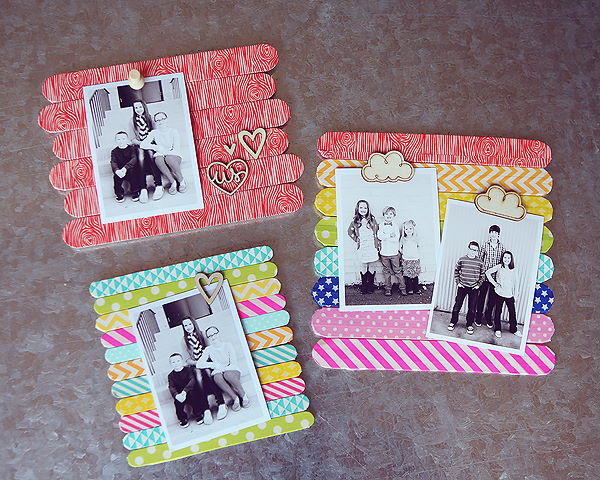 Popsicle stick picture frames are the quintessential kid's craft. If you're an adult, you probably remember making one of these for your mom or dad in grade school. These picture frames still make great Father's Day gifts, but if you want to add a more modern twist, use washi tape instead of craft paint to add funky patterns to the popsicles.
30. This Rustic Twig Frame
For more outdoorsy dads, try making this rustic picture frame with a twig border. Collect small fallen twigs and broken branches from your backyard or local park and break them into evenly sized vertical pieces. Glue the twigs around the border of your picture frame and place your favorite family camping photo inside for an adventure-themed Father's Day gift.
31. DIY Comic Book Coasters
If your dad loves comic books, then these unique DIY coasters are the perfect gift. Get some of your dad's favorite comics at a vintage store, pawnshop, or yard sale and use mod podge to glue and seal the images onto a coaster. You can use premade wooden discs or get creative by repurposing electrical outlet covers or ceramic tiles.
32. DIY Map Wallet
This DIY map wallet is an excellent gift for any dad who loves to travel. You can personalize the wallet by using maps of your dad's favorite vacation destinations or simply use a map of your hometown. If your dad is a history or geography buff, you can also use old atlas pages, cartographic images, or encyclopedia resources for a more vintage aesthetic.
33. Duct Tape Crown Bowls
If your dad likes to play MacGyver and run around fixing everything with duct tape, then this snack bowl is a tongue-in-cheek gift he is sure to love. Simply cut a few strips of duct tape into a crown shape and wrap the tape around any tall bowl. Add a "King of Duct Tape" label to the front to complete the craft.
34. This Fun Word Search Game
This word search card is the perfect gift for dads who love the morning crossword, sudoku, or other word puzzles. Simply print out the word search template onto a piece of cardstock or generate your own using a simple word search generator. As dad plays the game and circles the words, he will reveal your sweet message.
35. Photo Holder Paper Weights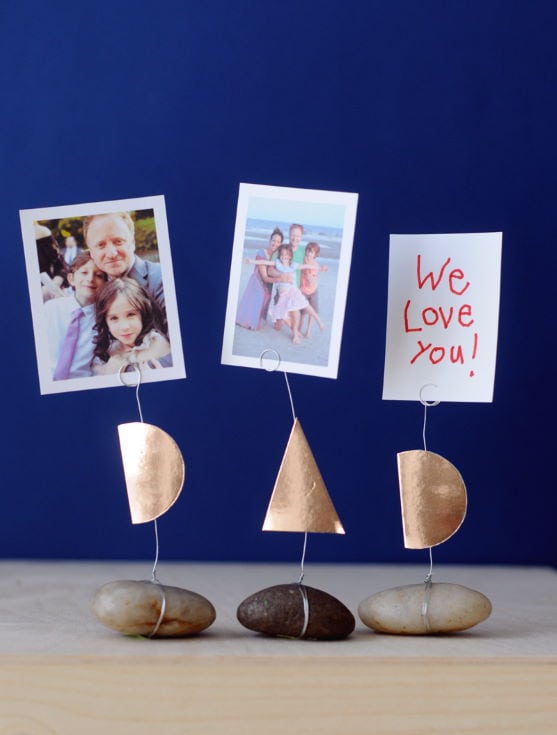 Father's Day is all about celebrating family and how much you appreciate your dad. These simple photo holder paperweights are made from metal strips, craft wire, and some stones from the backyard. The best part is that dad can switch out the photos over time with heartfelt notes or newer family photos.
Father's Day Card Ideas
36. Hawaiian Shirt Coloring Card
If your dad loves to wear Hawaiian shirts, then why not give him a personalized card in the shape of his favorite article of clothing. You can print out the card template and fold it into the classic button-up shirt shape. Then break out the pencil crayons and color the flowers however you like.
Available on Etsy
37. A Sailboat Gift Box and Map Card
This themed gift set is perfect for dads who love sailing. When you have finished assembling the sailboat shaped gift box, move on to the matching map card. You can then fill the gift box with all your dad's favorite snacks and treats and write a sweet message inside the card.
38. A Fold Out Toolbox Card
Although this papercraft requires a little bit of finesse and patience to pull off, the end result is definitely worth it. The 3D card folds up and out like a real toolbox, revealing a "Happy Father's Day!" message that is written entirely out of hardware tools. This is a holiday card that any handyman would love.
39. An Easy Galaxy Card
This simple galaxy card is the perfect gift to give your dad when you don't have access to a lot of different crafting supplies. All you really need is some watercolor paint, heavy paper, and white gouache or any other opaque white medium. This card looks really polished but can be made with inexpensive and readily available materials.
40. A Die-Cut Card for Dad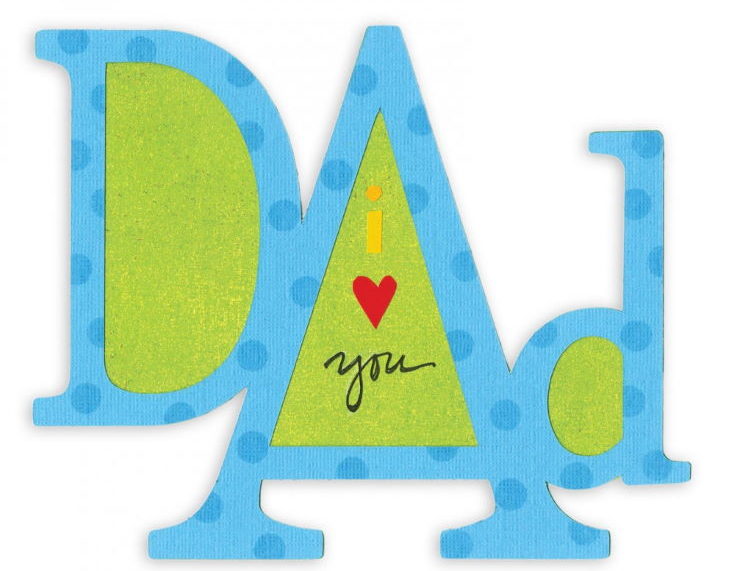 This oversized "Dad" lettering sign can be die cut from a number of sturdy materials, including cardstock, chipboard, fabric, or foam. The die-cutting process makes it easy to customize the oversized letters with different patterns and colors. You can then paste the finished sign onto vellum paper for a beautiful Father's Day card.
GET ONE HERE
41. A Hand-Drawn Back to the Future Card
This amazing Back to the Future card is made with nothing more than a heavy piece of cardstock and a fine point sharpie. If you love to doodle, then you can easily make this card by filling a sheet of paper with drawings of all your favorite movie scenes and quotes. You can do this with any movie that you and your dad both love.
42. This Interactive Dragon Card
If you are looking for a Father's Day card that is suitable for young children and toddlers to make, then you have to check out this interactive fire-breathing dragon card. Kids can draw the dragon themselves and you can help them create the pull tab flame with some spare construction paper and a little bit of glue.
43. This Printable Etch a Sketch Card
This printable card is incredibly easy to make and is a lovely throwback to one of your dad's favorite childhood toys. Print out the picture on some white paper and cut around the Etch a Sketch shape for a more realistic looking card. You can make it more elaborate by writing the inside message in a pixelated font.
44. A Father's Day Fortune Teller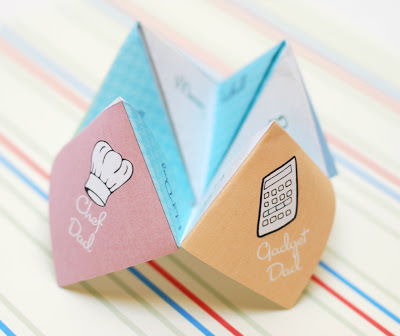 An origami fortune teller is another unique and fun way to make your Father's Day card interactive. Simply print and fold the paper template and have fun playing with your dad to see which coupon square he'll land on. You can also make your own fortune teller and fill it with coupons specific to your own dad's interests.
45. A Punny Watermelon for Dad
Dads love telling silly jokes. This year, get him back with a punny card that is both silly and sweet. You can print out the watermelon template to make sure you get the proportions correct or try going at it freehand. Either way, you will end up with a thoughtful card that is sure to make your dad laugh.
46. DIY Father's Day Banner
If you are throwing a party for Father's Day or simply want to add a festive touch to your home, then consider making this celebratory banner card. Cut the block letters out of rainbow cardstock and string them together to make a garland. Tuck the letters into an ordinary envelope and watch your dad's surprised face when he pulls out the banner.
47. A Classic Car Pop Up
Pop up cards are an easy way to make any homemade card more interesting and are always a fun surprise to receive. This pop-up card is ideal for any man who loves retro cars. You can even personalize it further by using your dad's favorite car as a reference or painting in fine details like brand logos.
48. A Printable Father's Day Book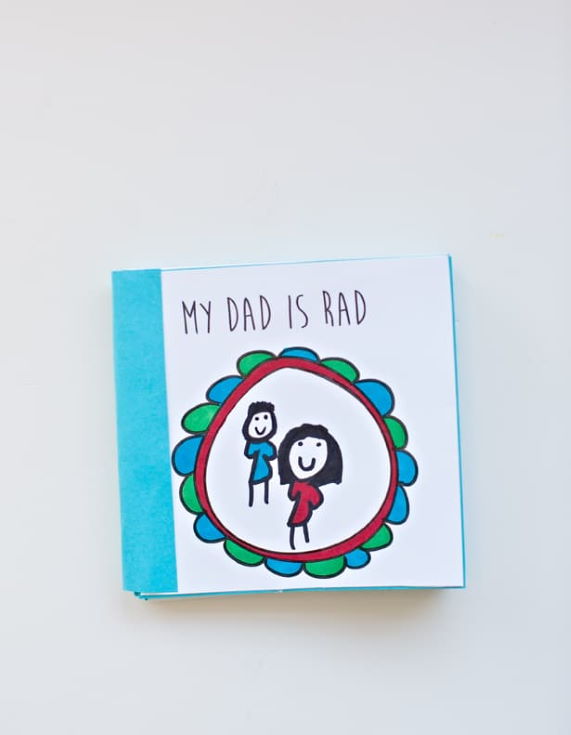 This kid-friendly craft is a great alternative to the simple greeting card. Print out the Father's Day prompts onto blank paper and staple the book together with a colored cardstock binding. Your kids can then fill in the prompts with all their thoughts about dad and even draw their own picture illustrations.
49. This Footprint Tractor Card
If you have really young kids and aren't afraid to get a little bit messy, then this footprint tractor card is the perfect craft to make for farmer dads. Write your messages on the cardstock first, and then have your kids place their painted footprint in the center to serve as the tractor body. Finish decorating the card with wheels and drawings!
50. The Scratch Off Card
Scratch off cards are relatively inexpensive crafts you can make by mixing liquid detergent with silver paint. You can leave little coupons underneath the scratch-offs so dad can reveal his gifts one at a time. Just be aware that this craft requires quite a bit of patience and is not suitable for small children.
51. Dad's Tool Belt Card
This tool belt card is another creative and interactive craft to give your dad on his special day. Use cardboard or heavy paper for the belt and fill it with paper tools. On each tool, you can write a different message of love or write coupons your dad can redeem for things like hugs and breakfast in bed.
52. This Bow Tie Father's Day Card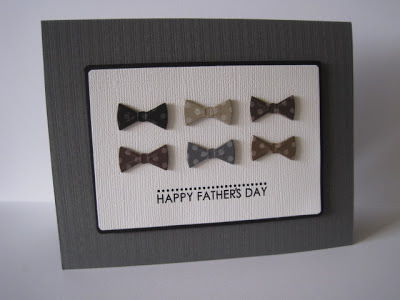 This elegant bow tie card is super attractive and looks good in both neutral and vibrant primary colors. The ties are die cuts that can be scored out of any scrapbook paper, but you can also trace and cut the bow tie shapes by hand. You can even use bits of printed fabric for a more authentic and quirky design.
53. A Washi Tape Criss Cross Card
Washi tape is super easy to use and a simple way to make any homemade card look chic and polished. Play around with different color combinations and criss-cross designs to make this Father's Day craft your own. You can also use little stamps to achieve a nautical theme.
54. Fishing With Dad Card
This fishing theme card is an amazing craft you and your kids can make for Father's Day. All you have to do is draw a fish shape onto a piece of construction paper or print out a fish-shaped coloring page. Help your kids fill in the fish outline with tissue paper scales and add googly eyes to pull the whole card together.
55. A Superman Card for A Super Dad
This adorable superman card is the perfect gift to give on Father's Day. The card is easy to make with scrapbook paper, miniature buttons, and a superman logo cut out. Present your dad with the finished card to let him know that he is your personal hero! You can also use this design to create a scrapbook for your dad: click here for more scrapbook ideas.
56. Polymer Clay Characters
Polymer clay is an incredible crafting tool that kids can play with and shape like play dough, but will solidify and hold its shape when baked. Help your kids make little animal characters that can be baked and glued onto paper for a long-lasting and sweet Father's Day card.
57. Father and Son Fish Handprints
This handprint craft is a great activity that kids can make with their dads. The fish are made from traced handprints and decorated to look like the clownfish father and son duo from Finding Nemo. Paste the handprints onto an ocean background and decorate with stickers, glitter, and messages of love.
58. A DIY Spinner Card
This fun spinner card is very easy to make and a great way to celebrate Father's Day by doing fun activities with your dad. Draw the spinner outline onto heavy paper and write a different bonding activity or edible treat onto each of the wheel's wedges. Use a paper clip or brad fastener to create a spinnable arrow and spin the wheel of dad!
59. Pop up Ice Cream Cone
This craft is a quick way to achieve the fun surprise of a pop-up card without any of the tedious cutting. All you have to do is glue a 3D honeycomb ice cream garland into the center of any ordinary Father's Day card. If you can't find an ice cream shaped garland, you can use a small honeycomb ball and draw the cone underneath.
60. 3D Cards for Dad's Favorite Activities
These 3D cards are a great way to thank your dad for all he does while celebrating his favorite activities. So whether your dad is a golf pro, a master on the BBQ, or someone who takes pride in his perfectly manicured lawn, you can create a homemade card that is meaningful for him. It's also a great opportunity to practice your dad's jokes!
61. Hand Lettered Ribbon Card
This watercolor ribbon card looks like it was professionally made, but is actually something you can put together at home! The ribbon looks three dimensional but is really just painted on the front of the card in two different colors. Use a sharpie to write in your own Father's Day message and decorate the front with a gold gel pen.
Conclusion
What did you think of this list? Dads can be difficult to shop for. This Father's Day, get them something you know they will love by putting together your own handmade gifts and cards. Let us know your thoughts in the comments and be sure to share this article before Father's Day!