Arteza Watercolor Pencils
Arteza Watercolor Pencils are a great way to enter the world of watercolor art. A high-quality variety of 72 colors for artists of every skill level.
Check The Product Here
Artists all have their preferences and choosing the right tool for our particular brand of artwork is key to creating a masterpiece. No matter what sort of art you create, you need the best tools for the job. Painters and sketchers especially work hard to find their medium, and when you work with watercolors, you have tons of options open to you.
More and more often, pencils are taking over for standard watercolor paints. If you're considering investing in a set of pencils, take a look at the Arteza watercolor pencils. They're a great example of what is available and what you can achieve with the best tools on the market. So, let's take a look at an Arteza colored pencils review.
The Beginning
Arteza as a company states that they are humans, not a business and that they are comprised of artists, designers, musicians, and creators. This gives them the drive to design excellent products for art enthusiasts and the expertise to back the desire to please those who purchase the products. The company feels that art is a legacy left behind, a way to express emotion, and they state that such an opportunity should be open to everyone.
This is why they create art supplies and products at reasonable prices that are affordable to the masses and not just to those who have already struck it rich. Arteza has products that are conducive to every budget, and their watercolor pencils are no exception. The price point is reasonable, and they have different sets to meet your budgetary needs while also fulfilling your desire to create.
Pros & Cons
Pros:
Easily affordable with a low price point
Two sizes of sets to meet your needs for variety and cost
Brilliant colors both dry and wet, with a vast array of pigments
Durable with thick core and barrel, as well as anti-roll design
Cons:
Lightfast rating insufficient on some colors
A few shades are very close in pigment and hard to tell apart
The Details
Get One Here
From one of the top brands in art supplies, the Arteza expert watercolor pencils come in a beautiful tin, with a set of 48 or a set of 72 available for purchase. There is also a line of watercolor pencils offered called the Premium set, but these are not part of this review. You can tell the difference between the two easily, as the premium version of the watercolor pencils are made with a triangular barrel, whereas the Expert pencils have a hexagonal barrel. This barrel is preferred to a round barrel since watercolor pencils can be delicate. Rounded barrels tend to roll off the table, causing the inner core of watercolor to shatter.
Each of the colors in the tin is sharpened, and the barrel of the pencil is painted the same color as the core. This gives you an idea of the actual pigment, though it may not be perfect. The core pigment is 4mm, while the barrel measures approximately 7.5mm, so they are generous in core width and sturdy in a thicker barrel setting. One side of each watercolor pencil bears the brand name, while the other is marked with the color name, as well as a corresponding alphanumeric indication of that number, and plus symbols to tout the lightfast measurement of the pigment.
The Arteza watercolor pencils are packaged well, and it didn't seem that there were any damaged pencils in the pack of 72 I got to review. This is crucial since I've had many sets of watercolor pencils that arrived with multiple shattered cores.
Initial Impressions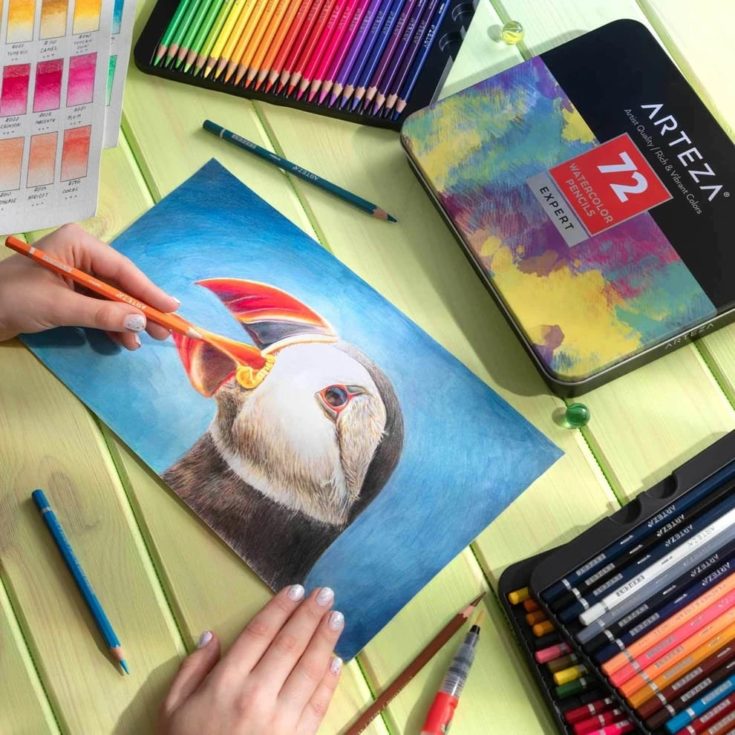 I have used other products from Arteza and been quite pleased with their performance, so I hoped to find that the Arteza expert watercolor pencils held true to form. I started by swatching all the colors, both dry and activated with water. I wanted to see how precise each pigment was and how bright and identifiable they were.
The dry swatches were bright and effectively notable in color. I could tell a distinct difference in the shades, which was very pleasing. It means that, if you want to draw with the pencils in dry format, you'll have brilliant shades that are distinct and readily noticed, even without the eye of an art expert.
The swatches that I activated with water also turned out very bright, a satisfactory level of difference between most of the shades and a readily brilliant appearance that I knew would stand out in a drawing. There were a few colors that were so similar that even my trained eye had difficulty picking out the difference, and I feel like, in a set of 72, this might happen fairly regularly. However, I thought that three or four slots taken up by overly similar pigments could have been better used by shades of other colors. Still, the set is comprehensive, and with the right shading techniques and use of color, the difference in the pigments can come into play.
Construction
As I mentioned, the construction of the Arteza watercolor pencils is ideal, especially based on the value of the product. I've ordered pencils in this price range before and been incredibly disappointed, and I've also paid a lot more for pencils and found them lacking in quality. So, the hexagonal design of the barrel, as well as its thickness, is quite a refreshing design. I feel that the core is well protected, with much less likelihood of rolling off the table or being banged around and shattered.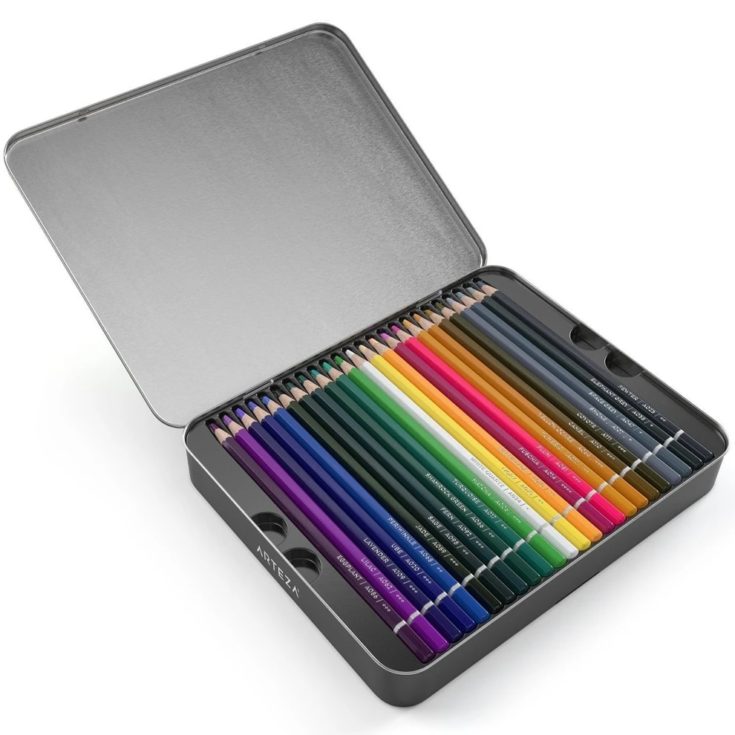 Check The Price
The pigment itself is sturdy, and I didn't have any problems sharpening the pencils again after use. There was no crumbling effect, and while the colors painted on the outside of the barrel weren't 100% representative of the pigments, they were very close. This is why you should always swatch and test the pigments on the type of paper or surface you use most often to get the best representation possible.
In addition to this, I feel that the core is thick enough to not be quite as delicate as some other watercolor pencils I've tried. You get good output from this particular thickness as well, so that you can sharpen to a fine point without the pencil breaking or you can get some good smudging and thick lines if you leave the tips rounded. Either way, the performance is excellent both wet and dry.
Features and Benefits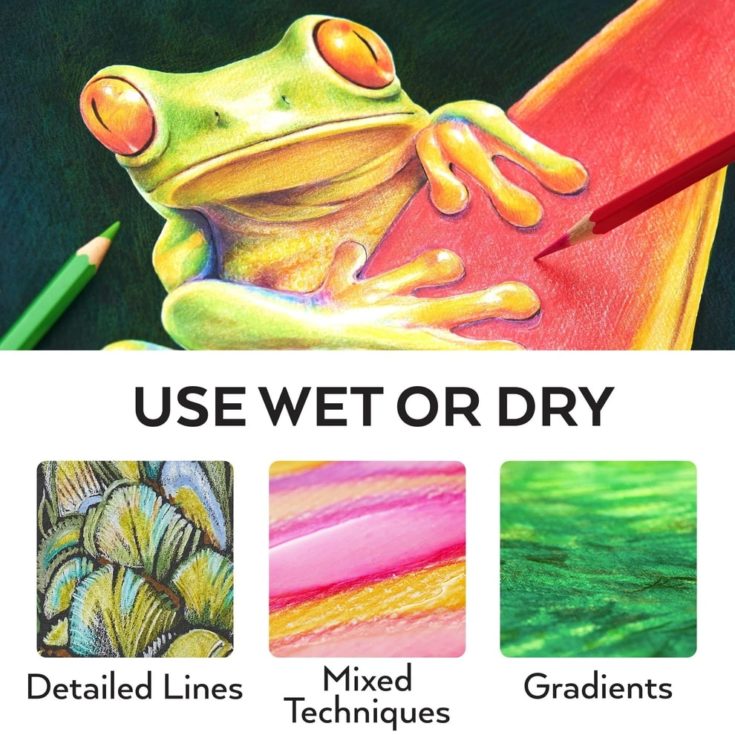 There are a number of benefits to buying and using the Arteza expert watercolor pencils, including the fact that they aren't mass-produced and sold in every store out there. They maintain a reasonable manufacturing cost and sell directly as well as through some larger online retailers, allowing you easy access without a lot of overhead, which can significantly reduce the price you pay for your art supplies. This is true of all of their products, which means that also having other artists run the company and develop the products is a bonus benefit.
The way the pencils are designed is also a benefit, featuring a hexagonal barrel that gives you great grip and also allows you to feel confident that, even if you're scattered and leave the pencils lying around, they aren't likely to roll off the surface and crash to the floor. Having two sets also helps you figure out what you can afford and perhaps even upgrade later when you have more money, while still getting started with a superior product right away.
Another feature of the Arteza brand overall is that, if you are unsatisfied with your purchase for any reason, the company promises to make it right. You can contact them, and they will work with you to better your experience, and that is the sort of business model that makes lifelong loyal customers. This is especially helpful for amateurs since you can't always afford to purchase tons of products and need your investment to work for you.
Sizes
Arteza offers two sizes of sets of watercolor pencils, a set of 48 and a set of 72. The larger set is what I ordered to review, but with the performance and the variety of pigments available, I'm sure that the set of 48 is just as high quality and provides a vast array of shades and tints. The expanded set of 72 actually had colors that were so similar it was hard to define the difference, so it might make sense to start with the set of 48 and get accustomed to the watercolor pencils first anyway.
Lightfast
There has been some confusion surrounding lightfast ratings, both how important they are and how they are noted for the Arteza expert watercolor pencils. Lightfast describes how prone a pigment or color is to fade or discolor when exposed to light. This is touted as an important measure for professionals who intend to display their work in galleries or museums, or who want to sell their artwork. However, some feel that this measurement isn't as crucial as some of the other methods of rating the quality of the pigments used.
Arteza expert watercolor pencils are rated using the '+' symbol, and information has varied in the past regarding what the number of pluses means. This conflicting information had me making a phone call to Arteza to get the final verdict. According to more than one individual (I checked with multiple people to assure the response), fewer plus signs equate to higher quality when measuring lightfast capabilities. So, a single plus means excellent, two pluses mean very good, three pluses mean good, and four pluses mean basic.
At first glance, this could be very disappointing when you start looking through the various pigments. In fact, only 31 of the entire pack are rated as excellent or very good. Professionals likely will not use anything less lightfast than this, meaning that more than half the set would be useless. However, there are personal opinions regarding the usefulness of this rating. Other systems of measuring lightfast quality are coming under scrutiny and being deemed more useful.
Best Price Here
Even if you are concerned with lightfast quality, but you aren't a professional, the Arteza watercolor pencils are great for personal artwork and amateur work to sell. In many cases, I can't tell the difference between the excellent lightfast pigments and the ones rated just good. I haven't noticed any discoloration so far, after having put a couple of my works in bright light for months.
Cost
I'm more impressed with the Arteza expert watercolor pencils due to the low price point. You get a great bargain for the quality of the product for both the set of 48 and the set of 72. Prices vary throughout the world, and since these pencils can be shipped almost anywhere, I took a look at pricing by region. No matter where you live, the price is reasonable and affordable, even for amateurs just getting started. Here is the breakdown of MSRP:
US based price: $16.98 for the 48 pack, $30.99 for the 72 pack
UK based price: £17.99 for the 48 pack, £24.99 for the 72 pack
Europe based price: €19.99 for the 48 pack, €28.49 for the 72 pack
Reviews and Feedback
All the other reviews I've seen about the Arteza expert watercolor pencils sets have been mostly positive. Users like the way the pencils are designed and feel that they are sturdy and reliable. They like the tin in which the pencils ship and can be stored. They have no issues sharpening pencils and feel that the variety of pigments is ideal for getting the most out of their blending and shading with multilayered designs.
Some have stated that their sets arrived with one or two shattered cores, but this is minimized by the packaging used and the thickness of the barrels around the cores. And contacting Arteza with a disappointing number of shattered pencil cores can assist in getting you taken care of quickly and with courtesy. This is another aspect that users rave about – customer service. I, too, found that calling for information was easy, and representatives I spoke with were both kind and helpful, with expert knowledge on the products.
Most reviewers stated that they had no issues with lightfast, and I found that this didn't matter as much as is often claimed. Everyone was satisfied with the price point and felt that they got a great product for what they paid, usually better than expected based on comparison pricing and quality.
Who Would We Recommend Brentwood Home For?
The Arteza expert watercolor pencils are especially good for beginners and amateurs since they are sturdy and easy to use. They offer vast variety of pigment shades and tints, and you'll find that they last because of their construction and the generous core size. While some professionals may not be satisfied that these pencils are lightfast, I would still recommend them for anyone who is selling work and working with all the different shades. You won't get a lot of discoloration, and if you're still learning or finding your style, you can benefit from the low cost as well.
Our Final Verdict
Overall, the Arteza watercolor pencils are an excellent product that I would recommend to anyone who wants to use watercolors without a great deal of mess. Even if you're clumsy or scattered, you'll find it hard to harm these pencils. The tin is a great storage resource, protecting the pencils, and they won't easily roll off your surface even if you leave them strewn all over the table. They are excellent both wet and dry and brilliant shades and tints mean you can smudge, shade, and layer your design with excellent results.
The low price point means they are affordable, so they make a great investment without breaking the bank. In addition, you can choose from two sets, sized to meet your needs. The Arteza company backs its products with the mind of an artist – assuring that, if you aren't happy, they'll find a way to make it right. This guarantees you have a good experience with the products and the service. Therefore, I feel that these watercolor pencils are a very useful and delightful product.
**See our review on Arteza's brush pens here, and Arteza Gouache here.