Drafting tables are a really awesome thing for people who work with sketches and designs. However, if you've never purchased a drafting table before, we can see how it can be a little confusing knowing what to look for in such a product. Finding the best drafting table isn't easy, but we are confident that our tips and product suggestions will put you on the right path.
Quick Comparisons of the 5 Best Drafting Tables
IMAGE
BRAND
FEATURES

Studio Designs Craft Station

Dimensions: 40.75 x 25.75 x 30 inches

Adjustable height: no

Materials: tempered glass, coated steel

View Product

Studio Design Black Drafting Table

Dimensions: 43.25 x 24 inches

Adjustable height: yes

Materials: glass top, metal

View Product

Fiberesin Dowel Drafting Table

Dimensions: 39.2 x 48 x 32.5 inches

Adjustable height: no

Materials: manufactured wood, solid wood

View Product

Studio Wood Drafting Table

Dimensions: 36 x 42 x 30 inches

Adjustable height: no

Materials: solid wood, metal

View Product

Dimensions: 55 x 23.62 x 37.4 inches

Adjustable height: yes

Materials: wood, powder-coated steel

View Product
Uses of a Drafting Table
In a world where everyone has switched to digital, we can't help but wonder if there are people out there who still need a drafting table? With CAD software becoming mandatory and digital tablets that allow you to hand draw digital sketches, it almost seems futile to purchase just a product. So, what are some of the uses for them and who could still draw benefits from it?
Since one of the main uses is technical drawings, all engineers, architects, or students of both these professions may discover that it provides them with space and mobility they need to work on their sketches and drawings.
They may also be an excellent choice for people who like to paint, making them suitable for artists. Since they are good for sketches and drawings, it makes sense for artists to consider them a worthy purchase.
Another category of professionals that could use one are filmmakers. This will help them work on their storyboards.
Cartographers can use them to work on large maps, but the fact that the tabletop angle can be adjusted also helps them a lot.
Fashion pattern drafting is something that could use a surface like this as well.
Choosing the Right Drafting Table
As with most other products out there, the number of products like this that you can now find on the market could make the shopping process a bit overwhelming. At that point, you will have to prioritize what you need from a product like this and start paying attention to the following aspects:
Size
When it comes to drafting tables, size matters. There is such a thing as having one that's either too big or too small for you. If you don't have enough storage space at home or in the office, having a large surface will get in the way (or you might not have enough space to put it in the first place).
If it is too small, you won't have enough space to lay out all your designs, sketches, blueprints, etc. and you might end up accidentally knocking things over or having stuff get in the way while you're working. That means that the table should definitely be large enough for your needs. If you have limited space for a table, measuring the available space will help a lot in deciding on the right size.
Price
To some people, price might not be an issue, but products like this range from really affordable to ridiculously expensive, which is why you need to establish a spending limit if you don't have that much money to spend. Before you establish a budget, you will need to consider the size and type of drafting table you want and set a realistic budget accordingly.
Larger tables are often more expensive, and we don't think that's something you should compromise. Buying a working surface that's too small just to save money might cause a lot of frustration, so keep that in mind.
Adjustments
The adjustability of them is another aspect that's important to a lot of different shoppers. One of the reasons why having a special surface is important for artists, engineers, architects, and the likes, is because working with large sketches and blueprints will require adjusting the working angle ever so often. With an adjustable work surface, you can establish the vantage point and height that are most suitable for you.
Design
The design is also something that you need to take into account because different types of drafting tables have different specifications. Pedestal style models have a broad tiltable range and are easily operated by something like a lever or a switch. Four-post designs provide more stability and generally have decent storage space. Fold-away options are more portable and easier to store when they're not being used (good for people with limited space).
Top 5 Drafting Table Reviews
Time to look over our best of the best pile and look at some of the coolest, best-looking, highest-quality, and affordable drafting tables available today on the market.
1. Studio Designs 10053 Vision Craft Station
Dimensions: 40.75 x 25.75 x 30 inches
Adjustable height: no
Materials: tempered glass, coated steel
CHECK THE PRICE
The Studio Designs 10053 drafting table is a really solid product from a lot of points of view. It has a beautiful design that features a tempered blue glass top which can be tilted at a 70 degrees angle so that you can adjust the vantage point and work on your designs without having to constantly worry about turning your papers around.
The "skeleton" of it is made from coated steel, constructed to provide a lot of durability. The two steel legs of the table are equipped with two casters each, making the table mobile and easy to get into position. You can move the table around the room as you see fit.
As far as storage is concerned, you take advantage of the three plastic molded drawers that will help store your pens, erasers, pencils, brushes, or whatever other small tools and drawing equipment you may need every time you sit at the table to work on your projects. Sadly, the height of the table isn't adjustable, which means that you'll have to purchase a drafting chair with an adjustable height to compensate.
Who Should Buy It?
The Studio Designs 10053 model is the best drafting table for artists with storage, but also for those who want a good-looking glass table with a solid steel backbone. It's a good purchasing choice for those who either own or plan to buy an adjustable drafting chair since the height of the table is fixed.
Pros:
Beautiful design.
3 storage drawers.
70 degrees tilting angle.
4 side strays for supplies.
Equipped with casters.
Cons:
Height is not adjustable.
2. Studio Design Black Glass Futura Height Adjustable Drafting Table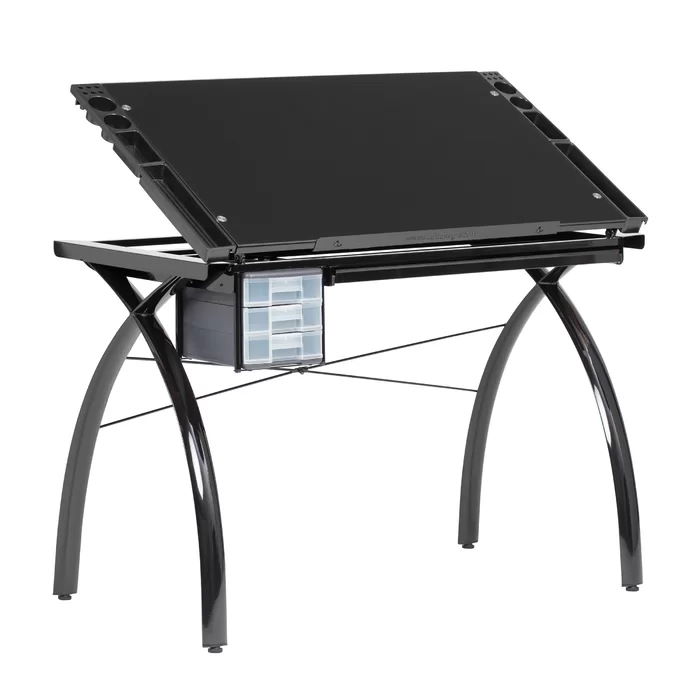 Dimensions: 43.25 x 24 inches
Adjustable height: yes
Materials: glass top, metal
CHECK THE PRICE
The very next item on our list is this amazing architectural drafting table from Studio Design. It brings forth useful features that are great for architects or architecture students. It is made from a combination of glass and metal, looking as fine and as professional as it feels using it. It has a timeless design that fits into every modern home or office, and the black overall finish is just astonishing.
As far as the other specifications are concerned, this model table shares a lot of the benefits that the previous model also provides. It comes with four removable drawers that are placed on the side of the table, so they can be out of the way, but easy to reach whenever needed. It has three plastic storage drawers underneath the table, on the side, perfect for concealing your small tools and items needed for your work.
There is a bracket on the underside that allows you to adjust the angle. You can adjust the angle of the table to a maximum of 35 degrees, which isn't the most generous option, but it does work for a lot of people.
Who Should Buy It?
The Studio Design work surface is a great option for people who are either studying architecture or practicing it, but it can also serve other professionals who need an adjustable and tiltable table for their work.
Pros:
3 storage drawers.
Tiltable tabletop.
Angle lock.
Side drawers.
Modern design.
Cons:
3. Fiberesin Dowel Drafting Table
Dimensions: 39.2 x 48 x 32.5 inches
Adjustable height: no
Materials: manufactured wood, solid wood
CHECK THE PRICE
The Fiberesin Dowel drafting table is a more expensive product, but once you see it, you'll begin to understand why. It is designed to be a solid wood desk with a tilting top surface, which makes a lot more versatile not because of that aspect in particular, but also because it provides a ton of storage space.
When the adjustable top is lowered, it can basically be used just like any normal desk. You can place a computer on top of it, get some writing done, or even put a sewing table on it and start working on your stitches. Because of its construction, this table doesn't offer you the possibility to adjust the height, which means that a chair with adjustable height might be a good purchase.
The desk is equipped with no less than six very generous drawers, which offer a ton of space for storing everything from papers to rulers. The drafting table has a weight capacity of 500 pounds and all the drawers are equipped with a safety stop.
Who Should Buy It?
The Fiberesin drafting table is for big spenders who are looking for something more along the lines of a desk with a tiltable top, and for those who need plenty of storage space.
Pros:
High-quality construction.
Beautiful design.
Doubles as a desk.
Plenty of storage space.
Drawers can be locked.
Cons:
4. Studio Design Solid Wood Drafting Table
Dimensions: 36 x 42 x 30 inches
Adjustable height: no
Materials: solid wood, metal
CHECK THE PRICE
Students that are in need of a drafting table will probably need a more basic model, one that doesn't occupy a lot of space and is a budget-friendly alternative to desks that can cost more than $500. That's where the Studio Design desk steps in: to give you the right working space without the extras and without making you spend too much money to get it.
It's made from solid wood and metal hardware that allows you to tilt the top side of the table at your convenience. The angle range is a maximum of 90°, which is already more generous compared to what other tables in a similar price range can offer. It has a total weight capacity of 25 pounds, which is pretty solid considering the price and the minimalistic design.
The bottom side of the table top comes with a pencil ledge that will prevent your sketches from sliding off the surface, but it also serves as a support for your writing tool. There are also multiple sizes to choose from.
Who Should Buy It?
Students probably don't need the fanciest drafting tables, but they are rather oriented towards something that's budget-friendly and gets the job done. If that's something you would like in a product like this as well, this one is the right product for you.
Pros:
Great for students.
Good price.
Minimalistic design.
Quality wooden construction.
90° rotation angle.
Cons:
No storage space.
No adjustable height.
5. SUPER DEAL Drafting Desk Drawing Table Desk
Dimensions: 55 x 23.62 x 37.4 inches
Adjustable height: yes
Materials: wood, powder-coated steel
CHECK THE PRICE
From the first second you lay your eyes on the Super Deal drafting table, you are going to fall in love with the design and the fact that it has so much to offer. From the beautiful combination of light wood and black metal to the multiple storage options available, this is a gem from multiple points of view.
Constructed with an iron frame, the table is capable of supporting your weight when you lean on top of it to work. The wood grain melamine on top has a light shade that creates a perfect contrast and makes the table a real pleasure to have in the room.
But what I really want to talk about is the well-thought-of storage space and clever compartments that this drafting table is equipped with. There is one large slide-out drawer right underneath the desk which can hold a bunch of different tools and papers that you might need. There are also a lot of side compartments that can be used for writing tools, erasers, brushes, or whatever else you need to have at hand when you work.
Who Should Buy It?
The Super Deal drafting table is the perfect all-in-one kit that's a perfect choice for people who work with a lot of writing/drawing/sketching tools, but also makes a worthy purchase for those who want a stool included in the package.
Pros:
Included stool.
Generous storage space.
Clever compartments.
Beautiful construction.
Adjustable height.
Cons:
No back support on the stool.
Bottom Line
As you can see, the market is no stranger to drafting tables, so finding one that matches your expectations is entirely possible, although it may require a little bit of digging on your behalf. It's really important for you to prioritize when you need such a product before actually buying one.
Is having an adjustable height important to you? Do you need all the extra storage space you can get? Do you want a large or a small one? Will you have to move it constantly from one corner of the room to another? Answering questions like these should be the first step in making a purchasing decision.