Whether your line of art is in painting dope wolves howling at the moon on semi trailers, working on unique t-shirts or designing huge murals, there is no doubt that airbrushing is here to stay as a unique and legitimate art.
Although it's been around for ages, the rise of airbrush design on television as featured on reality automotive shows such as Pimp my Ride and American Chopper has once again brought the art form into the foreground.
Finding the right compressor that lives up to the job is a fine art in itself and you are going to want something that can stand the test of time and isn't going to break your back if you have to carry it around.
Noise can be a factor too, depending on your workspace and so it's nice to have a machine that packs a lot of punch but isn't annoyingly loud too. Check out my recommendations below for the best compressors for airbrushing.
What to Look for When Purchasing an Airbrush Compressor
Portability and Storage: If I'm going to be hauling an air compressor around, I'm going to want something that isn't too heavy and hopefully has a handle.  Something that isn't too bulky helps too so it can be stored away easily. While some people build a nice case for their compressors, I'm looking for machines that are easy to carry on their own.

Value: What I'm looking for here is a good price for what you get. If you get bonus accessories that's even better. Basically an all around good price for the brand name and included extras is what I'm after.

Durability: Power and durability are key here as I want a machine that can stand some banging around, travel and a lot of use. If it has a decent warranty, that's even better.

Noise Level: Just because I want power doesn't mean that I want a lot of noise. Sometimes I'm going to be working in an area that I need to be a bit quieter and I'm not always going to be outside. A decent decibel level is a total bonus with a good machine.
---
Master Airbrush High Performance Airbrush Air Compressor with Filter
As Master's best selling airbrush compressor, it's clear why this should be one of your first choices. Master as a brand name comes with a history of reliability and sturdiness and the Master Airbrush High Performance Airbrush Air Compressor is no exception.
This model has a wide variety of features including an automatic off/on shutoff and comes with a 2-year warranty. Light and portable with a carrying handle but still packing a decent amount of guts at 1/5 HP.
It has automatic shut off if it becomes overheated and a water trap filter that ensures your air is clean and dry. Surprisingly quiet, this compressor should tackle any of your needs and the price is also fantastic.
Overall, this is a good first choice for someone new to airbrushing who is doing smaller jobs. An easy to use and reliable machine.
Customer Feedback
Works consistently, definitely a "workhorse" machine when it comes to daily use
On the smaller side but powerful for its size
Must-have for serious airbrushing
High performance machine that does what it says it will
Check Latest Amazon Price
---
Master Airbrush Multi-purpose Gravity Feed Dual-action Airbrush Kit with 6 Foot Hose and a Powerful 1/5hp Single Piston Quiet Air Compressor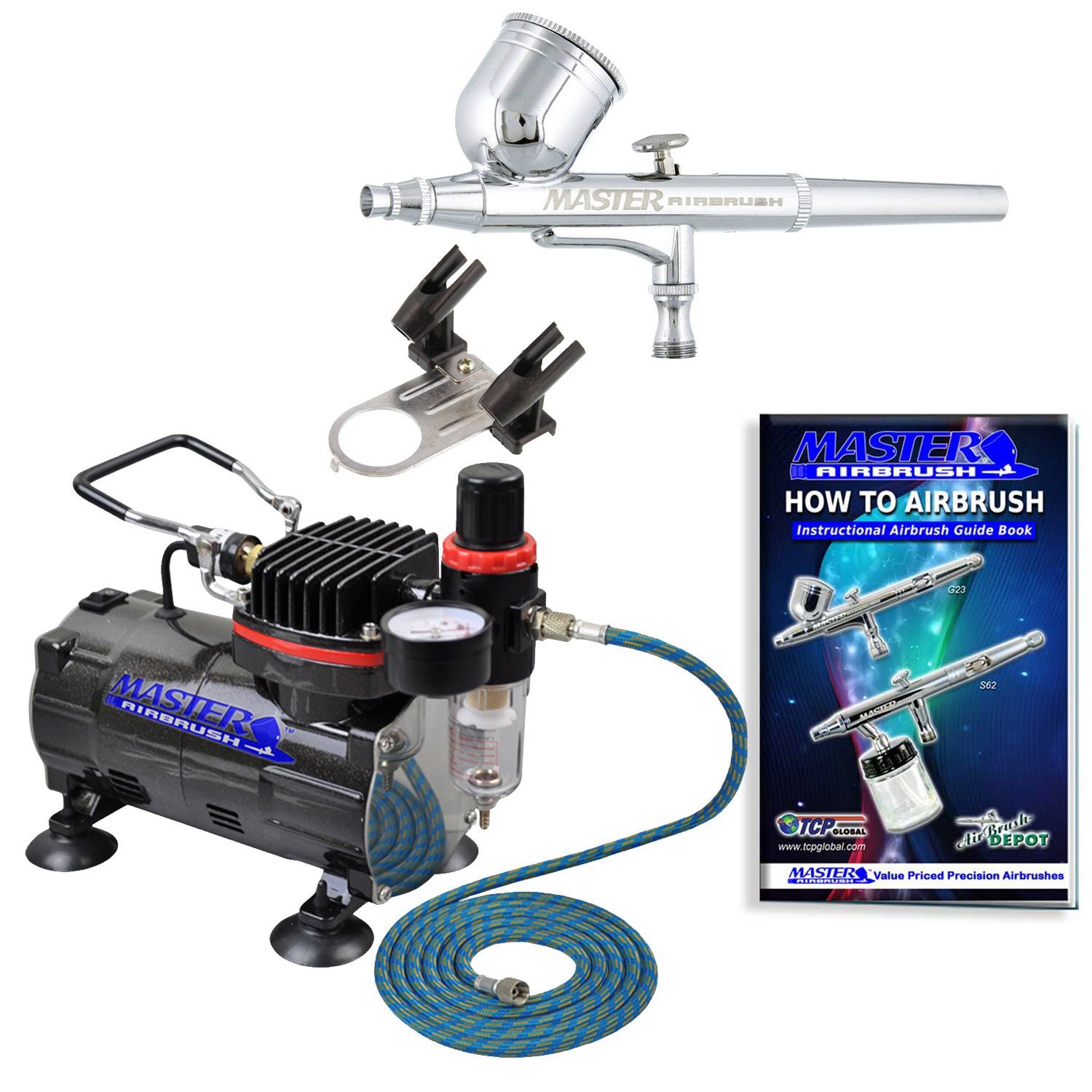 Second on my list is also from Master and is also a great option for a starter machine for the beginner brusher. The Master Airbrush Multi-purpose Gravity Feed Dual-action Airbrush Kit comes with the built in handle and is just as portable as the machine above.
It also comes with the same automatic turn on/shut off when the machine reaches a particular psi. Because of the particular air on demand system, the machine only turns on when pressure is released, allowing you not only to keep a regular pressure, but making for a longer machine life as it the motor doesn't need to run when the machine isn't being used.
The real bonus with this particular purchase, though are the extras as this kit comes with a 6 foot nylon braided hose and the Master Airbrush 'How-To' instructional booklet.
It also comes with a Master Model G22 Airbrush with instruction guide, nozzle wrench and storage case. At not much higher price point than the model above, and with all these extras, this kit is a sound decision.
Customer Feedback
Ideal for those new to airbrushing, or seasoned experts
Great price for what you get
Doesn't overheat, always performs with same consistency
Airbrush is good quality and construction
Compressor runs quietly which I appreciate at home
Check Latest Amazon Price
---
Paasche D3000R 1/8 HP Compressor with Tank, Regulator and Moisture Trap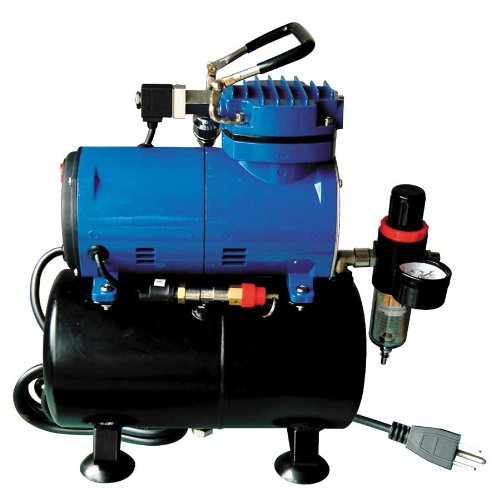 Moving to another great brand name we have the Paasche D3000R 1/8 HP Compressor with Tank, Regulator and Moisture Trap. This baby comes in a little bit heavier than the previous two models at over 12 pounds and is slightly larger but equally as impressive.
Also not noisy but sturdy and stays in place when the motor is running and doesn't move around or rattle.
It has the tank so you have that constant flow of air without the constant noise. The tank fills and then turns off until you release some of the air via the brush, and then clicks back on to fill the tank.
Delivers a steady 20-30 psi depending on the brush and works well with Paasche brand hoses.
The regulator makes it easy to adjust pressure for a variety of projects and it works great for painting models and figures, offering steady even coverage without any surges in pressure.
Customer Feedback
There's a reason this company has such a great reputation, this compressor shows why
Steady pressure with no jumps or surges in air pressure
Regulator is easy to use and adjust accordingly
Works like a dream – smooth motion and delivery over time
Easy to get the hang of and super quiet during use
Check Latest Amazon Price
---
Iwata-Medea Studio Series Sprint Jet Single Piston Air Compressor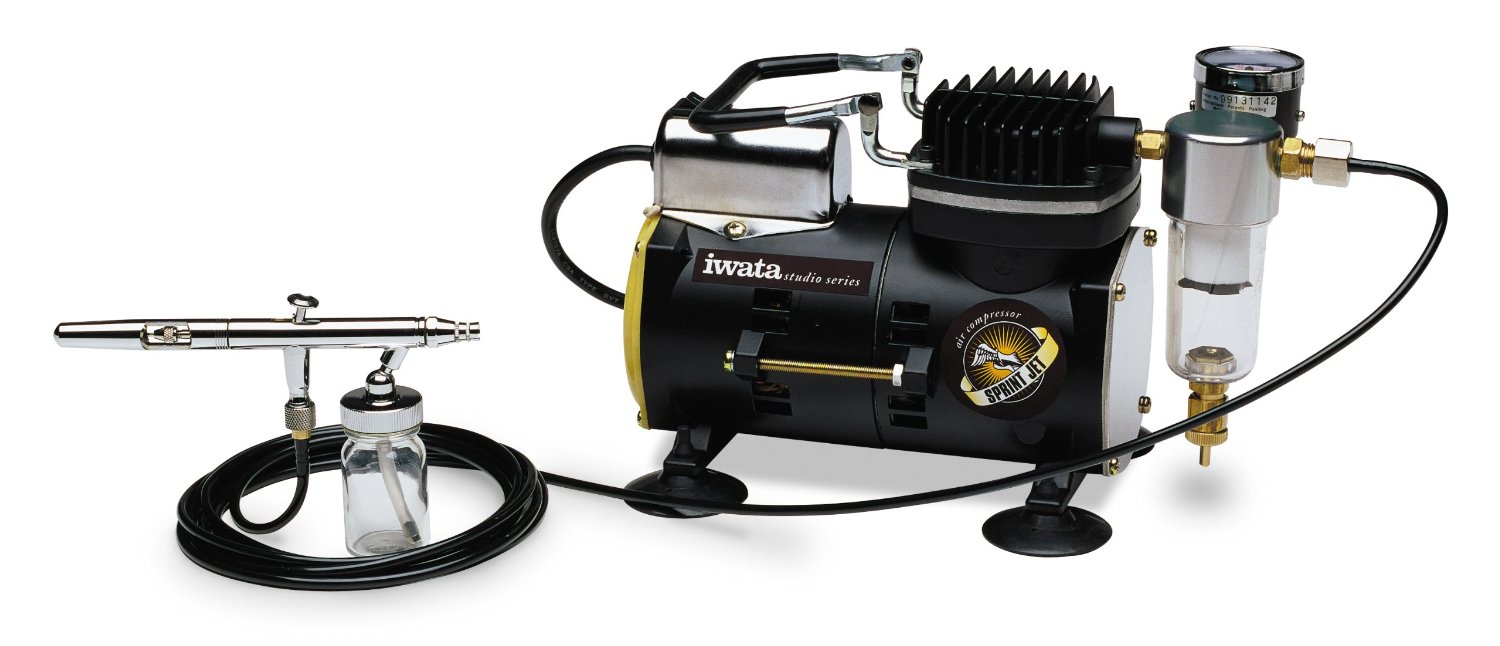 Moving to a different style of compressor, the Iwata-Medea Studio Series Sprint Jet Single Piston Air Compressor does not have an air tank, which means it is runs continuously once you start painting, unlike the other models above that click on when the tank falls below a certain pressure.
However, this doesn't mean it is bad! I include this model because of the power and durability it brings in a small, compact machine.
Lighter than the other models and quite a bit smaller, this machine is perfect for the artist working on smaller projects who doesn't have a lot of space to store their equipment.
While it works with Iwata-Medea airbrushes, you can also fit others with the included adapter.
Oil-less with a built in filter, this guy will give you on average about 25psi and because of its size, it is super quiet compared to other machines. This brand name carries with it a lot of trust and reliability and while it may be a bit pricier than the other models mentioned here, you're going to get a lot of life out of it.
Customer Feedback
Love the compact shape and size, perfect for home use
Quiet and delivers consistent performance and air pressure through brush
Second one purchased, first one lasted over 20 years thanks to company's good reputation
Oil-less compressor is easy to deal with and transport if needed
Check Latest Amazon Price
---
Iwata-Medea Studio Series Power Jet Pro Double Piston Air Compressor
Okay, so what if you want to use two brushes at the same time without having to detach brushes every time? What if you're willing to pay a bit more for more options and a stellar brand name?
Enter the Iwata-Medea Studio Series Power Jet Pro Double Piston Air Compressor. This guy is a powerhouse at over 26 pounds and yet is still quiet enough to use inside your apartment!
The nice thing about this machine is it has two attachments for hoses with individual regulators and gauges so you can have two brushes set at different pressure settings at the same time. With a two-litre air tank you can go back and forth between brushes with ease and never lose pressure.
It's basically like having the option of two machines at the same time. Comes complete with hose and adapters so you can use with any other brand airbrush. Solid purchase, highly reviewed and you get what you pay for.
Customer Feedback
Includes a lot of parts that will upgrade your airbrush setup as a whole
Quietest compressor customer had used in years, would purchase again
Lightweight design is great for traveling and cleaning up on the go
Works perfect for small workspace that requires quiet, powerful machine
Check Latest Amazon Price
---
Do you recommend an airbrush compressor that we didn't cover? Let us know!